David Hand's The Improbabiity Principle should go along with a book on multiple comparisons and a simulation program should be on all speculators desks.
This summer in Slab City fired a heated rivalry between two Rainbow factions: the Nic@Nites and the Fat Kids.
A yearly Gathering of 10's of 1000's of peace loving hippies in a National Forest jolts the adjacent communities somewhere in the US. It may be the greatest reminder of alternative lifestyle since Ken Kesey's bus Further carried his Merry Band of Pranksters cross-country that featured prominently in Tom Wolfe's book The Kool-Aid Acid Test. The famous bus has spawned mitotically more buses, and many of them have pulled into Slab City.
Rainbow Gatherings are itinerant loosely knit communities of people who congregate in remote forests around the world starting every July 4 and continuing for about two weeks. The Rainbowers on whole supposedly share an ideology of peace, harmony, freedom, respect, and a dash of anarchy for spice. Their goal is to create a more satisfying culture than the one they find themselves surrounded in, and serve as a model for reformers in mainstream society. Everyone is friendly!
The Rainbow camps and kitchens are the basic community units. They may be based on topic, regional, spiritual, habitual, or even dietary preferences. For example, the Kid Village attracts attendees with children, Tea Time specializes in serving herbal tea, Jesus camp offers a religious foundation, and I used to stay at the Hobo camps during four national gatherings because that's how I got there.
After the national gatherings, the various dozens of buses that form the nuclei for the category kitchens peel off in scattered directions for seasonal locations across the USA. This summer found a half-dozen of them parked in Slab City. The heat was ferocious, with ground temperatures above 150F, but most of the camps endured.
Nic@Nites is a camp that focuses on the sharing of tobacco and tobacco related products. The Nic@Nites hand out cigarettes at Slab City and will drive you crazy proselytizing tobacco wherever they go. Their goal nationwide is to have populated the nation's alleys with so many addicts that no one will want. Their motto is, 'If you need a cigarette, we got one; if you got a cigarette, we need one.'
The Fat Kids are another camp who serve fatty foods. They are composed of primarily overweight trust fund babies who eat well, and share their meat and greasy dishes. They're national goal is a flavor of Herbert Hoover's, 'A lamb chop in every pot.'
The Nic@Nites claim the Fat Kids are killing people with fatty foods; while Fat Kids say the Nic@Nites are killing people with coffin nails.
The locals are enjoying the sport in Slab City, and fuel the flames of the butts and steaks by setting each group up to skirmish. They furtively commit arsons and burglaries, and tell one group a member of the rival one did it.
The showdown persists as both groups endeavor to attract newcomers wherever they go to help at their kitchens by giving away nicotine and fat foods, which was not covered in Vance Packard's classic The Hidden Persuaders. The Fat Kids waddle offering you waffles, as the Nic@Nites wheeze offers of cigarettes.
All I can say is, sometimes laboratory animals, sales customers, and youth don't know what they want until you show them. If the Rainbowers on whole would band together instead of bicker and advertise, they would quickly by sheer united numbers seize control of the Slab City economy, politics, transportation, and strong arms.
It isn't so far-fetched. In astronomy, a binary system occurs when the orbits of two stars we see twinkling above are linked because of their gravitational interaction. There have been analogous relationships in history when an era is shaped by a rivalry and then combination of the two superstars. For example, Thomas Jefferson and Alexander Hamilton in early American government. The result of the showdown could be a binary win-win for a better Slab City.
26f0
There are two ways to acquire the necessities of life:
· To produce them, or
· To plunder them
When plunder becomes a way of life for an outlaw town or group of men living together, they create for themselves a legal system that authorizes it and a moral code that glorifies it. The end result will be an escalation of theft until everyone steals each other silly. The only explanation I have for this condition in Slab City is that though stealing from each other is a silly game, it keeps the residents occupied. It's like a party university.
The heads of class look at stealing as a profession. It is a job where they devote time to refine the skill needed to maintain a constant level of success for a steady income. They normally do not spend a long time in one place, but are always scouting new locations, until landing in an outlaw town where there is a large turnover of marks.
The summa cum laude thieves and burglars are precise and logical in their actions. They have openings, middle, and end games like board contests. The winners do not hold their criminal acts in such high esteem, except they take pride in their work, and look down their noses at the amateurs who will not likely populate the town long before going to jail.
There is an evolution toward perfection of criminal activity, that requires constant attention and tinkering to stay on top of their game of robbing each other. Newly invented methods are as closely guarded as professional sports plays.
The most closely guarded news is a recently abandoned or deceased owner's homesteads that draws a land rush as soon as the owner is gone, or killed. The most popular things to look there are money jars, guns, drugs, and jewelry. I don't know anyone who has a bank account, or safety deposit box other than the inside of their walls or a hollowed out book, because banks require an ID which are sparse here. It costs nothing to open a jar and bury your stash, the common practice, which I follow. Whenever someone expires unexpectedly, his trailer insides are shredded looking for treasures in the walls, or beneath them.
Advance news is everything, or creating it.
One tricky thief who forever covets his neighbors' belongings uses a peculiar strategy to drive them out, or kill them, and then help himself to their camps, as follows.
The most common rattlesnake in these parts is the Coontail, distinguished by its alternating black-and-white tail bands just above the rattles. This is a flip-flop species of the also common Red Racer with alternating black-and-white head bands that eat rattlers.
One snake handler gifted a neighbor into his stone hut a snake with black-and-white bands, with no rattles. He proclaimed it was a Red Racer that would eat any Coontail Western Diamondback Rattlesnakes within a 50-foot radius, much as one puts a cat in a mouse house. The grifter carefully eyed the expensive battery bank inside the hut as he did so, and went on his merry way with the heartfelt thanks of his neighbor.
Each day, the target saw the snake daily in his hut, stepping around and over it. Each day, the handler reappeared, and seemed surprised to see him still standing there. Finally, the mark grew suspicious and called me over for an identification.
Here are five lessons the Slab City thief can teach you to check your loses:
· Fearless – A criminal will go to great lengths to achieve his goal, even handling venomous snakes.
· Discreet - A thief stays mute about his schemes and acquisitions, and I never would have found out about the Coontail thief had not a victim told me.
· Details – The smallest detail is of the greatest importance to a thief; in this case, he covered his tracks by broadcasting it was a harmless Red Racer that he had let go.
· Patience – Grand larceny can take a month in the planning. The thief knew his neighbor would accept the Trojan, and the end result would be declared an accident.
· Always try again – The thief kept returning to see if his mark had been driven off, or bitten.
The tail end of this story is brief. I went to the stone hut and found the snake coiled under a stuffed chair. It was trying to buzz shaking a noiseless black-white banded tail. The Coontail thief had removed the rattles, so the snake couldn't announce its identity!
I was laughing so hard that I could hardly keep my hands still on the broomstick to gently lift the accomplice and carry it out to a wash.
An old time book well worth reading is A Century of Prices by Theodore Burton and G.C Selden.
It suggests that high commodity prices are bearish for interest rates
because it requires more capital for all inventory and investments with
high prices. I wonder if this could be tested.
The book is very suggestive of many hypotheses. From 1919.
One key to smooth international travel is to travel with only one carry-on bag. Don't check in any bags. They're a hassle during long-term travel, and will not arrive in third world countries on connecting flights. They will be stolen if checked into bus compartments, or from hostel rooms. And, are a hassle going to and from while traveling within a country. I've seen a swimming pool of crocodile tears over time in traveling to 100+ countries by travelers who don't observe the 'one-bag-on-back' rule. Everything one needs for one full year of travel around the globe can fit into one medium knapsack that fits into the carry-on compartment of airplanes. People who travel this way are called Travelers; while those who carry luggage are called Tourists. They are just different species.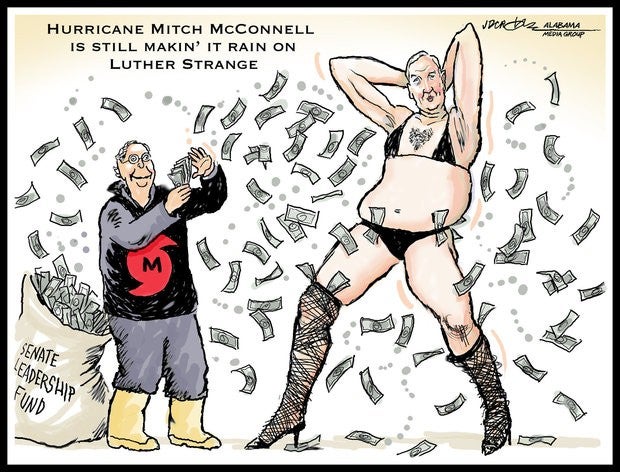 The Senate race in Alabama is becoming more and more interesting. The establishment candidate - Luther Strange - who was just endorsed by the Realtors national lobby - is still running behind in the polls.
The underfunded odd-ball outsider Roy Moore is being attacked in television ads paid for by Mitch McConnell's Senate Leadership PAC. The PAC is spending what is a large amount of money even for an Alabama general election. For a Republican primary, it is an enormous expenditure. Ballotpedia says they have committed to spending over $8M - which would be nearly 90% of the money that is likely to be spent on the race.
The President has endorsed McConnell's candidate - Luther Strange - and is planning to appear at a rally for him at the end of this week. The rally had been scheduled for Saturday at the local football stadium; it has since been moved to Friday and the local civic center. One could legitimately explain this change of venue on the prospect of bad weather, except for the fact that Friday is expected to be a mild (by Alabama standards) day with plenty of sunshine and little chance of rain - perfect stadium weather.
It is a measure of the near desperation of the Strange campaign that Vice President Pence is scheduled to make an appearance on Monday, the day before the election.
The delicious irony of all this is that Moore is the candidate who supports Trump's "extreme" positions; he has pledged to do away with the filibuster, and he opposes any amnesty. So far, the President's support for his opponent has not hurt Moore; the likely voter surveys show the Trump endorsement as having no significant effect. The Republican potential voters support the President overwhelmingly, but a majority of them still support Moore.
The candidates have their one debate scheduled for tomorrow evening.
There are many short and long cons of master manipulators, who willingly teach them by bragging anecdotally on the road around hobo jungle campfires, and inside the pens. They live to scheme and deceive, and even as they relate former cons they may be setting you up as a mark. It must be kept solidly in mind that they get up in the morning thinking them, practice all day, and sleep dreaming them, like I used to chess. I've read every classic book on confidence games, and yet been taken many times in Slab City, with the single absorbing lesson that I will be taken again because I choose to play for this price of admission.
The Slab special is piggybacking short cons that become part of a developing sophisticated long con that locally is called getting 'Slabbed'. One of many examples is the simple theft of a white truck. It was dramatized in broad daylight by a hulking brute who pinned down a fair damsel while his comrade hotwired and skid rubber. Actually, it was not a simple theft but quite a ball of yarn.
A Slab man bought a white truck on the cheap, and used the title as collateral for a drug debt that he did not pay. The receiver of the debt handed the title for holding to a neutral third party for fear it would be strong armed from him, and passed the car in trade for a camp to a mechanic. The mechanic spent two weeks getting the vehicle in running order, and when the original man of title heard this he ripped the ignition key from the mechanic's neck, and returned the next day to pin down his wife while the mechanic was gone. A comrade drove the vehicle to their nearby camp and defended it by force. No one dared go to the police because no party had a driver's licenses. The guy who had pinned down and stolen the vehicle incurred a drug debt to the person holding the title for safety, and the latter saw fit, when the debt went unpaid, to take the title for himself. Then he sold it back to the brute who had pinned down the girl. Essentially the brute had gotten his truck repaired for the price of a probably false drug debt.
The situation was so muddled and Slabbered in short cons that only a champion grafter could unravel and spin it into a long con to his advantage.
With one of the few running vehicles in Slab City, I picked up the mechanic hitching to the local market for a tall Steel Reserve beer. He had been a Georgia sailboat skipper, before his boat sank in the Keys, after sailing along the east coast for three years subsisting on air for boat fuel and dine-and-dash for himself. The Atlantic seaboard offers many fine restaurants, at which he always selected the best and dressed nicely when he walked in penniless. He ate-and-skated at about 1500 without getting caught, marking little notches on the starboard side of the rail until the boat must have listed.
His usual technique was to walk in, have a couple of drinks at the bar, summon the best table, go outside for a cigarette break, order an expensive meal, go out for a cigarette, order a meal to go, go out for a cigarette, order dessert, and during the last cigarette break beat the meal check to his sailboat.
His hedge was a legal technicality that failing to pay a restaurant bill when it is due is not a crime, but rather a contract debt, so the dine-and-dash became a civil rather than criminal breach the single time he was detained. Then, he told the owner he had forgotten his wallet, and offered to wash dishes until the debt was clean. He started, and slipped out the back door for another cigarette break, and to the boat.
The sailor turned mechanic in Slab City was a master of the sort and long con, who claimed his wife was as adroit when she came up with this scheme to recover the cost of their white truck from the State of California. She set the trap by having reoccurring flashbacks during which she 'blacked out' screaming 'Get off me you brute!' every other night at about sunset for two weeks, until the neighbors called the police who responded each time. There was a sufficient paper trail now to spring the trap. She went to a psychiatrist who declared her crazy, and got her on SSI relief that more than compensated the truck, and would provide an income for life. They left Slab City for the east coast, presumably to buy another sailboat.
The brute who had pinned her down, drove by before they left, and congratulated her on frightening the crap out of him with her wild blackouts, and not reporting him, and wished them a fair tailwind.
The key characters in this Slab City long con are clearly identified as:
• The Mark - The intended victim which is always the state.
• The Grifter - A practitioner of confidence tricks, the brute.
• The Roper - The person who identifies the mark, the drug dealer.
• The Inside Man - The member in charge, who executes the con, the mechanic.
• The Shill - An accomplice to the inside man, the girl.
The brain of Slab City is a Gordian Knot that is an intractable problem solved easily by finding a loophole or thinking creatively. Hence, 'cutting the Gordian Knot' and moving on. The problem is the body of citizens is a Tar Baby. In one of Uncle Remus's Br'er tales, Br'er Fox constructs a doll out of a lump of tar and dresses it with some clothes. When Br'er Rabbit comes along, offended by what he perceives as the Tar Baby's lack of manners, he pinches it and, in doing so, becomes stuck. The more Br'er Rabbit punches and kicks the Tar Baby in rage, the more stuck he gets. Br'er Fox ponders how to dispose of him. The helpless but cunning Br'er Rabbit pleads, 'Do anything you want with me, but please, Br'er Fox, don't fling me in dat briar patch!' prompting the sadistic Br'er Fox to do exactly that. As rabbits are at home in briar patches, however, the resourceful Br'er Rabbit escapes.
If you get caught in a sticky situation in Tar Baby Slab City, and think you can walk away without getting black, be prepared to use your wits with some cons of your own.
44a1
After each missile test by North Korea, the reaction changes slightly. On the first ones, there is a big decline overnight, then a rally. On the second not so big an overnight decline. On subsequent ones, hardly a blip overnight with the rally in US trading the next day a little less. Can this reaction to information be generalized and quantified, and can predictions be made? Will a subsequent missile test actually lead to a rally overnight? The theory of information bits is relevant I think.
Gary Phillips writes:
Recursive events sans any consequences has resulted in the market becoming desensitized to the disruption, the resulting effect much like a diminishing return. The same phenomenon can take place when one takes his first bad hickey, and realizes one's world hasn't come to an end. Becoming de-sensitized to risk or large losses can be very destabilizing to a trader.
Kim Zussman writes:
"The market's like an aging lothario that continually needs its balls fluffed (by cb's) to get and stay erect."
-Fun Zayn Moyl in Gots Oyer
It's show time at the Range!
Deep in the desolate Sonora, about 127 feet below sea level, out-of-towners file trailers and trucks and buses to a stage erected on a concrete slab to sit on it, in their vehicles like an old-time outdoor theater, or on junked sofas, busted lawn chairs, expatriated back seats of old cars, or rows of church pews, and rock all night under a zillion stars.
Your host, Builder Bill, straps on his six string guitar and raises the roof with 'House of the Rising Sun'. Then he rocks back on his heels, chuckles, and shouts for the 750th straight Saturday in 15 years, 'Good audience!' and the people holler for more.
It always is a great audience. Among the locals, it is their single night each week to come in out of the punishing sun in a drunken or drugged stupor and party among partiers. They double as anarchist lovers, after the tourists leave, and about this time at midnight is when romance blooms on solid concrete.
A high-heeled polished escort drove a white Cadillac from the east coast to test the market. She brought a scheme to build an underground S&M Dungeon with whips and chains. She was smart enough to hook up with a local church investor to supply clients, and tithe a portion of the gross back. The world she would create revolved around sexual fantasy involving dominance and submission. She was going to dig and build it underground because weird tricks pay more money. The reason is they can't go for what they want to someone they know, or out to a straight bar. The escort miscalculated that Slabbers have money just because there have drugs. I was one of the few with cash at the Range, but she kept staring at my crotch the whole time we talked, and I walked away uneasily. She didn't even get a shovel in the ground due to lack of 'pre-bookings' to fund the hole, and turned around and drove her Cadillac back to New York.
A bearded man resembling Grumpy of the seven dwarfs jumped up from the audience and charged the dance floor with an 8" knife raised high over a scorpion of equal length with a raised stinger crawling amid shuffling feet. It was the largest Giant Green (Hadrurus arizonensis) I've ever seen. As the pair jitterbugged around each other, a lady in a tight mini-skirt butted in clamping a sawed-off 2-liter Pepsi bottle over it, and held it high for everyone to see. The music stopped, and I stepped up to identify it, and state that though the stinger is large, the venom is like a honeybee's. Grumpy flashed the blade in my face, for he had been catching it for his girlfriend, and thought I was hustling her. She went on stage and rattled and raffled it off for marijuana.
A drunk female in fishnet stockings fell in front of my armchair in the back row. There are four reasons I didn't help her up: 1) She was drunk, 2) she was mistreating a dog to which she was leashed, 3) I had been taught by a high school cross-country coach never to help anyone up, and 4) she wanted a date or to stab me, because it was the third straight Saturday she had slipped in the same spot.

Dogs roam the stage. People come in a party mood, toting six-packs and fifths of whiskey and gin. Sometimes the dogs drink. I was sitting on the edge of the dance floor sewing in rhythm with the music threads of what I observed into a wall-hanging in my mind ,when, like it was a dog door, a huge brown Great Dane pranced through and looked down at me. Then it looked back to its smiling owner across the floor dancing. She had sent it over to invite me to cut in. I don't dance, so the 180 pound animal lay down and was seven feet from tail to nose. The animal in me came out, and I scratched its ears. The girl walked over, and lay between us. I was afraid of what I might catch at her trailer, and got up and walked away.
Two women with mutual restraining orders to keep 100' away from each other, bumped into each other on the 100' wide cement slab of the Range as a band warmed up. The two women stood toe-to-toe cursing each other, while their teams of witnesses argued in a circle around them of who had arrived first, in order that the other legally be required to leave. Someone called the cops, who arrived in two patrol cars, doubly manned, as the officers piled out and surrounded the ruckus. They interviewed the contenders, their cornermen, and since it was unclear who had arrived first, they were ordered to technically break the restraining order by sitting 95' apart at the far edges of the Range, and not molest each other.
As they had argued, each cast sideways glances at me for support. They are attractive seniors, but I have become cautious over my Saturdays at the Range. The last senior I picked up, later felt spited and lashed out, offering 'Free blow jobs to any male who will hit him on the head!' There has been a reprieve during a current affair with the chief arsonist, so the shanties of Slab City and I are safe as long as they are together.
Everybody likes to think on the first night that their relationship is the long haul. While no one knows for sure what the future holds, I have accumulated ten clues from normal society that can tell you if a partnership is built to last, and explain why each is nonsense in Slab City.
Trust

– No one here is stupid enough to trust his lover.

Similar Goals

– There is only a shared taste for variety.

Mental Intimacy

– No one shares their true past.
Communication in a healthy way

– There are daily quarrels and assaults that bring out the police.
You can both admit you're wrong

– It is a sign of weakness to admit a mistake or to say 'I'm sorry'.
You feel more yourself when you are with them

– The only time one lets down the guard is when he is alone.

You support each other in tough times

– Instead, you run to your neighbor for sex.

You still like them when you're angry

- You burn each other out, steal, or call the cops.
You laugh often

– You are laughing together nearly all the time you are not having sex or arguing.

You know your partner's needs and respect them - Any time you put your partner's needs before your own, it throws a red flag that the relationship is doomed.
Slabber girls are the best of any country I have visited, and the only caveat is that you have to keep your guard up. They are meaty, wholesome, savvy, and excellent. They will cut you if you perform less than your best. The reason is individuality: everywhere you look at the couples, you see happy singles, too. There are plenty to go around Slab, and few are particularly faithful. The ratio is about 3:2 and they vie fiercely for men. The pretty women sometimes do things no man would attempt anywhere else in the world.

It is interesting to note that the American sexual revolution was sometimes portrayed as a communal utopia, whereas it was just another stage in the historic rise of individualism. The sexual revolution was to destroy the idea of a permanent couple and family in a community of them, and free the individual to dip and out as he pleases, and that destruction continues to this day, and is accelerated in Slab City. The sexual revolution also marked the greatest sexual tactic of my life in getting a vasectomy. That, as an opening line, works better than deodorant.
The Beach Boys bragged about 'California Girls', but my Chicken Science professor explained the biological reason why Slab City females are hornier where the sun shines more. They don't wear clothes. We – humans and chickens – have a third eye called the pineal gland located in the middle of the brain, which secretes melatonin at night. That's what helps us sleep. Melatonin blocks our sex hormones, and the long days of desert sunshine (or light bulbs in chicken coops) increases our libido and fertility. Plus, when Slabbers shed their feathers when it's hot, it subconsciously makes us think about sex.
The other admission is that mates on methamphetamine are like an outlaw and his horse under tail, and he/she's got to ride that nag till it drops. Slab City girls have more tattoos per square inch of skin than anywhere in the world. Tattoos that tell stories of crime and passion, of regret and punishment. They express the outlaw from the outside in, and you don't even need to look into the eyes of a date to know her horizontal waltz. Sex is somehow extended and better in direct proportion to the number of tattoos, and there's something to talk about after instead of smoking cigarettes.
Another tip is to watch them dance. Graphic is invented on the Music Range slab. Bras-less, panty-less loose delights reveals the hidden language of their otherwise impenetrable psyches. Each movement is a word, each chorus a sentence, and each song a statement of who she is. They speak in paragraphs all night, because if you're on thin ice with the law, you might as well dance.
In the wee hours, like at any other event, the couples pair off and wander into the Creosote, the Rhino Room outhouse, adjacent abandoned trailers with cracked mirrors, or under Ironwood shadows on discarded couches that smell of pet urine that acts as an aphrodisiac while on meth. . The stuffing over time is knocked out of the couches. You cannot stop a Slab whore, not even by tying her to the Salvation Mountain tractor. No Slabber I ever heard of accepted money for a trick, because there is none, however few have refused to trade a bowl of weed for a bowl of pleasure. It is an accepted form of capitalism for which some females build up reputations as entrepreneurs and are very successful.

To think that all this arises from human behavior, all motivation, all our hopes and fears, heavily colored and largely controlled by the fascinating pattern of reproduction. Its significance is underestimated. They get it on, rock gently, make a harmonic, and then ride hard to climax.
Like Steppenwolf's Nature Child, they were born, born to be wild. Slabber girls have a special way of communicating like the chipmunks that used to crawl over me at the Sand Valley camp. They encounter someone on the street, get real close, smell their breath, and maybe peck a kiss, and then backtrack the person if they like the taste of the drug. They are useful dieticians also in tasting sperm and prescribing what you should eat. The best could hire out as government drug test kits.
The upper crust of outlaws own banks of drugs, though they will never admit it. They identify themselves by a surrounding of the most beautiful women, so, like anywhere else, they can afford to screen them. The town Arsonist asks, 'Is your IQ higher than mine?' The top car Bomber asks, 'Are you a life support system for a vagina?' The town Fence, oddly, is monogamously pussy whipped.
Some of these females are smart enough to make you dizzy looking through them, like sitting across the chess table from one who makes all the right moves. Soon, you sense mate and don't care about the opening, or middle game, and just want to see her coup de grace. I'm tired of watching attractive people trying to be ugly, struggling for authenticity. Why not be yourself? Like a fighter, I cut to the chase, asking, 'Can you fight?' With judo and wrestling skills, I could probably stay alive.
This is squattersville off the grid, and we welcome you every Saturday for the sundown concert at the Range.
2e64
Our vines this year produced a much larger crop than anticipated. Maybe 2 tons, including an earlier pick for Rose' fermentation.
This last weekend we did the pick for reds. I hire a crew of experienced Mexican workers to pick the grapes into plastic lugs, and haul them up the hill where I transport them to our shaded sorting area. I did some picking with these boys but they are amazing. 5 guys - each not much more than 5 feet tall. But strong like oxes, and coordinated enough to carry 36# lugs along slippery slopes like I can no longer do. Couldn't ever, for that matter.
I generously tipped each of them and worried a little that they thought I was greater than them.
14 friends and neighbors formed the sorting brigade. In the shade the brigade picked off bird-damaged berries, leaves, etc. This year the grapes were left to ripen more than prior years, and I learned something: Pretty fruit isn't great fruit. Our crop already had many raisins and bird damaged berries. Raisins are ok, and the flavor improvement by waiting for full ripening through incessant bird attacks and heat waves was amazing.
The harvest party and lunch afterwards - featuring our wines - was great. Except for the neighbor who was drunk by 11, and failed in his function of sorting grapes in lieu of chatting up the on site women.
I had anticipated a bigger crop this year, but not this much bigger. As I write this there is 1000L of grape must fermenting in four containers in the garage. Fortunately I was prepared with enough fermenters, but I'm still short an aging tank that is to be shipped from Florida.
Wine making reminds me of my emergency medicine rotations as a resident. You have to think on your feet. No texts to consult, no one to ask. Each and every crisis you have to address to the best of your ability. (The Mrs is not on board as to the amount of work involved in this. But I think it is good for one's 62 year old noodle, to the extent that it forces me to learn and adapt like I was a kid)
The fermenting must is like a beautiful version of the irresolvable mess of humanity. There are thousands of compounds and enzymes going off in every direction, and your job as wine maker is to not destroy beauty and enjoy the ride. This kind of thing attracts controlling people who serendipitously succeed by letting go.
Here's to what California might have been, had the socialist putsch of the past 40+ years not robbed of us our destiny.
Check out the blind taste testing scene in the movie Bottle Shock.
Stefan Jovanovich writes:
Amen. I first saw California in 1967 on my way to VN and it took me 5 years to get back. Our daughter, who was born and raised there, and her parents now live in permanent exile from what was our near perfect homeland. None of us is ever going back, and we will always mourn for what was destroyed - the common belief that no one in private life had the right to tell anyone else what to think or do.
Kim Zussman writes:
I have done two Tours of Duty of living in the beauty of California, and I can confirm that the 1960s were very different, especially from a technologists point of view. The joy of creativity has moved to the effects of huge financial emphasis rather than intellectual idealism.
Our natural setting is still very desirable, but the feeling of open spaces has changed into me feeling claustrophobic in freeway traffic, escalating housing and living costs, and government that makes things worse.
But I see even more problems in the world almost everywhere else: Crowded Asia, Corrupt Latin America, poor overpopulated Africa, cold Russia, and dyeing Europe. There are too many people in all the big cities, and not enough for all the people to do. I fear the world will go through bigger problems before society settles on a more peaceful and productive system.
Rattlesnakes are so common out here as to be mundane. One just has to get away from the crowd to visit them. I had a western diamondback for a doorkeeper at my Sand Valley burrow. They tame down quickly, and, in fact, develop a personality around you. There are low-down sidewinders that crouch in that position, and the amiable tongue-flicking uprights.
Once I came across one standing on its tail end in a wash, catching a zephyr, watching me pass. If rattlesnakes had eyelids, he would have winked.
A sidewinder named Sir was my favorite at Sand Valley. I first came upon him when I stooped to adjust my ankle weights, thinking they were leaking. The buzz was a baby sidewinder. He grew up as I pioneered the property, until he was so underfoot like a pet that I had to transport him to a wash.
I've close-up encountered, at last count, 150 western diamondbacks and sidewinders, in a ratio of 10:1 respectively, in the past 20 years out here. Though that doesn't make me an authority, like the local snake handlers who keep them in terrariums or running around their trailers to dissuade burglars, I know a rattle when I hear it.
A rattlesnake is called 'the desert gentleman' out here since he warns before striking. It's the people you have to worry about. One Slab City handler was bitten in the navel, and his wife called the ambulance. An undercover officer accompanied the paramedics, because the guy was on probation. The officer, thinking the call was a prank for a free ride to town, wordlessly hit him in the gut, and then rattled, 'I sealed the wound!' The ensuing fight became a real emergency.
"After a big thunderstorm, you will find that people become more friendly and sociable" from The Lost Art of Reading Nature Signs by Tristan Gooley. Does the aftermath of hurricanes and floods bring bull?
2d8a
When will pseudo economists and foolish people at the Fed realize that low inflation is good as it increases the stock of wealth that individuals have, and stop trying to increase inflation on the absurd idea that the higher the rate of inflation the lower the rare of unemployment.
Most people do not know, until I sat on one yesterday, what a sandberg is. It is a giant splinter of sand that, like an iceberg, breaks off from the greater whole to rise alone across a sea of sand.
I was car camping at Drop Two along the Coachella Canal ten miles south of Slab City when the first drop of rain at sunrise caused me to roll over in disbelief. For the first time in a month of consecutive 120F+ days, the Sonora desert was in for a storm. I rolled into a sleeper's 'burrito' sandwiched within layers of the blankets and tarp on the outside, and went back to sleep. When I awoke an hour later and looked out the end, the burrito was surrounded by puddles of water.
I dashed for the car, and read Studs Terkel's Coming of Age for another thirty minutes, until the rain abated.
In fact, the sun was shining.
But a hundred yards from the car, the Drop Two was running with a river of water. A Drop along a canal is where it passes underground for about thirty yards for an arroyo (normally dry riverbed) to cross perpendicularly to allow the passage of animals, vehicles and the biannual flash floods. Today the river was three feet deep, fifteen yards wide, and flowing 8mph above and at a right-angle to the canal.
It was foaming with tannic suds as thick as a six-inch sponge, splashing and tossed into the air. The foam is the result of organic material in the water, including their oils, that in the desert is stock full of the suds producing tannin. As the plants decompose along the flow, the oil rises to the top, where the turbulence and wave action whips it like a blender. I scooped a mouthful, and it tasted like Arizona tea.
With tea, the sun rising, and a hydraulic phenomenon unfolding before me like morning National Geographic, I sat on the bank and watched the river flow. Across it, great columns of sand weighing tons and measuring about 20 feet wide and two-stories tall broke and crashed into the river, throwing foam on a slight breeze over my head. Again and again, the great sandbergs crashed.
I was so absorbed in the spectacle, and thinking the flow from the eastern Chocolate Mountains was slackening, I didn't notice, instead, that the water was arising until it touched my scrotum. Still, I sat unperturbed as it rose to the ankles where I sat.
Suddenly, a loud crash behind, and I jumped up to see my hat floating downstream behind me! The land had been undercut behind me, and was now a drop-off of about three feet where the water was flowing rapidly. Nature has no remorse, or rules. I was trapped on a sandberg anchored to the desert floor only by the tendrils of a young Ironwood. The island was about 30' long and 10' wide, with the water rising by the minute!
But the tide fell as quickly as it had risen, with the bank of water from the Chocolates expired. In thirty minutes, the stream behind me shrank to wading height, and I escaped off the sandberg toward the safety of the car. I spend the rest of the day hiking up the main arroyo to the mountains where, by the time I reached the source two hours later, it was drying, and then I walked the very wash back to my car, to safety after being trapped on a sandberg.
We have an algorithm that we value greatly. I have written about it in this space and have produced a white paper on it. It uses macroeconomic data and has a record over the past 25 years of generating a 13+ percent compound annual ror with a 17+ percent maximum drawdown. The SPY's numbers are 9% and 55%, respectively. Clearly the positive returns come from dodging the drawdowns; there is no beta. BTW, the 75 year history is also very good; suffering only in the 1987 selloff.
At this time the algo is very close to going bearish. It has not signaled bearish yet, but there is a definite possibility. I would not exit long equities without that signal.
The problem is that the macroeconomic data (weekly) is reflecting the effects of two hurricanes. It is perfectly understandable that such data would mirror those unfortunate events. The circumstances clearly are different this time; when have we had two disastrous storms back to back? Because the data is macroeconomic, it is not a flexion fakeout. In fact the technical indicators all point higher. Admittedly we would like to have more information, but that's not forthcoming. An interesting and frustrating problem. At least, the signal has not yet been given.
Rocky Humbert writes:
I believe the market's reaction tomorrow to American Airline's post-close news this evening may be generally predictive. American guided earnings lower because of the hurricane effects and also because of fuel costs. If Mr. Market doesn't blink, then expect a slew of companies to use the hurricanes as a penalty-free way to guide earnings lower. That is, the teflon market just got a fresh coat of teflon….from the hurricanes.

"The tariff" - i.e. the principal source of Federal government revenue from 1789 until 1912 - was criticized for being "unfair" and "overly complicated". Believe it or not, one of the arguments in favor of the income tax was that it would make the Federal rules for taxation simpler.
The tariff was complicated precisely because it acknowledged the basic truth of all taxation: even in a time of war, there is a tug of war between the tax payers and the tax collector; and the art of successful political economy is to allow every taxpayer to have some actual influence over how much pull the tax collector has.
The chaos, waste and abuse of the tariff system was precisely its virtue. No one, in the name of "reform", could enact broad legislation that would devastate the profits for particular industries and workers.
It is impossible to go back to that sensible system; the income tax and its withholding is as essential the present system of money, credit and banking as the Federal Reserve wire.
What is possible - even now - is for intelligent people to abandon all ideas about "reform".
An income tax that had more tax rates, not fewer would begin to take us back to an even tug of war between the collectors and taxpayers.
If the income tax and Social Security tax - which are one and the same - had consolidated rates, beginning at 2% (the original Civil War rate) and rising by 1/4% increments to 22%, the revenue would explode - just as it did after Grant (that man again) established the comprehensive tariff.
The key is to eliminate the stair step; one's rate would be flat on all income, regardless of source or type of taxpayer, based solely on the total annual income. The increase in taxation from "making more money" would become a trivial obstacle; there would be no incentive to cheat at the margin. The current wholesale lying about deductions would largely disappear because enforcement would be focused solely on a simple question: how much did you make and did you report it all?
2153
I went to the book release party for "Blockchain Applications in Finance" this evening. The author spoke, as did a Chinese venture capitalist focused on fintech projects.
She likened the recent ICO ban to the government's ban of cryptocurrency trading in 2013. In that case, they slowly relaxed their restrictive stance, allowing exchanges and cryptocurrency ownership.
In 2017, the Chinese ICO market was crowded with scam projects, and in typical Chicom fashion, the government announced an outright ban on ICOs to allow them to inspect each exchange and project, and sort things out. She was fairly confident that the Chinese government would again relax its stance, but with far fewer ICOs going forward.
I am reviewing the quarterly earnings results available on the Standard and Poors website now that more than 98% of companies in the S&P 500 have reported earnings through June. S&P 500 trailing 12-month earnings are $104 as of June 30, and the 12-month forward forecast (which, right or wrong, is what the market actually prices) is for $124.
The most interesting thing to me was the dividend yield. S&P 500 trailing 12-month dividends were $47.22 as of June 30, which computes to a 1.95% dividend yield on the June 30 index close of 2423. The attached graph shows that the dividend yield (the blue line) has stayed in a narrow band around 2% since 2010, rising higher during the occasional selloff.
It's clear that the People's Bank of China (PBOC) just cracked down on the initial offerings of cybercurrencies (as did the SEC). But it's possible that they just made all virtual currencies illegal. If someone can read Chinese, they can provide much better insights than Google Translate…
Google translate says: The tokens or "virtual currency" used in coinage financing are not issued by the monetary authorities, do not have legal and monetary properties such as indemnity and coercion, do not have legal status equivalent to money, and can not and should not be circulated as a currency in the market use.
anonymous writes:
In China, what are said to be not allowed are always allowed for somebody, or are done by many regardless; and what are said to be allowed are always not allowed for somebody, or may not be done by many regardless.
This is a very naive question, but if gasoline is way up doesn't this mean that buying crude would be profitable since gasoline is a reasonable proportion of the refining of oil and shouldn't this make crude go up with crude at a 6 month low at 46 a barrel? Does the flooding in Houston cause demand for crude to fall by that much to offset it, and is there an effect from the reduction in crude supply that shutting down drilling and possibly refining would cause?
John Netto writes:
Vic, my apologies in getting this to you so late. I consulted my colleague who actively trades the US-Europe energy complex and he broke down how this situation with the rise of gasoline has very little impact on the price of crude oil.
Flooding in Houston depresses all kind of demand, both electricity and gasoline (no driving), but the impact on electricity is larger. Mostly this is a supply issue for gasoline alone.
The refineries are offline for awhile, so timespreads blow out (Sep/Oct and Oct/Nov go ballistic) because the gasoline supply is not there. The timespreads strengthening opens up the arbitrage to bring over European gasoline from Europe (via ship). So the arb guys sell US gasoline, buy European gasoline, and book a ship. So the supply is coming regardless of what happens to the refineries.
Crude doesn't necessarily move because crude is not being used while the refineries do not run.
More refinery downtime = no crude demand.
Once the refineries go back online, there isn't really much of an "overdrive" option to run even faster (individual refinery runs can go up and down marginally, but usually don't vary that much to matter vs off)
I hope this clarified your question.
29d2
Just finished Superforecasting by Phil Tetlock. I feel that someone else on this site reviewed this book but can't say for certain. As a cross asset class trader and speculator, this book is the right combo of intelligence and irreverence. It is very digestible and one can whip through it pretty quick and really helped me just remember the power of process and accountability. If you liked, Thinking, Fast and Slow by Daniel Kahneman, or The Wisdom of Crowds by James Surowiecki, then you will probably enjoy this as well.
A couple of key points as it applies to investing:
- Total lack of accountability that he cites in the mainstream media as it pertains to forecasting geopolitics is pervasive in the financial media as well.
- Certainty is an illusion and we are playing a game of probabilities
- It's not our persona that is responsible for our profits but our process and our adherence to executing it and constantly looking to improve it.
- Be a fox and not a hedgehog (metaphors for one who is adaptable vis-a-vis one who is stuck in a position)
- understand our neurological makeup insofar as how it determines impulsive investing decisions and juxtapose that to your process to blend the two.
- devastating mistakes can be made over misinterpreting the smallest details.
Living in the Sonora desert, and having been through three major Mouse Wars, suffered from Mouse Dust, observing thousands, befriending dozens, raised one as if a child in my pendleton pocket, and staying on even footing with them on whole for 20 years, here are my postulates re: desert rodent locomotion.
Loco is a proper prefix. There are about 7 species that I observe day in and out around my camp, and during long hikes. When they run from me, or predators, the start-up off the blocks is seemingly programmed en utero and childhood, and so is similar across individuals of the same species for the first few yards. This, of course, is the result of evolution, for the poorly locomoting ones would have been hunted and eaten long ago, and not reproduced. Then, in the second stage of flight, the animals' instincts give way to sheer terror, and the gait becomes more random. It's in this range that the animals may be more easily mouthed by the snapping jaws, because careful evolution has chosen the best flight plan for the initial stage. The upshot is, in my theory, that the rodents that are able to sustain longest their instinctual gait before caving in to horror will survive to reproduce, yielding the most most disciplined rodents.
Animals are far ahead of humans on evolutionary scales because we aren't hunted as much except at borders, and then the jail sentence still allows bail or release and copulation. We have become a very undisciplined species except in outlaw towns like Slab City. If you observe a person running from a mugger, even me on my long legs, I follow a prescribed stage one flight that, if closed in on, gives way only after a long distance to an all out adrenaline burst at angles and speeds the brain cannot plan before execution.
Andrew Moe writes:
One of the best skills you can teach young basketball players is to use multiple speeds when on offense. Stop and go moves, fast to slow to fast, quick changes of direction and hop cuts are all carefully choreographed skills that can be combined into a seemingly random pattern. When you watch Steph Curry juke left, right, forward, back and into a hop step pullup 3, he's not making those moves up on the spot. He's linking sequences of carefully planned, well practiced maneuvers designed to leave his defender completely befuddled. I would guess that additional study on the jerboa, especially on play patterns of the young, would reveal similar sequences of moves to avoid predators. In the markets, the sequences are meant to draw volume. Today we saw a cut downward off the open, a crossover back the other way, another crossover to the downside, a slowing of pace and then a hard drive to the downward basket. I'd call today a Westbrook move more than a Curry so far.

Back in the day, (on the trading floor) where you stood and whom you stood next to in the pit, had more to do with how much much money you made, than how good of a trader or market maker you were. Groups of traders congregated around various brokers (order fillers) forming little cliques within the pit, which were largely hierarchical relative to capitalization, risk tolerance, and motive; yet the pit as a whole, still functioned as an efficient marketplace. Customer orders flowed from outside the exchange into the pits, where a market was made and fair value was determined through the process of price discovery, price information then flowed back out from the exchange, and back to the customers. But, not before the locals had a chance to "pick-off" off the customers' orders.In theory, all trading was to be executed by open outcry, and all customer orders were to be kept secret until they were executed. In practice this was seldom the case. While the ball belonged to the brokers, they needed the locals to take the other side of their orders. The locals needed the brokers to get the "edge " on their trades and information about the order flow. It was this interdependence that forced a bond of trust and a doctrine of integrity between the locals and brokers. While it both empowered and enriched the pit's inhabitants, it was also the dominant reason why the pits functioned so efficiently.
Today's central banks work together in much the same way as the cliques in the pit did. Although disparate in terms of policy, execution, and motivation, the end result is a convenient alignment of their interests.They continue to underpin the markets with massive asset purchases in order to create the illusion of a healthy global economy. They are counting on structural reforms and fiscal stimulus from the Trump administration i.e., corporate tax cut, repatriation of offshore capital, and a trillion dollar infrastructure spend, will be enough to create a healthy, growing, and self-sustaining global economy, as it moves from a central bank driven recovery to a fiscal stimulus driven recovery.
And it will probably take a perfect storm of all three stimuli to reverse the the structural changes the U.S. economy has undergone in recent years; because there is nothing the Central Banks can do with monetary policy to reverse the changes related to an aging population and job distribution that has resulted in sluggish wage and productivity growth. Kind of reminds me of the waning days of open outcry, when traders on the floor hoped for some kind of Hail Mary, that would save them from obsolescence.
Henry Gifford's new book on Building Science rivals mine on advanced racquetball. As big, with the same angle of insightful and original gems per page that only a long practitioner would know. It's a beautiful 5-lb tome. Have him send you a copy.
Many insights into our field with the value of unpredictability and its measurement.
https://scienceblog.com/496099/hop-skip-run-leap-unpredictability-boosts-survival-bipedal-desert-rodents/
Andrew Moe adds:
One of the best skills you can teach young basketball players is to use multiple speeds when on offense. Stop and go moves, fast to slow to fast, quick changes of direction and hop cuts are all carefully choreographed skills that can be combined into a seemingly random pattern. When you watch Steph Curry juke left, right, forward, back and into a hop step pullup 3, he's not making those moves up on the spot. He's linking sequences of carefully planned, well practiced maneuvers designed to leave his defender completely befuddled. I would guess that additional study on the jerboa, especially on play patterns of the young, would reveal similar sequences of moves to avoid predators. In the markets, the sequences are meant to draw volume. Today we saw a cut downward off the open, a crossover back the other way, another crossover to the downside, a slowing of pace and then a hard drive to the downward basket. I'd call today a Westbrook move more than a Curry so far.
Bo Keely chimes in:
Living in the sonora desert, and having been through three major Mouse Wars, suffered from Mouse Dust, observing thousands, befriending dozens, raised one as if a child in my pendleton pocket, and staying on even footing with them on whole for 20 years, here are my postulates re: desert rodent locomotion. loco is a proper prefix. there are about 7 species that i observe day in and out around my camp, and during long hikes. when they run from me, or predators, the start-up off the blocks is seemingly programmed en utero and childhood, and so is similar across individuals of the same species for the first few yards. this, of course, is the result of evolution, for the poorly locomoting ones would have been hunted and eaten long ago, and not reproduced. then, in the second stage of flight, the animals' instincts give way to sheer terror, and the gait becomes more random. it's in this range that the animals may be more easily mouthed by the snapping jaws, because careful evolution has chosen the best flight plan for the initial stage. the upshot is, in my theory, that the rodents that are able to sustain longest their instinctual gait before caving in to horror will survive to reproduce, yielding the most most disciplined rodents. animals are far ahead of humans on evolutionary scales because we aren't hunted as much except at borders, and then the jail sentence still allows bail or release and copulation. we have become a very undisciplined species except in outlaw towns like Slab City. if you observe a person running from a mugger, even me on my long legs, i follow a prescribed stage one flight that, if closed in on, gives way only after a long distance to an all out adrenaline burst at angles and speeds the brain cannot plan before execution.
One of the most amazing experiences of mine on the spec list was 15 years ago. I took Hillman, the computer checkout expert from Cincinnatti, to my establishment in a remote part of Weston with 100 twists and turns. 5 years later we went back, and he drove exactly to the right place. He said he was born with it but perfected it in the navy.
Forget the unemployment numbers.
The question I've got is how much of a bump to the GDP is generated by the rebuilding of Houston and the rest of Texas hit by the recent inundation?
anonymous writes:
This will help: "The Parable of the Broken Window"
George Devaux writes:
I am not sure about the truth of the parable.
Consider that for years people transferred wealth to insurance companies. The insurance companies put liabilities on their balance sheets, and used the cash to generate net wealth.
With the event, the insurance companies transfer cash to the people (and reduce the liabilities on the insurance companies) to restore the destructed wealth. The insurance companies retain the net wealth.
In the longer term, people having seen the destruction build differently. The people are also more prone to secure insurance. The insurance companies use their collective wisdom to innovate solutions or at least improvements that reduce future destruction.
In summary, destruction forces improvements.
Russ Sears writes:
Banks and insurance companies cause the multiplier effect. the higher the leverage, the higher the multiplier effect is. Holding more reserves and surplus slows the speed of money. Hence rather than just GDP, it should have an "inflationary" effect as the speed of money increases. Prices also increase because of demand and supply shocks. We've already seen the effect on gasoline.
Rocky Humbert writes:
This is actually a complex analysis with many feedback loops. It is possible, but not necessarily true that short-term US GDP will increase due to the hurricane rebuild. Nor is it necessarily true that this will be inflationary, however, certain prices (such as local lumber and wallboard) will likely increase. I believe that the primary determinant on short-term and longer-term US GDP is what activities and investments and jobs will be sacrificed/diverted to the hurricane rebuild; what income will be temporarily or permanently lost; and what the relative multiplier effects are between these alternative uses of capital and labor and the hurricane rebuild. Furthermore, if the economy were in a recession with a high unemployment rate, the effect on GDP would probably be greater than the effect in a modestly expanding economy with a low unemployment rate.
For illustration, if my house was destroyed by a hurricane, and even if I have flood insurance, I will surely still have uncovered losses. I will therefore likely immediately reduce other spending, such as a trip to Disney World and eating out at restaurants and buying new clothes. I might also delay the purchase of a new car and other big ticket items because I will need to buy replacement furniture. More generally, local businesses will likely be disrupted — and productive local service employees will be laid off for days/weeks/months — resulting in less economic activity in the region — offset by an increased need for carpenters, plumbers, and tradesmen.
There is a debate among economists about the real multiplier effect from infrastructure spending. But even that debate assumes that the infrastructure will be upgraded and improved — not simply hauled away and replaced. But the multiplier effect is beyond the question on the table. The bottom line is: it's complicated…..
21eb
"But the sea had a way of making its own rules. Wind and wave could be understood but not predicted beyond a point. There was always the unexpected storm" -Louis L' Amour
Strong words to this old trader that dabbled on the short side recently with success until not covering on the Kim-Che turnaround. Got a little, left a lot.
"One accepts one kind of belief but closes the mind to all that is or seems to be contradictory"
-Louis L'Amour
Many specs are expert on geography. I wish I knew more of the subject. One of the best books I am reading is Tom McKnight, Darrel Hess Physical Geography. I like to read books on spatial statistics as a useful byproduct. The main technique seems to be to make a football type grid with two perpendicular lines N.S and E.W and then to count within each part of the grid and do correlations.
I recall with fondness my connection with Russ Shields who when chair and founder of Navtech hired 75% of all the geography graduates in each year. The books I have on political geography, economic geography, historical geography, and politica geography (I have Glassner's) are endlessly fascinating to me. I always admire those I meet who can locate and navigate to any place in the world that they visit without any aids except the mind's eye. (Susan is one of them) although that ability is not quite as valuable now that the computer directions (from Navtech) and G are so ubiquitous.
And venerable, great Jim Lorie who had a Churchillian wit, (and gave the eulogy lecture at UC when Churchil died always liked to ask geography majors when he met them "what is the capital of this state or that?"
Looking at the performance of each country in a year is a fascinating exercise in geography as it's almost like seeing a map with the closer the countries the higher the correlation of the market and as you move from east to west, the correlation becomes increasingly negative with for example the US and Russia always quite negative in a year.
The back and forth between North Korea and the US is so much like that between Germany and England during 1935-1939. Always Hitler said: "Please meet my just demands or I'll make war". He'd say, "My patience is running out." And then: "This is absolutely my last territorial demand". The reaction in England was that war in the past was very destructive, and that he did have some justice on his side. But they got to know him as wily. So they provided "economic sanctions" against him and appealed to the League of Nations to create peace.
Today (September 2cnd) is the anniversary of ERISA - the legislation passed by Congress and signed by into law by President Ford - and the creation of the IRA. In 1981 ERISA was amended to allow 401(k) plans.
This was the most important single cause of the 25 year bull market that produced our present world.
The legislation provided (1) an added supply of cash to the markets from investments by IRAs and 401(k) plans, (2) a safe haven escape for corporations from the inescapable accruals of defined benefit pensions, and (3) the ability of corporations to use their own paper instead of cash to fund present employee bonus compensation and retirement obligations.
We will know the party is over when ERISA accounts begin loading up on cryptocurrencies.
Churchill liked to dictate while pursuing his useful hobby of bricklaying at his country estate of Chartwell. The secretaries would climb up the ladder to take his dictation while he was building walls and dams for the lake he converted into descending pools and a heated swimming pool the family used during the winter.
My wife's family experienced severe flooding. They did not live in a flood plain. It took the community over a decade to recover.
Their most challenging issue was silt. It got into everything. It found its way into walls, insulation, floors, and ceilings. To restore a flooded home, walls and insulation had to be removed. In many cases, it was easier to level the house and build a new structure on the existing foundation.
The problem with silt is its composition. While the flood originated with fresh water, it found its way into sewer systems, oil storage, and everything else. When the water receded, bacteria and oil-laden silt was left behind.
As you can imagine, some attempted to "fix" their homes without removing the silt. A decade later, you could still smell an odor inside the home, particularly when it rained. They paid when they attempted to sell the home. The lesson is you'll pay me now, or you'll pay me later.
The community included the corporate headquarters for Corning Glass. They used their technical, financial, and political resources to help rebuild the community. It did not matter if you were employed by the company or owned the local florist shop, the company was there for you. Their sense of community was never forgotten.
This may be a game changer. This approach should be very scale-able and very resistant to quantum decoherence from outside:
Epitaxy of advanced nanowire quantum devices

Nature 548, 434–438 (24 August 2017)

Semiconductor nanowires are ideal for realizing various low-dimensional quantum devices. In particular, topological phases of matter hosting non-Abelian quasiparticles (such as anyons) can emerge when a semiconductor nanowire with strong spin–orbit coupling is brought into contact with a superconductor1, 2. To exploit the potential of non-Abelian anyons—which are key elements of topological quantum computing—fully, they need to be exchanged in a well-controlled braiding operation3, 4, 5, 6, 7, 8. Essential hardware for braiding is a network of crystalline nanowires coupled to superconducting islands. Here we demonstrate a technique for generic bottom-up synthesis of complex quantum devices with a special focus on nanowire networks with a predefined number of superconducting islands. Structural analysis confirms the high crystalline quality of the nanowire junctions, as well as an epitaxial superconductor–semiconductor interface. Quantum transport measurements of nanowire 'hashtags' reveal Aharonov–Bohm and weak-antilocalization effects, indicating a phase-coherent system with strong spin–orbit coupling. In addition, a proximity-induced hard superconducting gap (with vanishing sub-gap conductance) is demonstrated in these hybrid superconductor–semiconductor nanowires, highlighting the successful materials development necessary for a first braiding experiment. Our approach opens up new avenues for the realization of epitaxial three-dimensional quantum architectures which have the potential to become key components of various quantum devices.
Jeff Watson comments:
The quantum computing world keeps getting bigger. IBM is building 16 and 17 qubit processors, and processors of 45 qubits has been reached and tested in a lab. It should be noted that there are some who don't think we'll see quantum computers for 10 years or so. They are also worried that quantum computing will present a threat to crypto currencies and blockchains, but there are also those who think that there will not be a threat posed by quantum computers.
The amount of written information we have about any past event is usually in inverse proportion to their relevance to actual events. Jefferson had no part in the actual American Revolution but his is the name that overshadows all others, even Washington. Why? Because he made damn sure that it would be in terms of what was preserved in the libraries at UVA and DC. By comparison, we know almost nothing about Washington; spymasters who win wars do not write things down if they can possibly avoid it. Lack is wrong. Hamilton was insane to choose Washington as any kind of example for his own life. Men who have no family fortunes cannot afford to wait and never learn patience. Henry Knox and Franklin understood what Washington had done; book sellers, if they succeed at all, are masters of inventory control and waiting. The British could only be defeated by their own expectations that the thing would soon be over, that a campaign or two would do it just as it had in the earlier fight with the French in Canada. But Washington refused to fight, lose and surrender honorably; he kept letting the thing drag on. That drove Hamilton as insane as it did the British, and even though he was there, he never quite understood how Washington had actually pulled it off.
2033
What is the composition of the rainwater dumped by the storm? The eventual source is the ocean, but is the means of getting into rainwater evaporation (in which case it's "fresh water"), or has it simply been sucked up into clouds? If the latter, then it must have significant salt, and therefore be detrimental to crops.
Stefan Jovanovich answers:
The rain is fresh water; Japan gets half its annual rainfall from typhoons. The salt water comes from storm surges - basically high tides aided by sustained onshore wind; but it is not the source of the flooding. The updrafts in typhoons are so destructive because they push the clouds higher and, when the storm comes against structures, create pressure differentials that can literally blow buildings apart from the inside. That is why, even though it is counter-intuitive, you have to have air vents that can be left open so that the pressures inside and out can equalize. The only "sucking up" of actual sea water is the wave action, but that is caused by the rotational windspeeds, not the updrafts.
As bad as Harvey may seem, Hato's effects will probably be even more damaging.
A good estimate of the range is that it's 4 times the standard deviation. If you have a random walk with 9 transactions each with variance 1, the standard deviation of the total change is 3. The range is 12. Similarly for any other number of transactions. Working backward one can estimate the number of transactions from any range.
If Floyd Mayweather needed to rationally, consciously evaluate each threat before responding, he unquestionably would have gotten his ass kicked last night. Sometimes we process the world far better in an implicit, subconscious mode rather than in an explicit manner. And, it is on this level that I state unequivocally, the market looks and feels like crap. This is not to say there isn't any data to confirm this bias; deteriorating market internals point to a shift away from risk. P/C ratios continue to rise and the VIX appears to be in a nascent uptrend. The 2-10 is bull flattening as the curve ratchet backs growth and trumpflation expectations, while the dec17/dec18 Eurodollar curve adds confirmation. As John Hussman recently stated, "The problem is that if interest rates are lower because likely future nominal growth in deliverable cash flows is also lower, then no valuation premium is justified at all." Hence, the persistent slowing in the rate of potential and actual U.S. real GDP growth.
Could there be a productivity boom as a by-product of tax reform, and the tax advantaged repatriation of U.S. corporate earnings held abroad? Perhaps, but believing Gary Cohn's assessment of the viability of tax reform seems naïve to me. He was probably given an "aliyah" at Emanu-El this Shabbos, for his comments that ramped ES to 2450 last week. Chances are his buddies exited their longs and shorted into the rally. Zei Gezunt and Gut Voch, Gary! Having money is a good thing, but having power over money is even better. Which is of course, the reason why the market is where it is today, and the best reason why it could be higher tomorrow.
If one were to believe everything one read in the media, one would believe that Conor McGregor actually stood a chance to beat Mayweather. One would also believe that the "doom-and-gloomers" are as ubiquitous as the young boys in "daisy dukes" sauntering down 8th Ave. in Hell's Kitchen. Granted, the usual perma-bears like Stockman and Rickards et al are touting financial disaster, along with the guys with real street creds like Dalio, Gundlach, and Hussman. But, if one were to look at the chart of the Rydex Total Assets Bear Index Funds, one would not think market sentiment is overwhelmingly bearish
As it were, the bulls are like Mayweather, and the bears are like McGregor. The bulls are always going to be favored, but in this case I'm betting on the underdog. Near term, the market is going lower, with a retest of 2425 in the imminent future. The 2400 level offers up obvious support thereafter, yet the minimum target to the downside is 2375. The inevitable rematch however, will probably see the favorite regain it's title once again.
If you plot daily range versus daily volume for the S&P over a long time interval you get the following graph. I have included straight lines illustrating that 2 distributions (relationships) are apparent.
anonymous writes:
Bill: Excellent visualization! This double hump result is surprising. Vic's random walk explanation was elegant and intuitive.
How does one intuitively explain the two humps? The most intuitive way would be a regime change of some sort — and primarily affects the measured volume.
Regime changes might be changes in market structure (i.e. HFT, commission-rate changes, plus-tick shorting rule changes, growth of ETF's, the way exchanges calculate volume including dark pools, etc.) The commonality of these regime changes is that there is a before-and-after …. so the second hump may be more/less pronounced after a give date??? If one were to do this scatter plotter for each year and make a moving slide show from the result, the result might look very differently…and give some interesting avenues for further research.
Those bonds last week should have had a little dip and that quiet strength is a sign of another wave of money about to flood equities again. All measures I keep, the valuation regression, which is only 14% over–nothing for a bull run, that relationship of short rates and earnings, the yield curve itself, breadth and confirmations, and the broader economic measures, the duration-balanced treasury rate continuing to drop (how about that 30 year?) all point to nothing but strength everywhere.
Looking at Drudge the past 24 hours, any market-related news is very negative. As hard as it may feel to pile in, it doesn't get much easier than this, folks.
Only 2 measures (really, super-measures for a market run-up) aren't going off here (and oh, if only they would!). One, proprietary that I only speak of with a select group, the other, that 20 year constant to linear between the 10 and 30, which is flirting at 5 bps over, and could invert pretty quickly here perhaps.
Just close your eyes…do what's hard here now, and get long. Ask yourself, "Do I want to go through my entire life as a weenie?"
I'm a firm believer that being a bookie in high school prepared me far more for a career as a trader than anything I learned in a finance class.
This is an interesting article on how Vegas sports books are managing their risk for this fight. As an aside, there is usually 100 times the money bet outside of Vegas for an event like this than what is wagered in Vegas itself.
PJ O'Rourke is the editor and chief of a new magazine, American Consequences. It is marketed towards Libertarians and is a very pleasant, entertaining and informative read. Their market and investing advice should be taken with a huge grain of salt. The magazine has some pretty decent articles on the newest investment and trading fad, cryptocurrencies. O'Rourke shows off a sharp, rapier wit in his "Letter From the Editor" column. Still, American Consequences is not a bad read, and downright good when read on the porcelain throne. Right now, the magazine is online, and the copies are free. There are three issues already out, and here's a copy of Issue 1 Volume 1 from June 2017, and Issue 2 July 2017. PJ O'Rourke has come a long way from his old National Lampoon days and like a fine wine, gets better with age.
They say the best racket backhand resembles to degrees a gold swing. Sam Sneed won 82 PGA Tour events and this frame-by-frame analysis of his swing is worth a study.
Here is a good article on deception in the military. Along with a wiki article on deception in nature, it's a good duo. Deception in romance good to study also. All that's needed to complete the square is deception in markets. Doubtless the senator and I will complete that in 70 Years On Wall Street.
Gas futures spiked, as did stocks of refiners.
Eleven of fourteen Powerball ticket purchasers refused to sell their tickets to a reporter for at least twice the purchase price. Most feel so good about their numbers, their shot at the big one.
"@business insider: we tested an economic theory by trying to buy people's Powerball tickets for much more than they paid"
"Memory believes before knowing remembers. Believes longer than recollects, longer than knowing even wonders."
This quote by Faulkner says much though you'll have to read it over again many times along with Light in August before it sinks in. Faulkner knew much about tragedies which befell the South and wrote about them as honestly as anyone. Understanding the South starts with reading Faulkner.
Most of his books concerned individuals saddled with crimes and mistakes inherited from the past, borne for lifetimes and passed on for many more. Eventually even their statues grew tired, and only the memory of memories remained; and they wondered if the past had finally offered up redemption. Faulkner believed no; history never once forgave nor was ever forgiven.
Stefan Jovanovich writes:
Faulkner is the classic schoolie author. He is the Henry James of the South, and almost everything he writes about actual history is complete bunk. He lied about being in the Royal Flying Corp in WW I and seeing action. His only actual service was as a reserve cadet in the British Army in 1918 in Canada. The only "front" he saw was Toronto. "Pickett's charge was the end of the Civil War" because he and Shelby Foote say it was; the Confederates who were there - including the man in charge of the artillery, General Alexander - thought it was only a loss and no worse for the Army of Northern Virginia than Chancellorsville had been for the Army of the Potomac. The actual war - the period when there is not one bloodbath in a year but one each month that the weather permits - is won and lost in 1864; but that doesn't fit the story of how "they" drove Old Dixie down.
Faulkner's obsession with history is about all the lost Butler money of his mother Maud and her mother Lelia. He and his fiction mourned the good old days when Mississippi was the richest state in the Union, and his sentiment for the former slaves was the same bathetic crap that people indulge in when they talk about the old cars they once owned but were forced to sell.
If political blacks and their allies want to continue "the struggle" 150 years later, that is hardly shocking or surprising. The Irish in America were still marching and crying and complaining to the United Nations 250 years after the Battle of the Boyne; and the Irish Free State was still choosing to be neutral when presented with a choice between Hitler and Churchill.
Understanding "the South" starts with knowing that Faulkner never picked cotton, never missed a meal and never, ever had to eat shit from Yankees for talking funny; and that absolutely none of that matters, as history.

At the end of next month there should be some confluence of news and seasonality. The orange clown is threatening government shutdown and gauging from the healthcare vote there will be political brinkmanship and a news fiasco. It also kicks off strong seasonalities. Though the government can limp on, Mr. Market hates uncertainty and there should be glorious vol for all. Put it on your calendars.
Aaron Brown on 1820s Northwest USA and poker's role in the invention of futures markets
Aaron Brown laying out his ideas on currency (also available in chapter 10 of RBR or part 7 of The Physics of Wallstreet: "The Physics of Wall Street: The Most Arrogant Book in the World? Part 7")
The most notable part of his thesis is that the standard story of futures markets (farmers love them) is false for farmers, centered on the wrong parties (should be centered on processors: millers, cleaners, shippers of grain), and backwards.
Brown claims that, instead of borrowing the cash to run a business, running the business, and repaying the creditors in cash, futures markets allow businesses to borrow something much more like what they will produce (wheat, electricity, FCOJ), and then pay back in kind—thus hedging currency risk. (This was especially important in the days of wildcat banks and soft paper monies—the wild west had little coinage.) Someone who transports wheat from St Louis to Chicago could short a location spread, for example.
Crucial to his point is that July 23 #2 soft red winter wheat at Minneapolis is *not* what I produce—it's merely similar enough that by rolling a series of short calendar spreads, I can continually borrow in terms *similar* to what I will actually produce.
In AB's world, not only are bonds, bills, notes, and corporate equity alternative currencies/numeraires –so is, with thick enough markets, each short spread on a commodity market. What's more, he claims that futures markets were not invented by anyone; they arose bottom-up out of a poker-playing culture, which had developed "clearing-houses" between 1820-1850, so that hedging credit risk/ currency risk in this way felt obvious.
Stefan Jovanovich writes:
As another Brown would say "AAAARRRRGGGGGHHHHH!!!!"
No one in 5th century Greece or 18th and 19th century Atlantic America thought that you "borrowed cash to run a business". If you could not deal in credit, you had no business to run.
The use of the term "money" seems to defeat almost everyone's understanding of these periods. There was no "paper" (or clay or parchment) money. Those were, like the Federal Reserve's small pieces of art, bills and notes - forms of IOUs. Coin - cash on the barrel head - was what you demanded from people when you no longer trusted their credit on any terms. Coin was valuable because the demand for gold and silver jewelry, plate and other forms of ornament was real and because, when there was a credit collapse, anyone holding coin could find great bargains by being willing to surrender their cash in exchange for - wait for it - bills and notes.
"Wildcat" banks were local credit merchants; people who lived within a day's ride or canal boat journey (also dependent on horses) had a pretty good sense of what the local wildcat's IOUs were worth. The conventional histories pretend that this produced a crisis because they were all written by people who found the anarchy of local credit dealing offensive. They wanted a nice, neat world run by proper people named Biddle.
anonymous writes:
I have not read the book. But I just read Aaron Brown's review. If he submitted that essay to an accounting professor, he would get an F. It is obvious to any objective observer that the proximate cause of the Bear Stearns and Lehman blowups is the same thing that blew up all of the S&L's in the 80's, Mettelgeselschaft, and countless other operating companies: they held illiquid long-term assets that were financed with short-term funding. Period. End of story.
Aaron Brown evidently has a large brain that is similar to Nassim Taleb's but he lost my respect when he wrote: "But everyone with a brain agrees that (a) derivatives are at the heart of things and (b) the essential aspect of derivatives is not contracts that reduce risk by specifying prices in advance but the system of exchanges, clearinghouses, and standardization that replace credit risk with liquidity risk."
Absent a surprising development since his last medical exam, Rocky still has a brain. And with that brain, he has written several laws — laws that have served him profitably over the past decades. One of those laws is that when a market becomes dominated by arbitrageurs and second-order instruments (whether it's merger arb, convertibles, mortgage backeds in 1994 and again 2007, CMO's etc etc etc) — it will blow up. Always has. Always will. And there are many many reasons for that. Note to Aaron Brown: (1) DERIVATIVES ARE NOT THE HEART OF THINGS. THAT IS WHY THEY ARE CALLED DERIVATIVES. (2) There is nothing remotely interesting, novel or insightful about your (b) observation. Anyone who has taken an introductory course in Finance understands there is a difference between Solvency and Liquidity.
Of the thousands of baseball quotes, my favorite is by Ty Cobb, 'Baseball is a red-blooded sport for red-blooded men. It's no pink tea, and mollycoddles had better stay out. It's a struggle for supremacy, a survival of the fittest.'
That's the way it was when I played as a kid, unable to afford mitts for hardball, and later as a city coach where we my team was chased off the field after winning the championship by the inner city bat-wielding losers.
There is the best of action of all sports in pro baseball, but it occurs so infrequently it's a lesson in delayed gratification. In recollection, on average, there are thirty shining seconds of action per inning. It's no wonder the stands become full of drunks.
The fire and splendor Ty Cobb's baseball can be revived by a mechanical pitcher.
It would be a pitching machine programmed to throw unpredictable pitches at varying speeds and spins at the hitters exactly within the strike zone. The advantages are:
• Easy and cheap to implement at a fraction the cost of flesh pitchers.
• No more batters injured by wild pitches.
• More strikes and fewer balls; no walks.
• Game tempo is doubled.
• More hits and higher batting averages.
• Higher score innings.
• An open hitting zone from home plate through second base into center field.
• No more time wasted watching pitchers chaw tobacco and nod off signs.
The mechanical pitcher would be recessed into the ground, and pop up for the pitch, and down during the hitter's swing. It could be a shot in the arm for America's greatest pastime.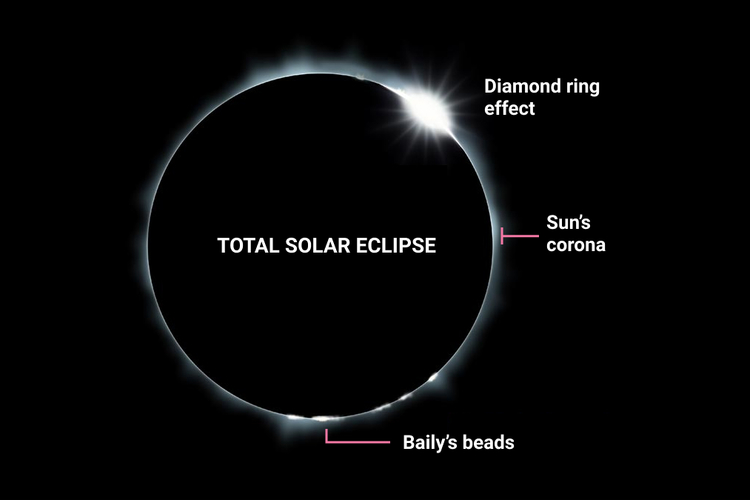 Prof. Haave and I stood on the deck of the of the parking garage of our office here in STL. We were both excited to see the eclipse, but neither of us expected what we were about to see.
It blew us away!
We watched as the "Beads" formed around rim of the moon as C2 was about to occur. The Beads are formed when the mountains on the moon block out the sun, but surface of the moon hasn't fully covered the moon.
We also saw the 'Diamond Ring" as the C3 formed (no diamond ring on C2). The diamond ring was completely spectacular. I wish there was some way to show everyone what we saw at that moment, but our iPhones were not made for eclipses.
When we were in totality, we saw "Shadow Snakes" appear on the white surface of the parking garage.
But the highlight was definitely what was happening the sky during the totality. The moon was dark in the middle and rimmed with fire. The "oohhh's" and "ahhhh's" from the several hundred people watching the eclipse with us described it perfectly.
Then someone yelled, "Look, there's a star". Then others started pointing out other stars. Everyone looked on the beauty and grandeur of the stars like children who were seeing stars for the first time.
The guys in the office next to mine, had a small table set up with a speaker for their iPhone. They were playing "Dark Side of the Moon" very softly in the background. Some other people from another office in the building overheard the music and told them to "TURN IT UP!!!!". Other people chimed in and up went the volume.
Everyone on the roof of the parking garage enjoyed watching a phenomenal celestial event all while being serenaded to the appropriate song.
If you ever get a chance to see a full eclipse, you should definitely go.
The skies are getting brighter and the temperature is rising again.
Time to get back to work.
2aba
Buzzy is with Schlomo and they're both 13 and he's in love with her. She's his cousin. Her mother ran away. They get off for Succoth. He tells her that he can jump over mountains, climb through valleys, swim the deepest rivers. Why are you doing this she asks him? "To save the princess." They are holding hands. She says to Schlomo, "You don't have to try so hard". Just then the mother calls them "Schlomo, Buzzy, come in for shawl."
A short, optimistic interview: "The End of Doom: Ron Bailey on Why the Future Looks Pretty Great"
My friend Joe Stock is the best alpine ski guide in Alaska and the only IFMGA Certified guide.
His article on "Managing Avalanche Uncertainty" has great lessons for traders as well.
One big difference is an accident in the field can mean death.
Rarely is that a problem in markets, which is good.
In reading recent bios of Beethoven, Hugo, Verdi, and Churchill, I find their persona and characteristics very similar. Do you feel that there is a certain type that is characteristic of greatness to an inordinate extent. I like that Churchill insisted as first sel lord that all hands including the captain and admirals join together each evening in singing popular ballads presumably Pinafore to maintain proper morale. Verdi would never allow anyone to give him guidance about his pumps or drilling at his estate. Beethoven said "he who has heard my music can never be the same again". "Hugo insisted on sleeping with two or 3 women each evening and kept a record of it.
In 2015, there was a very pronounced seasonality around the 3rd Friday of the month, where the market would ramp higher going into both quad-witch options expiration, and non-quarterly expiration, and then mean revert lower post expiration. J.P. Morgan had a couple of strategies that provided exposure to such options expiry momentum and it's subsequent mean reversion. Of course, this Friday's August expiration saw the market sell off the day before opex, and close unchanged on Friday. This is very similar to what happened during May opex of this year, when the ES sold off ~3% two days before expiration. While I'm not quite certain what the market will do next week, ES rebounded strongly the week following options expiration back in May.
As Kolanovic explained, the reason a broader selloff did not ensue is that none of the triggers for systematic selling were breached. Momentum stayed positive, bonds rallied and almost totally offset the equity selloff, and vol targeting strategies had already reached leverage caps at higher levels of volatility than those reached on that day. Options positioning going into May 17 was benign and long gamma, and as is often the case, moves are reverted when there is positive gamma exposure.
Bonds are once again negatively correlated to spooz, offsetting falling equity prices, and today's vol levels have only increased commensurate with May 17th's levels, however current VVIX:VIX is substantially higher than back in May, and momentum has turned negative. September options open interest is skewed toward puts in the current trading range with large pins at the 2400 and 2350 levels.
The stuffed cabbage appears to be falling apart, and there is no shortage of potential explanations as to why: trumpeachment, tax reform delay, balance sheet reduction, fed tightening, and if there were to be a selloff this Monday–renewed bellicose dialogue between the Kim and the Donald over war games.
P/C ratios continue to be bearish, and don't show signs of being overbought. A post-expiration move below 2425-20 on Monday would take dealers further short gamma as expired hedges are rolled forward boosting volatility. A test of 2400 in the ES then seems likely where a break below, might not be bought. The 'world' is leaning against that level, and recent statements imply the Fed may not be as inclined to be a buyer, as they have been in the past.
The powers that be seem determined not to allow gold to build value above 1300, however the $/yen is on the precipice, and further domestic conflict would pare it's price and support rallies in gold and treasuries. In any case triple bottoms (usd/jpy) and triple tops (gc) never hold.
Jim Sogi writes:
Last weekend they paid a nice premium for taking the risk of holding their goods over the weekend. Always risk, and that's what they pay for.
Ralph Vince writes:
Don't know if we'll see that tomorrow, but volatility is certainly telling us (very strongly) this is not the correction it seems most are looking for yet.
I still think we challenge the all-time highs first, and, very possibly, go into another strong up leg this Autumn on the inevitable tax cut legislation. The big bull–from wherever you begin looking at it from, March 09, Nov 2012, or, as I see it from January 2016, is far from over. And that means higher highs before it is.
I can be long and wrong but not short and wrong on the timing of all of this. But I'm quite certain we're going right back up to those all time highs here, just not so sure about tomorrow.
The bull market in bonds takes a breather this week.
2461
With the murder of my friend George Carroll, New York City just became a lonelier place.
I first met George when I moved to Tribeca in 2008. He was managing a little coffee-pizza place on Reade, and made the only decent latte in the neighborhood in those pre-Starbucks, pre-Pain Quotidien days. He was a good guy and became a friend and confidant. After he left and the owner cashed out her real estate, I would occasionally bump into him on the street. He was one of the genuine people. He grew up poor in Texas, but he was a likely, bright guy and was reinventing himself.
I hadn't seen him in some years, but I thought about him. On Friday, he was stabbed by a couple of thugs hanging out on school steps — right, school steps — while apartment-shopping with his wife in Greenpoint, Brooklyn. The news stories said the attack was random, senseless, unprovoked, and started with one of the kids asking "What you looking at?"
I can see the scene. My friend, running. His wife, screaming. The two kids had been causing trouble in the neighborhood for some time and under another mayor would have been locked up.
It's a bad day when a man can be murdered for nothing at all.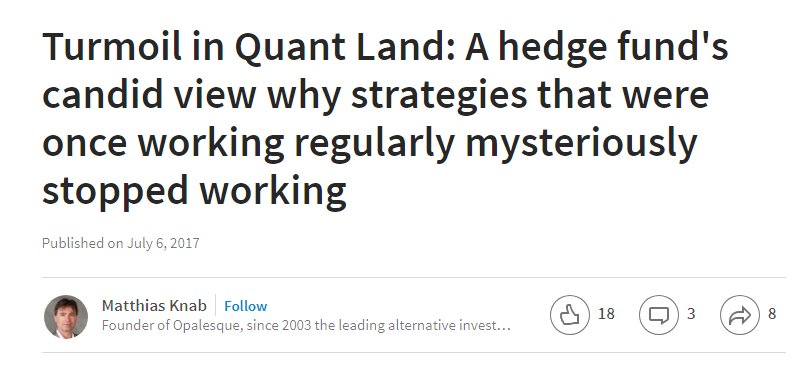 A great read:
"Turmoil in Quant Land: A hedge fund's candid view why strategies that were once working regularly mysteriously stopped working"
J.T Holley writes:

The Law of the ever changing. The rudder is still the objective standard. Just try a little bit harder.
Use the objective but become more subjective while using the objective as a ruler.
Count. Then count again. Count some more. Die counting.
Adam Grimes writes:
A broad question on this topic.
Thinking about volatility, I understand how selling vol can depress implieds. This is obvious and if there's an ever-present offer on volatility (e.g., from banks selling for "yield") this would have an impact on pricing of those derivatives… but am I correct in thinking that there's no mechanism whereby this can actually effect realized volatility? And if realized volatility were higher (it obviously has not been) then the mispricing of those derivatives would be clear and the sellers would be crushed. We also could not have a situation where pricing of implieds comes dramatically apart from realized vol for an extended period of time because there is a day of reckoning on most of those instruments.
I can easily understand how buying and selling might, for instance, erode cycles or seasonality in the underlying and would quickly erase arbs, but I don't see how buying and selling pressure in a derivative can affect realized volatility. (Again… just to belabor the point… impact on implieds is obvious.)
I could imagine being a very deep-pocketed seller of vol and then operating in the underlying to dampen swings there, but it would seem that I would quickly magnify my risks to unacceptable levels without any assurance that I'd be able to accomplish what I was trying to do.
Am I missing something here, or is there a missing piece to this low vol puzzle in general?
Ralph Vince replies:
Adam, YOU'RE not missing ANYTHING. The notion that too many sellers of options dampen implied vol., if it were true, would create a wonderful opportunity to buy options, which, ultimately, reflect outcomes consistent with the historical vol over the period the options have been held. That is to say, the actual outcome of price distributions between the day I buy the options and the day the expire is, datum est, a function of the historical vol over that time window.
Ultimately, like a psychotic mistress you cannot shake, implied and historical can never be too far away for too long.
anonymous writes:
Yes, this piece seems to be catered towards those whom are subscribers or clients of the author. I like to think that longevity in systematic/quantitative strategies relies on creativity and flexibility more than a fundamental understanding of statistics or arithmetic.
As Chair said "don't try to make money the same way twice".
If too many people are only focused on selling vol because that has been the main source of alpha over the last 3 years, then it would seem reasonable to expect those same actors to see heavier drawdowns and volatility being pushed like a hydraulic press into over leveraged players. A more prudent observer would find a way to take advantage or quantity some of these "irregularities".
Zubin Al Genubi writes:
A couple of questions remain unanswered: Why has volatility been so low?
Other questions: why is inflation so low with such low rates?
Won't some of the old strategies start to work again once this low vol regime ends?
Personally I don't even bother to trade the low vol. Better to travel.
Paolo Pezzutti writes:
The concept of ever changing cycles is always valid. Competition on a set of inefficiencies exploited by more and more actors reduces gradually the edge. It has always been like this. The issue is that no edge is given and working forever. Innovation and research can never stop. One has to continue counting, find new regularities , dismiss those who do not work any more. An area of research in this regard and discussed in the paper is how to exploit the growing sector of passive investing and etfs. What are the new regularities that these growing actors are creating for the speculators to exploit and profit from?
anonymous writes:
They didn't take on enough risk, it's THAT simple.
What a pile of yadda yadda, "We don't really know why things didn't work as well as they had in the past, but we've fixed it because we have a lot of smart people working for us."
A failure-justifying amphigory, and fails at that too.
anonymous adds:
Managers have to have a story to tell, especially when they under-perform the benchmark. The negative effects of index funds and ETFs is a pretty common part of the story these days. I am very skeptical because, from the cheap seats, it seems that if you took all the passive money and gave it active managers, they would wind up in aggregate holding the same positions as the passive funds held, only minus bigger fees. Following that logic, one consequence of passive investments would be higher markets because more of the customers' investable funds actually reach the market rather than being siphoned off by intermediaries. Which means that intermediaries will need to find new ways to siphon off funds.
2074
If not today, then tomorrow…don't be shut out.
Gary Phillips writes:
2475.00 appears impenetrable, at least until after opex Friday. If $/yen was to further take it on the chin due to Trump backlash, which looks likely, then gold should break higher and take out the round at 1300.00 while bonds tag along for the ride. Thinking 2440 in es before 2480.00.
Ralph Vince writes:
Maybe so, Gary. BUT…there's no danger until the big indexes hit new all tie highs first, which is inevitable in the next couple of days.
anonymous writes:
This is good, selling off into the open. Prime chance to add for another charge at new all time highs here. We are hitting a cycle low in this Thurs/Fri area, maybe even at it right now, and some intermediate stuff that is deeply oversold.
On this day in 1843, in Honolulu, Herman Melville enlisted as a seaman on board the USS United States. He served for 18 months and was discharged in Boston in October 14, 1844. He was 25 years old. Everything Melville knew about life at sea came from the 5 years he spent on the St. Lawrence, Acushnetat, Lucy Anne, Charles & Henry and the USS US.
The public wanted him to write about those adventures. Melville wanted to preach about the unfairness of a life that saw him begin rich as a child and then get thrown out of financial paradise, never to return again. The books about what he saw and did– Typee, Omoo, Redburn, White Jacket– were all popular; the ones with the philosophical discussions never sold and remain unreadable to this day.
Admitting you are wrong is very difficult. I've noticed that almost no one can do it. I haven't seen or found any real studies of this behavior. It would be interesting to see how often people are wrong about something objective, why they are wrong, how they do or don't admit being wrong, and if they can change their opinion. Once a person make some declaration, there is some heuristic or bias that makes them cling to that even when they're obviously wrong. Often rather than admitting being wrong people will rationalize some external reason why their declaration is not right. People will actually change their memories to avoid being wrong. It's a powerful effect.
Traders need to be able to quickly admit being wrong and get out. It's one of the keys to successful trading. One needs to be able to reassess.
In expeditions and adventure travel, one needs to be able to change one's plans, admit a mistake, turn around, and give up goals. You need to have fall back plans. These are all techniques to alter one's mind, even if they fall a bit short of admitting one is wrong. I think this approach is a the way to work around the heuristic.
Another problem is the social reinforcement problem. Once a person makes a declaration of say, a trading position, it makes it harder to change. That's one of the reasons why Chair says, don't disclose your position or state your bias. Also, there is the social problem of who in the group wants to say the group is wrong. I'll call this the lemming effect. There is the expert effect, where no one in the group wants to contradict the self proclaimed expert. The effect can be more subtle, such as the first to speak in a group takes on a guru like Auro, making it hard to correct mistakes in a group.
Russ Sears writes:
Professor Haave has a law which I will paraphrase as "90% of people spend 90% of their time trying to prove that they are not wrong". I would add that most of this wasted effort is spent trying to blame someone else for things that go wrong, rather than simply admitting a bad decision and moving on. I try to be friends with those that can admit a mistake. I would add that this is paramount in picking a mate or a boss. Otherwise I am bound to be blamed for their problems. Besides wasting money on bad investment decisions. Time is wasted and perhaps the biggest cost to personal happiness can be wasted relationships and heart break.
An insight as I've aged is if I truly want to get close to and attach with my spouse, I must be willing to admit to to my spouse that much the lack of feeling attached is because of my insecurities rather than her problems or lack of compassion. It's a paradox that the compassion is only as deep as one allows themselves to admit being vulnerable to the other.
anonymous writes:
Ego exposed is certain to be defeated. It is the fastest and easiest way to do it. The resultant facts make the ego indefensible. The ego becomes unimportant to the individual. He or she is liberated of it.
It was the most valuable lesson the Senator ever taught me.

288a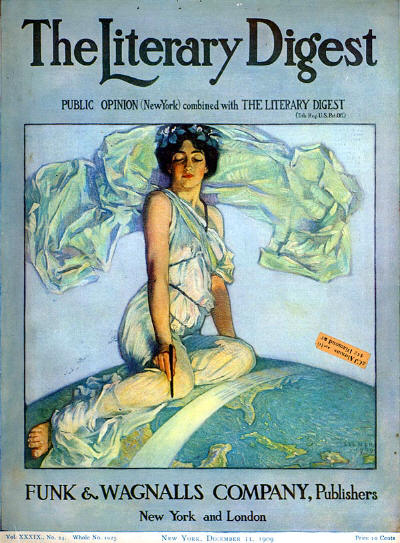 The Literary Digest was once the microphone through which that mythical beast "public opinion" spoke to America
The mass media - newspapers, movies, radio - were careful not to offer political opinions on the sensible theory that favoring one party over another would cost them money. Political opinion was limited to print and, within print, almost entirely to magazines.
In 1927 the Literary Digest had 1 million subscribers; by 1938 it was gone.
It fascinates me how the formerly mass media are well on their way to becoming the voice of minority opinion because of their one-sided politics.
Zubin Al Genubi writes:
With 500 TV channels, and a thousand news sites, information and political views have become Balkanized. Will political parties soon follow and breakdown like the parliamentary systems in Europe.
Stefan Jovanovich replies:
The Parliamentary systems in Europe may have political deadlocks but they are hardly breaking down. Brussels has authority that was Napoleon's dream. There are not 500 channels if by TV you mean mass audiences similar to those held by the 4 networks in the U.S. Britain has 5 channels, France has 3. What I was trying to point out was the obvious. Netflix, Amazon Prime and hulu–none of which offers any political "news" - have become what the movies and radio were in the 1920s and early 1930s. The audience that elite opinion thought it had literally melted away, much as it is doing now. Trump is "unpopular" only if one believes the modern Literary Digest audience represents a clear majority of the American electorate.
I'm not unfamiliar with the VC world, and I'm baffled by the size of the filecoin raise. Can anyone provide insight?
Andy Aiken writes:
In effect, Protocal Labs, the company behind Filecoin, has eschewed VC funding and simultaneously made a gambit that selling the coin will stimulate quick adoption of their app.
1) In contrast to other ICOs, Filecoin deliberately designed the ICO to be SEC-compliant, and thus could allow US investors
2) the timing could not be better, with Bitcoin and platform coins such as IOTA near ATHs. It has been hyped in a well-orchestrated marketing campaign.
3) the project/app has immediate practical value, and similar offerings have already been implemented in such projects as Sia and Storj.
4) the coin is the transaction token, and does not represent a share of the company. Think of a Filecoin as a unit of revenue, not as an indication of valuation. Consider Walmart: annual revenues this yearwill be about $500B, while Walmart market cap is <$250B. The relationship between Walmart revenue and market cap depends on other variables, such as operating margin.
I did not participate. My view is that the project will succeed and be profitable, but that the valuation is rich given the established market presence of Sia and Storj, not to mention cloud storage offerings such as AWS. But with AWS or similar cloud storage, a user is not able to generate income from their own unused storage capacity. There is a financial incentive to use apps like Sia, Storj, and Filecoin.
The future value of the coin will depend on adoption. Sia and Storj are not very easy to use. If Filecoin can make their user client easier to use, then it could well deserve the valuation.

Volume gave nothing yesterday. It's a good sign Monday will continue through today, and the 20 constant mat convexity is only 3 1/2 over linear.
It should be a stronger day in the end than the open might indicate.
Kim Zussman writes: 
So how will we know when the 8 year old "buy the dip" (slightest, shortest, before you blink) trading strategy will stop printing exponential bitcoin?
Ralph Vince writes: 
Everyone is waiting on "the dip", and more than that in numbers are the grumblers who are and have been short or not aboard at all.
It's the 1980s, but on steroids this time. Giant transformations - far bigger than reactionary politics - were in place a year ago and are just beginning to manifest.
Like the man on the loudspeaker at the trotter track says, "Do NOT get shut out."
The hysterical reaction of media commentators and graveled foreign policy pomposities to Trump's "fire and fury" reminds me of the reaction to Reagan's hot-mic joke that "we begin bombing in five minutes".
Although now the left now discusses Reagan in hushed tones as an idyllic "good conservative", it was not so at the time.
Isomorphismes says:
I have never read a pro-Reagan leftist. Even centrist American liberals (eg Robert Reich) conveniently count (as noted by Mr Terrill) America's decline as starting with his presidency.
Andy Aiken adds:
That was then, this is now:
https://www.nytimes.com/interactive/projects/cp/opinion/election-night-2016/the-example-of-ronald-reagan
https://www.commentarymagazine.com/articles/the-liberal-misappropriation-of-a-conservative-president/
https://thinkprogress.org/10-things-conservatives-dont-want-you-to-know-about-ronald-reagan-7a87723a4f68/
http://www.politico.com/magazine/story/2017/06/26/how-the-right-gets-reagan-wrong-215306
2a11
Are these turkeys here to challenge Victor to a tennis game?
My family went to an annual outdoor Shakespeare performance this year, Taming of the Shrew, which is among other things, a humorous treatise on marriage.
It also revealed that his plays, as wonderful as they are to read, are meant to be staged and performed, not studied in isolation.
And it is a good reminder in this virtual age that there is no substitute for living in the real, analog, non-artificially intelligent, non virtual, messy, human, loud, world and for kids to get outside, get muddy, get lost, and come home with a story.
This article is the dumbest thing I ever read: "The Real Dirt on 7 Filthy Food Habits". He forgot waitress fingers on the top of your drinking glasses and ice in coolers. People are dropping to trailer floors like flies in Slab City: two to the hospital with kidney failure, and 12 others begging the gods for mercy. Paramedics in and out daily for free trips to the clinic. Each chart is marked,''unknown cause."
No one believes simply that it's the Community Center water that everyone started drinking in copious amounts with the heat that is literal poison. Correction: a few believe, got better in three days on reverse osmosis water, and the Slab water deliverer stopped me on the road, 'Asshole' for cutting down his business. Everyone worries about the bacteria, which is ridiculous. The people drinking directly out of the Coachella Canal that has flowed a thousand miles down dirt and concrete banks from the Rockies don't get sick.
People get ill from the bacteria killing chemicals in the Community Center and other town water, the 125F in-the-shade heat, and from drinking 5x the normal daily consumption of chemically poisoned water due to a rabid thirst and the body demand to dilute the poisoned water by drinking more water. It becomes a vicious circle, including the trips to the hospital where they're put on antibiotics and sent back to the trailers to suffer.
Please don't lecture me about the germ theory. Almost all disease is a compromised host and the bacteria, virus, protozoa and other pathogens are opportunists like the thieves in Slab City. Look to yourself and do something about it. Studied it, been sick with it no less than 50x in 100 countries around the world, and not really ready to listen to status quo opposition.
Core CPI comes less than expected. Dollar drowns Euro spikes up. Wow! A less than expected inflation in America is good for America or bad for America? A less than expected inflation in America is good for Euro or bad for the Euro? If inflation is less than expected should gold spike lower or higher? It spiked higher.
Today we are in a world where anyone having a logical mind that is sound on what should happen is irrelevant. Today is a world where what is happening you must tag along and ride all illogicalities.
This has been around for a while. With close to zero cost of money in most key economies and in a few sub-zero cost of money, the entire logic of money is gone with the wind. We spoke earlier here on this forum how the Discounted Cash Flow model is only good monkies now, since if you are discounting to present value using a negative interest rate the longer durations become even better valuations implying that those holding a bleeding asset are going to be wealthier.
It's an upside down world.
Should one try to put one's wit to work in an unwitting world? Or should one take a good long holiday and travel around the world like the adventure capitalist?
We have seen Korea crises before. Panic abounds. Then markets bloom, again.
Well, one can never know when this phenomenon will fail and panic might be well founded. But based on logical imagination of how the supposedly irrational dictator also knows not to get pulverized on one hand and based on the history of how such panic has been induced from time to time and then dissipated…
Not sure, where to get the precise dates (week of heightened rhetoric N Korea style) and the price action through that week and next. So excusing myself out yet again from trying to count such things out. Perhaps a spec will have ways to extricate such dates and might run numbers.
This note leaves a hypothesis, the Dictator is either the smartest Put Writer in this world or is being deployed by the smartest Put Writers in the world to indulge in collection of wages of selling fear and panic, from time to time.
Peter Ringel replies:
I guess some Wyckoff-style manipulation goes on with North-Korea related news. Once the news is on Bloomberg it's old news. There is intelligence about NK every day - there are talks with NK every day ( someone, somewhere ) - there are new developments every day | yet only sometimes the news reach Bloomberg & co.
One explanation could be, that geopolitical risks are not well understood and managers go into cash once NK news hit Bloomberg.
This should make NK news a great tool if someone wants to shake out equity bulls.
(Sorry, I offer lots of opinion, but few facts)
285d
I've been trying to figure out what a President is *supposed* to say when a foreign power threatens:
"WSJ: Trump's 'Fire and Fury' Comments: Statement by William J. Perry"
Andy Aiken comments:
"We do not make empty threats, because empty threats weaken our credibility, and weaken the strength of threats that we do intend to carry out. As Theodore Roosevelt said, "speak softly but carry a big stick."
So is Perry speaking of Trump when he writes this, or Obama, GWB, and Clinton? The Nork nuke deal hatched by WJC, Jimmy Carter, and Madeleine Albright was the framework for the Iran nuclear deal. Both were deeply flawed miscalculations, modern versions of "peace in our time". What came of Obama's "red line" in Syria? His pronouncement was counterproductive blabber. Perry himself was probably behind that empty threat.
Rocky Humbert writes:
Well he was certainly not speaking of Reagan — who directly and openly challenged the existing Soviet military doctrines (pre-gorbachev):
From "Reagan and The Cold War":
What struck Reagan about Communism was its weakness. Communists ruled by fear and intimidation. He believed that policies of peaceful coexistence or of passively containing the Soviet Union would be disastrous. The Communists would over time use the Western fear of war, especially nuclear war, to undermine the confidence of free peoples. They practiced "salami slice" tactics of intimidation and bluff to gain marginal advantages that would eventually accumulate to a victory in the Cold War or allow the Communists to win a final showdown. Reagan sought to turn the tables on Moscow and its allies by advocating an all-out fight against the growing encroachment of Communism in this nation and throughout the world.

By all-out fight, Reagan did not mean military action, although if that was required of the United States in particular circumstances—e.g., Korea, Vietnam—the United States should have fought to win. The key front in the Cold War, in Reagan's assessment, was actually the Soviet economy. Marxism was a materialist philosophy, and its chief claim to practical allegiance around the world was its supposed ability to produce economic plenty (and thereby, social justice). In fact, Reagan believed that democracy and capitalism had decisive, natural advantages over totalitarian systems and centrally-planned economies. Reagan sought to confront the Soviet Union simultaneously with various forms of economic pressure: nearly-open ended American military spending; threats to the security of the Soviet empire (especially in Eastern Europe and Afghanistan) through direct and indirect American support to resistance movements; losses of foreign currency that the Soviets had expected from sales of oil and natural gas; and a cutoff of Western aid and technology.

Reagan argued that the Cold War would end only when there was a fundamental change in the Soviet system, and not just in Soviet policies. The strategy of economic warfare was designed to force such a change, by bringing to the fore a new generation of Soviet leaders who would finally recognize the bankruptcy of communist ideology and move toward a true political rapprochement with the West. The United States, in turn, would promote democracy throughout the world as a magnet and an example to all the peoples oppressed by dictatorships of whatever stripe.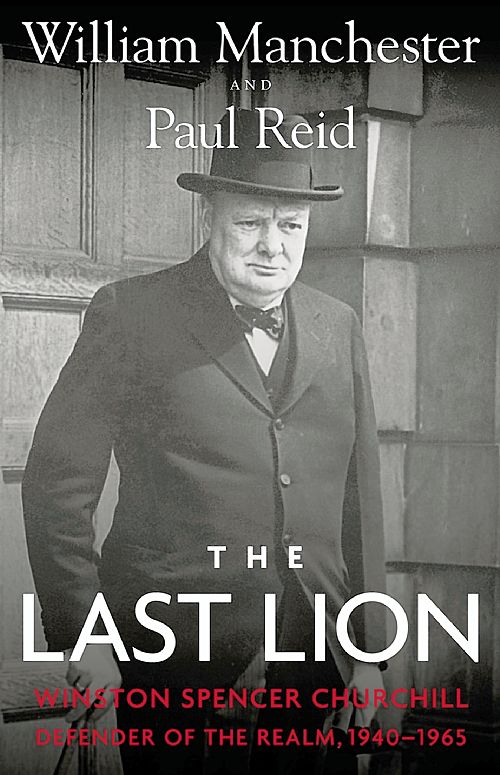 In a visit to The War Rooms and a reading of every one of the 1000 pages in Manchester's The Last Lion, I was not impressed by the heroism of the French, and with deference to Jovanovich, the chances of the French not turning their navy over to the Reich after the armistice would seem to have been close to the proverbial parts in a salvage dump spontaneously assembling themselves into a jet. It led me to think of all the times all my opponents in squash defeated in earlier rounds would stay around to the finals hoping I would lose. This led me to think of whether when one market has a terrible fall, whether it predicts with inordinate frequency that a related market will suffer a similar fate. The latter must be tested.
Stefan Jovanovich writes:
About Dunkirk there is no question that the French stood and fought–bravely and well.
The Vichy French did not turn their Navy over to the Germans; they refused to turn it over to the British. Not quite the same thing. The result was Operation Catapult.
Churchill is not to be trusted about almost everything he wrote and said regarding the strategies of the war; in almost all cases he was a blowhard and a buffoon. But, he had luck. He had one subordinate commander brilliant enough to ignore his orders and preserve the RAF (in spite of Churchill's sending two months' of fighter production to Singapore so they could be captured by the Japanese weeks after being off-loaded in their crates on the docks). Hugh Dowding and the pilots won the Battle of Britain; and then the Germans lost the war by choosing to invade Russia instead of completing their conquest of North Africa and the Middle East and Iraq and Persia's oil reserves.
Andrew Goodwin writes:
Greenspan cares about the bond bubble. If his commentary has influence perhaps he will move to remarks about other markets that don't share the same ecosystem. That 1000 page Manchester book was excellent and the brain makes the link finally in the naming.
anonymous writes:
Sad but true: before WW I both Churchill and Roosevelt thought that the greatest threat to Anglo-American Empire would come from the Russians in Europe and the Japanese Navy in the northern Pacific. The Germans were not going to be any problem at all, no matter what the stupid French kept saying.
Jay Thompson writes:
Accepting the above as true then major kudos to Churchill and Teddy as they possessed more foresight than the vast majority of foreign policy experts–to say nothing of US Presidents–in the past 100 years. Russia was/is a threat to the civilized west if for no other reason than it has been such a tempest - incredibly unstable and nearly ungovernable The near totality of Russian leadership was Germanic (like most of Europe that mattered) yet the people are Slavs. This exacerbated the already tense relationship between the peasants and the aristocracy or, if you wane Marxist, the bourgeois and the proletariat. The Japanese had a long lead time in their accumulation of navy power and the associated increase in their sphere of influence.
Patton, and Churchill, were right. We should have continued on and/or let the Third Reich destroy the Soviets. If for no other reason it would have taken away the "Cold War" as an excuse to waste trillions of dollars and the lives lost in the hot wars of Korea and Vietnam.
Victor Niederhoffer writes:
Anyone who believes that the Vichy prezs, petain and lebrun would not have turned over their entire navy to the Germans as smoothly and easily as they killed all the jews in Southern France, and who also believes that without Churchills courage and refusal to surrender that England would not have signed an armistice with Germany in 1939 or 1940 is very biased against the man who saved the world from German rule. With French armaments their would have been no hope left for the British and Churchill would have been booted out of office by the many collaborationists he brought into his cabinet.
22be
Back when I was an honest hustler with more brains than money in the sport that was replacing bowling as America's greatest pastime, I could not resist testing my best game by betting on it. Honest as a Michigan farm implement, with an indomitable backhand, it was the act and then the action of making the bet a win that counted. I refused to take any good person's money. If he was an evil cheater, I doubled the bet.
In the same year that I was the best shooter in the ugly sister sport of racquetball, 1973, Bobby Riggs smashed onto magazine covers and into world news by defeating Margaret Court in the Mother's Day Massacre. A few months later, slandered the 'fattest sexist pig in history', he stepped up to legendary charming Billie Jean King in the Battle of the Sexes.
You only need to know the hustler's mentality to know the outcome. You don't need to read about the mob riding Bobby for a debt, secret locker room conversations overheard by a janitor, or diagnose his supposed ailing 55 yea- old body. Just watch the video of the match and how he jumps blithely over the net after match point to congratulate the winner King.
I'm sure that he threw the match because these would have been my thoughts, and were them, when I battled the same year nearly every female racquetball champion informally or in exhibitions playing opposite handed.
Bobby said to himself, 'She doesn't stand a chance of beating me, the odds are long against King at 8:5, I'll bet a hundred thousand on myself, and tell my friends to do the same, throw the match, and still be able to get a date! Then with the first match publicity I'll make a million on the rematch.' So, assuredly 30,000 people in the Houston Astrodome and a global audience of a further 50 million watched him throw the match.
Riggs was the #1 world player for three years, won Wimbledon, and the U.S. Open. I also threw a few matches rather than take a good woman's money, and then had them treat me to a date after the match.
Andrew Hollan writes:
During my 8+ years of investigating all aspects of Paul Haber's life I interviewed a high powered Chicago lawyer that saw Haber give 15+ points and the serve to a Mob family's son who was gifted with a power serve and a good kill shot repertoire. The Chicago mobster got hot and beat Haber in a 21 point game.
Haber did not have money to cover the $ bet and they were going to beat him to a pulp or kill him. The lawyer paid Haber's debt to save his life. The attorney said the Chicago mob had a group that just played 4-wall handball within their own group but Haber being Haber got himself in their group that day by placing bets with them and giving points and the serve to start the match.
I met Bobby Riggs at the Houston Racquet Club. My group was young wooden racquets Racquetball players. He stood out to a 16 year old Andy Hollan. I played the Juice's driver Al Cowlings at the HRC too. It was jaw dropping in later years to see the Bronco ride with them on a split screen with the Rocket championship game vs. Knicks on the other 1/2 of the screen.
Bo Keely writes:
The way Haber sometimes worked that hustle was to throw the game and collect a percentage of the debt paid by the party to the mob. No mob family son was going to beat Haber with 15 points if they played all year, but Haber had to let the mob save face, while making his fee.
The price of a lumen-hour in British pounds adjusted for monetary inflation
Archives
Resources & Links
Search