Dec
27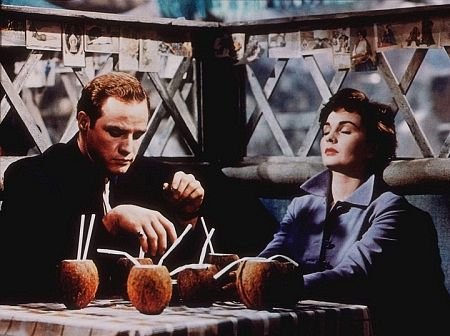 The film version of Guys & Dolls is often repeated during the holiday period. It contains some sage advice on gambling, handicapping and, if you so desire, how to run a floating craps game without getting caught. It features a thirty-year-old Marlon Brando at the height of his acting powers as big time gambler Sky Masterson. Brando was born in Omaha, Nebraska and so the financial advice should be reliable.
Here are some apposite quotes:
I know it's Valentine, the morning works look fine
You know, the jockey's brother's a friend of mine
And just a minute, boys I got the feedbox noise
It says the great-grandfather was Equipoise
I tell you Paul Revere, now this is no bum steer
It's from a handicapper that's real sincere
I'm pickin' Valentine cos on the mornin' line
The guy has got him figured at five to nine
So make it Epitaph, he wins it by a half
According to this here in the Telegraph
—
Nathan: Not Sky. He doesn't lend money. He bets money! So why don't I bet with him? Why don't I bet a thousand with him on something?
Nicely: You would bet with Sky Masterson?
Nathan: I am not scared. I am perfectly willing to take the risk, providing I can figure out a bet on which there is no chance of losing.
—
Nathan: Offhand, would you say that Mindy sells more cheesecake or more strudel?
Sky: Going strictly by my personal preference, I'd say more cheesecake than strudel.
Nathan: For how much?
Sky: What?
Nathan: For how much?
Sky: Why, Nathan! I never knew you to lay money on the line. You always take your bite off the top.
—
Sky: Nathan, let me tell you a story. On the day I left home to make my way in the world, my daddy took me to one side. "Son," my daddy says to me, "I am sorry I am not able to bankroll you to a large start, but not having the necessary lettuce to get you rolling, instead, I'm going to stake you to some very valuable advice. One of these days, a guy is going to show you a brand-new deck of cards on which the seal is not yet broken. Then this guy is going to offer to bet you that he can make the jack of spades jump out of this brand-new deck of cards and squirt cider in your ear. But, son, you do not accept this bet because, as sure as you stand there, you're going to wind up with an ear full of cider. Now, Nathan, I do not suggest that you have been clocking Mindy's cheesecake.
—
Sky: But if I wish to take a doll, the supply is more than Woolworths has got beads.
Nathan: Not high-class dolls.
Sky: There's only one class: interchangeable.
Nathan: A doll is a doll?
Sky: All dolls, any doll. You name her.
Nathan: Any doll? Will you bet on that? Will you bet $1,00 bucks that if I name a doll, you can take the same doll to Havana with you tomorrow?
Sky: You've got yourself a bet.
Nathan: I name her.
Sky: Her?
Nathan: Sergeant Sarah Brown [head of the Christian mission].
Sky: Daddy! I got cider in my ear.
—

Arvide: What are you unhappy about, son?
Sky: Gambling.
Sarah: Apparently you're a successful gambler.
Sky: Is it wrong to gamble, or only to lose? I'll come back for help when I'm broke.
Sarah: Don't misunderstand. It's just so unusual for a successful sinner to be unhappy about sin.
Sky: Besides, my unhappiness came up very suddenly. Maybe it'll go away again.
Arvide: We can keep you unhappy, son. Give us a chance. You don't look like a gambler at heart. What made you take it up?
Sky: Evil companions. Evil companions who are always offering me sucker bets.
Sarah: Just what is a sucker bet?
Sky: A bet that is reserved for suckers. For a gambler to get sucked in on such a bet is most humiliating. But to lose it means that you are marked for a very long time as a chump. You must go all out to win it.
Sarah: Is that so terrible, to be marked as a chump?
Sky: Among my people, being a chump is like losing your citizenship. A chump is an outsider, a yokel who will buy anything with varnish on it.
Sarah: Like a solid gold watch for a dollar?
Sky: This is a real chump.
—
Sky: Only one thing has been in as many hotel rooms as I have - the Gideon Bible. Never tangle with me on the Good Book. I must have read it a dozen times.
Sarah: If all that was no help to you…
Sky: Who says it wasn't? In one of my blackest moments I came up with a three-horse parlay: Shadrach, Meshach and Abednego.
—
Big Julie: And since I've been cleaned out of cash, I announce that I will now play on credit.
Nathan: Big Jule, you cannot imagine how exhausted they are. Especially on a non-cash basis. Me, personally, I'm fresh as a daisy.
Big Julie: Then I'll play with you.
Nathan: But I am not a player. I am merely the operator.
Big Julie: You been raking down out of every pot. You must have quite a bundle.
Nathan: Being I assume the risk, is it not fair I should assume some dough?
Big Julie: Detroit, I'm gonna roll ya, willy or nilly. If I lose… I'll give you my marker.
Nathan: And if I lose?
Gangster: You will give him cash.
Nathan: Let me hear from Big Jule.
Big Julie: You'll give me cash.
Nathan: I heard.
Big Julie: Here's my marker. Put up your dough. Anything wrong?
Nathan: "IOU one thousand. Signed X." How can you write "one thousand" but not your signature?
Big Julie: I was good in arithmetic but I stunk in English.
Nathan: Here. This'll put you through Harvard. Big Julie: I'm rollin' the whole thousand. And to change my luck, I'm going to use my own dice.
Nathan: Your own dice?
Big Julie: I had 'em made especially in Chicago.
Nathan: I do not wish to seem petty, but may I have a look at those dice? But these dice ain't got no spots on 'em. They're blank.
Big Julie: I had the spots removed for luck. But I remember where the spots formerly were.
Nathan: You are going to roll blank dice and remember where the spots were?
Big Julie: Detroit… do you doubt my memory?
Nathan: Big Julie, I have great trust in you.
—
A lady wouldn't flirt with strangers
She'd have a heart, she'd have a soul
A lady wouldn't make little snake eyes at me
When I've bet my life on this roll
So let's keep the party polite
Never get out of my sight
Stick with me, baby, I'm the fella you came in with
Be a lady Luck, be a lady, Luck, be a lady Tonight
Jeff Watson writes:
Those are such great quotes. Runyon once said that all life is 6:5 against. You can make a hundred billion dollars like the Walton family has done, but Runyon's 6:5 grind ensures you will ultimately lose.
Comments
Archives
Resources & Links
Search