Oct
10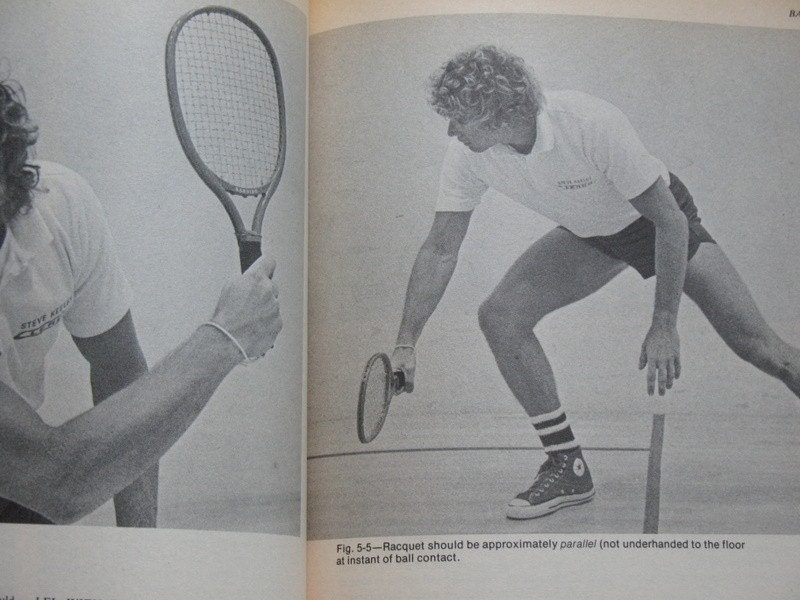 I started paddleball at Michigan State University, switched to handball, and then when rumors of a professional tour and the first racquet arrived in 1970 at MSU, racquetball was the only game.
I had never hit a single anything before enrolling at Michigan State. The first time I walked into the Intramural Building a pivotal mentor swayed me. I heard the crack of ball on wood and looked down into those concrete pits and saw a purple ball– my specialty– any kind of ball, really. They had zoomed at me in the past in all sizes and shapes on house lawns, corner lots, the streets or parks.
The player down on the Challenge Court wore sunglasses under the bright ceiling lights. He carried a dozen purple balls around and around the court in a motorcycle helmet. Leaning in and watching, someone in the gallery complimented that he was Al Moradian, blinded by his own brilliance, the perennial campus champion. After watching him drop-and-hit, drop-and-hit for a few months, and with quite a bit of practice, one year later I stepped into his tennis shoes as the perennial paddleball champion.
The reason is I earned a backhand that Al didn't own. After watching him on the challenge court, I rented from the sports cage a flimsy plastic paddle that flexed like a flyswatter… and practiced. Paddleball suited me because one could sequester in a downstairs court for hours and hit balls, and the shots came back without chasing them off the four walls. Moreover, I discovered that the amount of initial practice directly related to improvement, and flattened out but was effectual. My theory of sports is to practice the weakness, not the strength, and to let the field try to secret their imperfections with various strategies.
Beside practice, the backhand arrived for two other reasons. I took class notes in longhand, as computers were nonexistent, and the flow of the pen across the page from left to right was cross-training. And, I became arm strong and ambidextrous from rectal palpations of hundreds of cows to determine their states of estrus.
I became the Intramural champion at paddleball, racquetball and handball, and in doubles in all three sports. They gave an official green MSU windbreaker for every championship, and in a couple of years I had a closetful. The year after racquetball arrived, the house I was living in burned down and the jackets melted. This was fortunate because studies in Veterinary school were getting tough, and because I never wore jackets even in winter, but bartered them for dates with the Michigan farm girls. Now with a backhand, books, and no girls, my grades and game improved.
After graduation, I took a west turn out of university for the west coast and became one of the first pro players, and the first with racquet and apparel contracts. I simultaneously entered and won satellite pro events right-handed and open division left-handed.
The primary reason was a backhand that became the Golden Era of Racquetball's best, according to the fans and magazines. It enabled me, whereas it was the flaw of nearly every player at universities and YMCA's across the country, and, because of racquetball, at private clubs in the court club boom.
Comments
WordPress database error: [Table './dailyspeculations_com_@002d_dailywordpress/wp_comments' is marked as crashed and last (automatic?) repair failed]
SELECT * FROM wp_comments WHERE comment_post_ID = '9720' AND comment_approved = '1' ORDER BY comment_date
Archives
Resources & Links
Search