Jun
13
Below us stretches the Colton yard of San Bernardino. The Pepper Street Bridge shakes like a California earthquake as a mile-long Dirty Face snakes under and east from the Pacific to who knows where. That's one attraction of hoboing.
We wheel and watch the red-blinking FRED at the end of the train disappear about midnight on May 30, 2014. 'The only sure thing about freight hopping is you know where you are, and not where you're going,' I advise 22 year-old MoJo, the strapping son of two journalists who is the political writer for the Mother Jones Washington DC branch. He fancies to get that far the hobo way, but there are no promises.
'The lights seem brighter than my previous time through three years ago, and the tracks twice as busy, with three times as much graffiti, and more colorful,' I wonder aloud. Below us, on the bridge embankment under a willow tree, four tramps including one female boisterously celebrate Horace Greeley's 'Go West, Young Man' and the hobo California dream where one may pick breakfast off an orange tree and sleep under the stars at night.
Anxious to jump into a boxcar, rock-and-roll, and see what lays ahead, we trundle past the bos and into some Eucalyptus. Within fifty paces huff and puff three sets of locomotives heading up under the Pepper Street Bridge. We may choose: A mixed freight with three engines, an Intermodal container train with four locomotives, or a 'Dog' of assorted cars with two rust bucket engines that would side considerable and ditch us 'out on the farm'.
We approach, the blast and clank of the yard cloaking out steps on ballast and the smell of diesel and oil camouflaging our nervous body odor from the RR police, or Bull. The ladder of a freight reaches to three feet above uneven right-of-way and we climb aboard a silver hopper down on its springs with cement for a softer ride and having the trimmings of a front and back 5'x8' porch with a portal of shoulder width that enters a hobo 'hotel room' in the superstructure of the car. MoJo crawls in to try it for size as much as to stay out of sight, as the crunch of ballast under heavy boot drops closer and closer.
'Gentlemen!' booms a baritone, as a yard worker grins up at us. 'You'll need this wherever you're bound.' He passes up a twelve pack of RR bottled water normally reserved for the engineers that you must not lose faith in humanity anywhere.
'This train is due to leave right after we get the F—king Rear End Device fixed, so lay low, good luck, and I never talked to you.'
In minutes, the orderly process of a train departing a RR yard begins with the hiss of the Westinghouse brake line filling with air, an eerie electrical click in the same direction to test the connection, and, finally, highball! - two long blasts of the locomotive horn, with a staccato beat of couples stretching to our car, and the train leaps off the track for a second.
We clear the Pepper Bridge and in three hundred yards roll over with a clank of Americana the Colton Crossing. Located directly south of Interstate 10, this great steel frog determines the fate of every train tramp who's ever caught out San Bernardino full of juice and hope. The junction is one of the most historic and busiest in the USA where the south-north BNSF rail strikes the west-east Union Pacific. It was the 1882 scene of a bloody war between the lines, but tonight moonlight peacefully streaks the rail as our BNSF train nudges north over the clatter-clatter of the joints and into the star-spangled night.
The juxtaposition of Executives and Kings of the Road along the rails in American history is spectacular. Andrew Jackson was the first president on B&O in 1833 to ride the Iron Horse. President-elect Abraham Lincoln rode his famous Inaugural Train Journey in the winter of 1861 on NY Central trains from Springfield, Illinois in a trip that was considered full of potential dangers. Several Southern States had already withdrawn from the Union, and assassination attempts were possible. For these reasons, the train schedule was tightly controlled with stops as short as possible to coincide with service requirements of fuel and water for the steam locomotive from his hometown to the inauguration in Washington D.C. In Philadelphia Lincoln for first time learned of a plot on his life when his train was scheduled to pass through Baltimore. A hobo cloak and dagger train of events followed. Lincoln opted to smuggle aboard with the famous detective, Allan Pinkerton, through Baltimore and safely into Washington on a separate train that no one else knew about. While Pinkerton stood guard on the porch of the last train car all night Lincoln stayed just inside the last car in a lower booth, and was safely delivered disguised into Washington in the early morning for the Inauguration.
Harry Truman in Plain Speaking makes no bones about his hobo roots:
I was eighteen years old, and I'd just finished high school and knew I wasn't going to get to go to West Point. So I took this job as a timekeeper for Santa Fe RR)… There were about a hundred hoboes in each camp, and I got very well acquainted with them. My job was to keep tabs on them, to keep track of how much time they put in, and then I'd write out their paychecks for them. And they weren't bad fellows… Not in any way. Most of them had backgrounds that caused them to be hoboes. It was one of the best experiences that I ever had because that was when I began to understand who the underdog was and what he thought about the people who were the high hats. They felt just like I did about them. Some of those hoboes had better educations than the president of Ha-vud University.
Meanwhile, rolling over the California salt flats, I explain to the Mother Jones political reporter that the principal tie between Executives and Kings of the road is their grass-is-greener view of the American Dream: The Executives whom I take out want the freedom of independent travel. The tattered Kings I ride with want money and power. There should be a Prince and Pauper Company to please both.

The palm skyline of greater Barstow, California fills the horizon at sunrise. Our hopper is parcel of BNSF Railway, the second-largest railroad network in North America, second only to the great Union Pacific RR. BNSF has three transcontinental routes for high-speed links between the western and eastern United States, and we are riding the only southern link from the Pacific to the Mississippi River. It is safely said BNSF trains travel more rail miles and hobos than any other North American railroad. With a system of 24,000 miles of track, especially in the west, it hauls various commodities, most notably coal and grain, as well as intermodal (container and truck van) freight. The locomotive color is orange, black and dashes of yellow.
The BNSF Barstow employs over 1000 workers and is a traditional hobo bottleneck. An unseasoned hobo is doomed to aimlessly walk and duck about the yard until he's ticketed for misdemeanor trespassing. I expect many spottings, but not to be collared. The Barstow yard is a major hub for transportation with a 'hump' for classification. Hobos speak of going 'over the hump' in Barstow in order to reach Los Angeles and the Bay area because except for through trains all of the incoming cars are re-sorted here. MoJo nearly jumps out of his overalls at the first crash of a car that has been backed up onto the 20' crest and the couple 'cut loose' so it becomes a 'silent roller' that rolls by gravity for up to a half mile from the hump track onto any of 48 classification tacks. We call this 'shuffling the deck' and it's better to watch than be in a car crashing at 8mph into its brethren string of cars. I was once thrown 15' in such a shuffle and wish never to repeat the experience. Once the cars are sorted into destination strings, locomotives are attached and on they move across America.
Barstow is also the first crew change point on the BNSF for northeast bound trains. Crew change towns are as important to hobos as the old time water tanks where steam engines (that yielded to diesel-electric in the 50s) took on water and hobos. Now train riders board and debark at the crew change divisions that take place 'on the fly' where the crew literally steps on a slow-moving freight as the previous one steps off – and hobos must do the same – or more likely it takes five to twenty minutes to change. And yet, our locomotives a half-mile to the front 'dynamite' releasing a blast of compressed air that is heard for miles, and signifies the train has probably terminated and is going to break up. A yard worker on a quad confirms this, tells us to lie low because the yard is 'hot' with security, and advises us to take a tunnel under the bowl of sorting tracks to the north side yard and look for units heading up eastbound. I'm a cookbook of adventure knowing liberties are given, and taken at risk. Emerging from the far side of the 100-yard cool tunnel another yard worker in a pickup spots us and lifts the mike of his radio.
Hoboing is game theory and the stage is the freight yard. A game consists of freedoms, barriers and purposes. The freedom is the open road, the barriers are the strings of cars, watchful towers, deadly silent rollers, and the sweat in your eye that may lead to a misstep. However, primary among these is the necessity in a game to have an opponent or enemy. There must be a continuum of problems which there are in a freight yard, and to have sufficient individuality to cope with them which is given. Now the game begins.
The Barstow yard is three miles long and a half-mile wide with the typical configuration throughout the USA of two main lines (with traffic in opposite directions) feeding into either end, usually under a highway bridge, that quickly fan into a wide swath of some fifty tracks that are littered with strings of some 500 freight cars on hold, fueling locomotives, yard locomotives pushing segments of trains around, the yardmaster tower, outbuildings, and stacks of RR ties and miscellaneous equipment. Barstow is a hobo blockade to most because it is HOT with a high security presence. Our primary opponent is the Bull, or Cinder Dick.
Oddly, in these days of tightened security since 911, it's still as easy to jump a freight train as it is a jet plane. The railroads in the financial squeeze have farmed the Bull duties out to private security firms which send a young man in a starched uniform driving about the yard in a white truck looking for inclusion and tuned to the radio for tips from yard workers and the towers. MoJo and I had just completed climbing over the 13th string of cars to get to the other side of the yard when that white truck stops ten feet away with only a set of gondola wheels separating our legs from his. I hunker down to peer between the 3' metal wheels and gaze into the eyes of a fresh, crew-cut young man in white with a silver star staring back and grinning. I guffaw, arise to heels, walk around the wheels, and introduce myself.
'Just trying to catch an eastbound and not touching anything.'
'I've been getting reports on you guys all over the yard all day. What's up?'
'Did you ever climb over 13 strings of cars? It takes five minutes per track and it's hot so we welcome you.'
MoJo pipes, 'We know there's an Amtrak at 9:54pm, if that's any help.'
'Just follow the caged center rail for another mile to get to the Amtrak station, and there will be eastbound freights as you walk leaving on both sides of the cage.'
'Thank you,' I settle, and we quickly walk away. The truck backs along the other side of the string of cars following our progress for five minutes, and then leaves. 'What a surprise!' I suggest. 'A sympathetic security who has clued us on how to catch out.'
We hike to the unstaffed Amtrak station and guzzle icy liquids for thirty minutes in the Harvey House Railroad Museum. Fred Harvey's Harvey Houses are a household name among hobos and Amtrak passengers throughout the west. An innovative restaurateur, Fred Harvey created the first restaurant chain in the US and developed the Harvey House lunch rooms, souvenir shops, and hotels that served passengers on the western gridiron of the early otherwise 'wild' west. The Harvey family continued to run the business until 1965, and now with the closing of most of the depots, many like this one in Barstow have been converted to Amtrak stations and museums. I pop a cold soda and gaze over a collection of dated RR nails of which I have a complete hand-collected set from 1901 to present.
Then we retrace along the perimeter fence for a mile until finding a 'hole'. There is always a break in the fence behind a bush where other hobos have pried it open for yard access, and we scoot under like squirrels to secret in pines to study the busy eastside tracks. Within minutes, two trains roll up, and then a third. The only obstacle is the caged center rail, a dual 4' high chain link fence that protects the workers from the high speed passenger train, and that MoJo takes with a bound as I boost myself standing on a pack. We board a mixed freight for the shade of a lumber car, and catnap on plywood until a nightmare strikes. The train begins to move the opposite direct of our intent, so I shout, 'Your pack - Throw it w-a-y out.' He does, and, 'Now you!' The freight is rattling 5mph and a little faster than an escalator and we haven't had a chance for the lesson on how to disembark on the fly. Rather than step down the ladder, MoJo leaps from the car lip 6' above the ballast and arches as high as a basketball rim before dropping like a sandbag. He alights in an absorbing tumble albeit in the opposite direction of the train, and dusts himself off as I yell, 'Watch me!' and simply step to the bottom rung of the ladder and then another 2' down to the moving ground. 'That's one kitten toward the life of a Catman,' I tell him, and he smiles like one.
The smile drops as the container train on the adjacent rail jolts in the correct direction, and as I move for the ladder express, 'That's how fast things happen in a freight yard.' We board because it's a priority train bound for distant places. Container cars are the 30-40' metal boxes mounted on flatcars that haul merchandise intra-country or overseas. There's usually a narrow well in which to sit at the ends of the container on the flatcar, and it's advisable to take the rear one to avoid a shifting load in an emergency stop. Double-stacks are containers mounted two-high on a flatcar, and our ride taken in a hurry was sounding two long whistle blasts for imminent departure. These are called intermodal trains because the containers are shunted from rail to truck to ship. Intermodal transport is the current wave of transport with 7 of 10 ten trains that we've seen being containers and piggybacks, whereas five years ago it was a third that many.
In our rush to board we selected the front porch of a container flatcar to avoid the scorching sun. This means that if the train emergency stops (happens once every cross country trip) the riders may be thrown forward and off the car. A fast moving train with 100+ cars that emergency brakes takes about a mile-and-half to stop. I was hit in a VW van once by a 20mp freight and carried on the cowcatcher for a quarter-mile down the rail before it halted and I let go the steering wheel and fell through the window. On mean, a train emergency stops every ten hobo travel days usually due to an animal, person or car in the track, or an uncoupled brake hose. I've remained safety conscious of emergency stops, and insist that MoJo and I, with one hand each, grasp a 2" vertical bar on the container door for eight straight hours until Needles, Ca.
This is not just any container train but a pure JB Hunt 'unit' train. JB Hunt, a Fortune 500 company, since 1961 has been one of the leaders in Intermodal transportation with 12,000 company trucks as well as independent drivers, and 47,000 trailers and containers, with contracts with all the major rail carriers. Let's take a typical unit container train. It consists of 130 cars, each car is about 60 feet long, and it's pulled/pushed by four 65-foot long locomotives. The cars are 7800 feet, the locomotives add 240 feet, for a total of 8040 feet.
Loaded freight cars are designed to weigh close to the same when full, 125 to 145 tons, makes no difference if it is fuel, coal, barley, a container, or scrap iron. A typical modern train runs three units on the point and one pusher at the rear. I would say a good average for a train these days is a mile-and-half and speeding 65mph. 'Intense,' coos MoJo, and I recall my basketball coach drilling, 'You miss 100% of the shots you don't take.'
Our JB Hunt train parallels Interstate 40 for an hour and outraces every vehicle on the road. This stretch from Barstow to Needles twins the famous old west Mojave Road that is now a dirt trail that I walked in one week once, running out of water but sucking it from barrel cactus. The JB Hunt boxes surprisingly have only a thin plastic seal and easily could be broken into, unlike the heavy lock on my container home in the California Sonora that's refurbished with a loft, waterbed, office and library.
Approaching midnight, we roll with still clenched grips into Needles, California. This whistle stop oasis located 100 miles north of my Sand Valley digs often boasts on national weather reports the hottest place in the country, and in the comic strip Peanuts, whose creator Charles Schultz lived in Needles as a boy, Snoopy's brother Spike lived in the desert near where we finally release the vertical bars and heave stiffly over the side. Spike frequently heads to Needles to partake the town's nightlife, which I agree is primarily howling with the coyotes. 'I don't want to be stuck here,' I explain, 'But we must change cars.' We board a few cars aft on the rear porch of a flatcar with a double-stack just as the brakes click, the line hisses, and the freight whooshes into the night. It has taken less than five minutes to change crew. Now we stretch out and sleep while crossing the Colorado River and beyond, for there is no better siesta than on a freight that rocks like a cradle where nothing can disturb you until the next crew change.
We surf the rail out of California and into Winslow, Arizona, with the Eagles Standing on the Corner Statue that is a catchout point for hobos with a catchy line to their song Take it Easy… 'Such a fine sight to see'…' and then the crossing bells clank for the thousandth time and the train pushes on. MoJo admits to quitting coffee for the trip and is well into a full beard. He asks about my shoulder tattoo of a mouse with a smile and teardrop in one eye to which I justify that on the road when you're smiling you'll soon be crying, and when you're crying you'll soon be smiling.
This is our state on striking Belen, New Mexico. Most hobos ride the rails in confusion. They get on a train sober with a bottle of wine or whiskey, and drink it down in the first two hours of the ride so they'll be sober again to debark at the next division town. They pause in one of these junction jungles to clean up, perhaps to work a temp job, panhandle, or visit friends. As long as their stomachs are full and they remain on the move they're happy. However, the boxcar tourists I ride with travel with purpose: to see the nation, to get from one place to another, or to learn of themselves. I believe that to live fully one must have, in addition to a means of support and something to do, a higher purpose. This resolve, to be a goal at all, must have counter-purposes or purposes which prevent it from occurring. There must be individualities which oppose the purpose because if one lacks these it is nearly certain he will invent them.
We 'plastic people', as the grimy traditional hobos call us for our cards and perhaps appearance, are abetted in our travels by three tools of the trade that most conventional bos will never know about but would give the gold in their teeth to own. The first is the Rand McNally Handy Railroad Atlas of the RR 'interstates' or main rails. I also carry system maps for Amtrak and Greyhound in 'poor man's laminations' of clear sealing tape. But the trump is the Crew Change Guide. Otherwise, you'd face as a green bo entering the rail system a great many pieces of paper whirling about a room that would be confusing until you picked out the one piece of paper by which everything else is in motion. This is the Guide that has replaced the hundreds of sheets of notes and yard sketches that I made on my initial runs in the 80s.
The Guide is shrouded in mystery that I now can clear. The author was a folk hero named Train Doc whom I met at a Dunsmuir RR festival in the 80s. He is a Vietnam vet who became a New England nurse's aide while spending all his free time freight hopping and recording details about the thousands of yards: where to catch out, jungles, supply stores, where the units 'head up', fences, and bulls. Since train hopping is technically illegal, he titled the guide From Birmingham to Wendover: Alternative Travel Guide to Cool Camping Places so that if a law official discovers the text it won't incriminate the rider. The Guide lists no author but in the 80s everyone knew and Train Doc confirmed to me that he wrote it to help others in searching out the freedoms of the open road. Train Doc is an Ed 'Lilywhite' Norton look and talk alike if you remember Jackie Gleason's TV Honeymooners. I tell people the Crew Change Guide is the most laboriously researched book in English literature and the most helpful in a narrow topic range.
Now adrift in the middle of New Mexico, MoJo studies his IPhone Googlemap and Yelp (whenever near an Interstate or bridge) as I compare his data with the Crew Change Guide. My compass is deflected by the metal car and rail to point forever east and is useless. We jump down in late afternoon in Belen, a railroad community that exists because of BNSF, located on I-25 thirty miles south of Albuquerque. The omniscient Guide and IPhone concur that there are a Valero gas station and Blake's Burger a half-mile through a weed patch and west on Reinken Ave, and so we hoof it.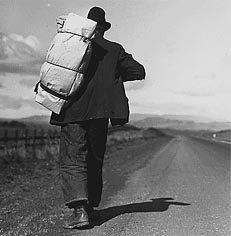 Hobos own their own Golden Rule in the form of an Ethical Code that was created by Tourist Union #63 at the 1889 National Hobo Convention in St. Louis, Missouri. Sandwiched between Rule #1 ('Decide your own life, don't let another person run or rule you.') and later laws on yard and jungle conduct, tenets #2-10 deal with town behavior, as follows:
2. When in town, always respect the local law and officials, and try to be a gentleman at all times.
3. Don't take advantage of someone who is in a vulnerable situation,
4. Always try to find work, even if temporary.
5. When no employment is available, make your own work by using your added talents at crafts.
6. Do not allow yourself to become a stupid drunk and set a bad example for locals.
7. When jungling in town, respect handouts, do not wear them out.
8. Always respect nature, do not leave garbage where you are jungling.
9. If in a community jungle, always pitch in and help.
10. Try to stay clean, and boil up wherever possible.
In keeping, we wash up at the Valero one at a time, and then gulp great draughts of Gatorade, milk, and juice without burping. A kind lady hands me a bottled water and newspaper, and then returns fifteen minutes later with burgers and fries for my partner and me. A young Hispanic with gang tattoos presses $2 into my hand that I pass to the Valero girl clerk for feeling bad that she overheard me quip that it is odd for someone in a railroad town to never have heard of Amtrak.
Start, charge, and stop. Wait. Start, charge and stop. A repeating cycle of action that MoJo calls 'intensity interrupted by nothingness' is the hobo way. After the long lope back into the Belen yard we face catching out. Each RR yard demands about an hour of taxing multi-tasking in finding and boarding a car, the iron steed breaks the gate, and now we will look at another eight hours of countryside roll by like National Geographic except with the elements of sun, wind, insects and odors. We have chosen a piggyback to ride from Belen. The Piggyback is a flatcar that carries semi-truck trailers. One leans against the big tires and views 270-degrees of flowing scenery from under the trailer belly albeit a few dangling brake cables. The piggyback doors are sealed flimsily like containers and so bulls frown on pig riders, causing hobos to secret between the rear wheels. I've also ridden side-saddle like an old west Indian shielded outside the tires through hot yards. I used to say, things blow around and away on 'pigs', so everything should be roped down. I no longer say that because this is my first ride on a pig with wind blinders that have come into vogue in the past couple of years. The blinders stretch from nearly the tires to the front prong to block the breeze, still allow a view around and under, and screen prying eyes from the outside. A piggyback train such as this is a priority, third only to Amtrak and container trains, that I favor all in accordance with the seagoing adage to admire a small ship, but put your freight in a large one because the larger the load, the faster the voyage and the greater the profit.
Across the Rio Grande flies the blundered pig into the night.
Ft. Worth!' announces MoJo, glancing up from his glowing IPhone, as though neither ever sleeps. This is the BNSF headquarters with spokes east, west, north and south, but we conjecture this train of truck trailers is northbound along the dense Southern Transcon. The Southern Transcon is the main line of the BNSF between Southern California and Chicago. It was completed in its current right-of-way by 1908, and now serves as a mostly double-tracked Intermodal corridor. The route is one of the most heavily trafficked in the western US with an average daily of over 100 trains with each averaging one to 1.5 miles in length, like ours.
It's a fast five minute crew change in Ft. Worth as we hold fast with beef jerky and Gatorade. The 'hobo diet' while stuck on rolling stock day after day is one of the most effective with the fewest hunger pangs because there is so much to watch. Quick in and quick out is the way I like a yard, and before the train picks up speed it glides by the tremendous WalMart distribution facility beneath the setting sun. WalMart, a few months ago, announced the opening of a new online fulfillment center that the train wheels slowly by so that I have time to study the lot. I thought WalMart was big but this nearly 1 million square-foot facility proves it's huge. With 4,100 stores within five miles of two-thirds of the US population, WalMart gains a significant advantage over Amazon.com by positioning this online distribution building in the center of its empire. I estimate 500 parked or rolling company semi-trucks in the building lot before our train whisks us out of sight. Yogi Berra said, 'When you get to a fork in the road, take it,' and we did that.
It's deliciously incongruous how one may pack for the hob life or for the WalMart life. The WalMart life is supported by millions of homes cluttered with items of want and need in a ratio of about 10:1. On the other hand, we have packed streamline to move quickly cross-county like hobo chameleons resembling, as the need arises, the yard workers in freight yards and normal citizens in stopover cities. Our ostensible school daypacks weigh about 30 pounds (sans liquids) and contain little more than earplugs, electronic handhelds including a set of walkie-talkies, credit cards, a hundred dollars in the inseams, flashlight, compass, day's supply of food (beef jerky and trail mix), toothbrush, pen and pad, paperback, 20' length of rope, tarp, and windbreaker. A compressible 40F sleeping bag is toted inside at the top, and the pack is soft to squeeze under fences and into cubby holes, without loose straps to catch on passing machinery. The key to our disguise is a pair of overalls – he has coveralls and I a pair of bib-overalls - that protect our citizen clothes beneath and walk easily into any RR yard.
We set our course on the ocean of rails to the north. I warn, freight riding in the east is far different from the west with more towns swamped on one another, single tracks, more sidings, and fenced yards with higher security, but, after all, we will see industrial America through the back door. Magnificent! Up through the Texas Panhandle, as MoJo calls out the towns from his IPhone Googlemap, 'Amarillo… Oklahoma City… Wichita!' yells MoJo as if it's a tornado. He's enthused. The metaphors of trains are many. Life is a string of beads, and a train of moods, and as we pass through them they color and enlighten if only we can see our goals.
Kansas stretches on like a mat of grass occasionally rolled into lumps and crisscrossed by a gridiron. This is the heartland of America. In east central Kansas the rail becomes single and our train goes 'in the hole' on sidetracks frequently to allow higher priority intermodals to pass from the same or opposite directions. Our rate is suddenly cut in half to an average 30mph for the next 24 hours. Hundreds of single-horn toots blare day and night at clanging crossings. BNSF serves over 1,500 grain elevators located mostly in the Midwest with Kansas among the leaders. Had we chosen a mixed freight through this grainland the chances of being 'ditched' beside one of these towering silos and having to walk the rail for hours to civilization would have risen.
Train whistles are used to communicate with other railroad workers on a train or in the yard, as well as with the savvy townspeople. Different combinations of long and short whistles – like a Morse code - each has its own meaning. They are used to pass instructions, as a safety signal, and to warn of impending movements of a train. Despite the advent of modern radio communication, we endure many of these whistle signals hourly. A succession of short sounds is used when an emergency exists, or if persons or livestock are on the track. It sounded when a Northwest train I was on once braked for a blow-up dinosaur placed in the rail by a tramp who wanted to board from his favorite fishing spot in the Rockies. The most common signal is one short as the train is approaching a public grade crossing. Highball we've identified as two long blasts, and three shorts while the train is stopped means backup – which notifies the hobo to get off or be ditched.
Kansas City!' is the morning call, to which I frown at the ambiguity until he murmurs, 'Kansas'. I stiffen to an exclamation point. KC, KC is a RR nexus that throws spaghetti tracks out N, S, E, and W. A hobo nightmare. I make lighting compilations in about seven theaters of possibilities as the train bowls past the four story bright red 'Kansas City Southern' barn sign and into the BNSF Argentine Yard. We peak under the blinders barely daring to breathe least they flap. This BNSF classification yard is the largest with 780-acres on the on the system. I see an intermodal hub center, a hump with 60 sorting tracks yonder down the rails, a car repair shop, a large diesel shop, several other outbuildings, the main tower with a cyclopean 360-degree glass, and beneath it dozens of scurrying yard workers in and out of vehicles. I'm reminded of the book 70,000 to 1.
MoJo seems daunted. 'I want out.'
'What?'
'I've allotted one week away from the political swamp for this trip and this is the fifth day. I have to think about returning to Washington DC.' I see his point, but the timing is poor. The highlight of the Argentine yard is it's hemmed like a prison - has been for miles - by a 8' cyclone fence topped with razor wire.
We visually sweep each side of our flatcar and see nothing but rows and miles of hundreds of other strings of cars, buildings, and an army of workers corralled by the cyclone fence. The crew change will be on a dime here, and we choose to hang tight and look for a break in the fence while rolling. But first, there's a light jar toward the rear as half our train is cut loose, leaving us a half-mile long with four snorting engines. A lone white van stenciled Renzenberger pulls aside the lead unit, and the outgoing crew climbs in as the incoming crew exits and mans the locomotive. Operating a fleet of thousands of such vehicles thought the nation, Renzenberger is the recognized leader in providing crew transportation to and from their call motels. Hobos use them also, and I've hitched rides twice right to the waiting locomotives.
Even as I chuckle in reflection, the hoses snake with turgor, brakes click, here comes the drumbeat, and the car bolts forward with our necks jerking like Jack-in-the-boxes. Nonetheless, we survey the fenceline on both sides for breaks to escape. There are some, and the train does pause, twice in the five miles between KC, KC and KC, MO, and yet I won't let the reporter depart. Both sides of the sewn track between the two KC's are seedy industrial and residential wasteland where those colorful rail riding hobos have been replaced by the bag lady, welfare sponges, gang bangers, and stew bums. We cling to the safety of the flatcar knowing the fence prevents them from getting to us. 'That's ok,' MoJo resigns.
Trapped, I've never been on a faster freight. Four locomotives roar with a half-mile load streaking at 70mph up and down roly-poly Missouri. In a bucking wind we pull our sleeping bags up to our chins falling into an uneasy slumber on a hard crazed vibrating bed. Crack! Crash! The freight is suffused in alternating light and darkness. We've driven into a near tornado and the wind blinders flap wildly dumping buckets of water into the sleeping bags. The metal floor drops to 40F, and MoJo vows dryly though chattering teeth, 'This is the test.'
The best strategy is to fold into a G note and meditate on sunrise until passing out. There's always a morning after. It sounds like something from a Woody Guthrie song, but it's true, This land was made for you and me. One comfort of hoboing that takes some getting used to is if you don't know where you're going you can't get lost. But we've come very far. People travel to wonder at the height of mountains, the waves of the sea, at the long rivers, and the compasses of the ocean, under the circular motion of the stars, and they pass by themselves without wondering who am I that is often discovered on the rails. This is what I hope for MoJo. We've been riveted to the rails for 3000 miles in six straight days from LA via Texas to Chicago, a speed and distance record without a layover for me.
'Chicago!' Situated in a broad valley 17 miles southwest of Chi-town, the Willow Springs Intermodal Yard stretches two miles, yet with about 20 tracks is only one-third of a mile wide. Our flatcar sits smack between two highway bridges that we study around the blinders of the piggyback like Kilroys. Nearby, a 40' truck trailer like ours is being lifted into the air and placed squarely on a nearby railroad flatcar. Another giant crane is removing piggies from a flatcar to a road. The nearly absurd thought arises that an intermodal hobo could remain on board in a hammock lashed under the piggyback and be conveyed up and off the flatcar to the road, a semi hooks on, and he continues to hobo the Interstates sheltered by the wind blinders for as long as one could endure the tire tossed pebbles and dead skunks.
Willow Springs is BNSF's second-busiest intermodal yard, performing about a million lifts a year. Its key customer is United Parcel Service whose mid-west facility located next door handles two million packages daily. Packages bound for UPS distribution facilities less than 400 miles away are trucked. Greater than 400 miles, there's a train ride in that trailer's future… And that's where BNSF comes in. It takes 10 percent of UPS's total domestic ground volume. Like a passenger train, the trailers aren't held until they're full. They depart at assigned pull times scheduled to meet train cutoff times. The packages are read on a conveyor belt three times en route to the proper piggy trailer. It's driven next door to the Intermodal yard, add one hobo if you wish, and it's off to a dozen major destinations.
At Willow Springs, 99 percent of the units handled are trailers rather than containers, and today there are about 3,000 look-alike trailers scattered across the terminal and five loading RR tracks all go where they're supposed to go, followed by computer. It seems the only thing not tracked by computer these days, not counting the GPS in MoJo's IPhone, is the hobo.
Freight riding falls somewhere between chess and war. In chess, there are the same problems and movements but if you lose you pull the pieces out the box and start again. In hoboing, you can get hurt or caught by the big, bad Bull, and it's illegal. But in war, the enemy is trying to shoot you. There are many life lessons from each, and on this trip we have learned much of the recent changes in the rail commerce. The train industry among all has been progressive in America. As a wise man never lies down on the tracks of history to wait for the train of the future to run over him, each year I go out on the rails to see innovations. If there is a recession underway in USA the railways refute it. In the past five years, there are twice as many trains, four times as many intermodals (containers and truck vans on flatcars), yard workers use quads instead of walking the lines, RR bulls have been replaced by private young security, and, attesting for the hobos, far more and colorful boxcar art reflecting more youthful train riders. One change in technology has brought about the greatest hobo evolution in history since steam yielded to diesel-electric in the 50s. It is the addition of wind blinders to semi-truck vans like the one we rode screened in wonderful privacy from KC to Chicago. These piggybacks have always been a favorite with a wide view and shade under the belly, however no more may security pick off bos rolling through yards. The blinders have made us hotshot hobos.
The reporter has gained a universal education from the rails. Have you ever seen a retired man who pined for his desk? MoJo would rather ride the trains to Washington DC, but there's no time. We hunker under the piggyback and don our 'goin' to town' clothes for the first time in nearly a week. For me, it's a blue pinstripe shirt under bib overalls and for him a clean black windbreaker. It always seems impossible until it's done. We hop down - take a minute to relocate our landlubber legs – and shy to the east side of the yard onto a dirt track that meanders as pleasantly as an old English lane through a woods bordering the Des Plaines River to the Willow Springs Bridge. We look like train tramps to train tramps, like yard workers to yard workers, and soon will blend in with regular citizens. A brakeman bathed in sunshine waves like a windmill thinking we are exiting crew, and we greet back. Once down the bridge embankment we walk two blocks north along Willow Springs Road to a Speedway station with a Subway shop. After a meal, a taxi whisks us for twenty minutes to Chicago Midway Airport where he jets to DC and I encounter former President Carter exiting the Miami bound plane I'm about to board. The Secret Service and FBI hardly take note of this hobo or could guess how I got here in the last six days.
Comments
Archives
Resources & Links
Search