Mar
12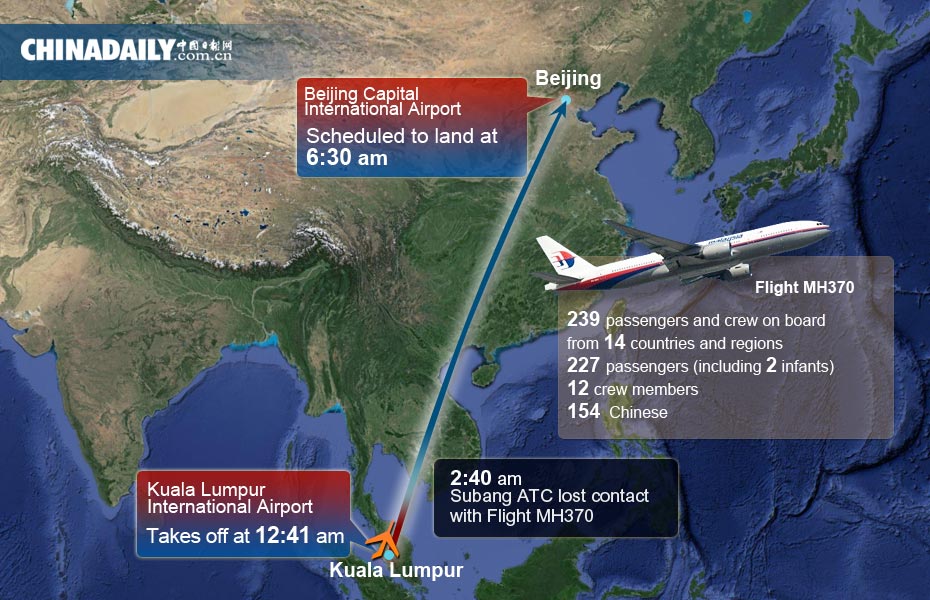 There are several things to be considered here. First, the aircraft. The Boeing 777 is one of the most reliable aircraft ever built. Only three of the aircraft hulls have been lost:
1. British Airways flight 38 crashed short of the runway at Heathrow on Jan 17, 2008 due to ice crystals in the fuel that clogged a heat exchanger and prevented the engines from delivering thrust at a critical point on the landing approach. This situation only occurred in certain Rolls Royce engines [Trent 800] and has since been resolved by a new design of the engine oil fuel flow heat exchangers and restrictions on the amount of time the aircraft is permitted to operate with fuel temperatures below -10 degrees Celsius. This can safely be disregarded as a possible cause in the Malaysia incident.
2. Last years highly visible Asiana 214 accident at San Francisco was due to pilot error and a failure to maintain proper airspeed on the landing approach — there was nothing wrong with the aircraft.
3. On July 29, 2011 an Egypt Air B777-200ER was destroyed in Cairo when a fire erupted in the cockpit while parked at the gate [Final Report, Egyptian Ministry of Civil Aviation 172 page PDF]. This was attributed to a probable electrical fault or short circuit involving the first officers oxygen mask delivery hose, but the cause was not conclusively proven. It resulted in a a Boeing Alert Service Bulletin that in turn prompted an Airworthiness Directive that "requires replacing the low-pressure oxygen hoses with non-conductive low-pressure oxygen hoses in the flight compartment." [2011-NM-279-AD 8 page pdf]
The Cairo incident is interesting in that a cockpit fire can cause catastrophic damage and result in the loss of the aircraft, see Swissair Flight 111. A cockpit fire could reasonably prevent the flight crew from communicating their situation with air traffic control especially if it was fed by oxygen and required prompt attention from both pilots.
There was some speculation about an electrical failure which may have been the cause of the disappearance as well as the cessation of communications. I seriously doubt this however, as the B777 is equipped with a RAM Air Turbine to generate sufficient power to run essential systems in the event of such a failure.
Also, it is possible that the aircraft, like Air France 447, was transmitting system diagnostic data to the airline (not air traffic control) via ACARS (which could provide clues) but if this information exists, we haven't heard about it yet.
In this article in today's New York Times Malaysian authorities have stated that radar data may indicate that the flight had "possibly attempted to turn back". As a radar controller, and a witness to the events of 9/11, I can state that if there is radar data available, even if the aircraft's transponder was shut off or disabled, one can make reasonable assumptions by linking any strong primary targets to the last beacon targets if they are consistent with the track or with the turn characteristics of that type aircraft at it's last known altitude and speed. This is exactly what air traffic control did when the transponders aboard American 11 were turned off. There were strong primary radar returns that began where the beacon returns ceased and they were certain that they were looking at American 11 as it turned south down the Hudson river and when it disappeared over Manhattan.
As we don't have access to any radar data that the Malaysians may have, we cannot make any statements about it other than what we hear from them.
If there was a change in course this could imply many things — the crew was distracted by something like a fire or severe problem with the aircraft or possibly a cockpit intrusion. The fact that nothing was communicated to air traffic controllers could also imply that the crew was either too busy and therefore unable to communicate or they were prevented from communicating by intruders.
It is certainly possible that the aircraft was hijacked. A loss of transponder returns would occur if hijackers were savvy enough to turn the transponder off and a change in course would be consistent with a hijacking. This aircraft was fueled for a long flight and if the aircraft was indeed taken by force, there is no telling how far or where they might have taken it.
There is also the possibility of some sort of catastrophic explosion. Possibly a bomb or dangerous or poorly stowed cargo. There are many precedents for cargo fires, Value Jet 592 comes to mind as does Federal Express 1406 [Accident Report, 147 page pdf] (This flight may be of particular interest to DailySpec readers as it was carrying,I am told by persons directly involved, on the order of 100 million dollars in federal reserve notes on their way to Boston to be taken out of circulation and destroyed.)
There has also been speculation of a possible crash/suicide by one of the pilots.
This too is not unprecedented, Silk Air 185, Egypt Air 990, and most recently LAM Mozambique 470 are all suspected to be murder-suicides by members of the flight crew.
Any of these scenarios may prove true. The search area is very, very large and if the aircraft went down in the water, it may take a long time to find debris. There should definitely be some identifiable debris — even if the aircraft exploded. Strangely, it may prove easier to find evidence of a crash in the sea than one on land. Floating debris will probably persist on the surface for some time, whereas a crash site in remote territory may be amazingly difficult to locate, especially if their was no fire or if the aircraft came down in small pieces. If this happened over dense jungle or forest, there is very little chance that it will be detected from the air.
I am just as anxious as the next person to know what truly happened. This will take some time, investigations cannot be rushed.
Pitt T. Maner III writes:
There is an attempt to crowdsource the satellite imagery in order to remotely sense objects that might be related to the crash zone.
I have not seen this site before. In the oil industry "lineament analysis" of aerial and satellite imagery was used to try to find surface features that might be associated with potential subsurface geological structures.
So it is like looking for a small, anomalous linear feature–"needle in a haystack" as they say. Problem being that there are many linear features caused by breaking ocean waves, seafloor substrate, clouds, shadows and such.
It seems a computer program could also look for aligned pixels or anomalies and at multiple bandwidths.
Comments
Archives
Resources & Links
Search