Nov
25
Today's note is fueled by the discovery that Wikipedia has no entries for George S. Coe. Henry Varnum Poor dedicated his best work, Money and Its Laws, to Coe; but all one finds for George S. Coe in a search is this:
and, for disambiguation, this:
George Coe (Lincoln County War) (1856–1941), Old West cowboy George Coe (Michigan politician) (1811–1869), politician from the U. S. state of Michigan George Coe (mayor), American mayor of Lancaster, Pennsylvania, 1962–1966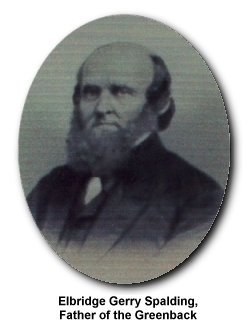 Coe did what Morgan did during the Panic of 1907; he persuaded all the major banks to join together to discount each others and their counter-parties' paper. What is truly remarkable is that Coe did it in 1861 solely by the force of his character and his ability to put the matter plainly: "What," he asked everyone in the room, including Secretary Stanton, "if we do not unite?"
Here is Coe's obituary from the Times.
Also, in 1888 the Commercial Advertiser printed Coe's letter to E. G. Spaulding and Spaulding's reply.
Spaulding was Treasurer of New York before the Civil War and was the author of the Legal Tender Act — something else for which there is no wikipedia article so this will have to do:
About Spaulding Stiles, the biographer of Commodore Vanderbilt, wrote: "If Wall Street had saints, then the college of financial cardinals would surely canonize Elbridge G. Spaulding."
Comments
WordPress database error: [Table './dailyspeculations_com_@002d_dailywordpress/wp_comments' is marked as crashed and last (automatic?) repair failed]
SELECT * FROM wp_comments WHERE comment_post_ID = '8854' AND comment_approved = '1' ORDER BY comment_date
Archives
Resources & Links
Search