Sep
24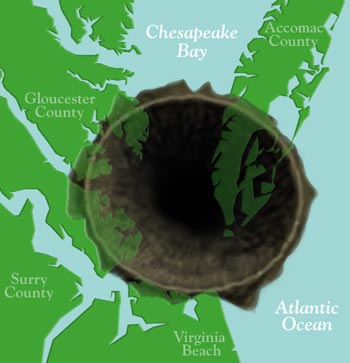 "Effects of Ancient Meteor Impact Still Visible On Earth"
This is fairly recent in a geologic sense. I listened to a great
lecture by Dr. Ed Petuch at FAU the other night and he mentioned that
part of the debris field from this event are found in Argentina. Entire
sections of sediments were scoured from the sea floor in the blast area
and are missing in the geologic record. The following portion of the article
describes what happened:
'More than 35 million years ago, a 15-story wall of water triggered by an asteroid strike washed over Virginia from its coast, then located at Richmond, to the foot of the inland Blue Ridge Mountains — an impact that would affect millions of people should it occur today. Yet despite its age, the effects of this ancient asteroid strike, as well as other epic space rock impact scars, can still be felt today, scientists say.

The Virginia impact site, called the Chesapeake Bay Crater, is the largest known impact site in the United States and the sixth largest in the world, said Gerald Johnson, professor emeritus of geology at the College of William and Mary in Virginia. Despite its size, clues about the crater weren't found until 1983, when a layer of fused glass beads indicating an impact were recovered as part of a core sample. The site itself wasn't found until nearly a decade later. [When Space Attacks: The 6 Craziest Impacts]

The comet or asteroid that caused the impact, and likely measured 5 to 8 miles (8 to 13 kilometers) in diameter, hurtled through the air toward the area that is now Washington, D.C., when it fell. The impact crated a massive wave 1,500 feet (457 meters) high, researchers said.

Though the impactor left a crater about 52 miles across and 1.2 miles deep (84 km across and 1.9 km deep), the object itself vaporized, Johnson explained.'

"I'm just sad we can't have a piece of it," Johnson said in a statement.
Comments
WordPress database error: [Table './dailyspeculations_com_@002d_dailywordpress/wp_comments' is marked as crashed and last (automatic?) repair failed]
SELECT * FROM wp_comments WHERE comment_post_ID = '8694' AND comment_approved = '1' ORDER BY comment_date
Archives
Resources & Links
Search