Sep
16
Elvis walloped the ball around the court like he was strumming a guitar for the fun of it. He looked like he was on stage except with the racquet, the moves in the court comparable to his moves on stage, and to work the audience with his physical performance. His guitar became more of a prop, and so did his racquet.
Elvis Presley and his Memphis Racquetball Mafia loved the sport. E's main contenders at Graceland were touring pros Davey Bledsoe (National Champion 1977), Randy Stafford (Intercollegiate Champion and touring pro), Steve Smith (Intercollegiate and Tennessee State Champion 1975), Mike Zeitman (Three-times National Doubles Champion with three different partners), David Fleetwood (National Collegiate Doubles Champion and never ranked out of the top 16), and Dr. Fred Lewerenz (Elvis' sport physician and Michigan Racquetball Hall of Fame with two years on the pro Tour). Other members of the racquetball group were the bodyguards Red and Sonny West, actor Dave Hebler, harmony singer Charlie Hodge, and road manager Joe Esposito. Linda Thompson also played.
Elvis was introduced to racquetball in 1968 by his physician, Dr. Frederick Nichopolos, who told me, 'I started playing racquetball in 1955 at the Nashville JCC by sawing off the handle of a tennis racquet. That is just five years after Joe Sobek is credited with inventing racquetball in Connecticut. I showed Paddle Rackets, as we called it, to young players with ambition and talent, and then in the mid-60s moved the game with my medical practice to Memphis, and was still looking for young talent to coach.' Dr. Nick also taught his son Dean to play, who soon teamed with a young Marty Hogan in a Junior National Doubles. Dr. Nick began treating Presley in 1967 for 'saddle pain', and a year later prescribed racquetball. That blossomed into a lifelong friendship lasting thousands of racquetball games.
Elvis wore white tennis shoes, shorts, and his safety goggles which were huge because Dr. Nick didn't want anything to happen to his eyes. His headband was white and he always wore a glove. He played daily, or nightly before heading out into the darkened Memphis streets on motorcycles with the bodyguards and the Racquetball Mafia in sidecars to movies and nightclubs. 'The week before going on music tour, E wore a tight rubber suit with tight wrists to sweat off five pounds per racquetball session to look good to the fans on tour,' describes Bledsoe. 'He thought a quick weight loss would make him look better.'
He had a strong forehand as an extension of karate, a standard club backhand, and hit the gamut of serves. The sport was a workout and a release from the pressures of being the King of Rock and Roll. 'To be honest, Elvis wasn't much of an athlete,' Bledsoe recalls. 'He was very rigid. He just wanted to move around, get him some exercise. He'd get in the court and bang the ball around. I'd try to teach him the rules or orchestrate a formal match, but he wasn't much interested in that. He did like the game though, and wound up building a $250,000 racquetball court in back of Graceland.'
David Fleetwood compares Elvis' game to his own singing voice. 'It was horrible! He was a pro singer and I was a pro player. But E loved the sport and that's what muttered.' 'He got a couple points most of the time,' hints Bledsoe, 'And once he got eight on me to 21.' Fleetwood says, 'I tried to give E the Donut (zero points), and sometimes did, but against Linda Thompson, who cares?' Steve Smith chimes, Elvis loved the game like he loved gospel, just belted it out.'
Dr. Fred Lewerenz of Michigan concurs. 'Elvis loved to play the sport. He was a club player, a C with a higher level of pleasure. We played a lot on the Graceland court. Elvis loved the game but not for the same reasons as others. He just liked to hit the ball. He was competitive and emotional. His forehand was good, and his backhand was sufficient to just hit the ball around and have a good time in a workout.' Lewerenz had become Elvis's sport physician by a quirk. 'There was a racquetball tournament in Memphis that Dr. Nick played in before we got to know each other. During a match he injured his back and the back of his leg, and the call went out, 'Is there a doctor in the courthouse?' It was the kind of injury that was difficult to self-treat. I worked on Dr. Nick's back and leg in the training room for forty-five minutes, and he seemed pleased. Two weeks later, I got a call asking if I wanted to be Elvis's sport physician.' Dr. Lewerenz won 140 tournaments overall, and played on the IPRO tour as did the rest of the pro Racquetball Mafia I from 1975 to 1976 Elvis didn't attend any tournaments outside Graceland. 'It would have been mayhem with the fans, tells Smith. 'We didn't throw any tournaments at Graceland either, just fierce competition among the entourage and visiting pros. The best player at Graceland after the pros went home was bodyguard Red West who fell just short of Open play. Dr. Lewerenz describes Red as a 'great athlete who brought those talents to the court.' Yet, if they wanted to, the pros could hold any Graceland bodyguard or musician to under five points, but didn't because the purposes were exercise, coaching and fun. 'I once challenged seven of E's bodyguards to one game to 21 for $100 per man,' relates Bledsoe. 'It was against Red, Sonny, Dave Hebler, and others. I played with an antifreeze bottle and they used their racquets. I went home that morning with $700.'
Racquetball boomed across the nation from 1975-6 as Bledsoe and the others 'ran' with Elvis at Graceland, and riding the night streets of Memphis on motorcycles with sidecars. Memphis was the second racquetball capital (after San Diego) of America. Dr. Nick knew Jerry Lee Lewis and got his DC-3 14-seat plane to fly the Racquetball Mafia to the Atlanta Southern Regional. The group included Nick and his son Dean, Stafford, Bledsoe, Zeitman, Smith, Steve's brother Stuart, Jack Fulton, Gary Stephans, Larry Lyles, IRA President Bill Tanner, and pros Sarah Green and Steve Strandemo. 'Elvis didn't go because he was mobbed wherever he went outside Graceland, and besides, the tough old geezer Colonel Parker wouldn't let him out to play in tournaments,' amends Fleetwood. Randy Stafford remembers, 'Our plane was an old DC-3 with twin engines, and the interior had captain's chairs and couches around. It sat about 14. Under the center table used for drinks was an 8-track tape player that was huge, and next to it a file of 8-track tapes. All of them were Jerry Lee Lewis tapes, and we partied to his songs all the way to Atlanta.' Zeitman agrees that it was a unique way to travel to a Regional, and that the old DC-3 could have been the same Jerry Lee Lewis 14-seat DC-3 that, in 1985, Ricky Nelson's pilot radioed again, 'Smoke in the cockpit!' Then the plane disappeared from radar. The DC-3, previously owned by notorious widow-maker, Jerry Lee Lewis, crashed, killing Nelson and the entire band.
The 'star' pro with the most access to Elvis Presley was his wardrobe manager and Tennessee State racquetball champion Steve Smith. Steve had grown up best friends and playing racquetball with Dr. Nick's son Dean. Steve had seen me pull up to a Tanner IPro Memphis stop in 1975. 'You were in an old van with a beat up bicycle strapped to the back that you rode to the tournament instead of driving like everyone else'. I recall Steve as slight and as quick as a deer, always a threat to upset me by his pure athleticism. Brumfield too had played the smooth Southern mover 'without a backhand.' Following one of their matches, Brum quickly corrected the backhand, if not by Christian charity then by rubbing salt in the wound. 'After the match,' continues Smith, 'Outside the court we made up and were surprised to find that each of us professed to be a golfer. 'I don't believe it,' we said at nearly the same time. Then Brumfield told me, 'Steve, all your backhand needs is to swing like it's a golf club. Keep your elbow close to your body, and you'll get control. When the elbow is tight to the body the forearm and wrist don't waver, and your control increases substantially.' It worked, and later in the year he took #3 Steve Serot down the wire before losing by four in a 21-point tiebreaker.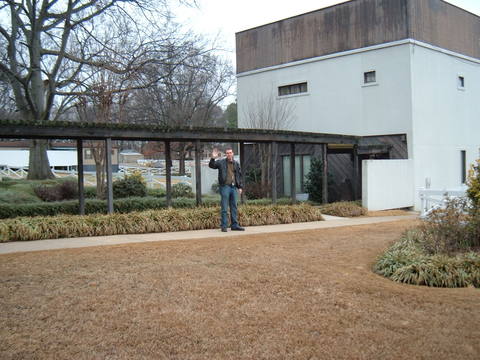 Charlie Brumfield in 1975, on the dual pro circuits, picked up multiple national titles including the NRC Pro Singles, IRA/IPRO Singles, IRA Doubles with Craig McCoy, National Outdoor Racquetball Singles, and Outdoor Doubles with Steve Serot. He toured with a dedicated contingent of shouting, drinking Brum's Bums, even as Elvis maintained the equally rowdy Memphis Mafia of bodyguards, musicians, girlfriends, and pros. The associates were there for camaraderie and also filled practical roles. Brumfield had a designer of signs and monogrammed shirts, plus a wine fetcher, and E had his bodyguards, road and stage managers, and 'floaters' like Steve Smith who produced whatever was needed on the spot. In each case, after the tournaments and music gigs ended there were enough people to party deep into the night. Brumfield, the King of Racquetball, and Elvis, the King of Rock, surrounded themselves by these supporters who truly cared for them, and the Kings cared back.
I was Brumfield's popular nemesis and complimented him that his Bums looked like the stinking winos I saw on skid rows. Colonel Parker said the members of the Memphis Mafia (excluding the pros) looked 'like a bunch of old men.' The Colonel wouldn't let the pros take pictures of Elvis, and tried to pen him up in six-star Graceland whenever there wasn't a music tour. 'Colonel Parker was sharp, shrewd, and merciless'' accuses Smith. 'No, he didn't play racquetball. If it didn't pay, he didn't play. Yet, Elvis owned Parker, not the opposite.' In one deal reported by Bledsoe, 'Dr. Nick, Elvis, his guitarist Joe Esposito and I were breaking ground on Presley Center Courts with plans to build an American chain of clubs starting in the Southeast. There were already a few clubs in Nashville and Memphis when Colonel Parker made us take E's name off of it. He had all rights to Elvis' name. Parker was a greedy old bastard!'
'Yes,' agrees Steve Smith. 'The Colonel was selfish and took half of everything Elvis had. Ultimately, I hold him responsible for E's death. My roots with Elvis run pretty deep. I grew up best friends with Dean Nichopolos who was Dr. Nick' son. Dean and I were like brothers. Dr. Nick taught all of us to play racquetball: Dean, Elvis, me, the bodyguards, and he coached many of the Memphis to-be pros. Dr. Nick became E's personal physician in 1968, and two years later Dean and I moved to Graceland and lived there full time with a group of about six others that were the core of what the press smiled when they called us the Memphis Mafia. I was a 'floater' at Graceland, helping Elvis with whatever he needed, and playing racquetball with him and the group of bodyguards, musicians and actors. I was with Elvis from 1970 until three months before his death in 1977.'
Memphis and San Diego were the two warring racquetball capitals during the Golden Decade, clear across a country of crazed Elvis, Disco, and racquetball fanatics. Racquetball was the fastest growing sport in the world. Before the Graceland court opened in 1975, the Memphis Racquetball Mafia worked out at Memphis State, the Memphis Athletic Club, and a single court facility that may have been the model, as well as the impetus, for the eventual construction of Elvis' private court at Graceland. For there was another man about town who was as moneyed as Elvis, with nearly as much clout, and adored the sport of racquetball just as much. Bill Tanner in 1975 was called 'the most prestigious man in Tennessee' by the press that he controlled. He was one of Memphis' most prominent businessmen and racquetball promoters who had a court on top of his 7th story office building on Union Avenue Extended. Elvis and his group played there often because it was private, and Tanner would open up at night. I was up there once on the outside running (18-laps to a mile) track around the outer perimeter of the top floor where the sliding glass doors of Tanner's office opened to a panoramic view of Memphis, as joggers swept by. We had climbed, each by habit, the couple hundred stairs to the top track, and then Tanner swept his hand down across the city offering, 'The key to the city is yours, Keeley, if you play ball with the Tanner team.'
William B.Tanner was the President of the International Racquetball Association (IRA), and had just started a competing IPro Tour that was taking the whack out of the National Racquetball Club (NRC) monopoly. Tanner brought me up here to play a game, and of racquetball, and then to make the proposition. I jumped out of the way of a jogger, returned to face Bill, and told him point blank that I was die-hard Leach, the opposing tour's sponsor. 'Come move to Memphis,' he cajoled. 'Play with Randy Stafford, Bledsoe, Zeitman, Fleetwood, and see the girls. There is nothing San Diego has that Memphis does not except an ocean, but San Diego doesn't have Elvis Presley.' That wasn't true; Marty Hogan was my present roommate in San Diego, and on seeing that I was squared away, Tanner went for Hogan. 'Well, tell your boy Hogan that the same offer is open to him.' So, I missed a chance to play Elvis, but between 1974-77 I visited Memphis five times to compete against members of the Memphis Racquetball Mafia in the Tanner ProAm, and to visit the Memphis media mogul Bill Tanner.
You will never, as far as I know, see another story about Elvis in racquetball, or about the Memphis Racquetball Mafia. This is because, although it was the time of glitz racquetball, when other Hollywood, rock, and political stars made the monthly covers of the only publication, National Racquetball, in the chess game for political control of the burgeoning players, the Chicago based NRC (and close tie with San Diego Leach) put an embargo on Elvis. NRC Executive Director Chuck Leve explains, 'Elvis was Memphis and Memphis was Tanner and IRA, and well, you know the story…So we chose to pretty much ignore Elvis, although I thought whoever did the 'damage control' when he died on the court was brilliant. Elvis never was covered in the NRC magazine because the time when racquetball 'went Hollywood' Elvis would have been prime material for our magazine, however the National Racquetball Club owner Bob Kendler sensed Elvis was in the Tanner Memphis camp which was opposing our NRC pro tour with a tour of their own, so while Batman, Lana Wood, and Governor Thompson of Illinois got coverage, Elvis in racquetball remains a secret.'
Tanner, as IRA President, was every bit as tough and ruthless as boss Kendler in Chicago and Charlie Drake in San Diego. 'Tanner can't be compared to either of them,' clarifies Randy Stafford. 'He was one of a kind.' Mike Zeitman worked for Tanner from 1975 to 1978 as a media placement buyer, racquetball instructor, interim executive director of the IRA, editor of the magazine, and director of the IRA's IPRO Tour. All the dozen of top players in the city came to play on the Tanner rooftop court including Elvis and his group. Under Dr. Nick's and the pros' tutelage Tanner became what was known as a strong player without a backhand that was forgivable among open players at the time, but he was no match for Intercollegiate Doubles Champion David Fleetwood. David informs, 'I played him once and it was no fun. I was fresh out of college and had no concept at that time of how huge he was. Thus I didn't really understand the significance that everybody deferred to this guy who couldn't play. His forehand was very good, and he loved to go down the line. Considering his backhand grip, his backhand was passable. He made up for it by doing whatever it took to win. He as much as any player knew how to legally cheat. I made up for it after the match by going out to the track and shooting water balloons and racquetballs with surgical tubing made into a giant slingshot at cars below. He was sort of an A player, better than Elvis but not as good as Nick. He won when racquetball was at its pinnacle when winning was war. He would win at all costs, as an expression of his business acumen. He was a master bridge player, which is the highest category in cards, and he was out for the trump regardless of the activity… That was his DNA.'
Tanner never went half-way on a project. He owned a chain of Holiday Inns and the world's largest radio and television time-buying and placement services. In 1974 he bought the newly named Tanner Building to house the broadcasting company, and it just happened to have a racquetball court on the top floor. So, Tanner determined to learn the game and to be the best he could. Full steam ahead, he hired Bledsoe, and later Zeitman, as staff members of his company to give racquetball instruction. The fruit of it would come to bear long after Fleetwood,s display of water balloons across Memphis when, in 1980, Tanner would win that year the Tennessee state racquetball titles in masters singles, the Tennessee State Doubles Championship, the Masters Singles Championship and Seniors Singles Championship in the USRA Regional Tournament, the Veterans Masters Racquetball Championship, the Masters singles title at the Fulton Open in Memphis, and was inducted into the Tennessee Sports Hall of Fame.
Kicking back late one night after the matches at the Tanner Penthouse Suite, Elvis and the Racquetball Mafia sank into a circle of cushion chairs like tennis shoed capitalists in the large boardroom, and the King put his feet up on the boardroom table. Steve Smith who was there describes, 'Elvis put his legs and tennis shoes up on the ornate table, and someone in the group mentioned that Tanner would not like that, and he'd better put them down. Elvis didn't like rules, so he cursed a streak, and word got back to Tanner about this.' E hadn't been kicked out yet. 'But then,' rejoins Bledsoe, 'Elvis had this three-foot flashlight that he used to flash at everybody…which actually blinded you where you stood. A few nights after the boardroom incident, Tanner was in his private shower when E walked in and started shining his 3' light into everyone's face. When he shined it into Tanner's face, that was it. The irrepressible force of Elvis Presley met the irresistible object of William Tanner, and they glowered at each other. Bill's face turned purple, and he kicked Elvis the hell out.' Presley was banned from the building, and the Mafia loyally stayed away with him.'
Short one court, Nick persuaded Elvis to build one behind his house. Now, in 1975, when a cry went up in the middle of the night, 'Everybody up! Let's play racquetball!' everyone just walked out the back door and to the Graceland court. Dr. Fred Lewerenz describes, 'The racquetball building was posh. There was a viewing lounge behind the back wall glass, weightlifting gym on the same ground floor, and a dressing room and Jacuzzi upstairs. Elvis liked gold, and while the players' dressing room had standard stainless steel showerheads, the one in the King's private stall was with solid gold 360-degree swivel showerhead.' The only one he would allow in his private dressing area was Linda Thompson.
The pros admired that the facility cost $250,000 to build, and for the times, it was a premier court. Mike Zeitman describes, 'Behind the glass wall was a sunken area with a monster curved leather couch at the wall where you could sit back and watch the games. Also in the viewing area was the biggest, most expensive stereo outfit money could buy.
I'd never seen anything so cool.' The action inside the four-walls was like any other club, with a lounge with a bar outside where people sat and drank, watched and kibitzed, until their turn to play came up. It was simply a small club where people sat and drank, watched and kibitzed, until their turn to play came up. Some would drink beers, but the focus was on raquetball.
'When E went out in the daytime, he was touched by a thousand people,' relates Dave Fleetwood. Dr. Lewerenz started with Presley for two years at Memphis State before moving to Graceland. 'He played at Memphis State for a few years before building the court at Graceland. Most of his games were after midnight to 3am at Memphis state to avoid the mad rush of people. No one was there at night except him and whatever part of the Memphis Mafia and racquetball group that he brought. Finally, he and Dr. Nick thought it would be better to build a court on Graceland. After it was constructed he played there daily. I visited Dr. Nick often on my medical or racquetball swings through Memphis, and when the game moved to Graceland so did I on the visits. The most astounding thing about the place to me was when you walked in the front door there was an aquarium in the living room half the size of a racquetball court. It was 12' high and could have been emptied and used for squash. When we played at Graceland it still often was at night because he had become nocturnal for privacy.'
Dr. Fred Lewerenz describes, 'The racquetball building was posh. There was a viewing lounge behind the back wall glass, weightlifting gym on the same ground floor, and a dressing room and Jacuzzi upstairs. Elvis liked gold, and while the players' dressing room had standard stainless steel showerheads, the one in the King's private stall was with solid gold 360-degree swivel showerhead.' The only one he would allow in his private dressing area was Linda Thompson. The pros admired that the facility cost $250,000 to build, and for the times it was a premier court facility.
'A typical afternoon at Graceland went like this,' takes up Steve Smith. 'Everyone would be sitting around the house, and one of the group would want to motivate the rest to action, to get off our asses. Elvis or I would jump up and shout, 'Everybody out here! We're playing racquetball.' We'd play and play. We'd play for two, three hours. Elvis would laugh while he played and have a good time just blasting the ball. Then we'd shower up, and someone would yell, 'Hey, let's go to the movies. We'd get on the motorcycles and six or eight of us would ride downtown to the Memphian or two other theaters that Elvis liked. It was crazy, night after night. One evening I sat between Eric Clapton and the King who he'd come to pay his respects to. That's when the movies were still reel-to-reel.'
'The next day it was the same, but always a bit different. There would be a new rock star visiting the House. Different doubles teams. Elvis played racquetball when it struck him, which was usually a daily dose when we weren't on tour. The road trips were two weeks on, and two weeks back at Graceland. On the road, Dr. Nick sometimes found a private court for us and the bodyguards to play on, but not Elvis. Each concert was like a championship performance. Elvis the same energy into performing that he did racquetball. It was all out, and he'd come off exhausted. On tour he loved his fans and never wanted to disappoint them. You are guaranteed the last drop of sweat from Elvis Presley will be on the stage by the end of the concert, and the same when he jammed on the racquetball court. After the concert he'd go back to the hotel suite and just sit down in a cushion chair and pass out, he'd worked so hard. At Graceland, after a racquetball session it was the same thing. We'd leave the court and go to the lounge in the racquetball building, and relax. Relaxing there means that half of the group was 'old school' that didn't understand the 'new school', but we all sat together for an hour and a half, two hours… then someone would leap up and call out like a coyote to energize everyone, 'Let's go!' Usually it was dark by then, and we'd go out.
'How he played! He had a mind of his own. He had a big forehand and moved around the ball to hit with it. He liked the intensity of being in four walls for sport. He let go, and could have a blast,' observes Smith. In the early 70s, Elvis used the Ektelon Muehleisen racquet because it was the best at the time, and the connection was that Dr. Muehleisen had given Dean Nichopolos racquetball lessons. Elvis could hit with the Muehleisen model. It wasn't until about 1974 that Charlie Drake at Leach sent him a green Leach Serot and a pair of sweats with Elvis' name embroidered across the back, and from then on, he used the Serot model. He was in good shape, but got on the court in the Leach sweats or a rubber suit to sweat off about five pounds a workout for his fans on tour. Davey Bledsoe was the player rep for Leach at the time, and Drake had told him, 'Anything Elvis wants, he gets.' Elvis was playing his best racquetball from 1974-6 when the pros were stopping by, and he was enjoying the game nearly daily when we didn't leave for two week music tours.'
By 1976, physician and friend Dr. Nicholoupos had been living part-time at Graceland for over a year since the court construction. Out of the blue, Elvis suggested, 'It's time to build your 'dream house'. Construction got underway immediately at another location by Steve Smith's father who owned a construction company, and, of course, the building plan included a racquetball court in the back yard. Dave Fleetwood evokes, 'Elvis and the Memphis Mafia would drive up on motorcycles to the site while the house was being framed to make sure all the nails were straight. Once we were playing a flag or touch football game in the front yard when the King and a dozen others drove up on big Harleys. They took off the helmets, all their hair flew out, and suddenly they became recognizable as the Memphis Mafia. Steve Smith adds proudly, 'You know who played quarterback? – Elvis. You know who he threw to? – Me.' Dr. Lewerenz reminisces, Elvis helped Nick financially to build the dream house. One day Presley arrived during the laying of the racquetball court foundation with fists full of gold coins. I was there. They put a few dozens of gold coins into the foundation of the court!'
The pros, like Presley, pour out accolades for Dr. Nick as a player, doctor and friend. I personally knew when we met at a Tanner IPRO stop in Memphis that he was the Johnny Racquetball Seed of the South, and he knew my reputation from The Complete Book of Racquetball as the game's unofficial laureate. He was an A player of the time, an even better coach, and a hands-on promoter of the spot. The group called their patron the Silver Fox, due to the silver- not gray- hair, and because he hit shots like a fox. 'The Silver Fox was shifty, and you never knew where his shots would go until after they were hit,' guesses Stafford. Dave Fleetwood comes from a family of medical practitioners, and testifies, 'I thought it was cooler knowing Nick than even E. He was a great doctor for me. Everywhere he went he got attention. He signed menus, paper napkins, patient charts, everything, and even in hospitals. You ask any resident that did a six- week tour at a hospital with Dr. Nick, and every single one would stand up in court and tell you how good of a physician he was…every one.'
Nick saw subtle changes in Elvis in late 1976, and so did E's sports physician Dr. Lewerenz, but neither was particularly alarmed at the weight gain. Still E toured, hit racquetballs, played his mamma's gospel on the lounge piano, and did favors for his friends. Bledsoe describes, 'A week before a music tour was to begin E put on his rubber suit each day on the court to sweat off five pounds of water weight because he thought it made him look good for the fans.' Fleetwood chimes,' By 1976, E was still the King and I called him that but he was morbidly fat, and jiggled when he ran around the court. Hell, the Beatles recorded an album here, and from what I heard they could not wait to get an audience with the King just to meet and hang. The Led Zeppelin wanted to know what went on past the Graceland gate, and the band respectively submitted permission to enter. I was young, a wet behind the ears college pup and only saw fetching the ball. I had no freaking idea he was a superstars' superstar. All I knew he was Elvis, with the enormous hind end that was difficult to get around to shots.'
On April 24, 1976 I saw Elvis in concert at the San Diego sports arena while sitting next to Charlie Drake of Leach industries and his wife Patty. Before the final number, Charlie urged her to the stage, saying, 'Maybe Elvis will blow you a kiss!' She pshawed but Charlie prevailed, and his wife waded through the fans and, surprisingly, a way cleared for her to rest her elbows on the music platform. Elvis began to sing, 'Can't Help Falling in Love, and during a protracted instrumental, he walked over to her, removed a royal purple scarf from his shoulders, and it wafted in the hot arena air into her outstretched hands. Six months later, on October 31st, 1976, Elvis made his last recording with a vocal overdub on 'He'll have to Go' done in the Jungle Room at his home in Graceland.
On June 11, Davey Bledsoe shocked the racquetball world and especially Marty Hogan by defeating him in the final of the Leach/Seamco National Championship in San Diego by scores of 21-20, and 21-19. The day before he had edged by me in the quarters, and afterwards in the locker room, came over to console me, putting his thumb on my temple and uttering, 'My Daddy did this when I was a young man, and he spoke, 'One day you're going to be a champion.' The Bledsoe victory is recognized as one of the most unexpected results in racquetball history. Two weeks later, on June 26, 1977, Elvis gave his last concert at Market Square in Indianapolis, IN for a crowd of 18,000. Back on the Graceland racquetball court, Elvis appeared pale, weak and overweight, but there was nothing to suggest impending death. Indeed, there was nothing unusual in his verve once he took to the stage or court. 'He looked gray in 1976,' is all,' portrays Dave Fleetwood.
In May that year the three bodyguards Bledsoe had beaten with an anti-freeze bottle –Red and Sonny West, together with Dave Hebler- released Elvis: What Happened in UK serials that was later published in August, 1977. The three had been fired by Presley's father, Vernon, from their jobs as bodyguards for the singer. Bledsoe says 'Elvis was pissed!' This was the first book that focused on Elvis's addiction to prescription drugs, but E loved those boys, according to the pros, and whatever was said in the book, Elvis forgave and wanted them back. 'The book devastated Elvis,' insists Bledsoe,' but Smith is a greater authority in a parallel experience in the same month that the book was released in UK serials. Smith accused Parker of being an accomplice in making life so miserable for Elvis that it hurt his health. However, 'The public misconception is that in his last few months Elvis was off, and lethargic, not like his earlier wild self. That's the toilet paper account and it's not true. Up to the end E had good days and bad days, and on any given day we could get him excited to like play racquetball, go to the theater, or head for the open road. He still had life in him, and for many years.'
The same May as the UK book release, and three months before Elvis's untimely death on August 16, 1977, a few hours after leaving the racquetball court, Steve Smith hung up the phone and went to his boss in tears. 'Sir, I've worked for you loyally for seven years, but now my daddy is sick and there's no one to take over the construction. I don't want to leave…' 'Boy,' boomed Elvis. There's one thing you must never forget. That's the bottom line. And the bottom line is your daddy.' He hugged me by the neck. Then he said, 'Hey, why don't we bring your father out here and he'll get better.' But he was too ill for that. We hugged again, and I cried all the way to the gate. The next thing I heard, 'Elvis is dead!' But I know where my boss is, and so does anyone else who knew him. E is in heaven singin' gospel.'

This concludes the untold story of the death of Elvis Presley… and of the Racquetball Mafia. Graceland was shut down very quickly. The court wasn't used again after the Mafia left, and it was converted to a trophy room. Hundreds of thousands of tourists per year travel to stand in the last place Elvis Presley stood in the Graceland court that is now the trophy room, with the walls of the court covered with platinum and gold records, and with the Steve Serot racquet on display under glass next to an old blue ball. Elvis died in the racquetball building, not the mansion upstairs bathroom. You probably know that Elvis loved gospel music, peanut butter and banana sandwiches and karate, but did you know The King loved racquetball to death!
Comments
Archives
Resources & Links
Search