Mar
4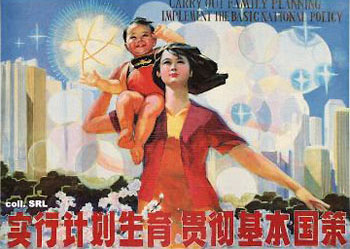 Sorry for the link but I found this article fascinating and worthy of the share…
"What Should We Be Worried About"
Chinese Eugenics
China has been running the world's largest and most successful eugenics program for more than thirty years, driving China's ever-faster rise as the global superpower. I worry that this poses some existential threat to Western civilization. Yet the most likely result is that America and Europe linger around a few hundred more years as also-rans on the world-historical stage, nursing our anti-hereditarian political correctness to the bitter end.
…
David Lilienfeld comments:
Four thoughts on reading this piece:
1. Every time someone tries to selectively breed a population, you get lots of unexpected diseases showing up. Sometimes, those diseases affect only a small segment of the target population. Other times, a larger segment. I doubt that this effort will be any different in result–and it may result in a higher rate than the Chinese are prepared to accept. Imagine, for example, that the process results in 5% of the target population having an accelerated version of dementia, perhaps starting in the early teens–before these individuals have much ability to use their IQs to advantage (contributing to the society). The costs of care will challenge China in ways it hadn't anticipated, particularly given the population implosion already in place. Moreover, one doesn't know if these alleles code for a protein, serve a regulatory function, or both. Taking the alleles out of the genome could, potentially, interrupt their ability to function in the manner expected. So I don't think it's necessarily "game over".
2. Malcolm Gladwell noted in Outliers the value given in East Asian societies to patience, something lacking profoundly in Western societies these days. However, if one starts to breed a specific genome, do those individuals have the same willingness for patience? I don't think that we know that this advantage in East Asia is simply cultural. There's also the need for innovation. East Asian societies do well in innovations in quantitative areas, but translating that strength to the consumer/business arena hasn't been so straightforward. Until there's a demonstration of consistent innovation from those societies, this will be a question mark. Now, how long before such innovation becomes visible? I have no clue. Perhaps this activity is already present and I've just missed it (in which case I'm sure those on this list won't hesitate to provide some education of the fact).
3. There's a related issue: the social dimension. What sort of society results from such breeding? I'm reminded of the Foundation trilogy–the First Foundation engages in all manner of production advances–lots of innovation, etc. There's rumored to be a Second Foundation, but it's not really clear what that entity is all about, or even if it exists. (Spoiler alert): It's the Second Foundation, with its sociological orientation that comes into play and addresses the sociological and related problems resulting from the First Foundation's success. (The trilogy makes for short reading, and it's some of Asimov's best science fiction.)
4. The sociological dimension isn't a minor one in China. Chinese sociology isn't one of the country's strengths, and I think that's part of the reason Chinese epidemiology is weak. Even if this area becomes a focus of development by the Chinese government, it seems unlikely to change for at least one generation, more likely two or three. The nature of sociology works against efforts to speed up capacity and capability in it. I suppose one could let any social changes occur and deal with them piecemeal (as we have with our drug problem–locking up 2-3% of the population), but I don't know that that would be acceptable in such a new society. I'm speculating, though.
Just some initial thoughts. It is provocative, I agree.
Russ Sears writes:
The reason eugenics does not work on humans is simple. They are using the wrong evolutionary strategy for our species. We are not a survival of the fittest species. We are a "Survival of the First" species. We have dominated a vast new land called abstract thought. Further, we are a species of super cooperators when the cooperation is through mutual respect and trade-offs we exponentially increase each others wealth. Putting this together we, have captured vast new resources of wealth.
If you want a superior more competitive people you do not measure by the conformist standard of the "greatest" in XY or Z. Even if X, Y, and Z are abstract thoughts, it is not NEW abstract thought, it is standardized testable conformist abstract thought. You measure in how much risk they willing to take, how much they want to be the "first", how they want to try new things, how they look at failure not as a step back, but one less step to the right path and how much they value Liberty and unsupervised willingness to risk failure for the chance at great success. You give yourself a group of people willing to risk losing everything for a fresh new start, because they believe working together, they have what it takes to create a new world for themselves. You breed those entrepreneurs with those who love entrepreneurs. Then you have people that create new wealth, because they did not do what they were told. They had a dream and saw a vast new land in being the first in this new niche area. Once the path to this vast new wealth are clear, then many people will willingly follow. If you want to live where leaders believe they earned their authority by superior skills, NOT correct risk taking, then you will find a world where the leaders are those best at tearing everyone down, do not value diverse thinking from their expertise and taking from those that took correct risk to create the wealth.
Comments
WordPress database error: [Table './dailyspeculations_com_@002d_dailywordpress/wp_comments' is marked as crashed and last (automatic?) repair failed]
SELECT * FROM wp_comments WHERE comment_post_ID = '8175' AND comment_approved = '1' ORDER BY comment_date
Archives
Resources & Links
Search