Jan
28
I was skiing in Vermont recently and as is usual for skiing in the northeast, the slopes weren't as deeply covered with snow as one would wish. When one attacks a steep run in these conditions, it is guaranteed that the center of the trail will be bereft of snow — thin cover is the term we use euphemistically to indicate ice and rocks — mostly ice though. When this happens, there can usually be found some snow piled on the edges of the trail, it having been pushed there by previous skiers who made all their turns in the center, their scraping edges clearing it away off of the underlying hardpack and pushing it to the sidelines.
Skiing in such conditions can be done, but not without incurring greater than normal risk. And it is usually not as satisfying as skiing using the entire available path whose deeper, more sweeping turns are somehow more satisfying and which provide greater control. But under these conditions, staying in the center is deadly so advanced skiers will stick to the edges of the trail, making all of their turns in rapid succession on what is in effect a trail only two or three feet wide. This means that turns must be small in degree and therefore must happen very quickly so as not to allow the tips to remain pointed straight down the hill and therefore incurring excessive speed. This kind of skiing requires conditioning, linking extremely rapid turns is exhausting and one must not attempt this when fatigued as the resulting inability to really push hard and dig can be catastrophic. It also requires some nerve, for one, keeping near the edge puts one in dangerous proximity to the treeline (or the edge of the abyss -as the case may be) and one slip at high speed and it's all over. And it means high speed, even while carving one edge after another in succession, the lack of available surface on which to gain traction means keeping the tips pointed perilously close to straight down the fall line. Mistakes at these speeds tend to have greater than normal undesirable consequences.
As I enjoy the speed, I will make one or two runs in these conditions just for the thrill of it, but this kind of tight skiing in a narrow and steep path requires tremendous concentration and loses it's appeal rather quickly. I will spend the majority of my time on tamer runs with more snow, even though they may be more crowded, so I can make the more gratifying, longer, carving turns that I prefer.
Jeff Watons writes:
That's just like surfing big waves vs small waves.I am not comfortable in the brutal conditions Mr Sogi San surfs on an every day basis. In those conditions, I will look for the rip current to get outside, paddle and make a bottom turn, and ride it in. Like typical Sunset. I don't stay out very long as I did when I was younger when it is big. But if the waves are 2-3' overhead, I'm good all day long. I'll still find the rip to make paddling out easier, but I'll attack the wave harder. But some of the very best days are those waist-chest high waves where you cruise on a long board, and catch the glide. However, during calm conditions I have suffered the greatest traumas while surfing. Broken vertebra, herniated discs, tendon and ligament damage, broken nose, etc. Somehow, being relaxed while it's calm is more dangerous then when it's big. Or maybe I'm more careless when the waves are small, and a bit reckless thrown in for good measure. Carelessness happens in the markets also. You start taking your profits for granted. It's humming along nicely with all your positions in the green, then wham, the Mistress gets a little PMS(no sexism intended) and throws the whole system off balance or upsets the cart, and your account suddenly needs a tourniquet. The lesson here is to keep your guard up at all times.
Jim Sogi writes: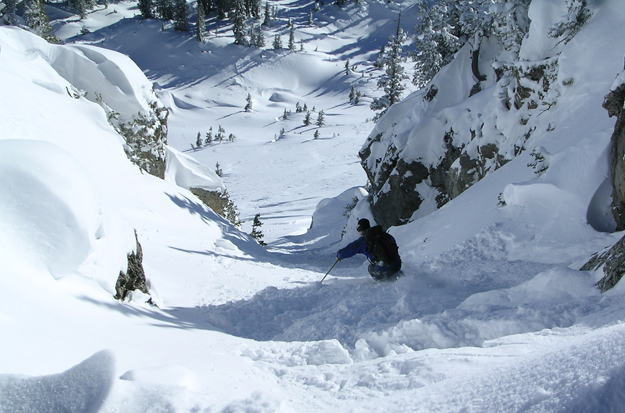 Just back from backcountry skiing in the Eastern Sierras. The conditions were snow that was about a week old, with very cold temperatures, and no wind. The sun made a crust where solar energy hit, so the powder stashes were hidden on north facing aspects where there were old growth trees. The cold had dried out the snow making it sparkle and soft and creamy sugar which was excellent for skiing.. Though it had not snowed for over a week, in the shade, on the north facing slopes shaded by old growth pine where the sun did not affect the snow there was beautiful sugary soft powder. It took some doing finding these niches and some hiking to get there and fighting some pesky brush at lower elevations. No one else seems to have discovered these hidden stashes of nice powder. This reminds me so much of the markets, when even in less than optimal conditions, there are hidden stashes of unridden goods. It takes understanding of the underlying processes that create and destroy snow, the equipment and will to get there, and the ability to ride those conditions. Its surprising in such a huge mountain range that only in such limited conditions would there exist such fine skiing. The last day, new wet snow came and turned everything into the famous Sierra cement.
Laurel Kenner writes:
I took Aubrey to our favorite ski place, Telluride, a couple of weeks ago. A drought was on and the mountain was brown, but the resort's snow-making machines had been at work since November and most runs were open. A few patches of grass were visible in some popular places — enough to send a skier head over heels in the old days. The new equipment was somehow able to ride it out, although caution was still warranted. That strikes me as like the market; if you're well-equipped enough with margin and numbers to ride out the rough patches, you can still do well in adverse conditions.
Steve Ellison writes:
I ski 10-15 times per year and encounter a wide variety of conditions. Light is an important factor. An overcast sky causes what skiers call "flat light". I slow down in flat light because the lack of shadows makes it hard to spot irregularities on the surface until one is nearly upon them. Dense fog is even worse. I have been in fogs in which I could not see the trees on either side and momentarily lost track of which way was down.
I like fresh snow, but there can be too much of a good thing. One day right after a 2-foot snowstorm, I started down my first run and fell on the very first turn when my outer ski caught some snow. I pushed off my hand to get up, but my arm sank into the snow all the way to my shoulder. It took a few minutes of wiggling and maneuvering to get back on my feet.
Wind is another factor. The Sierras sometimes have very high winds, which blow loose snow off exposed areas. The result is alternating ice and soft powder (in the spots in which blown snow settles). Going too fast at the transition point can result in a fall. On one traverse I often ski, I use moderate wind to my advantage by letting the wind slow me down as I ski into it with no effort on my part.
Duncan Coker writes:
When backcountry skiing which Mr. Sogi describes another key element is the approach. There are no lifts, so you hike uphill for every turn you will make downhill. It can be exhausting, but also very rewarding and you get to know the terrain including snow pack, the location of rocks, couloirs, tree wells, cliffs and the grade. After enjoying the view at the top you can descend focusing mainly on execution, making some nice turns. Skiing the steeper, untouched terrain has more dangers but is more rewarding.
I love the surfing analogy of "never taking the first wave" alluding to the dangers of being tempted by the first big wave in a set, after a lull. In skiing there are times when it is better to take pass on a run as well. Condition may appear good, but dangers are still there. Ultimately though we all have to "drop in" at some point for whatever activity we are pursuing, and taking some risk is certainly worth it.
Comments
WordPress database error: [Table './dailyspeculations_com_@002d_dailywordpress/wp_comments' is marked as crashed and last (automatic?) repair failed]
SELECT * FROM wp_comments WHERE comment_post_ID = '8064' AND comment_approved = '1' ORDER BY comment_date
Archives
Resources & Links
Search