Jan
24
If cheapskating is going to increase, we might consider whether individual stocks that cater to cheap skates might have inordinate returns. This is the kind of things that my kids might make money with in terms of the category of stock, rather than its financial characteristics. Perhaps. On another front, I believe it is important to be especially cheap after having a good year. I think of Rimm every day with grave loathsomeness.
Art Cooper writes:
It's been a market theme for quite some time to buy stocks like Family Dollar Stores, Dollar General, etc. instead of retail stocks which cater to the middle class. The high-end retail market is a different market, as it responds to different forces.
Jeff Watson writes:
I'm always accused of being a cheap person and try to not be penny wise and pound foolish. I never pay retail for anything and try to buy only stuff that will hold value. Herb Cohen is a person I look up to. He might look a little seedy, but he makes great sense and teaches sound methods of bargaining. His first $19.95 book I ever bought was probably the best investment I ever made, saving at least a million bucks, by bargaining with some of his techniques over a 30 year period. That's a hell of a return and his techniques work…
Pitt T. Maner III writes:
Cheapskating is likely to be an increasingly popular topic as hidden inflation and taxes go up. Perhaps there is an opportunity for a "Global Skinflint"!
"Jeff Yeager, dubbed "The Ultimate Cheapskate" by Matt Lauer on NBC's Today show, is a very cheap guy. He re-cants, as opposed to decants, the wine he proudly serves his dinner guests, funneling cheap box wine into premium-label bottles. He believes you should never spend more than USD 1 per pound on food items. And to save time and energy costs, he soft-boils his morning eggs along with the dirty dishes in the dishwasher."
And then there is the TLC show :

"Be aware of what you're using. Victoria Hunt, who retired from her accounting career at 48 has been tracking her expenses and her income on a spreadsheet since 1989. "Every minute of every day has something to do with how I can make a better decisions financially," she points out."
Rocky Humbert writes:
Mr. Yeager is either wasting money on his super-heated dishwasher or he's stretching the truth about his eggs. Dishwashers (generally) do not heat the water about 140 degrees. See this article on naturalhandyman. To get the egg white solid, it requires about 180 degrees. Even my Miele doesn't get the water to 180 degrees! This does not compute! (That is, he's making his money selling books. Not cooking eggs.) I would suggest that he should instead put his Pop Tarts and morning sausage on his car engine's manifold. By the time he gets to work, he'll have a well-cooked breakfast. (And he can similarly roast hot dogs on his drive home.)
Dr. Johnson writes:
Ballyhoo? Like any good Spec, one must test, and test I did, the claim that an egg can be cooked in a dishwasher during a normal wash/dry cycle.
Equipment- Miele G5775.
Note: Perhaps not the ideal brand for testing a cheapskate's assertion.
Eggs= Phil's Fresh Farms Free Range Large 42F wrapped in plastic film.
Max Water Temperature Wash5F Max Air Temperature Dry= 185F
Time to complete cycles= 54 min wash & rinse, Dry 22 min.
Results: Egg removed immediately at end of the cycles= Yolk 134F thick and slightly flowing, settles to 1/4 height, white 151F at shell boundary with firm consistency.
Egg removed after 10 Min.= Yolk 141F thick and settles to 1/2 height, white 141F at shell boundary with firm consistency.
Conclusion: Not Ballyhoo! One important consideration for those cheapskates who want to try this method is that egg shells are semipermeable, therefore unless the taste of detergent combined with a menagerie of old food waste is to your liking, sealing the egg in plastic wrap is advisable (also which at +140 F will transmit unwanted substances).
David Hillman writes:
Yes, let us commend Dr. Johnson both on his testing and on his using Phil's Farm Fresh Free Range eggs, the chicken egg of preference at Casa DGH…..cage-free, no chemicals, natural whole grain feed, laid in nests, and certified humane!
That said, even though my Bosch heats water to 160F and air dries at what seems to be 1200K if one opens the door during the 'sanitize' cycle and is met by a blast of superheated air, this whole business of cooking eggs in a dishwasher seems a bit impractical.
One, it seems like using a sledgehammer to place a pushpin in a cork board. Two, while the dishwasher here is run every 2-3 days, typically in the evening, eggs are a daily breakfast staple. What to do on 'accumulation' days? Three, counting time to heat water or a pan, it takes about 10 minutes to fry, poach, baste, scramble or soft boil eggs on the range. Why wait 76 minutes? Four, dishwasher cooking uses a heck of a lot of water and electricity v. range top cooking, multitasking notwithstanding.
For those who feel the need to multitask in the kitchen, there are what seem to be more practical alternatives to cooking one's breakfast eggs in the dishwasher, though at $90, this might not be thought of as 'cheapskating' …..
Pitt T. Maner III adds: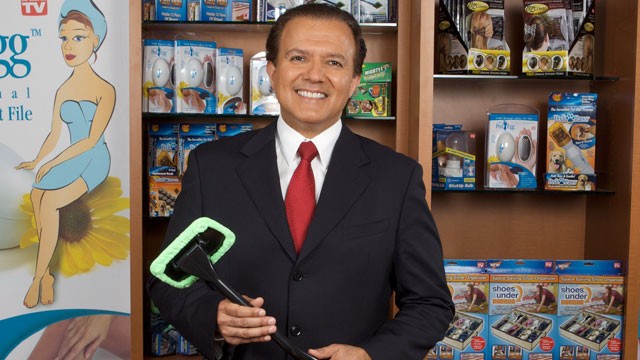 A few older links, but possibly of interest to those seeking to find ways to ride the money-saving trend and as a possible example of a company that finds quickly (identifying trends) and uses new inventions from private inventors. Khubani the CEO started with ad in National Enquirer.:
1) From 2010: 'A.J. Khubani, the man behind many "As Seen on TV" gadgets such as the PedEgg foot scraper, is making cheapskate gimmicks a priority at his company Telebrands, one of the nation's top direct-response TV marketing companies.
More than half of Telebrands' gadgets, sold online and at 90,000 stores, are now focused on helping shoppers be cheap. Khubani, who has been traveling around the country to meet inventors, is speeding up the number of new products he's launching to every 30 days from every 60 days. "The mood of the country has changed," said Khubani. "We've had tremendous opportunity with this recession."'
Since 2007, Telebrands' revenue has doubled to several hundred million dollars, he said.

Read more.
2) The current lineup of brands.
3) From 2012: "For the first time in our company's 29 year history, TeleBrands had 15 products ranked in a single year including our most recent hits like, Slice-O-Matic, Plaque Blast, Slim Away, OrGreenic and Bake Pops," said TeleBrands' CEO/Founder, AJ Khubani. "Each year, we continue to solidify our spot as the largest and most successful marketer of DRTV products aimed at solving everyday problems and reaching mass audiences at affordable prices. In 2011 alone, we rolled-out 12 products — the most in a single year in our company's history."
4) On Khubani from 2011:
"The son of Indian immigrants, Khubani started out at 23, spending a few thousand dollars on an ad inNational Enquirer — a move that led to his first big hit. Since then, he's sold hundreds of millions of "As Seen on TV" products, including AmberVision sunglasses, the PedEgg and Doggy Steps. He has bolstered the careers of ubiquitous TV pitchmen, including the late Billy Mays, who enthusiastically hawked products now found on the shelves of more than 100,000 retailers. Today, Khubani is the leader in the $20 billion direct consumer marketing industry, turning out more "low-tech" products than ever before."
5) Not all have been appreciative of Khubani's methods:
"But will anyone care about dust mites? Khubani wasn't achieving much traction among his Telebrands staff with his bed-spray idea, when along came a proposal for an anti-dust-mite pillow, from a colleague Khubani mysteriously describes only as "a business associate." It's hardly a new concept—there are several such pillows already marketed to allergy sufferers and asthmatics. But so far, nobody has had the brilliance to incite a national panic around flesh-eating creatures that feast on human remains—and lurk in the pillow of every man, woman, and child. "The hum you sometimes hear at night?" Khubani asks eerily. "That's the sound of 2 million dust mites eating your dead skin." Or perhaps it's the sound of one man in Fairfield, New Jersey, homing in on your next anxiety. "
Victor Niederhoffer adds:
Of course the main virtue about cheapskating is that it prepares you for such activities in your business. As the oil magnate said, "I am not smart enough to act one way in my personal life and another in my business. My margin is 8%, and if I gave away 8% on everything my 200,000 employees would be out of a job. So I make them pay for their telephone calls." Regrettably, the oil magnate was victimized by old man's disease (the same disease as the sage), and he was locked up in England for 20 years, with his retinue preventing him from going back to us for fear that he might change his will, and he was soporifisized by many nubile girls and other attractive women he would meet at museums.
Funny. More important even then the fine posts with examples and tests of cheapskating is the query I have received from many of the younger hearted on the list. "Where are those museums that the oil magnate frequented?".
Gary Rogan suggests:
I suspect the Getty museum is a good place to start.
Stefan Jovanovich writes:
I hope Gary means the original one in Malibu, the villa whose design Getty himself supervised but never saw. The monstrosity built on top of the landfill by the 405 is absolutely the worst place in LA for the amusements Getty had in mind. If he were alive today and living in SoCal, he would be going to OCMA to appraise the latest generation of lovelies.
Jim Sogi adds:

Eggs can be cooked sous vide at 144 -155 for 20 plus minutes for a wonderfully cooked smooth soft boiled egg with a consistent texture throughout.
Food grade hydrogen peroxide diluted to a 3% solution is an excellent way to sanitize kitchen and utensils and not toxic like chlorine.
Comments
Archives
Resources & Links
Search