May
8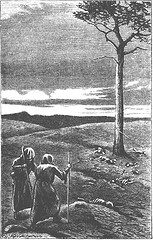 The Upas tree was a terrible tree according to Erasmus Darwin that was so poisonous that it was able to destroy all life of any kind for 15 miles around it. Who and what are the Upas trees of the market?
I would say that Madoff and Abelson and the conglomerates and real estate slumps are Upas trees, and in increase in rates, perhaps the first change in direction is also quite lethal. The signal of unbridled interference and flexionism galore as in October 08 would also seem to be a curse. The lyrics to "I've got a little list" from Mikado go through the head. The hoodoo, the parson and the albatross from O'Brian go through the head as does the report "there's a little shadow on this x-ray. Probably nothing to worry about."
What would you add? I would like to say Buffett but I refrain.
Victor Niederhoffer adds:

One Upas tree regularity is the tremendous move against the weak player when he she one is being squeezed out of position. The MF, the Societe General, and the Thailand moves are examples of that. One wonders what the other side of the coin is. What are the apple trees of the market, the benevolent things that cause it to go up. The book "The Man Who Planted Trees" is a very good one for all to read describing how a French man who planted apple trees brought a village to life from death by first stopping erosion. And then providing shade and food and respite from the heat. The oak tree is also a benevolent tree providing food and shelter for countless species and Cervantes mentions the cork tree "whose benevolent fruit provides shelter for beauteous maidens without any thought of its own welfare". What other trees? What's good for the market. Many of the things that are good for the market are bad in the short term but good in the long term. Like a decline in oil prices. The prospect of a decrease in the service revenues is also very good. What are some benevolent and some more destructive things for markets?
Tim Melvin writes:
High junk bond defaults that clear the weak players and reallocate assets to stronger hands come to mind as a short term negative that is a long term positive.
Laurel Kenner adds:
Obamacare and Dodd-Frank are the two worst and most dangerous pieces of legislation ever introduced into the American field, and have the potential to turn into giant ruinous Upas trees. They are only shells for unknown future rules put into effect by people whom neither the electorate nor Congress will be able to control. They have no sunset, no funding limits, and no restraint on their bureaucracies.
Steve Ellison adds:
I would nominate an inverted yield curve. An inverted yield curve pinches the flexions' net interest margins. 6 of the last 40 years began with inverted yield curves: 1974, 1979, 1980, 1981, 2001, and2007. None of them were good years to be an investor in stocks.
Kurt Specht comments:
European debt concerns and related debt market convulsions are frequently sited as short term drivers of overall market action.
Ken Drees adds:
I was about to opine about the benefits of the upas, even something so deadly has good parts and then I tried to fold that into a Madoff or an MF Global and couldn't come up with any quick relationships of how a bad market tree can bestow something positive other than a lesson to be learned. Other than a lesson to future investors, sometimes positive regulation comes out of these dark trees.
From wikipedia:
It is a fairly low source of timber and yields a lightweight hardwood with density of 250-540 kilogram per cubic metre (similar to balsa). As the wood peels very easily and evenly, it is commonly used for veneer work. The bark has a high concentration of tannin which is used in traditional clothes dyeing and paints. In Javanese traditional medicine, the leaves and root are used to treat mental illnesses. In Africa and other Asian nations, seed, leaves and bark are used as an astringent and the seeds as an antidysenteric. Most famous to Africa and Polynesia are the strong, coarse bark cloth derived clothings- which are often decorated with the dye produced from the bark tannins.
The plant is often grown purposely for shade or shelter around human dwellings as it provides excellent dense shade from the tropical heat. The leaf litter is an excellent compost material and high in nutrients- often spread around local gardens, which must be grown distant to the antiaris due to its extremely dense canopy.
Recently, the plant had allegedly been used by retired Tanzanian pastor Ambilikile Mwasapile to allegedly cure all manner of diseases, including HIV/AIDS, diabetes, high blood pressure, cancer, asthma, and others.
While found to be harmless to humans when boiled in accordance with Mwasapile's mode of creating a medicinal drink out of the bark, it allegedly was undergoing testing by the WHO and Tanzanian health authorities to verify whether it has any medicinal value. However, conflicting reports suggest that the plant in question is not indeed Antiaris toxicaria, but rather Carissa edulis.

Poison Humans have long used poison for hunting and warfare. Antiaris toxicaria is most famous for being employed as a poison for arrows, darts and blowdarts. In Javanese tradition, Antiaris toxicaria is used with strychnos ignatii. The Antiaris toxicaria latex sap has the active components of cardenolides (chemicals with cardiac arresting potential).
The latex, present in the bark and foliage, contains a cardiac glycoside named antiarin, which is used as an arrow poison called upas: Javanese for poison, but, commonly to the poetic (non literal) quality of many Javanese words has a duality of meanings- watchman, messenger and courier.
In China, this plant is known as Arrow Poison Wood and the poison is said to be so deadly that it has been described as "Seven Up Eight Down Nine No Life" meaning once poisoned a person can take no more than seven steps uphill, eight steps downhill or nine steps on level ground. A visitor to South Kensington Museum in 1881 noted a picture of a Upas tree and wrote in their diary 'a picture of the Upas tree the most poisonous in the world any one fall down dead before they can reach it.
Gary Rogan writes:
It turns out there is a poem about this tree by the traditionally the most famous Russian poet:

The Upas Tree
by Alexander Sergeyevich Pushkin
Deep in the desert's misery,
far in the fury of the sand,
there stands the awesome Upas Tree
lone watchman of a lifeless land.
The wilderness, a world of thirst,
in wrath engendered it and filled
its every root, every accursed
grey leafstalk with a sap that killed.
Dissolving in the midday sun
the poison oozes through its bark,
and freezing when the day is done
gleams thick and gem-like in the dark.
No bird flies near, no tiger creeps;
alone the whirlwind, wild and black,
assails the tree of death and sweeps
away with death upon its back.
And though some roving cloud may stain
with glancing drops those leaden leaves,
the dripping of a poisoned rain
is all the burning sand receives.
But man sent man with one proud look
towards the tree, and he was gone,
the humble one, and there he took
the poison and returned at dawn.
He brought the deadly gum; with it
he brought some leaves, a withered bough,
while rivulets of icy sweat
ran slowly down his livid brow.
He came, he fell upon a mat,
and reaping a poor slave's reward,
died near the painted hut where sat
his now unconquerable lord.
The king, he soaked his arrows true
in poison, and beyond the plains
dispatched those messengers and slew
his neighbors in their own domains.
Comments
Archives
Resources & Links
Search