Jun
10
As a beach boy who doesn't much like to leave New York City, who has never owned a car and doesn't normally wear a watch, who thinks that meeting trains or planes scheduled to fixed times is strictly for neurotics, I've necessarily become a connoisseur, a gourmet really, of the beaches accessible by our Metropolitan Transit Authority. And I mean the real beaches available for swimming, serious swimming, not those crowded shorefront sunbathers' oases scattered through Brooklyn and Manhattan.
The most accessible, and always the most popular, has been the beach that runs continuously from Coney Island to the west to Brighton Beach on the east. Over two miles long, only one long block away from the elevated MTA stations, it has for over a century been a proletarian playground with a wide spacious boardwalk that runs from end to end. So convenient to public transportation is this beach that the walk from the boardwalk to the water's edge is usually longer than that from the subway to the boardwalk. Likewise conveniently, several subway lines once again (after reconstruction) service the four stations parallel to the beach: Brighton Beach, Ocean Parkway, Aquarium-W. 8th Street, and Stillwell Avenue-Coney Island.
The subtle truth of this beach is self-segregation, which is to say that the successively numbered bays (divided usually by rock jetties running perpendicularly from the shore into the ocean) attract radically different cultural groups. Nowadays, most of the people at bays 1 to 6 are Russian immigrants from nearby Brighton and Sheepshead Bay. By contrast, the bays in front of the Stillwell Avenue and Aquarium stations, numbered 10 through 13 or so, have hosted for the past few decades mostly Latino crowds. No signs tell prospective bathers where to go, but there are good reasons why, say, the sellers of mangoes wrapped in plastic bags, poked with a thin stick, and freshened with hot sauce rarely go east of bay 9. (I can recall a Russian friend asking me, "What are those?") Needless to say perhaps, most guidebooks don't acknowledge this segregation in PC times.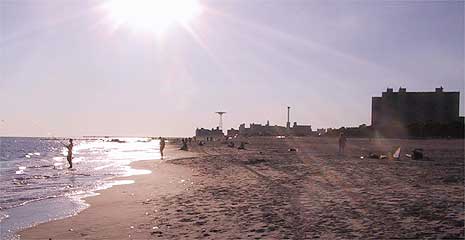 I myself have favored Bay 8, between the two crowds, because it has always been comparatively emptier, which is to say that the number of people at bays 9 or 7 are roughly 50% greater than that at bay 8 on weekends as well as weekdays. Bay 10 is likely to have twice as many people as Bay 8, and bay 11 yet more. The best way to explain why bay 8 should be so empty is, simply, that "no one goes there" for some three decades now. The only signs identifying the individual bays are small medallions mounted high on poles on the ocean side of the boardwalk; but if you can't locate them, ask the lifeguards. They usually know the official number of the bay to which they are assigned. Since I once before recommended Bay 8 in print without noticeable effect on the beach itself, I don't fear mentioning it again.
On the other side of bay 13 are beaches yet emptier, if they are open, but often closed with a make-shift fence, especially before July 4th, and patrolled by uniformed people threatening to arrest you if you bathe there. When open to water-lovers, these are the cleanest beaches for the simple reason that fewer people patronize them—don't forget the truth that human beings make the most water trash. On the western end of this beach is Sea Gate, a community secure behind a forbidding fence that goes out into the water; but just before (or east of) it is a beach that attracts people visibly different from Coney Island proper or Brighton. I'm told they are mostly Italian- Americans, but am not sure. Not knowing anyone residing in Sea Gate, I've never sampled its beaches; but my father, who did a summertime rental there with his buddies in the 1920s, tells me that they were great then. (Yes, 80 years ago, and he's still around, though not swimming.) You don't need to subscribe to the Gaia hypothesis to believe that Sea Gate beaches fronting into New York harbor are no less hospitable several decades later. Since most of the people on the entire Coney Island-Brighton beach speak languages other than English, the proletarian beach has become an immigrant beach, which means that their beach small talk thankfully won't be understood. The atmosphere is also pervasively mellow, even on the hottest days, mostly because most people plant themselves among their own kind with sufficient space between themselves and others; and everyone is as pleased as I am to be near the water. Indeed, public beaches are my model for mellow anarchy, where everyone is equal with respect to visible wealth or power, few trying to put down others. Or as a portly friend put it, his arm sweeping across the horizon, "Fashion models don't hang out here." If only the whole world could be forever like a public NYC beach.
For swimming, distance swimming, which is what I do, this beach can't be beat. Go out far enough and you can swim (and think) without needing to worry, as you might in a swimming pool, about colliding with someone else. If you visibly demonstrate that you know how to swim well, the lifeguards won't hassle you, no matter how far out you go. When I pointed to a slow swimmer chugging far out from shore, the chief lifeguard replied, confidently, "We know him." Though the water comes from the Atlantic Ocean, Coney Island/Brighton is actually a bay protected on the southwest by Sandy Hook, the New Jersey peninsula that extends north into New York harbor. and on the northeast by Breezy Point, the westernmost end of the Rockaways. Therefore, on most days the water here is placid; only with the threat of a hurricane will there be waves high enough to body surf. Surfboarding is unknown here.
Bear in mind that all New York City beaches are officially "open" from 10 am to 6 pm., from Memorial Day to Labor Day, which is to say that only during those times will they be staffed with lifeguards and ancillary City workers who give first-aid and scare away fisherman. However, since the beach isn't fenced off, people do on warmer days stay after six pm., when newcomers carrying fishing poles emerge. Since the temperature of the water is higher in September than in June, some patronize New York City beaches after they are officially "closed"–after the lifeguards (and garbage cans) have departed. Others swim into the winter. (A lady friend and I once celebrated New Year's Eve with a dip before midnight, preceding the "polar bears" photographed running gleefully into the ocean on New Year's Day. Prancing through cold water is easier to so than one thinks, if you keep the back of your head out of the water and don't stay too long.)
On truly hot summer nights, some try to stay overnight on this beach, which would be reasonable, did the City not send out noisy trucks in the middle of the night to churn garbage out of the sand. Awaking to these dinosaurs can be, I'm told, an unforgettable nightmare. Decades ago, people homeless and otherwise, both loved and loveless, could spend the night under the broad boardwalk; but this has become less possible since the Army Corps of Engineers raised the level of the beach sand roughly to that of the boardwalk, thereby making a windowless cave of the areas under the planks.
On the other side of waterfront houses east of Brighton is Manhattan Beach, much smaller, which is accessible by public bus from the Brighton Beach subway station. Perhaps on a crowded weekend a visit here is worth the inconvenience of a bus ride. I've heard of yet another public beach on the other side of Coney island, on the northwest coast, just east of Sea Gate, facing New York harbor with a spectacular view of lower Manhattan; but since getting there would require a trek from public transportation, I've never sampled it.
As the subways to the NYC beaches eventually emerge into open air, you can with your own eyes observe if, since you began, the weather has turned bad, as it does often in the summer. (Forget about what the weather forecaster "predicted." I'd sooner trust horse- touts.) If clouds threaten, you can simply disembark your train, sniff some fresher air, and go over the other side of an express-train track before returning home at no extra cost. One persuasive advantage of the main Coney Island-Brighton beach is its proximity to an MTA subway with continuous service; so that if the weather suddenly turns foul while you're at the beach, the elevated subway is only a short hustle away. Pity the day chumps on Fire Island waiting in a sudden rainstorm for a scheduled ferry to get them to a scheduled bus to get them to a scheduled train before they can connect to the MTA. Perish the nightmare.
The Rockaway beaches are different because they front on the Atlantic Ocean, much like the beaches in Fire Island or even the Hamptons, which is to say that here is salt water essentially no different (and no dirtier) than that in the purportedly classier watering holes to the east. A century ago, the Rockaway beaches attracted the same sorts of folk who nowadays go further east. I have a collection of century-old photographs from the Rockaways, portraying people looking prosperous not only on the boardwalk but overdressed in the water.
Sometimes the water on the Rockaway Beaches is placid; other times there are waves—real high waves, when this beach can be dangerous, especially to non-swimmers. The lifeguards here make many more saves than those at Coney Island, and several people drown here every year, usually before or after the lifeguards work or in areas that aren't watched. This Rockaway beach is over ten miles long; its boardwalk, while much narrower than that at Coney, is several miles long and remarkably empty in comparison.
Unfortunately, much of this beach is officially closed, sometimes purportedly for a lack of bathers, which is true, as the bungalows near the ocean between 35th and 72nd Streets were scandalously demolished in the name of "urban renewal" four decades ago, leaving miles of oceanfront property pathetically empty ever since. Other times they are closed for a "shortage of lifeguards," which seems dubious, given how little they are paid. Anyone trying to swim in these fenced-off areas will soon attract a visit from a uniformed official. When a local newspaper tried to make a photograph of me standing, but clothed, in the water at 67th Street last summer, a succession of guys in beach jeeps came by to ask what we were doing, until one assured us that he read the paper.
This beach too is self-segregating in ways reflecting two factors— the kinds of people living in the streets near the beach and the routes of public transport. The beach around 60th Street is roughly 300 yards wide, 50 feet deep, kept officially open to service a grim- looking low-rent housing project overlooking the ocean. Sometime last summer, an New York Times's intrepid beach reporter wrote that the project people didn't patronize this beach because they thought it "too dirty," which it isn't, or because they couldn't swim, which seems more true. Therefore, during the weekdays it might have two dozen patrons (at 2000 square feet apiece) along with several lifeguards. The water on one side of the dividing jetty I find best for body surfing; that on the other side of the jetty has 200 yards for continuous swimming. On weekends, Caribbean-American families arrive, crowding up the water; and in the playground behind the beach are generous barbecues, one mostly Latino Caribbean, another West Indian. This 60th Street beach is directly accessible from Manhattan and Brooklyn on the A-train marked "Far Rockaway," not Lefferts Avenue or Ozone Park, just three stops after Kennedy airport.
The folks on the A-train with giant surfboards are probably going to the first stop, 90th Street, changing to the shuttle train that begins anew at Broad Channel, itself the first stop after JFK airport. The beach at 88th Street has been officially set aside for surfboarders. This shuttle train (marked "S") continues parallel to the ocean, only a few blocks away from the water, to its terminus at 116th Street, which is a shopping thoroughfare of sorts, with the only Rockaway stores offering beach paraphernalia (as well as Irish bars that are plentiful in this area, unlike, say, 60th Street, which has none). The beach at the end of 116th street is invariably the most crowded and boomboxy in the Rockaways, usually with teenagers and, I'm told, Brazilians. Older or quieter folks might prefer to get off at the shuttle stops at 98th or 105th Streets, the emptiest beach being around 103rd Street, or to walk west of 116th Street. The beaches in the 120s reflect the predominantly Irish-American population of Belle Harbor; those in the 130s and 140s the Jewish upper-middle-class of Neponsit. One reason why beaches here are under-populated is obnoxious street signs forbidding parking in the daytime during the summer months, which is to say that aspiring bathers driving here from elsewhere must either park in a friendly driveway or go somewhere else. The lack of public lavatories here also discourages outsiders.
Another way for the car-less to get to the Rockaway beaches is taking the public bus that originates near Brooklyn College, which is also the southern terminus of subways # 2 & 5. This bus # 35 proceeds down Flatbush Avenue over the Marine Parkway (aka Gil Hodges) Bridge to the Rockaways, where it swings east. The first stop is Jacob Riis Park, which is a large if aged New York State facility with lifeguards (some of whom wear spectacles, which are forbidden to NYC lifeguards) and locker facilities, as well as food concessions. Its 16 sections are likewise self-segregating. I've been reliably informed that at the eastern end is a beach favored nowadays by gays; two decades ago, it was the only nude beach within New York City. (Nowadays, those with Northern European "naturist" tastes go to Sandy Hook or eastern Long Island.) The section on the other, western end of Riis Park is reportedly favored by Italian-American teenagers who tend to get into fights among themselves. In between are a succession of crowds more subtlely defined. Need I mention that that entrance here, as in all the beaches mentioned favored by me, is free, that's FREE, which is my favorite price range, though the parking lot charges four bucks. Don't forget the inarguable truth of anarchist economics: the best things in life, in this case sunshine and surf, are free, absolutely free.
This # 35 bus can also take you through Neponsit and Belle Harbor, if you want to sample those sparse beaches, probably before walking down to 116th Street, where there is a public lavatory under the boardwalk, not to mention a subway home. Yet other public buses, # 21 and 53, come from Queens across Jamaica Bay over the other bridge to the east, Cross Bay, to run parallel to the shuttle train, likewise terminating at 116th Street.
On the other side of Riis Park is Fort Tilden, a sometime military base, which into the 1960s housed the Nike missiles facing out into the Atlantic. It has magnificent beaches that are officially closed and thus lacking lifeguards but nonetheless accessible. Indeed, several of us once celebrated Rosh Hashanah with a midnight swim here, and we were not alone on the beach at that time. Yet further to the west, well beyond public transportation, is Breezy Point, which is another gated community, much like Sea Gate, but far less secure, as its fences don't extend down the beach into the water. Here is certainly the most beautiful beach in New York City as well as the most isolated, separated by dozens of yards of sand dunes from the nearest housing.
Breezy Point, at the western end of the Rockaway peninsula, miles away from any other residential community, is known affectionately as the Irish Riviera. With modest detached houses tightly packed next to one another, in the largest coop of single-family homes in the US, mostly owned by police and firemen, it is very much its own world, with its own rules, typified by burly folks carrying their cans and bottles of beer unwrapped, even though they would arrest you for doing the same in Brooklyn or Manhattan. Breezy Point doesn't take kindly to uninvited guests, even if they can legitimately enter it by walking along the beach or bicycling past by gate on the main road. Perhaps I shouldn't have mentioned it at all.
A friend recommends the beach at 25th Street, at the end of a row of classic bungalows still occupied, which is also accessible from the direct A-train. "It's quite wide with dunes and that same wave energy," he tells me, "protected from erosion by Atlantic Beach," which is the western tip of the barrier island called Long Beach. (The barrier strip beyond it has Jones Beach; the next extending out into the ocean, to the east, is Fire Island.) However, I don't claim to know the beaches east of 60th Street, because, not unlike others in the Rockaways, I tend to regard everything east of a certain point to be fearsome. (For those residing further to the west, the cut-off points can be 88th Street, 103rd Street, 116th Street, or even 132nd Street; but that's another Rockaways story.)
Because the New York City beaches are thankfully so accessible, I find that I can spend the morning writing, hop around noon into a subway where I read for an hour or so, swim for an hour and even take a nap before returning by subway home for dinner, an evening out or with my computer, and a night in my own bed. The only other cultural capital in the world where that is possible in my experience is Berlin, which has several comely lakes; but I'd rather body surf or swim in the ocean with its extra buoyancy than lap around a lake or a pool. And, accustomed to the easy access of MTA subway stations, my Metropass in hand, I'd prefer not to navigate all the hideous obstacles of Penn or Grand Central. Believe me, masochism need not be a prelude to the pleasure of a summertime beach.

Richard's website
Comments
WordPress database error: [Table './dailyspeculations_com_@002d_dailywordpress/wp_comments' is marked as crashed and last (automatic?) repair failed]
SELECT * FROM wp_comments WHERE comment_post_ID = '6450' AND comment_approved = '1' ORDER BY comment_date
Archives
Resources & Links
Search