May
30
One has to wonder why this whole "college is a waste of time" meme has suddenly become so prevalent. Is it because so many people have trouble with college loans? Too many writers who have nothing more to say about O's birth certificate?
Thinking one can predict the future based on what one does in the present is a persistent human foible. For sure a lot of kids go to college who don't need to. But is this truly something new? Would anyone sensible make a decision based on what they read about this subject? Unfortunately some probably will.
It remains to be seen how employers of the future will react to resumes that state "I am really smart but I didn't go to college because I read online that it was BS; but I really am smart."
One of my kids is 1/2 way through college and the other is just entering this fall– and I don't spend any time at all thinking it's a waste of time or money; it's been a path to prosperity in my family where none of the previous generation had any education past high-school (if indeed they finished that at all).
On the other hand my wife and I went to CUNY at a time where the cost was $35/semester. That's not a typo.
But I still wonder what's behind the impetus to discredit higher education?
Ken Drees writes:
I get the vibe that the intent is more of a cost justification issue. You don't send a kid to college who gets middle of the road grades and majors in marketing anymore. The job market out of college is poor and will continue to be poor. College now will set you back serious money as a percentage of household income and there will be serious debt burdens on the student and parents upon graduation. You can't put the college payments on the credit card or the home equity loan anymore.
I believe that a college bound child needs serious career planning up front, which is tough to do since kids sometimes do not know what they want to do prior to going off to the higher education arena. Like the union bubble which is feeling the backlash from the debt riddled state pockets empty reality, colleges need to step back, cut back, stop the pay raises–else enrollment is going to crater and the pie shrinks.
Victor Niederhoffer comments: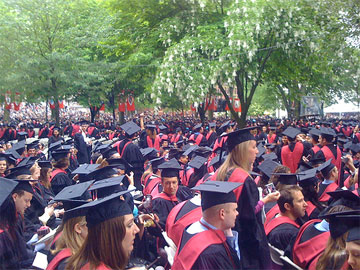 A college education will always serve as a signaling device to employers and partners and parents that one is capable of being admitted under highly competitive circumstances and then has the fortitude to stick with the program, and finish the requirements, and the moral fiber not to have been kicked out. The signaling will always be of value and the rate of return from college should stay relatively constant.
Russ Sears comments:
Very similar qualifications could be said about homeownerships, commitment to paying a mortgage and good citizenship of being a good neighbor. When a persons limit to leverage has no bearing to what they could reasonably expect… many with nothing to loss will gamble with somebody else's money. This of course creates a bubble in some areas where there will be large oversupply of X degrees. For instance everybody will think in 2022, "what were they thinking taking forensic science and $100 grand of loans?"
The problem is when you use the argument that is it "should" be worth it to argue that everybody has a "right" to upgrade there lives. Further when you grant this "right" to any 18 year old capable of getting a high school degree you are bound to get many that should not have been given this privilege without working a few years and tasting responsibility. I still believe orginially there was a segment of responsible people that were granted sub-prime loans. These people however, proved to be the exception to the rule when everybody was given this right.The difference may be that those youth that are the sharpest will see the "bubble" within these areas and avoid them.
Could we be looking at the class of 2011? on a resume and subconsciously think what a deadbeat?
James Goldcamp writes:
I agree with chair's analysis of the signaling value of education, but one also wonders at what cost. I would find it hard to believe the return on invested capital has not gone down with both greater real costs and general degree (volume) inflation over time. It occurs to me that a rigorous self study program with standardized tests against which one could be compared might provide some lesser but nonetheless valuable signaling vehicle at 1/20th the cost of the current college education. Interestingly, one hire we had years ago was more known for his perfect SAT than his multiple Ivy degrees.
Thomas Miller writes:
This anti college education and anti home ownership "debate", seem to reflect a negative attitude that is growing in this country. The theme seems to be "dont even bother to go to college or strive to own your own home. it's not "worth it." just give up and settle for less." Of course college education or home ownership is not for everyone, but those that propagate these defeatist platitudes, (especially the ones that do it on internet blogs read by a large audience), are doing a great disservice to young people. "just settle for less" is not the attitude that made this country great. A generation ago, many that chose not to pursue college could get a decent job with benefits and be fairly sure of being able to retire from that job. There are very few of those jobs available now. The gap between those with a college degree and those without will continue to widen.
Russ Sears comments:
I believe those that are "anti" college are saying take more risks start a business instead.
And for those that it will not turn out for the better, it's not good government to guarantee the loan. More responsible decisions will be made if they have to compete for access to loans like anyone else.
Ralph Vince replies:
I cannot speak for others, but I am not advocating a "give up," or defeatist attitude here. I speak with those who have children of college age frequently, as well those who ARE of college age frequently too. One of these day, I'm going to stop speaking to people who don;t take my advice (most people are incapable of taking advice, we simply have to learn things the hard way, and usually more than once)
I hear an awful lot of talk from all of these people that a college education is necessary to enter the American job market, as though it were a ticket to the dance, a means to an end as it were.
(I should point out in full disclosure I do not have a college education. I am self taught. When I decided I should learn math, I started with algebra, geometry, trig, analytic geometry, calculus, topology…..eventually stochastic differential equations, which is used (with near exclusivity) to model prices with (a nice target for a math track for someone interested in the markets, but I find these methods model prices with a degree of reality akin to Oz modeling Kansas). When I wanted to learn literature, I started with Homer, then Virgil….through to the 1950s. Of course one cannot study everything and anything, you have to make selective, intelligent decisions (which is where talking with others comes in) and someone must WANT to dispal their ignorance (and this is the key attribute, the acknowledgement of our ignorance and a desire to overcome that — whether formally educated or not).
The last time anyone ever asked me about my educational background was probably when Reagan was running against Carter.
So when I look at what people are learning, and WHY they are learning it, I DO come away in MOST cases with a "Why bother with that?" attitude.
So once we acknowledge that there are two reasons for edication:
1. To dispel our ignorance, and ultimately, to study material we are passionate about, should have such good fortune, and
2. To make ourselves, personally, a marketable product (i.e. posses a marketable "trade," be it electrician, brain surgeon, or truck driving certificate)
people can make better decisions. Unless they are fortunate enough to be a trust fund kid, they need #2. A mere college degree does NOT provide that — this is a wives tale that floats about America wherein a lot of money is being wasted in its pursuit.
#1 is a luxury — one must have the good fortune of finding what fires their jets at a young age, aside from pornography, and find a way to pursue it. If they have the resources and time, college is the way to go. If not, anyone with a spark and a modicum of resourcefulness will find a way to pursue it.
I've spoken of this before. The number of persons from the 2000 census to the 2010 census is up 20%, the number of households, nowhere near that amount. Clearly, in the not-so-distant future, either much housing must be created or much work must be done to convert the "cul-de-sac development" McMansions into 2 and three household homes. What young person is a yeoman plumber out there, or plasterer? Not many, certainly not many over the past 10 years — but it is the fastest track to acquiring #2, above, for most.
And most need #2. Not everyone needs #1, and if they have that luxury, nothing will stop them from pursuing it. But the notion of borrowing a lot of money for a ticket to a dance based on some parent's misguided model of reality (Oz!) is something the educational institutions feed on, benefit by and play to.
Jim Lackey writes:
College is the time to meet your mate, your equal. For the fortunate men, it's the better half you spend life with.
In your college years, there is only so far you will go…. Either to fake it, to fit in/get ahead or rebel against, to get off easy and/or explore the adventures of danger. The gist is how you act when no one you know is looking. Sin may resurface later in life. For certain people, the hypocrisy of life will rear its ugly head. If a married couple knew each other during these years of growth and uncertainty it's near impossible to argue later the lack of full disclosure prior to marriage.
A grievance can always be resolved. A slight, an imaginary hurt, the lack of full disclosure–the "I thought I knew that person". That person will hate you til the day they die.
My guess that is how/why bitter divorces ruin families… vs the much higher than average success rate of current marriages from my anecdotal evidence of family, friends and cohorts that married some one they knew from school.
Jeff Sasmor writes:

Good article on "What's a Degree Worth" :
What Are You Going to Do With That?

For the first time, researchers analyze earnings based on 171 college majors

By Beckie Supiano

Tuition is rising, the job market is weak, and everyone seems to be debating the value of a college degree. But Anthony P. Carnevale thinks these arguments are missing an important point. Mr. Carnevale, director of the Georgetown University Center on Education and the Workforce, has argued that talking about the bachelor's degree in general doesn't make a whole lot of sense, because its financial payoff is heavily affected by what that degree is in and which college it is from.

Now, new data from the U.S. Census Bureau sheds light on one big piece of Mr. Carnevale's assertion: the importance of the undergraduate major. In 2009, the American Community Survey, the tool the bureau uses to collect annual estimates of population characteristics, included a new question asking respondents with a bachelor's degree to give their undergraduate major.

After combing through the data, Mr. Carnevale says, it's clear: "It does matter what you major in."
Laurence Glazier writes:
After the signalling provided by college qualifications, the deliberate undertaking of full-time employment may signal the willingness to allow creative fruit to wither on the vine. A shibboleth of perspective. So many wait for retirement (which may not come) to allow vent to such aspirations, but the law of the farm dictates regular irrigiation throughout a lifetime.
To this end there would be much benefit to all if full-time work became less the norm. The end of government subsidy of unsound housing loans would reduce the pressure on people to suppress their finest qualities.
The Harry Potter books emerged not in spite of the writer's modest circumstances, but aided by them.
David Hillman writes:
Very astute observations.
A laborer can be trained to dig a ditch to a certain depth. A monkey can be trained to dance to the organ grinder's tune. Even a plant can be 'trained' to grow in the desired fashion. But few of the former are, nor neither of the latter can be, trained to *think* and creatively problem solve.
One might speculate that emphasizing skills, specialization and technology in educational curricula and employment qualifications may be the culprits.
While a college education being increasingly available only to the affluent because of financial considerations is, indeed, an issue, perhaps another of our chief concerns should be that we are creating a nation of people who are trained, rather than educated.
Kim Zussman writes:
The "education ruins thinking" argument has value, but simply looking at dollars a college degree pays more than just HS diploma. BLS stats below shows increasing income with formal education: about $400/week more for college grads - which of course does not include harder to value assets like volume of learning, tutored critical thinking, facility of life-long learning, status, access to better mates, good memories, signalling, etc.
One would need about 10 years of the additional (median) college grad salary to pay for 4-year private degree (ignoring taxes). Would the degree be worth it if it took 20 years to pay off?
Unemployment rate Education attained Median weekly earnings
in 2010 (Percent) in 2010 (Dollars)
1.9% Doctoral degree $1,550
2.4 Professional degree 1,610
4.0 Master's degree 1,272
5.4 Bachelor's degree 1,038
7.0 Associate degree 767
9.2 Some college, no degree 712
10.3 High-school graduate 626
14.9 Less than a high school diploma 444
8.2 All Workers 782
Note: Data are 2010 annual averages for persons age 25 and over.
Earnings are for full-time wage and salary workers.
Source: Bureau of Labor Statistics, Current Population Survey
Rudolf Hauser writes:
The question of a rate of return on a college education is not that easy to measure. For one, it will vary greatly on the college attended both by cost and quality of education. It would also vary greatly by the course of study and how much a person actually learned as opposed to just getting by and having fun. Even taking account of these variables, it is not an easy question to answer. The math is a simple discounted present value calculation, but the inputs are something else. For one, the attributes of those attending college and those not attending will differ. Those with an interest in learning and working hard, more personal discipline and more ambitious are more likely to be attending college than those who are not. Those people are more likely to earn more than the group that does not go to college even if they had not gone to college. So while the value of the education is the difference in what they earn in the future compared to what they could have earned had they not gone to college, one cannot just assume the latter is what those without a college education currently earn. In addition what is actually earned will not be a single average or medium figure but will have a wide distribution around it based on good or bad fortune, who you know, and countless factors beyond one's control. Costs while being educated in addition to direct costs of tuition ,books include difference in living costs relative to what they would be had one not gone to college and opportunity costs of lost potential earnings from working rather than going to school. Then there is the question of how much of the difference is due to signaling as opposed to the value of what was learned and contacts made during school. That is real but could change if the marketplace found alternatives to such signaling. If lower education had more strict criteria for graduation and grades the signaling value of a college education might lessen as employers had more confidence in that and prior work experience. The cost of loans may also vary, so that how the education is financed will matter a great deal.
In addition to monetary economic measurement, there are other benefits that might be gained. Meeting a spouse has been mentioned by list members as one such benefit. Learning about many areas and learning how to learn, may enrich one's life as a person, contributing to the value one has to society and family and to one's personal richness of life and happiness. But if prospects do not turn out as one hoped, it can also lead to unhappiness. The question then is how much one wishes to pay for these other potential benefits or negatives (i.e., the probability of disappointment). Some areas of study such as general liberal arts, might be expected to have a higher risk of low or negative economic returns than more specialized fields, but specialization runs risks if those skills become of less use to society.

On a personal level, I do not believe it make sense to send a kid to college unless they are actually going to work hard to learn. If not, it might be best for them to work for a time and see how difficult life can be without a college education. Often they may then go to college and actually make the most of it rather than going at a younger age and goofing off.
I might also add that education need not be in the classroom. The time spent learning on one's own is also education. One need not attend college to learn. It might not have much signaling value but it certainly helps in many areas. The cost is the value of the time spent either in terms of the value of one's leisure or economic opportunity cost.
The ability to learn might be enhanced by a formal education. One of the things I would advise a person attending college to learn is how different disciplines think. The way a lawyer thinks about problems, the way a scientist does, the way a creative writer thinks , the way an economist thinks differ and are specialized in some ways that takes a time to learn. The first course in microeconomics is difficult for many students, for example. The more ways of thinking one understands, the broader ones ways of understanding the world, understanding other people and in solving problems. Some of the great innovations come from taking of advantages in knowing something about other areas of learning that provide insights into the problems in your area of interest.
David Hillman writes:
Ok, then, I meant the focus to be on the point of training versus education. If it requires more updated or timeless references than those to the 20th Century, so be it, and I beg pardon.
(1) Backhoe operators are *trained* to operate them, but there are many instances of heavy equipment being stuck because the operator failed to *think* about the application.
(2) Musicians can be *trained* to play an instrument, but without a proper foundation, i.e., *education* in music theory, history, etc., while the music may be technically correct, it is often dry and mechanical, uninspired and with an 'off-the-shelf' feel.
(3) An air traffic controller can be *trained* to direct aircraft, but when an emergency arises, he/she must *think* of how to resolve it, not unlike,
(4) A 9-1-1 operator being *trained* to follow protocol, but when that protocol does not apply, hopefully, that individual may be capable of *thinking* of a way to prevent loss of life.
And, what of entrepreneurs like you and me? How can one be *trained* to brainstorm an idea out of thin air, then take it from the drawing board to reality? But, one can certainly be educated broadly enough to think creatively, make connections, take calculated risks and solve problems. Even in strategic planning, one can follow a plan, but the successful execution of it requires feedback from the real world and adjustment, which requires the ability to think, not just the ability to follow an SOP manual.
Clearly, a liberal arts education is not for everyone and the rise of tech schools and alternative forms of education and training should be applauded. For those who require training, the more well-trained they are, the better off will be all of us who depend upon their services. But, one should not necessarily depend upon them to do anything other than the job for which they've been trained, nor to be able to *think* creatively when faced with a situation or event for which they have not been trained. Trained mechanics may depend upon a diagnostic computer and trained line cooks upon a recipe, whereas a great mechanic might 'feel' a rough idle and a great chef might improvise a dish. The latter two have the ability to think and create, some of which is natural, but a good deal of which may also come from an education.
Nor is a college education always the right thing for someone at any given time. There are plenty of examples of individuals who failed to perform well in college as a recent high school grad, but did stellar work 'going back to school', my own being one of them.
Some eschew those who are 'too educated' as being 'troublesome' precisely because they can think. However, if I knew nothing of one's natural intelligence, and had to choose, I'd probably go with the educated over the trained.
That said, neither education nor training has much to do with 'smarts.' For that, you either are, or you are not. Some of the dumbest guys I've known have had PhD's, but so have some of the smartest. Likewise, some of the least educated have been the smartest and most capable, but there have been many that are dumb as a box of rocks.
As someone once told me, "it's better to healthy and rich, than to be sick and poor." I'm kinda thinking it might also be better in the long run to be smart and educated, than to be dumb and trained.
Stefan Jovanovich writes:
David is right. If there is any fault to his argument, it would lie in his optimism about the capacities of higher education. But, then, my cynicism about schooling comes from having literally grown up in the business and from being a 2nd generation academic bum. (There are not many fathers and sons who share the distinction of having gone to graduate school in English literature solely because they had no better idea of what to do and the GI Bill would pay for it.) School, like most things, is what you make of it. My difficulty is that "education" is now what "national defense" was in the 50s and beyond; an open-ended appeal for more money that is always justified in the name of some higher good that is incapable of being questioned.
Jeff Rollert writes:
I concur with Ralph, and if you believe in the concept of singularity, then a repetitive answer method is most likely to be replaced by a machine.
For me, I believe that standard problems will have standard solutions already applied to them before I'm even aware of the problem. So if one were to find employees who where good at sensing/finding the "unknown-unknowns" then they would have to have a non-standardized approach - in other words a non-academic approach.
Lastly, in a logic sense, how can something be a "value" but still be "expensive"? Aren't these mutually exclusive?
Tim Melvin writes:
We have dealt with both sides of the college issue here in the past few years. My daughter on her quest to be the world only libertarian teacher had no choice. To teach you must have three degrees and credentials. She has on semester left and has pulled a 4.0 throughout. She may have learned some basic teaching techniques she did not know but the general education element was lost on one who reads like her. When I look at the top 10 majors in US colleges I have a hard time seeing what we are producing except middle managers. Teaching and nursing are the only to that offer a truce vocational choice. I would love to have had four years to study literature, but I question the employment value of the degree itself. The top tier schools may be different but is seems to me that our universities are teaching fixed values and information, not how to think. How to think has to be either installed by your parents or learned on your own. I cannot see where this can possibly be worth the cost today. Perhaps Colonel Depew can add a though on this but I think teaching the young to read the Great Books Curriculum would go farther than the current middle management factory that are most schools today.
I never went to college. Truth be told I dropped out of high school at the enthusiastic recommendation of the local authorities. What education I have I obtained from between two covers in the style of Louis L'Amour– I suggest that book as a manual on learning to think by the way. I read constantly when I was a kid. My mother was wise enough to let us read anything we wanted regardless of content. If there was something we didn't understand she made us find the source material to explain it..and this was back in the day when Encyclopedia Britannica was still the source of knowledge not the internet. I have continued to read ravenously all my life. I read anything and everything. I have found that even fiction often contains lessons for life and can be a source of knowledge. As an example, I read two or three of Robert Parker's excellent Spenser series. Great detective books, but read a few and you will learn two or three good quick dinner recipes, several literary quotes worthy of further research and how to win a fight. Many of us on the list have followed the chair's lead and studied the great lessons of Monte Walsh, Don Quixote and Patrick O' Brian. Randy Wayne Whites Doc Ford novels often contain insights into the biology of floridian waterways and the everglades. Knowledge is everywhere if you know how to think. I fear today's world of standardized testing and assembly line universities may not be teaching that valuable skill.
Think about this. The two greatest innovators and business men of the past thirty years both dropped out of college. Some schools may be worth the price tag. I suspect most are not.
My son on the other eschewed school in favor of making a few bucks. He discovered he had a real talent for and love of business. Within six months or so of going to work at Boater's Worlds he was managing one of the top producing stores in the company…at the age of 20. We talked about school and he told me flat out "I can't see the value of spending the money. I have two MBAs working for me now because they can't find jobs that pay enough, and my part time staff includes a phd in English." He moved on when the Ritz family folded the chain. His former district manager brought him over to his new company and he is moving up the rank there. He just undersands the art of working hard and making money. He may need a few accounting classes some day but four years at some state university would have been a waste of time and money.
We need more thinkers who have a passion for knowledge and more curious explorers and fewer managers and chair holders. That's on us as parents as much as the schoools. If our children go onto college make sure they know how to think and the univerisity allows them to do so.
Stefan Jovanovich writes:
Dropping out can be useful even for scholars. Peter Green (the #1 biographer of Alexander the Great) did it.
So did Eddy's favorite professor who didn't teach art history.
Eddy's most treasured legacy from 4 years at Cal was giving Professor Jacobson the recording of her version of the Super Mario tune. He had heard her play it on the UC Carillon and wanted it for the ring tone on his phone.
Dan Grossman writes:
Found this interesting blog post by Steve Sailer proving the value of higher education:
A column on a new Gallup Poll asking "Just your best guess, what percentage of Americans today are gay or lesbian?"

"The mean guess was a ridiculous 24.6%. Only 4% said less than 5%, which is probably the best guess.

Polling companies seldom ask questions on which people can make obvious fools of themselves, since those can raise questions about the value of opinion polls.

Looking at the demographic crosstabs, it's evident that low intelligence people were most likely to wildly overestimate the percentage of homosexuals: 53% of people making under $30,000 annually said that at least 25% of the population was gay, and 47% of those with no more than a high school education. 43% of Democrats versus 24% of Republicans got the question wildly wrong.

In general, people are terrible at estimating or remembering demographic statistics. A 2001 Gallup survey, right after the release of 2000 Census results, found that the average American estimated that 33% of the population was black and 29% were Hispanic. That adds up to 62%, but who's counting? Not most people.

In that 2001 survey, nonwhites estimated that 40% of the population was black and 35% was Hispanic (adding up to 75%). In contrast, people claiming postgraduate degrees estimated that 25% were black and 24% Hispanic (only about double the Census numbers), which proves the value of advanced education."
Comments
WordPress database error: [Table './dailyspeculations_com_@002d_dailywordpress/wp_comments' is marked as crashed and last (automatic?) repair failed]
SELECT * FROM wp_comments WHERE comment_post_ID = '6404' AND comment_approved = '1' ORDER BY comment_date
Archives
Resources & Links
Search