Jan
2
There is something about True Grit that is truly loathsome. Each of the 3 main characters is deeply flawed. Marshall Rooster Cogburn is a drunk and dead beat who speaks unintelligibly. Texas Ranger LaBoeuf is a show off, loser, and a chauvinist. The girl is sharp tongued, litigious, and naive (no wonder she didn't get married). It all fits in with the idea that has the world in its grip, that the purpose of life is to keep oneself small by sacrifice. There is no chemistry or romance between any of the characters except for Pepper the Quixotian leader of the outlaws, who as could be predicted was the only man good in his every day business of being a outlaw. No wonder this Western follows the code of the west breaking, denigrating Brokeback Mountain and no wonder that Louis L'Amour's novels have sold more than all western authors combined since the beginning of time, and that they dare not make one of them or an Atlas Shrugged, in favor of this disrespectful Portis trash that violates all the rules of good mystery by having one hair breadth, extraordinary, lucky escape after another, and stereotyped snake bite scene (a la Larry Mcmurtry) release the tension.
P.S I have never written about a subject not directly related to the multivariate analysis of time series that Mr. Jovanovich has not corrected and amplified on where I was astray. And I must admit that I didn't realize that the Western Novel was yet another of his expertises. Okay, I want to know from him if he agrees with me, on this one point that Monte Walsh is the greatest western novel, (if the chapter where the accountant comes to reduce the pay of the hands that took vengeance on the trainmen doesn't make you cry, I'll eat that hat the accountant wore that was so tempting to Hat, Cal and Monte), and the best business novel of all time.
Stefan Jovanovich replies:
Grub street used to honor the basic code for reviewers: read the book first, then slander the author. We should do the same. Portis' book is like neither of the movies; the John Wayne version comes much closer in spirit, but it is still far, far too "nice". The actual novel is a memoir written by a tough-spirited, one-armed spinster Presbyterian capitalist remembering the one man whom she loved and how they avenged the murder of her father when she was– by other people's standards– "still a girl". Blaming authors for what Hollywood makes of their books is like blaming men for the conduct of their ex-wives after they finish paying the alimony; all the authors can be held accountable for is the size of the check they cash.
I am old enough to have lived near (but definitely not in) Beverly Hills when Louis L'Amour still gave readings at the library. He was a great and good man, and– yes– Monte Walsh is the classic. As is often the case, my anger is misdirected; what infuriates me about this latest version of True Grit is what is says about the Coen brothers' decline and fall. The novel will survive their abomination of it; hell, it will probably be reread again. But for the Coen brothers, what hope is there now? Intolerable Cruelty is the best and funniest film ever about Hollywood and lawyers and now the guys who made it can only do splatter trash.
P.S. Eddy just called. She thinks our only hope is to pray that South Park's explanation once again holds true and blame it all on Matt Damon and his friend.
Dylan Distasio writes:
At the risk of raising some hackles, I'd make the argument the McCarthy's "Blood Meridian or the Evening Redness in the West" is one of the greatest Western novels in that genre and one of the best I've read from 20th century authors in general.
J.T Holley writes:
If you like Blood Meridian then go read Suttree. IMHO, it is an existential masterpiece. Cornelius being a man of the "made, trust-fund baby, life of given not earned goes to be a fisherman in TN. Though the content could be considered as a rebellious misguided stab at the establishment, I found it a read that was of self-introspect, self-realization, self-reliance while battling vices with choice by going to the extreme to find such. Once again not oft mentioned amongst Cormac's works, I feel it is one of my favorite reads to crack open and read again. I'm a Southerner so the read is much suited to me, so some of the "in between the lines" stuff might not be appreciated.
Jim Wildman writes:
My personal favorites in the Western genre.
"The Virginian" (Wister) if for no other reason than "Smile when you call me that"…and the baby swap prank.
"A Man Called Noon" (L'Amour) always makes me think about how I define who I am.
In "The Last of His Breed" Mr L'Amour applies similar themes from his Westerns to modern times. For my taste, the book is a bit long, but in fairness, it takes a while to walk across Siberia. And it has a great last line.
Trader Craft comments:
Another great classic of the West is Thomas Bergman's "Little Big Man". Much better than the Dustin Hoffman movie.
Scott Brooks writes:
As one who doesn't read a lot of westerns, (and I'm sure the purist will scoff at me) I have to say that Larry McMurtry's, "Lonesome Dove" is my favorite of that genre.
Good guys and bad guys. Multiple story lines all intertwined. Sudden and unforgiving death. Fortunes made and fortunes lost. Adventures piled on top of adventures. Good choices and bad choices. Friendships that are strong, but that don't override honor. Human foibles that override honor to do what is perceived as the "right thing". False friendship's that never were except to be used as seen fit by the "user".
Story of youth and aging and lesson's learned, lessons shared and lesson's taught. Love found, love spurned, and love lost. The superficial wannabes intermingled with the intellectual drivers. The high self esteem and low self esteem of characters revealed for the world to see.
Characters that arrive unexpectedly and stay and others that depart just as unexpectedly. Ego's that clash and feelings that are hurt. Life and time wasted on loves that can never be.
High risk adventures fraught with deadly consequences. People that love risk, taking more and more risk because the downside never happens to them…until it does.
Their are cowboy versions of "Eddie Willer's" (hard working and reliable) tying their horses to the wagon's of cowboy versions of "John Galt" (hard working reliable, but intellectually superior)…..but in a much more realistic sense….i.e. there's no mythical "static electricity generator" or "nearly infallible hero's"….just really smart people who make more good decisions than bad decisions…but who make bad decision…sometimes with catastrophic consequences.
I could go on and on, but something has just struck me as I write this general description of "Lonesome Dove"…..am I describing a Western Novel, or the modern day "Spec List".
Jack Tierney writes:
The Chair's mention of L'Amour reminds me that I've neglected to comment on the man's autobiography, "The Education of a Wandering Man". Unpublished during his life, the manuscript was found in his desk only later. The author of the Introduction speculates that L'Amour purposely put off publication fearing charges of braggadocio.
After reading the book, it's a possibility. For many years he kept a written record of the books he had read– the selections are so diverse and numerous that it's impossible to pigeon-hole his preferences or determine how he found the time.
Because of finances, he left home at early and, Hoffer-like, rode the rails in search of employment. He also shipped out for as many foreign ports as he could find, baby-sat an abandoned mine for three months in the middle of nowhere without any human contact, and took up small-town prize-fighting when he really needed money and the locals really needed a fight.
But no matter where he was or how broke, he always had books. If there's any drawback in his story it's the realization that one could have read much, much more if he hadn't been sidelined by trivialities.
Pitt T. Maner III writes: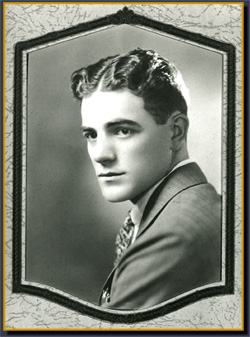 It looks from L'Amour's autobiography that, from the years from 1930 to 1937 in particular, he tried to read approximately 100 books and plays each year. They were not what you would think a man writing Westerns would be reading.
Not a bad New Year's resolution if one has the time. It takes discipline too.
A quick perusal indicates he liked to read several books by one author or playwright that he liked within each year. Certain themes or genres captured his attention. Perhaps he was buying books in bulk or series from bookstores.
In 1930, for instance, he read many of the plays of Eugene O'Neill. In 1931 he read Flaubert. Shakespeare and Detective stories were popular with L'Amour in
1932. It looks like works by H.G. Wells and Conrad were favorites. L'Amour's lists are interesting because there are many books included that are not commonly read these days.
For instance "Trader Horn" by A.A. Horn and Ethelreda Lewis was a book made into a movie with filming done in Africa under extremely difficult conditions (they don't make movies like the used to).
The world was less explored and a bit more mysterious just 80 years ago.
The best writers often do a tremendous amount of critical reading and know a little bit about a vast array of subjects— even things that would be considered controversial today.
Comments
Archives
Resources & Links
Search