Apr
6
As a very serious collector of art, I see people buy art for the purpose of investment all the time. I'm asked to give my opinion on the worth of a particular piece of art a few times a month. When the public sees headlines touting record price for Van Gogh, Renoir or Matisse, they rush out to buy art for investment. Some major companies have also put the shareholders at "art market risk" by owning large collections of art for investment purposes. The cottage industry of consultants that has sprung up dealing with the art investment field is full of swindlers, thieves, liars and cheats. The consultants, dealers, and auction houses are the ones who profit, not the average collector. Even some reputable dealers have been known to sell fakes, such as works by Dali, which are 99% fake (except for his signature). While it is possible to make some money in the art market, it is very improbable for the collector to profit. A collector should stick to buying art he loves, has beauty, wants to display forever, and is willing to bequeath to a relative or museum upon death. The art hanging on our walls and in our collections is owned by history, and we are merely the caretakers of the art. Incidently, despite the spin by Sotheby's and others, the mid-range market for good Impressionist art is rather soft. There are also some good prices to be found in the Old Masters. I used to tell my lovely wife that the price of good mid-range art fluctuates inversely with the number of margin calls on the Street.
Sam Marx remarks:
I believe a lot of modern art is a fraud. Jackson Pollock's splatter paintings — how can anyone take them seriously? Yet they are sold for millions of dollars. A painting (not a Pollock) hung in the Museum of Modern Art in NYC for a number of years before it was discovered to be upside down.
Marion Dreyfus critiques:
Your grasp of modern art is not strong; if you know the continuum of the field's development, you would not say that. It marks a yahoo sensibility, alas. There are fraudulent practitioners, but Pollock is not one. Suffice to say there are less well researched and annotated and revered artists around to pick on. In general, if you are going to pick on frauds and fakes, better to pick on a very current artist whose chops are not yet firmly implanted in the historical record and universally accepted.
Just as there are 'collectors' without an ounce of sophitication in what they are amassing, there are quick-buck artists eager to make use of the investing/collecting sensibility when they adjudge the market to be a bunch of gullible wallets circling for a kill.
And though it sounds foolish, because much of modern art is nonrepresentational, if the artist is not present while the museum hangs the piece, it is forgivable if the canvas is not the way the artist intended: The average viewer could not tell which side was intended to be down, which up, so one ought not hold the museum guilty for such an understandable error.
Sam Marx retorts:
What makes Pollock's work worth millions? One critic called Pollock's work colorful "wallpaper designs." I don't believe Pollock precisely measured the hole he created in the bottom of the paint can and a slight change in the hole size in the can of paint that he was dripping from would've resulted in a very different painting. If you don't have a precise control over what you're doing, I have doubts about it as a masterpiece.
Michael Bonderer assays: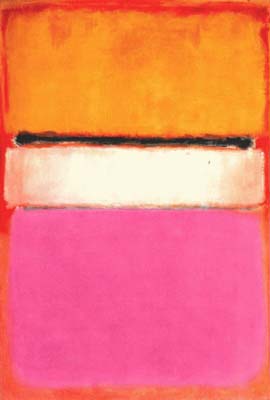 Sam, easy boy! Kindly try to put Pollock specifically, and the Abstract Expressionists of the budding NY School Artists more generally, in the context of post Hiroshima/Nagasaki, post WW II ethos and emerging Cold War ethos of the late 40s and early 50s, to understand their aesthetic and important place in global art and their brilliance. Particularly interesting would be for you to trace Pollock's pre-Abstract Exprisionist work to see how he as an artist developed and emerged as a leading Abstract Expressionist. As the atom's understanding came to mass consciousness, you will see bio-morphic imagery present in many artists' work, including Pollock's. This gave rise to the 'explosive canvas' of Pollock and others and the magnificient 'color-field' work of Rothko, as they all came to grips and a better understanding of where we as a society were going on a certain level from 1945 to the present. Collecting and investing in art is an aesthetic and a lifestyle, and to do it well you really have to immerse yourself, e.g., Paris in the 20s and 30s, NYC in the late 40s, 50s and 60s, LA and SF Bay area in the 50s and 60s and 70s and the LA Chicano art of the 70s and 80s and now Shanghai today with its phenomenal present day contemporary pieces and artists. Sam, I kindly direct you to the Art Tab on Costco's web site!
Lon Evans adds:

Should this be 1910, Sam, you'd be offering to pass on any available Van Gogh.
Adam Robinson offers:
Alas, what's not strong is modern art's grasp on what moves the human heart.
If anyone wants to take up the affirmative position that modern art resonates with the human soul and psyche anywhere near as much as does any Old Master painting, I'll take up the negative banner onto the debate field with gleeful alacrity.
As a rule of thumb, in any field of human production, whether art or literature or essay writing or science, I lay it down as axiomatic that the time and consideration that ought to be accorded to the appreciation and evaluation of human products is proportional to the time and consideration that went into their creation.
Some might argue that talent or brainpower ought to figure in to the calculus of merit, also, so for those who like to quantify things, let's say,
PT x BP/T = k x CAT (production time of creation times the creator's brain power/talent equals some positive constant times the claim on an audience's time)
Show me a piece of art — or an idea even — that took two years of a human being's life to conjure and produce, and another that took two days, and the assuming the talent of the creator's to be the same, I'll give the later maybe 1% as much of my time weighing and appreciating as I will the former.
Michael Bonderer explains:

And therein lies the adventure and challenge. To effectively emmerse oneself into the Shanghai art and media cognoscenti and find the Shanghai Pollock and Rothko and Diebenkorn. Scour the streets and allys and lofts for the work-product of the Tiananmen-inspired dissidents and new-found 21st Century Shanghai sensabilities. Maybe even find the Costco art-mill progenitor and take him out for tea and latte and pick his brain. He may be nothing more then a knuckle dragger, but then again, he may point you to a street that is having a new showing Friday night.
Jeff Watson responds:
There are some prefectly dreadful works from the Old Masters out there. Just go to the Prado or Louvre, and you'll see plenty of examples. While I'm not a fan of most modern art, I do like some of it, and have one piece in my collection. Good art is good art, in any genre, be it music, literature, or theater, and the heart will respond to to what's good. Some have pre-existing opinions on the merits of a certain genre, and it could cause them to miss out on something beautiful. Pre-existing opinions have cost me a lot of money in the market over the years, and this has taught me to sample everything, and keep an open mind.
Steve Leslie ponders:
Why is it that a painting of a nude is considered artform when a photograph can be considered pornography? As an addendum, do I need Freudian therapy if I am a fan of Robert Mapplethorpe?
Why would someone spend millions for a stolen work of art yet know in advance that he may never reveal it for public viewing?
Along the lines of burglary, How can billions of dollars worth of artwork be stolen every year and vanish for decades?
What happened to all the artwork that the Germans plundered from France, Italy, Denmark and other places during World War II and has not been seen since?
Where does someone draw the line between art and garbage? Along those lines what, defines Dali as a genius and not mildly psychotic?
Was Andy Warhol an accomplished artist because he drew for Campbell's soup labels or in spite of it?
Who else thinks that Frank Frazetta is genius personified?
Are dogs playing poker classified as modern art, especially with the Phoenix-like rise in popularity of the game?
Do velvet Elvis paintings increase in value?
Alston Mabry postscribes:

I enjoy using artwork as wallpaper on my computers. Two very good sources are Mark Harden's Artchive and WebMuseum. It is crucial to get a good scan, that has decent color saturation and sharpness. For example, Hopper's Cape Cod Afternoon from WebMuseum, in which the colors are very rich, and you can actually see the grain of the canvas.
Comments
Archives
Resources & Links
Search