May
24
NEW YORK (AP) — Stocks wilted Wednesday as comments from former Federal Reserve Chairman Alan Greenspan and worries about upcoming economic data deflated a rally fed by takeover activity.
Those who have been around as long as I have seen these ephemeral events played out many times before after comments were attributed to the hot hand with an esteemed reputation.
There was a time when Dr. Doom Henry Kaufman was known to dramatically impact the markets, especially the bond market, with his interest rate predictions. This was while he was with Salomon Brothers in the 70s and 80s.
There have been others who had limited success with predictions and moving the markets, such as Elaine Garzarelli of Shearson, Abby Joseph Cohen of Goldman, Bob Farrel of Merrill Lynch, Bob Prechter of Elliott Wave, Bill Gross of Pimco, and Joe Granville in the 70s. Even Alan Abelson could comment on a stock in his weekly column for Barron's and have a big effect on its opening on Monday. A comment on a stock in the Heard on the Street column could also be worth a point or two. There have been others over the years.
From John Tierney:
Here are some examples of Greenspan's forcasting history.
From Stefan Jovanovich:
I believe Mr. Leslie was referring to the total increase in market valuations, not the percentage gains alone. By that standard the late 90s were qualitatively and quantitatively different from the other periods Professor Pennington noted.
The recovery in the ticker from 1932 was hardly viewed by the public as a "rise"; Americans remained hostile or, at best, indifferent to securities investing for another generation. It would be equally hard to see the post-Spanish-American war boomlet as comparable since the U.S. was not yet considered a financial center equal to Berlin, let alone London.
While the 1926-28 Wall Street boom may have outperformed the late 90s by a slight margin, the level of public participation was not comparable. As a percentage of the total adult population, fewer Americans had checking accounts in the 1920s than had securities holdings in the 1990s.
Charles Pennington adds:
3-year moves following:
12/31/1932: 139%
12/31/1925: 92%
12/31/1903: 92%
12/31/1994: 106% *
12/31/1995: 79% *
(*Partially overlaps the 3-year period after 12/31/1996)
It is true that the market went up a lot after December 1996, but I don't see any basis for saying that post-December 1996 was the "greatest rise in the history of the United States."
Why make such sweeping statements without checking them first? It is like saying, "Nobody hit more homeruns than Willie Mays."
Sam Marx adds:
Back in the early 50s or maybe the late 40s, Walter Winchell would end his heavily listened to Sunday program with a stock tip that would create a buying binge for that stock on Monday morning. The Stock's Specialist would open the stock substantially higher and buy back at lower prices as the institutions would come in selling their holdings.
When someone asked Winchell where he kept his money, he quipped, "In rubber bands".
From Sam Marx: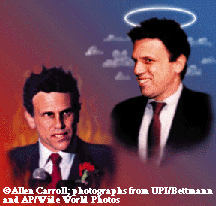 Michael Milkin should be given a pardon.
He created the junk bond market, was influential in financing many of today's largest businesses including CNN, and building the modern Las Vegas. Now he is using his funds for prostate cancer research.
I believe that with all his capital and important character witnesses he could've stalled and defeated the charges against him which were mainly "stock parking" charges. He pleaded guilty to save his brother from going to jail.
He was a threat to some of the moribund corporate boards because he was able to raise the capital, through junk bonds, to enable the takeover artists (Ivan Boesky was not a takeover artist, he was an arbitrager) to gain control of these companies and remove those moribund boards and revitalize those companies. I've heard that the word came from the highest office in the government to get Milken because he was a threat to the entrenched country club set.
Ironically, although he is credited with it, the idea of using junk bonds to take over companies was not Milken's idea. A superior at his firm suggested it to him.
Some such as Ben Stein consider Milken a charlatan. I do not know the exact details of Stein's reasons but I do know that Milken used a Harvard study that showed that a portfolio of high yield bonds would over a period of time outperform higher quality bonds. This may have been valid at first when he was selling existing high yield bonds as a bond salesman but the type of bonds that Milken later created did not fit the properties of the high-yield bonds in the Harvard study.
Before he moved to California, Milken worked in Philadelphia and then N.Y.C. and lived in Cherry Hill N.J., two blocks from my house. When he was commuting to N.Y.C. he would take the bus very early in the morning wearing a coal miner's helmet to read company reports in a dark bus.
Comments
WordPress database error: [Table './dailyspeculations_com_@002d_dailywordpress/wp_comments' is marked as crashed and last (automatic?) repair failed]
SELECT * FROM wp_comments WHERE comment_post_ID = '1629' AND comment_approved = '1' ORDER BY comment_date
Archives
Resources & Links
Search