Oct
6
in proper sell-off in equity, one eventually gets a massive backwardation - and we haven't seen this - almost the opposite- it slightly steepened yesterday - that is odd - and could mean a lot more stress but who knows, am not an equity guy just noticing it on the side and it needs to be tested more…
Zubin Al Genubi comments:
Decay of hi vol over time is a regular tendency. This leads to pennant like structures. The most dangerous time is at the expansion phase where the rate of expansion rapidly increases.
James Lackey responds:
This is a fabulous lesson for new specs that fall for the bear memes then get whacked post dip rally buying.
Look there are times for all things. We can make money short but it's so crazy risk dangerous and the vigorish is insane. I love Mr Vic's "never short" advice!
However if you must sell them without owning them I'd test when the vix is increasing in the short term ie today's vix is higher than 5 days ago then keep it to something like no more than a few trading days hod short et al.
My gist is paying huge vig and buying strength and selling weaknesses is the stupidest system ever! However I'm a man that made it happen and allot over many years even prior to my spec list school.
In closing don't lol but if you must: It makes sense to move all the contracts you can, all day every day when the vix is over let's say 25 and my hypothesis is when it's expanded rather than contracted.
With love honor and respect for those that trade for a living.
Nils Poertner adds: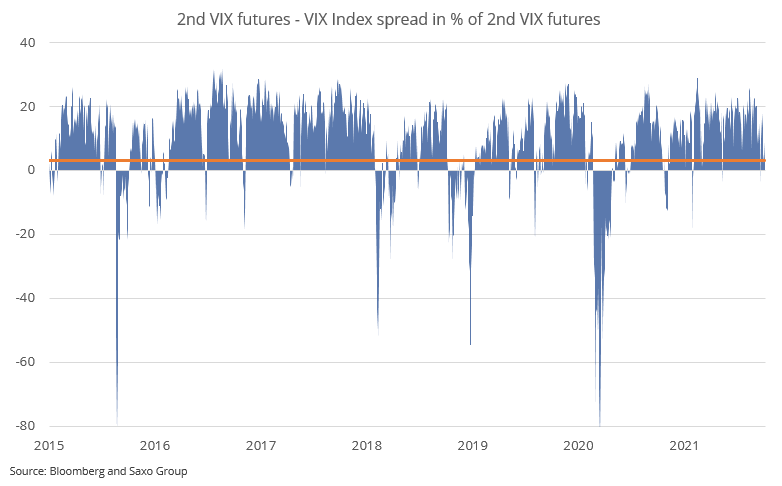 whenever this graph (from Peter Garnry at Saxo Bank) is -20 or -30, it is possibly a contrarian buy.- that is how I read it. in other wards, in strong backwardation in the vix curve…eventually one needs to switch and be bullish - in context perhaps with other indicators? treat with caution - have not done study myself. always test for yourself
Comments
Archives
Resources & Links
Search