Apr
4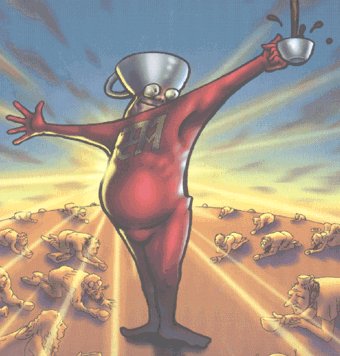 The best coffee is Arabica. You guys drink the worst coffee. I'll bring some good Kona stuff out when I come next.
I got a sampler of eight different international coffees with the new iRoast 2, in green bean from Mexico, Peru, Timor, Sumatra, Congo, Panama, Nicaragua, Guatemala, and a few others. I'm not sure if it's what they're trying to sell or just trying to get rid of, but none held a candle to fresh roasted homegrown hand-picked sun dried Kona Coffee. Most were bland. Peruvian was about the best of the bunch, but still rather bland. Some were close to undrinkable. Sumatra tasted like dirt, Panama very bland, Nicaragua very bitter, and Peru mellow, good to mix 10% with 90% Kona.
Sam Humbert asks:
Why does anyone voluntarily drink "flavored" coffee? I'm having a cup just now, because "hazelnut flavored" beans were all we had on hand in the office today. But I feel like the high-school stoner who's so desperate he'll smoke roaches. The stuff tastes like something the EPA would send HazMat-suited guys out to Jersey to detoxify.
Who buys it? Is it a ladies' drink? Would appreciate insight.
Yishen Kuik adds:
A coffee importer once told me that the flavoured coffee industry grew out of a desire to use cheaper robusta beans and yet avoid the inferior aftertaste that caused manufacturers to prefer arabica. But then flavoured coffee took off.
J T Holley writes:
Having earned and financed my college education working at various coffee shops such as Mill Mountain Coffee and Tea in the Roanoke Valley, and Food For Thought in Missoula, MT, I can tell you very few [buy flavored coffee]! Most coffeehouses have pots of coffee lined up on the counter of some sort for self pouring. The ratio to the best of my knowledge on refilling those was around 5 to 1 compared to regular coffees of many varieties.
Not that what you drank was good but there are two ways to flavor coffee. I have utilized both ways. One is with a horrible flavored oil and the other is via bottled syrup. The oiled way is to roast a rather cheap Columbian bean and then mix the oil and coat the beans (like applying chemicals to kill weeds). The other is much better and that is having an individual cup of coffee and adding a shot of flavored syrup. This seemed less toxic to me even though both are probably the same.
I witnessed very few people other than women that would order flavored coffee. Espresso drinks would be the exception to that. I would classify flavored coffee along the lines of 100 cigarettes. We used to joke that those extra long 100's were for people that like to ash not smoke. They don't smoke the cigarette they simply puff to be able to "ask" so they look sleek and sexy or something. Same with flavored coffee drinkers I've witnessed. They don't drink coffee like you and me, they sip and end up throwing half of it away in those plastic lined trash cans that weren't made to hold liquids!
My experience in the Navy taught me something about coffee as well. Cream and sugar were rarely added to a cup on my ship. Your sexual orientation back in the early 90s when I served was questioned if you had a stir stick in the cup. It was taunting or hazing thing on my ship. Words were slung at you in humiliating ways and made a man either quit drinking coffee altogether or go with the straight black cup of coffee to avoid the hassle.
It's amazing how psychological warfare works. I drank my coffee straight anyways so it wasn't a bother to me, but literally saw fights break out. Can't even imagine what would've come about if someone would have brought their own International Flavored Coffee onboard.
On a lighter note, I spent 6 to 8 years of my life roasting and serving coffee in all of its varieties. I have to confess that it is amazing how much caffeine is abused and that literal addicts consume the beverage. The mark-up on a cup of coffee from raw bean, to roasting, to brewing and serving is utterly amazing to me as well. The shops that I worked in did absolutely zero advertising as well, another fascinating fact of the coffee business.
Pitt Maner adds:
I hate to think of the abuse one might get for using the following, but based on a crude experiment it does seem that cold brewing makes for a smoother (some say lack of) taste.
With respect to Nicaragua there seems to be a fair amount of variability in the taste of the coffee. The best coffee growing region is up around Matagalpa and Jinotega in northern Nicaragua.
The Nicas seem to like to drink it black with a fair amount of sugar.
Problem with all coffee though seems to be how long it has been sitting on the shelf. You don't always get a "born on date" on the package. Of course you can pay $9 a pound for some of the brands that are sealed with nitrogen gas.
I know of someone who actually was marketing small discs that you put in your coffee maker to flavor the coffee of your choice. Better living through chemistry indeed.
Pamela Van Giessen writes:
The Irish coffee flavored stuff is the worst. My mother served it to me once when I was visiting. Being sleepy I didn't focus on the malodorous nature but the second it hit my taste buds I literally spit it out. Thankfully we were outside. I think that stuff was made for older ladies.
Scott Brooks writes:
Chicory is a plant that I use in my food plots to feed and attract deer and turkey. It is highly desirable, palatable, and nutritious to deer and turkey as well as many species of birds, and other assorted animals.
Gordon Haave adds:
I am a big chicory fan. The only kind to get is Cafe Du Monde. Every other kind I have tried is terrible. That being said, I don't know that it mellows the flavor, unless the underlying coffee is much more harsh than regular. I drink it with sugar and cream.
Comments
WordPress database error: [Table './dailyspeculations_com_@002d_dailywordpress/wp_comments' is marked as crashed and last (automatic?) repair failed]
SELECT * FROM wp_comments WHERE comment_post_ID = '1264' AND comment_approved = '1' ORDER BY comment_date
Archives
Resources & Links
Search