May
1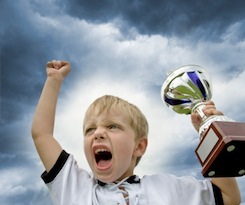 I heard about a kid recently who broke his table tennis bat in anger after a loss. When his parents wouldn't get him a new one he stopped playing competitively.
My take on this met with some surprise–just get him another bat and send him back in there. If money is a problem take it from other privileges, for example trips to a particular eatery.
My reasoning is that competition, whilst having huge potential benefits, is tough and it needs time to learn to manage yourself within this kind of environment. Parents and coaches don't help if and when they stoke up the pressure with any kind of blame.
Thoughts?
Comments
WordPress database error: [Table './dailyspeculations_com_@002d_dailywordpress/wp_comments' is marked as crashed and last (automatic?) repair failed]
SELECT * FROM wp_comments WHERE comment_post_ID = '12097' AND comment_approved = '1' ORDER BY comment_date
Archives
Resources & Links
Search