Sep
20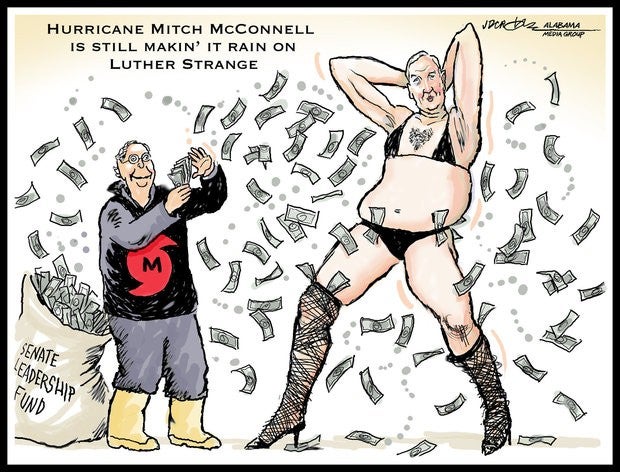 The Senate race in Alabama is becoming more and more interesting. The establishment candidate - Luther Strange - who was just endorsed by the Realtors national lobby - is still running behind in the polls.
The underfunded odd-ball outsider Roy Moore is being attacked in television ads paid for by Mitch McConnell's Senate Leadership PAC. The PAC is spending what is a large amount of money even for an Alabama general election. For a Republican primary, it is an enormous expenditure. Ballotpedia says they have committed to spending over $8M - which would be nearly 90% of the money that is likely to be spent on the race.
The President has endorsed McConnell's candidate - Luther Strange - and is planning to appear at a rally for him at the end of this week. The rally had been scheduled for Saturday at the local football stadium; it has since been moved to Friday and the local civic center. One could legitimately explain this change of venue on the prospect of bad weather, except for the fact that Friday is expected to be a mild (by Alabama standards) day with plenty of sunshine and little chance of rain - perfect stadium weather.
It is a measure of the near desperation of the Strange campaign that Vice President Pence is scheduled to make an appearance on Monday, the day before the election.
The delicious irony of all this is that Moore is the candidate who supports Trump's "extreme" positions; he has pledged to do away with the filibuster, and he opposes any amnesty. So far, the President's support for his opponent has not hurt Moore; the likely voter surveys show the Trump endorsement as having no significant effect. The Republican potential voters support the President overwhelmingly, but a majority of them still support Moore.
The candidates have their one debate scheduled for tomorrow evening.
Comments
WordPress database error: [Table './dailyspeculations_com_@002d_dailywordpress/wp_comments' is marked as crashed and last (automatic?) repair failed]
SELECT * FROM wp_comments WHERE comment_post_ID = '11868' AND comment_approved = '1' ORDER BY comment_date
Archives
Resources & Links
Search