Aug
19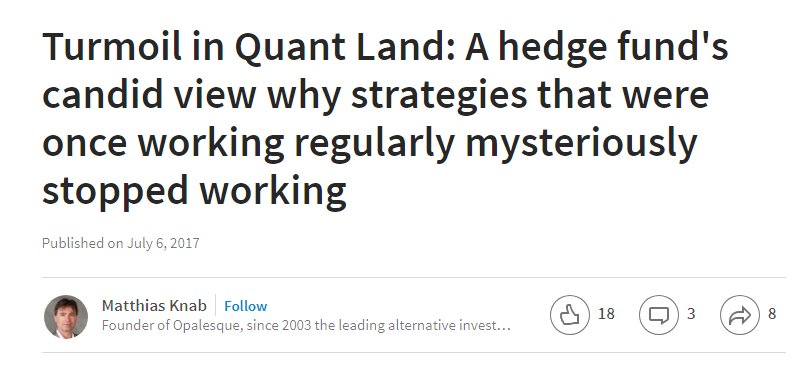 A great read:
"Turmoil in Quant Land: A hedge fund's candid view why strategies that were once working regularly mysteriously stopped working"
J.T Holley writes:

The Law of the ever changing. The rudder is still the objective standard. Just try a little bit harder.
Use the objective but become more subjective while using the objective as a ruler.
Count. Then count again. Count some more. Die counting.
Adam Grimes writes:
A broad question on this topic.
Thinking about volatility, I understand how selling vol can depress implieds. This is obvious and if there's an ever-present offer on volatility (e.g., from banks selling for "yield") this would have an impact on pricing of those derivatives… but am I correct in thinking that there's no mechanism whereby this can actually effect realized volatility? And if realized volatility were higher (it obviously has not been) then the mispricing of those derivatives would be clear and the sellers would be crushed. We also could not have a situation where pricing of implieds comes dramatically apart from realized vol for an extended period of time because there is a day of reckoning on most of those instruments.
I can easily understand how buying and selling might, for instance, erode cycles or seasonality in the underlying and would quickly erase arbs, but I don't see how buying and selling pressure in a derivative can affect realized volatility. (Again… just to belabor the point… impact on implieds is obvious.)
I could imagine being a very deep-pocketed seller of vol and then operating in the underlying to dampen swings there, but it would seem that I would quickly magnify my risks to unacceptable levels without any assurance that I'd be able to accomplish what I was trying to do.
Am I missing something here, or is there a missing piece to this low vol puzzle in general?
Ralph Vince replies:
Adam, YOU'RE not missing ANYTHING. The notion that too many sellers of options dampen implied vol., if it were true, would create a wonderful opportunity to buy options, which, ultimately, reflect outcomes consistent with the historical vol over the period the options have been held. That is to say, the actual outcome of price distributions between the day I buy the options and the day the expire is, datum est, a function of the historical vol over that time window.
Ultimately, like a psychotic mistress you cannot shake, implied and historical can never be too far away for too long.
anonymous writes:
Yes, this piece seems to be catered towards those whom are subscribers or clients of the author. I like to think that longevity in systematic/quantitative strategies relies on creativity and flexibility more than a fundamental understanding of statistics or arithmetic.
As Chair said "don't try to make money the same way twice".
If too many people are only focused on selling vol because that has been the main source of alpha over the last 3 years, then it would seem reasonable to expect those same actors to see heavier drawdowns and volatility being pushed like a hydraulic press into over leveraged players. A more prudent observer would find a way to take advantage or quantity some of these "irregularities".
Zubin Al Genubi writes:
A couple of questions remain unanswered: Why has volatility been so low?
Other questions: why is inflation so low with such low rates?
Won't some of the old strategies start to work again once this low vol regime ends?
Personally I don't even bother to trade the low vol. Better to travel.
Paolo Pezzutti writes:
The concept of ever changing cycles is always valid. Competition on a set of inefficiencies exploited by more and more actors reduces gradually the edge. It has always been like this. The issue is that no edge is given and working forever. Innovation and research can never stop. One has to continue counting, find new regularities , dismiss those who do not work any more. An area of research in this regard and discussed in the paper is how to exploit the growing sector of passive investing and etfs. What are the new regularities that these growing actors are creating for the speculators to exploit and profit from?
anonymous writes:
They didn't take on enough risk, it's THAT simple.
What a pile of yadda yadda, "We don't really know why things didn't work as well as they had in the past, but we've fixed it because we have a lot of smart people working for us."
A failure-justifying amphigory, and fails at that too.
anonymous adds:
Managers have to have a story to tell, especially when they under-perform the benchmark. The negative effects of index funds and ETFs is a pretty common part of the story these days. I am very skeptical because, from the cheap seats, it seems that if you took all the passive money and gave it active managers, they would wind up in aggregate holding the same positions as the passive funds held, only minus bigger fees. Following that logic, one consequence of passive investments would be higher markets because more of the customers' investable funds actually reach the market rather than being siphoned off by intermediaries. Which means that intermediaries will need to find new ways to siphon off funds.
Comments
WordPress database error: [Table './dailyspeculations_com_@002d_dailywordpress/wp_comments' is marked as crashed and last (automatic?) repair failed]
SELECT * FROM wp_comments WHERE comment_post_ID = '11806' AND comment_approved = '1' ORDER BY comment_date
Archives
Resources & Links
Search