Sep
22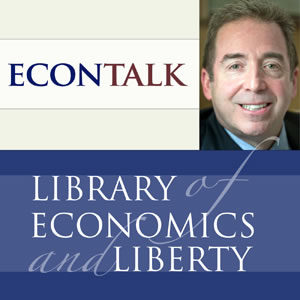 Scott Sumner, of Bentley University talks with EconTalk host Russ Roberts about interest rates. Sumner suggests that professional economists sometimes confuse cause and effect with respect to prices and quantities. Low interest rates need not encourage investment for example, if interest rates are low because of a decrease in demand. Sumner also talks about possible explanations for the historically low real rates of interest in today's economy along with other aspects of monetary policy, interest rates, and investment.
Jim Sogi writes:
If real interest rates are in fact negative, then the FED rate is still high and offers the best return. Rates at banks are in fact negative when you subtract bank fees the return is negative. Its not real clear what negative interest rates are to me. I suspect it has something to do with international currencies and the strengthening of the US dollar, and the FEDs warning on the global situation. Maybe the US doesn't want a flood of foreign (Chinese) money.
Martin Armstrong writes:
The Fed is really caught between a rock and a very dark place. Yes, they have the IMF and the world pleading with them not to raise rates for it will hurt other debtors who borrowed excessively using dollars to save money. The Fed is also caught between domestic policy objectives that dictate that they MUST raise rates or they will bankrupt countless pension funds internationally and emerging markets will go into default because commodities have collapsed and they have no way of paying off this debt that has risen to about 50% of the U.S. national debt.
Gordon Haave writes:
Perhaps I am not understanding something. Is this saying:
A. We can't raise rates or emerging market economies will be hurt due to their dollar debt, and; B. We must raise rates because if not emerging markets will go into default?
This makes no sense to me but perhaps I am misunderstanding what he is saying.
Stefan Jovanovich writes:
The presumption of central banking in the late 19th century was this: through adjusting the discount rate on its own good as gold credit, the Bank of England could literally regulate how much net foreign exchange (specie) flowed into or out of Britain. The presumption was believable, provided that no one questioned that the Bank of England would redeem all its own paper in gold. After 1914 there were nothing but questions.
Central banks now have two presumptions: by talking about adjusting the discount rate and by actually writing checks to their national treasury they can control not only foreign exchange flows but also how much credit its citizens and domestic companies will use in the immediate future.
Montagu Norman went to an early grave precisely because he knew there was now way for Britain to have its cake and eat it, too. If the Bank of England's own paper was going to continue to be priced based on private demand and not ability to pay out specie, on demand, then either the Empire would have to restrict trade to its own colonies or counter-parties would be the ones who determined the discounts at which foreign exchange could balance (translation: the Americans would have to let their gold go overseas by running a persistent deficit).
3 Trillion in U.S. IOUs is supposed to give the Chinese "power" but that pile of another central bank's money only has use if it is spent abroad. Like the Americans' gold in the 1920s, it is worth nothing if it is not allowed to be drained away. There is no reason to think that anyone with a higher education will allow that to happen in China or, if that miracle occurs, that the politicians in this country will not respond with the same imperial preference mercantilism that guaranteed Britain would win the war and lose its empire.
Larry Williams writes:
So you really think we at Dailyspec are smarter and have more information on our fingers than the people at the Fed? I don't. In retrospect over many many years the Fed has done a remarkable job. I know, you people dis them at every turn, claim you know the answer, we know the answer, but the truth is year in and year out compared to what could've happened they have not done a terrible job. Probably I should explain something called upward drift for those who are not aware of it. It seems to be pretty important.
Comments
WordPress database error: [Table './dailyspeculations_com_@002d_dailywordpress/wp_comments' is marked as crashed and last (automatic?) repair failed]
SELECT * FROM wp_comments WHERE comment_post_ID = '10647' AND comment_approved = '1' ORDER BY comment_date
Archives
Resources & Links
Search