Nov
23
I recently ran some tests to see if using % adjustments were better than absolute. You will recall we had a heated debate on this. I found that the number of declines more than 10 S&P were as frequent during the early years of the last decade as during the recent years.
Nov
21
"Top 10 Emerging Technologies Of 2019: World-changing technologies that are poised to rattle the status quo"
Nov
21
I walked through the Mexicali Plaza Hotel where I have previously stayed in the modestly run-down cheap place. But, since one year ago, it has turned from a flophouse into a rather elegant hotel. The reason comes from India.
A year ago, India started running junkets of migrants on one-way tickets to Mexico with the intent of entering USA on political asylum. The Plaza brimmed with young male Indians for four straight months and the hotel reaped a fortune. Not so for the migrants. They are hiring a coyote on this side whom I talked to who takes them to a place at the nearby fence to jump with the guarantee that on landing they will be instantly nabbed by the US Border Patrol. If not, they keep trying or get their money back. In the turnaround, the US detention center occupancy has rocketed with 60% Indian people living free with three squares and a roof over their heads. The US may not deport them for they could be killed on return to their country and they can admit only so many over time.
The Plaza used the windfall to remodel the hotel from top to bottom as a tax break and raised its prices. However, the the hotel is empty, and no longer affordable to tourists like me. The Indians speak no Spanish so a Slab City resident has been hired as their interpreter and may soon may be able to afford a room at the Plaza.
Nov
17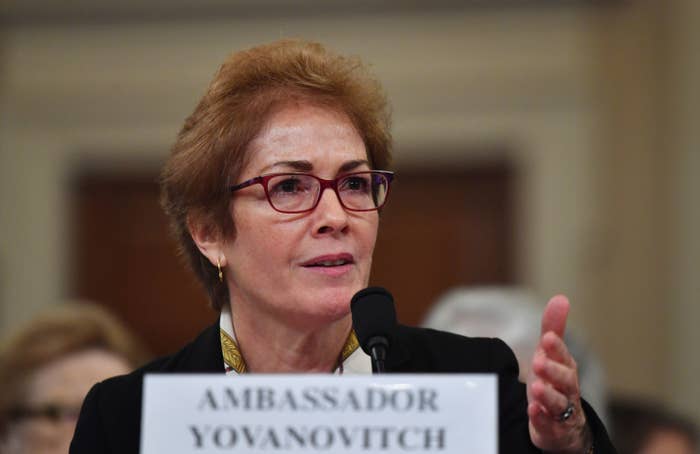 There was a variation of "your own man says you're out" with Yovonavitch's testimony that The Pres could fire her at any time for any reason. Notice also that The Times ran an 8 column banner headline that she was devastated by the firing. Who wouldn't fire an ambassador that was actively working against you and said not to listen to boss now that there are about 3 banner headlines a year all of significance of outbreak of war or 9-11 or assassinations. But time banner was "she was devastated". I know I'm not hitting nail on head with "your own man". It's more like "I called the previous shot out" so don't accuse me of cheating. How would you describe the street game analogy of the crocodile tears for this corrupt ageist woman?
George Zachar writes:
I'm reminded of the soccer players who are famous for pretending to be grievously injured by the slightest contact.
Nov
15
Since learning French for over a year, I needed to read a book in French. Somewhere on the net, L'Étranger was recommended as an easy and good book to start with. I read briefly that it's a story taking place in Algier, which intrigued me because I travel around that country, in Tunisia and Morocco. So I decided to read the book and started without first reading any in-depth introductions. It did turn out that the vocabulary and sentences are relatively easy in most parts, so I could grasp the ballpark meaning (80% perhaps). But I must say that it's not like any easy novel I am familiar with that usually tends to have a clear theme and story line.
L'Étranger starts with the protagonist Meursault going to his mother's funeral, where he did not look at his mother (a first striking feature to me), but rather conversed with some staff members of the retirement home, had some smoke and coffee near his mother's corpse, and observed in detail the elder attendants' behavior at the funeral. It's a very strange instance, so I tried to anticipate what might develop from this.
Then, it's a story the next day back near his work place where he met a former female co-worker during swimming. They then had some romance. Later when she asked him if he loved her, he surprisingly said that if she would like him to love her then he would love her. Unrelated to the previous story. But OK, then, I felt, then it will be a love story.
Then about his work place where his boss intended to send him to work Paris, for which he was not too eager. Then he encountered his neighbor, an old man who constantly abused his disobedient dog. Again, all unrelated stories.
Then another neighbor, Raymond, invited him for a meal and drink. Raymond wanted Meursault to help him to deal with his unfaithful Arab mistress. He agreed to invite the girl to Raymond's apartment where Raymond had sex with her and insulted and beat her. The police intervened on the violence, and then Raymond asked Meursault to testify in court that she was unfaithful, and he agreed. Another unrelated story.
So it was now more than a third into the book and I had no clue what the book is all about. So I started researching on the net and learned that it's a classic with profound meanings. Absurdism!
According to wikipedia: "the Absurd" refers to the conflict between the human tendency to seek inherent value and meaning in life, and the human inability to find any in a purposeless, meaningless or chaotic and irrational universe. The universe and the human mind do not each separately cause the Absurd, but rather, the Absurd arises by the contradictory nature of the two existing simultaneously.
So Meursault was a natural dweller of Absurdistan, where things are purposeless, meaningless and irrational!
Later on, Meursault killed an Arab, brother of Raymond's mistress, and was thus jailed and tried for murder. He was sentenced to public decapitation mainly due to his unsocial nature and lack of remorse.
With the philosophy behind, it's a very interesting book.
The Absurd exists on a broader extent as we think.
The human mind is not wired for understanding randomness and probability.
Quantum physics revealed the random nature that contradicted to the belief that the physical world is supposed to be deterministic.
Haven't we had enough debate on market efficiency: i.e. humans are rational or irrational by nature?
What about the fights between fundamental analysis and technical analysis? What are the mumbo jumbo?
Is the market predictable or on a random walk?
Nov
15
An excellent book by Harry Steele Morrison entitled How I Worked My Way Around the World appears to be free online or you can get it on amazon.
Nov
15
One of the advantages of living in a town of dashing outlaws is their lonely pretty molls after the men go to jail. It is a moment to meet and talk with them without being suspected of having sex.
I visited one who related that her boyfriend had just revealed on the phone from Folsom that he missed her and to prove it she should go to Walmart wash and, 'Look for a tree with a chain and a spiral of branches. Dig under the point of the spiral for a surprise.'
Thinking it was a gun or booty, she enlisted me to guide her to the wash. We walked at dusk to three trees within a mile of my shipping container that during frequent hikes I had noticed had chains and straps hanging uniformly from limbs about 6.5 feet off the ground. These are S&M trees open to the public who stumble on them. Someone should tack a coin machine to the trunks like a car wash for high profits. The lady grew more excited at each, but there was no spiral of ground branches, and so I dropped her disappointed at sunset in the High Rent District.
The following day while scouting, I found a new Mesquite with two chains hanging like a trapeze without a bar from a horizontal limb 6.5 feet off the ground and around it a spiral of branches. A peculiar odor wafted on a westerly from the tip of the spiral, and I began pulling out the branches. Three feet down and I rocked on my heels!
Who, I thought, is missing with blonde hair? Everyone with his ear to the ground in Slab City keeps a mental catalogue of missing persons for one day, such as this, to find and identify a body, and become a hero. The protocol is to tell the Elders who decide whether to leave it lay to eternity or jerk the coroner's chain.
Silky blonde hair a foot long reached out from under the end of the spiral. In a terrible stench, I grabbed two big handfuls and tugged. There was a crack and I fell backward on my ass thinking I had snapped off the head. I held the carcass to the sunlight and slowly turned it end-for-end to see the face of a dog. It was a Yorkshire cross with hair that had grown after death to great lengths.
I took a strand back to the moll and told her she had been duped by her boyfriend. 'My ex!', she shouted, and ordered me to take her to the tree, which I did, but it wasn't to see the blonde.
Nov
15
I flunked out of college 3 times all by myself. Too much pinball, too much poker, too much basketball, too much drugs, too much sex…all excuses, when the real cause was too little self-discipline. Still, I managed to learn a few things each time they let me re-enroll, and finally graduated. With a little more motivation, graduate school turned out better.
I don't think there is much difference between video games for this generation and whatever excuses we used decades ago.
Nov
15
The walking cure: "Walking Might Be the Best Exercise There is"
After trying it all… jogging is the best exercise there is.
Larry Williams writes:
BFR or blood flow restriction has good data on it for improving strength w/out heavy weights, etc…
James Goldcamp writes:
In bang for buck I would look at the high intensity interval work of Martin Gibala. The name "one minute workout" evokes charlatagnism, but the book is a good reference on short protocol workouts with real data. For me if you had only one tool (and your body) at your disposal I'd use an airdyne fan bike (you can generate a lot of intensity in all limbs that is easy on joints) and pushups.
Nov
7
Just returned from a 10 day trip to Japan and the major insight I have I got from the wonderful book The Princeton Guide to Evolution [free pdf found here]. The market has developed some exquisite adaptions in last 50 years and anyone who doesn't take account of its evolution is a doomer.
Nov
7
This looks like the Frontline documentary that Ralph recommended: "Betting on the Market (1997)".
James Goldcamp writes:
Plus you get a pre Lenin Cramer. This was before he was ubiquitous on CNBC. As Ralph says it's a beautiful time capsule. I was even working for fido when they ran advertisement in the documentary and Vinik got the boot.
Nov
7
It took the Yankees–the Yankees!!!–until the 1920s to get a stadium that could hold more than 12,000 people.
…to get their own stadium, yes. In the decade before Ruth's house was built, they were tenants across the Harlem River, in the ~34,000 seat Polo Grounds.
Stefan Jovanovich writes:
PG II and III's highest attendance were 14.4 and 16K, including standing around the outfield. The increase to 39K came after the fire and new construction which finished in 1917 and was part of the failed attempt to keep the Yankees as tenants.
George Zachar writes:
I erred in relying on Wikipedia. Shoulda known bettuh.
Stefan Jovanovich writes:
To us bleacher amateurs it looked like a tie, GZ.
"1924 World Series : Washington Senators over New York Giants (4-3)".
Nov
7
"Column: Fighting the ravages of Alzheimer's and dementia with the beauty of baseball"

Led by members of the Los Angeles chapter of the Society for American Baseball Research, a group of as many seven dementia patients and their companion caregivers participates in what is known as baseball reminiscence therapy.
In sessions designed to elicit moments of clarity through a century-old connection with the national pastime, participants talk ball, sing ball, and even play a little ball.

According to their caretakers, it is the first time some of them have engaged in weeks. From talk of Little League to thoughts of autograph chases, delving deep into poignant childhood memories, there is something about the ancient sport that rustles the mind.

"Watching what happens here is like watching people come to life."

"Baseball is a game of storytelling; it's the heart and soul of the sport. Everyone has baseball stories, everyone has baseball memories," says Leonoudakis, 61, a producer who brought the program here after hearing about its success in the Central/South Texas SABR chapter. "These people grew up during the game's golden age, so it seems like such a natural fit."

Oh, whose office also hosts therapeutic programs involving art, music, gardening and dance, says baseball touches a nerve.

"It brings them to the present," she says. "Individuals with dementia are often just home and not engaging in conversation, not being stimulated with activities. When they come here, it stirs up strong memories they have not thought about for a long time. It opens them up. It's real and important socialization."
Nov
7
I'm working on a sole reason for a market devastation event to commence mid January. Not one of downward, rather, stunning upward movement. I am calling for a 15-25pct move in stocks in Q1. And it could very well continue for the remainder of 2020. Maybe a 50-100pct unprecedented advance in valuations of leading names.
It's never really happened before (or tested) - the majority of the world pricing rates below zero, institutions needing yield to fund liabilities, and such allocators needing yield however they can get it. So an unfathomed rotation into stocks is going to commence. With cheap leverage.
Combined with buy backs, continued mergers, there is an overall shortage of stock supply. And indefinite demand. On pure supply / demand fundamentals regardless of economy stocks go straight up.
At least until Musk and the other space chasing clowns find that shorts do in fact exist on the other side of the Moon or Mars….
Archives
Resources & Links
Search