All of my losses were caused by not turning the right shoulder on the backhand. I didn't lose that much, perhaps 10 times in 17 yrs. A handful of losses were caused by sex when at the outset.
David Lillienfeld's marvelous (and sad) piece about Frank Robinson and the O's was a reminder of how much losses count more than wins. Decades later I still have memories in my sleep about pitches missed as a catcher; and I find myself jumping awake to turn and chase the imaginary ball as it skips away towards the boards of the backstop.
anonymous writes:
I watched a documentary on Larry Bird and Magic Johnson yesterday. Bird mentioned that the losses haunted him years later. Even decades later, he is still haunted by the loss of Indiana State to Michigan State in 1979.
This made me think about my sports career. I, too remember the losses much more than the wins. The biggest one for me, was when I had the chance to win game from the free throw line for the league championship.
We were down by 1 and I got fouled with 1 second to play and went to the line for a 1 and 1 shot. Now, free throws were something that I prided myself on. I was a high 90% shooter. I once made 108 free throws in a row and had 75 and 50 in a row multiples times. Making 25 in a row was nothing to me.
There's a whole story and build up to this moment that I'll share with the group another time, but I can tell you that I went to the free line with supreme confidence that I was going to win that game in heroic fashion. I'll never forget that moment and that shot leaving my hands knowing with 100% certainty that it was going in…and I'll never forget the shocking disbelief when the ball bounced out.
It was a true turning point in my life and taught me a lesson that I have never and will never forget. In hindsight, it's clear to me that that miss and what happened just before and afterwards was one of the greatest things that ever happened to me.
So maybe if I've got some free time, I'll share the whole story with the group if there is an interest in hearing it.
anonymous writes:
Behavioral finance studies suggest that pain of losses exceeds the joy of equivalent gains. This may help explain why the velocity of declines are often greater than equivalent gains.
For those who did not live in Baltimore in the 1960s, it is difficult to adequately explain the significance of Frank Robinson's arrival in Charm City in 1966. Sure, Brooks Robinson, in his MVP season practically carried the Orioles into the post-season, before the Yanks saw fit to destroy that dream in the 1964 season. The Colts were the sports team of Baltimore. They were one of the powers of the NFL. Johnny Unitas was so revered by boys under 13 that half of them sported the same crew cut that Unitas wore. The Colts were in. The Orioles? Well, it was a fun afternoon with your dad in the bleachers.
Frank changed that. He taught the Birds how to win. The clubhouse loosened up as the 31 year old would demonstrate that he wasn't over the hill, that the Reds made what may have been the second worst trade in baseball history. The 1966 season put his talents—defensive as well as offensive—on display. Back when the Grey Lady on 33rd Street was still standing, aka Memorial Stadium, there was a pennant on the outer rim of the building somewhere just behind about the middle of left field, flapping in the breeze. It was black, and on it was "HERE" in orange. That's all it said. Nothing about the 586 feet shot that Frank hit clear out of the park—the only ball ever hit outside of the Stadium.
Robinson's career was tied up with the Orioles well beyond his playing days. He was the Bird's manager during one of the worst season starts in baseball history. He also did much in fostering the desegregation of Baltimore.
It seems that Frank Robinson, one of the great competitors of baseball through the ages, is ailing. The specifics are not, as yet, known. Let's hope that this baseball GOAT is still with us for many years to come.15 days until Orioles pitchers and catchers report.
Play ball!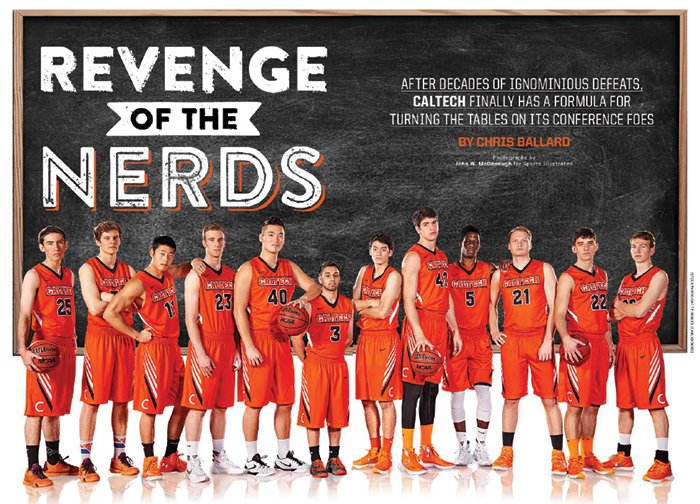 "Caltech's Rocket Science: Shoot More 3-Pointers"

The school known for scientific innovation and embracing technology has its most successful basketball team in decades. Why? Because the 3-point revolution has come to Caltech.
Chris Cooper writes:
I played 3 years on the Caltech varsity basketball team in the early 70s, and was captain and MVP. I never won a conference game in my career. I can't even imagine what it would be like to win 8 games in a season. In our defense, we didn't have a 3-point line then, and normally tried to work the ball inside, where of course we were over-matched.
Besides the fact that there are no athletic scholarships, a class size of only 200 made it pretty difficult to find players. It must be even more difficult now that the class is nearly half female, while only 10% in my day.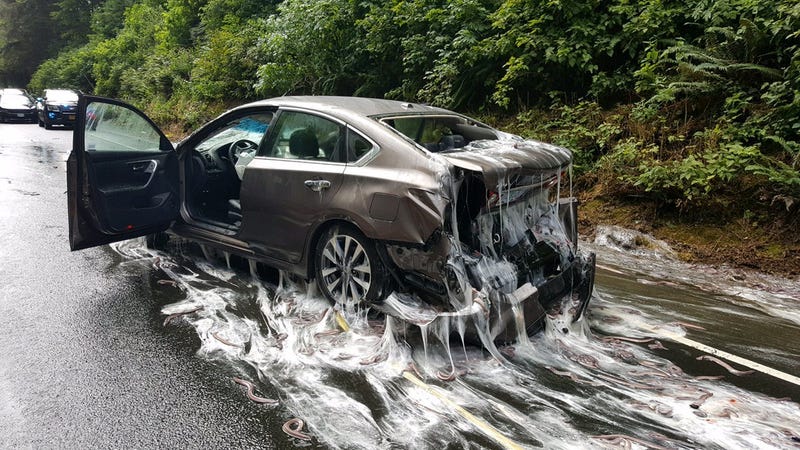 "No One Is Prepared for Hagfish Slime" is a fascinating article you might want to take a look at.
It expands by 10,000 times in a fraction of a second, it's 100,000 times softer than Jell-O, and it fends off sharks and Priuses alike.
Here is a direct link to the video from the article, showing hagfish using their slime for both defense and offense.
Here is a great brief documentary of the horrors of socialism in east-Germany.
The key thing about markets is that as soon as the algorithm "solves" the problem and big players start trading off that, the trading itself changes the nature of the problem. It's not just that markets have a much larger "game space" than chess or Go, but that every move in the game changes that game space.
Julian Rowberry writes:
Machine Learning is just optimizing a solution to a problem, but with a lot of data. The solution still needs finite data and to be solvable. There's just too much data in markets to plug some data into an algorithm that optimises what you're feeding it to predict where it's going.
Useful for stuff with limited data like; where to route orders to which exchanges and when, setting a postal route, or self driving cars efficiency and safety. Perhaps the best way make money out of it in markets is to look at which companies are using it smartly with limited data sets and avoid those who are trying to use it for things it can't do, or using it as PR, and avoid them. There's something you could test.
Larry Williams writes:
The take away from my efforts in this was there is too much randomness in the data for anything to be learned.

"AlphaStar won the games unfairly via unit control & mechanical actions with suprahuman actions per minute & vision of the battlefield."
-"DeepMind AI AlphaStar goes 10-1 against top 'StarCraft II' pros"
I wouldn't call it unfair, but I agree that this is a different class of game, where physical response time is an issue and an area where computers plugged directly into the game have a clear advantage. I always wondered what kind of advantage Watson had with button response time, playing Jeopardy.
Stan and Ollie is a beautifully wrought depiction of coping with changing times, how fleeting is success, and the perils of lasting friendship.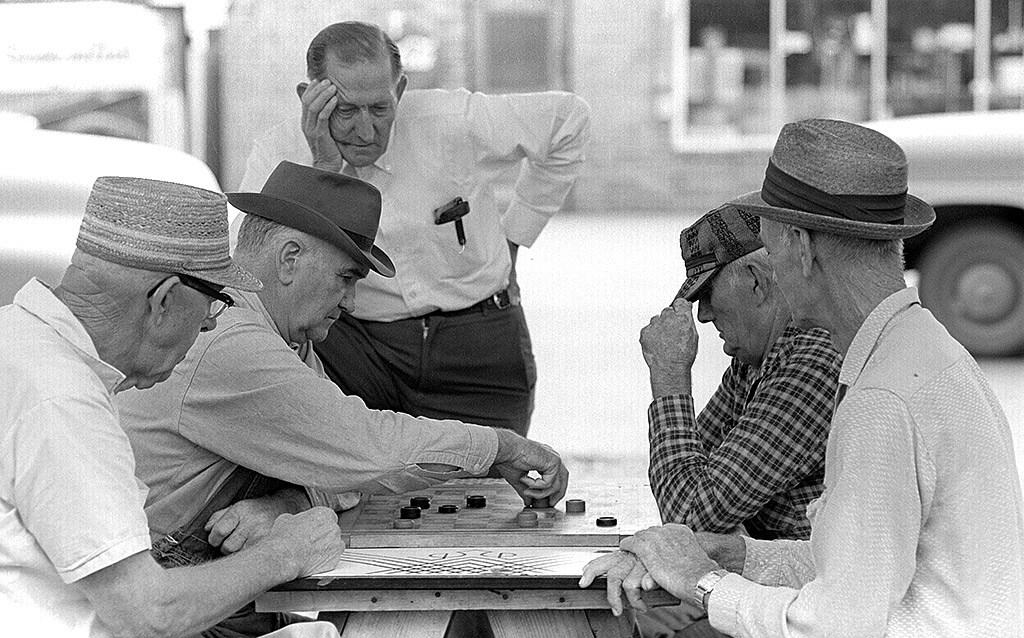 I have renewed my acquaintance with checkers in the last 2 weeks. I find checkers much more a real exercise in logic than chess. The moves of a binary nature right or left duplicate the logic gates that go into all arithmetic operations of computers. The rules are very simple and thus correspond with extensions to all binary decisions in life. We all know that Tom Wiswell has written 5,000 proverbs covering the relations of checkers to life and they are invaluable and worth an extensive publication and study. However, what I have learned is quite rudimentary and not for all posterity like Tom's. Briefly, here are some lessons:
1. Prepare before you play
2. Don't move in haste
3. Play only certain lines and leave off playing when you don't know
4. There is high frequency playing in checkers same way there is in our our markets. Don't play against the high frequency but play for the 30 minutes games/ the high freq people have better equipment that you can't compete against
5. Only play lines that you know and don't wing it
6. Write your major plays down before hand and play them only
7. There are some players much better than you. Don't compete with them
8. Your wins and losses tend to form clusters, i.e longer runs than expected. So don't play after two losses in a row 8. Exercise before you play for at least 10 minutes
9. Study the play that was good 100 years ago and use it
10. Don't do things by rote as things are always changing and your opp
11. The play in the morning is very different from the play in the afternoon. The players are different. I find checkers a good antidote to loss of memory and a good hobby which for me is resonant as my father played much with 10 Scotties and it brings back the glory days with my dad and Tom. Hobby for the old age.
Humility, without a doubt, is a celebrated value for speculators. Not just here on Dailyspec but anywhere trading is a means to self-actualization.
A humble man is a learner. Taking responsibility for mistakes is the attitude that allows the flowering of the virtue of humility on the tree of cognition. But what if humility is the antidote to ego? Is humility the absence of ego?
No! Humility is a sub-set of the Anti-ego or Un-ego (kindly allow this word as anti- is an extreme and un- only a nullification).
A humble mind has only adapted to overcome one of the three primary perils of the human mind (hard wired over the journey from chimpanzee to man). That one peril is that the human mind is coded to prove its superiority.
The other two primary perils are that the human mind loves to posess and control on one hand and loves to enjoy. Those amongst the humble who haven't been working on addressing these two default states of the human mind are the Humbly Egoistic.
To overcome the desire to possess & control it seems one good approach is to be the custodian of the risk capital at disposal. Even if one is 100% shareholder of his firm, such a person sees the firm as a distinct entity from himself.
Such a person will be able to accord due respect to risk, risk capital and the human resources around. This creates a greater shift from ego towards un-ego than being just one who is quick at accepting mistakes.
The devil however, is the primordial wiring in each mind to enjoy. The pursuit of joy is not the same as pursuit of happiness. The pursuit of joy then naturally has to keep meeting with agony, disastrous drawdowns and such things. If one can start working on ignoring the neural circuits that motivate one to find joy one lays a conjecture the same neural circuits are the ones that create a sense of being evaluated, being judged, producing suffering. Abandoning a path that is sub-optimal is the iterative process to seek the optimal. For such a mind then work is a responsibility & fulfillment of this responsibility the stepping stone to satisfaction.
All the three states of humility, state of custodianship and abandoning the path of self-judgements combine together to create the ego-free man. The unegoistic trader (it's an asymptote obviously, of an idea and not the absolute ever) is then the one closest to reason. Any other man not working at freeing himself from each of the three primordial hard-wirings is then at risk of not acknowledging the most potent idiosyncratic risk, i.e. the self or the origin of ego.
Getting back to the first couple of sentences in this note now, the whole idea of self-actualization is a powerful oxymoron then. In actuating excellence the whole crux is in leaving the self aside! Is that what the Chair does when he leaves shoes outside his trading room?
Nature hasn't designed a single variety among the species with vision that can see itself. At most we can see our transposed mirror images. That's the natural design. So ego is a perception derived from observing with our three primordial mental lenses how the universe is treating us. That explains why traders prefer to trade alone, replace phone ring tones with beeping lights, mute the #NB# tubes etc. etc. No, its not being alone. Unegoistic state of mind is being without the imaginary perceived notion of the self.
For all the accusations of selfishness on a trader, the truth stands placed well thus, a trader has to be self-less to remain in the game. Neither humble, nor humbly egoistic and certainly not egoistic a trader true to his grain is self less. A trader is a state of mind where only a responsibility to capital and a focus on risk exist. Rest is left with the shoes, outside the dealing room.
Laurence Glazier writes:
Thanks for posting this. The question of ego is interesting, because it normally relates to expectations of society and colleagues, and in this sense it is a diversion, but a sense of self-worth would preferably not depend on the opinions of others.
Every work of art is in some way a self-portrait, and every trade reflects the trader, which makes the activity very useful for self-observation. And humility, aside from the basic truth (that, from a distance, we are dots living on a dot), helps remove noise from the signal. But beyond the floating bubble freed from ego, there needs to be direction and force, and it is there that resistance to progress is very helpful in developing the core, for without resistance can there be growth?
In fact, resistance appears to home in on every nascent growth, and tests our mettle. Ayn Rand had many rejections from publishers before Atlas Shrugged saw the light of day, though it should have been evident to them all that here was a fabulous book.
Sushil Kedia writes:
Laurence,
Thanks for the thanks. But why only art? Every human output has some reflection of the self. That precisely is the point that the human mind has become hard wired with the 3 perils enumerated in the post. Goal for reaching a state that produces excellence is to overcome & bypass these three default factory states we come packaged with.
For example, the necessity of counting is to bypass the self. If counting validates a theses, a trade is fired. There is no self in this. The self is so tightly coded into our personages, for example, that soon a counting based trader will brag "I do not let any trade happen here that are not validated by counting". The I has to be cut down to the size it deserves to be. Not sure if many here give credence to NLP, it works out well at this end of the world. So this sentence when changed to "without validation from counting trades do not happen" removes the I.
In fact, with my EQ trainer who I have accepted as my Guru in every way, the pact is to avoid using three words in any conversation with him, "I, Me, Mine". Instead he has approved sentences such as "Sir, would you care to meet Sushil" and not "Sir, would you care to meet me".
As we practice being less and less conscious of the illusory perceived image of the self by not giving it so much importance the mind shifts closer to higher EQ states.
If it is the "I" that suffers fear, greed, lust, anger an endless spectrum of idiosyncratic emotions then this "I" is the most vulnerable piece of code that hangs around without due acknowledgment on the trading desk. Once acknowledged that it is the I that is the biggest source of idiosyncratic risk a trader starts getting trained to ignore it and focus on the defined processes.
A trade or piece of art that doesn't carry the reflections of the self is super. Let us acknowledge the shades of grey and paraphrase this line. A trade or piece of art that reflects less of the self is superior.
Laurence Glazier writes:

I would agree with a lot of this, and we might indeed abandon use of the words me and I, and refer to ourselves by our names, and perhaps even them place them in quotation marks, like "Sushil" or "Laurence".
We live in an age of automation, which started long ago and develops now with AI. A trading system which is fully automated with signals for going in, adjusting, and coming out, can be done by a machine, and it is a special interest of mine to be less like a machine and be more essentially like a human.
Removing the I, if such a thing is truly possible, would create a tabula rasa. How much great art has come from such a state? If such a blank slate is achieved, one might prefer to inscribed it with new patterns, a new identity informed by inner qualities rather than influenced by the culture and education of our childhoods. But such a planned approach may not be as good as natural development. I am all for the "considered life", however.
While trading is for many people an art for its own sake, art - in the sense of painting, writing and composing - can be a transcending activity. Charles Rennie Mackintosh put it well:
"Art is the Flower - Life is the Green Leaf. Let every artist strive to make his flower a beautiful living thing, something that will convince the world that there may be, there are, things more precious more beautiful - more lasting than life itself."
Picasso thought that every child is born an artist. A plant may flower in nutritious light and soil. Leonard Cohen wrote - there's a crack in everything, that's how the light gets in.
Being in a comfort zone is not always a spur to creativity. Without resistance, how can the spirit progress? In my experience questions are of much more intrinsic value than answers. Some questions from me:
Would you rather buy a painting or paint it? In what sense can a painting be owned?
I'm always glad of the opportunity to reflect on these things!
The Mayor and other social journalists won't stop selling how bad good is.
"Wall Street Grows Antsy as Shutdown Threat to Stocks Intensifies"
Steve Ellison writes:
That's some antsiness: S&P 500 up 9 of 12 trading days for a 5% gain in 2019 to dfrate. Imagine what might happen if Wall Street ever calmed down.
It is wrong to think of the cryptospace uniformly, and I personally think the language is terrible - as very few are "currencies." Allow me to explain. One must think in terms of utility functions. I will start with the most basic.
1) Currency - there has always been a need for a stateless,reserve and neutral currency. Think gold, dollars, and Swiss franc until the gnomes recently lost their minds because of the Euro craziness.
Neutral State/Stateless/Reserve Currency Functions- Historically, the role has gone to the reserve currency and/or gold. You take dollars and if you don't want dollars you take gold - if you didn't want those you went to Switzerland and the private banks - until you couldn't. Just check the math of the compounded growth rate of gold over the last 119 years (3.6% per year). A inflation protection function but only over a generation. The issue now, however, is the relative size of China/US and the amount of free exchange of the currencies. There is once again a need for a neutral benchmark and gold is not really practical. The gold market today is roughly $7.5 trillion dollars. Crypto is $119 Billion. Even if it takes a generation, I don't think my kids will buy gold but they trade "VC" all day inside the video games and on the phone. Upload your neutral currency to the cloud then pick the country where you need to travel. Much better than diamonds or gold. It may take 30 years, but if it does nothing more than cannibalizes gold the crypto space would appreciate 14.6% per year at today's prices for the next 30 years. Amazon has compounded at 23% since its inception. Amazon is now 25 years old.
2) Software development supply chains - software code will do a certain amount of work (regardless of who programs it). The problem with state currencies is this - say I have sourced programmers in India and the Rupie value changes, I may shift the work to Latvia or Vietnam for no fault of the programmers. A stateless currency allows for a uniform means of payment for a uniform measure of work. It is much more democratic and free market.
3) Utility Coins - Smart contracting - if you have settled an estate lately, or own copywriters, IP, etc. I will let you figure out how to manage your digital property and deal with all your digital accounts - but a smart contract will be an executable. Practical law moved online. Title searches - $500 on a closing statement (a fraction of that a blockchain). These will trade more like commodities (up and down with supply and demand). Other way to think of these coins (software blocks that you pay to use) like a toll road, etc.
4) ICO crew - let's face it - this was securities fraud because the socialist have largely shut the public markets - in overprotecting investors capital markets are going dark to individuals (look at the number of public companies v. private equity back firms). Mr. Bogle passed today - active investors removed securities in part do to the free riding problem and over regulation. These will come back but as traditional equity positions.
5) Inflation Hedge - M1 = $4 trillion (2% inflation wipes out $100 billion a year in purchasing power). M2 = 14.5 Trillion (2%). In short, if crypto becomes the prefer inflation hedge (which once it is more mainstream accessible - watch out during the next inflation scare = I think people may be surprised at what happens.
6) Korea - crypto ran in part because S. Korea uploaded its money to the cloud - once the bombs stop - well the money came down - but you see the function and QE. The Fed got you back to neutral with the rate increases, but they won't only go up forever and they can go up when people loose confidence. Lots of foreign USD floating around out there. I foresee "official domestic currencies" and international currencies. Brexit night - British pound fell. This hurts import/export business depending on where one sits. Lots of volatility because of politicians - stateless currency pricing might become a preferred standard - like the old gold clauses.
7) Remember the forks - Google was not the first search engine. Bitcoin has forked - forks are code copies that then get developed differently - corporate spin-offs. Just something to remember.
8) Special word on Bitcoin - the price very much followed the Qualcomm pattern circa 1999. The reason I bring this up is that Qualcomm was a core technology set that the early internet, but other companies have subsequently written that infrastructure to greatness. Bitcoin might prove foundational, but others may one day surpass.
Final thought - if the top 1% hold roughly 38-40% of the wealth in the US and Crypto is $120 billion global market - you can be ultimately be in the top 1% of holders if it follows other asset patterns for roughly $1,500. You can be in the .1% for roughly 42x that or $63,000.
If the world decides dollars are not the standard - seems like a reasonably priced hedge.
Conrad Leslie (d. 12/25/18) has been described as the nation's leading private crop/harvest forecaster. His numbers moved markets and were, in many cases, more accurate than those of the USDA.
1. Restrict your market position to those which are in keeping with sound basic market fundamentals. When season supplies are inadequate, relative to probable demand, trade only the long side of the market. When season supplies are excessive, trade only the short side. If you think the price level is correct, remain on the sidelines.
2. Never buck an established market trend. The market may know more than you know. Give up your opinion before you give up your money. Don't sell in an uptrend, don't buy in a downtrend.
3. Recognize that the greatest difficulty in trading is knowing when to liquidate. Most everyone knows when price moves are starting, but the point to identify is where they have stopped.
4. Mark price charts each day. Successful traders believe that visual pictures are an additional way to see and evaluate price.
5. Never establish a position in the market until you see the potential for a large profit as opposed to a small loss. Never trade in a situation where the possibilities are about in balance.
6. Be prepared mentally to make several attempts at boarding a major price move. A trader's major market approach should be that of carrying out probing attempts which will will result in his being on board during major price moves. Be prepared to take small losses. Avoid the common thought that to take a small loss will reflect poorly on your IQ.
7. Do not trade many commodities at any one time. Some traders have so many irons in the fire that they are unable to devote a reasonable amount of attention to any one of them. Two or three are enough.
8. Do not attempt to trade in commodities about which statistical information is vague or difficult to obtain. It is preferable to trade US commodities.
9. Do not develop an overextended market position. To take either an individual or total position larger than the risk of failure justifies is to invite disaster. Plungers trade rashly and usually self destruct.
10. Restrict your trading to commodities which consistently return profits. Confine your trading to those commodities at which you are a success.
11. Commodity traders who transact business through brokerage firms should direct their efforts towards capitalizing on major price moves. Professional traders earn their livelihood by capitalizing on hourly news developments. Anyone earning a living another way should not attempt to compete in this type of day-by-day trading.
12. Go with the market as it makes new highs or new lows. The act itself indicates a basic change is taking place. Though the reasons may not be clearly recognized by the public, they are of sufficient force to establish a new price record.
I had a weird dream last night. The chair likes to compare the various commodities to picking horses on the day. We analyze the turf, weather and prior runs of each horse to speculate on the best pick. However the turf is flat and the markets are not a linear process.
For some reason I saw a lot of mountain goats climbing up the side of a very steep cliff. Some fell off, got back up but chose the wrong path to get back up and had a hard time returning to the herd. The ones who are up high are subject to winds and other predators like eagles or rifles.
I think the ecology here has some parallels to how prices move. Sometimes one goat falls and picks the wrong path, i.e like bonds are down a lot but crude has been up ten dollars in the past week. Or the stocks have climbed so high away from the pack that they are susceptible to predators. There seems to be some kind of harmonious equilibrium about the movement of a herd in my dream.
Professor Damodaran's updated date set for 2019 is now available.
400 free Ivy League university courses you can take online in 2019.
I sometimes explore online courses looking for interesting lecture videos that I can either watch or convert to mp3's and use as podcasts.
Mr. Isomorphisms writes:
Their list doesn't have a couple of my favourites. Aiken's compilers course at Stanford and MIT's xv6 lions commentary on unix.
Recent mathematical finds:
-a locus with 25920 linear transformations by H F Baker (archive.org)
-ikosahedron by Felix Klein (archive.org)
-slodowy: platonic solids, kleinian singularities, and lie groups
-Elie Cartan: theory of spinors (more readable than you might think; written in the autumn of his life)
-Park & Yang: yang-baxter equations. (on arXiv, written for an encyclopedia)
The A-D-E stuff is probably the most interesting mathematics ever found. (Mathematicians get to leverage the enormous and relatively obvious differences between platonic solids to make inferences about other structures.)
I'll say this, MIT OCW (started ~2002, no productivity gains so far) is higher quality than Sam's Teach Yourself C++ at Barnes & Noble.
Competition in general has benefits, but 30 cold medicines yet none of them work is just more confusing things to try. Speaking of cold medicines that don't work and competition/markets, I would contrast Guatemala to the U.S. in this way. Guatemala has genuine markets–small merchants who will negotiate on price–whereas the U.S. has CVS (posted-offer, negotiations behind the scenes by eg Procter & Gamble vis-a-vis CVS). CVS will carry fewer cold medicines but they will work.
Back to education and MOOC's: delivery of a higher-quality product happens online than Barnes & Noble (or public library), with youtube (Federico Ardila), PDF's hosted on someone's site (Andrew Ranicki), or Rails/post-Rails MOOC's. More people know about more stuff because of youtube documentaries; that's already happened. It just won't improve work output, other than–we've yet to see how this pans out–millennials deciding that programming is the only decent career, and that they can teach themselves (including 25-year-olds who have held 1-9 jobs teaching for General Assembly).
My view is that most algorithmic trading success is based on payment for order flow arrangements… meaning regulations have, as ever, dictated winners and losers. I point to the ratio of lit/dark trading (US, MiFID 2, Australia) as evidence.
In the appendix of Irving Sprague's Bailout, Sprague lists all FDIC bailouts up to Continental Illinois by size. Continental Illinois was the largest rescue at only $41 billion. Second largest was First Penn at $8.4 billion. Bank of the Commonwealth, near Detroit (a chapter about the shady dealers of that bank's ownership) required only $1.2 billion in 1972. Bailint out Farmers Bank of the State of Delaware cost $360 million in 1976. No other bailouts are tabulated, although 7 other kinds of action (assisted mergers and payoffs) are tabulated.The minimum size of a G-SIFI today is $100 billion.
There are 400 free Ivy League university courses you can take online in 2019
I sometimes explore online courses looking for interesting lecture videos that I can either watch or convert to mp3s and use as podcasts.
Mr. Isomorphisms writes: 
Their list doesn't have a couple of my favorites, including Aiken's compilers course at Stanford and MIT's xv6 lions commentary on unix.
Recent mathematical finds:
-A locus with 25920 linear transformations by H F Baker (archive.org)
-Ikosahedron by Felix Klein (archive.org)
-Slodowy: platonic solids, kleinian singularities, and lie groups
-Elie Cartan: theory of spinors (more readable than you might think; written in the autumn of his life)
-Park & Yang: Yang-Baxter equations (on arXiv, written for an encyclopedia)
The A-D-E stuff is probably the most interesting mathematics ever found. (Mathematicians get to leverage the enormous and relatively obvious differences between platonic solids to make inferences about other structures.) 
Quite a few of the richest people on earth have houses here in the Kona area.
Each year I like to count the number of private jets to get an idea of how the rich people are doing, and what they think of the the coming year.
This year I counted only 45 private jets, and there were a number of empty spots.
In prior years the parking lot was overflowing with over 75 jets and being sent to Maui.
This year the jets are mostly bigger jets like G5's or larger which leads me to believe that the poor guys flying the small lears are suffering.
According to this indicator things don't look so good.
Just a follow up to see how this has tracked the past week to see if we're in a 'predictable' market regime. Sometimes when the media is flailing around saying markets are chaotic and unpredictable, I test to see if markets are behaving similarly to the way they have over the past 10 years or so. If not it can be prudent to reduce risk. I don't like taking risk down when vol goes up because my transaction cost to pnl ratio improves. How do other specs tend to size up/down? PNL? Market conditions?
I just broke into Ralph Vince's book (which came highly recommended from my mentor) because my position sizing feels fairly novice.
If a risk unit is a 10 vol targeted unit and weights were as of the 24th and total capital is 14 units:
spy    0.02
xlu    0.66
eem    0.42
fxi    0.40
vxx    0.20
ief    1.29
shy    1.69
fxe   -0.27
fxb   -1.10
fxy    1.24
gld    0.89
gdx    1.20
uso   -0.87
ung   -1.92
- so you'd be short 2 risk units of UNG, so a $240 position on $1000 of capital whereas you'd need $2,900 of 10 year futures for a 1.29 unit posi
- Hit Rate: 71%
- When right, made avg of 1.4%
- When wrong, lost .36%
- Portfolio return of .86%
- Qualitative bets: long Gold, Yen (+1%) vs Sterling -.25% = Actual return of .75%
So despite media complaints we've been in a predictable market.
Deep Survival by Laurence Gonzales. I'm re-reading it, and I'm glad I was, especially over Christmas eve, which was a survival situation. The book is a classic and must read for outdoors adventurers and investors.
Simply put, either stay out of trouble or find what it takes to survive.
Your amygdala and other hard wired parts can overcome your conscious and rational mind and get you into trouble or make a situation worse. They prevent you from perceiving the obvious. You do stupid things. Learn to understand and overcome the emotional pitfalls. Overcome fear, confusion, hesitation, and confusion.
Get skills to stay out of and get out of trouble. In trading maybe it's lowering your basis in a falling market or controlling your leverage. Have a plan, have a backup system and platform. Take decisive action, but avoid impulsive behavior and don't hurry. Know your odds, your niche, your market. Have the right information. Ignore the news. Learn from others mistakes. Be humble.
Bail out before dying.
When in trouble have a positive mental attitude. All survivors engage in a self talk dialog, as do traders. Get your self a good mantra and get yourself out of trouble. On Christmas eve my mantra was not, "you're stupid for getting into this mess", instead my mantra was, "you're smarter than the masses; you're doing the right thing and you'll make a good profit when this thing jumps back up". That helped a lot. Have fortitude.
Celebrate your successes. Believe in your success. Surrender to the pain.
Never give up.
Archives
Resources & Links
Search