Here is a copy of Wallace Lee's excellent, out of print, booklet, "Math Miracles". As a youngster, this book provided the basis for many proposition bets to add to my repertoire. It's an entertaining read and mere words cannot do it justice.
I parked my Hertz Chevy Spark at Siphon 6 of the Coachella Canal outside Slab City on Saturday at 9am and went for an hour walk. Returning at 10:00 there was a crash over the last sand dune and I jogged up it in time to hear and see a quad speed off from my car. Five minutes later, I was standing in the broken glass of the two back rear windows. The burglars had broken the windows, crawled in to keep the alarm from sounding, and in seconds fleeced everything of value. I called the Imperial County Sheriffs who responded immediately with a patrol car, and an officer who was uncharacteristically professional, sympathetic, and thorough. He took a report including photos of the quad tracks, and pulled away to track the burglars who had fled 30 minutes earlier along the Coachella Canal road. I pulled around onto the main track to head the bad guys off at the pass by the Slab City Library.
Not finding the thieves or the cop, I started to solve the crime on my own Slab City style. I got two expert trackers who know every quad track in the area. One at a time, I returned with each to the broken glass along the canal. The first peered at the tracks, and said instantly that he knew the vehicle and who drove it. A few minutes later, the second tracker told me he knew the vehicle and thought it belonged to the first tracker I had taken to the scene.
This is called being 'Slabbed', where everyone passes the buck until a crime becomes so muddled it is impossible to solve.
One suspect was one of the trackers, and the other was a person I had once helped file a complaint against a corrupt Imperial County deputy who had scraped the license tag off his vehicle, told him it was not tagged, and impounded the vehicle.
My own burglary became a federal offense when I discovered they had taken my passport from the glove box.
I returned to find the deputy to tell him this, and found him a quarter-mile from the scene stuck in soft sand. I helped him get out, and Slab City continued into another merry 110F May afternoon.
Check out this video. Paul Haber: Against the Wall
Paul Haber did the impossible beating the world racquetball champion in a winner take all Hands versus Racquet match in Memphis. Sports Illustrated called it the greatest mixed sport match in the history of athletic competition. In the world of handball, Paul Haber was Arnold Palmer, Jack Nicklaus, Bobby Hull, Joe DiMaggio, Joe Namath, and a dash of Frank Sinatra. A Sports Illustrated writer called him "the most colorful champion in sports since Namath - and with better knees."
Howie Eisenberg writes:
Ironically in the match with Muehleson, it looked as if Paul was playing clean and the dentist, pullar of society was intentionally blocking. It didn't seem as if Muehleson was using the power advantage that a racquet has. Yes Paul Haber was a a scumbag but except for the screaming at the refs was not bad on the court. Nobody had any greater will to win than him. He was actually fun to be with if you weren't playing against him or lending him money or he wasn't sleeping with your wife as he did with some guy who was dumb enough to invite him to stay at his house for a tournament. He and his father also named each other as corespondents in a paternity suit. Other than that he was a paragon of virtue.
A beautiful story about systems, work and family from a master:
Download [19 page PDF, 12MB in size, 5 minutes to download]
I am asked by a son for tips on how to be a good trader. Here's a good start. Ask yourself be4 you trade:
1. Have you tested it?
2. Is it already in market?
3. Are you getting in over your head?
4. Are you trying to make money the same way many did yesterday?
5. Are you shorting stocks and going against the drift?
6. Are big things happening in related markets that could domino over?
7. Is there much fear in the market before the next announcement thereby giving you an opportunity to come in before it?
8. Are you paying too much implicitly in vig, rake in terms of how big a profit you are going for relative to your vig, rake bid asked spread?
9. Are you playing someone else's game, like trying to make a 1/10 of 1% profit on your trade in the next hour while high frequency taking 100 mill a day?
10. Is something bad e.g. sickness happening in your family that will prevent you from proper decision making?
11. Can you afford to lose?
12. Did you stop to test, consider all these things before you traded or did you just make a reflex kind of trade?
13. Is liquidity going to be reduced shortly so you're playing mah jong against a group of experts with little chance of beating them?
14. Do you have a backup position with most of your assets long stocks?
15. Have you had sex recently good or bad and is it influencing your decision the wrong way?
What would you add or subtract from this?
Ralph Vince comments:
Along the lines of 11, can you handle the worst thing that can happen (and along the lines of 13, this event should include the notion that there will be no liquidity, which will haunt you in the quietest moment of the night.)
I would also add: "What's your time horizon on all of this–on this trade and how many of these?" Ad infinitum is an answer here, but there should be a reason for that answer, not as a default.
Once both of these two questions are answered, unequivocally and clearly, a trader can address the most important question, in my opinion, which answers the "how much," but is approached by answering the pinnacle of questions all traders must answer, which is "what are you trying to accomplish within this given time frame?".
Jeff Watson writes:
Do you really know and understand the game being played that you are trying to join? Are you aware that there are always games within games that might have a totally different, secret, set of rules?
Are you under the delusion that grains are "easier" because they seem to move slower and with less violence than the metals, oil, spus, etc?
Are you in good shape financially and physically?
Have you developed an aversion to losing money?
anonymous writes:
Focus on process over outcome. It's not whether you make the shot, but whether it was a good decision to take the shot.
How many lives are lost because the FDA uses double blind rather than decision making under uncertainty as the gold standard including the data for metformin which is a decision making under uncertainty 99% for life extension but could never even be tested and approved because it would cost over 1 bill to test.
The gold standard also applies the "precautionary principle", thus avoiding the political fallout of another Fen-Phen. They make it uneconomic for sponsors/manufacturers to do research in life extension, delayed senescence, cognitive enhancement, and other outcomes that require the "proactionary principle".
Alston Mabry writes:
I still remember the first time I heard the term "evidence-based medicine", and how my first thought was, "As opposed to what?" Upon investigation, I realized that what we have is essentially "experience-based medicine", i.e., doctors do what their experience, and the experience of their teachers, tells them is the best course of action. Then I read articles about how hospitals resist the tracking and publication of the performance of, say, their surgeons, because they don't want to lose patients if they look bad.
There is so much data produced by our whole healthcare system, and the bulk of it is lost. The whole country is a pharmaceutical experiment, but I wonder if we capture even a small fraction of the useful data.
Dylan Distasio writes:
Agree 100%. I think the gold standard has done more to set back the areas highlighted than any others, although they (along with the legal environment) also make it extremely hard for MDs to experiment with cancer protocols. There was a great article awhile back (which I can't find at the moment) highlighting the fact that early (by early I mean 1960s-70s) creative protocols based on taking calculated chances and empiricism could never even be attempted in today's the "proactionary principle".
Charles Pennington writes:
Speaking out of ignorance here, but I have the impression that a very disproportionate amount (>80%?) of important world pharmaceutical R&D is done in the US. Are there any familiar prescription drugs that we take here that were developed and/or marketed by Japanese companies? I can't name one. Obviously there are some big European pharmaceutical firms, but it still seems like the US is the center of mass, and even more so if one is considering "biosimilars" — seems like the US really is even more dominant in biotech
Is this impression correct, and if so, why?
(I imagine it's true in spite of the FDA rather than because of.)
Probably the greatest lyrical example of Vic's suggestion to always having more than one mouse hole. It's an Elmore James song made famous by the Allman Brothers.
In honor of the late Greg Allman who passed away yesterday.
Some 52 years ago I studied the Friday down Monday down effect, a tendency for Monday moves to be inordinate bad after Friday declines. The z's for it were about -15 for the preceding 25 years. It seemed appropriate to update it. I found that the last 469 Friday declines were followed by an average move of 001 on a base of 15000 with the last 512 Friday rises followed by an average move of 002.
Those are moves of 1/100 of 1%. The standard deviation was about 50% higher at 180 for the Monday moves following the Friday declines showing a significant increase in volatility following Friday declines. That's all that's left of a regularity that is still extant in many of the book.
"The Behavior of Stock Prices on Fridays and Mondays"
I have a friend, fairly young (today is his 20th birthday) guy in London. He has no university degree, and has spent not very much time there. Working as a project manager at some IT company, he was earning about what my daughter will be at Morningstar (where she will start in about two weeks—let's hear it for the econ major, better yet, let's hear it for mom and dad who warned about the perils of an English or history major—and can point to the lack of jobs those folks have now that they've graduated) at a ridiculous salary (not that she's complaining).
He just snagged a job at one of the major consulting companies building a blockchain group as the program manager at about 4.5 times (no, not a typo) what he was earning before (with barely 4 mos experience). At first I didn't believe him, but I heard overnight from another friend that an announcement had circulated among a few folks at the consulting firm confirming that this fellow was starting on Monday as program lead.
Absurd? Perhaps—but that's what the market rate is. For those of us who lived through the dot-com bust, it suggests just how out of kilt the area seems to to be—not merely the valuations of the currencies but the perceived opportunities by corporations. At the height of the dot-com bubble, some kid with minimal work experience and a high school diploma could create an idea (like Hotmail) and implement it with 2 days of programing (like Hotmail) and then sell it for a cool $100 million (like Hotmail). Or be hired as a COO for a start-up at a $200 million valuation at a ridiculous salary—and no product (though they had a photo of a whiteboard sketching out a potential produce with a price point no one knew had any basis in reality. Or…you get the message. But if companies are willing to invest in the area to the degree that it seems to be with him, I have to wonder if we're looking at the side of the picture, not its center.
Blockchains are in that situation, as the money flows into them. Or are they? Real products doing real work with real pricing (for the systems supporting the blockchains). So while we can argue about ethers vs bitcoins and whether they are too high or too low, the basis for those currencies to exist is undergoing explosive growth. And that's really the story here. You might get burned on the specific currencies, but investing in blockchains is a low risk-high reward proposition right now. And the question du jour is how to invest in blockchains, not the currencies.
Levi Strauss made as much as many of the 49er miners, and he kept doing so long after they had passed from the scene. Selling the pickaxes may not create as much wealth as using them, but it's a lot safer and will yield a lot of profit.
Sentiments about cryptocurrencies may be hard to assess. Sentiments about blockchains is another matter altogether. That's not only real but with significant money behind it. While I am happy for my friend, I think he would acknowledge that he's not sure how to explain the orders of magnitude change in salary except as suggesting a lot of confidence in this area as one of the building blocks of the future (or present, I suppose).
This thread may be about the blockchain du jour, cryptocurrencies.
Perhaps it should be about blockchains, the emerging technology of informational interchange.
Henrik Andersson writes:
I believe this sentiment described by David to be deeply flawed. The current bubble is in blockchain, the technology. Typically you hear these type of arguments from non technical, consultant type of people. The reason for using a blockchain in the first place is its trust less nature, it needs to be public, open and will be open source - thus this is not where the economic value lies. The banks and the consultants preying on their fear of being disrupted are using blockchain as a buzzword but without a token, it becomes nothing more than an inefficient database. R3 is maybe the best example - they recently realized tis and have abandoned the blockchain technology altogether! There is nothing revolutionary in a private blockchain, it is a shared database, not an immutable ledger. The economic value will lie in the tokens of these blockchains - they become the fat protocols that now can be monetized directly for the first time. The value lies not in the many times free software underlying these tokens. This is a good think piece: "Thoughts on Tokens".
From pro poker player Sam Farha:
"The one who bets the most wins. Cards just break ties."
Doug Martin writes:
I sat next to him on the way back from Aruba about 8 years ago. I had no clue who he was until someone on the plane told me. I rarely win at the casino.
That trip in Aruba was odd. I was playing Roulette for about an hour. Red, Black, Odd, Even, etc, just passing the time over some drinks. It got awkward. The dealer started to randomly pay out on some of my losing hands. After about 3 losers where the dealer gave me free money I wandered off with my girlfriend. Very strange but I remember it vividly.
I would imagine about 5 more of those "winning" hands I would have been followed out and asked to hand the money over to some kid in on the scam.
It was a small hotel casino, probably 40 people there total.
Jeff Watson writes:
Last time I saw Sammy play was at a 5/10 NL game at the Bellagio. He did not look happy in his reduced state/bank roll. He had the same hang dog expression and demeanor the same as some of the hundreds of busted out traders I have known over the years. This brings to mind the story about Nick "The Greek" Dandlos. Having played for millions, winning and losing 20 fortunes over the years, in his dotage Dandlos was reduced to playing $5 draw poker at the Normandie Club. At the table, the Greek was asked by another player how he could be playing for such reduced stakes and he replied, "Hey, it's action, isn't it?"
As long as there are useful idiots in the world like those that I often enumerate from Cal, and the twin former Harvard fund manager, there is no need to worry about A.I in our field.
Orson Terrill writes:
The idea out there that there is no discoverable alpha, or soon there will be no discoverable alpha, because of so many quant funds, hft, AI algos, have absorbed it all…. is ridiculous!
People should be excited that no one can get to it all.
The factorial reality when trying to get the faintest idea of the market as a closed system was already beyond the grasp of current human ability. Attempts to increase precision with AI doesn't remove anomalies from the market at an increasing rate, it will slow the rate of removal. Deep learning adds a huge amount of variables (random weights, nodes, whatever you want to call it) to the computational load.
Say you want every basket of 10 stocks you could make with the SP500, for 10 years of data, OHLC, volume, ranges of various frequency, day of week, day of month, month of year, 1st 2nd 3rd (and on) differences of everything, some various filters such as averages, then you want covariances, the changes in those.
THEN! (Maybe!) You take those 200 octillion data points (seriously) and get to work with some AI? Seriously? Every computer in the world probably couldn't do this, and of course you'd still have over fit models in the end.
To make the point about AI:
Formulating a model, or an hypothesis about a condition, with all the data wrangling and basic transformations involved, that are then used to make orders of magnitude more data by fitting something as basic as a neural network auto-regression model, essentially means the potential combination of inputs, and computational demand, has left the universe. It's way beyond the scale of any computational feat happening even the most bleeding edge. So. Far. Beyond.
In other words, think, dig, have ideas, test them, and don't worry that you might be the only one trading on something. If what you're trading on has just a minutia of complexity, it probably wasn't found via brute force search by some high performance computing juggernaut. Bet on that. They have trillions and trillions of the most simplistic price change anomalies that they are still chasing/racing each other for all over the world.
The stuff that the Chair was doing in the 70s (before I was even born!) is still being chased today…and everything else (which is almost everything) is left on the table. The structural reality of: What computers are good at, returns to speed, large funds needing to focus on the most liquid assets for risk control, and because large funds need larger sources of liquidity to match against, guarantees most money is crowding in the same large liquid spaces.
Stef Estebiza writes:
Warren Buffett's favorite holding period is forever.
anonymous writes:

That is his favorite holding period for everyone else, particularly those holding his, as it reduces the directional liquidity to the upside and therefore reduces the the power of the viscous forces to resist change and increase slippage to the upside.
No sooner had I said that the attempts to damage Him seemed somewhat epicyclic, that his hand shakes are belittled and ridiculed. I can't find the proper analogy for these attempts in nature right now but I can in the one thing I know about–racquet sports. Often one plays against a player who is relatively impervious to your game. First you try bringing him to the net, then you hit to his week side, then you try rushing to the net, then you lob. Then you play dead. Then you delay. Finally you hit one down the middle and rush the net, I once played Ralph–in the finals of the gold rackets, and I was up 13-5, 2-0. He had tried a bag of tricks but it didn't work. He then turned around off the backwall and aimed it for the back of my head with all his might. I demanded the referee default him even though I was up 14-5. But the refs like the press now were always against me.
"Macron Out-Trumps Trump in Handshake Duel Before NATO Summit"
By Jennifer Jacobs, Margaret Talev and Craig Gordon
Donald Trump is known for employing knuckle- crushing, testosterone-driven, arm-shuddering handshakes. But he met his match today in Emmanuel Macron.

It took the French president just six seconds to out-Trump Trump in a handshake that showed the world — and a man three decades his senior — that there's a new leader on the world stage.

Trump's trick is to go in strong and then hold on just slightly too long, often pulling the other man toward him. Meeting Macron for the first time before a NATO summit in Brussels, Trump went in firm as usual. But this time, it was Trump — not Macron — who tried to back out first. Macron simply wouldn't let go as Trump tried to pull back once, and then flexed his fingers straight to get out. On the second try, he was able to pull away.
Growing up, my family's next door neighbor was the family Norman Currey, a jolly Englishman who worked as an engineer at Lockheed in Marietta, Georgia.
Up until this Christmas I hadn't seen him for decades, but now, at age 91, he lives in the same senior community as my mom. So I got to see him this past Christmas. I was stunned that this man could be 91 years old, as his mind was not only crystal clear but also quite engaged in some productive activities. He told me he was working on publishing a book on the history of aviation, written in a fun style for the layman.
Lo and behold, his book was published four days ago on Amazon. It looks very professionally done. There are not only hardback and paperback options but also a kindle version, which appears very well formatted.
I just ordered a hardback version. Meanwhile I've read bits and pieces from Amazon's preview. Looks like it's going to be a very fun book to read:
Airplane Stories and Histories by Norman Currey
I took a son to a Yankees game yesterday.
The score was 2-0 on a two hitter to Yankees favor at the end of sixth inning. We left.
The royals won 6-2 scoring 6 in the last 3 innings.
The S&P did the same thing after the minutes failed to have the desired Fed effect.
Was it chance or was our impatience a sign of expanded potential for a reversal in baseball and markets?
The Pentagon has confirmed that the USS Dewey sailed within 12 miles (20 kilometers) of Mischief Reef in the Spratlys. The DOD spokesman stated that the U.S. "operate(s) in the Asia-Pacific region on a daily basis, including in the South China Sea….We operate in accordance with international law. We fly, sail, and operate wherever international law allows."
This "violates" the claim that these waters are sovereign territory of the PRC. The Chinese report that two frigates drove the Dewey out of the area.
That seems improbably. The Dewey is the size of a WW II heavy cruiser. Chinese frigates are the size of American Coast Guard cutters.
Let us return to the glorious days of Festinger studying the Keech cult but this time let us study the much more poignant, harmful, and prevalent failed prophecies of the Abelson zombies, and the bond twins.
.
.
I am not familiar with Kurt Godel, but I think his ideas are similar to the ideas of cosmologist Max Tegmark. Here is an excerpt from the BBC documentary Horizon interviewing Max Tegmark.
He states that our Universe/Reality is math. So math is not only a language to understand the world, but it is the world itself.
My knowledge of the topic ends here-– it is fascinating though.
Quoting T. Mcclellan:
Plato was probably the last person to at least be on a level with the then leading thinkers of functionally all branches of human thought (Aristotle conventionally thought to be even more so).

There is an interesting refutation of the ideas in the Republic in the Parmenides. In this second dialogue Parmenides delivers a devastating criticism of Plato's skepticism about empirical reality. Plato has him argue strictly on Platonic lines that in fact if we grant that the Forms (for example numbers) truly exist, even then we could not know them–and worse, if we exist then pure beings such as the gods could not know us! Thus not only are ideas as unreliable as appearances they are no surer a foundation for knowledge. Obviously not a great conclusion for a Platonist!

Believe it or not, the real existence of forms–or the Pythagorean equivalent that all the universe is number (perhaps numbers) is still hotly contested today. Supposedly Kurt Godel could not understand people who did not believe in the literal existence of numbers outside the human brain. Although of what substance he thought them to be composed, I know not.
Russ Sears writes:
The following is what I wrote to the spec-list in 2010, concerning Godel and Singularity. Kurt Godel was a close friend of Einstein, they often walked to and from the University together. He is most known for his "Incompleteness Theorem".
It has been suggested before that Godel's proof gives us insights into human intelligence. John Lucas was one of the first to suggest it. "Godel's Theorem seems to me to prove…that minds cannot be explained as a machine".
Roger Pemrose has 2 books, "The Emperors New Mind" and "Shadows of the Mind" that supposedly show Godel disproving "mechanism" and "artificial intelligence".
Pemrose suggests that while we're not a machine, we are a physical system and should consider quantum mechanics.
Godel was much too timid about conjecturing on the record. He was very fearful about confrontation. As suggested, the Third Reich probably never did give him or his kind a second thought. To his paranoid mind the world would conspire against him to keep all mankind stupid. So what we have from him on this subject is from his private conversation with Hao Wang and a lecture.
Wang on Godel: "Either the human mind surpasses all machines (to be more precise it can decide more number theoretical question than any machine) or else there exist number theoretical questions undecidable for the human mind." or as Ms Goldstein suggests: "The incompleteness theorem, by showing the limits of formalization, both suggest that our minds transcend machines and makes it impossible to prove that our minds transcend machines. Again, an almost paradox."
Or in my words we could simply be deluding ourselves that we have access to "truth" through intuition. This is of course is tragic and ironic in that while we can't know the pure case, Godel himself succumbed to some major delusions and was paranoid later in life.
And we as speculators certainly can't cast the first stone. While I would suggest that we may "transcend machines" through quantum mechanics, our minds may also transcend time through quantum mechanics, leaving a rendering of our "physical system" difficult if not impossible to interpret and to reproduce.
If American Enterprise Institute's numbers are correct and if the Trump Administration is serious about their promise of creating jobs, Trump should immediately give up on coal and focus on solar. Unfortunately, AEI's presentation is wrong.
AEI put their thumb on the solar scale. For solar, they included employees dedicated to the construction and installation of new solar assets in addition to operating employees. They did not do the same for coal. They didn't do it for coal because almost no one is building a new coal plant.
Instead of comparing apples with oranges, AEI compared apples with orange trucks. Nevertheless, on the jobs front, the conclusion is the same: Trump should give up on coal.
Stefan Jovanovich writes:
When Milton Friedman was shown a construction project in The Third World where the earth moving was done by people using shovels, he was told that this was helping with employment. Friedman is said to have replied: "Then why not take away the shovels and give them trowels." The output for solar remains trivial - .04 billion MWH vs. 1.24 billion for coal and 1.38 billion for natural gas. Even the most optimistic projections of the DOE don't have solar producing even 10% of the present output of either coal or natural gas before 2025. Perhaps the solution to the employment problem is to abolish the long-wall mining equipment and bring back the shovels.
Leo Jia writes:
It is alive and well here in China. At my building complex on the east side of Shanghai, which was an early 1990s series of lux buildings, they'll send a ground crew of 10 to trim hedges all day. I could have easily done the same with a trimmer in an afternoon during my summer odd jobs.
Other bizarre aspects of town– even in some of the most posh areas with the latest buildings, there are a dirth of street lights and almost none of the bicycles, runners, and electric mopeds, even the newest, have lights and/or reflectors.
Another thing I wince at is workmen of all kinds not using safety glasses which cost all of a couple of USD equivalent. The ones I see wearing are the supervisors well away from the dangers.
This paper argues that most anomalies go away when microcaps are removed from the bucket:

Replicating Anomalies
Kewei Hou, Chen Xue, Lu Zhang
NBER Working Paper No. 23394
Issued in May 2017
NBER Program(s): AP CF EFG IFM ME
The anomalies literature is infested with widespread p-hacking. We replicate the entire anomalies literature in finance and accounting by compiling a largest-to-date data library that contains 447 anomaly variables. With microcaps alleviated via New York Stock Exchange breakpoints and value-weighted returns, 286 anomalies (64%) including 95 out of 102 liquidity variables (93%) are insignificant at the conventional 5% level. Imposing the cutoff t-value of three raises the number of insignificance to 380 (85%). Even for the 161 significant anomalies, their magnitudes are often much lower than originally reported. Out of the 161, the q-factor model leaves 115 alphas insignificant (150 with t < 3). In all, capital markets are more efficient than previously recognized.
Here's an excellent article in Munsey's magazine describing BP Hutchinson's wheat corner in 1888. The article very accurately describes what went on, the history, the players, how the corner was played, and the consequences of his corner to the shorts and to the general public. Financial machinations always have social consequences. Near the end of the article is mention of Leiter and Armour and their games.
I took a survival and orientation course over the weekend. Reading maps is a lost art and good skill to have; being able to plot a course using a simple protractor, degrees and adjustments for magnetic north. The error calculations are interesting: for example if you are off by 1 degree over a 1000 meter walk this is 18 meters of error. Over a few miles this error can be quite large and easy to see how people get lost in the woods. GPS can solve many off these issues, but still good not follow GPS blindly as it could lead you over cliff or an obstacle heading to a coordinate. Accuracy and attention to detail are important in planning. Once in the field you should use the terrain features to makes sense of the course, look for check points and reevaluate often.
In survival there is a rule of 3's. The body can survive 3 minutes without air, 3 hours in harsh conditions without shelter, 3 days without water, 3 weeks without food. If you have a plastic bag, wrapping it around a green branch will produce condensation water in just a few hours if there is sun on the bag. Fire can be made with shoe laces leveraged to turn wood pieces using friction. It is not easy, but possible. Shelters can be built in a few hours and improve both physical and mental outlook. Preparation is critical and a few simple things like having a plastic tarp, knife, and first aid kit can make a big difference. Improvising is important: For instance batteries in contact with metal will heat and make fire; Tree branches can be used to make simple snares; pine nuts in the west or acorns in the east can sustain the body.
Tom Wiswell ended his last set of proverbs with "a million moves ago– the good old days. All times when old are good. So many moves, so many variations. So many players–so many friends."
Shortly thereafter, he came late for the first time in 25 years to his weekly checkers board meeting at our offices. "Victor, I couldn't remember the floor to get off". A week later he was in a veteran's hospital for loss of memory.
The Lost Art of Reading Nature Signs by Tristan Gooley.
Here's a great quote from Gooley talking about trees usual orientation towards the south: "If you are surprised by what you see in trees, there's an explanation. Randomness is not a great strategy in nature. So it's rare."
That quote to me is so profound. So often what seems absurd, ephemeral, has a much deeper explanation (that often already transpired). Gooley was talking about a tree that grew stronger and bigger on the north side. It turned out that the North was receiving reflections from a big glass building on that side.
I also read Henri Poincare: A Scientific Bio by Jeremy Gray, a fascinating genius who made major contributions to differential equations, number theory, probability, electricity, non-Euclidian geometry effortlessly by applying models that could be transferred from one field to another. The biographer is a mathematician who does a great job in illumining the contributions in each field.
Also Economics for Independent Thinkers by Daniel Nevins. This book in press tells you 100 things that can lead to disaster, especially government debt. While many of the things he highlights are bad, and have historically been associated with disasters in the economies, there is no effort to tie these to markets. There is a good discussion of the effects of QE on lending and activity.
Quantifying Life by Dimitry Kondrashov
A Modern History of Japan by Andrew Gordon

Tree Models of Similarity and Association by James Corter
Scenescapes: how qualities of life shape social life by Daniel Silver
The Evolution of Communication by Marc Hauser
Python Programming by John Zelle
The Complacent Class by Tyler Cowen
The Mathematics of Life by Ian Stewart
The Moscow Puzzles by Boris Kordemsky
Analysis of Longitudinal Data by Diggle et al
War Paint by Lindy Woodhead
Adam Smith by Ryan Hanley
The Autobiography of Ben Franklin by Benjamin Franklin
Essential Demographic Methods by Kenneth Wachter

The Essence of Stigler by Kurt Leube
Expected Returns by Antti Ilmanen

The New Libertarianism by Michael Oliver

Out of Poverty: Sweatshops in the Global Economy by Benjamin Powell
Statistical Models by David Freedman
My father was the most benevolent guy in the world. He was easy victim for every tarbeauxian gyp. Often a gypsy would agree to fix our roof for a seemingly low price, and one day later the material would wash away. Or a poor man would ask to borrow money from him for a worthy cause and he would empty his pocket. I must have inherited the trait of being gullible and easy to deceive without the good part about being benevolent. I didn't see that the story was from the Onion and the picture looked so realistic that I easily succumbed to believing it. To make it worse I posted it on twitter as a possible cause of the market's decline and looked like an idiot there also, and lost a large part of the credibility I had there.
Andrew Goodwin writes:
That one was a play on the true historical incident involving Michael Jackson. If armed with the correct technology, it is far harder for a picture modifier to fool the viewer. Here is a link to an article I read yesterday about photo sourcing and source identification. The article touts an app that uses watermarks and timestamps. However, it also provides a useful list of tools to insure one does not fall victim to a gross deception perpetuated by a photo modifier.
anonymous writes:
I show everything still saying long-term huge bull market. NO major top this year.
I have short term stuff saying buy into this now on weakness, as I said last night. This drop may be only half over, but it's time to begin adding to it.
One of the funds I run avoids short term, so I'm just riding it out there except to peel off some of the hedge down here and realize some profits from that. The other fund, not concerned with tax efficiency in that sense, much more aggressive. Covered the positions in short vol Tuesday, started re-establishing yesterday and continue to do so. This is a nervous time. There is a coup in progress in America, and it appears to be failing. This thing could go up as quickly as it came down with a vicious V-shaped bottom here (this would not surprise me given the underlying strength in this thing and the pervasive fear out there), or it could continue down, the drop only halfway or so done, but still in the time window to be getting back long this thing.
Rates are still in their 35 year bull market. The correlation to equities may be about to flip again in the coming weeks. I still think we're headed to a 1 big handle on the thirty.
Anatoly Veltman writes:
You knew of course. What you couldn't fathom was that someone (The Onion, of all) could ANTICIPATE a decline in equity fortunes. I loved the line where Warren initially was on a hot streak… No less fascinating was to read the list this week on and on and on and on about stupidity, as if same had nothing to do with us listers. It seemed only Rocky hadn't chimed in, thoughtfully and busily setting up hedges (remember: Rocky never loses much). Ralph also hopefully lucked out depending on his definition of "on strength". A whole generation of specs hasn't seen a 5.1, let alone a 20.0 percent, correction.
anonymous writes:
I have no worthy insights on the markets. The preponderance of my speculative (as distinct from investment) domestic equity exposure is in SPY calls spreads with the lower strike at 236, and which expire tomorrow. So my net exposure has fallen precipitously over the past 24 hours and I am sitting on my hands at the moment — neither buying nor selling. Similarly, my treasury bond exposure/gamma has shifted from bearish to neutral. I have not touched my speculative foreign stock positions. The market's reaction on election night defied conventional wisdom, and what is happening right now is being attributed to Trump, but is really Mr. Market doing what it wants to do, and finding a post hoc reason. By way of example, last week, at 6am, Bloomberg radio said (and I quote): "S&P Futures are down 4 after the president's firing of FBI Director Comey." The use of the word "after" shows the worse sort of bias, false attribution, and nonsense. The announcer could just as well have said, "S&P Futures are down 4 after five more people were murdered in Chicago" or "Down 4 after XYZ corporation reported earnings below expectation." I must decide whether, if the market goes down another 3% and I have no unique information unavailable to everyone else, am I a buyer or a seller? And then, if the market goes down an additional 5% and if I have no unique information, am I a buyer or a seller? I do not know my answer at this moment. And I am most certainly not predicting that the market will decline these amounts or I would be short. And I am not short.
This is a long-winded way of my weighing in on the conversation about "stupid" people. I don't know what "stupid" means. Every person has some negative traits and some positive traits. For me, the most amazing thing about Tiger Woods is not that he was an amazing golfer and a dismal husband who kept "stupid" texts on his phone. Someone was statistically destined to be the top 0.00001% of all golfers. The amazing thing about Tiger Woods is that his family recognized his innate rare talent and put him on a path that developed it, rather than force him to spend hours studying piano or reading ancient literature or working in a McDonalds. If he had not been put on this path, he might well be robbing liquor stores, smoking meth, or working as a Wall Street trader. There are surely hundreds of people who could have been as a good as Tiger Woods in golf — but their gift was not recognized and developed (for whatever reasons). Conversely, there are thousands of potential philanderers, but for whatever reason, they remained faithful to their marital vows. My point is simply that calling someone "stupid" is primarily a value judgment and reflects how one relatively values different things.
In Tiger's case, relatively values regarding career versus family — allows one to dub Tiger as stupid or not. I am not making any judgment about Tiger Woods, except to say that a similar analysis can be made about anyone who we label "stupid." And lastly, if you choose to be a philanderer, leaving texts on your cell phone may appear to be stupid, or it might be a gutless person's way of initiating a break up with one's spouse.
Laurel Kenner writes:
As I was stock market editor at Bloomberg in the 1990s, I was an enforcer of the ludicrous practice anonymous described of attributing market moves to whatever explanation lies close at hand. Sadly, although the creator of that practice has been kicked upstairs, no one has changed it. My reporters and their sources knew it was all malarkey, and I was as lucky enough to have some education in statistics and behavioral psychology through the good offices of Chair and many eagles to whom he introduced me. I lasted only a matter of months after getting wise. I don't believe it was stupidity so much as ignorance. The danger is that the ignorant can so easily become pawns for those with a political agenda, as we saw this week with the anonymously sourced Trump story. The market's reaction was used to give credibility to the story. As anonymous points out, Mr. Market does what he does and will brush off impertinent descriptions.
Stef Estebiza writes:
Trump politics has been slowed down by the Democrats. With this new story (employee of Putin), we are at the mobile sands. So the fake news of electoral propaganda actually are only words left in the wind, and do not produce the results that the markets expect. Currently Trump is at check. We'll see if he'll be moving to checkmate #impeachment.
anonymous writes:
I suggest the opposite is the case.
To extend the chess analogy, Trump is playing a positional game while the Dems howl about each pawn they take as their long-awaited victory.
They lost on SCOTUS and they are going to lose on the budget, taxes, health care policy, and eventually foreign policy.
Carlo Cipolla's Five Fundamental Laws of Stupidity:
1. Always and inevitably everyone underestimates the number of stupid individuals in circulation.
2. The probability that a certain person (will) be stupid is independent of any other characteristic of that person.
3. A stupid person is a person who causes losses to another person or to a group of persons while himself deriving no gain and even possibly incurring losses.
4. Non-stupid people always underestimate the damaging power of stupid individuals. In particular non-stupid people constantly forget that at all times and places and under any circumstances to deal and/or associate with stupid people always turns out to be a costly mistake.
5. A stupid person is the most dangerous type of person
Here's a link to Cipolla's essay.
Stefan Jovanovich writes:
Many many thanks to AC. Cipolla's Guns, Sails, and Empires: Technological Innovation and the Early Phases of European Expansion, 1400–1700 (1965) should be required reading for anyone who wants to presume to understand our "modern" world.
anonymous writes:
I have the most trouble identifying my own stupidity.
My swat drove home the lessons of liberalism and progressive taxation. It was in Mr Gallagher's 8th grade history class. Before class started, noxious Paul initiated a fencing match with me using pencils. It wasn't my idea but I did score the only point - with a leaden puncture to Paul's forearm. He promptly took his wound to Mr Gallagher, who summarily referred me to the vice principle's office.
Mr Curtis had me grab my ankles for three humiliating whacks. They didn't hurt so much as worry me that my parents would find out (they didn't). And it seemed unfair as I only attacked in self defense.
I won the skirmish but lost the battle, because the system was rigged pro "victim", even then. It would have been better, in a away, had I lost the fight. I wouldn't have snitched but would have learned about another kid to avoid.
Russ Sears writes:
What I have observed is that some people are too stupid to realize that they are stupid. Studies show that those that do the worst overestimate their abilities on a test of just about anything, while those that do the best underestimate their abilities to test on just about anything. Socrates was right that the beginning of wisdom is to know one is ignorant. However, as his untimely death implies, he was wrong to point this out to stupid but powerful people. However the leaders should not be as Aristotle implies (perhaps as survival mechanism learned from Socrates experience), the most learned dictator, but the ones most capable of producing cooperation from all individuals talents.
I was told that the reason most people do not know they are stupid is that they attribute their knowledge as being the most important, and therefore under-estimate the importance of their ignorance. Perhaps this is a form of denial, to justify their self-worth. The market's in general is brutally honest on what is "important".
Bitcoin is currently stalling out on transaction speed and will force the hand of the core development team to make adjustments.
At present, the miners are clearing (very roughly) 2000 transactions every 10 minutes, this is primarily due to the limit of the block size of 1 megabyte and the amount of transactional information they can place into that size.
There is a lot of hand-waving about the slowing rate of growth of bitcoin versus other cryptos and the glacial adoption of newer protocols is certainly a part of it. For my part, I am content that the developers are overly cautious as any bug in the implementation can crash the economy. Ethereum learned this firsthand last year after they lost millions due to a bug. That said, Ethereum is also a model about how resilient the cryptos can be in the face of lost confidence.
At some point, bitcoin will increase the size of the block above 1MB and punt the transaction problem down the road for a while, but it exposes one of the problems with it's design which is transactional throughput. Most of the cryptos out there have the same tree-based transactional design that at greater scale will eventually cause the system to come to a crawl under normal load, not to mention making them vulnerable to spam attacks.
There is some promise in a new way of guaranteeing transactional integrity without a tree in DAG (directed acyclic graphs). The concept is more of a mesh of (very) lightweight transactions, each of which is forced to validate two other previous transactions. This obviates the need for miners and makes every initiator of a transaction do the proof of work. This concept would scale far better than (what has become) the centralized miner model of the major cryptos.
I am aware of two cryptocurrencies being developed that use this model, Byteball and Iota, with Iota having a better marketing department. They are completely unproven, flawed, hoarded and still in development, but already have a solid following and are trading at what I'd consider high premiums. If they somehow reach critical mass without implosion there may be a big future in actual microtransactions, fulfilling the promise of cryptocurrencies years ago.
Andy Aiken writes:
Ethereum is on track to convert to a Proof of Stake transaction model sometime in 2018. Like bitcoin, ethereum is currently a Proof of Work cryptocurrency, in which transactions must be included in each new block being "mined".
As Jayson indicates, mining is highly computationally intensive. BTC and ETH mining requires special hardware, and consumes hundreds of gigawatts of power globally.
In a Proof of Stake (PoS) system, the network consists of nodes that reach network consensus on transactions without the computational intensity. The owners of the nodes (stakeholders) get a share of the transaction fees. A node could be run on an ordinary PC. There are currently PoS coins, but they are much less popular than bitcoin and ethereum.
On May 22, there is an Initial Coin Offering (ICO) for Tezos, which will be Proof of Stake right out of the gate. Tezos claims to be a direct competitor to Ethereum for the mantle of next-generation bitcoin. I'm skeptical of this ICO since the issuance is uncapped. This means that interested individuals and institutions will be able to get a piece, unlike other recent ICOs (e.g. Blockchain Capital, a venture fund that issued its own coin) that closed within 5-10 minutes of opening. On the other hand, Tezos could raise billions of dollars while being years from developing anything close to what Ethereum has already developed.
Byteball and Iota are using an entirely different model and a unique distribution system. E.g., if you hold BTC, you can get an allotment of Byteball by providing some personal information.
Cryptocurrency is much like the auto industry of the early 1920s. The failure rate of new coins/businesses will be high. Regulatory agencies are barely present, there are many scams, and a gambling mentality at the cryptocurrency exchanges. But the opportunities appear to be commensurate with the risk.
Stefan Jovanovich writes:
AA may want to adjust his historical analogy slightly. The failure rate for automobile manufacturers peaked not in the 1920s but in the preceding decade. By the "early 1920s" the "Big 3" were already established.
The historical analogy that works best for me is the growth in the collectibles market pioneered by Joseph Segel. No one can question the Marxist measure of value for the objects that the Franklin Mint and others produced just as no one can quarrel with the enormous amounts of human labor, energy and computation that have gone into producing these current digital collectibles. One wonders what network of Quality Value Convenience will evolve out of all this buying and selling of precious man-made objects.

The investigation of Iran-Contra diminished Reagan's authority with Congress and killed the second tax rate cuts. This time the appointment of a special counsel has saved a Republican President from himself. The language of Mueller's mandate is to investigate "any links and/or coordination between the Russian government and individuals associated with the campaign of President Donald Trump; and…any matters that arose or may arise directly from the investigation." Those "any matters" are far more likely to be questions into the FBI's own conduct and those of the Obama DOJ than recordings of Trump plotting with Putin. The delicious irony of all this is that a career civil servant, not the Republican Congress, has forced the President to return to trade and taxes and Israel and China even as the Democrats celebrate and convince themselves into that "the Russian connection" will be their winning issue for 2018.
We in the bleachers are doubling down on our U.S. Common stock longs.
Ralph Vince writes:
I'm with you Stefan. It's still a bull market, you have a volume bar buy signal tomorrow (a very short term thing) at any point lower than today's low (or for any of the next couple of subsequent days).
I may take some heat on it, but that's what must be done.
Shields up and let's go.
Dr. Janice Dorn was a well respected member of the Spec List for many years. She became a dear friend via e-mail and phone, though we never met. When she did not respond to my e-mail and her message box on her phone was full, I became concerned and checked the web. Her husband and two sisters had all passed away in the past couple of years. So I had no one else to contact to find out what might have happened. So I was greatly saddened this morning to find that she passed away on April 25th at the age of 78 from cancer. She will be greatly missed by me as she was a wonderful person.
Her obituary can be found here:
In Memory of Janice Bebe Dorn
October 13, 1938 - April 25, 2017 Obituary
Dr. Janice Dorn, M.D., Ph.D., 78, of Phoenix, Arizona, passed away April 25, 2017 peacefully after a courageous battle with cancer. Born October 13, 1939 in Canton, Ohio, she graduated from the Albert Einstein College of Medicine with a Ph.D. in Neuroanatomy and did her postdoctoral work in Neurophysiology at the New York Medical College. She went on to receive her M.D. from La Universidad Autonoma de Ciudad Juarez, then onto a year of clinical clerkships in Phoenix, Arizona as well as a Neurology Internship at The University of New Mexico in Albuquerque.
Dr. Dorn subsequently trained in Anesthesiology at UCLA and also completed a Fellowship in Cancer Pain Management. After the conclusion of a Psychiatric Residency at the Maricopa Medical Center in Phoenix, she accepted the position of Associate Professor at the University of Texas Southwestern Medical Center in Dallas, The University of Missouri Medical Center at Columbia and The Chicago Medical School. She won numerous awards for teaching and eventually held the position of Director of International Clinical Research for a major pharmaceutical company that sent her around the world for nearly a decade searching for methods of life extension and optimal aging. After living in Scotland, Germany and South Africa, in 1987, she began her private boutique practice of Biological Psychiatry, Addiction Psychiatry and Psychoneuroendocrinology in Phoenix, Arizona.
Dr. Dorn held the following Board Certifications:
• Diplomate, General Psychiatry, American Board of Psychiatry and Neurology
• Diplomate, American Society of Addiction Medicine
As a Coach University graduate, in 1994, Dr. Dorn had focused her attention on trading, mentoring and commentary in the financial markets with emphasis on Behavioral Neurofinance, Mass Psychology, Trading Neuropsychology, Futurism and Life Extension. She is believed to have been the only M.D. Psychiatrist and Ph.D. Brain Anatomist in the world who traded actively and coached traders while writing commentary about the financial markets. She authored over 1000 publications relating to Trading and Investing Neuropsychology, Market Mass Neuro-psychology, Behavioral Neurofinance as well as Holistic Wellness and Longevity as she provided coaching/mentoring to more than 600 traders around the world. She also published two books, her first in 2008 entitled "personal Responsibility: The Power of You". She served in the position of Global Risk Strategist for Ingenieux Wealth Systems in Sydney, Australia. She became a sought after media personality, lecturer and trading coach.
Dr. Dorn most recently honored as a faculty member at The University of Arizona College of Medicine as a Clinical Assistant Professor in the Department of Medicine. Her greatest joy was helping others grow & prosper. She was a lover of music, an accomplished pianist and dancer. As a long time advocate of health and wellness, she was also a multiple medalist in the Senior Olympics. She was predeceased by her longtime husband, Thomas McNaughton D.O., M.D. and will be missed by her family, friends, students and colleagues. Donations may be made in Janice's memory to a charity of your choice.
J.T Holley writes:
She was a kind soul. She reached out to me during my divorce to ease my mind. The world lost an incredible mind and warm heart.
anonymous writes:
One of the most perceptive people I've ever met.
Jeff Watson writes:
I've been trying to contact her for months. She was a friend and helped me through a period of great difficulty. Requiescat in Pace.
Jeff Rollert writes:

She was one great lady, and a particularly impressive addition by Vic to our group. I will miss her a lot. There have been too many who have gone silent in my life over the last year. I'd like to ask the List how we replace them in our lives. There must be a practical way.
Russ Sears writes:
Like Jeff, she helped me through a hard time, all the while she was suffering from impending death of her husband. She also helped me with some writing. She was always eager to help me with any idea I thought was clever. And loved to share her plans. But last contact I could not get any response to what projects she was working on. I had been trying to contact her but was getting no answer. Like Scott, I have a pit in my stomach from the loss. She will be missed.
I have no doubt that Elon Musk will be able to raise billions of dollars for his tunnel projects. However I would provide a polite reminder and cautionary tale that the Channel Tunnel (that connects England and Europe) cost 9.5billion BPS to build–double the original estimate of 4.7 billion.
The tunnel officially opened on May 6, 1994 to much fanfare.
The company filed for bankruptcy reorganization about 12 years after it opened for traffic.
After writing off a ton of debt and wiping out the equity, the company finally achieved profitability, and ironically bought out a bunch of competing ferry companies. Nonetheless, the company stock has produced a negative total return for shareholders since it was relisted post-bankruptcy. See: Groupe Eurotunnel SE.
Similar lousy returns were had by the public investors in most American railroads, subways, canals, and other massive capital expenditure/infrastructure projects.
I know. This time is different.
What a mess.
Will Ralph's bicycle helmets be enough to protect our brokerage accounts or do we need more?
Please post any historical studies on how markets normally react to presidential impeachments through the various phases.
anonymous writes:
At worst, if it goes forward, it will be like the impeachment of WJC, and ultimately go nowhere.
But more likely is that impeachment talk fizzles out after a few weeks like everything else the WaPo wrings its collective hands over.

It's difficult to assess post hoc the effect of the WJC impeachment on the markets, since Russian debt default and LTCM failure were concurrent.
I remember that at the time, traders and CNBC talking heads were imputing the daily news of stained dresses and perfumed cigars as the reason for the sharp selloff.
The news of LTCM breakdown came late in the selloff, but now journalists and media figures talk about 1998 as if LTCM was on everyone's lips from the beginning.

So maybe something else is afoot behind the scenes. I regard this inordinate market reaction as a warning sign, similar to Feb. 27, 2007.
The founder of the modern cow flesh trade Phillip Danforth Armour was born on this day in 1832 in Stockbridge, NY. The town then was the same size that it is now - two thousand people. Armour went to California when he was twenty and came back four years later with a fortune - what would be roughly $5 million now ($8000 then). His next killing came when he got the contract to sell beef to the Union Army.
Thanks to Nelson Miles, Roosevelt's "brave peacock", Armour and Swift are still seen as villains. Miles was, what else, a Progressive Democrat; thanks largely to Miles' testimony as a non-witness, the body counts of the last Indian War have the same accuracy as John Kerry's estimates of what our Genghis Kahn hoards did in Viet-Nam.
The thing about PD Armour that intrigues me the most is his actions in the wheat market in 1897. In the spring of 1897, 28 year old Joe Leiter decided to corner the wheat market. Leiter had money as his dad was a partner of Marshall Field. The novice Leiter also had a great first trade in wheat, netting $500,000. When he started buying wheat in 1897, it was trading at $0.50 and his buying promptly ran it up to a dollar. (Armour was a seller of wheat). Since dollar wheat hadn't been seen since the Civil War, the farmers sold every grain of wheat they had in storage. Leiter was a hero to the farmers for his "Patriotism." Leiter happened to be a customer of PD Armour, as Armour owned many grain elevators with a capacity of a few million bushels of wheat. He also owned 7,000 reefer rail cars for shipping meat that could be used to ship wheat(or tie up rail lines,) if necessary. Leiter had 1.2 million bushels of wheat in Armour's elevators, which he exported during November of that year, emptying Armour's elevators.
Leiter had a few million bushels of Dec wheat (WZ8 Comdty) and intended on taking delivery which would have left Armour short because he had no wheat to deliver. Armour had his agents scour the country buying up every bushel they could get, plus he also bought wheat futures to cover his short position. Since it was late in the season, Armour had to charter tugs to keep the ice from blocking the waterways and Great Lakes clear so he could get his grain ships through. Armour also built the largest grain elevator in the world on Goose Island to store all the wheat. Interesting factoid…the elevator was built in 28 days.
Armour got all the cash wheat he needed(he had been short 9 million bushels) and was able to make delivery of 9 million bushels of Dec wheat to Leiter. Incidentally, Leiter had to pay storage to Armour of 3/4 cent per bushel per month. In the spring of 1898, the US went to war with Spain, and the wheat market rallied. However, Leiter was forced to buy May wheat (WK8 Comdty) to keep his corner going. Armour had the wheat, and stuffed another million bushels of wheat on Leiter in May. Armour was hoping that Leiter didn't have the cash but he did have the cash, barely, and was able to hang on.
In March 1898, Leiter charted 21 ships and started exporting wheat. He began lightening up on his July wheat position, selling 6.5 million bushels. While he was selling his July (WN8 Comdty) position, he was attempting to corner the May wheat. Leiter went to Pillsbury and Peavey and got them to double cross Armour and not sell him any wheat. In the meantime, with the war against Spain, wheat traded up to $1.85 and Leiter looked golden. However, Leiter never thought of other variables and left his flank exposed. The wheat crop came in early and huge, and as much as 4.5 million bushels flooded into Chicago in May alone. Armour got Peavey and Pillsbury to re-double cross Leiter and sell him the wheat to stuff down Leiter's throat. The rest of the summer saw Chicago's elevators fill up to the bursting point. All the elevators in the country quickly became full of wheat. The crop turned out to be 650+ million bushels, the war with Spain was short, and the wheat price broke hard very quickly.
Leiter was long 15 million bushels of wheat in both cash and futures. To say he was hurting would be an understatement. His father, Levi, had to come out of retirement to bail Joe out. They ended up selling the 15 million bushels using the very wily Armour as their broker. Leiter never traded wheat again, and he spent the rest of his days being a dandy while hanging around at the track.
The moral of this story is that the cash grain market will always trump the grain futures market. This is very apparent when the front month goes into delivery near the contract expiration.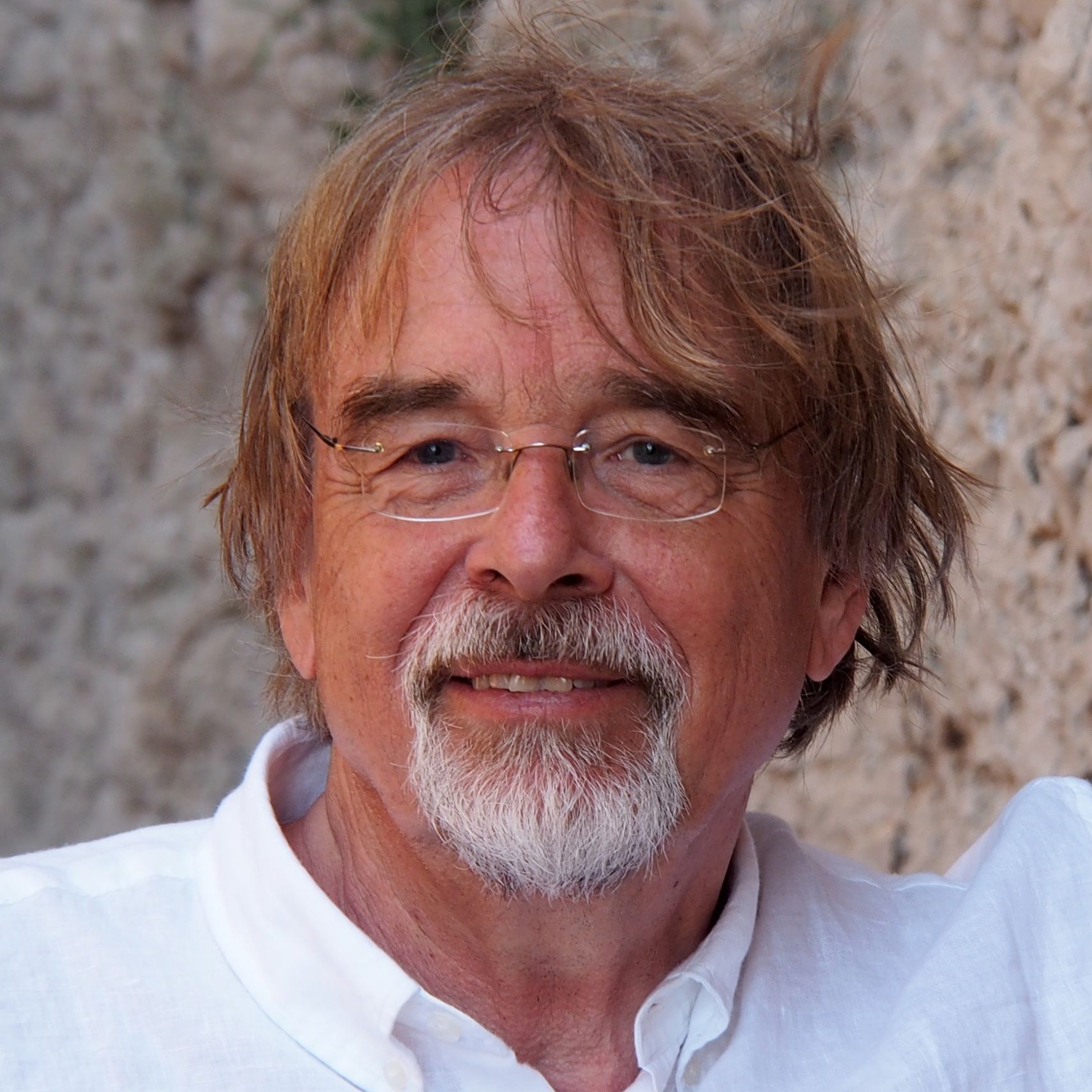 "A Demographic Theory of War: Population, power, and the 'slightly weird' ideas of Gunnar Heinsohn":
"What about America and Europe?"

"Except for its white population, which is falling, America is in demographic neutrality. Europe, however, is in demographic capitulation. Several European countries have birth rates so low they are committing demographic suicide.

Supposedly, the EU was formed because Europeans were tired of fighting. 'Five hundred years of war is enough,' they said. But there is a great lie here.

Why wasn't four hundred years of war enough? Or three hundred?

The real reason Europeans decided to stop killing each other is that they were no longer having big families. They had no more superfluous sons to burn on the battlefield. I talk about these things in my book. I will talk about them today, as well."

"Your book hasn't been published in English," I said. "A demographic theory of war and terror could be a tough sell to a military audience in London." Heinsohn smiled. "Generals understand. If you don't have children today, you won't have soldiers tomorrow.
Stefan Jovanovich writes:
Heinsohn's economic theories are interesting to me. He is another creditista - i.e. someone who thinks credit is the oxygen for the voluntary systems of exchange that human beings have spontaneously created. But I doubt he would let this amateur into the Otto Steiger club; they join nearly everyone else in the academic world in believing that central banks are somehow essential to commerce.
I don't think anyone can argue successfully with the "youth bulge" theory as it applies to street crime and mob violence; but I wonder if it explains much about how the really bad wars start. There were no "surplus" young males in France, Prussia, Austria or Britain in 1790. There were in Russia, but the Russians were brought into the several Napoleonic Wars by their allies; they were not the ones who started the official killing. There was no demographic bulges in Spain, Germany and Japan in the 1930s or in the United Kingdom, France, Austria and Germany, net of emigration, in the 1910s.
In any case, if demography starts wars, it does not pay for them. For that you need central government taxation and the central banks that can turn government credit into payment, which takes us back to Heinsohn's economics…..
When one is trading from the screen, generally speaking, one will not know who is on the other side of the trade. The anonymity the screen brings reduces many inputs but increases privacy. When trading in the pit, one gets to see who fills the other side of the trade. One gets to see what all the other brokers and locals are doing, their actions, and their intentions. There are many visual and auditory clues one could pick up in the pit that just aren't available from the screen. With the screen, one gets anonymity, with the pit, one gets transparency.
anonymous writes:
I have always found former pit traders' laments about electronic trading as self-interested, sometimes intellectually dishonest, and often hopelessly romantically nostalgic. The market's purpose, I thought, was to bring together the maximum number of buyers and sellers so they could freely engage with each other and find a continuous clearing price — not to have a pit local or broker skim a penny off of every one of my orders, charge steep commissions, and front run me, all while sounding sanctimonious about providing liquidity. . Admittedly, the smartest pit traders have now reincarnated as high frequency trading savants, who now skim a 1/1000th of a penny off of each of my orders, but most evidence suggests that overall transaction costs are lower than ever before.
Similarly, one can compare Social Networks/Facebook/Twitter/Instagram to the old local social club, barber shop, church, town hall setting. As Jeff notes, one provides anonymity and the other gets transparency. But in contrast to Markets, I believe there is a bigger difference between Friends on the screen and Friends in real life. And here, just like the pit trader, I may be a dinosaur, but I prefer friends in Real Life.
"Fredo, you're my older brother and I love you, but don't ever take sides with anyone against the family again. Ever." -The Godfather
The Chief felt he was the only honest man in Washington. Wes McCain, the second best trader I have ever known next to Paul Derosa, always said that he had all his interns read The Godfather.
I think it might be a good supplement to Horse Trading, Turf Handicaping, and Frank Tarbeaux.
Henrik Cronqvist, Stephan Siegel, and Frank Yu:
Value versus Growth Investing: Why Do Different Investors Have Different Styles? [39 page PDF ]
Abstract:
We find that several factors explain an individual investor's style, i.e., the value versus growth orientation of the investor's stock portfolio. First, we find that an investor's style has a biological basis and is partially ingrained in an investor from birth. Second, we show that an investor's hedging demands as well as behavioral biases explain investment style. Finally, an investor's style is explained by life course theory in that experiences, both earlier and later in life, are related to investment style. Investors with adverse macroeconomic experiences (e.g., growing up during the Great Depression or entering the labor market during an economic recession) or who grow up in a lower socioeconomic status rearing environment have a stronger value orientation several decades later. Our research contributes a new perspective to the long-standing value and growth debate in finance.
Victor Niederhoffer writes:
This is why we count and do prospective studies versus retrospective ones, and why we eschew paying attention to work form Yale professors who average earnings over 10 years , many of which were not reported until 6months after the earnings were or were not reported, with retrospectively selected stocks.
Rocky Humbert writes:
Vic, by your own admission and work, if the stock market declines massively this year, it increases the probability of a greater-than-average return in the future. And by extension, if the stock market rises massively this year, it increases the probability of a lower-than-average return in the future. Why don't you extend this logic (which is both fundamental and technical) to relative valuation (i.e. growth v value) ; perhaps because your data set is lacking one of the largest multi-year examples (1997-1999) in history?
Also please explain how dismissing Shiller (or anyone else's argument) strengthens your argument– which I interpret as being a blanket belief that "fast growing company stocks outperform inexpensive slow-growing stocks." I can provide you with many strong academic studies that have documented this phenomenon in the past; as well as good studies that demonstrate momentum, small cap and other factors have historically outperformed. I would also like to better understand how you define a prospective study — since I find your use of the term confusing in this context.
As others have noted, this list has increasingly veered from its mission and why I joined; because the direction and rigor comes from the top, this exchange provides an excellent opportunity to reorient — unless you'd rather demur and focus on longevity.
Since when is this kind of thing true for future returns in a random walk?
Russ Sears writes:
The stock market declines massively this year, it increases the probability of a greater-than-average return in the future. And by extension, if the stock market rises massively this year, it increases the probability of a lower-than-average return in the future. There is a subtlety in this statement that I think should be pointed out, it is time. A quick hard drop increases the chance of a quick high return next year. However it is not symmetric with time. A large risk may lower expected return over a much longer period of time. Knowledge and therefore increases in wealth stays with us longer than destruction.
Victor Niederhoffer writes:
Since when is this kind of thing true for future returns in a random walk?
I'm going out in a limb. I believe we are near an inflection point. I have no idea when it'll be over. It seems clear to me that it'll soon be President Pence.
I would consider a possible change when analyzing the markets. I would also consider the possibility that no tax package will get through until Trump issues are stabilized. If current challenges continue, next October could be interesting.
Discount all of this by your assessment of probabilities.
George Devaux writes:
James Carville - "It's the economy."
In the 8 years since the last recession, government expenditures (federal, state and local) have declined from 41% of the economy to 34%. The percentage decline resulted from flat expenditures by those entities combined with growth in other elements of the economy. Therefore, non-governmental entities have driven all of the growth in that 8 year period - a compounding rate of 3.6% per annum. That rate is pretty good for such a long period.
If government entities continue with flat, expenditures, the percentage share will continue to decline. That is fine with me. However, I expect that at least some governmental entities will increase expenditures. The result will be that the growth rate improves, and the growth moves toward the underlying rate of 3.6% in the non-governmental sector.
It appears that revenue flowing into the US Treasury is increasing. Inflows for state and other government entities may parallel the increase of flows into the US Treasury. If that is the case, the governments probably will increase their expenditures. The result will be a growth rate of about 3.6 % even without tax reform. Small adjustments in regulations will help.
Growth above 3% is an immunization vaccine for POTUS. Minus 2% - fake a heart attack and resign.
See the introductory quote.
Event History and Survival Analysis by Paul Allison is an excellent book showing you how to deal with events like death, unemployment, recidivism from jail, and stock market declines. It covers regression methods and multiple outcomes. Highly accessible.
We are moving past the inflection point, these stories if true will influence markets:

"The White House looks surrounded on the outside and divided on the inside…

"It's total chaos," said one former transition team official with close ties to the administration..
In the last 55 years of trading every time I have heard that same diatribe it has been a buying opportunity.
Recent performance of growth over value double 11% versus 5% last 10 years [source ] but why? Previously not the case russell growth versus russell value.
anonymous writes:
I think it's due to where you pick the starting point out and perhaps the monetary environment. You may reach a different conclusion if you start the study in 1998 through 2008.
From the cheap seats, I never really understood the "growth vs value" debate because it always seems to hinge on how you define "growth", how you define "value", and what your endpoints are. So basically it depends on what your initial bias is, which makes it rather a religious debate.
People will point to, for instance, AMZN and say "growth always leads the market", but that view benefits greatly from hindsight. Now the hot discussion is the positive skew of the distribution of returns, but of course that distribution has a positive skew, because it has a hard left edge. For small stocks I always called it "the ICBM effect"- you need to buy a bunch of them so you have a good chance of getting one of the 50-baggers.
I bought AAPL at $10 as a "value" stock and people I knew said I was an idiot. I sold it at $14 and thought I was a genius. If only I had had the foresight to know that I should hold it for another 16 years. Buffet is unloading Big Blue because while there appears to be plenty of value, there's not much growth. But he bought AAPL in the 90s in Q1 2016. Win some, lose some.
On healthcare, the actual voters wanted "repeal and replace", not just repeal. Even among Republican likely voters, few than half wanted complete repeal and "start all over", according to the most recent Rasmussen; and an equal number wanted "Go through the law piece by piece to improve it". Overall, the poll results were 54% for "piece by piece", 31% for "repeal only" and only 13% for "leave as is". Trump's judgment was proven correct: the voters wanted him to do something that was an attempt to "fix" healthcare.
On the question of churches in politics, his instincts were also in line with the likely voters. On the question of whether churches should be banned from politics, their response was 39% Yes, 52% No and 9% undecided.
Among Republicans Trump has a nearly 5-to-1 Approval ratio: 51% Strongly Approve, 11% Strongly Disapprove. The Never Trump "conservatives" are even outvoted by the 15% of Democrats who Strongly Approve. The overall result is 47% Approve, 53% Disapprove which are exactly 3% below what the beloved outgoing President's numbers were at this time last year. For a Republican President, who never ever wins the net approval of the "non-partisan" middle until they are faced with an actual ballot, those are more than satisfactory numbers.
While we're at it, will someone please show the Yale professors how to handle negative earnings so that they don't exclude these along with so many others that are not in the standard and poor earnings series he used, which used to report yearly six months after the end of the year if at all, perhaps using earnings price ratio?
Phil McDonnell writes:
The use of PE ratios is very bad for historical studies. A simple mental experiment shows why. Suppose earnings result in a current PE ratio of 10. If earnings are cut in half the new PE will be 20, other things being equal. As earnings get smaller and smaller the PE rises to near infinity as earnngs approach zero.
When earnings go negative the PE suddenly flips from very large positive to negative. This causes the variable to go from a monotonic increasing to sudden negative.
At this point the Yale professor had no choice but to eliminate any such data.Using a slightly different variable of E/P eliminates the problem. It becomes a monotonic variable. When the E factor gets very small the E/P variable goes smaller. When E starts to go negative the variable goes negative with no loss of continuity. With this change there is no need to throw data out.
For me the most important gain was realizing that the game was in the final stages, which creates a kind of freedom. You don't have the energy, drive, T, etc, to take on big risks, and in any case you shouldn't because it would be hard or impossible to start over after losing.
(Some will argue 50 is too young for these kind of thoughts, but as mom noted I am an old soul)
I once read an article by a retired journalist about his high school reunions. His best one was the 60th, because by then the ones left were done bragging about their big plans.
anonymous writes:
A bit off-topic but the good Dr and the post-50 risk aversion he alludes to I am finding is quite pervasive. Nearly everyone I speak to wants to "just do this until I retire," or "I just want to work this job until I hit 62 and can begin getting SS, and live on the cheap from there."
And this is a very large swath of the population. In fact the big boomer bubble– who is either retired or mid-fifties now, is, by virtue of their age, nearly entirely risk-averse. The younger generation, perhaps even more so having never witnessed anything like an 80s or 90s style economy.
Just food for thought folks, being that I am not in the prognostications of anything business.
anonymous writes:
I turned 60 last July. Although 3X/year sports injuries keep taking their toll on my old body, I keep chugging along. Yoga and open water swimming has been a lifesaver, probably cutting my recovery time in half. We're thinking of getting a house in Nicaragua, where the uncrowded waves have a siren song of their own. I have a bucket list in mind, and it is entirely surfing related. Before I die, hopefully I will get to surf Tavarua Fiji again, big Sunset Beach HI again, Todos Santos MX, Puerto Escondido Mx(Mexican Pipeline), Bali again, the Mentawais, Hossegor France, J-Bay, Bells Beach, and Durban. Plans and reservations are already in place for Tavarua next fall. Incidentally, Tavarua is the third best wave on the planet IMHO, and is the place that brought me closest to meet Charon. Bounced off a reef and picked up a staph infection that put me in intensive care for 10 days with my organs shutting down. Was it worth it? Hell yes. One thing that gives me thanks….my wife has bought into my bucket list and both of our lists easily mesh.
Stefanie Harvey writes:
I am 48 so not quite there. This is the happiest I have been in my life:
- respected in my career
- happy in home life
- tolerance for bad behavior/drama has gone to zero
- integrating life experiences to solidify my values and philosophical base
- comfortable in my own skin
The one change– the body changes. Loss of estrogen means cardio vascular risk increases but it's easier to put on muscle. For men it can be loss of testosterone. My father got supplementary shots beginning in his late 60s until his death at 85. Exercise and healthy eating is a must for energy.
Make diet and exercise a priority. Create a system to eliminate distraction and decision fatigue.
I believe "African Studies", "Feminist Studies", "Women's Studies", "Social Justice", "HR Specialist", and so many more add no real value to the world.
Gordon Haave writes:
I disagree, those majors also open up the opportunity for community activist type jobs.
Thurston Trowell writes:
So people should get finance degrees and MBAs and go on to become analysts and managers of mutual funds and hedge funds, at least 88% of whom lag the markets each year? In your view, exactly how are these wealth sapping leaches on society diverting peoples' hard earned retirement savings into their own bank accounts and grand villas in Connecticut adding more "real value to the world" than the African Studies major?
Scott Brooks reacts:
As usual, you jump to conclusions and ascribe things to what I wrote that I never said or wrote. It makes me think that you're part of the media who spins what people say to fit their desired narrative in order to demean those that dare disagree with their "exulted enligntened world view". Heck, it's almost like you're trying to smear and label me as some unworthy disgusting deplorable person.
But, that might only be the case if you were one of those media people. But let's look at what you said and deconstruct your faulty logic about the evils of financial people and what value to they bring to the world?
Let's keep this simple: How many people do these financial employ? How much revenue do they create from their efforts of adding value to the lives of other people (whether you see it as value or not…..people voluntarily see it as value since they keep giving these financial people money…..at least I know my clients do).
Personally, I employ 8 full time and 2 part time people, all of whom make very good money. I'd say that's pretty good. There are ~ 50 financial advisors flying to STL in a few weeks (on their dime) to spend 2 days with me so I can train them to better serve their clients, grow their businesses. Further, I will be training them on how to grow their staffing (creating jobs) as their businesses grow. I'd say that puts me and my services in demand. I'm the guy who donates money to the people who think they are doing good deeds in their communities. I'm the guy who pays the taxes that are forcibly taken from me to "support" (read: create dependence on the government) those poor souls (read: people who will vote for the polilticians who take my money and give it to the poor souls). I'd say that makes me pretty valuable.
As a matter of fact, I'd go so far as to say that the "do-gooders" of the world and they people they serve are completely dependent on the value I create so that I can donate to their services (or allow their "revered government" to take from me and give to them. Those with a degree in African Studies can do…….what? Hope to get a job teaching African Studies at some university to students who can do…..what? Hope to get a job at some university teaching African Studies to students who can do…..what? And so on, and so on, and so on, etc. etc. etc. And feel free to replace "African Studies" with "Feminist studies" or any other such worthless degree. If we eliminated African/Feminist/ studies (and other BS degrees) from universities….what would happen? I submit that the world would immediately become a better place. Of course, you may not like it because it would be a world filled with more financial people and businessmen and media types. Heck, we might even see the rise of the worst possible mashup of those things…….a media businessman who specializes in writing financial articles.
Rocky Humbert responds:
Shame on you. It saddens me that you, as a devoutly religious man, views the world in such mundane economic terms, rather than philosophical or existential terms. I suspect that hostile prose distorts your true beliefs. One's college major and one's college means little. Whether it's in physic or math or basket weaving. It's a piece of paper. And only to academics and archaically minded professionals does it have any meaning at all. How one conducts one's life means everything. Defining one's worth to the world is for only oneself and one's creator to measure.
Russ Sears writes:
Having a degree gives others insight into what the graduate values.
I will agree that the usefulness of what you learn can only be determined by the person using that knowledge.
Few art majors would have the ability or desire even if they had the skills to commit the time to engineering a bridge for example, but the engineering team may need an art major to enhance a bridge's aesthetics.
Alan Millhone plays a game of checkers like I used to play with friends in squash. I always hit it so that my opponent could just run a little hard and get to the ball, never extending them to much or making them get out of breath. Alan when we played would ask me where I wanted him to move, then he would move there. He would refrain from taking an easy win to extend the game just enough to maintain the tension and enjoyment. It was very nice.
"More Robots, Fewer Jobs: Yes, robots are replacing workers. But there's more to the story"
But this is nothing new. I believe it is nonsense refusing technological advancements as a fundamental component of our society and welfare. Labor will adjust moving to higher added value activities and education will gradually improve to allow this process. It has happened for centuries.
There is a new paper: Most financial anomalies are statistically insignificant. 447 anomalies, plus whatever anybody tried that didn't work and got thrown in the trash. Multiple comparisons, regime changes…the physicists are laughing at us.
It was a pleasure meeting so many new spec listers yesterday in Connecticut. For those of you who enjoy the work of Elroy Dimson, here is a link to his new book Financial Market History: Reflections on the Past for Investors Today.
If any of you are in London on the 18th of this month you can sign up to attend his book launch reception at this link.
This poem captures the zeitgeist of that wonderful time, late 70's, when I was coming up. Those guys that did all the coke and drugs didn't last. The athletes and the people with the bookie mentality were the ones who lasted.
Hamming the Bone by Michael Lee Rubenstein:
hand slaps shoulder knee rhythmically that's called hamming the bone sitting on a street curb singing making up lyrics i got a transitor sister loves cossack named jake he rides Cherokee chopper all he's ever known is hate he's going down underground where a man can be a man wrestle alligators live off the land ebb flow i don't know racing chasing hair-pin turning at 150 miles per hour downshift to 3rd spread the word sweet sour naked flower touching skin deep within defies all sin with a grin speed speed speed all i need i'm getting off coming on you tawny scrawny bow-legged pigeon-toed knock-kneed Don Juan Ponce de Leon Aly Khan all wrapped up into one going to have f***ing good time good time tonight i feel like an orphan mom and dad seem so far away tonight i feel like an orphan you make me feel this way hand slaps shoulder knee rhythmically hand bone hand bone

Odyseuss drifts job to job construction worker office assistant waiter whatever he does not understand how road to recognition works continues showing portfolio to art dealers but they react indifferently he does not know how to attain notice in art world begins to suspect there is no god watching over souls instead he imagines infinite force juggling light darkness creation destruction love hate Mom and Dad insist he can earn respectable income if only he will learn commodity futures like cousin Chris Mom says you can work down at the exchange and paint on the side a part of Odysseus wants desperately to please his parents he considers perhaps Mom is right for the time being maybe build up nest egg it seems like sensible plan he wonders why Dad and Mom never speak about money how to save manage they treat the subject as forbidden topic Odysseus has no idea what Dad or Mom earn or investment strategies Odysseus is about to make serious mistake the decision to get job working at commodity exchange needs deeper examination why is he giving in to his parents what attracts him to commodities trading is it Chris's achievement and the money? does Odysseus honestly see himself as a winning trader or does it simply look like big party with lots of rich men pretty young girls is that where he wants to be why is he giving up on his dream to be a great artist does it seem too impossible to reach who makes him think that? is he going to give up on his true self? he halfheartedly follows his parent's advice begins working as runner at Chicago Mercantile Exchange several friends including Calexpress disloyalty for entering straight world commodity markets are not exactly straight in 1978 clearing firms pay adequately hours are 8 AM to 2 PM over course of next 6 months Odysseus runs orders out to various trading pits cousin Chris rarely acknowledges Odysseus maybe Chris feels need to protect his image of success perhaps in front of his business associates Chris is embarrassed by Odysseus's menial rank and goof-off attitude maybe Chris senses what a terrible mistake Odysseus has made

Chicago suffers harsh winter in February Roman Polanski skips bail in California flees to France in April President Carter postpones production of neutron bomb which kills people with radiation leaving buildings intact in October Yankees win World Series defeating Dodgers in November Jim Jones leads mass-murder suicide killing 918 people in Jonestown Guyana in December in San Francisco Dianne Feinstein succeeds murdered Mayor George Moscone in Chicago John Wayne Gacy is arrested

darkness descends upon Odysseus his heart is not into commodity business more accurately he hates it he loathes battleship gray color of greed envy he resents prevailing overcast of misogyny he meets many pretty girls yet most of them are only interested in catching a trader it is rumored numerous high rolling traders hire young girls for sole purpose of morning bl**jobs remainder of day girls are free to mingle run trivial errands commodity traders typically trash females it is primitive hierarchy Odysseus bounces from one clearing firm to another then moves to Chicago Options Exchange then Chicago Board of Trade on foyer wall just outside trading floor hangs bronze plaque commemorating all men who served in World War 2 Uncle Karl's name is on that plaque Daddy Pat bought his son seat hoping to set him up after war Uncle Karl's new wife wanted to break away from Chicago persuaded him to sell seat move to California Uncle Karl bought car wash outside Los Angeles with Daddy Pat's support Mom and Dad encourage assure Odysseus commodities business is right choice they promise to buy him full seat on exchange if he continues to learn markets they feel certain he can be saved from his artistic notions the markets are soaring in profits cousin Chris is riding waves a number of Chris's friends are sons of parents who belong to same clubs dine at same restaurants as Mom and Dad Odysseus is not alpha-male like Chris Odysseus is a dreamer painter poet writer explorer experimenter unlike Chris who has connections Odysseus starts out as runner then gets job holding deck for yuppie brokers in Treasury Dollar trading pit Odysseus holds buy orders between index and middle fingers sell orders in last 2 fingers arranged by time stamp price size in other hand holds nervous pencil he stands step below boss in circular pit in room size of football field full of raised pits everything is traded cattle hogs pork bellies all currencies gold numbers flash change instantaneously in columns on three high walls fourth wall is glass with seats behind for spectators thousands of people rush around delivering orders on telephones flashing hand signals shouting offers quantities every moment every day calls come in frantically from all around world space is organized chaos sometimes not so organized fortunes switch hands in nano-seconds it is global fiscal battleground rallies to up side or breaks to down side send room into hollering pushing shoving hysteria central banks financial institutions kingpin mobsters with political clout daring entrepreneurs old thieves suburban rich kids beautiful people pretty young females abound big guns suck in same air stand next to low-ranking runners everyone flirts sweats sneezes knows inside they are each expendable Odysseus is spellbound by sheer force magnitude he feels immaterial only grip is his success with girls it is not conscious talent he grins girls grin back Chris's trader friends recognize Odysseus's ability they push him to introduce girls to them it is way for Odysseus to level playing field he has no money or high opinion of himself he simply knows how to hook up with girls

1979 January Steelers defeat Cowboys at Super Bowl Brenda Ann Spencer kills 2 faculty wounds 8 students responds to incident "i don't like Mondays" in February Khomeini seizes power in Iran in March Voyager space-probe photographs Jupiter's rings a nuclear power plant accident occurs at Three Mile Island Pennsylvania in May Margaret Thatcher is elected Prime Minister in England in Chicago American Airlines flight 191 crashes killing 273 people in November Iran hostage crisis begins 90 hostages 53 of whom are American in December Soviet Union invades Afghanistan 1980 in November Ronald Reagan defeats Jimmy Carter one year since Iran hostage crisis began

he meets good-looking younger girl named Monica on subway heading home from work he has seen her running orders on trading floor she is tall slender with long dark brown hair in ponytail pointed nose wide mouth innocent face she confides her estranged father is famous Chicago mobster Odysseus recognizes his name they talk about how much they dislike markets arrant disparity of wealth between traders and themselves Odysseus says i hate feeling of being so disposable worthless Monica replies yeah me too he tells her if i was a girl i'd prostitute myself to several handsome generous traders Monica acknowledges that's an interesting idea but who? how? which traders? do you know? he answers yeah i know exactly who and how Monica says if you're serious i'm in i have a girlfriend named Larissa who might also be interested i'll call Larissa tonight following day Monica approaches Odysseus at work agrees to meet at his place after markets close that afternoon Monica and Larissa show up eager to learn more about Odysseus's scheme Larissa is petite built like a gymnast giggly light brown hair younger than Monica he lays it all out for them cousin Chris and his buddies the money cocaine both girls are quite lovely he suggests they rehearse with him he will coach them on situations settings techniques girls consent for 4 weeks every afternoon they meet at Odysseus's place get naked play out different scenarios he shows girls how to pose demure at first then display themselves skillfully fingers delicately pulling open labia spreading wide apart buns working hidden muscles he directs each to take up numerous positions tasks techniques then has them switch places he teaches them timing starting slow gradually building up rhythms stirring into passionate frenzy having two mouths four hands creates novel sets of possibilities one girl attends his front while other excites his rear he positions them side-by-side so he can penetrate any of all four holes he stacks them one on top of the other many other variations after reaching orgasm several times making sure to reciprocally satisfy their eager needs Odysseus dismisses girls until following day finally after month of practice Monica and Larissa feel confident proficient primed Odysseus arranges for girls to meet with 2 traders through Chris most traders have nicknames Twist who is hosting event is notoriously wild insatiable on opening night Odysseus behaves like concerned father Larissa and Monica each bring several dresses and pairs of shoes Odysseus helps them choose suggests Monica ease up on make-up he styles Larissa's hair instructs Monica to call him when they arrive again when they leave he requests they return directly to his place Monica wears hair pulled back in French twist pearl earrings sleek little black dress black stiletto heels she stands several inches above Odysseus Larissa wears braided pigtails pink low-scooped leotard brown plaid wool kilt just above knees brown suede cowboy boots he kisses each on lips then pats their butts warns them to be careful mindful Monica winks Larissa giggles more than an hour passes as Odysseus sits wondering why he has not heard from girls suddenly reality hits he does not want to be commodities trader and certainly not a pimp this is not how he wants to be known or remembered Odysseus wants to be a painter and writer Monica and Larissa are good sweet girls whom he has misguided he calls Twist's place Twist answers Odysseus asks to speak with Monica when she comes to phone he questions are you all right Monica answers yes we're fine we're having a fantastic time why are you calling what's wrong he explains you were suppose to call me when you arrived i began to worry i think maybe this whole arrangement is a bad idea i want you to call it off and come back home i don't want either of you to become prostitutes i love you both and don't want to be associated with dishonoring you Monica says it's a little late to call it off but we'll see you when we're done kissy kiss bye Odys another hour passes then another he frets wondering what they are doing after 4 hours as he is about to call Twist's house again doorbell rings Monica and Larissa both giggling beaming Odysseus can spot they have a coke buzz Monica announces you should be proud of us Odys we got each of them off 2 times we left them stone-numb and tapped out the girls open their purses each slaps 5 hundred dollar bills unto table Monica says this is your cut Odys we both got a thousand for ourselves he replies i can't touch that money we need to sit down and talk Monica demands no talking Odys take off your clothes he insists i'm serious Monica i'm never going to send you out again Larissa claims there's no turning back for me i had too much fun Monica pleads come on Odys we'll be good we promise now take off your clothes Twist and his buddy never attended to our needs i'm horny as hell Larissa where's that little bottle of dust Twisty handed you

Chicago Monday night December 8 1980 Cal and Odysseus sit at North End they're on 4th round feeling buzz the place is lively adorned with holiday decorations Cal says you've changed Odysseus questions what do you mean? how? Cal says the commodity markets and your cousin and his friends they've changed you when was the last time you painted Odys? are you dealing coke Odysseus looks Cal in the eyes answers they're so goddamn rich Cal you can't believe it one drives a black Corvette Stingray another a goddamn Delorean anything they want they buy girls cars clothes condos boats yeah i'm dealing coke to Chris's friends it's my only leverage remember the Columbian dude Armando we met at tittie bar? i score from him and keep it clean Chris's buddies pay up for the quality i don't remember my last painting maybe the black painting i never finished after breaking up with Reiko Lee a girl falls off bar stool crashing to floor at other end of bar Cal says Odys, you better play it careful you're messing with the devil got any blow on you suddenly bar grows quiet someone turns up TV volume they watch overhead as news anchorman speaks slow solemn camera pans splattered puddle of blood pieces of broken glass on steps to Dakota Building Cal looks to Odysseus John Lennon has been murdered Cal waits for Odysseus to say something tear rolls down cheek Cal glances away stares down at floor they drink in silence
Victor Niederhoffer shares:
Another great read about the days of the pits.
TL;DR: Tax-Cuts actually raise tax revenue, especially from wealthy. Increase in debt during Reagan years was Congress outspending the increased revenue, not the effects of the tax-cuts.. Happy to see Sowell writing again.
One of the painful realities of our times is how long a political lie can survive, even after having been disproved years ago, or even generations ago.

A classic example is the phrase "tax cuts for the rich," which is loudly proclaimed by opponents, whenever there is a proposal to reduce tax rates. The current proposal to reduce federal tax rates has revived this phrase, which was disproved by facts, as far back as the 1920s — and by now should be called "tax lies for the gullible."

How is the claim of "tax cuts for the rich" false? Let me count the ways. More important, you can easily check out the facts for yourself with a simple visit to your local public library or, for those more computer-minded, on the internet.

One of the key arguments of those who oppose what they call "tax cuts for the rich" is that the Reagan administration tax cuts led to huge federal government deficits, contrary to "supply side economics" which said that lower tax rates would lead to higher tax revenues.

This reduces the whole issue to a question about facts — and the hard facts are available in many places, including a local public library or on the internet.

The hardest of these hard facts is that the revenues collected from federal income taxes during every year of the Reagan administration were higher than the revenues collected from federal income taxes during any year of any previous administration.

How can that be? Because tax rates and tax revenues are two different things. Tax rates and tax revenues can move in either the same direction or in opposite directions, depending on how the economy responds.

But why should you take my word for it that federal income tax revenues were higher than before during the Reagan administration? Check it out.

Official statistics are available in many places. The easiest way to find those statistics is to go look at a copy of the annual "Economic Report of the President." It doesn't have to be the latest Report under President Trump. It can be a Report from any administration, from the Obama administration all the way back to the administration of the elder George Bush.

Each annual "Economic Report of the President" has the history of federal revenues and expenditures, going back for decades. And that is just one of the places where you can get this data. The truth is readily available, if you want it. But, if you are satisfied with political rhetoric, so be it.

Before we turn to the question of "the rich," let's first understand the implications of higher income tax revenues after income tax rates were cut during the Reagan administration.

That should have put an end to the talk about how lower tax rates reduce government revenues and therefore tax cuts need to be "paid for" or else there will be rising deficits. There were in fact rising deficits in the 1980s, but that was due to spending that outran even the rising tax revenues.

Congress does the spending, and there is no amount of money that Congress cannot outspend.

As for "the rich," higher-income taxpayers paid more — repeat, more tax revenues into the federal treasury under the lower tax rates than they had under the previous higher tax rates. That happened not only during the Reagan administration, but also during the Coolidge administration and the Kennedy administration before Reagan, and under the G.W. Bush administration after Reagan. All these administrations cut tax rates and received higher tax revenues than before.

More than that, "the rich" not only paid higher total tax revenues after the so-called "tax cuts for the rich," they also paid a higher percentage of all tax revenues afterwards. Data on this can be found in a number of places, including documented sources listed in my monograph titled "'Trickle Down' Theory and 'Tax Cuts for the Rich.'"

As a source more congenial to some, a front-page story in The New York Times on July 9, 2006 — during the Bush 43 administration — reported, "An unexpectedly steep rise in tax revenues from corporations and the wealthy is driving down the projected budget deficit this year." Expectations, of course, are in the eye of the beholder.
Stefan Jovanovich writes:
With defenders like Sowell, "conservatives" don't need any enemies. Tax cuts don't raise revenue; how could they? You said that taxes would be "cut". As Sowell finally explains, marginal Tax RATE cuts raise revenues. But they do so precisely because they do reward the rich. That reward is the price to be paid for making the country as a whole richer. To pretend otherwise is fatuous.
Lower marginal tax rates work because they reduce the incentives to cheat, especially for the rich. If you are only saving a few hundred basis points, there is very little reason to pay your lawyers to do tax planning - er, legally cheat. If the return is thousands (basis points on your overall tax rate, not dollars), that is an entirely different matter. The Reagan tax rate cuts were effective precisely because they gave the rich a reprieve from the Ford-Carter reforms that had made the high marginal tax rates real. Throughout the 50s and 60s the Roosevelt era Rates of Socialist confiscation had been invisibly moderated by the wonderful loophole of non-recourse financing tat the 54 Act allowed. But that all changed with the 1976 Act - which brought Venezuelan tax rates to bear and persuaded some of the rich to ignore their lawyers and play audit roulette by committing outright fraud.
There have to be trading lessons, but even if there weren't any, it's still worth the read:
"Everything You Need to Know About Ejecting From a Fighter Jet: You want to avoid it at all costs. But when there is no other option, it can save your life"
I was honored to be invited to speak at the Junto, and I'm sorry if my involvement had anything to do with ending that talk series. While some in the audience voiced complaints about the moderation, I was happy to defer to Victor and let him run his talk event however he liked.
I'm pretty sure I didn't give a time estimate of 40 years; I said that the previous history of growth suggested that there might be another transition to a faster growth rate in roughly a century or so. Yes it would be nice to have more data, but we'd be fools not to look at the data we have.
The forecasts in my book The Age of EM: Work, Life and Love When Robots Rule the Earth don't really depend much on when that transition would happen, they mainly depend on our society not changing too much between now and then. My book is also unusually clear, compared to other futurists book, to explicitly express my uncertainty, as overall probability estimates early in the book, and as qualifiers to particular forecasts throughout.
I certainly wouldn't claim that AI would be substantially more able to predict its future than can humans today. They might be able to do this if the world was held constant while their intelligence increased, but smarter AI will make for a more complex and harder to predict world.
2 posts for plenty of thought:
"Did you know? The world population growth rate peaked in 1962/63 and has been falling to about half of what it was since then"
Children per woman, total fertility rate, 1955-2015
Ralph Vince writes:
Who knows how quickly we will populate Mars, and how soon this will begin (these things come on much faster than anyone anticipates).
I posit tht population growth is a function of bounds, both economically, culturally, and geographically. When the hottest thing for a young person to do is move to Mars and start life, given the seemingly boundless opportunity out there, the picture will change dramatically, and these ancestors of ours will look back at such articles with amazement and a touch of humor.
I would not be surprised if the Puerto Rico default has a much larger impact on the markets globally than current expectations. I would also draw a number of similarities between PR and European peripherals, the primary being the inability to generate growth through weakening the currency. PR is in the straightjacket of the US$ and European peripherals wear the straitjacket of the Euro. Argentina does have some parallels, but they also had a currency peg which they allowed to float.
On June 30, 1865, the U.S. Treasury's net borrowings outstanding were $2.7B. This was 41 times what they had been on June 30, 1860 when the net debt outstanding was $.07B. The peak was not reached until the last bills from the war came in; that came in the August 31, 1865 statement, whose closing balance showed a total debt less cash on hand of $2.8B. (As Grant notes, in the last page of his memoir, after Appomattox he set out to hurry back to Washington to cancel the outstanding war orders.) The June 30, 1865 statement showed these balances:
1. Irredeemable Currency (U.S. Notes aka Greenbacks) - $.46B - Unlike the Gold Notes that were exchangeable on demand for specie, the Greenbacks had no accrued interest costs.
2. Immediate Demand Notes (aka "Gold Notes") $.58B - Average Annual Interest Cost: 5.3%
3. Debt Due in 5 Years or Less (Avg. Maturity 3 Years) $.70B - Average Annual Interest Cost: 7.2%
4. Debt Due in More Than 5 Years (Average Maturity 21 Years) $.95B - Average Annual Interest Cost: 5.8%
Even as they looked at the massive accumulation of debt and wondered how it could be managed, the Republican majority in Congress discovered that they were being snookered. The Constitutional Amendment to abolish slavery had been adopted by Congress in 1864; but it had yet to be ratified by the states. With 36 states in the country and only 22 states in "the Union", at least 5 of the secessionist states would have to be formally readmitted to the Union and vote to ratify the Amendment. In what would now be called "bi-partisanship", the Democrat President Johnson and the Senate leadership under Seward worked the cajole the former rebels into accepting the 13th Amendment. They succeeded; with the admissions and ratifications of Tennessee (April 7, 1865), Arkansas (April 14th), South Carolina (November 13th), Alabama (December 2nd), North Carolina (December 4th), and Georgia (December 6th), the vote of the required 3/4ths of the states was secured and the 13th Amendment became part of the United States Constitution.
The Republicans had not fully anticipated was how eager the Southern Democrats and President Johnson would be to adopt the the abolition of slavery. What they finally realized - as Florida negotiated for its readmission - was that the 13th Amendment was about votes in the House of Representatives and the Electoral College, not about abolition at all. With the final ratification of the 13th Amendment, the Democrat Southern states had gained an increase in representation; they now had more seats in the House and votes in the Electoral College than they had possessed when they seceded from the Union. Apportionment of these states' rights under the 1860 Census had been on the count of ALL all adult white and 6/10ths of all mulattos and blacks. (White, Mulatto and Black were the 3 racial categories in the 1860 Census form.) Now the Southern states had the added House seats and Electoral College votes that came with the full enfranchisement of adult Black and Mulatto males. The coming elections offered the Southern Democrats and their Copperheads allies a very good chance of taking immediate control of the House in 1866 and regaining the Senate and the Presidency as well in 1868. After all, many in the North were as opposed to emancipation as the Southerners had been; New Jersey, for example, had not even ratified the 13th Amendment.
If the Democrats regained control, they would do one or the other of two things regarding Federal finance:
1. The Congress would repudiate ALL the debts incurred during the Civil War; OR
2. The Congress would do an Alexander Hamilton and assume ALL the debts incurred during the Civil War, including the $1.4B owed by Confederate States of America and their secessionist member states
For the Republicans and the Democrats, the Congressional election campaign of 1866 became a referendum on the question of the debt. The Republicans argued that the price paid for the war, in blood and in treasure, would all have been for nothing. They hammered away at the theme that, if the Democrats were elected, the Federal government would repudiate the loans issued during the Civil War as being Unconstitutional; and the bondholders would get nothing. The Democrats did their best to dress up default as part of a populist cause: the poor striking back at the rich. To an amazing extent modern historians like Foner and Richardson actually buy that argument. They think "the people" should have been for at least partial repudiation i.e. paying off the debt not in gold but in greenbacks - non-redeemable, non-interest-bearing paper.
The voting public did not. To understand why is to begin to understand how different the world of the 19th century really was. The holders of U.S. debt in 1866 were radically different people from those who currently hold Uncle Sam's IOUs. Instead of the Fed and foreign central banks and U.S. financial institutions who are the present buyers and sellers, the owners of U.S. Treasury debt after the Civil War were the country's individual citizens. Jay Cooke's 19th century biographer estimated that Cooke created 3 million bond customers; even Foner, who despises Cooke, concedes that he had 1 million subscribers. That meant that, at the very least, 1 out of every 12 adults living in the North in 1860 were bondholders. Treasury debt ownership was as widespread as ownership of U.S. savings bonds was after WW II; but in 1866 "the public" owned ALL of the debt, not just the small denominations.
As a result, the Republicans won - bigly; and they learned their lesson about bi-partisanship. Congress set to work adopting still more Amendments to the Constitution and adopted a new standard for a state's readmission to the Union. In order to have its representatives seated in Congress , a state would have to ratify the 14th Amendment and approve its specific debt and enforcement debt provisions, including Section 4: "The validity of the public debt of the United States, authorized by law, including debts incurred for payment of pensions and bounties for services in suppressing insurrection or rebellion, shall not be questioned. But neither the United States nor any state shall assume or pay any debt or obligation incurred in aid of insurrection or rebellion against the United States, or any claim for the loss or emancipation of any slave; but all such debts, obligations and claims shall be held illegal and void."
By 1868 the Democrats were resolved that repudiation and race war would be their party platform. In his final State of the Union message Johnson announced: "This vast debt, if permitted to become permanent and increasing, must eventually be gathered into the hands of a few, and enable them to exert a dangerous and controlling power in the affairs of the government. The borrowers would become servants to the lenders, the lenders the masters of the people. We now pride ourselves upon having given freedom to 4,000,000 of the colored race; it will then be our shame that 40,000,000 of people, by their own toleration of usurpation and profligacy, have suffered themselves to become enslaved, and merely exchanged slave owners for new taskmasters in the shape of bondholders and tax gatherers."
———————
What the present period does share with the one after the Civil War is the insistence by the voters that the Federal debts be paid. And, then, as now, the smart money thinks that is impossible.
In the decades after the Civil War, both the voters and the smart money were both proved right. As the smart money had predicted, the debt was not, in fact, repaid; it was simply rolled over and gradually increased for the remainder of the 19th century. But, at the same time, the public was paid, and in full. The debts were not repudiated; and the dollar, instead of collapsing, actually gained in purchasing power. Even as the debt remained and slowly grew larger, the demand to own and hold U.S. Treasury obligations strengthened. Both "the people" and the smart money worldwide grew ever more bullish on the dollar and U.S. debt, as they discovered that dollars to paid out in the future were worth even more in goods and services than they were in the present.
This all happened because of one man - Ulysses Grant. By determination and sheer force of will, Grant forced the Congress - both Democrats and Republicans - to pass the legislation that did three seemingly contradictory things:
1. The money "supply" would be increased; contrary to the arguments of both Johnson's Treasury Secretary McCulloch and Republican Senator John Sherman, the greenbacks in circulation would not be "retired"; and the privately-owned banks in the country would be free to issue as many of their own Federal bank notes as they thought prudent.
2. All paper currency obligations - privately issued Federal bank notes and Treasury greenbacks - every piece of printing that the law recognized as legal tender for the payment of private and public debt - would be exchangeable for gold or (for small denominations only) silver coin. Redemption of their Federal bank notes from their reserves of coin would be the obligation of the private banks. Redemption of Treasury greenbacks, gold notes and bonds would be paid out of the Treasury's own specie (gold and silver bullion and coin) reserves.
3. The Federal government would keep straight books and would not spend more than it collected in taxes which would be tariffs only, no income taxes
Grant's reputation suffers to this day precisely because he won a victory in the debt and currency war that followed the Civil War that came with full and unconditional surrender:
1. By adopting the Scottish model of free banking, the United States acquired overnight a responsive and adaptable system of private lending and bond issuance that became the marvel of the world - one that stood in direct opposition to the central bank model that Europe was adopting. Within two decades American private banks and their depositors had become the healthiest in the world, strong enough to be able to bail out the Federal government in 1893.
2. By requiring all paper money to be as good as gold, the United States avoided the corruptions that the arbitrage of legal tender bimetallism inevitably creates. Thanks to the restricted authority given to the Federal government, the temptations for Congress and the President to muck about with the nation's currency and credit were successfully limited. As a result, credit panics were limited in scope and reach; even national crises were over within a matter of days, not years, because no institutions were too big to fail.
Grant's first legislative act as a new President was to sign the bill that Johnson had vetoed - the Public Credit Act : "(I)n order to remove any doubt as to the purpose of the Government to discharge all just obligations to the public creditors and to settle conflicting questions and interpretations of the laws by virtue of which such obligations have been contracted, it is hereby provided and declared that the faith of the United States is solemnly pledged to the payment in coin or its equivalent of all the obligations of the United States not bearing interest known as United States notes and of all the interest bearing obligations of the United States except in cases where the law authorizing the issue of any such obligation has expressly provided that the same may be paid in lawful money or other currency than gold and silver. But none of said interest bearing obligations not already due shall be redeemed or paid before maturity unless at such time United States notes shall be convertible into coin at the option of the holder or unless at such time bonds of the United States bearing a lower rate of interest than the bonds to be redeemed can be sold at par in coin. And the United States also solemnly pledges its faith to make provision at the earliest practical period for the redemption of the United States notes in coin."
By the time finished his second term, his financial system was so well-established and supported that no successor President - Republican or Democrat - dared to mess with the legislative structure he had created for the rest of the century. (The only comparable legislative success in terms of permanently reshaping American finance would be Roosevelt's New Deal.) The only small move made towards British ideal of a government monopoly over money was John Sherman's move to give the Bureau of Engraving sole authority to actually print the U.S. Notes for the individual banks; even this change towards sole Federal authority had to wait until 1877, after Grant had left office. (Grant had opposed Sherman's "reform" because he knew that this would create a supply bottleneck that would result in purely artificial "shortages" of bank notes. As the British had already demonstrated, allowing a single Note Department meant that all banks - both sound and unsound - could be prohibited from increasing lending in times of crisis.)
It was only after extravagance of the Spanish-American War and the foreign exchange crisis of 1907 that Congress once again decided that a new, modern "flexible" (sic) system of Federal government borrowing was needed. Teddy Roosevelt, the first Progressive Republican President, was all in favor because he wanted to raise the money for the Panama Canal. Woodrow Wilson, the first Progressive Democrat President, was desperate to establish an income tax that would extend the reach of the government and its central bank into everyone's private finances and give the Federal government the monopoly power to expand its own "money supply" at will.
Contrary to what is now taught, the U.S. did not "inflate" its way out of its debt crisis after the Civil War. Neither did it suffer the ruins of deflation that every college and graduate student who wants an A on his/her exams learns by rote. The purchasing power of "the dollar" grew as enterprise and invention made things and services better, cheaper and far more broadly available. The size of the U.S. debt remained comparatively enormous compared to what it had been in 1860 and before; but the growth of the country made it possible to carry that obligation with ease while maintaining the Constitutional standard for money that Washington and others had insisted on when they founded the country itself.
And now, after 3 World Wars and the bloodiest century in human history, all financed by fiat money and government debt-reserved banking, here we are once again - looking at Federal promises to pay of a size that, even a decade ago, was beyond imagining.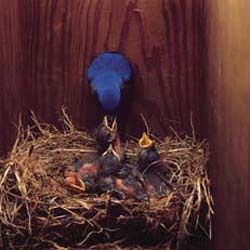 At our little vineyard here in CA (not little when age adjusted), we planted some bird nesting boxes to tip the local ecology toward insect depletion. The Western Bluebird–an obligate insectivore–is a cavity nester:
OK it says they also eat berries, but I've not seen them feed on grapes. (If so the plan will change)
This year one of two nest boxes have been occupied by a nesting couple. The eggs hatched, and mom and (mostly) dad feed the babies insects and grubs all day. Parents and kids are now accustomed to me, as with this year's heavy rains there is much work in the vineyard.
But this morning I noticed a trail of ants–illegals– actually invasive Argintine ants–crawling up the post to the nest box. I worried that some or all of the babies died. But on opening the box I was greeted by 2 of the 3 fat babies.
Mom and (mostly) dad fly food in every few minutes, which explains these obese chicks. They compete for incoming food by chirping as loud as they can, and holding their mouths open so as to create the easiest target for their tired parents (one was going to reference nubiles surreptitiously flashing but…).
I had some Borax granulated detergent (thanks to 20 mule team and Ronald Reagan) which I poured around the base of the post supporting the nest box. It contains sodium tetraborate, which is good (in trace amounts) for grapevines, but deadly for ants. It may take a few days but the ant trails and nest will be dead soon.
As a conservative, I took responsibility for the nest box I installed. Even though the birds may not be 100% beneficial, in some ways I own them…even though these children have traits of socialists. But…libertarian too, right? If you don't chirp, don't expect to be fed?
I resolve this with my commitment to do all I can to help the chicks successfully fledge from my nest box. But during harvest season when birds can strip the vines clean, watch out. I net the vines and will shoot any birds preying on my grapes while perched on the net.
Harold Weaver, a friend of M.F.M. Osborne and me, a great man, just passed away.
I wrote a letter to his family:
I was despondent to hear of your father's death. He was such a great man and was very inspiring to me while at Berkeley. I read Osborne's biography which had many connections with the family. If you haven't seen it it , I could send to you. I moved from Berkeley some 50 years ago and and lost touch with Harold which was my loss. I wrote to him a few times after that but the Internet did not connect us. I would be happy to assist you in any way. I remember him as always curious and always ready to test a new theory. He must have lived to almost almost 100. But for him that was much too short.
And I would add that he will always be remembered in the world of investing for his invention of the Weaver diagram. A way of expressing a 3 dimensional time series in two dimensions. You take two variables like stocks and bonds, and plot the first observations as a point, then you draw an arrow from the first observation to the second observation. It's a very effective in showing concentrations and divergences over time and angles between things such as
sp
/ bonds /
with arrows connecting. Somewhat like Poincare phase maps for orbiting planets, but applied to prices of assets. He audited my class for two years and his warm good humour was a highlite. I believe I introduced him to Art Jensen and we went out to dinner together. I will remember his as one of the warmest, most creative, and decent people I ever met. vic
A news release from U.C. Berkeley:
Pioneering Radio Astronomer Harold Weaver dies at age 99
A Weaver diagram tracing the relationship between bond yield slope and stock prices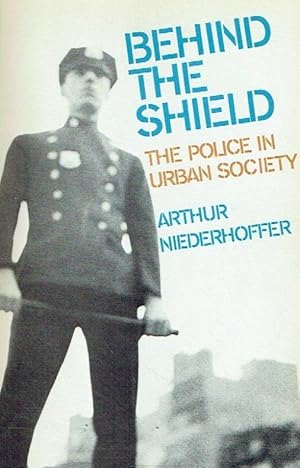 I attended an Arthur Niederhoffer awards dinner at John Jay the college he co-founded that now has 18,000 students versus the 15 it started with. Immigration restrictions, evil and biased activities figured in every one's talk. And there was raucous applauds when someone demurred about some fine police action against perps that he was forced to take on Nov. 9 as there was for the new President who was a Chief of Attorney General Lynch's justice department who is even more compassionate than the Cattle trader.
Every person speaking made a point of their dismay, anomie about the recent Elect outcome. Every day one meets or hears about hundreds with similar feelings and beliefs. No where are these feelings more pronounced one would surmise than in our own Board of Governors who are meeting today.
No matter how hard they tried to do him in before hand with their Hot Markets stance and their certainty of 10 hikes after, their emphasis on the crazily flawed Cape Model of the Yale Nobelist, the market, the wealth keeps gong up. I say they pull out all the stops to give him a well deserved drubbing today.
Archives
Resources & Links
Search