Jun
3
On my recent visit to the Boston aquarium I had the pleasure of seeing 5 chambered nautilus. The nautilus has existed relatively unchanged for 500 million years, and is the longest lived cephalapod at 20 years, so it must have many lessons to teach us. What do you think it might teach us about markets other than changing its behavior, depth, and speed in the day and night, and building larger and larger chambers in a Fibonacci series as it grows, and using its 100 tentacles independently to catch food, and using its hard shell to protect itself, and moving very slowly except when it has to escape when it uses jet propulsion, and its camouflage in the night?
Pitt T. Maner III writes:
On a similar note, a blue leg hermit crab (possibly Cilbanarius tricolor) caught my attention on Clarke Beach in Palm Beach last week (a beach where I once found many years ago the fantastic shell of a paper nautilus/argonaut–best find ever).
Mr. Hermit was a very cautious fellow and quick to withdraw into his shell at the slightest vibration or passing of a shadow and took several, patient minutes before determining the "coast was clear" to begin walking again with his shell home. After finding a nice clump of seaweed and other shells to blend in with, however, Mr. H was content to stay relatively motionless until the tide came back in. I imagine the tricolor leg markings are a bit disconcerting for a predator trying to figure out if Mr. H is edible–the blue looks absolutely toxic!
One scientist who has brought lessons learned from observations of the predator-prey rich California tidal pools to other fields (including national security) is Dr. Rafe Sagarin.
In the speech below Sagarin discusses the powerful lessons to be learned from nature and tips a hat to an earlier biologist, Edward F. Ricketts (of Steinbeck, "The Log from the Sea of Cortez" fame). He notes the need for organisms to leave the "comfort zone" and adapt at times when predation becomes intense and notes that they do not plan, predict or try to be perfect. Sagarin points out the mola mola as an unlikely design for a very successful fish. His take is that animals tend to "learn" from successes and not failures. Adapt and overcome, to use a military phrase, is the evolutionary order for the day.
He thinks the octupus to have a beautiful brain and wrote a book in praise of the animal: Learning From the Octopus: How Secrets from Nature Can Help Us Fight Terrorist Attacks, Natural Disasters, and Disease by Rafe Sagarin
I found this article by Rafe very interesting: "How an octopus can help us thwart terrorists"
EVERYTHING would be better if we learned from nature, says Rafe Sagarin.
A couple of more links of possible interest:
A youtube talk about the octopus by Rafe Sagarin: "Learning From The Octopus: Unleashing Nature's Secrets of Adaptation"
Jun
2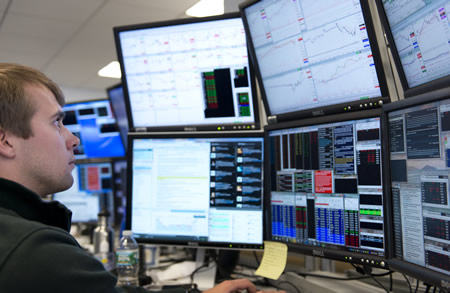 In my opinion the worst thing about [Mr. X's bearish, stubborn approach] with regards to trading is that it takes one out of the market's rhythm or one's system with unhelpful thoughts. For example, if one shorts as part of a swing trading or short term program, what works is some variation of, "short and cover" but if you miss the "cover" part because you think, "this is it, the End of The World prophecy is coming true", you don't cover, you get run over, you lose positive focus, become stubborn, miss your next long trade, basically are completely thrown off of your game. That type of scenario is all too easy to fall into and must be guarded against.
Victor Niederhoffer adds:
I believe the worst part of it is the cognitive dissonance that comes from being wrong, which makes you double down on your reasons in an effort to find new straws in the wind that support your view, the carry over impact on your other views that makes you a confirmed pessimist, the related problem of being wrong so often that the only way to maintain your mojo is to become a promoter, the inability to realize that there is always something bearish as Mr. Ellison has helpfully pointed out, the refusal to pay heed to the fed model as developed by Mr. Downing and myself, the refusal to take account of the power of compounding with a return on capital of 15% versus an interest rate of 3%, and the lack of consideration of the evolution of how big companies have learned to be flexionic to grab higher rents from their cronies, et al. That said, the great Jim Lorie agreed with Mr. Stewart that the worst thing was when you get out of the market, you never know when to get back in, so you miss the drift.
Jun
2
You know those days where you make a 1,000 a day for 3 days. Then you drop 10,000. More and more it becomes clear that this pattern crushes the trader because he should have made not 1,000 but 10,000 on each of those first three days, but he got out of his own winning position too early.
Jun
1
The much awaited Apple Worldwide Developers Conference starts today 02 June 2014.
Performance of AAPL during past WWDC:
.
.
.
.
.
.
.
.
.
.
Jun
1
As the month of June arrives and heralds in the dog days of summer for equities and debt, it is inevitable that a trader's fancy lightly turns to thoughts of grains. Over the years, untold fortunes have been made and lost during the summer grain markets. I have participated and traded in these markets off-and-on since the mid-seventies; starting in the soybean pit at the Mid-America commodity exchange, and then on the floor of the CBOT in the soybean pit. I went on to trade 30 year treasury bond futures for almost 25 years, but when the bonds went to the screen, I traveled full circle and finished my career back where I started, in the bean pit.
The beans had changed dramatically from when I first stepped into the pit in the seventies. The commodities markets back then were relatively inefficient, and dominated by heavy retail participation. Busy summer markets would see runners lined up 10 deep trying to get retail orders into the pit to their filling brokers. The commercials did manipulate the market, but there was still an a value oriented element to pricing.
My second time around however, saw a market dominated by commercials (hedgers) and commodity funds. In addition, there were now options on soybeans futures; and indexes and etfs were beginning to emerge. The eventual result was the financialization of commodities. Beans were now lumped together with other commodities into one asset class.
As I contemplate my return to trading beans, I wonder:
If beans have lost their uniqueness, price discovery and risk transference functions, due to financialization
If given the near extinction of retail participation, and the almost total dominance of professional and algorithmic trading, if readily "available" cognitive reference points that are the providence of the retail trader, still exert their influence on bean pricing.
If the change from a commodity to a financial instrument means that at times, price drivers for soybeans may have nothing to do with soybean fundamentals, and everything to do with their inclusion in the commodity asset class
If I'm competing against professionals in a relatively illiquid market, do I want to venture away from my core competency to "play poker against a guy named doc"
Jun
1
Possibly the only way to hold any sort of intensity in a tennis match where the home crowd is against you (I'm watching the French) is to change tack and, as McEnroe did so frequently, control the situation as best as you can. You could try to get the crowd on your side by making them laugh, for example, but this might distract you. It may be like in trading against the cycle or trend and pinpointing your exact entry points, where although you know you're against the tide, you can still win without changing your style. So maybe you can have your cake and eat it too. You just need to know that's exactly what's going on.
« go back
—
Archives
Resources & Links
Search