Astros won their elimination game. Three of them in a row.
Dodgers appear to be winning their second of two elimination games.
My historical analysis of baseball elimination games suggests it will be a Astros / Dodgers World Series.
I'm working on a sole reason for a market devastation event to commence mid January. Not one of downward, rather, stunning upward movement. I am calling for a 15-25pct move in stocks in Q1. And it could very well continue for the remainder of 2020. Maybe a 50-100pct unprecedented advance in valuations of leading names.
It's never really happened before (or tested) - the majority of the world pricing rates below zero, institutions needing yield to fund liabilities, and such allocators needing yield however they can get it. So an unfathomed rotation into stocks is going to commence. With cheap leverage.
Combined with buy backs, continued mergers, there is an overall shortage of stock supply. And indefinite demand. On pure supply / demand fundamentals regardless of economy stocks go straight up.
At least until Musk and the other space chasing clowns find that shorts do in fact exist on the other side of the Moon or Mars….
It will be an interesting World Series. I come back to what I wrote five or six years ago:
Teams that face the most 'elimination games' and succeed typically beat the favored. SF Giants did this three times on the way to three championships.
Counting - nationals wild card win. And game 5 win in LA.
2-0. Meanwhile Houston has been unbeatable.
Odds makers are off here. Favor Nats +210.
There's lot you can learn from watching this last week at the US Open.
1. Never rule out the 'impossible'. Have to backtest, but never has a 1 and 2 seed lost in semis to two double digit seeded opponents.
2. At same time, champions do what champions do after a series of bad results — the grand empress of tennis had a big win after poor results over the entire year. Sooner or later they always find a way to get back to the top. It doesn't come cheap. She worked her ass off all year and summer following Paris and Wimbledon.
3. Cilic is an example of how working hard and staying committed to improving oneself can eventual topple the game's best. An inspiration to anyone outside the top three. Perhaps a warning blow. Federer conquest aside, he had Djokovic on the ropes at Wimbledon and let him off. He learned from that.
This afternoon I was thinking of the events of my honeymoon back in 2009 and while in Hawaii we visited the Sogi residence which featured some good ol' jam band rock-n-roll action by Sogi and his team.
The decay in current music quality versus yesteryear production came long before the decay we have recently seen in the financial services industry. About 30 years or so is my estimate. What is interesting is that classic rock and roll will always have its place — like an old shoe or old pair of jeans. Financial services should be so lucky. What is scary while also quite ironic is that technology is largely the culprit for the decline in both fields.
Jeff Watson writes:
Rock and roll is not in decline at all, far from it. Revenues might be down, but not the musical quality. People of a certain age just get stuck in the 60s and 70s and won't let go. But one tends to only taste the cream and forgets that the 60s and 70s brought some absolutely horrible music to the table, stuff (I won't even call it music) performed by Boyce and Hart, Cyrcle, King Harvest, C.W.Mcall, and The Cuff Links. This is the worst song ever written.
My parents thought music died in 1955. My grandparents thought music died in 1920, and on and on. Every generation experiences the same nostalgia for the past, for the music of their youth and feels the new music of the day is declining in quality. Nostalgia is big business because people miss their youth. Bands like the Mowglis, Black Keys, Of Monsters and Men, Daft Punk, Outkast, et al are producing some amazing music which is just as good, or better, than the rock of 40+ years ago. Troubadours like Jack Johnson write and perform music which is just as relevant today as what Bob Dylan wrote two generations ago. An entire new group of people, our kids, are listening to the new rock, and a few old people like myself enjoy it immensely. Stop listening to Clear Channel and find some music……it's out there just waiting to be discovered.
Jim Sogi comments:
One day someone asked while I was playing, "Do you know any songs less than 10 years old?" I was kind of stumped, so I've tried to find new songs. It's harder to learn things when you are old and have to beat the new neural pathways harder.
A childhood friend of my son is Ryan Fontana, of Sex Panther. He has achieved big success as a DJ playing electronic dance music. There is some good music there and it's good for dancing. The girls really like it. EDM keeps people dancing and drinking. Some clubs according to WSJ can sell a million dollars of drinks in a night. Some of the music can feel repetitive but when they're dancing, they're not really listening to the music, but feeling it. With the big sound systems, the ground literally shakes. It's an experience and it's good business. I've got an open mind and even like some hip hop stuff, though it's taken a while.
One can learn a lot from Lego. Please notice the piece at the bottom which Sasha decided to use as his first piece in his tower. Second attachment is this first piece for better viewing (big base). Ties into your theory of 'base of operations'.
.
.
.
.
.
.
.
.
.
.
.
.
.
.
.
.
.
.
.
Always something to learn when Federer is clearly beaten which can be applied to markets, especially in a market like today:
1. He was out of position, or better put, poorly positioned for all of the match.
2. Up early in the opening of the match, he failed to hold and close his early lead when he had clear opportunities.
3. He made errors in pivot points early in the second and third sets - giving away every chance to get back into the match.
4. He was a consummate professional in defeat in the post match - the opponent was better, played better, and deserved to win.
The pundits will like to call this another sign of his decline, etc. I'm not so sure. Particular in that his inability to hoist another championship trophy is now nearly fully priced in.
Right on cue the market lifts on Federer's victory….
It was a lay-up of a day when the popular business channel had the market's leading short seller on as a special guest to their morning hours yesterday….talking about his book and filled with bearish themes now that he knows he is dead in the water. This is about as bullish a set up I have seen in the market since sometime back in summer of '09. SPX 1500 here we come. I haven't seen this much fear and buying of protection since my high school graduation trip to Cancun….
It was 2 years ago at this precise time of the year when the world's experts claimed the end of Federer's career.
He lost the Aussie final to Nadal, then failed to win anything until the Madrid Masters which spring boarded him to his first title in Paris and his sixth Wimbledon crown.
I am not making any predictions what is to happen in the coming months for Federer, just pointing out the phenomenon how the masses are always the best contrarian indicator.
There was tremendous call buying in the retail and institutional classes over the last few weeks in Google.
I am a decent chess player.
My rating in the room I play in is good, but it varies as much as 250 points. Sloppy play is the obvious factor and is driven by a multitude of reasons: Distractions while watching and trading markets, watching my son, watching tennis, playing after consuming a handful of pints of Stella at the local after the market close with my buddies, or, perhaps just an inconsistent mental capability.
I am often charged with cheating (using a program on the side of the online board). I am not always accused when I beat an opponent who is rated a few hundred above me, but it is often. I don't get upset or offended. Just highly amused.
Chess is a fantastic experiment and exercise of the ego. The fragility of some who typically assume one is cheating when they should just say "well done".
Allan Millhone comments:
Hello James,
At tournaments I always shake hands with my opponent and never make excuses when I lose. I strive to be humble when I win and do my best to guard my ego. I am an average player.
I enjoyed your post and your points.
Regards,
Alan
Well, after a choke-filled performance in the second men's semifinal 3 months ago at the US Open denied tennis purists a dream final, we are at long wait going to be treated to a fantastic confrontation tomorrow in London when the game's two best again square off in the final of the ATP's season ending tournament.
It is probably more important for Stocks that Federer wins rather than for Federer to win for himself. I recently gave up my sports prediction and wagering business even though I have a better record at that than predicting markets. But, Federer will win any way.
In the last few days, my 8-months old, Dimitri, has become mobile. Not officially crawling yet. He has mastered the soldier barbed wire technique and can move a long way across my living room in a handful of seconds.
Though I would never test it officially, if I were to put out a cookie, a tennis ball, a beer, and a knife all across the living room at the same time in random order, I guarantee you he would go to the most dangerous of these objects first and then gradually move down in rank to the least dangerous object.
Aside from the thought that "he must certainly be a Tar", I think you may get my point. Perhaps it is an infant and deeply ingrained primitive quality (or instinct) for humans to be attracted to trades that are inherently more dangerous than the others in a set of opportunities. I can only imagine how many people have tried, and blown up, trading options when they should have been playing stock.
Mountaineering has many lessons for the speculator. Both are life and death endeavors, involve changing and sometimes violent circumstances, both require extensive knowledge, lots of equipment, learning requires a guide, heuristics are critical, great strength and stamina and ability to withstand discomfort and pain required, both offer tremendous rewards, both occur in sometimes dangerous terrain. A good example of cross over lessons involve safety and belaying which are things the speculator should learn from the mountaineer.
Safety in the mountains balances the danger and the consequences of a slip. A dangerous perch above your rug in the the living room is different than a mild, but slippery slope above a 200 foot cliff. The precautions should be appropriate to the climbers willingness to accept risk and delays. The climber belays by setting a fixed protective point in rock or ice attached by ropes so in the event of a fall, the length of the fall is limited. As the climber moves, the belay rope slack is taken up. The parallel to trading is the trailing stop. The risk would be the left tail risk.
Though the skills needed cannot be learned in books, there are some excellent texts such as Connally, Craig, The Mountaineering Handbook Seiters, Andy, Glacier Travel and Crevasse Rescue.
I highly recommend Connally first. He adopts a tested modern scientific approach to traditional mountaineering wisdom.
Similar to the markets that over time work on similar plot lines and themes, one of Hollywood's classic formulas for success is to make a movie that has plot lines that were popular and well regarded in previously released very successful films:
"Days of Thunder", starring Tom Cruise, was essentially the same film as another Tom Cruise blockbuster, "Top Gun". Same theme, just change fighter aircraft for race cars. Why didn't they just name Thunder as "Top Car"?
"Cinderella Man", starring Russell Crowe, is essentially the same film as "Rocky", starring Sly Stallone.
"The Curious Case of Benjamin Button"–perhaps that movie could have been called, "The Curious Case of Forest Gump".
Avatar takes it over the top. Last night I came up with an algorithm for the film: Star Wars + Dances with Wolves + Last of the Mohicans + Terminator + Shrek + Indiana Jones #4 = The biggest grossing film of all time.
Gibbons Burke comments:
Thus it was ever so…
PIXAR used the story of Kurosawa's Seven Samurai for A Bug's Life. Kurosawa did the same thing with Shakespeare plots for many of his movies, eg. Throne of Blood=Macbeth, RAN=King Lear. Shakespeare did the same thing with older stories, (Hamlet is one) which are now mostly forgotten, so thoroughly did the bard eclipse their work.
It is interesting that the Daily Spec website today features a photo of Steve Irwin, the deceased legendary "Crocodile Hunter".
That guy put his life on the line every day. I have seen hundreds of instances when he was handling the most dangerous venomous snakes– the various Taipans, the Black Mamba, the Krait. He did it with ease in the simplest and least protective clothing possible– shorts, short sleave shirt, etc. Big you know whats. He would have been a great trader had he applied himself to markets, but perhaps he would have a similar ending in terms of monetary fate. What is interesting however is how he died, and what it was that killed him– a routine swim with a stingray. He looked past the obvious.
Something very significant just happened on a tennis court in Madrid. Roger Federer beat Rafael Nadal in a masterly, choke-free performance, 6-4, 6-4, on red clay.
Federer victories over Nadal have customarily been a very bullish immediate short term indicator for the SPX and I suspect we will be up a lot this week.
My bearish views are on hold.
Sooner or later, Free Markets uncover the true value of assets. I don't think this law can be argued to any legitimate extent, so long as Free Markets are kept free.
As a soon to be married man, my friends across the country have decided to make Las Vegas the bachelor party destination taking place over the middle weekend in March. I have been to Las Vegas four times over the last year and change - October 2007, March 2008, August 2008, and December 2008. The decline in overall business activity has been dramatic over this time period for the obvious reasons plaguing the overall global economy, mainly an evaporation of liquidity and wealth destruction. Perhaps only in financials has there been poorer performance and a market cap destruction greater on a percentage basis than in the leading casino names - LVS, MGM, BYD, WYNN, etc.
The action in the casino shares is a good reflection of the fundamental decay of the business. The market has been working here perfectly, but I am wondering if something else is going on. Las Vegas is an interesting place. There are hundreds of thousands of good people there for sure. They show up to work, they provide good personal service, they cook delicious meals, they offer amazing choices to the consumer, they go to church and temple, etc. But the main component to the economy there surrounds around Deception. Deception in the form of free rooms, free drinks, free private jet travel (it's tremendously tempting), free golf, free entertainment, free Armani shopping sprees, etc. But, all of these efforts are to deceive you into sitting down at a table game so that you part with your money. Just because something is legal does not necessarily mean that it is ethical. Yes, gamblers are cautioned to bet with their heads, not over them, etc. It is also common knowledge that odds suggest each game is designed to take the gambler's money. The gambler sits at their own risk, etc.
Las Vegas even deceived the market for a while. The astronomic rise in shares into October 2007 was symbolic of the market buying into the concept that Las Vegas had transitioned itself from a gambling destination to an entertainment/resort destination. Credit Ratings went higher for every star or diamond the megaplexes received in service ratings.
But alas, the market has finally woken up after it's liquor-filled weekend at the Wynn. Though there are similar elements, the Deception of Las Vegas is different from the Deception of the Market, unless of course your trading station has women in skimpy outfits parading around you, "Coffee, Juice, Soda….", or worse, "Cocktails, Beer, Champagne…..".
James Lackey comments:
Feb '91, Saudi Desert, 15 minutes after we arrived in our left hook stage… BBC reported some new peace deal in the works. I reported it to my commander.. He looked at me like I was the sucker at the tables. "Lack we didn't bring all these tanks out to the desert not to kill them all"
Same for Vegas. and if you wish to remain married……………………………………
Once again, Federer's mental weakness is showing up at the most critical points of the match. Failed to convert on his serve up 4-2 in the first set. Failing to make a decent percentage of first serves, thus putting immense pressure on himself to hold. This pressure then carries over into the other aspects of his game — shanked forehands, poor placements, blown volleys — all putting more and more pressure on himself. Just when he rights his own ship, Nadal then unleashes a brutal blow, again rocking Federer's mental boat. Fascinating, and the parallels to markets and trading are even more fascinating.
Surprising that this is the first time they will meet in the Australian Open (the final) as they are the game's two most dominant players of the last 4 years, and not surprising as Nadal often has difficulty matching his claycourt prowess on hardcourts on which this tournament is played, we all get a marvelous treat late Saturday Night (or early Sunday am) to see these two battle it out for the title of the year's first Grand Slam.
The questions surrounding this match are many, but the keys:
1. Can Federer master his own surprising mental inadequacies often revealed during past battles with Nadal?
2. Will he revenge his Wimbledon loss and 4 successive French Open defeats?
3. Can Nadal win a Grand Slam on a hardcourt?
4. Will Nadal's fitness hold up after a 5 hour semifinal?
Impossible to know what will happen, just as it is impossible to know if this market has reached a bottom. Past Grand Slam Nadal/Federer encounters and SPX reaction over the next week or two:
French Open 2005 - Nadal def. Federer semifinal - SPX flat
French Open 2006 - Nadal def. Federer final - SPX lower
Wimbledon 2006 - Federer def. Nadal final - SPX higher
French Open 2007 - Nadal def. Federer final - SPX lower
Wimbledon 2007 - Federer def. Nadal final - SPX higher
French Open 2008 - Nadal def. Federer final - SPX lower
Wimbledon 2008 - Nadal def. Federer final - SPX lower
Australian Open - Nadal vs. Federer final - SPX ?
Should be a great match………
There have been a number of posts on this web site over the years highlighting the importance of good equipment, and it is as important today in the markets as it always has been. Information, accurate information, is, of course, the most important type of equipment for the speculator. The hardware and software employed to deliver accurate information in the most efficient manner is also paramount. In an ideal climate, Hardware/Software is to Accurate Information as the Chicken is to the Egg. Or, is it the Egg to the Chicken?
But something has changed. The markets are always interesting - whether the day-to-day ranges are tight or like the last several months where ranges have expanded considerably. Information, the lack of accurate information, is the cause for the elevated vol. This is a problem that hardware/software can not fix.
I am reminded of Bar-B-Que. Good meat will always taste better when cooked on a high caliber grill versus a poor one. But, a bad piece of meat will always taste bad regardless of the grill.
Are you having a bad week? Judging by the Dow and the S&P averages the market was really bad this week. Both are down more than 3% over the last five days. But that is only part of the picture.
The QQQQ is nearly unchanged over the last five days. The cubes (or quads) consist of the 100 big cap Nasdaq stocks and are tech-laden. The Nasdaq index overall is following suit and is down only a little for the same period.
We appear to be in a phase transition. Risky loans are out. Much of the value stock and dividend stock performance of the last few years has been fueled by the ability to borrow cheaply and reinvest in somewhat higher yielding equity value and asset plays. As long as the dividend covered the borrowing costs, it was a safe form of the carry trade. This sort of trade was epitomized by the private equity firms.
Those days are gone. Now it is no longer possible to generate growth through leveraged magic. The market is now favoring companies which have real businesses that are growing. Growth is back.
Samuel Eisenstadt writes:
Amen. Since the beginning of 2007, growth has been in the driver's seat, as evidenced by the superb performance of Value Line's Timeliness Ranking System. The System is having its best performance in years. As Value Line readers are aware, the system is largely driven by earnings growth, momentum and earnings surprise, attributes largely ignored in recent years when "value" was the best game in town.
You might be interested in Mark Hulbert's article Value Line Profits from Patience in MarketWatch.com for October 23.
James Tar suggests:
A simpler expression: Nasdaq stocks have balance sheets that are virtually debt-free. No credit risk equals safety.
We can expand the divergence concept. Now could be an ideal time to consider going long Emerging countries that possess current account surpluses while shorting Emerging countries that have current account deficits.
Emerging countries with either a surplus or deficit have all been scorching higher on the inflationary/liquidity/carry trade going on all over the place the last several years. I suspect this is going to change.
In 1920, Gustav Cassel developed the theory of Purchasing Power Parity. PPP argues that currencies are in equilibrium when their purchasing power is identical in each country. Also known as the "Law of One Price," this means that the exchange rate between two currencies should equal the ratio of price levels based on identical goods and services. Put simply, a pound of dirt in Tyler, Texas should cost $1.50 when the same pound of dirt in Metz, France costs Euro 1.00 provided the exchange rate at the time is 1.5 to 1.
I believe dollar and other US asset bears are wrong thinking dollar weakness will cause panic and dumping of US Equities. Rather, US stocks will be snapped up like never before:
1. As we are now in a global economic landscape, you cannot tell me Citibank is suddenly going to be worth less than Deutsche Bank or HSBC because of the dollar's decline. The same can be said of Verizon versus Vodafone or Merck versus Novartis. If the dollar continues to decline on interest rate differentials and economic fears, then US stocks will ultimately have to be re-adjusted higher to keep valuations across geographic lines consistent.
2. The obvious: US Exports might get a boost — bullish for US stocks. Foreign earnings components should increase — bullish for US stocks.
3. European shares will likely feel the pain in comparison.
The Fed's actions last week were brilliant. Yes, they needed to create an environment that would continue to support asset prices as bank balance sheets have ballooned to extreme levels. But more so, the Fed's choice to drop the dollar just might be the action required to finally get our current account back in line over the long term.
Riz Din comments:
The relationship between exchange rates and equities has also been playing on my mind of late. Two thoughts on the topic:
1. The counterpoint to (2) is that while exporters may get a fillip from a lower dollar, US consumers are effectively being taxed by way of higher import prices. We may find consolation in a recent Fed study that suggests that inflationary pass through from a weaker currency is relatively limited, but with a weaker dollar playing a driving role behind rocketing global commodity prices and with China revaluing their currency over time, inflationary pressures may be in the wings yet, and it is probably worth keeping an eye on US import prices.
2. As James points out, recent US equity gains could be a purely monetary effect, in the sense that foreign investors can now buy more US shares with each euro, GBP, yen etc., so they will bid up the share prices until their values are restored in local currency terms (the Law of One Price). Furthermore, foreign investors will likely demand a higher US equity risk premium in order to compensate for the risk of further USD depreciation, so perhaps domestic investors can look forward to further price gains. This paper from the ECB discusses what it calls the 'Uncovered Equity Return Parity' condition (URP), where the described parity condition is used to explain the variability in exchange rates (although in our example the causality runs in the other direction, from exchange rates to equities).
Building on the above, I am led to wonder whether equities are a good hedge for a weaker currency, and indeed whether there is a profitable trade in there somewhere (if I was in Zimbabwe right now, I'd be asking for my wages to be paid in stocks!). In developed countries such as the UK and US, the theory says that a 5% currency depreciation should produce 5% inflation, but we know this doesn't seem to happen in reality. So, while foreigners may end up bidding up domestic equity prices to maintain prior purchasing powers, domestic investors can buy local stocks and arbitrague the fact that the 5% inflation is not going to arrive for a long while, if at all.
Andrea Ravano adds:
I think the main problem of an extreme dollar weakness, could be a sharp interest rate rise. The bondholders of the world could use the ultimate hedge and get out of the free falling buck by selling their holdings, which should cause higher interest rates.
In the end though, the real problem of a weak currency is not in the short term but the long. In weak currency economies products become more valuable than competing peers because they are cheaper; not because of increased productivity or industrial design, but simply for the devaluation of one of the cost components.
Take Italy as an example. Italy has used the competitive devaluation strategy for the Italian lira since the early '70s. By doing so the system has prospered , but only to discover, after the introduction of the euro and the subsequent forex stability, that the economic system as a whole had productivity and price competitiveness which had been left behind during the ephemeral times of currency devaluations.
The pattern at the time was that before devaluations interest rates would rise sharply and drop sharply thereafter.We must consider the fact that we had a fixed currency system which made adjustments much more abrupt.
On Sunday July 29th, I revisited Saratoga Racetrack, roughly twelve years after the scene that is recounted in Vic's Education of a Speculator. Since I was meeting with my old friend and officemate at the time, hedge fund manager Andy Goodwin, the event elicited memories of days gone by.
The afternoon was clear and the track was fast. Based on my analysis of the Saratoga racing meet to date (which was four days old), my initial hypothesis (which was standing unless encountering clear data to the contrary) was that "early speed" horses running on or near the lead were at a clear advantage. Since my handicapping style is best suited to the aforementioned conditions, I felt conservatively confident in our prospects. Andy Goodwin (Hedge Fund manager), Seth Faler (insurance analyst and college roommate), and Nicole Carey (friend and drama teacher) were also feeling it, and all invested in a share of my wagers for the day.
The early results were not great. In the 1st, 2nd, and 4th we cashed no tickets. In the 3rd race we squandered a golden opportunity by swinging for the fences and investing 80% of our race allocation on two horses to finish exactly first and second. While our top choice won, our second choice was caught late from behind and finished third. Although we did have a "saving" trifecta ticket (1-2-3 in exact order), the second place finisher was well bet and therefore we made only a modest profit.
After the first four races were finished, I felt that my hypothesis had been confirmed: betting on horses with "early speed" on the dirt course was highly preferable to betting on horses that needed to come from "off the pace." The only problem was that my three losers (I had the winner in the 3rd) were further back in the early going than I had projected.
This thought was foremost in my mind while analyzing the 5th race for Maiden (having never won a race) 2 year old (youngest racing age, equate roughly to early teens for humans in physical development terms) fillies (females) who were bred in New York. These races historically are where I have my worst ROI (return on investment). The reason is the limited amount of printed information available for these young horses, especially the ones running in their first career race.
In the case of a "first time starter", the primary information available to the racing public is a) characteristics of breeding b) trainer profile c) jockey profile and d) the times of all recent morning work-outs (which can be very deceiving because it is hard to gauge the effort that was exerted in this type of "practice" run). Clearly, for a first timer, the main piece of relevant info is missing ….how fast will the horse run in a race? Many horses look like champions in the morning and are colossal underperformers at the races.
Due the huge unknown component in this category, and the fact that one often has very little racing history to base his decisions on, the betting public sometimes appears to engage in highly irrational speculative behavior. For example, imagine that some horseplayers actually employ a strategy which bases its selections on horses that seem over-bet (offering a much lower return than one would consider fair by the printed information) assuming that this overzealous betting activity is taking place because "somebody knows something" (info that is not available to the general public). The skeptical amongst us might suggest that this behavior is similar to weeding out used cars in the classifieds by the criterion of which ones are grossly overpriced and assuming that those who are charging too much for their cars must be doing so because the information that is difficult to discern (whether the car is actually reliable….or potentially a lemon) must be positive because said owners value their cars so highly.
My approach in these races has always been to stick to the facts, and one such fact caused me to eliminate the #3 in the 5th race as a potential contender immediately: The trainer of the #3 was 1 for 44 in sending starters to the track for the first time, and the ROI for these bets would have been 75 cents in losses for each $1 wagered. When the filly in question has done nothing at the races to cast doubt on that statistic, given no previous racing history, how can you bet on her? Prior to this race, I would guess that I had never bet on a trainer with a % of less than 3% for first timers.
However, I pored over the race 4 or 5 separate times asking myself the same question ….which of the contenders that I was considering had a reasonable chance to lead the race early (in line with the aforementioned "hypothesis") given the limited information available. If I was thinking that the early fractions would be somewhere in the vicinity of the "par" times for similar races….then the answer was "none of them."
My attention kept reverting to the #3. Amongst the other facts were:
1) The father of the filly (Hook and Ladder) showed stakes caliber early speed as a racehorse AND was one of the most successful New York bred "first crop sires" in recent memory in terms of winning % for first time starters. In other words…ideal breeding for early speed in the first career start.
2) The filly showed the two fastest morning "workouts" of the field (both were fast relative to "par" best times for other 2-year-old maiden fillies).
3) The jockey named to ride the #3 (Ramon Dominguez) was unquestionably the best jockey in the country YTD for shorter "sprint" distances, winning on an incredible 30% of such mounts in 2007.
Yet, despite the overwhelming evidence that this filly could come out running, I couldn't overlook the 1 for 44 trainer stat (and neither could the betting public … she was 14-1 on the tote board) until I was fortunate enough to ask myself the following two questions:
"How much weight was I giving to the trainer variable if I was willing to eliminate a filly @ 14-1 who would have been either the favorite, or a close second choice (certainly 3-1 or less) based on the other three variables and adding a better performing trainer?" Well, the answer to this question is obvious considering that I wouldn't even consider a potential 4x return versus what I would have gotten in the case of a trainer who was more successful with first time starters. Thinking about it this way, my approach didn't make much sense. Therefore, I had to ask myself a second question:
"Why had I made it a fundamental, unbreakable rule that one should never bet a first time starter from a trainer that had such a poor winning % and ROI?" After some deliberation, I decided that the main reason was "intent." Simply put, some trainers consider the first career race to be a warm up of sorts. These trainers win at a low first time % because they are not as concerned with winning the race at hand as they are setting the horse up for a successful career. Obviously, it would be foolish to bet on a horse (filly) whose trainer viewed winning as a secondary goal, unless this indifference towards winning was more than reflected in the odds.
Suddenly, my opinion of the race changed dramatically. Outside of the 1 for 44, there was strong evidence that the trainer was interested in winning that day. Consider these points:
- Would a trainer who didn't care about winning a race work his filly briskly (from the starting gate, nonetheless) on two separate occasions in preparation?
- Would a trainer who didn't care about winning a race solicit the top sprint jockey in the country (one who intuitively cares about winning EVERY race given his 30% success rate)? I would expect that a trainer could only do that so many times before this jockey (a valuable resource) would avoid him altogether.
- Finally, if you had a filly from a Sire whose progeny were winning at an amazing rate (57% according to my forms), would you throw away such a good opportunity and send the filly out for a jog without the intent of winning?
My answer to all three questions was …..of course not. As a result, my reasoning was that if the filly with the best breeding (to win that specific day), the best workouts, and the best jockey was saddled by a trainer who had come to the track that day intending to win………well then why couldn't she? In my eyes, she had a very realistic chance.
After returning from the betting window, and immediately prior to the race, I started to get exited. 14-1? This was madness. I grabbed Andy Goodwin by both shoulders and started shaking him while laughing, "Ever-changing cycles, ever-changing cycles …hah, hah."
Sure enough ….ever-changing cycles, indeed. The filly came out running, went straight to the early lead, and held on to win. She paid $30 and was the key to what became a very profitable afternoon for all of us.
What is to be learned from this story? Does it have any relevance to us as financial markets practitioners? I think it does.
First of all, it reinforces one of my primary opinions about the markets: Most of the best proprietary trades are the ones that are the most difficult to do. The ones that you really need to dig for …..and that also have an element of uncertainty that make them emotionally uncomfortable upon first analysis.
My math super-genius collegue, who aspires to build successful algorithmic trading models (which we will call ALGOs for short), often bounces hypotheses off me for systematic trades. My reaction to his ideas is almost always the same, "This is too easy to do, and therefore I don't think that you can make money at it." What can be visually observed by a programmer while trading his personal account part-time is probably not representative of a systematic market inefficiency that can be modeled and exploited for profit …..or that's how I see it, at least. My best ideas trade ideas are usually a combination of a lot of "tinkering" quantitative analysis, and observing the effectiveness of the best subset of those ideas (that become hypothetical models) through trial and error. I need to watch a lot of prices and make a lot of trades to stay on top of what is working and what isn't working. Any attempt to shortcut this process inevitably costs me money. Maybe I need to watch hundreds of horse races before encountering an opportunity like the one described above.
I am (and was) absolutely convinced that the filly in question was an excellent bet at 14-1 in that her pre-race chances were much better than 1 in 15. Interestingly, of all the serious horse players that I showed the sheets to retrospectively, not a single one guessed that this filly could have possibly gone off at odds higher than her 6-1 morning line price, which is amazing given the fact that all could have probably predicted the final odds of the winner in all of the other nine races that day within an allowance for error of +/- 30%. Yet, with this filly they were all more than 100% off.
Now, would these same handicappers have been able to overlook the 1 for 44 trainer stat in real-time, and bet on what seemed to be an extraordinary value. In the majority of the cases, I would say no. My guess is that they probably had similar concrete rules regarding NEVER betting on a trainer with such a low first time success rate and ROI, and while they would have been disappointed after the fact for not having bet on the filly at such a big price, I would assume that they would have eliminated her the same way that I did in my first four passes.
On the car ride home from Saratoga to Vermont, I pondered at length the afternoon's experiences with relation to another theory of mine (and one that I often debate with my Quant and ALGO trading associates), namely that it will be a long time before computers are able to fully replace humans as decision makers in parimutuel gambling environments like horse racing ….or even financial markets. For now, and into the foreseeable future, I think that there will continue to be opportunities for human "traders" to prosper in the markets.
A frequent argument by supporters of fully systematic trading (and by inference, skeptics regarding the usefulness of humans in any trading role) is "Provide me one concrete example of where a reasonably well informed and highly competent human would surely make a better decision than the best ALGO model." My answer…… "variable weighting" in cases of uncertainty or disequilibrium (similar to our horse racing example). Coincidently, a perfect example was provided for me in the same calendar week.
In support of the aforementioned, consider the events of August 3rd. Largely influenced by negative developments related to the housing market and sub-prime credit, the S&P 500 had declined roughly 5% over the prior two week period. Before the open, Bear Stearns had issued further negative guidance in a statement which was to be followed up with a conference call @ 2:00 PM.
Since sub-prime debt was experiencing a period of huge uncertainty (as portfolios were losing huge chunks of their value), and the implications of the quality of this debt had such strong correlation with many other parts of the economy including housing, banking, other financials, and all sectors sensitive to the purchasing power of the lower middle class etc., the market was completely focused on Bear Sterns since they are widely considered the biggest player on Wall Street in the credit arena. Few would have debated that Bear Stearns was by far the most influential stock in the market on that morning.
Was it possible for an ALGO (if unassisted by a human trader or analyst) to know that Bear Stearns was so important to the health of the market? Not in any way that I can imagine. The best chance was that this ALGO could have had a news reading component that noticed that Bear was the most prominently mentioned company in the news that day (and several other days over the proceeding two weeks). However, this same ALGO would intuitively have absolutely no chance of understanding that today's headline stock (as opposed to on a "normal" day) was so important and its influences so wide reaching. Even a database of business segment inter-relations would have only been of limited value. While this tool might have been helpful in identifying what stocks might move (due to good/bad performance in certain areas), the ALGO would still be missing the crucial "weighting" factor …..how sensitive the market had become to the sub-prime issue, in general, and Bear Stearns, in specific.
Although both the S&P 500 Index and Bear Stearns stock (down 6%) sold off sharply in the early stages of trading that day, both rallied to roughly unchanged by the time of the conference call based on a street-wide sentiment that "the cat was out of the bag" so to speak and the worst news was already priced into the market.
However, on the 2:00 PM conference call, instead of reassuring investors as anticipated, Bear Stearns representatives unexpectedly painted a picture of doom and gloom, describing the credit picture as "the worst in decades." Upon hearing this, most discerning humans who were immersed in the US equity market immediately recognized that the catalyst for the big rally had disappeared instantly and left a great deal of negative sentiment, and huge uncertainty, in its wake.
Immediately, Bear Stearns stock fell from the sky, erasing a good chunk of its retracement gains in a few minutes. Logically, the rest of the market, which was focused that specific day on sub prime and Bear Stearns, followed suit and slowly but surely grinded down 40 points (or almost 3%) to the close.
While it could be argued that the market direction after the Bear Stearns call was not clearly predictable (although it was my strong impression that the market was heading down and I was short to the close), all of the following seemed relatively certain:
The huge change in sentiment regarding the credit market (immediately reflected by the sharp decline of Bear Stearns stock) signaled a new disequilibrium for the price of hundreds of stocks that were strongly influenced by the health of the sub-prime market ….or even credit market in general. Clearly, selling volatility in such an environment or applying mean reverting strategies (that might have been successful under normal conditions) could potentially be a dangerous activity for an ALGO that had no understanding of what had occurred or the implications thereof. In addition, any correlation relationships (the basis for many "pairs trading" or "relative value" ALGOs) for companies having reasonable sensitivity to sub-prime were also in danger of busting, depending on the relative exposure to sub-prime. Consider a homebuilder that sold to rich people versus one that sold to poor, sub-prime candidates. Although these companies might have traded at a very high correlation historically, that kind of relationship was in jeopardy of breaking down going forward.
Clearly, in such a disequilibrium or uncertainty period, many ALGOs are in significant danger of putting on a lot of really bad trades before figuring out the peril of the situation and modifying their behavior and either scaling back, shutting down, or changing their strategy altogether. This is reflected by the unusually high number of quant or ALGO trading hedge funds that blew up as a result of these events.
What's worse, this big disequilibrium move occurred in the wake of a year of extremely low volatility (relative to the mean for the prior 10 years). Since short-term ALGOs are often trained on limited data sets going back only three to six months, some of them knew little of high volatility environments (outside of a couple of big down days from the previous two weeks), and were surely caught somewhat off guard.
In summary, computers are extremely valuable tools both for analysis and execution. In many cases, computer programmers, despite little interaction with the markets, can build ALGO trading models that can outperform the great majority of human traders. However, it is my contention that 1) In some cases, many ALGOs could benefit from more (even if extremely limited) human involvement that could assist them, or at least keep them out of trouble, in times of disequilibrium or spontaneous uncertainty 2) There is still a place for human proprietary "traders" in the markets because they are able to identify and exploit occasional inefficiencies that simply can't be recognized by machines. Given the open ended nature of the problem, and the myriad of variables to be considered, I don't think that this is going to change for the foreseeable future.
Dan Murphy is the owner/CEO of Green Mountain Analytics.
Jim Sogi comments:
Systems traders don't like to make the real time decisions, but the decisions are merely moved up a level. Is it time to change the system, change the parameter, adjust here, adjust there, keep it the same? Always decisions. The other issue, in addition to the human variable weighting, is: can an astute trader add value through execution to a system? This relates to trader performance and human foibles. We make stupid mistakes sometimes.
Clock's comment about the short training period for the algo systems is critical. The lookback needs to consider historical max drawdown for money management purposes, even if the algo system parameters are set for a shorter time. This brings up another issue. Are also systems and money management different? Can they be combined? I think money management is better accomplished by leverage than by stops.
James Tar remarks:

In my experience as a horse owner and racing speculator, the fall meet at Belmont offers the public a considerable amount of mean reversion regarding payouts. This follows the NYRA's blatant stealing from the public during the Saratoga meet.
Today in Race 4 there are some interesting horses entered into the race that are right up the speculator's alley:
#3 - Bearish
#8 - Moral Compass
You can bet my money is on the #8 horse.
Vincent Andres mentions:
In reference to Mr. Sogi's comments: For/from the few systems I tested, it seems me obvious that MM cannot be considered as external to the used system. There is MM1=MM/system1, MM2=MM/system2, etc. MM has to be combined/adapted to the system.
This prevents of course not most MM to have some (good sense) common points.
(And also if our edge appears to be really only 50/50 … then there's no need to worry about MM.)
Jim Sogi comments:
The problem with combining risk in the trade system is that any system has in it a bias due to the time frame in which it is framed. That bias may not protect against the long term risk parameters and a built in risk system will not "see" the regular 8-10 sigma events which occur every few years. Bringing in an outside crash protection risk system is a possible add on module to a trade system and may require separate calculations. A robust example of this idea is from Triumph of the Optimists. 1.9 x would have multiplied the 1.5 Million percent return many many times over through compounding. 2 x would have gone bust. A risk add on might limit exposure to an average of < 2 x. An individual system may say, heck go 20 x, as this arbitrage is fool proof (see LTCM). Longterm plug in says, cut it at 2 x.
Free markets enthusiasts should be thankful that the present correction in the housing/mortgage industry will ensure that homeownership in America becomes much more available to the public. How can that possibly be bad? For a the long-term good, we are dealing with a necessary short-term evil. Free markets are the best system to promote growth and stability, even if it means we get penalized here and there. The key for the immediate to medium-term is for the powers that be to keep free markets exactly that: free.
I walked out of this man's latest film early. I had already read everything about it, and I was well aware of all of its arguments and positions. Many are valid, but the way in which he goes about making his point in his typical biased and construed fashion is absurd.
Just a few years ago I had an awful, but amazing, life experience living in a New York City hospital for approximately one month. I was literally on a death bed following a high speed collision with a yellow cab while traversing 2nd Avenue as a pedestrian. I was taken to Bellevue Hospital's trauma unit by a city ambulance and though I was unconscious, in time I learned that the facility was filled with victims of stabbings and gunshot wounds, fools suffering from self-induced drug overdoses, and so forth.
The health care I received was top notch. After all, I survived shattered left limbs and fractures to my skull, several bruised and ruptured internal organs, and some serious blows to my brain.
When I finally "came to" several days later - the coma was medically induced and extended to prevent additional swelling to the brain - my immediate thought process was to remain alert and focus on what was surrounding me. If I couldn't move my body (harnessed and tied down to a large degree to promote healing), I was at least going to keep a close watch of everything going on around me. I witnessed top notch health care being provided all over the place. Much of it to those uninsured whom Moore portrays as "victims" of the American medical establishment.
Early in my stay at Bellevue I had two roommates: Mr. D and Mr. N. Both uninsured I later learned. I believe Mr. D was working on a loading dock as a temp for cash money when a truck backed into him, knocking him down with his head landing on a cement block. No other bodily injury. But for all sense of the matter, he was ruined. The lengths to which the nurses would go to get him to focus on things as simple as putting a top on a shoe box, let alone tying a shoe, was incredible. I would watch for five minutes and pass out from my own frustrations for him. When I would wake 20 minutes later, there they would be, working on some similar elementary task with no success. He had been there for months prior to my arrival. Again, no insurance. If there was ever an unknown spirit of New York, this had to be it. But it says something much more (no pun intended).
Mr. N was another story - addiction problems. Again, the attention the nurses gave him when he would wake up in the middle of the night with seizures was incredible.
My time at the Bernard Baruch Rehabilitation physical therapy room was another fantastic experience. Again, the time and commitment the staff gave patients was incredible. Imagine watching someone learn to walk again. It can not be done alone.
The interesting part of my experience and how I challenge several of the filmmaker's points is what I saw during several of my outpatient visits at Bellevue. I routinely had to go for internal organ scans, leg and arm check-ups, etc. Do not get me wrong, the lines and times spent to receive treatment were extremely long, even frustrating. People in considerable pain and discomfort could sit for hours, but not once did I see someone refused for care. This leads me to my main point: Personal responsibility.
Of all of the cases that I saw over my month stay at Bellevue and the several weeks worth of outpatient visits, almost all of the problems had negligence in some shape or form of an individual's responsibility to take care of his or her self: drug overdose, constipation, obesity, diet-influenced heart problems, etc.
I took a good hard look at what was going on around me, and in a fair estimation, two thirds of the problems came down to an individual's body weight one way or another. I wish the filmmaker would spend a little more time looking in the mirror, most solutions to the American medical dilemma would be found right then and there.
Yossi Ben-Dak writes:
Personal responsibility is something very different from what Moore understands or perhaps admires. His very selective use of statistics and ratings seems to be in his movies only to win an argument.
While correct in many ways concerning what can be produced in the USA for public health, it is difficult for me to forget his venom and unfairness vis-à-vis business and selecting government for solutions in some areas but not others, given his idiosyncratic taste and populist broadcasting style.
That includes his utter irresponsibility for his body and looks as James correctly points out. It makes it difficult for me to explain to my daughter that not everybody who feverishly preaches health must be eating and exercising his message.
Steve Leslie adds:
Things that make you go hmmmm…
Michael Moore is grossly overweight, a prime candidate for heart disease, diabetes and other ailments, and laughably suggests that the health care system in Cuba is better than that of the United States.
Robert Kennedy Jr. screams out about global warming and then boards a private jet to travel to a speaking engagement.
Rosie O'Donnell raises money for the homeless and retreats to her mansion behind ten foot high walls.
Al Gore promotes a live earth concert to bring awareness on global warming and owns four homes.
Ted Kennedy wants to raise taxes on everyone, yet pays little federal tax himself. He accomplishes this through a complicated tax strategy involving offshore trusts.
The Big Dig starts out in 1985 with a $2.8 billion budget estimate and $14.6 billion of federal and state dollars have been spent to date. Recent revelations have uncovered that the epoxy glue used to support the ceiling is ineffective, causing a section of ceiling to fall, killing two people.
John Edwards speaks about the disenfranchised and poor and gets $400 haircuts.
Hillary Clinton talks about a nationalized healthcare system and Bill Clinton gets paid millions by Infosys who sells phone lists and marketing lists that target those with Alzheimer's.
Bill Clinton says "I feel your pain!" and charges the secret service $10,000 per month for security services to his compound in Chappaqua N.Y. which happens to be the same amount as the monthly mortgage on the house.
The Senate refuses to discuss privatization of social security yet has its own privately-managed pension plan.
Bill and Hillary decry the commutation of "Scooter" Libby's sentence yet refuse to discuss the Marc Rich pardon or the hundreds of other pardons handed out in the last 48 hours of the second Clinton administration.
Democrats scream about Attorney General Alberto Gonzalez and demand his firing yet forget to mention Janet Reno and Ruby Ridge, Waco, Texas, and Elian Gonzalez.
The Government suggests it can build a fence along the border between Mexico and the U.S. to keep out illegals from entering.
A new petroleum refinery has not been built in the U.S. in 30 years, yet legislation to build a refinery gets bogged down in committees. And the price of gasoline goes higher.
Charles Sorkin responds:

Should this jingoistic assortment be labeled as an example of propaganda, as a political parallel to the earnings and financial propaganda decried in the Vic and Laurel's literary works?
Does Al Gore's electricity usage imply that climate change is not real, or does not pose major problems? How does his power consumption per square foot compare to other politicians' homes?
Is Rosie is a hypocrite because she won't turn her estate into a homeless shelter? And if she did, would it really help combat homelessness? When I leave my office tonight, will I be retreating, or simply going home?
Isn't Bill Clinton entitled by federal law to charge the Secret Service $10,000 per month?
Waco, Ruby Ridge, and Elian are irrelevant to the fact that Al Gonzo is not performing in a manner suitable for his office.
John Edwards pays quite a bit of money for a haircut. How do his expenditures compare with what other politicians spend on cosmetic enhancements during their own public appearances? There are large make-up and wardrobe staffs backstage at the conventions of both parties, and at televised debates. I'll bet the services of those people are really expensive!
Alex Forshaw remarks:

If you're going to make yourself the locus of protest against carbon footprints, poverty or any other alleged injustice, you would do well to not exemplify the excesses of those most responsible for causing your "crisis" in the first place. There's a big difference between pointing out a problem ("nobody is perfect"), versus hectoring society to rise to a morally pure standard which you flout every day of your existence.
A striking feature of recent stock market moves is the weakness of the housing sector. For example, the S&P 400 Homebuilding Index, which is a cap-weighted index with six members (NVR, Toll Brothers, Ryland, MDC, Beazer and Hovnanian), with a base of 100 as of year end 1990, hit a high of 725 in July 2005, and now stands at 373, down from 450 as of three months ago.
Needless to say, this decline has been heralded as indicative of coming woes in the overall stock market. But as with most things widely disseminated by the media, shouted from their posts in Trinity Church by chronic bears (where they wait to hook a lunch from a member who's not broke from listening to them), such views are false and lead to the public's losing much more money then they have to.
Practical Speculation has a chapter on the relation between real estate prices and stock prices, following in the footsteps of Henry George. Studies show that boom/bust cycles in the economy and stocks are started when real estate prices get out of line with underlying economic activity. When real estate is too high, retailers can't make a profit and they downsize. When real estate falls, retailers and others who use property make more profit because their costs of real estate is lower. Henry George and others, such as Homer Hoyt, documented this phenomenon for many economic cycles up to the 1930s. David Ricardo first elucidated the theory.
Laurel and I documented that the cycles had continued vis a vis REIT prices, with declines in quarterly REIT prices forecasting gains in the overall market in the next quarter of about twice the normal rate, 7% versus the normal 3%. We recently updated the study to look at what happens to the overall market after changes in the S&P 400 Homebuilding index and found a highly negative predictive correlation of -20%. After quarterly declines in the Homebuilding index, such as we've just witnessed, the average gain in stock prices in the next quarter is 5%, with about a 75% chance of a rise. Once again, a commonly held fallacy leading the pubic to sell when they should buy bites the dust.
Kim Zussman writes:
Here is a quick check of HMI this month change vs next month change in SP500 index (12/85-3/07):
Pearson correlation of HMI chg and nxt mo rt = -0.085
P-Value = 0.167
Regression Analysis: nxt mo rt versus HMI chg
The regression equation is nxt mo rt = 0.00889 - 0.0535 HMI chg
Predictor Coef SE Coef T P
Constant 0.00889 0.00260 3.42 0.001
HMI chg -0.05353 0.03859 -1.39 0.167
S = 0.0424313 R-Sq = 0.7% R-Sq(adj) = 0.3%
Negatively correlated, but not quite significant, on monthly frequency.
James Tar remarks:
Shorting real estate and housing is difficult. You can't go out in the housing market and get a borrow on a few million homes that you can then go out and short. So everyone in the market who wants to be short housing/real estate is crowded into the homebuilders and select REIT issues. REITs have high dividends, so you can imagine how expensive it to carry your bearish disposition. A few buddies of mine running fairly large funds are feeling the pinch.
A good way to make sense of it all is to step back and take a look at what is really going on. I believe inflation, just like alpha in the stock market, is a finite quantity. There is only so much inflation that can go around. My studies indicate that the deflation we are seeing in housing/select REITs/mortgage banks is just about the same amount in dollar terms as the inflation we are seeing in energy, precious metals and agriculturals. So there is an inflation/deflation cycle constantly at work in the marketplace. As some assets inflate, others deflate.
To make sense of a confusing cycle, look for smaller, more easily identifiable components within this difficult game. I am looking at firms such as Georgia Gulf Corporation. Till the middle of last week the market believed it was headed for Chapter 11. But now this key supplier to the housing market has a much different story unfolding, perhaps indicating the imbalances in the housing market are declining.
From Alan Millhone:
On a very local note, I was talking to a neighbor the other night who was chatting with a man we both know who wants to build a new home. My neighbor said the fellow had scheduled several appointments to meet several builders and none of them ever showed. He asked me if I wanted to meet with this person and I told him no.
Houses are hard to figure due to rising material costs and the volatile changes in prices, sometimes on a daily basis. Also, I am now figuring mileage for my employees into my jobs X-number of days I project we will be on a particular job. I am confident giant home builders are having a tough time getting a firm handle on material prices to 'lock in' their hard costs of building homes in vast subdivisions. At present I would want little to do with building stocks of any type.
Roger Arnold writes:
The real estate pros who stepped out in 2005 are prepping to get back in and with big ideas about restructuring the entire industry. Gargantuan funds are prepping to get into the real estate game.
On days like today, when I have been proven wrong by the market and I am down a considerable amount of coin — when my nose is completely shot off — I close my book, take my losses, and start looking at the market all over again. I might re-enter, I might pass on the remainder of the day completely.
What I am seeing today: nothing has changed. I have not seen the market this fearful of an additional sell-off since May 1, or April 12, or March 30. Who cares if some imaginary geometry on the SPX has suddenly come into question?
I pay close attention to what the market has become: fantastically efficient. I see the market doing its dirty work in a much more efficient manner than even a few months ago.
Alan Millhone adds:
The market ebbs and flows like the tides, sometimes every 24 hours. I note today the Dow is down 120 points, however what about all the past days it went higher and higher? A short time ago it fell 400 points, but it all came back and then some. It stands to reason that at certain points traders are going to sell off certain holdings and thus take a profit. Then the market settles down and begins to climb once more to a certain level. Mr. Tar is in the market every day and gets in and out all the time. I stand back and watch oils, precious metals, lumber, etc.
Jim Sogi extends:
Blaise Pascal wrote in "The Philosophers" in 1623:
Continuous eloquence wearies. Princes and Kings sometimes play. There are not always on their thrones. They weary there. Grandeur must be abandoned to be appreciated. Continuity in everything is unpleasant. Cold is agreeable, that we may get warm.

Nature acts by progress, itus et reditus, It goes and returns, then advances further, then twice as much backwards, then more forward than ever. The tide of the sea behaves in the same manner, and so apparently does the sun in its course.
And so does the market. Pascal's quote brings to mind yesterday's pyrotechnics on an otherwise unremarkable FOMC plain talk release. The broker's quotes disappeared for a number of minutes, but at least they were busy filling orders in a timely manner. Globex seemed overwhelmed. Why the market goes through these circumlocutions is not clear, but a few things stand out. First, there is some sort of clearing function. Second, the action seems to stretch the capacity of both the Globex system and the trading platforms, which are not good signs. The PPI announcement led to a similar reaction in bonds, which dropped a point in three minutes, then rallied. This has the smell of a mechanical issue rather than an economic reality. It is the thorny path the S&P futures must take to their inevitable new highs. The appearance of a madhouse, of panic, so different than the market's normal stately mien, reminds me of the little chickens in the yard scattering, the mother squawking, all running this way and that from their cover in a panic as the hawks pick them off. Then ending right back where they started.
Victor Niederhoffer remarks:

You can't expect any market, even one with a six percent-a-year upward drift, to go up every day, especially after a series of maxima. The problem is that if you wait for just the truly high-Sharpe days, you'll miss the 10,000-fold-per-century rise.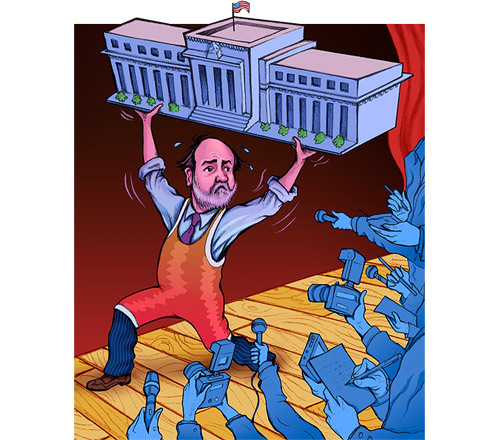 Rather than watch the paint dry on my screens, I am going to burn some calories at the gym, and return to watch the post-FOMC spasm. I'm sharing this seemingly pointless anecdote as a roundabout segue into my Fed meeting thoughts.
Like countless other bond geeks, I went over the last meeting's statement with a highlighter and pencil, ticking off the key Talmudic phrases.
I can see no reason they can't reissue identical wording this time around. Naturally, any change will be hyper-scrutinized, and there's always the possibility they'll be panicked/stampeded by the overwhelming doomsterism in the media.
But we get two more rounds of inflation data, and another jobs print, before the end-of-June two-day Fed confab, plus another round of data before the July Bernanke testimony on Capitol Hill.
Today, there's certainly no reason for them to do or say anything other than "adjustments will depend on the evolution of the outlook for both inflation and economic growth, as implied by incoming information."
John Floyd adds:
Of the economic data released in the last month, eight indicators have been below consensus expectations, eight have been above expectations, and the rest have been on expectations. Financial market indicators such as stocks, the dollar, and spreads have been stimulating.
Since the last meeting on March 21, March 08 Eurodollars have moved from a 4.600 yield to 4.915 yield (this is just price change, doesn't include curve roll-down). Some subtle shifts in the growth and inflation tradeoff, but given the differences in Greenspan's and Bernanke's approaches, I would concur the probability of any changes seems low.
James Tar remarks:
Early in the tenure of the current Fed Chair, I was critical of his public discussion of inflation, interest rates, the dollar and the economy. And we all know of his gaffe with CNBC's poster girl.
Over the course of the last 12 months, I have become an adoring fan. Not once has he made a mistake in discussions and forecasts regarding the overall progress of the economy. He has not been wrong. Not once.
What we should all pay attention to in today's statement is the Fed's forecast for a continuation and recycling of strength in economic activity in the later part of this year. If GDP progress is going to continue, corporate profits can only go much further beyond present market expectations.
It's that time of year again, when we have the privilege of watching the game's best (arguably ever) clay court player battle the all-time best overall player, on the one surface where victory, until now, eluded him.
For me, you do not have to be the best on all four surfaces to be the best of all time. It is kind of like the markets. I do not think any of the hedge fund greats of all time are making money from every market and asset class better than all competitors at the same time.
In Sunday's match in Monte Carlo , Federer played badly while Nadal played consistently. This is why Nadal again beat the all-time best. What should be encouraging for Federer's fans is that despite his being without his forehand he competed better mentally than he had in any of their previous clay matches.
This is an important markets lesson. By staying mentally competitive in losing situations, we increase our chances for positive outcomes.
Core CPI unrounded was +0.061: not even a full tenth of a percent. I didn't see anything weird in the data.
The print came in below the range forecast by the economics derivatives auction. The housing prints, though stronger and expected, were not strong in any real world sense. A quick eyeballing of the unadjusted single-family data shows these levels to be the weakest for March in a decade.
So, the econ bears will breath easier until the next data.
James Tar adds:
Wow, what a great CPI number. To me, it conjures all sorts of fantastic emotions about letting free markets be exactly that, free.
Markets eventually know better when they have gone too far. And by letting them do the work for us, they make necessary adjustments so that normalcy and the rising tides of capitalism can restore order and growth for the long-term benefit of humanity.
Roughly four years ago, Victor and Laurel wrote about a birthday party dinner they attended, where they had the pleasure of sitting with a market neutral fundist who had earned the nickname "Mr. Axe." The Specs bestowed the name on him because the performance of his market neutral fund's performance at that time was summarized as "axe murder."
Small world we live in! Mr. Axe happened to be, and still is, my greatest trading mentor and advisor.
Despite speaking with Mr. Axe over 10 times a day, every day, for the last seven market years of my life, he has used the phrase "we are going to zero" only 15 times. The market has not ever failed to mount a meaningful rally immediately following such musical words. He made the statement at 11:46am today.
Movies are an excellent compliment to exercise, helping to reduce the ill effects of market abuse. When in doubt, hit the weights and treadmill, then follow up with a movie. My recent bullishness is well documented; it will not change. Without question I was bludgeoned yesterday, yet I did not capitulate today.
Last night, after a fairly intense workout I got home and popped in the film, "Stand By Me." It offers several good lessons on life and friendship, but mainly shows how devout comradely is generally the best weapon against outsized adversity. Such should always be the case when market enthusiasts, Bulls, are up against a much larger opposition.
To me, by taking a big step back and looking at this year and comparing it to May-July of 2006, the same story is revealed: Liquidity.
Last year, with inflationary pressures rising faster than the market's ability to price in further global central banker tightening policy, the market finally got the cue with the May CPI and PPI releases. We know what happened after that.
This year, liquidity is coming into question in a different form — under the perception that a huge component of the US economy is severely damaged. Is it really that huge? My estimation of the sub-prime component says something different.
I have used Roger Federer several times as a metaphor or example of markets excellence. Everything the man does to prepare himself for victory is first class. But what has not been mentioned before (because of the rarity of such an event) is how he handles himself after defeat:
"That's not the way it is. A guy put me away when he had to. He played a perfect match in the end. He didn't give me any more chances. He served well. He didn't give me any unforced errors and I was just playing too poorly in the end to come back. So the right guy won today. That's just a fact."
Take the loss and move on.
"The Prestige" is a fantastic film - superb acting with a plot full of twists and turns - much like the global markets currently at hand.
A Magic trick has three parts:
The Pledge - telling the audience that something ordinary is going to disappear or do something impossible.
The Turn - the magician makes the impossible happen.
The Prestige - the impossible is restored back to reality.
Magic, or the illusionary art of deception and fooling that the impossible is possible, is the topic that the film's plot line is structured around. The lengths to which the characters go to create their illusions, and the greater lengths they go to to disrupt the efforts of their rivals is incredible.
It reminds of the current battle in the market. Bears, until very recently, were "turned" into a disappearing act. The recent "prestige" of their return has occurred at a time when Bulls are still in the theatre. They have not yet been turned. No one needs their disappearance, because the time waiting for their prestige can cause all sorts of problems. The Bulls know this, and they won't be.
Magic is deception, and I believe the greater trick at hand for the market, and one that will in fact be next up from its bag of tricks, will be to "turn" the Bears once more, for a long, long time.
Inspired by the postings Sentiment, by Timothy Roe and Pessimism, from Victor Niederhoffer on the Daily Speculations website, I decided to investigate these observations in more detail.General market sentiment tends to lead investors down the wrong path. There exists a negative relationship between the sentiment of the American Association of Individual Investors (AAII) and future Dow Jones Industrial Average returns.
The AAII has been conducting a weekly sentiment survey of its members since July 1987. It asks respondents to categorize themselves as Bullish, Bearish or Neutral. They then assign a percentage to each group from the total sample. (For the purpose of this study, I use the percentage of Bearish individuals as a gauge of investor sentiment.)
Since 1987, the average percentage of Bearish individuals is 28.31% with a standard deviation of 9.25%. For the week ending 21/07/06, the Bearish percentage stood at 58%. That is over three standard deviations from its mean. Indeed, a very high percentage of Bearish individuals. With this in mind I decided to record all the occasions whereby the Bearish Individuals measure, strayed three standard deviations from its mean, to roughly 56%.
There have been 8 occasions when the AAII percentage of Bearish individuals recorded a score of 56% or more and 12 months later the DJIA was up on average by approximately 20%, with a t stat of 2 and a win rate of 100%. The percentage return is almost double that of all other rolling 52 week periods. In reality the data slightly overstate forecast returns and does not approach statistical significance due to some overlapping and clustering of data. However, the data are suggestive of much higher levels for the DJIA 3, 6, 9 and 12 months out.
I also decided to test future returns when the percentage of Bearish Individuals fell between three and two standard deviations from its mean or roughly 56% to 46%. For mine, still a relatively high outcome. The data in this group were consistent with the previous findings that a high level of Bearish sentiment is positive for future returns. I found 33 occasions that produced a 12 month average return in order of 15%, with a t stat of 2 and a win rate of over 85%. Again the data are somewhat overstated due to overlapping and clustering of data, but the general picture appears to be positive.
Interestingly, if we include the reading of 58% recorded on 21/07/06, then 8 times out of 9, three standard deviation observations occurred when military conflict was omnipresent in the mind of investors.
Six readings of greater than or equal to 56%, occurred between August and October 1990, a time when Iraq invaded Kuwait. The DJIA never traded below its October low again.
A reading of 56% was recorded in October 1992. The month's news was heavily dominated by the US Presidential campaign. Again the DJIA never traded below its October low.
In late February 2003, Bearish sentiment was at 58%, approximately one month before coalition forces invaded Iraq. The first week of March marked the low for the DJIA, a low that till this day has not been breached.
The recent reading of 58%, recorded in late July 2006, coincided with the Israel & Lebanon conflict, & the DJIA trading at 10,868. Perhaps this could be a multi year low. We will find out over time.
The data are consistent with Lord Nathan Rothschild's musing that he liked "to buy when the cannons are thundering and sell when the trumpets are blowing", circa 1810.
For Australian investors the data are also suggestive of positive things to come. Of the 8 times that the AAII percentage of Bearish individuals was equal to or above 56%, the All Ordinaries Index gained on average 16.58% over the next 12 months versus all other rolling 12 month returns of 7.03%. Just over double the average, with a t stat in order of 2 and not one negative 12 month period.
Maybe our Bear will not be depressed for too much longer, because he can be associated with an up stock market.
James Tar objects:
The foundation "Bear Sentiment as a Contrarian Indicator" rests on is flawed. Mr. McCauley makes an obvious mistake. What needs to be considered is that everyone is finally looking at Bull/Bear Sentiment Gauges these days to help formulate an opinion on market direction. Present market chatter, and everyone is saying it, is "The Bear Sentiment is so high we cannot go lower." Everyone is fixated on this, so much so that the herding on the weekly polls and data (AAII releases) for a contrarian indication of market direction should be a clear warning to the speculator that such a method has now become extinct. The market has perhaps outsmarted once again. Meaning, it might be time to look to these polls as confirmation.
I deeply regret writing such bearish commentary. But if we are truly going to advance our study and discussion of the markets, such a reversal in the foundation of such a widepsread utilisation of "contrarian indicators" must clearly be considered.
Andrea Ravano comments:
I have seldom seen so much negative feeling and low expectations in stock markets, than those surrounding me at present. Private bankers from here and there (I will not mention the countries the calls come from, because I am afraid to offend) mention again and again the risks of war in the Middle East, the price of oil, the risk of inflation etc.. The consensus seems so large that I am a bit puzzled by the market show of strength relative to the so many, possibly sidelined, if not straight short investors.
Which, of course, leads me to believe that if nothing unreasonable happens in terms of terrorism, we might see world stock markets rally by year end, if not sooner.
Archives
Resources & Links
Search