From Human Error, by James Reason:
People often have an overwhelming tendency to verify generalisations rather than falsify them: this is a fundamental attribution error.

Whatever governs general proneness to everyday slips and lapses also appears to contribute to stress because certain styles of cognitive management can lead to both absent-mindedness and to the inappropriate matching of coping strategies to stressful situations.

Predictable potential for error is the inappropriate acceptance of readily available but irrelevant patterns.

Humans, if given a choice, would prefer to act as context-specific pattern recognizers rather than attempting to calculate or optimize.
Nils Poertner agrees:
so true. chess for kids = excellent - they learn to falsify a "winning path" by looking at all possible defenses of opponents. so many good projects now everywhere -eg St Louis Chess club for kids etc - also see Ben Finegold.
Duncan Coker offers:
Read an interesting book called Scatterbrain by Henning Beck. Humans makes tons of mistakes especially in repetitive, mundane tasks or difficult calculations. Computers do that way better. What the brain is quite good at is forming ideas based on connections, patterns, correlations, and intuition. We are also very good at adaptation and learning from mistakes. AI will be much better and grinding through terabytes of data. But human brains better at separating the wheat from the chaff and making sense of it all.
America is not what it used to be, it's people are easily manipulated and weak. They do everything the government says without a 2nd thought. It's sad.
from a chap on Twitter - his name is irrelevant. too many ppl go on about that easy to be bullish about many things in particular in the US of A in my humble view.
Stefan Jovanovich comments:
If that statement were made about any other country of any size from Denmark to China, it would not be taken seriously. What literally unites "informed" and "educated" people worldwide is the hope and belief that this country full of fat people who don't learn foreign languages and do not surrender to the metric system can somehow be brought to heal. What they cannot accept is the fact that the country is so large and various and so maddeningly Democratic that "policy" only gets decided for good after, as Van Buren said, Americans have taken the time to have "sober second thoughts". So, after nearly two years of stupidity, we are to the point where the rules for Covid will, as Biden just said, have to be made by the states. Just in time to disappoint all those "responsible" conservatives there is a majority who want to joinThe Anti-Federalist Society.
Nils Poertner adds:
each country, continent, etc faces its own unique challenges now - eg Germany (and the rest of EU - also UK) sitting on the tracks and the train is coming in form of an energy crisis, among others. and one can say to ppl 3 times that the train is coming
but better to walk away or profit from it. i don't live in the US. am sure you guys will manage - defeatism was never an American thing anyway.
James Lackey responds:
Hubbert Peak was 1957 and my dad god rest his soul made fun of that til the end of his times. There will never be an energy crisis. It goes against physics. Like jobs and government they can not be created nor destroyed just the way we pay or play is different.
What we fail to realize as American men is the women and children adapt quickly like a finger tap snap! They bitch moan complain and then say ok cool let's do it differently
Just don't ask first lol.
What's remarkable about consulting for me is this general quote: "Everyone wants to know why why why!" I say yes sir so what? I get a death stare then quote von Steuben then shake my head Yes! As I state good enough for General Washington should be ok cool with us.
Nils Poertner replies:
Adapting to a new econ landscape, creating new jobs, finding new mkts, trading etc… and so on - is one thing and Americans are indeed quite good at this. that said…if you step back for a moment and look at the status of human beings around you with some compassion and benevolence - from the heart level - and at what level they are /we are - or society in general - then you surely see or sense that there is a lot of upside potential to say the least….
Most farmers plant a seed but don't constantly check every 5 minutes whether the seed has grown. They can live with some basic uncertainty called faith in the process. (may be changing now with new farming methods…)
Compare that with modern human behaviour of constantly checking a phone or a stock price or social media - that is not natural behaviour - it is normal though.
If enough behave unnaturally, perhaps we adversely effect the outcome? Too much attention then..? Am wondering whether constantly looking at a topic, or talking about something may adversely affect the outcome, e.g., way too many ppl talk about some strange health issue that started early in 2020.
Stefan Jovanovich comments
Farmers do, in fact, check their field crops regularly using GPS, moisture monitors and cross-checks against the prices of corn, beans and natural gas (used for drying). We humans with our opposable thumbs are permanently addicted to the use of tools. That is the one consistent behavior that has identified our species since we became one. Why? For the same reason sea otters play with rocks and then use them to break abalone shells - making things is fun and profitable.
Nils Poertner responds:
yes, I know modern farmers using more high-tech equipment to survey and manage their crops etc - not all bad - there must be some happy medium though? too much control or trying hard is a sign of deep rooted anxiety and lack of trusting the process. we may see that playing out in many ways now in politics etc.
James Lackey writes:
My brother created a work game. He hired our X bmx team kids that are now young men. He turned work into a game. The pay rate is a days labor. There is no time kept. Play all we want and there is 9 innings. Rain outs only happen in a hurricane. We play a full game. The slaughter rule is if we are up by 10 in the bottom of the 6th we pack up for tomorrow. 70% of the games are slaughtered. He never changes the rules of the game.
A music piece by Händel - the Arrival of the Queen of Sheba. One could tell that the organ player is enjoying himself.
So many of us finance do terribly well - financially speaking. But then we see it as toil. Some go to the theater or listen to concert in the eve- but perhaps we got it all backward then?
Laurence Glazier writes:
Let's remember that Handel was enjoying himself too.
Nils Poertner replies:
Wasn't he a pretty good investor as well?
Most (good) musicians experience life in greater fullness than ordinary folks (like us) and express it via their music, eg, the late US singer Johnny Cash…same thing with him. also good lyric with toil and feeling depressed and the sun comforting him etc. some of my more narrow minded friends are like: "I am rich, I can buy happiness." No, you can't. It is an illusion.
Vic adds:
i listen to verdi whenever i need cheer. every one of his arias and chorus pieces is bite sized to enjoy. verdi was a genius in all things like mozart and brahms. a great investor also was about the richest man in Italy when he passed. maintained amazing secrecy about his mistresses also.
Jeff Watson offers:
Whenever I need cheering up, I listen to Steve Fromholz sing his epic Texas Trilogy, and his Man With a Big Hat. (If that one doesn't bring a tear to your eye, have someone check you for a pulse.)Beautiful music that celebrates real men, freedom, and the open range.
Adam Grimes writes:
Thank you for the share, Nils. This is a fun piece… I've played arrangements of it literally hundreds of times in church services and weddings, etc.
By the way, if any of you play piano, Handel's keyboard music is vastly underrated. Almost all of it is super accessible and a real joy to play. Worth checking out!
I've been more successful in the past few years finding a balance between my artistic, creative life as a musician and the markets. It's a terribly hard balance to maintain and I haven't quite got it right yet.
James Lackey writes:
The Blues Travelers Run Around, the blues brothers and the prison movies Shawshank Redemption, Clint Eastwood Alcatraz always cheer me.
Verdi is fantastic for its simple yet full and rich chord structure and the similar movie sound tracks. Or how about that chord and crescendo on the TDX patented movie surround sound vrrrrmph there is nothing like the sounds of a properly tuned full blown racing engine at idle then a single thump of the throttle and shut it down to silence.
Simon and Garfunkel the sound of silence is wonderful with the remakes of recent rockers.
The sound of silence trading is one thing, like sunshine itself that is either one of the most beautiful things a day or annoying. The sounds of a single fan on in a room across the hall, a car door, mumbled sounds of laughter on the next block. In a panic as your fingers cut plastic keyboard buttons and you search for an honorable retreat. A big rally, the escape with a proper reduction, back to even you laugh as your holding what you've got for the duration as we mumble we should have had the balls to hold all to close.
Then like the sun rising over a few covered manicured field of dreams. You whisper, Put some music on brother…Why is it so quiet in here?
Life without music is death.
Laurence Glazier responds:
Nicely put, Lack, with a great rhythm and turn of phrase. Music is a force of nature we cannot tame, but we can be its instrument.
A quote from the painter David Hockney's latest book, Spring Cannot Be Cancelled:
I intend to carry on with my work, which I now see as very important. We have lost touch with nature, rather foolishly as are a part of it, not outside it. This will in time be over and then what? What have we learned? I am almost 83 years old, I will die. The cause of death is birth. The only real things in life are food and love, in that order, just like our little dog Ruby, I really believe this and the source of art is love. I love life.
Larry Williams suggests:
Food and love?? How about air? How about something to be passionate about—like trading or whatever turns you on.
James Lackey :
Larry as you know "trading for a living" opens up self - I we me - to the world in a very simple output PnL and you can not fake it for long. To complete on the worlds stage full time is to immerse yourself. If you give the market 80% effort perhaps you'll end up with a 20% loss. Give it 98% maybe you'll get a 2% profit after expenses and paying yourself a working wage. Go all in and it's literally limitless. All the money fame fortune a many can ever want.
Take back 2% of your time? The mistress of the market is a very jealous person. If she doesn't kill you your cohorts running at 100% will.
Trading is one of the best things that has ever consumed me and mine. Yet it consumes me.
Laurence Glazier comments:
Better the passion is in the art than the artist.
Nils Poertner writes:
well said. there is nothing wrong with some healthy ego. but the ego that modern man (modern woman) has formed is perhaps way too narcissistic. We are co-creators in fife and that spirit is encapsulated in many religious books- even by Ralph Walter Emerson. one has to feel it - it has nothing to do with IQ.
In The Gospel of Emerson, Ralph Waldo Emerson is quoted as saying:
"There is a principle which is the basis of things . . . a simple, quiet, undescribed, indescribable presence, dwelling very peacefully in us . . . we are not to do, but to let do; not to work, but to be worked upon."
James Lackey adds:
The gist of whatever m saying comes from my dad and army guys and y'all:
Give a smart man time he finds problems.
Give a real smart guy time he finds solutions.
Give a genius time they find the right questions.
With leadership all 3!work together and create the undiscovered unlimited human potential. Alone without leadership and a dose of pain you get what my dad called "lost souls". Time is the 21st century issue most have too much time to think of problems. Those with solutions have no voice as they live in fear. The genius sit alone talking to the connections.
The genius around the globe never before without a middle man or government wishing some one would take charge and get it done. What is it? That list is now so long it's an infinity symbol. No begging. No end.
Alston Mabry suggest:
Speaking of music, the Fresh Air podcast has a 3-part Sondheim
retrospective. It's really interesting to hear somebody at that level
talk about his work.
Nils Poertner offers:
"There is nothing that man fears more than the touch of the unknown. He wants to see what is reaching towards him, and to be able to recognize or at least classify it. Man always tends to avoid physical contact with anything strange. In the dark, the fear of an unexpected touch can mount to panic. Even clothes give insufficient security: it is easy to tear them and pierce through to the naked, smooth, defenseless flesh of the victim."
- Elias Canetti, Crowds and Power
Larry Williams admits:
I fear margin calls a lot more than the unknown.
Zubin Al Genubi writes:
I don't fear margin calls due to careful use of risk management techniques as outlined in books by former list member Ralph Vince and Phil McDonnell. Together with diversification its one of the free cards in finance.
Larry Williams concurs:
Me too! My fear of margin calls is what forces RV's money management rule upon me.
Give Bones asks:
You size your trades using optimal F?
Larry Williams answers:
Yes, a form of it I have adapted it to my trading style.
There's a great deal of money to be made being bearish…as an investment advisor or publisher.
There is a great deal of money to be made being bullish as a real investor.
Nils Poertner comments:
generally true agree. easier to sound scepitcal in life - no academic person normally wants to sound like a constant cheerleader
that said, maybe next 2 yrs different than last 2 yrs - and lots of refinement, creativity, imagination needed as in right hemisphere type of job
James Lackey writes:
Of course there is a lot of money made by doing nothing as well. Sell premium but the argument is not how to make money the argument was: What's the cost? Time and price are currently market marked and what's the mystery? The future time and prices. What's the cost of carry the opportunity cost how many calories are being expended by being long short flat
Thermodynamics of the entire system comes to mind:
The market eco system
The firms eco system
Family
Your inner voice peace or
In my case: Brain damage from Cognitive Dissonance
Nils Poertner expands:
Health (incl mental health) is already a huge topic not just for ppl on this list. coz our lifestyle is often normal these days but still unnatural. And we have lost touch with what is natural a bit..
Eg. light. we need light - daylight eg. the amount of time we spend indoor is like 3pc on average in the US (compared to 10 many decades ago)- am speaking about kids - it is probably the same for adults or worse.. Also ppl chroincally jetlagged without ever having taken a flight as they use too much artificial light /don't get enough darkness /sleep at nite. (eg I used to trade Asian fx during European hours …. - you can imagine how my body clock got out of whack etc etc etc)
see Jacob Libermangood intro on light, vision and health
James Lackey responds:
This is fantastic! The Huberman Lab agrees a… The brain is the eyes and the eyes literally pop out of the skull during development. Light is s key to good mental health!
Andrew advises to watch the sunrise and sunset daily. My Lack Hack to reset or to maintain the body clock meme is Planet Fitness. My hypothesis is if we watch the fireball in the sky dip from horizon it's about 2 minutes from bottom to top if your on a British Navy ship a few hundred years ago it was a simple task and all hands on deck. If we are on the equator this is 12 hour days.
Shakelton in his arctic voyages had a big problem. In Alaska Army guys have a point in the year of incredibly low sunlight or 24 hours of dark like an eclipse day and 24 hours of blue skies at night. The Army and the British navy always find life hacks to be fit for duty
Ok so you want to fall asleep by let's say 9 pm tonight? Get up 3 am and blast yourself in stand up tan room at planet fitness! It's close then a few minutes before dawn get outside and literally stare at the color change of the shy at nautical sunrise which is before the fireball
The Huberman lab falsified my hypothesis that's it's the 2 minutes it take for fireball to go from top to bottom. That doesn't work. What does work is the change and range of colors of the sky the light refraction. Then why the lack hack do planet fitness 18 hours before exact bed night go to sleep in a cool dark silence room?
Because like trader it's the duration and the magnitude of the sunlight daily! Ya see in S Florida a very light skinned person has to be careful due to the magnitude of the sun on skin cancer spectrum. Therefore the duration and Magnitude is imperative for physical and mental health. When I realize that I shut all lights off in my house when my daily sun limit was maxed out IR too much sun at beach and bmx track I said omg!
So the falsified hypothesis led to another it's not only the eyes signal the brain chemistry the sun rise plus 16/18 hours you see sunset and boom you can sleep. You need f(X) amount of physical sunlight and duration and magnitude must be maximum for your body skin etc/brain chemistry and dna what ever the hades all that must mean.
I'm genetic white Nordic and I'm tricking my eyes to signal it's brain to think it's Summer Solatice in Fall or best Winter
PS trade the Dax vs SPU for a bit and live dad bmx dad life it was too hard until we used science!
Larry Williams adds:
Increase telomere length
[For example: Lifestyle Changes May Lengthen Telomeres, A Measure of Cell Aging]
JS Bach was once asked why he wrote so much music.
His answer:
1. "To the glory of God" (not sure whether he meant it, nevermind)
2. To amuse himself.
Maybe some like this piece here as well:
Bach - Concerto in D minor BWV 596 - Van Doeselaar | Netherlands Bach Society
In the first notes of the Concerto in D minor, performed by Leo van Doeselaar for All of Bach, it is immediately clear that this is not the usual Bach. This piece is an organ version of a concerto for two violins and orchestra from Antonio Vivaldi's L'Estro Armonico. Vivaldi's music was popular throughout Europe and Germany was no exception. During his years at the court in Weimar, Bach made a series of arrangements of Italian concerto music for organ and harpsichord, including six concertos by Vivaldi.
Gyve Bones adds:
From 20 arguments for the existence of God, from Prof. Peter Kreeft, Department of Philosophy, Boston College:
17. The Argument from Aesthetic Experience

There is the music of Johann Sebastian Bach.
Therefore there must be a God.
You either see this one or you don't.
Alston Mabry writes:
There is a scene in Professor T (Antwerp version) where T is talking to his cellmate and says very sadly something like, "Is there a God?". And his cellmate says something like, "There is Bach. Bach is God." And T smiles and says "Yes, Bach is God."
Peter Saint-Andre offers:
A quote from Pablo Casals:
For the past eighty years I have started each day in the same manner. It is not a mechanical routine but something essential to my daily life. I go to the piano, and I play two preludes and fugues of Bach. I cannot think of doing otherwise. It is a sort of benediction on the house. But that is not its only meaning for me. It is a rediscovery of the world of which I have the joy of being a part. It fills me with awareness of the wonder of life, with a feeling of the incredible marvel of being a human being. The music is never the same for me, never. Each day it is something new, fantastic and unbelievable. That is Bach, like nature, a miracle!
Nils Poertner responds:
that's great. I always try to listen in the moment - whatever works for ppl - life works a bit by invitation anyway. one can't force stuff. a basic sense of joy and harmony is certainly missing in our era (the media, the drama etc outside).
Jeffrey Hirsch recalls:
An English professor whose class I was in asked the question why people write poetry. Answer: Because they have to. Similar reason why Bach wrote so much music. Because he had to.
Richard Owen wonders:
Does Bach have an Onlyfans? I can't see it in the search.
Laurence Glazier suggests:
There are free versions of Sibelius. May I recommend the pleasures of composing now available to all?
Richard Owen admits:
Thank you Laurence, an answer from a real musician of note I think? I should therefore disclose, because you are a decent and proper individual of good character and standing… my question was touched with satire. Google Onlyfans via google news, and you might learn something about the debasement of our culture.
Nils Poertner makes a connection:
btw…I always wondered whether one could re-train a musician becoming good trader? Why? Coz good musicians (of any style) tend to enjoy the process of learning - and are the complete opposite of end-gainers. perhaps they are not interested in financial markets enough- otherwise it would be an interesting project. any idea?
Duncan Coker writes:
I am not in the class or universe of LG in terms of composing, but I do write country songs as a hobby. One thing I have found useful is, often I have to throw something away that I thought was good, a melody, a lyric and start from scratch. The more easily and quickly I scrap an idea, the easier it is to start over. You can't force it. This is true for trading.
James Lackey expands:
Dunc is not gonna get mad at me because we never argue. However sure we can force it and to add to the comment of "those people". As if a career makes a man!?)@""
Anyways path dependence omg I sound like the geek I am. Ok in a sport or music the pleasure has to be the process of practicing or doing it every damn day. As parents we teach this as in brush your hair teeth good girl boy kiddo! The pleasure of rewriting written words must be higher than start from scratch or least effort kicks in no?
I do not care if she likes my poems. I love them. I'm not sure if it's a coin toss but I can't fathom whether I like the poems I wrote in one blast or over 6 hours weeks days or? Good is good and great is better than 6 years ago and awesome is when she says so.
I wrote an awful poem once. Many bad but awful because you can hear the blood hit the floor. I gave it to a song writer buddy and he said damn that's awesome. I said write a song. He said no man you never write over another mans blood sweat or tears.
In trading the get the joke one liners or 5 lots are cute and won't hurt anyone much can't kill you but will never inspire romance. The all in big line can and will get you the one, the forever girl or death one way or the other every 7 years death to the marriage of business and of the romantic life.
They say you'll get what you need out of trading the market. I think perhaps that's what separates us from the other guys. We need we want we just can't help ourselves, we need everything. We want it all!
Adams Grimes writes:
I do think there are some fairly intense connections between music and successful trading/investing. There are the obvious issues of "sticktuitiveness" and grit… I'm currently working my way through one of the Bach Partitas and spent about 4 hours yesterday on 2 measures of music. (For reference that's probably 4-6 seconds, when performed). That degree of focus on detail is absolutely normal for musicians, but is not normal for most peoples' experience, at least in the modern world.
In markets, we get kicked in the head (if we're lucky) or the balls (or, more likely, both) on a regular basis. Some degree of stubbornness and a willingness to just not give up.
I think there are also some profound tie-ins in terms of pattern recognition. For me, I think this worked both ways… after taking a decade away from music I discovered my "musical brain" and compositional skills were probably better than they were, in some ways, when I was focusing my life around music. (My keyboard technique emphatically DID NOT improve, as that's something that does take a fair amount of maintenance.)
Serious, important, and maybe even interesting epistemological questions lurk here.
It's hard to have a favorite Bach piece… his works are surprisingly even in quality across his output, but let me share one that is at the top of my list. This has always been one of my favorites:
Bach: Trio Sonata in G major BWV 530 - I. Vivace - Koopman
(And, for sounding so simple and transparent, it's a nasty little nightmare to perform!)
Gyve Bones harmonizes:
I first heard this performed in the 1970s by Walter/Wendy Carlos on the "Switched-On Bach" on Moog synthesizer, and it has remained a favorite piece of music since then. There are various settings of the piece for guitar and piano as well. Here is a full symphony rendition… It is a song of gratitude to God for his many blessings.
Bach - Sinfonia from Cantata BWV 29 | Netherlands Bach Society
Peter Saint-Andre responds:
I had a similar experience with one of the Bach Cello Suites last night. There is much effort (both time and concentration) involved in learning these pieces. And he probably just dashed them off!
BTW, many years ago there was a software company that specifically recruited music majors because they were highly trainable for programming. And music majors also scored quite high on the even older IBM Programmer's Aptitude Test.
Adam Grimes comments:
And he probably just dashed them off!
This, for me, is one of the biggest and probably eternally unanswerable questions in music history. I suspect our performance standards today are probably far higher than they were historically. It's possible we have an army of at least highly technically competent instrumentalists who've devoted more time to, say, the Chopin scherzi than he ever did himself. We know that Beethoven's playing of his own pieces was, according to contemporary accounts, thrilling but filled with mistakes. When Czerny (a student of Beethoven) proposed playing Beethoven's pieces from memory, Beethoven replied that it was impossible to get all the details without looking at the score… and then admitted he was incorrect on that assumption.
Reading between the lines of what CPE Bach wrote (the Essay on the True Art… is a must-read) I suspect contemporary performance practice was much more improvisatory and perhaps less detail-oriented than we'd expect. We know many of these Bach cantatas were written, rehearsed, and performed in a week. These performers were not super human… the only thing that makes sense to me is that our performance standards and expectations (which approach technical perfection, due to the advent and growth of recording) might be much higher than in past ages.
But perhaps I'm wrong on that.
Interesting on the programming front. I would think those are two quite different modes of thinking (and knowing the expertise is domain-specific in many cases), but I'm a far better programmer than I should be given my level of actual training in the discipline. Maybe there's something to that.
Peter Saint-Andre writes:
In his book "Baroque Music Today", Nikolaus Harnoncourt notes that before music was recorded, people most likely heard any given piece of music only once and didn't want to keep listening to the same music over and over as we do but instead continually sought out whatever was new. Perhaps there was a sense of discovery as composers explored the potentials of the tonal system; once those potentials were exhausted and composers started to produce extremely chromatic or even atonal music in the 20th century, listeners were turned off by the new and sought refuge in the old (thus Western art music ceased to be a living tradition for most listeners). Thankfully composers like Adam Grimes and Laurence Glazier are bucking that trend!
Laurence Glazier writes:
One would expect coding and music skills to be correlated. A symphony is partly an encoded instruction set, whether performed by a computer or an orchestra. The conductor is the "crystal", the timer that pumps the flow. But oh, so much more, than that.
It would be very hard to combine the music and trading fields. To be attentive to the Muse and the S&P at the same time? Surely both are all-consuming. But trading, with its psychological dimension, of self-awareness and development, is a fine path. Alexander Borodin managed to combine composing with a distinguished career in science, as did Charles Ives in insurance.
those ETF's (about 240 that i track) which at least have 15 or more years of trading history, with 1/p-value > 20, sorted by Sharpe, returns details since Y2K:
November statistically significant seasonal bets
Nils Poertner suggests:
seasonality = some relevance - but perhaps other mkts than equity deserve some attention?
The energy crunch in China and Europe may grow into a bigger trend worldwide. Its one of those small line notes you notice and go hmmm. Like the pandemic was in early 2020. Hmmm, shortage of masks. Hmmm, Shortage of gas, coal. Things that make you go hmmm.
Water shortages also coming up. See how this winter is. Reservoirs are quite low. Look at weekly chart of FIW water etf.
Jeff Watson adds:
I'm noticing many holes where product should be on shelving at every retail establishment we patronize. I've been waiting on a part for my Jeep that's been on back order for 6months. Still see little to no ammo in stores. The system is full of hiccups.
Tim Melvin notes:
I saw a lot of empty shelf space at Costco last week. Very unusual.
Pamela Van Giessen writes:
No joke. We have a huge problem. This is what happens when the world gets shut down and everything is all covid fear all the time. No workers. Test school kids constantly and they will end up being sent home and parents won't be able to work. Then stuff won't get made or shipped to where it needs to be. Freight train, fully loaded, sat parked in Livingston MT for nearly 2 weeks. Just left the other day.
As someone running a business that relies on actual commodities (flour, sugar, etc) I find myself overbuying out of concern that I will not be able to get basic ingredients. I had a hard time getting boxes about 2 weeks ago. It's ridiculous.
Laurence Glazier writes:
It's getting reminiscent or the Atlas Shrugged movie.
Nils Poertner suggests:
UK is worth to watch as most things we are going to see here in Eurozone or you guys in the US are happening a touch earlier over there (UK being such a tiny, little, open, exposed, econ).
Laurence Glazier adds:
Yes, over here in London it's harder to get petrol (i.e. gas) for the car, less things available in online stores.
James Lackey writes:
I can get everything to build a car a bike or a motorcycle and mysteriously no spikes no single bearing or one simple chip - I call BS. This is almost as big as a Vatican scam.
Jeff Rollert adds:
The most common boat engine, the Merc Cruiser, is quoting deliveries of full engines for next summer.
Duncan Coker notes:
Motors being taken out of production. Sounds a lot like a book I know.
Heard a great quote today while driving and listening to SiriusXM. No clue who said it but enjoying this nugget of deliciousness from the meal for a lifetime:
Music is mathematics for the ears.
[Ed. note: attributed to Stockhausen]
Art Cooper writes:
Here's another, in a similar vein:
Geometry is frozen music.
Peter Saint-Andre chimes in:
Music is the hidden arithmetical exercise of a mind unconscious that it
is calculating. - Leibniz
Music is mathematics - and architecture is music in stone. - Ayn Rand
Andy Aiken builds on the theme:
Goethe said, "Architecture is frozen music".
There aren't physical geometric forms, but many physical representations of geometry, such as in architecture.
Nils Poertner suggests:
Christopher Wolfgang Alexander
(born 4 October 1936 in Vienna, Austria)is a widely influential British-American architect and design theorist, and currently emeritus professor at the University of California, Berkeley. His theories about the nature of human-centered design have affected fields beyond architecture, including urban design, software, sociology and others.
in proper sell-off in equity, one eventually gets a massive backwardation - and we haven't seen this - almost the opposite- it slightly steepened yesterday - that is odd - and could mean a lot more stress but who knows, am not an equity guy just noticing it on the side and it needs to be tested more…
Zubin Al Genubi comments:
Decay of hi vol over time is a regular tendency. This leads to pennant like structures. The most dangerous time is at the expansion phase where the rate of expansion rapidly increases.
James Lackey responds:
This is a fabulous lesson for new specs that fall for the bear memes then get whacked post dip rally buying.
Look there are times for all things. We can make money short but it's so crazy risk dangerous and the vigorish is insane. I love Mr Vic's "never short" advice!
However if you must sell them without owning them I'd test when the vix is increasing in the short term ie today's vix is higher than 5 days ago then keep it to something like no more than a few trading days hod short et al.
My gist is paying huge vig and buying strength and selling weaknesses is the stupidest system ever! However I'm a man that made it happen and allot over many years even prior to my spec list school.
In closing don't lol but if you must: It makes sense to move all the contracts you can, all day every day when the vix is over let's say 25 and my hypothesis is when it's expanded rather than contracted.
With love honor and respect for those that trade for a living.
Nils Poertner adds: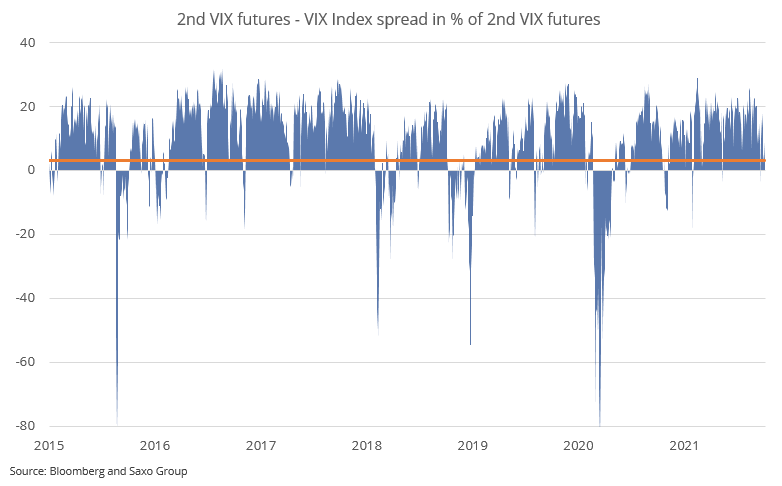 whenever this graph (from Peter Garnry at Saxo Bank) is -20 or -30, it is possibly a contrarian buy.- that is how I read it. in other wards, in strong backwardation in the vix curve…eventually one needs to switch and be bullish - in context perhaps with other indicators? treat with caution - have not done study myself. always test for yourself
"Decoded Neurofeedback (DecNef) is the process of inducing knowledge in a subject by increasing neural activation in predetermined regions in the brain, such as the visual cortex. This is achieved by measuring neural activity in these regions via functional magnetic resonance imaging (FMRI), comparing this to the ideal pattern of neural activation in these regions (for the intended purpose), and giving subjects feedback on how close their current pattern of neural activity is to the ideal pattern. Without explicit knowledge of what they are supposed to be doing or thinking about, over time participants learn to induce this ideal pattern of neural activation. Corresponding to this, their 'knowledge' or way of thinking has been found to change accordingly."
Nils Poertner comments:
interesting. personally, I found cross-training v helpful - so honing skills in non-work areas, too. eg, professional trader in equity who has singing as hobby might benefit a lot from taking professional singing classes to open up new pathways (also re creativity in trading. also) - am happy to be the subordinate then whereas in trading there can be some unconscious resistance in learning from others.
Jeff Watson adds:
Ben K Green wrote a book called Horse Tradin'. The entire book is cross-training and might even be on Chair's list of recommended books. If it isn't on a list, then it should be.
James Lackey writes:
I've been working on this for a while now 3 years. Path duration outcome based on neuroscience. Dr Andrew Huberman my skate park guy is one of the best - Prof from Stanford University and Army special forces fan. It's fantastic to study.
Nils Poertner responds:
yes excellent. the thing is it can't be an endgaining experience, one needs to have an intrinsic interest in something /also the learning part. if ppl love skateboarding for the sake of skateboarding and hire a teacher to get better, this enthusiasm may carry over for trading (learning /improve process here as well) too.
(our whole culture is way too much based on endgaining - maybe not in all areas - but in a lot of them which is part of the problem why are in this situation altogether)
some comments on the big decline.
(1) it was a decline red in tooth and claw with bonds, stocks, and gold down.
(2) it was harbingered by the decline of 47 bucks in gold on thursday. a once in a decade decline. the main reason there was a status incongruence.
(3) everything bad for the US. the 70 billion of equipment left behind. and all the US could come up with was that the afghans and their allies aren't smart enuf to reverse engineer it.
(4) the foreigners have to decide on options expiration whether they should continue their US buying. with the US in decline from the withdrawal and everything related, why should they park in US.
(5) the status incongruence of the admission we killed 19 civilians in the drone strife. but this was clearly an attempt to come up with good talking points about our over the horizon capability. this was the only thing they coudn't blame on pele another incongruence.
(6) the incongruence of Milley worrying about sanity of Trump but not concerned about the montreal semantic test for other high officials. incongruence of no punishment for generals who worked for raytheon and g.d. but impeachment if pele did it.
(7) as the professor says, the market moves to every higher numbers with cataracts along the way.
Jeff Watson writes:
With many talking doom and gloom regarding the future, it is a noteworthy accomplishment for the S&P to only be 2.5% off it's ATH.
Mark Graham asks:
so what's next come monday?
Jeff Watson responds:
Who knows what the market is going to do on Monday. Who cares what I think? Who cares what anyone thinks should happen in the future? Why should one trust the "experts?" People might have an idea of what might happen, but that's about all it is. I can't count the times I've been perfectly convinced something would happen and it didn't. What happens tomorrow happens, and you will either be right or wrong. That's the case for every one of us. It doesn't matter what Chair, Bill, Sogi San, Larry, myself, or any other member of this list thinks the market is going to do. It only matters what you think and how you navigate the often treacherous currents, eddies and shoals of the markets. Opinions given for free, market tips, supposed insider info, etc are worth less than what you pay for them. LeFevre talked all about tips, and allowing others to do one's thinking for them, and his advice should be heeded.
Larry Williams joins in:
There are people I listen to intently; they have established they are worth listening to…some are on this list. An explanation of why a trader expects such and such to happen is not a "tip". Big difference.
Jeff Watson clarifies:
Since I obviously wiffed the ball in my previous reply, to clarify and make my point clear, the message was it's best to keep one's own counsel.
Larry Williams concurs:
Yup, listen to all but pull the trigger at the target you see.
Nils Poertner adds:
I think what is tricky for most people to understand that in many other parts of business life (in particular as an employee), one can do very well as long one is social enough, aggressive, disciplined enough, progressive etc… or went to the right school…
whereas maneuvering mkts (long-term - over decades) by oneself requires a different mindset altogether - and trading even more so than pure investing
I don't believe in psychology, I believe in good moves!
- Bobby Fischer
Met top player in chess (IM level), who started trading in 2014 and has done very well for himself. Loved his attitude re learning.
Chess is wonderful training ground as ppl tend to look at things more objectively.
Think about it - to be good at chess player- one has to become very honest with regards to oneself. Self-deception is not going to work for long.
And empathy means real empathy (understanding moves of others, not projecting own fantasies which modern world is all about). Kids got to learn chess more.
Michael Cook agrees:
Couldn't agree more!
I think there are a good few other parallels. If we take a game in a series as a trade, eg sometimes you can see your position degrading over time and sometimes something you never saw coming, in a move or two, completely destroys you. If it's obvious to you, it is highly likely it is obvious to your opponent (the lack of value of first order thinking) etc etc.
Nils Poertner seconds:
agree. modern psychology is overrated and chess (and other board games) under-rated for the human mind.
so many ppl have strong views about this and that (eg academic world). and that is fine for me, but in chess one is getting more or less direct feedback within a few minutes or hours.
An enjoyable few minutes with one of the best:
Magnus Carlsen's Mind-Blowing Memory! World Chess Champion tested
One of the things that make me a poor manager but perhaps a leader mindset is to me pointing out problems with out a proper solution seems, well, silly.
At the trading desk here in Weston with Mr Vic, the one thing that caught my eye quickly was the FTSE and it's low prices. I have no clue so google landed the link below. any ideas?
Has the FTSE 100 really performed as badly this century as it appears?
Nils Poertner muses:
good spot - many other indices are rich (and firms, too, eg. Apple)?
long FTSE is probably the next big thing for Cathy Woods - am mentioning her name since she gets a lot of bad press in Europe but her calls have been quite good in last few yrs.
Paul O'Leary is skeptical:
FTSE an unlikely place for Cathie Wood to find the hyper growth she looks for.
A reader offers a critique:
The author shoots himself in the foot when he says if you bought all the companies in FTSE 100 in 2001 this is what you would have got…the constituents have changed. I skimmed the rest because it was clear the author didn't really know what was going on.
James Lackey clarifies:
Thank you paul, my apologies to all. My better question is what is wrong with English stocks or is that a bad question, i.e., nothing is wrong? I've lost so much money buying laggards and value, specs forgive me.
Big Al theorizes:
Here's a theory: The Digital Revolution has been one of the greatest expansions of human activity/productivity/wealth in history and it has been centered in the US, as have the stocks of the companies surviving the competition for doing the revolutionizing. The winners have been added to indices, and the losers dropped. This equity/index mechanism has far outperformed all others.
James Lackey responds:
Big, that is what I needed! I was lost (did not get the joke) and as usual was the last to know.
Stefan Jovanovich provides an historical perspective:
Big Al nails it, once again. The British invention of industrial production achieved the same startling results; within a third of a century, the center of the world's low-cost production of fabrics shifted from the hand-looms of India to the "infernal machinery" of the Midlands.
Jeff Watson writes:
The market weathermen, self described sage like realists, always see trouble on the horizon and are compelled to give all knowing, logical reasons the market will get hit. Sometimes even invoking "science." To them the pressure is dropping hard, the seas are building, and we're about to get hit with sustained gale force winds. It's always doom and gloom to them. They want the little guy to get scared, pitch his position and make the broker money, rinse and repeat. Meanwhile, Steve provides some perspective and his chart lists 49 reasons for the market to get hit…while the S&P went up 35X during that time. Unfortunately the brokers don't want their clients looking at charts like this or reading Dimson.
James Lackey agrees:
Jeff says what we all learned the hard way. The market in stocks is an engine designed to go up. Any business decisions based otherwise are in between risk-based conservative - which in most cases is a good thing - and ruinous, as the vigorish will grind you to a long-term guaranteed loser.
Michael Cook responds:
I broadly agree with this but let's not take it as written on tablets of stone.
One of the nastiest human failings in my opinion is recency bias and for investors in US stocks, an entire career (unless a very seasoned investor indeed) has been a basic bull market tempered by the bear markets of 1997, 2002 and 2008 and whatever the hell March last year qualifies as. Recency bias on steroids.
But it doesn't mean it must always be like that. Just ask eg the investors in the Japanese stock market 40 years ago who pretty much are still waiting to be making money now…
Leo Jia adds:
Even if there is a sharp drop, it will only be shallow and short term. This is not a big bubble and there is no euphoria yet. If one suspects big money are selling, the question is what is the alternative to the US market. Perhaps the worry will be legitimate when Turkey and China become out of any concerns.
Nils Poertner writes:
what makes the difference between folks who are in the market - and trade successfully in the long-term and those who don't is often the acquisition of implicit knowledge. Things we know are true on some level, and that we need to experience personally many times to know that they are true - not in the absolute sense but more intuitively - and percentage-wise.
we live in a very explicit world now everything needs to be spelled out. but the "absense" of something is a better guide than the appearance of an event.
an example would be that SPX drops by 3pc one one day (after months of overheating) - AND the financial press is somwheat quiet aout the drop. as long as they are loud…one can normally relax a bit more.
not to be confused with long-term investing. eg, some of my English friends who bought prime real estate in the 90s in London, and levered up every year with new flats, are all fabulously rich now. was it being lucky or smart? who knows? implicit knowledge is underrated - was my point to say.
Leo Jia comments:
Even if there is a sharp drop, it will only be shallow and short term. This is not a big bubble and there is no euphoria yet. If one suspects big money are selling, the question is what is the alternative to the US market. Perhaps the worry will be legitimate when Turkey and China become out of any concerns.
Duncan Coker writes:
Agreed, it's worth noting that the 00's were the worst decade since the 30's for stocks. I'd propose there was a bearish recency bias going on during the 2010s.
I liked the video about carnival scams. I recall "winning" an album at age 13 from a darts game on the boardwalk at Asbury Park, NJ. No doubt I overpaid. It was a vinyl from a band I had never heard of at the time called the The Allman Brothers which forever changed my life in music.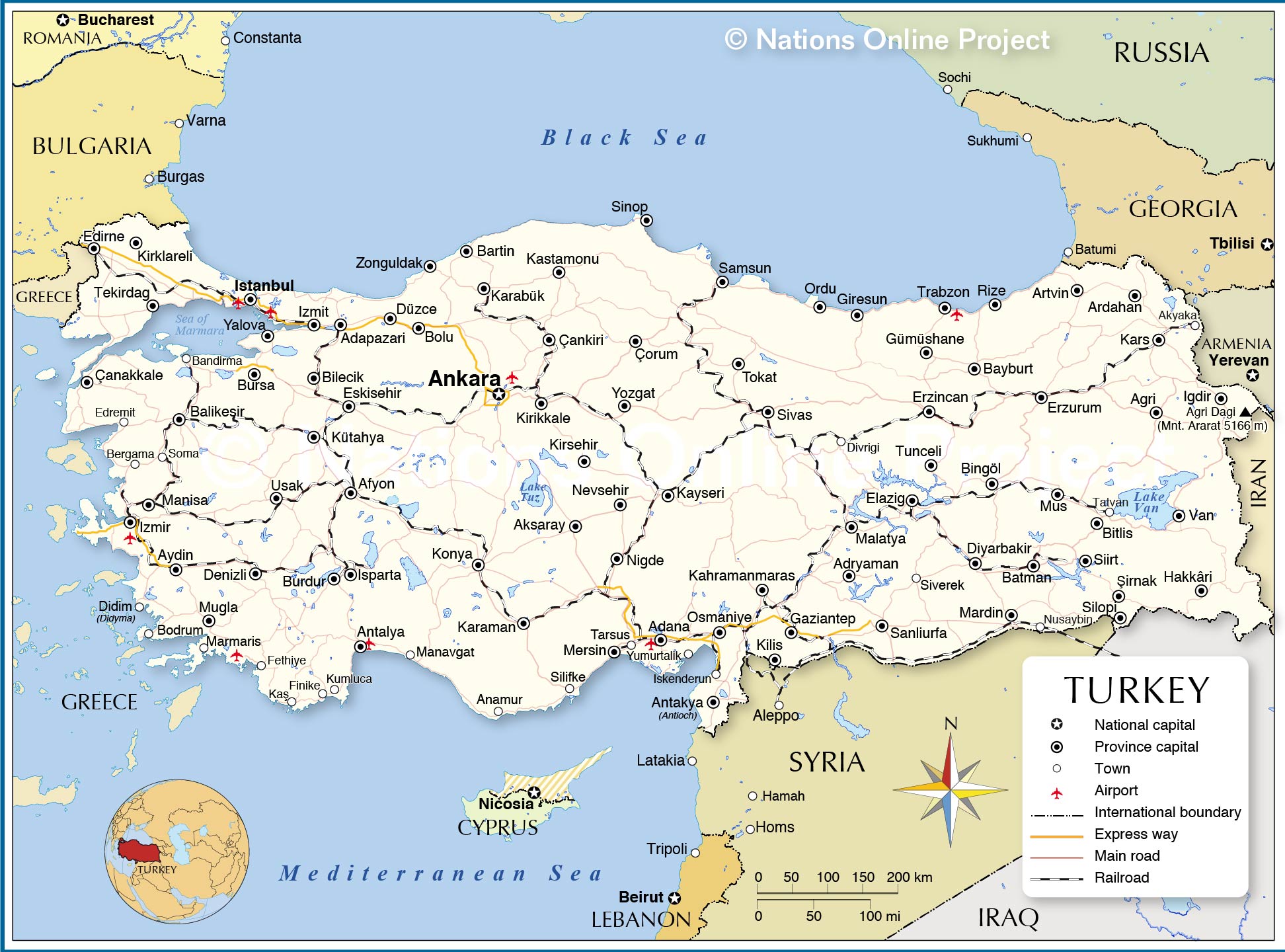 Leo Jia asks:
Any thoughts on the prospect of Turkish economy? Is Turkey a good buying opportunity now for holding 5 years?
Larry Williams clarifies:
Is the Turkish economy about the same as the Turkish stock market?
Some references:
The CIA World Factbook: Turkey/economy
iShares MSCI Turkey ETF (symbol: TUR)
Nils Poertner responds:
as we know from other EM countries, listed equity can be really a good play - even with fx tanking. see Latam and many Asian countries. a vast "play" on the USD (as lots of banks are financed in USD - and EUR) and a bet on the faith in the current regime. cap controls an issue.
understanding EM requires study of previous bull-and bear mtks for EM mkts itself- doing the tedious work - building implicit knowledge over time, cycles, mass psychology, whateever it takes - it is worth it, Jia and a lot of fun - as one learns from it and can share with others.
John Floyd writes:
Larry has somewhat taken the words out of my mouth on the economy and stocks in Turkey. I would expand on that somewhat given the unorthodox nature of the current Turkish administration and the expanding Taliban presence and thus likely growing chance of further friction with the US, following recent and historical comments by the head of Turkey on the topic.
As economy and FX it does sure have the potential to get things right and turn for the better. But, the odds of that happening and the headwinds against it seem rather large at the moment. The current path is one of further unorthodoxy in policy and leadership combined with expanding debt that will likely lead to a default or restructuring and FX going from 8.6 north of 10.
Reserves are tenuous at best, local capital outflows a perennial risk, and the need to continue to pump up the economy through credit, tourism headwinds given COVID, current account deficit of 5%, etc…
Given the circa near -20% returns for the Turkish indices there may be some gems within the them with careful selection, as is needed in China given the P-like oligarch crackdown there as the aim by X is to stay in power for life and control data and tech to do so.
James Lackey suggests:
As John clearly said the news risk..what about the derivative of the big Mac index and or the hot dog stand.
If I'm forced to value a stock on foreign exchange correctly, I'd go to Turkey, rent a flat, and open a food stand and sell Harley Davidson T Shirts. The McDs index of brands is HOG. I can sell merchandise like a roadie at a show and let's use the most recognized brands in the world.
Mercedes
Toyota
Harley
Sell shirts for 6 weeks and my guess is you're going to learn exactly what's going on.
Larry Williams adds:
Bring lots of NIKE stuff to sell.
Jayson Pifer provides local insight:
Fwiw, I can offer some boots on the ground perspective. I spend a few weeks a year in Turkey and have done so for the past 15 years, missing last summer due to covid however please take the below comments with an appropriate amount of salt. Each time the conversations come up on investing in real estate there. And each year, I come away boggled at the lack of progress and steadfast in keeping money away.
If I were to hazard why the Turkish economy isn't more than it could be, I would suggest that it is the general absence of faith in any of the government constructs. Without commenting much on their current 'populist' leadership, I mean to say that the average person has little faith in the police, courts, and laws and work around or without them. (plied with a bit of scotch and I could relate some Keeleyesque tales of my encounters there with these systems
)
Absent true legal financial recourse, trust stays in small personal circles that are difficult and slow to grow and this has various and deep side effects. As an example, if one were to meet a VP of a bank in the US or UK, you might assume they had interviewed for the role from a range of candidates and/or had been in the role for a while and knew the business and their area. One would likely be correct in those assumptions. In Turkey, you do not have that assurance as they will probably have gotten their role through a circle of acquaintances. They may be qualified or not, but they are almost certainly in somebody's inner circle.
The low trust and inner circle workings are seen in both the political and business environments. When new leadership comes in, it is typical and considered normal to bring in their trusted group, reward them for their loyalty and displace anyone they do not trust. Partisanship there compounds the issue, similar to the partisan wars in Google but with more serious consequences if one supports an out of favor party (eg. non-AKP).
Wrt the stock market, my impression is that it's a lottery. There is money to be made, for sure, by smarter and luckier people than me. But the risks are real.
I don't have numbers, but my anecdata shows a worsening brain drain with talented turks leaving the country and those that have returned are struggling.
Taking a further step back for the five year horizon posed originally, my impression like Mr. Floyd's is that Turkey has headwinds and not much to stop it from falling. My questions are what could change to reverse this trend? A change in leadership is often cited, but it would not create an overnight increase in trust. I could barely speculate how long it might take, but would guess decades if all went well. While it's not exactly fair and I'm out of my historical depth, I compare it with Iran when it went down the path of Islamic leadership in '79. How will Turkey not fall into the same trap?
Theodosis Athanasiadis comments:
Historically real exchange rates have been a good predictor of emerging market economies and equities through the mechanism of cheap exports, labor, external investments etc. they are a form of valuation for the whole economy. I see them currently at multi-year lows which has been bullish for equities in Turkish lira for the long term.
John Floyd responds
Yes, on real rates in Turkey that is true and can be seen in the standard OECD PPP, but that has been like that for ages and you need the positive catalyst for change…..move to orthodoxy one way or another….monetary, fiscal, and geopolitics…should gradually grow confidence in varying degrees and speeds and drive capital flows in a positive fashion if it occurs and given valuations you can find some gems I am sure…perhaps on well capitalized companies that can benefit from the inflows and cheaper FX…plenty of meals for a lifetime if you look at Argy, Venny, Russia, SA, Zimbabwe, etc…
If anyone is bored, I did an interview on Turkey last August - it somehow has gotten just under 20k views that highlights both contemporaneous points at the time and some of these longer term issues.
Alex Forshaw writes:
Erdogan is in bed with the asset heavy industrial elite of Turkey… this is China but with very ineffective capital controls (mainland Chinese stock performance has been terrible for 12+ years btw, altho indices don't include juicy dividend yields). They're all massively overleveraged, and basically long and wrong The only way is devaluation / financial repression (forcing inflation >> cost of capital) until they deleverage… but Erdogan can't really let them deleverage because the economy would implode, Turkey is poor, the opposition is highly organized with high recourse to violence (Kurds), so Erdogan would be dead. So they just keep building and building, but who's going to come?
Seems to me that Turkey is uninvestable until Erdogan is gone…but he's a de facto dictator…so he can't go.
Leo Jia offers more data:
New home sales are down lately, which may be caused by the pandemic:
Turkey: new home sales
But existing home sales shot up sharply in recent years:
Turkey: existing home sales
Archives
Resources & Links
Search