Sep
28
Has anyone noticed the Baltic Dry Index as of late? Although well off its highs, it's come up well off its bottom on Feb 4 of 1043 and is at 1928 today. Has anyone done any statistical work on the BDI or found any correlations that might be interesting?
Lars Van Dort writes:
I didn't, but I once referred to an article on dailyspec of someone who did (this was after the Baltic Dry Index caught the attention by falling 34 days in a row).
The link to the article mentioned there is now broken, but I got it back using the Internet Archive. Perhaps you will find it useful. Of course, it never replaces doing one's own work.
Baltic Dry Index as a Reliable Forward Indicator? Nonsense.

05/18/2009 by Research Reloaded

In finance, be cautious of anyone who uses historical correlation to back up their argument. In shipping, just flat out run from them. Shipping's notorious Baltic Dry Index, which is an index of spot rates for shipping dry bulk commodities such as coal and iron ore around the world, achieved death defying heights and then, well, death-causing lows, in the course of 2008, falling 90% from its peak, and attracted a lot of attention in the process both on the way up and down. The BDI meme is still alive, especially given a recent rally, and we have quite a few people claiming it as a quality indicator, or even the best indicator (sheesh) for the direction of stock markets or the world economy. Unfortunately, a lot of smart people misunderstand what the BDI represents.
Full article linked above.
Sep
25
The movie Moneyball is in theatres. This article by a leading sports economist looks back on the impact that Moneyball the book has had since publication in 2004.
It features an application of the point that I've often seen made by the Chair, that once an anomaly gets published it disappears:
We thought there was a decent chance that we could refute the economic claims in Moneyball, in particular that players with high OBP were under-priced in the labor market. Any card-carrying economist knows this is inconsistent with equilibrium in a well-functioning, competitive labor market, and were not baseball teams intensely competitive? But instead, Jahn and I found that high OBP players did come cheap, relative to the contribution of their skill to winning baseball games. Intriguingly however, we found that the "OBP discount" vanished in 2004, the year that Moneyball was published.
It makes one question the decision of the Oakland A's to cooperate with the book. Although it may have been a matter of time for the other teams to catch up anyway, it seems that sometimes vanity can be costly.
Stefan Jovanovich writes:
I live in the SF Bay Area and am a thorough baseball addict. When I should have been attending law classes at Berkeley in the 70s, I was loitering at the Oakland Coliseum watching Dick Williams and Alvin Dark (one of the truly obscure great figures in the history of baseball) manage the A's to their championships.
Moneyball is complete hype. The theories of value - OBP, for example - are sound but hardly original. They are the substance of what Dark and Leo Durocher (another great figure) and Casey Stengel (the greatest of them all) knew from experience and observation. What Billy Beane missed (but none of those managers would have) is that the real "Moneyball" is putting the customers' butts in the seats. While Beane has been practicing his genius, the A's have become a chronically weak franchise (it remains in as poor financial condition as the Seattle Mariners and Kansas City Royals and, until this year, Pittsburgh Pirates). At the same time, across the Bay, the Giants went from being literally bankrupt (they were going to be sold and moved to North Carolina) to becoming the owners of the best stadium in the country (privately financed, no less) and the 5th most valuable franchise. How? They signed Barry Bonds. If Yankee Stadium is the House that Ruth (and then Reggie Jackson) built, AT&T Park is the stadium that Bonds built.
Phil McDonnell writes:
I agree with Stefan that one very rational reason to pay up for a Bonds or Willie Mays was that a home run is a lot more exciting than watching a guy walk. Home runs sell tickets and that is ultimately good business. On the other hand managers restricted to a below average budget can improve performance better by adhering to Moneyball principles.
Another often used strategy of small market teams is to bring along recruits, especially young rookie pitchers. Seattle uses that strategy. They are little more than a farm team for the Yankees. Any time they get a young rookie pitcher that shows any promise he is immediately sold off to a big market team, with the Yankees being the most likely buyer. A big part of their business model is to collect millions from the Yankees for selling off their low priced talent.
Jan
31
A few years ago, my local library held a sale to purge old books from the shelves. I bought a 1976 book by Norman Fosback, Stock Market Logic, for a quarter. If Mr. Fosback is still alive, he might make a good Spec List member. His book is full of data and testable hypotheses. Best of all from a statistician's point of view, Mr. Fosback has done much of the testing, and one can go directly to out-of-sample testing.
In a chapter on seasonality, Mr. Fosback wrote that the US stock market tended to rise on the last trading day of the month, the first four trading days of a new month, and the two trading days before the market is closed for a holiday. He found that these days, which were only about 28% of all trading days, accounted for the entire advance in the S&P 500 from 1928 to 1975.
Using Mr. Fosback's definition to identify favorable days, I checked recent S&P 500 futures returns:
Favorable Unfavorable
days days
12/10/04-12/31/05 5.7% -2.3%
2006 2.7% 7.2%
2007 5.3% -5.1%
2008 -21.9% -22.2%
2009 5.6% 18.5%
2010 15.5% -0.7%
The favorable days were clear winners in three of the six years. In 2006 and 2009, the per-day return was roughly equal on favorable and unfavorable days (remember that there are many more unfavorable days than favorable days). In 2008, the favorite was beaten as the per-day return of the favorable days was much worse than the unfavorable days. Over the entire period, S&P 500 returns were 9% on favorable days and -9% on unfavorable days.
Lars van Dort comments:
A slightly adopted version of Mr. Fosback's hypothesis of favorable days was tested by me for the Dutch stock market using the CBS Reinvestment Index for the period 1981-2003.
My definition of favorable days only included the last trading day of the month and the first four trading days of a new month. I excluded the two days before the market is closed for a holiday from the definition. (There are different holidays over here and frankly it would be a lot of work to identify them for the whole sample).
In this case favorable days account for 23% of all trading days, as opposed to 28% in Mr. Fosback's definition.
The results:
average return favorable day: 0.16% average return unfavorable day: 0.03%
Over the full sample, being long only on favorable days leads to a cumulative return of 714%. For the unfavorable days this was only 144%, while taking more than 3x as many trading days for this.
Of course, I'm aware of ever-changing cycles, but if this result would still hold, things would be very easy. Buy at close of the next-to-last trading day of a month. Sell at close of the fourth trading day of a month.
Jan
31
The following contract is now available at Intrade:
"Hosni Mubarak to depart his current position as Pres. of Egypt before midnight ET 28 Feb 2011"
The contract is currently trading at bid 45% ask 50%.
This price still seems low to me. US support for Mubarak is quickly weakening. The protesters seem very determined. Ground reports indicate the army generally has a good understanding with the protesters and they are unlikely to do what is necessary to keep Mubarak in power.
Jan
7
The website Yadayadayadaecon explains economic concepts such as imperfect information, moral hazard, incentives, signaling, opportunity costs etc. by using short Seinfeld clips.
Nov
17
1. The bonds are acting more like the S&P futures of the old days, and the S&P futures are acting more like the bonds of the old days. This is the kind of co-evolution that one sees so much between plants and animals. My statement would have to be quantified, but it is patently apparent to my many followers.
2. The biggest mistake a person can make in life or markets that is easiest to correct is getting in over the head.
3. The Knicks are like the person who has a system that is guaranteed to fail because of poor money management or excessive slippage. They are endlessly creative in losing. They cant win because they have a bad coach, and what Marbury says about the coach having a system that worked 10 years ago but is not applicable could be said about most market systems. Marbury is a reprehensible personage in my book, typified by his refusal to play when asked last year. No wonder no coach will touch him, aside from the fact that he's a shooting star who's not fast or accurate enough to be good anymore, but even a reprehensible person could say something true because he's not beholden to anyone. In case, I am always inspired by the many ways the Knicks have of losing, (they're currently on a 6 game streak). Yesterday they lost never being ahead at any time during the game. Considering the number of minutes, it's highly improbable, although I would guess it's true in 15% of all games. In any case I looked to see how many times the market is up each hour of the day, and whether that's bullish or bearish. I found no regularities, except that it's bullish for the fest of the day if it's happened every hour until 300 pm, except that it hasn't worked for the last 2 years. Surprisingly the market registers up every hour of the day 1/4 of all days, and it's down every hour of the day, about 22% of all days.
4. It is an interesting exercise to estimate the expected move of a dependent variable from an independent variable being up or down on the day given it's correlation. I have found a useful approximation to be that the expected value is the mean change + 90% of the standard deviation. For example, if the correlation between bonds and stocks is 0.20 and the standard dev of stocks is 10, then when bonds are up, you can expect stocks to be up 1.8. I don't believe it sensible to give a closed form solution of this, given all the mixed up distributions and varying parameters, and relations between the absolute deviation and the standard deviation, and up or down, although one is certainly possible.
Pitt T. Maner III responds:
About the knicks: a statistical anomaly. Ostensibly a loss due to fewer free throws. Was there a dribble off the foot near the end as contributing factor?
"They made more field goals. They made more 3-pointers.
They had more rebounds.
They had more assists.
They had fewer turnovers.
And they had more blocked shots.
The Elias Sports Bureau told us that the last 266 times a team outperformed its opponent in all of those statistical categories, that team won the game.
Except the Knicks didn't win. They lost again, 120-118, their sixth straight defeat, this one starting a tough West Coast road trip.
The last team to lose a game despite meeting all of the criteria listed above were the Cleveland Cavaliers, who lost to the Toronto Raptors, 95-87 on November 22, 2006, a game Cleveland lost despite those edges, and 30 points, 10 rebounds, eight assists, and four steals from LeBron James. "…..
Lars Van Dort adds:

Dean Oliver is for basketball analysis what Bill James is for baseball analysis. Oliver is known for identifying the 'Four Factors' that win basketball games, in this ranking of importance:
1. Shooting (effective field goal percentage)
2. Turnovers per possession
3. Offensive rebounding percentage
4. Free throws per possession (can be measured as free throw attempts as well as free throws made, Oliver actually prefers the first, because he thinks getting fouled is the more variable skill)
See more. He has a book 'Basketball on Paper' I'd like to read.
When applying the four factors to the Knicks-Nuggets game, both teams win two of them. The Knicks had better numbers in turnovers and offensive rebounding, but the Nuggets where better in shooting and getting/making free throws. Seen like this, the (2 pt) loss for the Knicks is less of a mystery. Dean Oliver actually works for the Nuggets as their Director of Quantitative Analysis.As for the mentioned 2006 Cavaliers-Raptors game that is also supposed to be an anomaly, also there both teams won 2 of 4 factors, with a massive edge in free throws for the winning Raptors.
I think assists is the most useless statistic the ESPN article mentions, how would that be of importance in winning games.
Tonight the Knicks play against Sacramento, who are on a nice 5 game losing streak themselves and are the NBA's worst defensive team. Let's see if they are motivated by the Chair's post and can score a win somehow.
Pitt T. Maner III adds:
Assists would be seemingly indicative of unselfish ball distribution and/or offensive efficiency and perhaps leadership by a good passing point guard (ie. Cousy, Stockton, Magic, Nash, Kidd, etc.). Thinking back to the Celtics with Bird, Parrish, DJ, McHale et al. or even earlier with Havlicek and JoJo White it seems that passing and assist creation were an important factor in team success. Assists reflect a thought process such that a player is normally passing the ball to a teammate who is unguarded or in a better or higher percentage shooting position—shot selection and field goal % are thus shown to be valued by the team.
Granted if you have a superstar player on the team, run and gun works well too.
A post about Dean Oliver (thanks to Lars for the book recommendation) suggests that he found assists, as a single statistic, to have a good correlation with winning percentage. Perhaps the rankings have changed with more recent data. Defensive (not offensive) rebounds (holding other teams to one shot) though might explain Dennis Rodman's longevity in the game.
Category Won Loss Tied Win %
Field Goal % 4595 1132 33 .801
Assists 4007 1414 339 .725
Def. Rbds. 3984 1485 291 .717
Ass./Turn ratio 3991 1717 52 .697
Total Rbds. 3526 1959 275 .636
FT's made 3453 2022 284 .624
Blocks 3182 1930 648 .609
Free Throw att. 3358 2174 228 .603
Fewer fouls 3256 2094 410 .601
Steals 3148 2037 575 .596
Fewer Turns 3114 2186 460 .581
Free throw % 3224 2459 77 .566
Offensive rbd. % 3205 2513 42 .560
Offensive rbds. 2452 2900 408 .461
Oct
13
A while ago there was some discussion on the list on the Hemline index. It's of course also mentioned in EdSpec.
New research from my university finds:
Urban legend has it that the hemline is correlated with the economy. In times of decline, the hemline moves towards the floor (decreases), and when the economy is booming, skirts get shorter and the hemline increases. We collected monthly data on the hemline, for 1921-2009, and evaluate these against the NBER chronology of the economic cycle. The main finding is that the urban legend holds true but with a time lag of about three years. Hence, the current economic crisis predicts ankle length skirts around 2011 and 2012.
Thus, it is found that the economy may predict the hemline, but not the other way around, making it difficult to benefit from this finding, unless maybe one is active in the fashion industry.
Ken Drees writes:
If the recession double dips then we should expect long garments that trail onto the ground after 2012–or at best years of long floor length fashions –maybe fashions that tuck into boots?
And since this is a "recovery" maybe we get a long ankle length fashion in 2011 that has a slit or cutout along the leg line near the ankle–indicating the breather in the economy.
Sep
16
If you look at it from the perspective of the Chinese this headline has got to be maddening. They are desperately driving millions of indigent citizens to work for next to nothing under extremely hazardous conditions to send real good to the US and elsewhere. The citizens are always ready to rebel due to this treatment, and the main goal of the Party in reality is to keep the citizens from rebelling. In return they are getting a heavier and heavier anchor that prevents them from their second goal, taking over Taiwan (the potential of repudiation of the US debt is pretty much the only thing that's keeping them from attacking) and military domination of everybody else around them. They can't stop this charade immediately, because then the citizens would rebel due to joblessness and thus it's being perpetuated. So they are shifting their debt into the Japanese government obligations and getting involved with the Japanese trade policy for a totally spurious reason. I'm sure if they knew how to make every citizen instantly rich and totally shift to domestic consumption with just some exports to nearby Asian countries they would. If all that wealth the government is sitting on could be distributed in a one-time deal, I bet they would go for it, but the logistics must be truly daunting.
Jeff Rollert writes:
I suggest you frame the point in a 100 year time frame, as China is doing now.
China has to look inwards for 20 years, or at least until this generation has trained enough world class managerial talent to run multiple multinationals, without foreigners.
By buying Jap debt, their are securing a flank. By buying our debt and acquiring the manufacturing through pollution/tax/labor cost arbitrage, they are industrializing quickly.
I look at their debt maturity in the same way a general looks at an opponents perceived strength and structure. Short term average suggests the need to protect is growing smaller. The size of the maturity buckets bought gives you an estimate of their timing for a reduction/increase in the perceived threat.
Debt weaponization…thrust (buy others debt) and parry (issue debt, then imply decline paying).
It's MAD all over again…we won't default to handle a Taiwan situation because it would remove our reserve currency yield advantage. China is not ready to assume anything near a reserve currency role….and they won't push us that way until they're ready to do so.
Stefan Jovanovich writes:
After the ruins of the Great War aka WW I, the negotiators at the Versailles Peace Conference spent days and weeks discussing the details of how the maps of Europe, the Middle East, Africa and the Western Pacific would be redrawn. No one did an accounting of the liabilities that had been incurred; they only discussed the real estate assets to be acquired. When– and if– the Chinese decide that they want the rewards of seignorage, I pray that the U.S. will follow the model of the Danish Department of Defense during the Cold War and have a recording that says "We surrender" in Chinese, Spanish and Arabic.
Also, take a look at this on the Gini Coefficient:
"The Gini coefficient of different sets of people cannot be averaged to obtain the Gini coefficient of all the people in the sets: if a Gini coefficient were to be calculated for each person it would always be zero. For a large, economically diverse country, a much higher coefficient will be calculated for the country as a whole than will be calculated for each of its regions. (The coefficient is usually applied to measurable nominal income rather than local purchasing power, tending to increase the calculated coefficient across larger areas.)

Gini coefficients do include investment income; however, the Gini coefficient based on net income does not accurately reflect differences in wealth-a possible source of misinterpretation. For example, Sweden has a low Gini coefficient for income distribution but a significantly higher Gini coefficient for wealth (for instance 77% of the share value owned by households is held by just 5% of Swedish shareholding households ).[10] In other words, the Gini income coefficient should not be interpreted as measuring effective egalitarianism.

Comparing income distributions among countries may be difficult because benefits systems may differ. For example, some countries give benefits in the form of money while others give food stamps, which might not be counted by some economists and researchers as income in the Lorenz curve and therefore not taken into account in the Gini coefficient. Income in the United States is counted before benefits, while in France it is counted after benefits, which may lead the United States to appear somewhat more unequal vis-a-vis France."
Rocky Humbert writes:
It would be interesting to see a Gini Coefficient for the major industrial companies of the world. (That is, income distribution within corporate enterprises … [i.e. the income dispersion between CEO's, staff and mail room clerks].It would be then be most interesting to see if there is a correlation between long term ROE/ROC/stock price performance and the Gini Coefficient…
Does anyone know of thorough study that has done this? I know of studies of CEO pay versus performance, but that's a different question. The study would have to analyze after-tax income of course…
Lars Van Dort comments:
Here is a paper from Belgium that addresses this question. Maybe not the major industrial companies of the world, but anyway.
PDF available for free download.
This paper examines the relationship between intra-firm wage dispersion and firm performance in large Belgian firms using a unique matched employer-employee data set. On the basis of the Winter-Ebmer and Zweimuller's (1999) methodology, we find a positive and significant relationship between intra-firm wage dispersion and profits per capita, even when controlling for individual and firm characteristics and addressing potential simultaneity problems. Results also suggest that the intensity of this relationship is stronger for blue-collar workers and within firms with a high degree of monitoring. These findings are more in line with the 'tournament' models than with the 'fairness, morale and cohesiveness' models.
Jul
23
Hard to believe that it has been almost 30 years since "The Road Warrior" movie (Mad Max 2), a classic of the dystopian genre and coinciding with DJIA 800 ranges. The show The Colony, starting next Tuesday the 27th, on the Discovery Channel has a bit of that Mad Max/Andromeda Strain post-apocalyptic feel.
I just hope the poor geology professor with no practical skills makes a good showing and can at least find some water–coming from Arizona State. She probably knows a bit of geohydrology. Did not see Season One, but this looks entertaining:
What would you do in the wake of a global catastrophe? Even if you survived it, could you survive the aftermath?
Season Two of THE COLONY introduces viewers to a new group of volunteers with differing backgrounds, skills and personalities, to bear witness to how these colonists will survive and rebuild in a world without electricity, running water, government or outside communication. Over the course of 10 episodes, the colonists - who include a construction foreman, teacher, carpenter and auto mechanic - must work to utilize and strengthen their exploration, technology and survival skills in ways they've never had to before.
Ralph Vince comments:
This, culturally, is AMAZING to me. A few weeks back I had an extended discussion with a group of very bright guys all in their early 20s — a candid discussion about their perceptions. A few very revealing things:
1. They are all very upbeat, economically, on a personal level. They feel they are smart and educated and will do fine even though they expect things to dissolve, they believe their formal education is their life preserver.
2. They all hate the boomers and consider them the "entitlements" generation — they regard the ones who were mostly their parents, the ones they refer to as "The greatest generation" as deserving of entitlements, but the boomers NOT entitled. Very interesting — I couldn't get to the logic of this other than we, the boomers, "screwed everything up, did nothing as a generation, and have a grotesque (to them) sense of entitlement to us".
3. They all, universally, expect things to decay, eventually, one way or another, into this MadMax anarchist future. When I would press them on this one, with things such as "Well you were saturated with these types of images growing up of the future, can't you foresee a less dark one, a more optimistic one?" They all universally agreed that "There is no other way the future can work out." Fascinating. Absolutely fascinating. With housing now more affordable than it ever was to any of the boomers — with borrowing at interest rate levels never before seen (and long rates banging around 4% !!!) and a protracted, decade-long-already contraction, the thought of a major up move over the next 15-20 years was something they could not possibly conceive of.
Vince Fulco writes:
Would note the release of the movie "Book of Eli" on DVD recently follows this post apocalyptic meme. Also has a fairly strong underlying theme of Pogo's "we've seen the enemy and he is us."
Pitt T. Maner III responds:
When will the post-Boomers give up on the end of "The Road " ideas and swing towards the "On the Road " themes again? Cyclicity.
James Lackey comments:
One posits (as Mr. Vic did with movies and baseball) stock returns or better said premiums ratios are higher during futuristic movie and tv times.. see 60's twilight zone and late 90's everything was deep space futuristic.. then post crash it was all cop shows and today perhaps its true on the mad max which came in when the rust belt was dying post 70's Opec deals.
One does not say that its different this time. In my day Generation X was deemed stupid, spoiled and lazy.. It was a cultural and economic shift and we didn't know what to do, but the second we figured it out everyone I know ""just did it" hence the Nike slogan "just do it".
It's good to see the young beat up the old on the net, but quite respectful in person. I have a great deal of respect for my Son's buddies and all the BMX kids we train. Their only problem is over specialization and the quote above shows that in their belief their credentials will be their savior.
I do not agree they despise the boomers… I'd rather think we like to think or say that as Gen X ers for a revenge trade.. No Gen X er believed for a minute SSI [Social Security] would work out so for the Gen YZ kids to even think about it at all is a big joke..Ive never heard about it once…matter of fact if any Old BMX racers bring up the 3 sins of talking about Work Marriage or Politics at the track the kids ride off… the older adult pros age 18-24 say it flat out and crack me up "I can't handle this drama, I am gonna go talk to the girls" These kids today are "awesome".
Ken Drees comments:
TV has recently been and still now is based on these themes "biggest loser" "bachelor" "dancing with the stars" "angry biker building show" "rock star real life" "idol" "top model" "fashion designer contest show" '"hell's kitchen" "next iron chef" "tattoo shop people" "dangerous fishing boat" "man in the wild" etc—a lot of contests, makeup, high energy, tears, people being eliminated, emotive overkill, action with real life injuries. All of this started with "survivor"–which is pretty much over–except they have a Spanish version of it on the Latin channel that I just flipped over yesterday so that trend must be in the last hurrah phase.
But these themes are lottery like–taking a chance to make it to the top–be the one who can outlast the competition and the make it all the way. So maybe that consciousness seeps into markets–can we survive another day, the odds are against us but I feel the magic. A big cross section of age groups are relating to these shows—I personally got hooked on Hell's Kitchen–something about the angry language that I try to keep under control and watching that blond haired man just let his anger spew at those inept cooks. Then you get into the finalists and start rooting for a favorite —like horse racing.
Survival in a post 401k smashed world, surviving unemployment, etc.
Kim Zussman comments:
1. They are all very upbeat, economically, on a personal level. They feel they are smart and educated and will do fine even though they expect things to dissolve, they believe their formal education is their life preserver.
2. They all hate the boomers and consider them the "entitlements" generation — they regard the ones who were mostly their parents, the ones they refer to as "The greatest generation" as deserving of entitlements, but the boomers NOT entitles. Very interesting — I couldn;t get to the logic of this other than we, the boomers, "screwed everything up, did nothing as a generation, and have a grotesque (to them) sense of entitlement to us.
Ralph please send our apologies for screwing things up for them. Ask them not to see "Avenue q", because exactly as Mr.s Rogers and Henson told them - and it is statistically remarkable - they really are all gifted, special, and specially equipped to make this a better world.
Sorry too about our house that you've been eyeing; its 20% upside down because of those college loans, and the one for your first car. At least there won't be any estate tax on it. And remember to hang that Ivy diploma proudly in the latrine - you never know when it might come in handy.
If you decide to get more education - forget about cloud quantum computing gene sequences. Go get your CPA, with emphasis on forensic accounting, and take some classes on retrieval of deleted emails, cash-tracing, and banking in the Bahamas. Also get certified to sell the plastics of the future - insurance.
Big shame about that 401 account. We were, as always, worried about you when they went below 700 and we sold everything. The good news is we got back in at 1200, so please work hard so your earnings propel it to the 12,000 you deserve.
About that screw-up: We were taught something like 2008-2009 was more unlikely than an asteroid collision. However now that the problem has been corrected, you have nothing to fear. Please tell your boss to deduct the maximum for your retirement account, auto-deposited in one of the index ETF's on the first of each month. Add to it on the taxable side too. More is better - buy as much as you can while you're young. Find a good ETF that will go up. If it don't go up, don't buy it.
Sorry about our health. We've been doing cardio for decades, so we're not going to MI like Opa or stroke like Oma. And we floss every day, so there won't be any need for chemo. But we did think to get long-term care insurance, and though you're mad hope you will pick nice nurses for us, and bring a case of Ensure now and then.
Alan Brice Corwin writes:
I've also recently had discussions with a large group of twenty-somethings, but I came away with a different impression. This may be a sampling or a context problem. They may have been less candid towards my generation because they were looking for money for their projects
The main difference in my encounter is that most of these people had boomers for parents. While most of our parents were in their early twenties when we (boomers) were born, their parents were often in their thirties and forties when they were born. There were a few with younger parents, but not very many. (We refer to our parents as the greatest generation because they beat the Nazis and the depression, but who are they referring to and why?)
In fact, I noticed a lot of sympathy for their boomer parents. Several of them noted that their parents had worked hard all of their lives and had expected to retire soon, but are now looking at having to work into their seventies or eighties. There was a general feeling that they would not allow this to happen to them. They would take care of their retirement needs while they were still young.
The main resentment that I encountered was that I was able to get my education for free. They don't think social security will be there for them, but they were young enough so that wasn't really a concern. The idea that someone could go to college for ten years and have money in the bank at the end of it was simply mind-boggling to them. People with full scholarships all the way through told me they had forty grand in debt after school.
I also detected less regard for their formal education among the group I talked to The pretty much all had college degrees, but they regarded their life preserver as their skills at seeing what was needed and building something to meet that need. Several told me that their college education was only good for getting a crappy job for a big corporation, and they had no interest in that.
One point of similarity I noticed is the sense of impending decay. One young man told me that he thought we would see a thousand bridges fail in the US in the next ten years, and that no one would step forward to maintain them. He said he saw no inkling of the common sense of purpose that must have existed when the roads were built. He further pointed out that the infrastructure needs were far greater today because there are now so many more people, but China and Dubai seem to be the only places where they are actively working to build a modern infrastructure. He said we have a 1900 model railroad system and a 1950 highway system (I didn't point out that the interstate highways weren't built until the late fifties and early sixties).
There was a sense that they would never have the life their grandparents had. This same young man said that his grandfather went to work for a company right out of college, worked for them for thirty five years without a layoff, and had been retired and playing golf on a generous pension for thirty years. His grandfather had bought his house for less than ten thousand dollars, and three years ago he could have sold the lot the house was on for nearly a million dollars (not any more).
Another thing I noticed was that almost everyone they idolized in business was a boomer. As you might expect with a group that was more iPhone app developers than anything else, Steve Jobs was far and away the person most admired. Eric Schmidt of Google was another favorite, but ranking way behind Jobs.
Marlowe Cassetti writes:
Wouldn't it be great if they were to make a new reality program based upon the Turtle Traders experiment. All the intrigues of students from diverse backgrounds competing. Ah, the high drama. I bet some of us Specs might be so inclined to view a few episodes. Am I right?
Lars van Dort comments:
Actually the BBC had a program called 'Million Dollar Traders' last year:
"Eight ordinary people are given a million dollars, a fortnight of intensive training and two months to run their own hedge fund. Can they make a killing?
The experiment reveals the inner workings of a City trading floor. The money is supplied by hedge fund manager Lex van Dam: he wants to see if ordinary people can beat the professionals, and he expects a return on his investment too. Yet no-one foresees the financial crisis that lies ahead.
The traders were selected in spring 2008, before the US credit crisis gathered pace. The successful candidates were chosen, trained and dispatched to their specially created trading room in the heart of the Square Mile. Among them are an environmentalist, a soldier, a boxing promoter, an entrepreneur, a retired IT consultant, a vet, a student and a shopkeeper.
The eight novice city traders struggle to ride the storm as stock markets around the world go haywire. Some of them take big risks, and others lose their nerve in spectacular fashion."
Episode 1:
http://vids.myspace.com/index.cfm?fuseaction=vids.individual&videoid=56317671
Episode 2:
http://vids.myspace.com/index.cfm?fuseaction=vids.individual&videoid=56321444
Episode 3:
http://vids.myspace.com/index.cfm?fuseaction=vids.individual&videoid=56337345
I quite enjoyed it.

Jul
16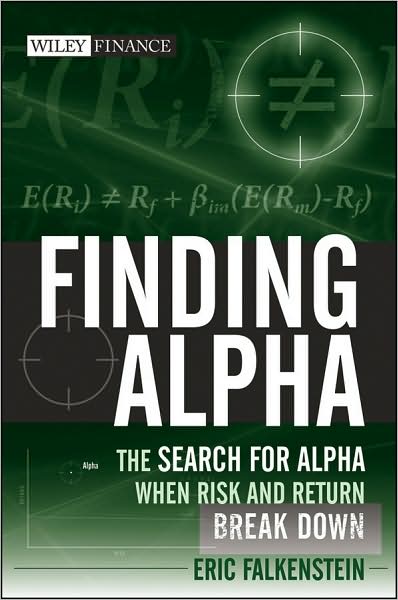 Eric Falkenstein is the author of an excellent book, Finding Alpha, and of a website.
One of his big insights is that in the real world the relation "return ~ risk" is often not obeyed. He cites many examples, but a representative example is that risky stocks (whether high beta, high volatility, high idiosyncratic volatility, or whatever) have not historically outperformed less risky stocks. I'm thinking that one possible explanation for this is that when you own risky stocks, you sort of get an implied put option "for free". The market makes you pay for that put option by giving you a lower return on the riskier stocks. Here's an example to make it clear:
Suppose investor A buys the whole market, with beta=1, and gets an average return of 10% with a standard deviation 25%. Investor B instead puts just 20% of his money into a diversified portfolio of high beta stocks, with an average beta of 5. He puts the rest of his money into a "risk-free" investment, and for simplicity, I will assume that the risk-free rate is 0%. What return should investor B expect on his stocks? Well, the conventional academic view is that his stocks should have an average return of 5 times that of the market, or 50%, with a standard deviation of 125%. Since B has only 20% of his money invested, his expected average portfolio return would then be 10%, with standard deviation 25%, the same as A.
The problem though is that B has a safer portfolio than A. B has a "floor" on his losses–he can lose at most 20% of his capital. He effectively has a put option that's 20% out of the money. How much is that worth? Well, to get a ballpark understanding, a put option on SPY, expiring 1 year out, 20% out of the money, is currently going for about 6% of the SPY share price. So in a fair world, maybe B's expected portfolio return shouldn't be 10%, but rather 4%, to reflect the idea that the market makes him cough up 6% to pay for the virtual put option that he owns.
If that's all true, then beta=5 stocks should have expected average returns of 20%, not 50%, and a standard deviation of 125%.
This is only a semi-quantitative explanation, but the point is that when you own higher beta stocks, you're implicitly getting an implied put protection relative to lower beta stocks. If the market is efficient and makes you pay for that put, then the returns of the high beta stocks would be reduced as compared to what you'd otherwise expect.
Disclaimer: For all I know, probably some academic has already thought through all this and demonstrated that it's incorrect and/or insignificant, and if that's so, then maybe someone can set me on the right path.
Stefan Jovanovich shares:
An earlier contribution from Eric Falkenstein– David Hakes' story about the risks of publication regarding the subject of risk:
When we submitted the paper to risk, uncertainty, and insurance journals, the referees responded that the results were self-evident. After some degree of frustration, my coauthor suggested that the problem with the paper might be that we had made the argument too easy to follow, and thus referees and editors were not sufficiently impressed. He said that he could make the paper more impressive by generalizing the model. While making the same point as the original paper, the new paper would be more mathematically elegant, and it would become absolutely impenetrable to most readers. The resulting paper had fifteen equations, two propositions and proofs, dozens of additional mathematical expressions, and a mathematical appendix containing nineteen equations and even more mathematical expressions. I personally could no longer understand the paper and I could not possibly present the paper alone. The paper was published in the first journal to which we submitted.
Lars van Dort writes:
I'm not sure I have much to contribute to the main question your post raises (why is the relation risk-return often not obeyed?), but I must say I was intrigued by your example. I felt it must be flawed, but it took me quite a while to see why.
Let's consider the investment in stocks of the portfolio of B, which has an average return of 50% and a standard deviation of 125%. The following could be one of the possible return distributions, from which these numbers are derived:
-100.0%
-50.0%
-38.5%
-25.0%
0.0%
50.0%
150.0%
213.5%
250.0%
Average return = 50%
Standard deviation = (pretty close to..) 125%
We see that the worst possible result is -100%, more would not be possible for stocks anyway. Because B has invested 20% of his total portfolio in stocks and 80% risk-free against a 0% return, his worst possible total return is -20%.
We now have to decide what return distribution to assume for the portfolio of A (average return 10%, standard deviation 25%). There are two options.
Option 1:
We take the possible returns from above and divide them by 5:
-20.0%
-10.0%
-7.7%
-5.0%
0.0%
10.0%
30.0%
42.7%
50.0%
Average return = 10%
Standard deviation = (pretty close to..) 25%
Or any other distribution with a worst possible return not lower than
-20%. In this case, the portfolios of A and B can both not lose more than 20%!
Option 2:
We do allow for a worst possible return for A of lower than -20%. However, in the equivalent distribution for B this would lead to a worst possible return for B's stocks of lower than -100% (because x5). This is not possible for stocks, but even if we imagine other assets that can take a negative value, this would have the consequence that B's total portfolio loss is no longer capped at -20%.
But what if we take a distribution for A with a worst possible return of lower than -20% AND a distribution for B's stock returns with a low of -100%. In this case (and here comes the point), for all the values to still add up to the mentioned average return and standard deviation, one or more of the other possible returns in the distribution of A would have to be higher, compared (x5) to B.
So, when one wants to argue that in this situation B's portfolio includes a put option because his losses are limited, along the same lines one would have to argue that A's portfolio includes a call option, because his possible returns are also relatively higher. Although I'm not sure how to prove this, it seems logical to assume these options need to have the same value.
The numbers of the example can be changed, but I believe a reply as above can always be given.
Tyler McClellan writes:
My quick thought is that this is not a good way to think of it.
The idea is to look at the marginal preferences of people with the same portfolio set.
In your example the relevance is not between the two portfolios you list but between what stocks the person with 80 percent in cash should chose for the remaining 20.
But I also suspect you are on to the correct way of getting insight about this, which is to show that the distribution of portfolio preferces is very correlated to specific holding within a category (for example maybe the person that owns risky stocks is highly likely never to own other stocks), such that a dynamic similar to what you describe does in fact happen. (best I can describe it is that the category of people to drive this relationship away by buying the now theoretically mispriced stocks is not big enough to overwhelm the people that continue to want volatile stocks and cash, or some other asset such as you suggest).
Rocky Humbert shares:
There are many ways to look at this; however using a high beta subset of the index has elements of a self-referential paradox and must be avoided.
One thing to recognize is that REAL and NOMINAL interest rates greatly influence the result. In an environment of very high real and nominal rates, and low stock market volatility, one can buy a five year zero coupon bond and use the discount to buy calls on the s+p with no principal risk. At the extreme, one could achieve full index replication with no principal risk, and I'd argue that this would be the perfect baseline for analyzing the issue.
We are honored to receive a message from Eric Falkenstein:
I appreciate Charles mentioning my name!
I think you can create such arbitrage only because the standard CAPM assumes lognormal returns, and for lognormal returns, only the first two moments (mean and standard dev) matter. So, parceling out put options is like saying there are different relations between how stdevs relate to max drawdown due to 'non-gaussian' transformations via leverage, distinctions that by definition are irrelevant within the framework of the canonical CAPM and its derivatives.
Many people, including Markowitz at the inception of the CAPM, have pointed out that returns may have important higher moments–skew, kurtosis, see here on my web site for references. Indeed, Fama did a lot of work on this in the 1960's (see my blog ),and his take-away was that these adjustments merely make second-order, intuitive changes to the base model–complications without much real add. However, downside skewness may be going thru a revival, as Cam[pbell] Harvey (editor of the JoF and mainstream finance archetype) actually mentioned in comment section of my blog that skewness preferences could explain a lot of these negative volatility-return empirical findings.
Alex Castaldo adds:
As they say in China "Speak of Cao Cao and Cao Cao arrives."
Jul
15
This article rejects the Baltic Dry Index as a reliable forward indicator and says it has no predictive power with regard to the stock market. The author says to have done in-depth analysis of the BDIY during his time as shipping analyst at Citi.
Bottom line is that the index is influenced by so many factors other than demand that it is not the useful indicator it is often claimed to be in popular press.
As to why the index is currently falling, I'm not into shipping, but explanations I've read that make sense to me include:
1) Declining demand of China's steel sector. Steel is the biggest user of iron ore which accounts for a large part of in the index.
2) Rising supply of shipping capacity (meaning more actual ships).
Jul
2
Some weeks ago I visited a friend in Berlin. We went to a few museums there and later spent some days in Budapest. She studies biology and skipped some lectures because of our activities. However there was one lecture she did not want to miss, and she invited me to join her. I was not really looking forward to this, but it turned out I was quite lucky. The lecture was about biological markets. It was most interesting and did not seem to require much previous knowledge.
It was given by Peter Hammerstein. I looked him up: he started his academic career in the field of game theory and studied under Reinhard Selten, who won the Nobel Prize together with John Nash. The term biological markets was proposed by Hammerstein & Noë in 1994 & 1995 papers. It refers to "all interactions between organisms in which one can recognize different classes of 'traders' that exchange commodities, such as goods (e.g. food, shelter, gametes) or services (e.g. warning calls, protection, pollination)."
The 'biological markets' approach uses game theory in order to model and explain behavior of organisms. Also behavior which seems at first sight altruistic can be explained.
For example, an animal may give a warning call to a group of the same species that a predator is approaching. This behavior is good for the group, but at the expense of the warning animal itself, as it has now less time to get away itself. This seems altruistic, but it is not. It was found that a warning call is more likely to be given when the relatedness between the warning animal and the rest of the group is higher. This is because closer related group members are more likely to carry the same genes as the warning animal. Therefore, the warning animal is doing nothing more than maximizing the chances of survival of his genes, one way or the other.
Further examples can be found on the site of Ronald Noë.
The most interesting applications to our markets and trading may be the found forms of 'foul play'. One example of the lecture was about 'helpers at the nest', which are sometimes able to trick the mother in thinking they delivered more food to the nest than they actually did. (Apparently, not only humans have cons).
I found the following book on this topic. I did not read it yet and therefore cannot recommend it, but based on the description and authors I believe it should be an interesting read providing examples of markets and trading in the animal kingdom. I will certainly add it to my list.
Archives
Resources & Links
Search