Mar
4
This passage from Tolstoy's "A Confession" makes me think of the evolution of "word of mouth", "stock hyping", "fax machine penny stocks", "Newsletters", "Weekly Column's" and all that has come from the button wood to the very blogs that are today dispatched daily with affiliate money making profit that it is all to be dubbed Financial Pornography. No wonder, Vic, you gave the suggestion to read the Enquirer and avoid the 'body snatchers' in the "lunatic asylums" :
"From my intimacy with these men I acquired a new vice: abnormally developed pride and an insane assurance that it was my vocation to teach men, without knowing what.

To remember that time, and my own state of mind and that of those men (though there are thousands like them today), is sad and terrible and ludicrous, and arouses exactly the feeling one experiences in a lunatic asylum.

We were all then convinced that it was necessary for us to speak, write, and print as quickly as possible and as much as possible, and that it was all wanted for the good of humanity. And thousands of us, contradicting and abusing one another, all printed and wrote–teaching others. And without noticing that we knew nothing, and that to the simplest of life's questions: What is good and what is evil? we did not know how to reply, we all talked at the same time, not listening to one another, sometimes seconding and praising one another in order to be seconded and praised in turn, sometimes getting angry with one another–just as in a lunatic asylum.

Thousands of workmen laboured to the extreme limit of their strength day and night, setting the type and printing millions of words which the post carried all over Russia, and we still went on teaching and could in no way find time to teach enough, and were always angry that sufficient attention was not paid us.

It was terribly strange, but is now quite comprehensible. Our real innermost concern was to get as much money and praise as possible. To gain that end we could do nothing except write books and papers. So we did that. But in order to do such useless work and to feel assured that we were very important people we required a theory justifying our activity. And so among us this theory was devised: "All that exists is reasonable. All that exists develops. And it all develops by means of Culture. And Culture is measured by the circulation of books and newspapers. And we are paid money and are respected because we write books and newspapers, and therefore we are the most useful and the best of men." This theory would have been all very well if we had been unanimous, but as every thought expressed by one of us was always met by a diametrically opposite thought expressed by another, we ought to have been driven to reflection. But we ignored this; people paid us money and those on our side praised us, so each of us considered himself justified.

It is now clear to me that this was just as in a lunatic asylum; but then I only dimly suspected this, and like all lunatics, simply called all men lunatics except myself."
Jan
13
This is a funny rag on 50 Cent: "50 Cent's Investment Library"
But once done laughing, you might enjoy the excellent book by Robert Greene with 50 Cent's name on it, The 50th Law.
Here is a quote from the book:
"The greatest fear people have is that of being themselves. They want to be 50 Cent or someone else. They do what everyone else does even if it doesn't fit where and who they are. But you get nowhere that way; your energy is weak and no one pays attention to you. You're running away from the one thing that you own - what makes you different. I lost that fear, and once I felt the power that I had by showing the world I didn't care about being like other people, I could never go back."
- 50 Cent
J.T Holley writes:
I get the joke, but he actually chose the name as a metaphor– "Change". He took it upon himself to make something of himself other than what he was accustomed to seeing in Queens.
I think the Wall Streeters who bash him are just a little bit on the "sour grapes" side. He moved from Queens to Farmington. Those MBA's probably don't like that and neither do all the other critics who reside elsewhere. Ironically, the Farmington mansion was owned by Mike Tyson whose former bodyguard put 9 shots into .50 cents body. Just a theory, but I think the house was purchased as a personal mark of his own overcoming.
His success as an entrepreneur is something that isn't appreciated and should be looked at in my opinion quantitatively by his checking account and its sustainability thus far. He is an entrepreneur. Took the effort and time to do such. Get's paid for his services. He has his critics and they don't like it. Go figure.
I like when he was working on the movie and soundtrack to "Get Rich or Die Tryin'" he was asked when he found time to sleep. He was either working on the film or the soundtrack and people took notice. His response, to paraphrase, was "Sleep is for people that are broke, I don't sleep. I have a small window to make my dreams reality".
Also when shown or quoted 50 almost never seems like a braggart. He appears humbled and utilizes his time to profit.
Jul
11
At $25 million a year, plus a larger amount in endorsements, of course Lebron James chose Miami over New York, LA and Cleveland. Florida has no income tax. While those other states are among the highest tax states in the country.
Scott Brooks comments:
But that tax wouldn't make up the money he lost ($30 million) by signing with Miami over Cleveland.
J.T Holley writes:
The math is 12 million in difference for the length of his contract in State Taxes saved. That's over 35% saved in my book, better supporting cast, nice climate (Miami has never had a 100 degree weathered day recorded), So. Beach, he gets to finally be a man and leave home, and the insiders could've shorted MSG from let's say 21 to 19 leveraged? I'm just sayin'.
The King seems to be following the advice of his consultants rather well. In the Navy the ole' sayin' is "loose lips, sinks ships". I was quite surprised that MSG didn't spike more than it did and go a few more deviations to the upside. The tight lipped coverage and suspense was brilliant and had to be hard to keep up. This is especially amazing to me considering Wade and Bosh were also involved in the dealings ultimately in the decision.
There has to be a study of "high profile" free agents and "warm weathered" correlation to be done when it comes to money and choices. Does anyone know of a high profile athlete that choose a "cold weathered" city when the initial contract was up? Just sayin'?
David Wren-Hardin comments:
Jody Rosen over at Slate had a short piece that I think nails it.
New York is no longer the hip place to be. For a young, minority millionaire, the post-racial (or allegedly post-racial) melting pot of Miami is the place to be. Everyone scratching their heads about tax breaks, endorsements, and culture is living twenty years in the past.

Jun
21
One was recently asked, how do you spot a hoodoo when you are in or dangerously close to their presence? I would say that their past record of failures is a good starting point. As is their ability to talk a much better game than they play. Also, their attempt to impress you with the trappings of success, ( a conference call with their five principals is a usual gambit). Not to be disregarded is their locus of operations, often from a ephemerally built recreational area where permanent lodgings and such things as pianos are not availalbe. The inclination to befriend you and flatter you is also a clue. But how can this be quantified, and how can we learn to avoid them? What should you do when you've met a hoodoo? I've always taken to burning my shirts, especially if they've hugged me as they ofen do. Dare I ask the question of whether there are such things as hoodoos or is it a figment of random numbers? No, that would be too mind boggling. But please help with your insights.
Alan Millhone writes:
Some years ago my late father and me were enlisted by Banque Worms to take over a failing condo project in our area.
The developer met us and after I shook his hand I could smell his pungent cologne on my hand for the rest of the day. He had a lady friend assistant who wore a see through dress with precious little underneath if the sunlight caught her profile just right. When I first met him I could see " carpetbagger " across his forehead.
He was a genuine "slicky boy" right out of South of the 38th Parallel.
People like him wear a lot of bling and cheap after shave. Usually have a woman at their side as a distraction.
They are long gone. Our crew finished the job.
Stay vigilant and wide eyed.
Pitt T. Maner II adds: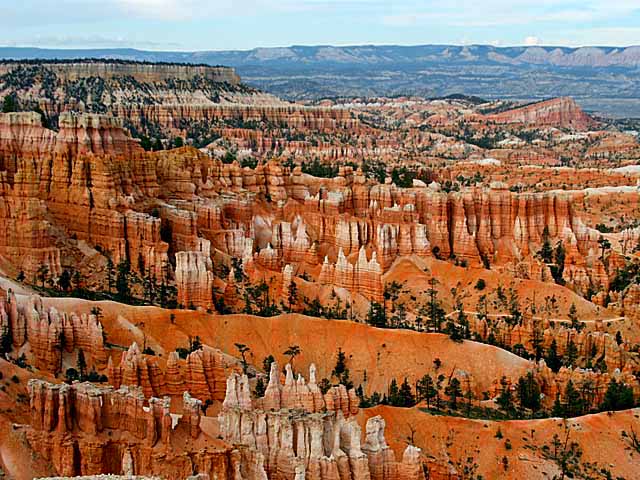 Fortunately, I associate the word "hoodoos" with the past leader of my university (UF) geology field camp, Professor of Geomorphology, Dr. Robert Lindquist, who was an expert on the formation of hoodoos in the magnificent Bryce Canyon in Utah and knew of the locations of many wonders in the West–original survey markers left by Powell, dinosaur bone and gastrolith graveyards, amazonite on Crystal Peak and ancient lahars in South Park, Co. A geologist's geologist who looked like he had stepped out of the 1800s.
As for the other definition, there was a person who once recommended Enron, Freddie and Fannie, and several other long ago bankrupt companies and who was so consistently wrong for awhile that it was almost uncanny. If one had just done the opposite. It was a good education to lose money at an early age though on hoodoo picks. Better to lose and learn using your own thought processes–at least there is a sliver of hope for improvement.
Russ Herrold writes:
I might add that to view a person's bookshelves (even ones only in public areas) or even books in the process of being read on a table, or to note the absence of such, in each case provide a window into the mind of that personis to me a 'tell'.
Alston Mabry writes:
To see something clearly, it can be helpful to study its opposite. Recent list discussion included one of my favorite anti-hoodoos, Richard Feynman– intelligence, curiosity, enthusiasm, creativity, generosity, joie de vivre.
Russ Herrold adds:
This certainly may work for when to exit or what to avoid. My brother also seemed to have a uncanny ability to leave the party, when things were getting hot… too hot… right before the cops came and arrested everyone. His friends started following him. However, the same may not be true with when to start a party. As a kid I remember people would fight for a seat next to me during a math test. If I did not like them I would pull a Goldman synthetic and write down some wrong answers, to be corrected latter in secret. It has been my experience in investing that the surest sign of a Hoodoo is willingness to copy someone elses system or trade and yet have no idea why they should expect it to work. There seems to be floating around hundreds of billions par value of formerly AAA paper that now only worth hundreds of millions that seems to prove that these Hoodoos are extremely common, if not the most common Hoodoo around.
Nick White writes:
Perhaps the most difficult aspect of detecting hoodoo-ery is to discern the difference between the genuine actions of the bona-fide dealer versus the pretense of the hoodoo (who - come to think of it– may well be bonda fide, too, but just cursed. Let's call these poor souls benign hoodoos versus their more malignant bretheren).
I think the sure tell of a malignant hoodoo is that their most effective lies will be those very closest to the truth…yet there lies their very advantage over us, and requires some street smarts to know the difference. Perhaps the foil is to know and experience for ourselves the difference between ambition and aspiration. The Stoics made this sort of distinction to help them in their quest against self-hoodooery: Ambition was vulgar, akin to avarice, full of scheming and accompanied by a very lowbrow, keeping-up-with-the-jones mentality. These sorts of feelings were to be put to death in oneself moment-by-moment through Stoic practice. Aspiration, on the other hand, was considered more noble, civic and had the connotation of dilligence, discipline and a bent toward giving a world-class performance simply for the sake of excellence as a way of life. Therefore, perhaps we might say this kind of vulgar ambition is the giveaway quality of malignant hoodoo-ery? Applying this little rule-of-thumb might constitute the foundation of an early warning system.
However, before any of us jump on the moral high horse and consider themselves "aspriational", the Stoics further stipulated that it required very great self-knowledge to even know the difference between these two values, let alone to declare oneself in one camp or the other. Even then, the Pyrrhic victory was assured– if you felt yourself to be truly humble and aspirational, you were most likely hopelessly ambitious and required greater training to cure the very need to make such statements about oneself.
Jeff Watson adds:
Nick, you made the most erudite explanation of hoodooism I've come across in a long time. One might wish to consider the partial hoodoo which affects 95% of the population. With the exception of a few good trades and the ability to be a good father, I'm a world class hoodoo, among the best. I won.t deny this because that would be a folly, and total lie as I can make money but my personal life is a train-wreck. I won't get into the Faustian aspects of all of this, but it is there. Hoodooism comes in many ways, shapes, and forms and I've seen and done them all. Hoodooism is like the old adage that history doesn't repeat itself but it always rhymes. The hoodoo that the chair describes isn't enough, the one you have to watch out for is the one that makes money on a regular basis, he's the danger.. He might steer you onto something good, but there is always a price to be paid, and the price is not always what you expect and not the currency you wish to pay..
George Parkanyi writes:
This whole notion of hoodoos frankly I find rather uncharitable, and burning one's shirt after a tainted hug smacks far more of superstition than science.
Now not hanging around negative people I understand. Some just wear you down with their negativity, and you do have to cut your losses at some point. But to classify those who have tried and failed into their own undesirable caste is unfair and a vast oversimplification. People run into difficulty for many reasons– failed relationships, health problems, sometimes just honest mistakes. My experience has been that people have far more to offer than what appears on the surface– regardless of their circumstances.
I wander past homeless people– ostensibly life's greatest "losers"– sometimes as I go to work, and when I really think about, I'm awestruck at how they have managed to survive all this long– with absolutely nothing, through harsh winter conditions. How do they do it? Clearly, they have skills that I don't. One time I gave a not only homeless but also legless man $10. He didn't ask for it. I just walked over and gave it to him. Here he was on the front lines at the very edge of humanity, representing on my behalf one of the worst possible circumstances that I could even imagine for myself and somehow I was drawn to him. When I gave him the money, he beamed at me with this smile of pure joy, looked me straight in the eye, and cried "God bless you!" To this day I will never forget that blessing, because at that moment there was a seismic shift– I actually physically felt it– in my understanding.
In the lands of the dispossessed, I don't see hoo-doos at all. I see potential teachers.
As for people who befriend you only because they want something from you, the best I think you can do is make your own decisions on to what extent and level you wish to engage. If you enjoy their company or there is something about them that you like, go with it, but don't take risks that would seriously jeapordize your business, family, and other relationships. Not everyone is genuine, yet not everyone's on the make either– and some people are absolute gems. To be completely distrustful will cut off a lot of wonderful experiences. To expect too much of people or to be overly trusting will set you up for disappointment, or worse.
It's like trading really. If you diversify your relationships you have less risk and less volatility. If you concentrate your relationships, you have more risk and more volatility, but perhaps a bigger payoff in the intensity of love and friendship. You have to figure out the right mix for you. The interesting thing about relationships is that that while you're investing in others, they're also investing in you. The more relationship value you create, the more relationship value you (and others) will also accrue. I can't quantify it, but I think there is a real multiplier at work there.
Last point. If you're not confident enough to engage or deal with a "hoo-doo" without fearing harm to yourself, then perhaps you should worry less about the "hoo-doo" and examine your own fears. What difference should it make to you if have a conversation, dinner, or even a business deal with such a person (however defined)? In what sense would that make you a lesser person or cause you harm? It may or may not, but I think its a good question to ask.
Jeff Watson comments:
George, it would behoove you to read up exactly a hoodoo is before writing such an elegant, misguided essay. The essay was great, almost fantastic, but missed the point. I can say this because I'm a hoodoo and proud to admit it. Not all hoodoos lose money in the market and in life and divorce. Some lose through gambling drugs, going for long odds, begin too easy with short odds. I lose my money by staking unreasonable ventures, loose women, and bad ventures. Not a lot of misadventures but enough to affect 11% of my bottom line. Add that to my losing trades, my 30 dependents, and I have a big nut to make every month. Nothing like the Chair, but still significant. There should be a place in the hall of fame foe us grinders who knock it out every month for years…That's gotta count for something.
Duncan Coker writes:
On the topic of hoodoos, when I am performing a task others can either help me perform better, have no impact, or lead me to perform worse. A hoodoo would would reside in that last category. I am not so concerned about their motivation or intent, just their impact. With my favorite fishing comrade, we actual raise the level of our game so to speak, so an inverse hoodoo. We share information on the flies that are working, fish caught, good spots on the rivers, ( after a small bit of subterfuge of course for good measure). We have a good rhythm of leap frogging each other up the river, alternating the good stretches, not spoiling the water ahead for the other. Plus the general level of conversation or lack of it fits well with the day allowing us to focus on the river and landscape around us. In a pinch we can count on one another. I recall one day I slipped and snapped my fishing rod while at the same time managed to lose my fly box and all flies and watched it float away into the fast current. My friend saw it all and after a few jibes, offered to share his set up, and we took turns the rest of the day. We landed my rainbows that day.
But I have fished with hoodoos as well. One guy we nicked named Trigger. He was so nervous and jerky casting and moving around the river we thought he had an itchy trigger finger and thus the name. He could destroy a beautiful fish laden stretch of river faster than anyone I have seen, with sloppy casts, poor retrieves and a general disharmony with the environment. And he liked to talk, talked way too much. So just being around the guy brought my fishing down and took away my rhythm. Plus, he had the very real affect of spooking any fish near us. They must have known he was a hoodoo as well. One day was enough with Trigger.
Nick White comments:
Actually, I wonder if the null hypothesis is that we're all natively hoodoos…with only will, practice and a life record to help us refute it?
Thoughts?
George Parkanyi responds:
Humanity in the aggregate, and individuals all, are - maybe flawed isn't the best term - let's say limited, at any given point, by the sum total of our experiences and our genetically born underlying capabilities and pre-dispositions. Most of us I would think have far more potential than we ever actualize. As infants and children, we start out gang-busters, absorbing everything - especially information and ability most pertinent to our survival. It is primarily a world of exploration for us at that time, underwritten by the support of those that take care of us in the early years. We're all about curiosity and imagination. As our thirst for knowledge and experience leads us to new experiences, we also begin to develop routines and habits, which enhance efficiency and conserve energy, but also help us re-experience that which we have enjoyed or that have worked in our favour before. The filtering begins, and the type and nature of recurring experiences that we seek increases. Habits take form, even at a young age. The continuously developing habits, I believe, progressively and increasingly compete with our desire and ability to pursue new experiences. At certain points in life, we even choose massively pre-packaged experiential templates (e.g. marriage, career) as well, which hugely filter and channel our future experiences. Ultimately, we (not all of us, but a large portion) reach a point where there is no further desire to seek new experiences that are outside our past experiences. Our habits completely define us. As we age, we also begin to lose the resources, particularly health and energy, with which to pursue and expand our overall life experience.
Perhaps a hoo-doo is simply a person that can or will not go to the next level, and finally settles for habit being the determinant of his/her future experiences. Perhaps they give up on the pursuit, or are ultimately distracted away from seeing or imaging that next level of experience beyond the point that they have already reached (which point would be different for each person), and never even think to look toward the horizon of their life again. All I know is that habit is a very powerful force, and ultimately I think it overwhelms us.
John Holley comments:
"Amen, JT. Sorry I made you burn a shirt that time I hugged you at the Mets game, Vic!" KD
Just to show I put my actions where my mouth is, I will share with the list that I recently have read two very important books that have shaped my life thus far. Both are shared favorites, highly insightful, and forever giving and common amongst the Spec Listers:
1) Memoires of a Superfluous Man - A.J.N. (via Vic)
2) Five Lessons: The Modern Fundamentals of Golf - Ben Hogan (via my Dad, also Kevin Depew's fav golfing book)
These books are on my top ten list. If you haven't read them then do it. In fact read them over and over again.
Other than G-man's speech in Atlas, the 1 thing I hang onto that Lack shared recently in a post regarding his Father that would get you out of being a Hoodoo is appropriately going to be number twenty six.
26) "If you saw Atlas, the giant who holds the world on his shoulders, if you saw that he stood, blood running down his chest, his knees buckling, his arms trembling but still trying to hold the world aloft with the last of his strength, and the greater his effort the heavier the world bore down on his shoulders—what would you tell him to do?" " To Shrug." Shrug, bare more. Your mind can handle it.
Archives
Resources & Links
Search