Victor Niederhoffer writes:
are you doing and how is millie doing…'2 what is your reaction to all the police violence lately .d o you feel it shoudl be defunded? 3 artie said that during his tenure it wa s aomost mpossible to arrest a b lack personage because eveyone was loookign at you a skew.
William McCarthy replies:
Hello Victor,
How are you doing? Millie and I are hanging in there. Plenty of doctor visits for the both of us. But all is well considering.
The only thing different about the police violence today compared to the past is media technology. Cell phone video cameras and the internet. These recorded criminal acts by police unfortunately have always occurred by some rogue police officers that were denied. There is no justification for what was witnessed in the Minneapolis incident. I feel for the 2 rookie officers that were present who were also charged. There lives were ruined before their law enforcement careers even got started.
It seems that physically resisting arrest has become an expected allowable standard practice on the part of the public. Resisting even a unlawful arrest is against the law (at least in the New York State Penal Law). The citizen's recourse is to submit to the arrest and make their claim of false arrest in court.
The police have little influence if they are not supported by the general public. And without the public's support they are personally discouraged from self-initiating any enforcement activity. No one can know in advance the outcome of an encounter. The public has been falsely educated by all of the popular TV shows that depict the law enforcement main character's swift and facile physical actions. In real life it can get ugly fast even when the actions of the police are lawful. Few ordinary officers are prepared to make it look easy. That requires constant physical training and technique. On television the "good guy" always wins. That is not the case in real life.
Can society survive without the acceptance of the rule of law by the public and its enforcement by the police? There would be little to video if the public did not physically resist arrest!
Victor Niederhoffer writes:
do yoou agree with me that the strength oof the unons makes it almost impssiblet ofire ann officer, and no knock lawas and qualified immunity and oikuce nilitary equipment, and juries favoritism to olice needs reform. very glad to hear of your consilience, we are abotu the same as y ou and Millie. moved out of ny. no good reason to stay for us without broadway and restaurants, just reread the Gofrather . wata is realistic?.
Ken Drees writes:
The Godfather types will move into cities that let their police forces shutter and then there will be the peace
Jessica McClure
"Baby Jessica"'s miracle rescue in 0ctober 1987 rhyming with Thailand cave rescue today?
Markets both juiced up….
Or is this just a great remembrance of mine?
My father (RIP) joked back in the 1980s that when our local northeast Ohio mall died that it would make a great prison. At the time we laughed because we never thought the mall would ever lose its appeal–I mean it had an Orange Julius store in it–what could be better than that? Well that mall did die and it still is just one huge boarded up bereft eyesore. The mall up the road 3 miles in the next town just lost its Sears anchor –recent December announcement. And this mall will be the next to die. Another 5 miles up the road in a better neighborhood is a mall that had to restrict unchaperoned teens on weekends due to a mass teen flash mob that went wilding–terrorizing the people actually shopping. It will be the next to go–people do not want to be harassed in a captive space when they go out to shop. The trend seems to be more of these outside based shopping plazas where you walk outside and stroll from store to store and enjoy open air and green space, etc. The "everything under one roof" concept seems to be going away.
What will eventually develop out of these dinosaur chunks of dead mall space in prime locations in less that prime towns? These towns lost middle america–maybe prisons, or halfway houses, or a la Trump–new job training centers, or low rent housing for displaced illegal aliens, or detention centers for questionable illegals, or new factory centers for returning blue collar jobs. I do not know the answer.
anonymous writes:
The dead mall long standing empty property and another one about 20 miles away were bought by Amazon to be turned into warehousing distribution centers . Both will be high tech built for drone delivery. Not many flesh and blood workers to be getting jobs in these places. However, the building trades will be quite busy and there will be contractor dislocations and shortages of cement and rebar, etc to be anticipated.
Rocky Humbert writes:
It is arguable that this country has way too much retail space. It is arguable that Class A malls will survive, but Class C malls (that still look like the 1950's) will fail. It is arguable that population movements will render some malls unprofitable. It is arguable that the valuations of REITS are too high relative to their growth prospects and trend in interest rates. But the "Anchor Tenant" is a legacy of a bygone era….
Lastly, I will speculate that people who live in large urban centers (especially New York City) have little understanding of the social phenomenon of malls– and how they are the climate-controlled "main street" in many places.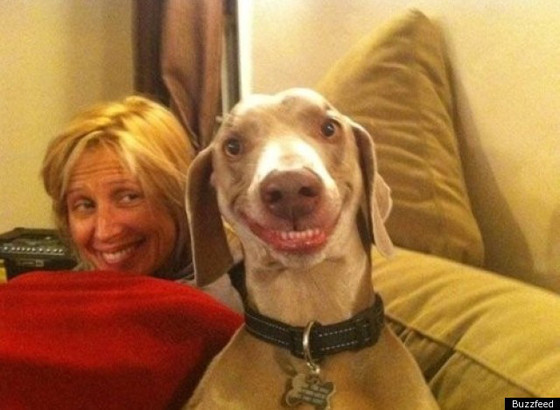 The search for happiness has a Heisenbergian aspect: the more certain you are about what you want, the less happy you will be attaining it. It seems to happen unexpectedly, and often only in hindsight.
There is also an "aspergian" aspect: like Viktor Frankl's "The doors of happiness open outward". I take this to mean searching and engaging with the world (rather than perpetual introspection), but it could also be the joy in helping others (as risky as it may be).
In markets it is very hard to find happiness, and it is probably foolish to look there. A good source of unhappiness, however, is limit orders. You place them with great hope and the market runs away and leaves you behind. Or you get filled and then it takes you way down. Or you're overjoyed to finally get out with a modest profit, only to find you sold too soon and missed the big one*.
*Holding losers long and selling winners short: the hardest thing not to do.
Sushil Kedia adds:
Happiness is life. It has a unique property. The conditional probability of happiness is a certainty if you have a happy nature else it is zero for every other variable.
Anything contingent on an outcome (event) or a property (belongings) is not happiness. Happiness is unconditional. Happiness is an absolute.
Happiness is neither a milestone nor the journey of life. Happiness is the fuel of life. By this assumption or understanding one can see pain is not the opposite of happiness. Pain is only a signal asking us to change something.
On a lighter note, obviously no one normally seeks happiness from a mistress. In Markets, you come for taking what you have come to take and not search happiness, since happiness is within.
Ken Drees writes:
"You never see the stock called Happiness quoted on the exchange."
"It is better to desire the things we have than have the things we desire".

-Henry Van Dyke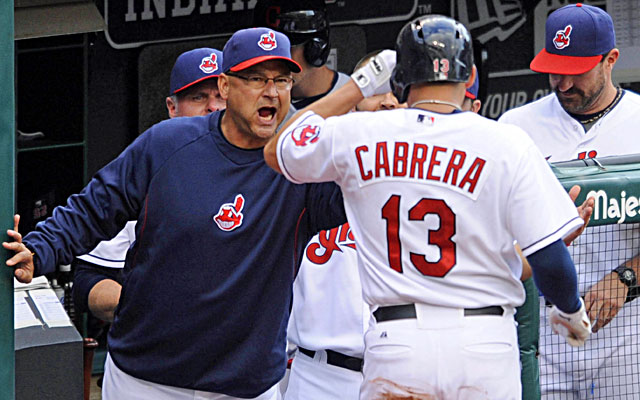 With the new baseball replay rules are managers no longer the slow burning kettles of ire that erupt on umps and are ejected–sometimes as a stunt to rally the the team? With the technology of replay and the manager's use of "official questioning of a call", is this keeping the managers "managed" by the system?
Right now the Indians are being screwed by an ump on his pitch calls and it's a do or die game with the twins for wild card position. I am wondering if Francona should go out and kick dirt and get booted, or is his managerial process more detailed so he feels compelled to stay in the dugout? My gut feeling is that there is less dirt being kicked and more screens being watched by the managers. Therefore maybe less emotion and influence?
Also, here is a trailhead to ejection data: "2015 MLB Ejections"
On my last haircut before moving, I gave my regular lady a $100 tip on a $17 haircut (applause line here?). That small gesture brought her to tears. She is a very interesting older woman. I've enjoyed talking with the past few years. She knew I worked in investments/trading and asked if I had any ideas for her. I asked about credit card debts and she told me she just cashed in 25K of an IRA to pay down 25K of credit card debt, yet already had accumulated 2K since then and was getting in the hole again. I might invite her down to do some murals in my kids room, and perhaps do some studies on trees (She is an artist who made a living cutting hair for the last 40 years).
The point is (perhaps? At least the relevant one?) is the deadly financial problem of never having working capital that provides the flexibility that keeps one off the spike of usurious interest.
This lady had been sold on long term investments (by her branch XYZ big box bank) in high fee mutual funds with perhaps at best a 5% yr expected value over the long term, while paying off 25% interest rates on credit cards. The scams run on the lower middle class or working class are obscene.
And it is not income. Clearly if these folks can pay these obscene high interest rates, they can afford much more than they have. The problem is that they never understood the idea of having "working capital". I told my friend that her best investment is at least 6 months of living expenses in the bank. As basic as it is, and at such a low margin for error that standard that is, for many it is an alien concept. Her recent issue was a car repair that blew up her budget and started the credit card problem again. With no working capital plus compound interest against, it is like a giant pit metaphorically with wood spikes and lions at the bottom to gobble one up.
So in trading and investing, how can we use this idea? Victor has taught "never get in over ones head" as one of the key tenants of speculation. So how do we manage our cash in our speculations, investments, life's "issues" to have the flexibility to seize opportunities and avoid pit of being bent over a barrel–while still getting a solid return.
Scott Brooks writes:
The problem is deeper than that.
The people that Ed is referring to don't have the mentality to accumulate wealth and get rich. They are sold on the "here and now" mindset. They go into debt to satisfy the here and now. Something will always come up that will prevent them from succeeding. The only thing they are really good at is coming up with PLE's (Perfectly Legitimate Excuses) to justify their failures.
They are defined by their failures.
anonymous writes:
Especially with respect to this site, I would wonder the data and testing behind those assertions. Otherwise, one might consider them to be presumptive, elitist, and uncharitable, with mean-spirited implication. But for the grace of god….
Ed Stewart writes:
"presumptive, elitist, and uncharitable, mean-spirited"
Yes but who cares. I'm guilty of most those things at most times. Is time preference the essence of trading? That might be a more interesting question vs. my original one. Can it be quantified? I think so, as a hypothesis generator. Does it work better than other thought models?
Russ Sears writes:
Sorry, I disagree Scott. Ed is correct, it's a matter of education and coaching. Have a plan, believe in the plan, stick to the plan.
The average working poor Josie is not a loser. It's the average bank has learned they are more valuable dumb and paying fees than smart with small accounts. The stats say that the fees are several hundred dollars per person in the USA. So some are paying several times that. The banks have the average poor working single parent or mom in a snap trap that they can't figure how to unsnap and lift the door.
The first thing I tell kids is that you need a minimum of $1,000 in emergency cash preferably $2,000. Have a garage sale, stop buying lottery tickets, no gambling, stop buying new clothes, stop cable, and stop smart phones, etc until you have that emergency fund. Also budget, if you can't fix the budget to the pay, downsize housing, get roommates, no car, bus, pay for car pool, whatever it takes to have a workable budget. Then save for the 3 to 6 months expenses in a cash account ready for a big expense. Only then should you invest.
Most people in this problem don't have anyone they can trust to give them the advice and perhaps the tough love they need to stop living in denial. The truth is the banks want the poor.
What does this mean for "investors". Frankly I think most investors have it wrong. It's not so much managing your risk as it is managing your cash flow first, then manage your risk. You can take a lot of equity risk if your investment horizons 20 years out.
Also the lesson to investors is just because someone is in the best position to give you advice and would make some money off you if they gave you that advice, it doesn't mean they will give you the advice that's in your best interest when it conflicts with their best interest. Their best interest is CMA (cover my …) by silence or sin of omission. Then it's to make more money by selling what gives them the most profit to "cover" you like payday loans.
anonymous writes:
The thing I practice (and I don't know if it adds any edge that can be computed) is to always take some off after a good run. No mater what, be it trading, investing, bonus, etc. Never spend it all–or even most of it. Put it away for when SHTF, because as day follows night, it will…
Andrew Goodwin writes:
A major part of the problem is the thinking that makes the credit limit on credit cards equivalent to ones own money.
For my part, I will never willingly stop at a gas station that has two prices for gasoline with one higher for the credit card user than for one paying cash.
In a world where there are card rebates on gasoline, what is the point of acting responsibly with credit when those who did not act responsibly get subsidized by those who did. The dual pricing also serves to support a cash economy against the public interest.
Peter Grieve writes:
I feel that I am unique on this site as having been in this hairdresser's situation for most of my life (Hello, Peter). Obviously this is not due to a lack of economic education or upbringing. I feel that the factors include a lack of skepticism regarding my own appetites, a lack of faith in the future, a certain immediacy in response to the world. These are traits associated with immaturity, to which I confess. Of course this leads to tremendous inefficiencies, even when viewed from a purely hedonistic perspective, but it does have its compensations.
I do not regard Scott's comments as elitist, presumptive, uncharitable, or any of that baloney. On the contrary, I find the the use of the word "uncharitable" to be condescending. I do not feel that people in my position are a fit object of charity.
Everyone has their irrationalities, and they are often incomprehensible to those who do not share them. Scott's words are simple, honest truths, which many people (including me) would benefit by internalizing to a greater degree.
Stefan Martinek writes:
It is good to have an emergency cash for at least a decade; locked, untouchable for trading or similar. The rest can be at risk. And after MF Global steal from client accounts (is Corzine still free?), I think it is prudent to keep as little as necessary with FCM. In case of a brokerage failure, the jurisdiction matters (Switzerland is preferred, the UK is too slow but ok, then Canada, and the last option is the US broker).
Ralph Vince writes:
Stefan,
I entirely disagree; emergency cash has a shelf life which is very short, and our perspective warped as we are speaking in terms of USD. Being the historian you are, you know full well how quickly that cash can be worth nothing. (And again, a many of our personal experiences here would bear out, money is lost far quicker than it can be made).
A bag of air on hand is good for one breath.
People are taught that "saving" is virtuous, borrowing a vice. I would contend that we have crossed to Rubicon in terms of the notion of stored value — no more able to contain that vapor than we can a bottle of lightning. The circulation brought upon by a zirp world, turning all those with savings into the participants at a craps table, the currency being used the product of a confidence game, among the virtues to be taught to tomorrow's youth is that of creating streams of income — things that provide an economic benefit their neighbor is willing to pay for, as opposed to a squirrel's vermiculated nuts.
"Stored value," is a synthetic notion we have accepted and teach as a virtue. It has no place in nature, it is a synthetic construct, one that is not scoffed at in the violent, life-and-death world of fire and ice. Young people need to be taught the fine distinction between the confabulation of "storing value," and that of using today's fruit to generate tomorrow's.
Stefan Jovanovich adds:
From the other Stefan: I agree Ralph. "Stored Value" is another part of the economist dream that platonic ideals can be found. Money is and always has been one thing: the stuff you could voluntarily give to the tax man that would make the King find another excuse for throwing you into the dungeon. The gold standard did not change that; it simply gave the citizen a chance to make the same kind of unilateral demand on the government. It is hardly surprising that the fans of authority and "government" hate the Constitutional idea of money as Coin. How can you have a permanently elastic official debt if the citizens can ask for payment in something other than a different form of IOU?
However, Stef does have a point. Having a hefty cash balance is a wonderful gift; it gives you the time to figure out your next move. The sacrifice is the absence of leverage; the gain is having literally free time.
Scott Brooks comments:
There are a lot of companies out there that take advantage of them and the bad advice they were given from their parents. Banks certainly do. Then you've got insurance companies and brokerage firms selling them crap products as well.
But that doesn't hold water in today's society with Suzie Orman and others like her being nearly ubiquitous on the airwaves and net.
These people live beyond their means. Plain and simple.
Yes, they lack education, but even with education available, they don't take advantage of it. They are just doing what they were taught as kids. For far to0 many of these people, as long as they've got enough money for their 1-2 packs of cigarettes/day and their quart of Jack/week, they go and live lives of quiet desperation, hoping that they don't lose their jobs and are lucky enough (i.e. like not spending money on stupid stuff is "luck") to pay off their debts by the time they are in their early/mid-70s so they can live out their remaining few years (if they even make it that long) on social security.
I know. I grew up with these people. I know how they think. But for grace of God (as was mentioned earlier), I might have been one of them. But for some reason, I was blessed with gray matter that works, and I saw the error of those ways, and I was able to get out.
Ken Drees writes:
I knew a guy–lost touch with him over the years–who exclusively dealt with hairdressers and salonists. He sold variable annuities to them since these people had no retirement plans given to them from the salon owners. I believe in his mind that he was doing them a service–and I really do not know the quality of his products–but at a glance I saw them as mutual fund annuity hybrids that came from heavy fee fund families. He was a tall, dark and handsome gent and he would actually get entire staffs of salon ladies to invite him in after hours for a group meeting/financial planning discussion presentation.
He always said that business was brisk!
Jim Sogi writes:
When young friends ask me, how should I invest, I give them a simple asset allocation model based on ETFs or Vanguard and an averaging model. Invest x% of your paycheck off the top each time. Doesn't matter how much really.
Russ Sears writes:
Scott, since this is the DailySpec let us bring a little science into the discussion, even if it is social science.
Where we differ is not what is causing the hairdresser's problem. It is in what can be done about it that I differ. I believe you can coach people to delay gratification. I coached kids that never did homework before and got "D's" and "F's" during a summer and by fall the kid was an "A" or "B" student. You probably owe a hardy thanks to the coaches in your life.
Perhaps the greatest social science finding has been the "marshmallow experiment" done at Stanford. They did test on 600 4 year olds telling them if the child did not eat a marshmallow for 15 minutes after they left, they would get a second marshmallow. 1/3rd of them made the whole 15 minutes, a small percentage ate it immediately after the others had waited various amounts of time. They followed up on these kids several time in the last 40 years. Just about every way you can think of to define success was highly correlated with the time the 4 year old delayed gratification: SAT score, college/HS graduation rate, credit scores, long term committed relationships, contentment etc. And almost any way you can define failure was inversely correlated: jail time, high school.
The correlation was stronger than IQ, social economic status at 4 years old. In other words even the dumb poor kid that delayed gratification was happy/content/successful 40 years out. He may not be making much but he is happy with it.
For a humorous view of this experiment reproduced: Joachim de Posada: Don't eat the marshmallow!
In the past six years, we have basically seen two phenomena in stocks: 1. etf growing use, and 2. share buybacks. My theory is that these two forces combine to totally drain liquidity from the stock market. The general downward trend in volume is the proof, also probably explains persistent small upward march of stocks, and the tendency for "corrections" to be much more like "flash crashes."
With one, we have something like robotic superfunds who accumulate mass quantities of stock and hold, rebalancing based on volume in the etf. With two we have drastic reductions in float.
A bear market in that environment will bring a certain violence and toxicity never seen before. Down days are almost forced to be large. So when we talk about a bear and months of down days, it will probably be something truly awful. Etfs will dump stocks on a reduced float market that is largely composed of funds anyways.
The size of the exit is determined by volume and float. Door is getting small…
Ken Drees writes:
This article explains ETF mechanics well.
Almost as important for the ETF are the authorised participants, or APs, which act as marketmakers. The APs, most of which are banks, help to keep the share price of the ETF close to the value of the underlying assets. Imagine that one big investor in an ETF with, say, a 10% stake, wanted to sell its holding in a single day. There might not be ready buyers for such a large holding, causing the ETF to fall to a price below the value of the assets it owns.
To avoid this, the APs act to balance supply and demand. If the ETF is expanding (more people want to buy shares than to sell), then the AP puts in an order to the fund manager for a block of new shares, dubbed creation units, in the ETF. In return, it transfers a bundle of securities, based on the index the fund is tracking, to the manager (this bundle is known as the creation basket). If the ETF is shrinking (more people want to sell than to buy), then the AP sells creation units to the fund manager and receives in return a bundle of securities known as the "redemption basket".
The AP can also keep the price of the fund in line with its assets through arbitrage. The asset value of the ETF is published on a regular basis during the day; if the price of the ETF is higher than its underlying assets, then the AP (or any big investor) can sell ETF shares and buy the underlying assets. If the price is lower, they can buy ETF shares and sell the assets.
The AP can also keep the price of the fund in line with its assets through arbitrage. The asset value of the ETF is published on a regular basis during the day; if the price of the ETF is higher than its underlying assets, then the AP (or any big investor) can sell ETF shares and buy the underlying assets. If the price is lower, they can buy ETF shares and sell the assets.
So how might this process go wrong? One obvious danger might be the role of the APs. If they fail to make a market in the security, then the price could get out of kilter with the asset value of the fund. Alternatively, they might go bust in the middle of the creation or redemption process, which takes three days to complete. That might leave the ETF short of the shares needed to top up the fund (and match its benchmark) or the cash to pay its investors.
anonymous writes:
Larry, your analysis seems reasonable. I'm curious if you or other folks here think the lack of liquidity applies more generally than just the stock market (e.g., in the banking and currency markets). See for instance:
"Into The 'Dollar' Run Now More Than Illiquidity?"

"Volatility As 'Money'; Or Really Rising Vol As Anti-Money"
Ralph Vince writes:
And the fact that leveraged and short ETFs must move stock exponentially with a drop in prices. That is to say, the more the underlying securities in the ETF drop in price, the more shares must be sold and this is not — a a drop of 2d takes more than twice as many shares to be sold as a drop in 1d. This would seem not such a big problem except that it is likely to occur during times of vacuous liquidity.
There was discussion here about the importance of doc Greenspan warning of euphoria bubble in bonds. Some were skeptical. I said that regardless of a person's current acumen, the memory of his past deeds lingers on until eternity. Furthermore, I say he is a man of great gravitas with the Fed. They're such a bunch of fuddy duddies so enraptured with their undeserved status that they are bound to treat a former chair with great undeserved respect.
Ken Drees writes:
This to me seems very plain and straight forward, very uncomplex and without a whiff of fraudulent opacity. And since rates are already backing up and the Fed needs to get on the right side of things, the 1/8pt peck on the cheek may just be coming in September. But Dr. Greenspan also said that you can't tell when its a bubble till its been popped, so this statement could simply be interpreted as financial entertainment—remember Wayne Angell?
Alan Greenspan has a warning for bond investors as the U.S. central bank
prepares to raise its benchmark interest rate from close to zero. "We
have a pending bond market bubble," the former Federal Reserve chairman
said Monday in an interview with Bloomberg. "What ultimately will
determine where it goes is to reach back and to ask ourselves where is
the normal interest rate?"
A Timeline of Illiteracy
Up until the
1970s: If you could not write or read
1980s: If you could not read or write a foreign language, perhaps
1990s: If you could not read, understand, write and re-write computer code
2000s: If you could not search, scan and navigate to dig out what you wanted out of internet
2010s: If you could not enrapture the social media channels, do viral marketing, produce growth hacking
2020s: ?
Ken Drees writes:
2020s: if you would/could not submit to a human brain. I'm thinking a faceboard interface operation linking you to worldbase control systems.com.
Entries are now numbered below. We ask for your votes in the comments of this post.
Daily Speculations offer at 2,500 prize for the best lyrics for a song that captures the spirit of the endless and ephemeral movements of markets to Greek news over the past 6 months.
Here are past examples. Entries to be submitted by July 31.
Winner to be determined by popular vote.
I kept hearing this song overnight which inspired it: "It's Greece".
Thank you. Also, we'll have Kino and Jon Burr sing and play the song at the spec party September 5th.
1.

(sung to the tune of "The Major-General's Song")
I am the very model of a modern Brussels bureaucrat,
I've information technical, political and Eurostat.
When lunching with reporters I can sound just like a democrat
And dismiss any notions of a Continental coup d'etat.
I keep my Strasbourg mistress in a cozy little Neudorf flat,
(My wife could find it in the bills - I hope she doesn't think of that!)
I'm very well acquainted with the back seat of a limousine,
I never fail to have my way with any offered haute cuisine.
I'm veteran at promulgating regulations Byzantine,
Discretely lift my nose up to the mass of bourgeois philistine,
In short, in matters technical, political and Eurostat,
I am the very model of a modern Brussels bureaucrat.
Precisely I can calculate the solid waste municipal
Per capita for Capua, Montpellier and Dinkelsbühl.
So comprehensive was my last report on herb medicinals
That several of my colleagues thought my brilliance unforgiveable.
I'm called upon to explicate the latest fruit juice label scheme,
Then lecture on the trade gap between Luxembourg and Liechtenstein.
And then I'll do a scatterplot of Swedish satisfa-action,
Against the recent increase in French farmers' tractors' tra-action.
They wonder why I spend all day in study of parabolas,
Then I predict the future size of bathing suits in Malaga!
In short, in matters technical, political and Eurostat,
I am the very model of a modern Brussels bureaucrat.
When I can add my sister's husband's cousin and his son-in-law
To every second item on my monthly cash expense report,
When I can down my seventh glass of '08 Chateau Haut Brion
And still expound on Maastricht until half the room is comatose,
When I can differentiate a "bailout" from "austerity",
I'll also know the spread between employment and hilarity,
And when I know what's truly meant by "income inequality",
I'll know my income's getting close to where it really oughta be.
With all this Euro-knowledge in my brain where it's supposed to be,
I hope I don't get catatonic Euro-neuro-entropy,
But still in matters technical, political and Eurostat,
I am the very model of a modern Brussels Eurocrat.
from Alston Mabry
2.

I Dreamed a Dream (Fantine's song)
From Les Miserables (almost)
There was a time the EU was kind
When their voices were soft
And their words inviting
There was a time the Germans were blind
And Greece was a song
And the song was exciting
There was a time
Then it all went wrong
I dreamed a dream in time gone by
When the Euro was high
And life worth living
That Greece's dream would never die
I dreamed that the Germans would be forgiving
Then I was young and unafraid
And dreams were made and used and wasted
No margin call was to be paid
No song unsung
No wine untasted
But then the Greeks rebelled at night
With their voices loud as thunder
As the EU tore their hopes apart
As the markets turned my dreams to shame
They talked for days, they talked at night
They filled my days with endless wonder
They took the lying Greeks in stride
But all was gone when summer came
But I still dreamed they'd talk again
And we could trade for months together
But there are dreams that cannot be
And there are storms we cannot weather!
I had a dream my life would be
So different from this hell I'm living
So different now, from what it seemed
And Greece killed the dream I dreamed
from Gary Rogan
3.
Trade This Way
by Aerosmith (almost)
High risk lover never ready to cover
'Till I talked to my broker he say
He said, "You ain't seen noting
'Till you're out of margin
Then you're sure to be a-changin' your ways"
I met a cheerleader, was a real news reader
All the times I can reminisce
Ah the best shorts lovin'
With her sister and her cousin
Started with a little miss, like this
Markets swingin' with the news out of Greece
With the futures flyin' up in the air
Singin' hey diddle-diddle with the kitty in the middle
You be swingin' like you just didn't care
So I took a big chance that the Greeks will dance
With a frau who was ready to pay
Wasn't me that they were foolin'?
'Cause I knew what they were doin'
When they taught me how to trade this way
They told me to
"Trade this way, Trade this wayTrade this way, Trade this way
Trade this way, Trade this way
Trade this way, Trade this way"
Ah, just give me a kiss
Late night hustles they were meeting in Brussels
I remember I was betting on Greece
There was three young brokers at the airport locker
When I noticed they was lookin' at me
I was a market loser
Never once made a profit
Till the boys told me something I missed
That Greece had neighbour
Who also needed a favour
And the Germans will give'em a kiss, like this
Markets swingin' with the news out of Greece
With the futures flyin' up in the air
Singin' hey diddle-diddle with the kitty in the middle
You be swingin' like you just didn't care
So I took a big chance that the Greeks will dance
With a frau who was ready to pay
Wasn't me that they were foolin'?
'Cause I knew what they were doin'
When they taught me how to trade this way
They told me to
"Trade this way, Trade this wayTrade this way, Trade this way
Trade this way, Trade this way
Trade this way, Trade this way"
Ah, just give me a kiss
from Gary Rogan
4.

"Ain't Misbehavin'"
(In the style of Louis Armstrong)
No one to talk with, all by myself
No one to shop with, cause I'm happier to sell
Ain't misbehavin', Savin' my cash for you
I know for certain, the top is in
I'm through flirtin' with down side predictin'
Ain't misbehavin', Savin' my cash for you
Like Old Hussman in a corner
Not "perma-bear", but I don't care
Low valuations, worth waitin' for, believe me
Don't be TOO long here, don't stop to buy
Know I'm alone dear, me and my bearish pride
Ain't misbehavin', Savin' my cash for you.
Scoobededa doot diddlee doot doot
from Franklynn Phan
5.
(to the tune of Supercalifragilisticexpialidocious):
"uberallymerkelisticgrexieurodoughshush"
It's uberallymerkelisticgrexieurodoughshush
Even though the thought of it is nothing like ferocious
If you trade it long enough, drool sideways bound neurosis
Uberallymerkelisticgrexieurodoughshush

Numb fiddle, fiddle fiddle, glum fiddle lie
Numb fiddle, fiddle fiddle, glum fiddle lie
Numb fiddle, fiddle fiddle, glum fiddle lie
Numb fiddle, fiddle fiddle, glum fiddle lie

Abuzz I was to trade the greek
Then just a simple fad
Thy market sent me up a creek
and sold me out twas sad

But when come May I burned a third
That graved forsaken close
The glibbest bird I never jeered
And hiss is how it blows, go

It's uberallymerkelisticgrexieurodoughshush
Even though the thought of it is nothing like ferocious
If you trade it long enough, drool sideways bound neurosis
Uberallymerkelisticgrexieurodoughshush

Numb fiddle, fiddle fiddle, glum fiddle lie
Numb fiddle, fiddle fiddle, glum fiddle lie
Numb fiddle, fiddle fiddle, glum fiddle lie
Numb fiddle, fiddle fiddle, glum fiddle lie

Greek raveled all abound and whirled
And derriere he spent
Greek 'buse his herd and all could bray
Share does a rarer cent

Then hoops and ouzoquaffage
alas the chime to pay writhe fee
Eye sway the speshill slurred
And then play mask-wee 'bout to pee

So uberallymerkelisticgrexieurodoughshush
Even though the thought of it is nothing like ferocious
If you trade it long enough, drool sideways bound neurosis
Uberallymerkelisticgrexieurodoughshush

Numb fiddle, fiddle fiddle, glum fiddle lie
Numb fiddle, fiddle fiddle, glum fiddle lie

So you can play it awkwards, which is doughshusheurogrexlisticmerkeallyrebu
But that's growing a wit too far, won't you wink?

So then the rat has shot your bung
There's no heed for delay
Dust coming up its blurred
And then move not a dot to play

But bettor ruse it warily
Or it could derange for strife
For example, jest, one night I fed it to a bar-girl
And now the bar-girl's my wife, oh, and a homely thing she's too

But

She's, uberallymerkelisticgrexieurodoughshush
Uberallymerkelisticgrexieurodoughshush
Uberallymerkelisticgrexieurodoughshush
Uberallymerkelisticgrexieurodoughshush
from Ken Drees
6.

Sung to the tune of "Rolling in the Deep" by Adele:
There's a crisis starting in my hinterland
Reaching a fever pitch, it's bringing me out the dark
Finally I can see you crystal clear
[Clean version:] Go 'head and sell me out and I'll lay your ship bare
[Explicit version:] Go 'head and sell me out and I'll lay your shit bare
See how I leave with every piece of you
Don't underestimate the things that I will do
There's a crisis starting in my hinterland
Reaching a fever pitch
And it's bringing me out the dark
The scars of your own failed loan remind me of us
They keep me thinking that we almost had it all
The scars of your own failed loan, they leave me breathless
I can't help feeling
We could have had it all
(You're gonna wish you never had lent me)
Rolling in the deep
(Ratings are gonna fall, rolling in the deep)
You had my mint inside of your hand
(You're gonna wish you never had lent me)
And you wagered it, to the limit
(Ratings are gonna fall, rolling in the deep)
Baby, I have no story to be told
But I've heard one on you
And I'm gonna make your cash burn
Think of me in the depths of your despair
Make a bank down there
As mine sure won't be repaired
(You're gonna wish you never had lent me)
The scars of your own failed loan remind me of us
(Stocks are gonna fall, rolling in the deep)
They keep me thinking that we almost had it all
(You're gonna wish you never had lent me)
The scars of your own failed loan, they leave me breathless
(Stocks are gonna fall, rolling in the deep)
I can't help feeling
We could have had it all
(You're gonna wish you never had lent me)
Rolling in the deep
(Bonds are gonna fall, rolling in the deep)
You had my mint inside of your hand
(You're gonna wish you never had lent me)
And you wagered it, to the limit
(Bonds are gonna fall, rolling in the deep)
We could have had it all
Rolling in the deep
You had my mint inside of your hand
But you wagered it, with no limiting
Throw your Euro through every open door (woah)
Count your Shillings to find what you look for (woah)
Turn my borrow into treasured gold (woah)
You've paid me back in kind and reaped just what you sowed (woah)
(You're gonna wish you never had lent me)
We could have had it all
(Metals are gonna fall, rolling in the deep)
We could have had it all
(You're gonna wish you never had lent me)
It all, it all, it all
(Metals are gonna fall, rolling in the deep)
We could have had it all
(You're gonna wish you never had lent me)
Rolling in the deep
(Currencies are gonna fall, rolling in the deep)
You had my mint inside of your hand
(You're gonna wish you never had lent me)
And you wagered it to the limit
(Currencies are gonna fall, rolling in the deep)
We could have had it all
(You're gonna wish you never had lent me)
Rolling in the deep
(Assets are gonna fall, rolling in the deep)
You had my mint inside of your hand
(You're gonna wish you never had lent me)
But you wagered it
You wagered it
You wagered it
You wagered it to the limit.
from anonymous
7.

(From Paint Your Wagon, "They Call the Wind Mariah"
Through unrest, we gave a name
To Pain and Hun and Liar,
The Pain is Debt, the Liar's Greece,
and we call the Hun Pariah.
Pariah throws the loans around
Then sends Hellene a-crying
Pariah makes accountin' sounds
Like mokes down here weren't trying.
Pariah, Pariah,
We call the Hun Pariah
Before I knew Pariah's name
And took to wealth enshrinin'
I took on debt and debt had me
And the Hun commenced his whinin'.
But then one day I left the whirl
And let it not define me
And now I'm lost, I'm oh so lost
No Gallic bawd can find me.
Pariah, Pariah,
They call the Hun Pariah
I hear they got a name for Pain
And Hun and Liar only
But when you're broke and all alone
There ain't no "yes" to "loan, please?"
Pariah, Pariah,
We call the Hun Pariah
Pariah, Pariah, - send a loan to me.
Now I'm a lost and lonely state
Without a fool to front me.
Pariah, float a loan to me
I need Bear-Stearns behind me
Pariah, Pariah
I'm loanless can't you see
Pariah, O, Pariah
Please float a loan to me
Pariah, O, Pariah,
Please send a jubilee.
from anonymous
8.
To the tune "Baby Got Back" a.k.a "I like big butts"
The world: Oh my gosh, look at that plan.
That is the biggest plan I have ever seen. Like, who thinks that works?
Greece: I like the Euro and I cannot lie
All you other countries can't deny.
When you got a slim paycheck and a round figure in your face, you get sprung
Gonna show up all tough
Because you noticed everyone was gonna get stuffed
Deep pocket they be wearing
I'm hooked and I can't stop staring
Oh, baby I wanna get with ya
And take your selfie picture
Other countries tried to warn me
But that money you got
Make Me so over the top horney
Got my jacket of leather skin
You say you wanna have your money
Well you can't because we ain't that average groupy
I'm tired of all the liens
Landlords saying they want their things
Take the average Greek man and ask him that
He ain't gonna give that money back
Greece: So Fellas Other Euro countries:(yeah)
Greece: Fellas
Other euro countries:(yeah)
Greece:Has your country got the Euro?
Other Euro countries: (hell yeah!!)
Greece: Well spend it, spend it, spend it, spend it, spend that can do no wrong Euro.
Euro got my back.
from Hope Sears
9.

When the zebra herd panics, the lion may not get a proper bite down due to visual confusion of the target's shape. Remember that for the future when price screens are flick flashing oddly or excitedly.
An animal that is commonly thought to be dazzle-patterned is the zebra. The bold stripes of the zebra have been claimed to be disruptive camouflage, background-blending and countershading. After many years in which the purpose of the coloration was disputed, an experimental study by Tim Caro suggested in 2012 that the pattern reduces the attractiveness of stationary models to biting flies such as horseflies and tsetse flies.

However, a simulation study by Martin How and Johannes Zanker in 2014 suggests that when moving, the stripes may confuse observers, such as mammalian predators and biting insects, by two visual illusions: the wagon-wheel effect, where the perceived motion is inverted, and the barberpole illusion, where the perceived motion is in a wrong direction.
This winter in order to stave off the polar vortex II, I joined the USBGF and tuned up a forgotten game, played online and re-read some books. My goal was to play in my first over the board USBGF tourney in the spring here in Cleveland. It was a very difficult yet rewarding. I wound up playing in the intermediate flight, and lost in the semi finals (money match) to a Ben Franklin looking naturalist from the woods of Pennsylvania. He went on to beat the next man and win the section. I hedged with him and as the loser –still won my entry fee back and then some, so I exceeded my expectations as a first timer. I played with professionals and held my own.
Backgammon sharpens the mind, dampens the swinging emotions surrounding wins (highs) and lows (losses). It makes you perform quickly and decisively. The sport seems to be having a slow rebirth. Many backgammon experts went over to the poker tables over the last 15 years. Maybe this is a patch for me to exploit. Everyone there were very friendly. Not many people under 30 at all. Probably 25% women at the tourney. There is a lot of wager money in this game. I played on a $3000 custom board with a dice rolling tower during one game. There is quite a "gambler" mentality there that I felt could be expolited–I avoided a lot of side bets, skipped the drinking and just ground it out. I was exhausted afterward and also satisfied.
In honor of the 36 possible backgammon dice combinations:
Backgammon and Trading Markets
1. Match play is a grind. Every game, like a trade needs to be executed, and evaluated and reexamined roll after roll due to the changing landscape conditions. In an 11 point match, you could wind up playing 21 games.
2. Expect to lose. As in trading, you must minimize drawdown. Losing a game is no big deal during a match, but getting gammoned sometimes or backgammoned will cause you most likely a match.
3. You need to be physically fit. Playing 20 hours of tournament backgammon over the board in two days takes a physical toll. Food and diet usually fall off, sitting and not being in routine makes your body fall out of rhythm. Trading foreign markets comes to mind here. Tourneys usually begin the day's play around 11:00am and end late into the evening. If you are a morning person, you need to change your habits.
4. Fatigue can make one loose with the cube, or willing to take risks with hits or leaving blots. It can also be exploited of your opponent. Your opponent due to fatigue, may just take a risky double. Or you may decide to play a grinding, long slow back-game with complexity in order to really move him into deep water when he is tired.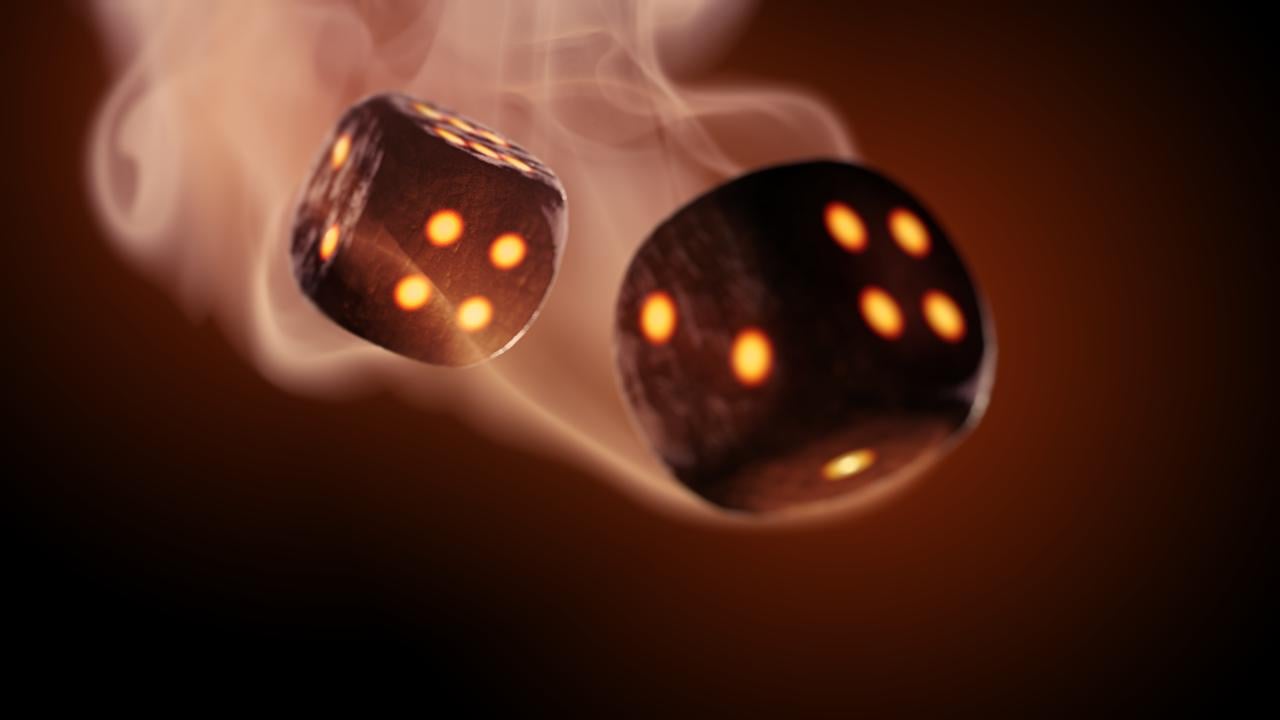 5. As in trading, don't let a brilliant win go to your head, or an unexpected loss go to one's soul.
6. Backgammon opponents are like different markets. Some are binary, robotic, calculated. Some can be cagey, erratic. Watch your next opponent before you play him or her. Study your intended market before you trade it. Watch out for the delicate little old lady, and pray you don't get paired against the hot looking woman.
7. Be ready for everything to go foul and stay foul. Cut your losses quick, play safe, concede one point games. The dice are not to be blamed–but when your opponent blames the dice agree with him or her that indeed the dice are not good for them today. Kindly reinforce their beliefs. Don't make excuses for your losses.
8. Blitz! Hit loose, blitz in, keep hitting, slot your points and keep it up till it runs out, then double if its correct–especially early if the chance arises. So take that quick hit winning trade, just bank it and move to the next trade.
9. Be ready to be put on a camera under bright lights or in a featured table for live feed against a big star opponent. In trading this may be like a sudden streak of wins when spouse says nice things or maybe when you are called by a friend for your "expert" opinion.
10. Remember, that everyone else may be tired too, or hungry or in discomfort of sorts. You are not the only one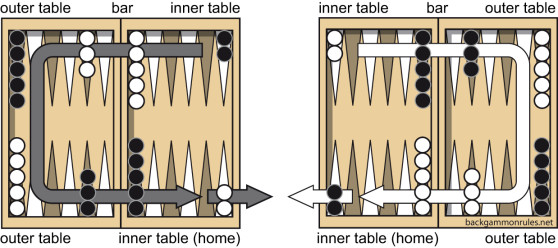 11. Match equity rises and falls for each opponent on each roll of the dice and subsequent move. Each trade has a heartbeat, an ebb and flow, prices change. BG is a pricing game to a degree. You need to know if you are over valued, even, or under all the time.
12. What is the trading plan; what is the game plan? Are you running, priming/blockading or are you playing an intentional back game. You need to review your plan prior to making your move –does your roll help or hinder what you are doing. Did your trade look suddenly different from its planned start?
13. Sometimes too much success leads to failures, multiple doubles in a row tend to get you off to a great start that actually pushes you way past your optimal timing leading to a forced stacked up game. You now find yourself out of position. Don't overtrade, do not double up because you feel bulletproof.
14. In a short length match, seize upon a good starting position and double. Your opponent may shrink and pass since he will judge the risk as too great at this early stage to gamble. You must have a good start and his must be neutral or lagging.
15.Every play is a potential cube turn. Ask yourself if you should be doubling before you roll. In trading, once again–review your plan at each logical turn.
16. Be ready for the quick re-double right back in your face. Now the stakes are way up if you take, funny how your position shrinks up on a redouble? Akin to a whipsaw or a flash crash, the market has just gone 180 degrees from where you were. Where you ready for that?
17. What will my opponent do if I double? What will the market do if I take that offer?
18. I have just been doubled, is it a take, a pass, a redouble or is it quite impossible to judge? Use Woolsey's law then and take the double. As in trading, sometimes its better to take the trade on with insufficient knowledge and then do some analysis rather than pass it up.
19. At Crawford game during match play the doubling cube is not used. It gives the players one game where they must play through without upping the stakes. A trading holiday, a risk off breather is always a good thing once in a while. The Crawford game happens when either opponent is one game away from winning a match. It stops an automatic cube double from the lagging player.
20. If you make it into the money matches in a tournament, it is usually wise to hedge with your opponent so if you lose you don't leave empty handed. Do not be greedy and demand whole hog. Many market examples can be found regarding hubris.
21. What is the pip count? You must be able to size up the score mentally and quickly. Backgammon play is expected to be brisk and in matches slow play is frowned upon. In trading, being aware of the current (daily, hourly) conditions is essential. You can't call a time out in BG, likewise you can't stop the market while you think things through.
22. Leave a blot, but leave it properly, either far away or very close. Leave it so that if it's hit you may be able to recapture. Close out your trades properly.
23. Make points that hinder your opponent's big winners. Block his potentiality. Beware of and block if possible the "miracle" opponent's role, the double threes that get him out of danger and puts you in irons. Set your blots on points that he needs for getting back in. What miracle market move lies in wait to swamp your trade?


24. Again, don't get locked into one type of game, be flexible and take what the dice give you. Take what the market gives, don't hold out for a round number sale.
25. When it's time to run–then Run. Sometimes one gets focused too myopic on trapping and blocking and thus fails to prep for a freeing attempt. In trading, maybe
this is an example of just going with a major momentum swing and forgetting the chop trades.
26. Double hit if possible. Putting two men on the opponent's bar is a powerful move. Keeps him out of the game, for the time being. This gives you leverage. Possible cross over to using derivatives in a trade to maximize an expectation.
27. Hitting a blot takes half your opponent's role away. It is usually wise to hit versus not, yet not always. Automatic action can be seen in some players who always hit no matter what. I like to play against these types. Some markets behave on "autoplay" –use this tendency for planning a trade.
28. The safe move is usually not the best. You need to slot points, fight for the 5 point and be aggressive. Playing safe in the markets may be akin to being long the "favored sectors", last year's winners.
29. Lay out decoy blots. This tactic lures your opponent off his strong point and hopefully gives you compensating re-hit chances, and recycles a man to aid in your timing. Decoy methods and markets are well discussed.
30. Hitting loose is a decision that must be made with a goal in mind–needs to be justified. Taking a market risk that is usually cavalier needs to be justified and quantified. Hitting loose describes hitting a blot when your risk of re-hit is great. Its making the best of bad choices.
31. Know your basics inside and out. 6 x 6 dice table, %chance of rolling any single number, %chance of making a high number versus a low one. Know the percentages faced when getting back in from the bar. Holding a losing trade is not playing the percentages.
32. Aggression is awarded in backgammon in that you need to hit blots, fight for points, and resolve oneself to being hit and thrown back. Its a regenerative cycle and one needs to be able to define the worth/price of the position roll to roll. In trading you need similar levels of mental engagement–how to go for a small victory every venture, yet be ready to turn that into a major winner if the right odds come to the fore.
33. Opening, middle and late game positions, cube decisions during those stages, the match score or cash game level at the time of the stake double. Balance is key –maintain your forces as best as possible under the given dice. Know the landscape when the double arrives. Anticipate your opponent's moves. What is the market telling me at this moment?
34. What is my best move? Why is it that the best moves sometimes are the hardest to do? The best move usually looks risky/naked. Buying when all is lost, when the cane is in your hand is when you are right.
35. Why do I usually win the Crawford game–the game where no doubling is allowed? Why do I win the small trades and lose the bigger ones? Maybe I should be looking over my past trades with a critical eye—do some more work.
36. If I win game one of an odd numbered match, I tend to relax and just grind higher. All I need to do (as in baseball) is win a series. Am I in gammon save mode or gammon-go. Sometimes you need to protect against the double up or go for the double up as your goal when starting a new game. Is the trade a limited one to begin with or an attack strike? Do you realize that each roll can help or hinder that goal and adjustments sometimes need to be made. Or simply waiting is the right answer-
-a move that keeps the position static.
Victor Niederhoffer writes:
To Mr. Drees's excellent post an observation. I have known several dissipate drunk squash players who often asked me to set up a game of backgammon with my wealthy friends including Jim Lorie who paid his way through Cornell with backgammon. The dissipate players were all National Champions at backgammon and hustled for a living. To play against them was ruinous and fortuitously I prevented Jim from playing against my player opponent Claude Beers. One should never play markets against men named doc or those who pretend to be dissipate.
Andrew Goodwin adds:
When I held a seat on the NYFE, there was a trader whose badge number was mine with only the order of two digits varying. We shared an execution broker. The trader's name was doc, and I had to check in with the clearing firm each day because only his losing trades would end up in my account. Not once did I get one of his winners. One can lose to doc in ways other than merely playing against him.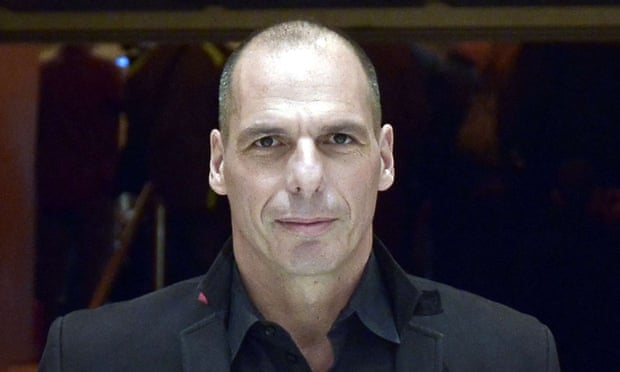 The Greek finance minister is very astute with game theory forte. So far he has made a credible threat of a willingness to blow out of the EU–not a bad first move from a disadvantaged starting position.
John Floyd writes:
Many excellent points are being made in our discussions on Greece, Europe, and related topics such as Russia's 1998 default. Inclusive in the comments are the micro, macro, political, and social influences. Stefan is always excellent at bringing some historical context. Fittingly I am listening to the American Colossus at the moment.
One of, if not the KEY question, as a speculator is how best to extract capital from markets given a specific view, market, potential, catalysts, time frame, risk level, etc. A close friend, Dr. Ari Kiev, used to say to me when I would elaborate on a market thesis "John, that is great and makes a lot of sense. But, how is the best way to make money from it? What are the specific goals, etc.?".
The economics and politics of the European situation are fairly straight forward. I have followed them, more fastidiously than I care to admit for many, many years. I have included everything from men on the ground following bank deposits, meetings with current and past leaders and the 10,000 foot view of how this may play out on a broad macro level. Milton Friedman made some typically prescient comments upon the forming of the single currency, and they are panning out. Many of the same issues and characteristics were present in the European Rate Mechanism (ERM). Those more learned than I might also weigh on the potential utility of different currencies in the present day U.S., the Confederate currencies, etc.
Directly from a market perspective though I would consider some key points and questions:
How do previous crises provide some examples for a potential playbook? In the past few decades for examples…how was the Tequila Crisis backstopped? What about the ERM crises? The Argentine peg removal? Hungary's revaluations and devaluations? The currency policy of Egypt in the mid 1990's?
Does the size of the problem relate to the size of the market impact? The Russian default was relatively small and debt held by a limited number of participants. I can remember sitting in a conference room with a group who held about 80% of the local debt. But the market impact globally was very large. What was the macroeconomic situation at the time? Why did the default happen when it did? Further a butterfly flapping it's wings in tiny Iceland had a demonstrably large global impact.
If a country leaves the single currency, Eurozone, etc. does the Euro go up or down? What happens to rates, equities, etc.? What is the path and what market instruments can be best employed? The flash crash, October 2014 market moves, and more recently SNB move all would point to the need to try and answer this question.
What is the sequence and through which markets and how fast is this likely to play out? I can remember positioning for wider spreads between Germany and Spain in 2005 at about 25 basis points on the same thesis that is playing out now. But, that view has required quite a bit of timing, frustration, etc.
What is the broader thesis guiding what is happening and where else and how is it likely to play out?
This is just a quick list. What else is there to consider?
The book Power Raquetball was written poolside at my Steamboat Springs racquetball camp, the first camp of that sport in history.
Champions Marty Hogan, Charlie Brumfield, and author Art Shay came in.
One day we sat poolside and Hogan demonstrated his strokes with a swim fin while Brumfield ran a commentary on Marty's power strokes and strategies, and I watched.
Art Shay transcribed it into the book that was called Power Racquetball that changed the sport across the country forever.
I was under the impression that the movie The Gambler was in the vein of slick, high intellectual type game players. I guess I was out of the room when wife and son were chatting about it. Do not waste your money. Horrible film beyond words. The only real winner is a lazy college BB player who shaves points for dough. If you want to take someone to see what losing on steroids looks like, then by all means, please see the flick.
The Open Boat and Other Stories by Stephen Crane is an awesome piece of literature in case you do not want to see movies over the holidays.
An all seeing eye could write a novel about what happened today. Some lessons seem to cry out. Buy on the announcement of the bad news. Gold lost the vote in the mountains, and oil lost the OPEC meeting amid talk of 40 buck oil. They both sent up 10% or so from low. The first day of the month is the most bullish day. Great. Too many people know it. Great time to sell when it don't open the right way. Bonds, nas, and dax finally went down after 12 or 13 of the last 15 up. Nothing goes up forever even stocks and bonds. Gold's price up 50 bucks from its overnight low has nothing to do with deflation. It's beautiful, useful, and a hedge against evil. When the battleship is leaking, that's the time to buy. Commodities all around at 5 year low. They're up 3 or 5% today.
What other things do you see that the all seeing eye should note?
anonymous writes:
The sneak attack has to come at night, on a holiday, when the Americans, and only the Americans, are eating turkey and on holiday, stuck in airports.
Ken Drees comments:
The grains at the end of the summer–indeed.
Gary Rogan writes:
Something needs to be done to avoid the supposed "government shutdown" by Dec. 11. Talking about it could provide some mild market-related entertainment.
Steve Ellison writes:
Silver made both a 20-day low and a 20-day high on Monday. Going back to 2006, I find no previous occurrences of such an event.
Craig Mee comments:
It would appear the commodity turn around was a function of a Friday Monday suicide run created by combined single factors and then astute cover, not by a function of any meaningful low being in and a return to global meaningful growth.
Duncan Coker writes:
March Chicago wheat had a robust move to the upside almost at limit on Monday, which in this case was not mimicked by the other grains, in other words grain spreads got a lot wider.

Jeff Watson comments:
Yesterday, the spread between beans and wheat narrowed, and is still narrowing, while the spread widened with corn. Spreads in wheat stayed pretty much in line. Due to arcane exchange rules for the delivery in grains, there is much gamesmanship in the front month that's ready to expire. The gamesmanship comes from the cash side of the business.

Marty Hogan's Power Raquetball was a 1978 paperback large book I got for 25 cents at a library book sale. It shows Hogan hitting a racqetball under a speed gun at 142 mph, and even shows Keeley with a shaved head playing in a match trying to psych out his opponent. It shows Keeley losing to Hilecher, on the floor as his taunting fails.
There are lots of conditioning exercises and routines in it. Here is a wrist strengthening exercise: with palm down, arm extended, get a double sheet of newpaper, hold it by the corner and start to crumple it with one hand only. Try and crumple the newspaper sheet into a ball the size of a raquetball. This exercise uses all the fingers and is better than simply squeezing a ball. Do it twice a day.
I found this article quite fascinating: "Want to Get Out Alive? Follow the Ants: ants show that emergency exits work better when they're obstructed"
Shiwakoti and his team are experimenting with placing barriers in front of the Melbourne football stadium exits that lead to the train station. The preliminary results look promising. "Just by having small architectural changes in the layout, or the train stations, or stadiums, you can have thmassive improvement in terms of evacuation rate," Shiwakoti says. Perhaps we shouldn't be surprised at the unexpected lessons we're learning. Ants have been learning how to deal with congestion for millions of years. They might just show us the way out.
Carder Dimitroff writes:
This is incredible. There have to be important market lessons here.
Ken Drees writes:
I keep thinking that an element may be missing in this concept. Ants basically lay flat, like cylinders on legs, and they can climb up and over, lift more than their weight, etc. The blocking strategy may lead to more orderly traffic for their bodies where as the human biped body is almost opposite. I can see the panic happening around the new block in my mind just the same with two packed flows all crowding and then choking at the exit. Plus what usually happens is someone falls down and then there is trampling and bunching, not to mention there are large slow body types. I am not sold on the idea, although it is very interesting.
If one were to order a custom cane to use during market panics, that cane would have a handle/top fashioned like a honey badger's head–with teeth bared. The bottom, the point of the cane, its claw like foot for digging up bargains, and the shaft of the cane from the bottom up like a baby leopard's spots mixed with the black and silver wood of the Badger's fur like colorations. Since the bottom of the market is at its weakest, like a defenseless cub, yet its colored to scare one off, like a Honey badger does at first glance, you must be willing to go into the coop and take what you can, because that is what a spec is designed to do. You must remind yourself to be fearless and aggressive so a look to the cane's snarl in your fist should remind you to attack–without delay.
I follow the sports news and commentary and find it much more erudite
and analytic than the financial commentary. Try reading the NY Times
analyses of games The Knicks play, and you'll learn more about the
market and human nature than you will from Bloomberg.
Ken Drees writes:

I once worked on technology to automate sports reporting using "canned" or routine language. It came to nothing at the time but it amazed me how simple it would be to automate sentence and paragraph structure of a simple sport score/ game report. You would have selected templates and fill in bursts of stats to make it seem true. Anyone who listens to an athlete's interview these days hears the same old same old.
"We battled, and that's what we are about–never give up, keep focused on the game at hand." "No, I am not looking ahead towards the next series, I am focused on the day to day–what it takes to win today is what I am about".
Seriously all these athletes talk program. All the same crap every time—I can hear it before they say it!
Anton Johnson writes:
This is the best ever basketball interview.
Ralph Vince writes:
It is a most peculiar sport, and the great Meadowlark Lemon worth study; that someone can be so good, so adroit at what they do, which is not comedic, that they can transform it into comedy, not take oneself so seriously, and perform to perfection. Mastery occurs when someone can do something to such perfection that they can laugh about it and about themselves as their virtuosity expresses itself, carried on a wave of euphoria of their own creation.
Contrary to what I would have expected, basketball seems to have players who are more articulate and analytical. Among the worst are those who are involved in the individual sports like golf, tennis, as well as most NFL locker rooms. For whatever reason, NBA players seem to do far better in front of the microphone.
Stefan Jovanovich writes:
Players are not any better than actors at coming up with original lines on their own; it is the coaches (who like the writers are usually not on camera) who have the interesting stuff to say.
What can we learn from spiders. In addition to the Japanese and the Incas, Walt Whitman and Beethoven, and machines, Frank Lloyd Wright said the main influence on his work was the spider. He liked the lightness and strength of their webs. Can we learn anything about markets from the spider?
Ken Drees writes:
King Louis XI was known as the spider king so named because he always wove the most intricate and well conceived plots against his enemies. Markets seem to see further into the move sequences. Maybe there is something to be learned by investigating him.
Gibbons Burke writes:
I trying to relate the spider to the markets the first thing that occurs to me is the quote from Reminiscences of a Stock Operator:
"It never was my thinking that made the big money for me. It always was my sitting. Got that? My sitting tight! It is no trick at all to be right on the market. You always find lots of early bulls in bull markets and early bears in bear markets. I've known many men who were right at exactly the right time, and began buying or selling stocks when prices were at the very level which should show the greatest profit. And their experience invariably matched mine–that is, they made no real money out of it. Men who can both be right and sit tight are uncommon."
Spiders set up their optimized webs, and then just sit tight, patiently positioned for the meal to show up.
The webs are well-structured, robust, and, like trend trading systems the number of winners (flyies eaten) is vastly outnumbered by the number of losers (fly byes).
The best webs are difficult to see.
A spider does better by making a large web, but too large and ti won't be able to hold the tray. Liken the size of the web to the use of leverage… extend your line too much and when you get a big move (a rather large beetle) it destroys the web rather than getting caught.
In unfavorable conditions, the spider eats up its web and redigests the resource to put it up when conditions are better suited to catching flies.
Chris Tucker writes:
Spiders use sophisticated tools to capture prey, most frequently a web with sticky silk to trap insects. Spider webs are a marvel of engineering and spider silk is incredibly elastic and stronger (by weight) than steel. Spiders are incredibly industrious, many orb weavers consume their webs every evening and build a new one each night.
Spiders are patient. Orb weavers set their traps and wait, letting their tools do the work. Spiders are observant, they wait patiently for signals from their webs (usually vibrations) before pouncing. Several types of spiders use camouflage to fool prey. Ant mimicking spiders wave their front legs in the air to disguise the fact that they have eight legs and no antennae.
Spiders use deceptive behavior to fool/lure prey.
I have copied and pasted some interesting info below from the excellent wiki article on spiders):

When at rest, the ant-mimicking crab spider Amyciaea does not closely resemble Oecophylla [it's prey], but while hunting it imitates the behavior of a dying ant to attract worker ants.
Also from the wiki on spiders:
About half the potential prey that hit orb webs escape. A web has to perform three functions: intercepting the prey (intersection), absorbing its momentum without breaking (stopping), and trapping the prey by entangling it or sticking to it (retention). No single design is best for all prey. For example: wider spacing of lines will increase the web's area and hence its ability to intercept prey, but reduce its stopping power and retention; closer spacing, larger sticky droplets and thicker lines would improve retention, but would make it easier for potential prey to see and avoid the web, at least during the day. However there are no consistent differences between orb webs built for use during the day and those built for use at night. In fact there is no simple relationship between orb web design features and the prey they capture, as each orb-weaving species takes a wide range of prey.

Spiders leverage their best talents and keep an escape route handy:
The hubs of orb webs, where the spiders lurk, are usually above the center, as the spiders can move downwards faster than upwards. If there is an obvious direction in which the spider can retreat to avoid its own predators, the hub is usually offset towards that direction.
Bolas spiders are like fishermen and use deceptive lures to attract prey:
Bolas Spiders are unusual orb-weaver spiders that do not spin the typical web. Instead, they hunt by using a sticky 'capture blob' of silk on the end of a line, known as a 'bolas'. By swinging the bolas at flying male moths or moth flies nearby, the spider may snag its prey rather like a fisherman snagging a fish on a hook. Because of this, they are also called angling or fishing spider (although the remotely related genus Dolomedes is also called fishing spider). The prey is lured to the spider by the production of up to three pheromone analogues.
Pitt T. Maner III writes:
I found this article on the developing market for spider silk interesting:
"Despite being a protein, spider silk is by weight five times stronger than steel and three times tougher than Kevlar, a p-aramid fiber from DuPont. Strength is defined as the weight a material can bear, and toughness is the amount of kinetic energy it can absorb without breaking. The silk's primary structure is its amino acid sequence, mainly consisting of repeated glycine and alanine blocks.
Potential applications include cables and bulletproof vests. Spider silk's antimicrobial properties make it suitable for wound patches. Because the silk is not rejected by the human body, it can be used to manufacture artificial tendons or to coat implants. And its thermal conductivity is similar to that of copper but its mass density is one-seventh of copper's, making it a potential heat management material."
When the Dow closes below its December closing low in the first quarter, it is frequently an excellent warning sign. The December Low Indicator was originated by Lucien Hooper, a Forbes columnist and Wall Street analyst back in the 1970s. Hooper dismissed the importance of January and January's first week as reliable indicators. He noted that the trend could be random or even manipulated during a holiday-shortened week. Instead, said Hooper, "Pay much more attention to the December low. If that low is violated during the first quarter of the New Year, watch out!"
Let the Fed note the havoc in the market and do something very temperate today. And as they gather for their resplendent lunch, perhaps with the fake doc attending, let them make some noises to their cronies, perhaps in the men's room or the corridors marbled that the Fed must put things on an even keel, so as to give the market the weather gage.
Ken Drees writes:
Let them never be irryellevant.
The sun's magnetic poles are about to flip. I wonder if this cycle has been studied in regards to markets? It's an 11 year cycle.
Art Cooper writes:
Here is William Stanley Jevons's work on the subject from 1878.
The following old African story makes me think about how we view our trades and our data. We instantly love our conclusions and unfortunately love our trades to death.
How the monkeys saved the fish.

The rainy season that year had been the strongest ever and the river had broken its banks. There were floods everywhere and the animals were all running up into the hills. The floods came so fast that many drowned except the lucky monkeys who used their proverbial agility to climb up into the treetops. They looked down on the surface of the water where the fish were swimming and gracefully jumping out of the water as if they were the only ones enjoying the devastating flood.

One of the monkeys saw the fish and shouted to his companion: "Look down, my friend, look at those poor creatures. They are going to drown. Do you see how they struggle in the water?" "Yes," said the other monkey. "What a pity! Probably they were late in escaping to the hills because they seem to have no legs. How can we save them?" "I think we must do something. Let's go close to the edge of the flood where the water is not deep enough to cover us, and we can help them to get out."

So the monkeys did just that. They started catching the fish, but not without difficulty. One by one, they brought them out of the water and put them carefully on the dry land. After a short time there was a pile of fish lying on the grass motionless. One of the monkeys said, "Do you see? They were tired, but now they are just sleeping and resting. Had it not been for us, my friend, all these poor people without legs would have drowned."

The other monkey said: "They were trying to escape from us because they could not understand our good intentions. But when they wake up they will be very grateful because we have brought them salvation."
(Traditional Tanzanian Folktale)
Happy Birthday, Victor–70 is a nice number!
[The company said] the target for its general insurance business was
"challenging" following disaster-related losses.
"Zurich Defends Accounts as Ackermann Exits After CFO's Suicide"
Using some pop psychology, I would anticipate that what exactly is referred to as "challenging" has some bearing on the magnitude of future declines. In this case some financial target being "challenging" simply means that there is no way in hell they will meet it. If however the business environment is described that way it's likely to mean two things: all hell is breaking loose and the management not only lost control but doesn't want to take responsibility for what's going on.
Victor Niederhoffer writes:
A study of use of "challenging" and NYSE might show some evidence of future inordinate declines a la Sornette but taking account of both side of the distribution, not just one tail, i.e. a real study.
Here is a 2007 study of that hypothesis which is somewhat "challenging" on a number of fronts.
Ken Drees writes:
I find this Stunning.
The poetry of the the modifier word "healthy" pointing to cash flows as in blood flow that sustains "a strong and resilient balance sheet", the body of the corporation, juxtapositioned against the wan image of a very "dead" monitor, (CFO), of the bloodflow of the corporation's health under a "sheet" at the morgue.
Review of Trading Bases, a story of Wall Street, Gambling, and Baseball by Joe Peta
A timely book here just ahead of opening day, http://tradingbases.squarespace.com/. Peta relates a lifelong love of baseball and statistics, his experiences as an equity desk trader for Lehman Bros. (15 years) and his subsequent battle back from a horrifying injury sustained by being run over in the streets of NY by an ambulance –as if his Lehman experience wasn't enough to endure. He suffered a "Theisman grotesque" leg break that left him depressed and basically rehabbing alone in his NY apartment with wife and family living on the west coast.
His passion for trading snuffed by not being able to work, hopped up on pain meds, and trapped in the apartment leads to him to watching more sports than ever before. A baseball lover at heart and a statistical junkie, Peta finds a reason to wake up in the mornings. He decides to try his hand at making a statistical model that would identify edges for baseball team wins and losses that would provide him with a betting edge over the Vegas Line.
Peta eventually creates a hedge fund that bets baseball games that returns 41% in 2011 with similar daily volatility as the S&P 500. The book outlines Joe's views on gambling. Baseball is his preferred niche since the juice/spread is the smallest in comparison to other sports, the ability to use statistics to get an edge is available, and the natural alignment between the better and the team– rooting for your team to win versus the convolution of winning and beating a point spread.
Joe explains his model with care, logic, and facts–backing up his assertions with anecdotes, experiences and back testing in terms of the body of baseball evidence from the historical stat stockpile. He builds on the pioneer work of Sabermetrics, Bill James, and Nate Silver. In general his system uses time tested relationships of team win/loss records, runs allowed/runs scored, starting pitching assumptions, WAR/PECOTA analysis, and more. He relates his journey on a monthly basis showing his results, the breakdowns of what went right and what went wrong, his acceptance of a "lumpy" higher return than a smooth more accepted rate of return by clinging to the belief that reversion to the mean will occur–eventually. He uses a concept called "cluster luck" to identify "lucky or unlucky" pockets in team's prior records that should be ignored and removed from overall estimates. This is a key to his being able to form an opinion against the betting line of under or over valuation. His model then picks matchups that should be bet on and he uses a very systematic approach to determining the amount of the fund to bet on any one game–essentially using fund manager skill sets.
One notable opinion of his describes his fondness for "skill sets displayed" versus the recording of errors (mistakes committed and sometimes unfairly attributed). He uses SIERA (skill-interactive ERA) for pitcher evaluation and special modeling for playoffs and interleague games. He also walks the reader through his decision making process for when to tweak the model or when to stand pat—. Over tweaking will result in removing the natural capture of mean reversion. Joe has a friendly writing style and comes across as genuine, interesting and likeable.
I think any spec would like this quick reading book–you will learn something here about baseball stats and baseball betting theory; you may well enjoy the woven storyline of his trading career experiences as these snippets and stories move betwixt his model outlining. It is written for an above average mind, but its not too heavy to put someone off who doesn't deal with wall street or modeling on a daily basis. I read ever page, every micro-print footnote, and every end note.
Ken Drees adds:
I could not find a section or passage by memory or a reference from the index to overall management influence on single game outcomes or win expectations. One chapter deals with playing from behind and how "small ball" played to cut a two run lead to a one run game is a bad practice–playing not to lose instead of playing to win–giving away your upside to get a better feeling that you are "doing something"–almost like a job justification strategy–manufacturing a run, playing to tie instead of win. Peta backs this up with data –pages 204-206. Obviously management is taken into account when overall seasonal expectations are determined. But the managers don't play on the field so they are not highly considered in Peta's analysis. I would think possibly it may come up as a side data point in the playoffs –having more of a weighting than regular season. It may be that widely popular managers may in fact swell a line up for a team and thus give you a better opportunity to make money against–like the NY Yankees as Peta points out are a marquee club who usually get premium priced in certain situations regardless of true odds.
Interestingly –he bets both national and American league games–turns down activity during interleague play since data is less deep for those occasions and also scales back during the playoffs.
In the chapter, "Focusing on the Wrong Data", Peta parts company with "a total lack of regard for management/soft skills mentality" that some of the sabermetric followers employ. He cites a player's manager, Ron Washington of the Rangers who is loved by his players and who makes a critical decision in game 3 of the world series tied one game a piece. He Gives veteran Torrealba –a 2011 95 game starter at catcher, a "deserved" start over the much better performing player at that time during the season, Mike Napoli. He juggled the line-up and in Peta's opinion weakened his team in two ways in order to give one player a "deserved" start over giving the other 24 players there best chance for a world series game 3 victory and series lead.
So maybe Peta does give some weightings in his model –maybe when playoffs and world series are in the prime-time spotlight managers can be exploited by bettors for their traits–both good and bad.
Victor Niederhoffer writes:

I agree with the excellence of Trading Bases. The author is very brilliant, and very likable. And his discussion of what went wrong at Lehman is the best as well as his college essay on the central funding department, which almost got him fired, and his well deserved hatred of the boxing head at that firm, who gave him a one sentence interview before hiring him.
He assumes you know a reasonable amount about baseball trivia and it's helpful if you read the annual issues of the baseball prospects and are familiar with the pythagorean theorem of Bill James. The author was a star trader of tech stocks at several firms before being hit by a ambulance and turning to his first love after being fired by the Japanese and carried out in his wheel chair. A great book. I second what Mr. Drees said about it.
One of the most valuable things I learned from the Chair is how not to do a study.
Let us summarize how to do a study. First define a pattern or event of some type. Then calculate the expected return subsequent to that event when the event happened. Then compare that return to the returns for all other non-event time periods. Do a t-test to establish significance at the 95% level.
That said the real problem is how can we insure ourselves against the possibility of biasing our study or otherwise completely messing up. the first thing that comes to mind is to never include data in your decision process that was not known at the time. For example Enron went bankrupt and then several years later after an audit the financial results were released showing that the original releases had been fraudulent. You cannot use the adjusted data based on the argument that it is the best data. Only the original data was known at the time so you must use that.
The same thing goes for price data. You have to use the prices that were known at the close if you are doing a buy at the close study. You cannot use retrospectively adjusted prices when the data is adjusted later than the supposed decision was made.
Always use tradeables. For example the S&P 500 index does not trade as an index. The S&P futures do and SPY does as well so one would use either of them as data for your study. The reason is that individual stocks can have stale quotes. Some of the smaller stocks in an index do not trade nearly as often as the larger caps. Thus the index can be behind the true position of the market. The tradeables trade and thus are subject to arbitrage that tends to keep them in line with the real market level.
This is a short list of things not to do. However it is representative of the fact that it is harder to learn what not to do than what to do. Other contributions would be welcome.
Victor Niederhoffer adds:
Always simulate what the chances were that your observed results were due to pure luck and take into account the path that your results would take and what that would have required of money management.
Consider the impact of retrospection on your results. The human mind is capable of ascertaining many regularities that occurred in the past, and is good at uncovering them in a study after the events occurred, but not very good at uncovering predictions based on new data that they are not already privy too. Never use range forecasts as they don't tell you whether you would have made or lost. Be aware of the difference between description and prediction, and statistical significance versus predictive distributions.
Never be overconfident. Do take account of the drift in your data, and the shape of the distributions you are drawing from. Mr. T, is not very good if only 2 or 3 observations removed from your sample would change the results.
To what extent are the regularities you believe you have uncovered been extant in the literature or the knowledge of shrewd fast moving traders. That changes things. What is the extent of regression bias in your results?
Alston Mabry comments:
Something else, basically another riff on the Chair's comments: I find that statistics like means and correlations are, of course, useful, but they almost always hide important, idiosyncratic structure in the underlying data. In a sense, summary statistics are "intended" to do that, but I find it useful to unpack them and examine the structure in the data series, how the summary stats change over time, etc.
Anton Johnson writes:
A couple of important things to consider.
Large changes in outcome resulting from small adjustments of a parameter is a sign of over-fitting and usually bodes badly for real-time results. Sometimes eliminating or finding a suitable replacement for the sensitive parameter will result in a more robust and usable model.
As a general rule, the number of parameters used in a study should be FAR fewer than the number of resulting trade signals.
Ken Drees adds:
Coach Bob Knight's new book The Power of Negative Thinking mentions "NO" being safer than yes. You can always more easily change a "no" into a "yes" versus the opposite–deciding to change your mind from positive to negative.
The gist of the book is to tamp down the uber positive thinking crowd–no, you can't do anything you want, no, you can't magically power your way to a fine end. PONT, Power of Negative Thinking is how Knight coached. He explains it that you must limit faults, limit mistakes–if we don't do these things then we have a chance to win. He keys on dealing with negatives to achieve a positive. He must have come across a lot of less disciplined approaches to coaching in order to come up with an against the grain type philosophy (PONT).
A lot of his points are probably already in the quiver of the sharpened spec. His hyper worried routines, careful study of the opponent, downplaying of good fortune and constant moving of yesterday's win into the rearview mirror broadens out into that persona you conjure when you think of him–that brooding face, those searching eyes–never smiling. The idea of "can't do it" was probably the most different from what we hear today–most are afraid to say "can't–that it means "I won't". Knight loves the honesty of a player saying I can't understand that assignment, or I can't push myself any farther. I would not recommend the book to cross over into speculation, but it's a quick read and there are more than some items to enjoy.
During it, I thought about player health in relation to speculating. I am my own coach. It's a luxury to have someone call your number and sit you down for a breather, to know you may need rest over more drill. How do I know that I am playing/ trading fatigued—only after a poor result? Knight seems to have the keen memory still in gear. There are some interesting stories about his games and Big 10 accomplishments.
Coach Knight will definitely tell you "No".
Leo Jia writes:
Very interesting, Ken. Thank you for sharing.
There seems to be some rationale in being positive. As I understand it, when one says "yes, I can do it" and envisions the actual doing, he actually plants a seed in his subconscious brain. The subconscious brain can be more powerful in many ways than the conscious. So planting a seed there is to use the additional powers of the brain, which are not accessible by the conscious mind normally, and thus increase one's chance of achieving a goal.
When will the drought vibe hit the grains if things continue weatherwise? Drought is a slow creep type of price impetus that suddenly pounces.
Ever since Jeff Watson asked about wheat and what to do with it a few months ago I have been poking around the river scraping bottom articles. With everything else up yesterday, I have to turn a head towards the left behinds and consider them as worthy orphans.
"Mississippi River Nears Historic Lows, Shipping at Risk"
Scott Brooks writes:
One thing to watch for in a drought is the amount of snow that falls. Snow is very important in agricultural land. A good snow cover will slowly melt and drip into the soil, thus giving the soil water but in a way that allows it to soak deep into the ground without too much run off or evaporation (i.e. the snow cover keeps the water from evaporating thus allowing it to soak deeply into the soil.
Soaking the soil deeply followed by consistent and gentle spring rains helps end a drought.
The problem that these drought stricken area's have is that they are not only dry on the surface and in the rivers, but also deep within in the soil. And since water goes down (or evaporates up), we have to fill up the watershed from the bottom up, thus the need for snow. Otherwise, even gentle consistent spring rain won't help as much as you'd think…..as most of the water is going to go deep into the soil and not be of use to the plants.
Think about it this way. You have a cup that is 12 inches deep, but you only have a straw that is 8 inches long. You gotta fill the cup up 4 inches just to get a taste of the water. And to drink from it on a long term and consistently (i.e. throughout the whole growing season) you need the base amount of water to be closer to 5 inches and then have consistent rains to keep the water at a level where the roots can reach it.
a commenter replies:
10 inches of snow is equal to 1" of rain. This article speaks to what you say: "Drought in 2013? Major Pains Ahead".
I recently read a great book: The Last Viking: The Life of Roald Amundsen.
Roald Amundsen grew up wanting to be an explorer. He always knew what he wanted to do with his life. He was the only man (at the time) to have stood at both poles of the earth during his career. As a youth, he slept with the window open in winter to condition himself. He told his Mother he liked fresh air when she thought it strange. He had a supreme physical body due to hiking and skiing and physical endurance training. When he saw a doctor as a young man. the doctor whooped and called in fellows to see such an example of muscularity.
He studied explorers and their texts his entire life and every dime went into expeditions. Early on he recognized that explorers always got entangled with the ship's captain–by that he meant there were two heads that often clashed, the explorer would have to defer to the captain–the expedition would be cut short, bold decisions would be muted, etc. He took the necessary time and hours working on ships sailing and studying and became a certified Captain in order to eliminate the friction factor–he also became more the expert in sailing than his contemporaries. In the same vein he decided to not take a medical doctor/scientific sailor candidate on one of his voyages even though from a previous experience a doctor came in critically important during a rough time in the arctic. The reason to omit the doctor is that men on an extended trip of isolation confuse a doctor as a leader–the doctor becomes a force that may override an explorer's leadership.
Amundsen always was a student of technology. He was an observer of indigenous peoples of the arctic and he used their techniques for survival and success where his rivals seemed more wooden and resistant to change. Using Inuit clothing, hut technology, ice house forms and dogs as transport over ice where others did not were key to his success. He had to leave a lot of the business part of his career to family and close friends–which eventually soured in the end. He was always at odds with money –never having enough, always fundraising and one step ahead of creditors. His famed persona (like a rock star of today) was always in the papers–his exploits somehow always paid off his debts but then the cycle would repeat itself. He had to go on the multi continent lecture and talk circuit (early 1900s) to make money–a grueling life worse than being at -minus 50F in an ice crevasse.
Bown, the author, did his homework. The bibliography is basically every book out there, plus he did a lot of his own work in extensive newspaper story research (NYT–predominantly). There is a lot of controversy about this man and his methods–a lot of bias that Bown seems to navigate around.
If you haven't read about polar exploration it's a good book to read since it relates the entire history of man's search for the final fabled lost lands or undiscovered sea lanes that would make trade travel quicker and cheaper. The book came out to mark the 100 year anniversary of the south pole discovery by Amundsen in 1911. You also will get a good sense of the flavor of the times–airplane technology, dirigibles, engine design changes. Amundsen also designed his own polar ship with hull designed for ice, special auxilliary motor equipped for special maneuvers.
There is plenty for the spec to think about here in relation to goal setting, using tools that others ignore, attention to details, what areas of endeavor should and should not be "farmed out". Also, there's a lot of stuff on how to plan for all potential problems, how to size up talents, and how to pick a team.
Sometimes the tedium of trading can be thought of as waiting day after day in an ice house for the weather to turn favorable. Amundsen was a big proponent of routines, small incentive contests and the shunning of idleness during his arctic times with his men–much here to think of and use for your own purposes. In this day of constant communication the book acts like an escape of sorts to a time when years would go by between shoving off on an expedition and returning–where and when and in what condition was always a surprise.
I see an estimate of 50 billion to repair the NY subway system. "Many of the suppliers of equipment have been out of business for 50 years". All equipment damaged by salt water basically must be replaced. The loss of wealth from the flooding and the 3 million homes without power must represent enormous opportunity cost to the economy. At least 50 billion above and beyond the subway. The total goods that an economy produces represents the amount available to be divided up and would seem to be a good measure to total utility. These total goods are 100 billion less than they would have been. They say that one of the causes of the 1907 October crash was the San Francisco earthquake of April 1906. Big destructions in other floods and tsunamis would seem to have lagged negative impacts also. Total reductions in wealth like this have to be big negatives for the long term despite the tendency of calamitous events to have a negative impact the first day and bounce back by end of week.
Ken Drees writes:
I like the reference to San Fran in scope and lag. Let's say it costs 200 billion to repair–it will be the only QE that cannot be afforded. A sad reality.
We've talked about vig on trades, but consider the vig on life events such as moving, divorce, death. Moving seems like an expensive proposition, 10% commission on house, moving, disruption, time off. Divorce probably has a 60% vig with splitting estate in half, commissions, forced sales, attorney fees, emotional loss. Death has a 110% vig, you lose everything and the transfer to the next generation has its expenses as well plus the emotional toll. Though not exceptionally successful in a career or anything else, I've been lucky not to have had to move or get divorced, get sick or die, yet. I've seen so many over the years go down in business, love, life, health: many more than have made it big. Perhaps buy and hold has some merit.
Ken Drees adds:
There's a big vig cost on changing colleges or majors now vs. the past when the price of college was lower.
What of the threat stringing out past the point of threat into a sleep? Market fatigue waiting for the euro mess to resolve, Iran to be bombed, Syria to fall, nat gas to get a pulse, gold to restart, Japan to rise again, GE to come, etc.
Steve Ellison writes:
Natural gas, 6/15/2012: 2.467 (July contract)
2.196 (adjusted for rolls to August and September)
Natural gas now: 2.752 (September contract)
That's a 23% increase.
I believe one of the elements we overlooked in our conversations about Apple was (is?) the Mac's superior graphics applications. Whether this superiority was by accident or design, it played a major role in the Mac's initial financial success.
Apple was (numerically) a small player (and seller) in a big and growing field. But outfits with big bucks and a need for superior graphics (i.e., newspapers, ad agencies, job shops, and design studios) had no difficulty in choosing the Apple products despite their much higher prices and refusal to license out knock-offs.
If I remember correctly, Macs had about 5-8% of the consumer market, but were dominant not only for those businesses listed above, but for any organization that wanted to produce a professional looking, graphic-intensive mailer or newsletter. As a result, many graphics-oriented software developers submitted their best work to Apple — and the disparity grew.
Despite owning over 80 Macs in our department alone (the editorial staff had more), we could never negotiate a volume discount; Mac was the market. Only a little before my retirement did the PCs begin to show some advances in design capabilities. My few remaining contacts tell me Macs are still used. If Jobs factored this into his development plans then he was very insightful.
Ken Drees writes:
Jobs made huge inroads with schools/universities as a distributions channel for macs–thereby seizing a very healthy nitch that became loyal. Journalism schools were MAC city in the 80s /90s.
Daniel Flam writes:
Apple does have some nifty innovations, but along with a very totalitarian mentality. Democracies can turn into anarchy –monarchies can become totalitarian, and Apple is a dictatorship. Some people yearn for a messiah– Apple gave those people what they want.
Maybe a financial version of this lifted the Nikkei to 10k? Is a stock or an index heavier/harder to move higher at retrospect lows, mid points or tops? What is heaviness in terms of financial prices at lows, inertia? Is weight in financial terms of stock movement a correct way to view? Are stock prices weightless at all times and only affected by tethers on or tethers off? What made the Nikkei rise gently to 10200 and now fall gracefully back towards its 9000 - 8000 beginning level. Lava lamps come to mind.
"Wearable Muscle Suit Makes Heavy Lifting a Cinch":
It takes a second to register, but the 40 kg of rice I just picked up like a human forklift truck suddenly seem as light as a feather. Thanks to the "muscle suit" Umehara slipped onto my back prior to the exercise, I feel completely empowered. Fixed at the hips and shoulders by a padded waistband and straps, and extending part-way down the side of my legs, the exoskeleton has an A-shaped aluminium frame and sleeves that rotate freely at elbow and shoulder joints.

It weighs 9.2 kg, but the burst of air that Umehara injected into four artificial muscles attached on the back of the frame make both jacket and rice feel virtually weightless.

The muscle suit is one of a series of cybernetic exoskeletons developed by Hiroshi Kobayashi's team at the Tokyo University of Science in Japan. Scheduled for commercial release early next year, the wearable robot takes two forms: one augmenting the arms and back that is aimed at areas of commerce where heavy lifting is required. The other, a lighter, 5 kg version, will target the nursing industry to assist in lifting people in and out of bed, for example.
My teens say facebook is yesterday–hope the IPO isn't a "fail" as they call things that suck, or do not work.
The stock now could go public at a lower price. Moreover, new uncertainty about the Menlo Park, Cal., company's growth prospects may temper some of the feeding frenzy that was expected to take place on the stock's first day of trading — currently scheduled for May 18.
Craig Mee responds:
Agreed. Looking at explosive movers and shakers like Google, Facebook is a different animal. Google gets the job done, but Facebook is more part of a trend or coolness factor that can be side stepped as quick as the share/message/like buttons allow. What's more, the site, especially the log in page, looks kind of old school. You can buy things, but you can't buy coolness, once you've lost it.
Russell Sears writes:
My daughter says it is because Facebook has been taken over by all the whiners, posting all the time and losers playing games. It seems the only acceptable use is keeping Grandma up to date. Hence if you admit you use it, you are the sucker at the table.
Gary Rogan writes:
In addition to the inherent instability of any high tech company, this one adds the delightful dependence of its success on the what most of its customers think of most/some of its other customers, usually a characteristic associated with trendy fashion retailers and night clubs. Compared to this one, Groupon that made another all-time low today at significantly less than half of its initial trading range is the rock of Gibraltar.
I just saw the Royals (getting swept by the Indians) put in their outfielder to pitch the ninth to save what is left of a depleted pen.
The pitching was akin to batting practice, the tribe went quickly, and the pitcher got a Royals' standing ovation, the only pitcher all weekend to get one.
Market equivalent?
It seems like the batters may have been a bit taken out of their element by the novelty, maybe the overconfident factor at work.
Maybe the Royals' skipper scored a tiny tiny mental victory here to lift the team for the next series.
In the movie Nixon/Frost–I was channel surfing and stopped when the character of Swifty Lazar was on the screen. He was brokering a deal and trying to get the most he could for the Nixon interview from Frost. What a line.
Lazar: "You must call the man on a weekend or very late, in the middle of the night, that way you can find out where you stand. If he takes your call at a very late hour, or at an inconvenience then you know he is interested, you then know that you got him."
You see Frost push his sleeping honey aside and take the call despite her protestations.
Market implications here–somewhere.
From the New Yorker:
Lazar picked up the menu, took off his glasses, removed a gold-rimmed monocle from his breast pocket, put it in place, and studied the menu, holding it an inch or two away from his nose. "I want breakfast," he said. "Scrambled eggs with smoked salmon." He turned to me and said, "I got a late start this morning." I wondered whether this was his way of apologizing for being late, but nothing in his manner suggested that it was. "I mixed up my pills," he explained. "I took my wake-up pill last night and my sleeping pill when I got up this morning." He turned toward the captain, who was hovering beside me. "He'll have a '21' Burger, medium," he said, dismissing him with a wave while I was still looking at my menu. Lazar, as I was to learn, hates people who can't make up their minds about what they want to eat (or anything else), and is very likely to order for them if they aren't quick enough to suit him.
Here's an interesting Schilling article that Real Estate has 20% down to go due to unlisted foreclosures, separation from investing/ownership, and 40% underwater with another 20% drop in price.
However, the real estate cycle is notoriously fast when it takes off, so trying to time it is hard to do.
Victor Niederhoffer comments:
If, if, if. I've seen this reasoning on bonds from a million sources over the last 5 years. If bond yields go up, or go back, it would cause this destruction or that catastrophe. But people in the bond field know as much about the course of the yield curve as anything in the world, indeed they're much more versed than the stock market people. And it just takes a few Grosses or Soroses or DeRosas or dozens of others to set prices exactly where they should be taking account of all future contingencies. In short, the yield curves today provide an extremely accurate forecast of future fixed income yields. The experts, the DeRosas take account of the likely change from easing to tightening and when, and what a impact that will have on everything in their current forecasts. To predicate a trade on the idea that bond yields at 3% or 2% are ridiculously low is to go against the greatest experts in a field the world has ever known, et al.
George Zachar writes:
Unfortunately, the bond mavens today are forced to gauge not the real economic context of the forward curve, but the internal dialogues of Bernanke and Dudley. With the Fed manhandling the yield curve from tip to tip (and TIPS too), the price signaling attribute of the treasury market has vanished.
We are likely years away from private capital allocators fully resuming their role as impartial price setters for money. And there's a real risk the cronies will never be pried loose.
Ken Drees writes:
I heard one of my mood of real estate indicators loud and clear the other day, ironically on the am radio. The banter back and forth was why renting is better than owning, even though the price may be higher to rent.
radio person a: Why should I tie myself down with a house, if I lose my job I can't move?
person b: Right, its easier to just rent and move.
The job environment needs to bottom and improve before housing can turn–Rocky's 2014 guess is as good as any for a bottom based on soaked up supply.
Fred Crossman writes:
We are in an unprecedented period where the world central banks, instead of suggesting work and saving as a remedy to excessive debt, offer the effortless remedy of federal programs, massive printing, and more debt. Is it ironic, as we reach new market highs, that the biggest per cent mover today (not SHLD, which is up on worse than expected earnings but a shot at more creative financing) is a diet drug that eschews exercise and dieting but instead offers a pill for the same result?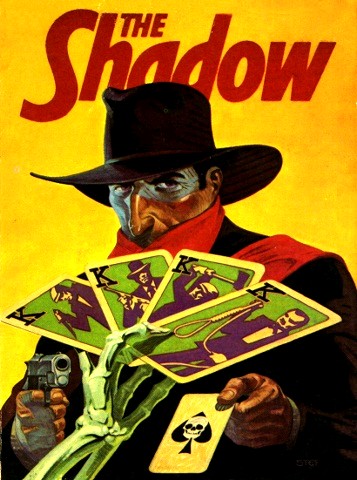 Are we at the point where the street needs volumes back to averages? What will the catalyst be; Israeli saber rattling, Iranian suicide boats, Spanish bank downgrades? Only the shadow knows…
Fred Crossman writes:
Hey Vince, I don't think war events are bearish. How about bad eurozone IP and German ZEW conditions numbers on Tuesday or bad eurozone and German GDP numbers on Wednesday to get the de-coupling crowd thinking again? (disclaimer: I have never been right).
Ken Drees writes:
Yes indeed! Bring a new headline to the fore, raise a signal, blow a horn–anything but the same old boredom.
There was a time when I would sit down and hash out 10, 20 or more "things or scenarios" that could happen to pitch markets off center. Even after thinking quite outside the box, in the box, and on the box–military, financial, political, mother nature, etc. I could never seem to guess right–the markets always had a new one, or a "dumb" one that I thought not an issue. Outside of mental exercise, boning up on geopolitics and such, the benefits of handicapping the unknown catalyst that will jolt the markets seems less important to me. The thing to realize is that something will happen, sit back and enjoy the surprise.
The market lulls us now into its lovely and comfortable bosom of low vol–sleep little specs, sleeeep–it's time to sit up straight, let the cool snowflakes rouse the poppy fragrance from one's nostrils and keep awake.
As now table banter has turned towards a new and safer market, easy returns, low priced protection, 8 weeks of this blissful gentle lifting and stretching will most likely be shattered by something "out of the blue". Apple at 500, facebook getting in while the getting is good–two talking poppies.
"Confidence is suspicion asleep".
Whenever I try to finesse a trade, add layers, integrate, etc, I wind up losing, slipping, getting caught up in the extras and missing the big picture, the point of the trade in the first place. I bring this up in relation to the final TD by the Giants last night in which the running back squatted on the one yard line actually thinking about what to do.
He was in a momentary trance, do I score, should I sit here and get downed on the one and we can burn the clock? SCORE! How can they presume to know the success of future plays? They were behind, they do not have the luxury of finesse. They might have been down at the one, fumble or miss the field goal–and the announcers were oh so smug about the entire clock comeback strategy.
And what of the patriots supposedly letting the giants score? Banking it on the comeback drive, that entire endgame seemed flawed. Was the psychology such that the Pats figured they would be behind at the end, did they play into their own vision of the game's outcome?
I am researching and reviewing my contact with hats over a not uneventful life. I am considering their value, their uses, their symbolic significance, the great people I know who have worn them, the hat corporation of America I bought as my first trade, the hat that Tom Wiswell always wore to prevent sunburn and cover up baldness, the hat that Shane wore that made him an icon, the hat that the accountant in Monte Walsh wore that Hat Hendersson just couldn't resist noting was just right for a pistol shot, the hat that I wear now to show my respect for those previous, the man I called Hats H. because he always had a million different conflicts of interest while working for us. The importance of a hat outdoors in the West to shield from rain, sun, and the elements. Et al. What value do you see in hats these days? What anecdotes? They seem to have gone out of style because of the automobile. You don't need protection from the elements any more. Also they're hard to store. How do they relate to markets?
Alan Millhone writes:
Dear Chair,
I remember well the hat Tom wore. The ball cap I wear has a board on it (see picture). The Market trader might wear such a hat to remind them to look ahead and make the right moves (trades).
.
.
.
.
Sam Marx writes:

On the subject of "Hats". I am reminded of the aversion that John F. Kennedy had to hats and the picture that has stayed in my mind, since 1961, is of his carrying and not wearing his hat at his inauguration. I believe it was his attitude that caused the downswing in hat wearing in the U.S.
Tim Hesselsweet writes:
Seems like a good example of ever-changing cycles. The hat has been making a comeback for the last several years. Kate Middleton has become a popular figure and she frequently wears hats. Upscale department stores like Saks now carry a large selection of hats as well.
Alston Mabry responds:
Yes, but…mens hats are a different dynamic:
Look at this photo of mens hats at a Liberty Rally in Columbus Circle, 1918, and mens Hats at the Horse Races 1920s style, and 1950s Men with hats.
Scott Brooks writes:
When I graduated high school, the guy who measured my head for my mortar board said, "Young man, I've been doing this for 35 years and you have the biggest head I've ever measured".
As a result of my freakishly large cranium, hats rarely fit me. I wear one from time to time, but only out of necessity, and occasionally for functionality.
Necessity is when I need to keep my bald head from burning in the sun or freezing in the winter or dry in the rain. Never under estimate the insulating and protective qualities of hair.
Functionally is because I need a hat when I hunt to keep the sun out of my eyes when I'm scanning for game, peering through my scope to place the cross-hairs on the shoulder of my intended quarry, or placing the aiming pins of my bow in the middle of said quarries chest cavity.
I avoid hats otherwise as I can rarely get one big enough to fit. If I wear one too long, it gives me a headache. Therefore, when it comes to trading, if you see me placing a trade while wearing hat, fade my position as I'm likely making a losing trade because my mind is clouded by the hat that is squeezing my brain all to tightly.
Pete Earle writes:
I wear a hat, and have for seven or eight years. When I began to wear one, I expected to be lightly razzed by friends; that not only didn't deter me, but never occurred. Instead I've received unexpected compliments, and over the last few years other have seen a higher frequency of hat wearers in Manhattan, Washington D.C., and even when I'm down in Auburn and Atlanta.
Christopher Tucker writes:
The grandfather of my best friend from college was one of the kindest and most sensible men I have ever met. He was a traveling sales rep for the John B. Stetson company. The man always had the best (the absolute BEST) hats.
GAP Capital comments:
Born and raised in Chicago, so "hats" remind me of only one person…Dorothy Tillman!!!
Anton Johnson writes:
"By some accounts, Christopher Michael Langan is the smartest man in America……….he has a fifty-two-inch chest, twenty-two-inch biceps, a cranial circumference of twenty-five and a half inches–a colossal head, more than three standard deviations above the norm"
Esquire article on "The Smartest Man"
Alan Millhone sends another photo:
Here is Tommie Wiswell with his trademark hat tilted back. Might also been used to keep
overhead light from his eyes while he focused on the many boards.
.
.
.
.
.
.
.
.
.
.
.
.
.
Russ Herrold writes:
I am traveling, and so cannot conveniently post, but I placed orders this week for a new Stetson, a couple of Fedora designs, and some other … I forget …and have in my car, for the conference I am at this weekend, easily 5 or so, which I use both for their protection of my head from the cold, and also so I can 'do some branding' work in the community the conference represents (I also have other 'branding' in my clothing, and appearance), such that people I deal with, who don't know me by sight, can recognize me anyway.
Marion Dreyfus adds:
I think I am fairly well known as a hat person, and have been since I wore unusual chapeaux /to synagogue and school when 12 or 13.
Aside from style and stating an individualistic aspect, I think a hat harks back to a gentler, more mindful age, perhaps 100 years ago. It also keeps the head, inside of which are all these excellent ideas and scenes for a better tomorrow and a niftier evening today, comfy-cozy. Hats also show, oddly enough, respect. Hatless men in the 1970s were declaring their freedom from the mindfulness of suit and hat, and perhaps we are the poorer for having abandoned hats.
They also keep milliners in funds, and milliners I went to grad school with in the early 90s were aghast at the drop in hat-wearing citizens, alleviated only by temporary crazes or fads that fade as swiftly as they arise.
As a biker, for me, even mild days produce a breeze when one is on that leather seat, and a hat prevents sunstroke and sun in one's eyes as well as too much wind over one's head.
In the Orthodox world, wearing a hat connotes one is married, so it may be foolish of me to wear hats, because i communicate a status I do not currently entertain. But i do like the fashion and focus statement being made by wearing a lid, many of which, actually, i create myself.
Finally, one can maintain a superior air of mystery in a hat, which is impossible to the same degree in a hatless state.
Alan Millhone adds:
What really amazes me on hats are the clods at football games I attend who don't remove their head cover when the National Anthem is played.
Ken Drees muses:

The baseball cap trend: rappers wearing the caps askew, wearing caps with logos of designers and companies, wearing caps for status/advertising, caps as gang signal, wearing caps in restaurants/indoors, wearing hoodies in lieu of caps, caps as fashion, caps on backwards, caps with brim curved just so, it all has to do with being cool. Lebron James wears Yankee cap to Indians games–it's all about me, fool.
Gary Phillips writes:
"Wearing a cap backwards is a baseball fan tradition that started with Yankee fans. It wasn't because they liked Yogi Berra, either. The Yankees and Red Sox have a century-old rivalry. A group of young guy Yankee fans, around 1980, took the train up to Boston to catch a couple of games. Boston fans are loud and boo other teams. The young Yankee fans were seated in front of loud Bostonians. The New Yorkers didn't want to start an altercation, but made statement. Those guys turned their Yankee caps around backwards to show the Bostons that they were Yanks fans and proud of it."
Anton Johnson writes:
On baseball's rally cap superstition:
"A rally cap is a baseball cap worn while inside-out and backwards or in another unconventional manner by players or fans, in order to will a team into a come-from-behind rally late in the game. The rally cap is primarily a baseball superstition."
And hockey's Hat-trick.
Victor Niederhoffer writes:

It would be nice if this worked in the market. But then the adversary could always tell if you were weak or strong, especialy if signals could be reflected from the hat. I was surprised to see that in all the uses for hats I have collected, including flopping the rump of your horse, and fanning a fire, and collecting water from a stream or the rain, I did not see many variants of using it as a signal to get a cab or alert a Native American that a interloper was near, or to collect bets, or to conceal a salt shaker. This latter is particularly effective in the west because to ask a man to remove his hat is akin to a date with boot hill.
Gary Phillips adds:
Surely not a hat, barely a cap, let us not forget the kippah or yarmulke. The Talmud says that the purpose of wearing a kippah is to remind us God is the Higher Authority over us. He alone is Lord of Lords and King of Kings. When we pray and worship with our heads covered, we are saying that we are in total and complete submission to the will of God Almighty now and forever.
I was recently in the hunt for 2 of the crocheted variety for my 2 and 4 year olds to wear to school. My elder son demanded that the kippah be white with a blue Magen David. The synagogue gift shop was unable to fill our order, so I turned to a higher authority - E-bay. As J. Peterman would say, it is 6" in diameter — one size fits all. Handmade in Israel with a *very small* fine stitch. The yarmulkes are from Israel and are made by people who have made Aliyah; low income and handicap people, generating income to make a living.
I grew up and observant Jew until I had my first taste of bacon and blondes, and I never looked back. However, I now find myself lighting the candles, saying the hamotzi, and making Kiddish on Friday nights… Nice.
Jim Sogi writes:
A hat is essential in Hawaii to keep off the sun, rain and wind, to keep glare out of your eyes, and at night on the mountain for warmth when it gets cold. There are different hats for different situations. A baseball cap is good all around since it keeps the sun off your face, stores easily, can be worn in a car and is cheap and stays on in a brisk wind. A good brim hat is good to keep the sun and rain off the back and shoulders as well. A nylon hat is light and can be washed. A waterproof rain hat is good for extended rain, and a light nylon brim is good for hot sun. A small brim bucket with a strap is worn in the water while surfing to keep intense sun at bay for hours in the water, and to stay on in the surf. A knit or fleece watch cap is good for boating at night or sleeping in the cold. A helmet is good for sports to protect the skull from boards, rocks, trees and impact. The Original Buff is an adaptable piece that can be worn as a hat, scarf, or facemask. A balaclava is good for winter conditions and can be used as a hat, or face mask in windy conditions. I must have 20 or more hats.
As with all equipment, each type of hat is specialized for specific conditions, and there is not one that is good for all conditions. As with markets, its good to have specialized systems and rules for the differing conditions or cycles and no one rule is good in all conditions but must be tailored to match the expected conditions.
Rudy Hauser writes:
I do not wear a hat indoors with the exception of trains and planes or if there is no good place to put the hat. If there is a draft from air conditioning it helps to keep me from getting a headache. But more important is that unless I just want to hold my hat in my hands there is no good place to put it. I prefer to read, not hold a hat. I once made the mistake of putting a Panama hat in the overhead rack in a plane. The motion of the plane bounced it around enough to ruin it. That gives me little choice but to wear it. If I have a hat without a brim, such as my winter hat, I can a do take it off aside from trains which are not that warm.
Bill Rafter adds:
Glare, particularly from lensed overhead lights or high-hat floodlights can cause headaches and eyestrain. That can easily be counteracted by wearing a baseball cap or other large-brimmed hat indoors. I have kept one at my desk for decades.
For years I noticed that whenever I saw a certain actor & director, he was always wearing a hat, even indoors. Then I saw him entering a food emporium at a ski area and he removed his hat. I immediately understood why he always wore one — his particular baldness aged him at least 10 years. So his vanity choice was either a wig or a hat, and he chose the hat.
Hats indoors also provide a level of anonymity for those who do not want to be recognized in an airplane or robbing a bank.
My first "real" hat was a Homburg, which was required for one of my college jobs: pallbearer.

The attached charts the ratio SPY/TLT 2002-present [The S&P ETF vs the US Treasury ETF]. The current ratio of about 1.06 is near the bottom of the post 08-09 crisis range, but still far from the bottom reached in March 2009.
Victor Niederhoffer writes:

This illustrates the wisdom of the proverb "there is always a web between markets but the web is always changing". Conversely nothing exemplifies this proverb better than the shifting relation between fixed income and stocks.
Alston Mabry adds:
Just as an exploratory reminder to myself, attached is a chart showing the variations in 60-day correlations between two 1000-day series (of % changes) generated randomly but with an overall correlation of -0.3. In other words the true correlation is -0.3 but we pretend we don't know that and measure the 60-day sampled correlation.
Ken Drees adds:
Zussman's chart makes one think about potential energy–the buildup of potential change as one sector grows larger than the other.
Alston Mabry adds:
And again, just to see what it looks like, here's the rolling 20-period correlation for the weekly % changes of Dr Z's SPY and TLT.
Finally, one last chart, combining the previous two ideas: the rolling 20-week correlation of SPY and TLT, graphed with the rolling 20-period correlation of two random series with the same overall correlation as SPY-TLT (-0.41).
Bill Gross recently penned an essay in the FT entitled "The Ugly Side of Ultra-Cheap Money". He makes some provocative (and questionable) generalizations regarding the effects of zero interest rates on the real economy, but:
1. He importantly ignores the important differences between zero nominal interest rates and zero real interest rates. (Due to deflation, Japan has run a tight monetary policy for years, and the Yen's multi-decade appreciation to 78/$ provides a reasonable proxy of the relative inflation rates between the USA and Japan.)
2. He fails to openly acknowledge that ultra-cheap money is terrible for his business. He laments people keeping dollars under their mattress (because it pays the same as money market funds). Yet, he doesn't mention that the current interest rates out to the 5 year result in his management fees being rather larger than the investor's yield to maturity.
I submit that there IS a pretty side of ultra-cheap money:
Mr. Market (and foreign owners of US debt) are giving a gift to the US Treasury that is truly remarkable. A Bill (the paper, not the Gross) yields 0% (negative ~3% trailing real yield) and the 5-year yields .9% (negative 1% real). Most of the US debt maturities are 5 years and under. And the Fed owns about 10% of the total debt…soaking up the outter maturities. This means, with $15T in debt, the REAL static debt burden is decreasing by about 600+ Billion per year. (Of course, when Mr. Market grows angry with the US Treasury, this pretty picture could viciously swing the other way as various pundits, including Taleb, Grant, Mauldin, etc are warning.)
Here's a chart that shows the US Debt Maturity.
Yes, Viriginia, there IS a Santa Claus. If you pull off the long white beard, you'll see Santa is actually the people who are buying US Government paper and holding cash. And we should all thank them as they come down the chimney.
Ken Drees writes:
Forget Santa, what about VIXen? He is laid out, 5 months cold. Is it another Christmas in July for the VIX?
Here's a link to my article about Bo Keeley "The Legend of Bo Keeley grows". They or I got the photo credits goofed up. Sorry. Story comes out in NYC, SF, LA, Seattle, Austin, TX, DC, Chicago, Shanghai, London. Welcome home.
Ken Drees sends us a poem to honor Bo's welfare:
.
.
.
Bo Left Us Dead
(Written after reflection on good news of Bo Keely's safety)
Finished Bo's book, just put it down,
Next thing I hear
Sad tragic news,
Keely's not to be found.
No, not in anytown,
Got himself killed this time 'roun.
Them Mex think he's undercover narc,
Down there, too tall and off white
He sticks out,
One too many rides in the dark.
DocBo, The speculator surmises,
Has run plum out of lucky devices.
No facebook, email or phone, G*d please help Bo,
Sadly, its over for him;
No more of his stories, and that grin.
Please bring him back whole.
But if he's truly dead Lord,
Least his soul's in your yard.
Praying is over, Bo left us dead,
No more tales, rails or boxes
To inspire, tranfix,
To dazzle our heads.
Keely has jumped one reefer too far,
Somber, even the bulls at roundhouse bar.
And then like rain that drought licks for,
Bo's Alive for sure. For sure!
Been in the desert, all this time,
Playing with spiders, rocks, and slime.
Those mental puts on Bo expired,
Luckily not the man, that a freight train sired.
So comes the end of this tiny tale
Let the celebration begin,
Dead, now alive, its all win-win.
February's, cruel winter's gale,
Will no doubt herald,
A cupid hearted Hobo, quite undead sans peril.
Have you seen this article about the top 5 regrets of the dying? It is a must read.
Gary Rogan writes:
I really liked all of them, except based on everything that I know I disagree with the statement that "happiness is a choice". Irrational fears are not a choice, depression is not a choice, and neither is happiness.
Gibbons Burke writes:
Well, happiness is dependent on one's attitude, and in many cases, you can choose, control or direct your attitude.
My theory is unhappiness and depression happen when reality does not live up to one's expectations of what life is "supposed" to be like. I think the key to happiness is letting go of those expectations. That action at least is within an individuals purview and control. There is an old Zen maxim: If you are not happy in the here and now, you never will be.
Russ Sears adds:
I think most irrational fears and depression stem from the unintended consequences of one's choices or often, the lack of decisions, such as little or no exercise. However, I believe many of these choices are made when we are children, and we do not fully understand the consequences. Many of these bad choices may be taught often though example by adults or sometimes it is just one's unproductive coping methods that are simply not countered with productive coping methods by the adults in their lives. I think some people are more prone to fall into these ruts, but most of these ruts are dug none the less.
Jim Sogi writes:
The regrets are perhaps easily said on the deathbed but implementing these choices in life is very difficult. Many can not afford the luxury of such choices. When there is no financial security hard work is a necessity. Such regrets are not much different than daydreams such as, oh I wish I could live in Hawaii and surf everyday. The fact of the matter is that the grass always seems greener on the other side. Speak to the lifestyle guys in their old age. Will they say I wish I worked harder and had a career and made more meaning of life than being a ski bum or surf bum?
Gary Rogan responds:
What you say is true about the effects of exercise. But that's just one of many factors that are biochemical in nature. Pre-natal environment, genetics, and related chemical balances and imbalances are highly important in the subjective perception of the level of happiness. There are proteins in your brain that effect how the levels of happiness-inducing hormones and neurotransmitters are regulated and there is nothing you can do about it without a major medical intervention. Certainly some choices that people make affect their eventual subjective perceptions through the resultant stresses and satisfying achievements in their lives, so the choice part of it can clearly be argued. My main point was that by the time the person is an adult, their disposition is as good as inherited. They can vary the levels of subjective perception of happiness around that level through their actions, but they are still stuck with the range, mostly through no fault or choice of their own.
Since a few literally quotations on the subject have been posted, let me end with the quote from William Blake that was used before the chapter on the biological basis of personality I recently read:
Every Night & every Morn
Some to Misery are Born.
Every Morn & every Night
Some are Born to sweet Delight.
Ken Drees writes in:
I believe that you must put effort towards a goal and that exercise in itself begets a reward that bends toward happiness. It's the journey, not the end result. You must cultivate to grow. A perfectly plowed field left untended grows weeds–the pull is down if nothing is done.
Russ Sears adds:
It has been my experience with helping others put exercise into their lives that few teens and young adults have reached such a narrow range that they cannot achieve happiness in their lives. This would include people that have been abused and people that have a natural dispensation to anxiety. Their "range" increases often well beyond what we are currently capable of achieving with "major medical intervention". As we age however our capacity to exercise decreases. While the effects of exercise can still be remarkable; they too are limited by the accelerated decay due to unhappiness within an older body's capacity. Allowing time for our bodies is an art. Art that can bring the delights of youth back to the old and a understanding of the content happiness of a disciplined life to the young.
Peter Saint-Andre replies:
Horsefeathers.
Yes, hard work is often a necessity. But hard work does not prevent one from pursuing other priorities in parallel (writing, music, athletics, investing, whatever you're interested in). Very few people in America have absolutely no leisure time — in fact they have a lot more leisure time than our forebears, but they waste it on television and Facebook and other worthless activities.
Between working 100 hours a week (which few do) and being a ski bum (which few also do) there lies the vast majority of people. Too many of them have ample opportunity to bring forth some of the songs inside them, but instead they fritter their time away and thus end up leading lives of quiet desperation.
It does not need to be so.
Dan Grossman adds:
Jim Sogi has a good point. The deathbed regret that one didn't spend more time with one's family is frequently an unrealistic cliche, similar to fired high level executives expressing the same sentimental goal.
The fact is that being good at family life is a talent not everyone has. And family life can be difficult, messy and not easy to make progress with. Which is perhaps one of the reasons more women these days prefer to have jobs rather than deal all day with family.
Being honest or at least more realistic on their deathbeds, some people should perhaps be saying "I wish I had spent more time building my company."
Rocky Humbert comments:
I feel compelled to note that this discussion about deathbed regrets has been largely ego-centric (from the viewpoint of the bed's occupant) — rather than the perspective of those surrounding the deathbed. I've walked through many a cemetery, (including the storied Kensico Cemetery) and note the preponderance of epitaphs that read: "Loving Husband,"; "Devoted Father," ; "Devoted Mother," and the absence of any tombstones that read: "King of Banking" or "Money Talks: But Not From the Grave."
Notably, Ayn Rand's tombstone in Kensico is devoid of any comments — bearing just her year of birth and death. (She is, however, buried next to her husband.)
In discussing this with my daughter (who recently acquired her driver's license/learning permit), I shared with her the ONLY memory of my high school driver's ed class. (The lesson was taught in the style of an epitaph.):
"Here lies the body of Otis Day.
He died defending his right of way.
He was right; dead right; as he drove along.
But now he's just as dead, as if he'd been wrong."
Kim Zussman writes:
Is an approach of future regret-minimization equivalent to risk-aversion?
Workaholic dads have something to show for their life efforts that Mr. Moms don't, and vice-versa.
If so, perhaps the only free epithet is to diversify devotions — at the expense of reduced expectation of making a big mark on the world or your family.
There is no power like oratory. Caesar controlled men by exciting their fears, Cicero by . . . swaying their passions. The influence of the one perished; that of the other continues to this day.
-Henry Clay
The market calls out to us bearishly with forceful reasonings, which come arm and arm with losses or expected losses. The bull is the passion of gain and the hoisted mugs of winning together and a crowded din of likemindedness.
The chair may have covered this as ballyhoo in his book as part of pattern recognition Edwards and McGeeism, but the energized SPY of late now sports a gap that is getting filled now at 116ish and has a gap below 117and change to just under 119.
Gaps as signposts and voids to be filled eventually never really aided my trading, though I noted their existence. Has anyone plyed these differently or in any useful way?
I believe we've had enough of the grist for the chair and that we return from commodities. We have learned from the exchange. The market is down 7 days in a row. Where's it going? I note only 3 other occasions in the last 15 years. There is not necessarily light at the end of the tunnel 10 days later based on the past.
Ken Drees writes:
With the euro news winds moving US equities and the "bad" German bund auction capper for the moment, the inner core begins to feel the fallout and therefore the closer we are to a plan B coming up out of the blue. Every euro bond auction is now going to be bad until something is done. I would say we are close to the rumor stage of rescue and that equities are tilted for a rally. I think the 7% retail spending increase may be enough to get things started if some positive rumors surface for rescue in euroland.
Paolo Pezzutti writes:
Who should be the rescuer? Unless in Europe somebody questions the excessive welfare state built over the years, nothing can change. People still give for granted "rights" and privileges that cannot be afforded any more. Somebody has to question the size of governments and the perimeter of their interests and actions. Nobody is doing it so far. They are still looking for lenders and trying to find money rising taxes. How can we be optimistic?
I see a water boil type market where slowly the heating ramps up until it bursts into boil. Multiple country bond market auctions failing or stumbling, euro equities struggling, S&P hanging like a turkey from a hunter's hand, mf global is a needle in the confidence arena, the heating up of a bad kettle keeps going.
So I'm not seeing things from a contrary view, but I'm seeing things as slowly unraveling…or maybe there is a grand rescue that will be hatched on turkey day?
Somehow I feel that table talk will be interesting on Thursday.
Victor Niederhoffer comments:
The idea of buying the announcement and selling the rumor for profit has been exemplified recently.
Sears started as a catalog/mail order company and will eventually turn back to its old roots–shed the real estate, close all the stores and sell from the internet only.
Just a thought.
Rocky Humbert comments:
Interesting timing for Ken's post!
Exact 7 years ago today, (11/17/04), Eddie Lampert announced the acquisition of Sears by Kmart. Lampert took control of Kmart during its bankruptcy.
Eddie (a fellow Yalie and GS risk-arbitrage alum) is a very smart guy. His resume includes the improbable feat of having talked his way out of a kidnapping, and some fabulous investments, including Autozone.
Alas, Sears was Eddie's biggest transaction.
And how have Sears shareholders fared? Not so good. The Sears story morphed from a real-estate play (which quadrupled the stock) to cost-cutting to "we're not going to sacrifice profits for revenues" to who cares about sames-stores-sales to the present morass.
Since the merger, the S&P 500 has returned +23.1%. Walmart has returned 24.1%. Sears has returned negative 24%.
Which raises the tasteless counterfactual question: How would have Sears performed if the kidnappers had not been persuaded?
The lesson: always have an exit strategy other than the graveyard.
Stefan Jovanovich comments:

This is Sears' own potted history of its going into store building:
The first Sears retail store opened in Chicago on February 2, 1925 in the Merchandise building. This store included an optical shop and a soda fountain. During the summer of 1928 three more Chicago department stores opened, one on the north side at Lawrence and Winchester, a second on the south side at 79th and Kenwood, and the third at 62nd and Western. In 1929 Sears took over the department store business of Becker-Ryan Company. In 1933 Sears tore down the old Becker-Ryan Company store in Englewood, and built the first windowless department store, inspired by the 1932 Chicago worlds fair. In March of 1932, Sears opened its first downtown department store in Chicago on State Street. Sears located the store in an eight-story building, built in 1893 by Levi Z. Leiter, which for years housed the Stegel-Cooper department store. The original Chicago occupant on this piece of land was William Bross who in 1871 mounted his house on wheels and rolled it down State Street to the corner of Van Buren Street. He kept his house on wheels for several years because of the marshy conditions of the land. The Leiter Building, designed by famous skyscraper architect William LeBaron Jenny, included walls of New England granite.

The store sat on the corner of Van Buren, State and Congress streets and cost over a million dollars to refurbish. A 72-foot long electric Sears sign greeted shoppers at the front entrance. A stunning black and white terrazzo covered the main floor. The State street store was the first Sears store in a downtown shopping district, the sixth store in Chicago, and the 381st store the company built. Opening day for the State Street store took place deep in the Great Depression. Local newspapers reported that 15,000 shoppers visited the new store and several thousand people flooded the store's employment office. Sears did everything it could to help put people to work, employing 750 Chicago workers for four months during the renovation and staffing the new store with over 1,000 people.

Illinois Governor Louis Emmerson in a message to Sears Chairman Lessing Rosenwald stated, "I cannot help but feel that this opening will mean a great deal for your organization as well as for your city." Rosenwald proudly proclaimed that, "We regard the opening of our new store on the world's greatest thoroughfare as one of the high spots of our company's history." Within the store the sale of tombstones, farm tractors, and ready-made milking stalls caught customer's attention. The sporting goods department featured a model-hunting lodge. Other attractions included a candy shop, soda fountain, lunch counters, a shoe repair shop, a pet shop, dentists, chiropodists, a first aid station with a trained nurse, a children's playground, and a department for demonstrating kitchen utensils.
The company's chronology of its adventures in retailing in North Carolina is revealing. It did not build stores outside of the major cities– Charlotte, Durham, Goldsboro, Raleigh, etc, — until the 1980s! Meanwhile, some bright people in the truly small town of Wilkesboro had started their own enterprise, now known as Lowes.
Market Caps today (according to Google Finance):
SHLD - 6.83B LOW - 29.98B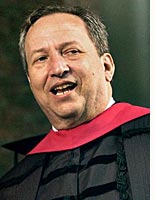 Read this: the idiocy of Larry Summers.
The central irony of financial crisis is that while it is caused by too much confidence, too much borrowing and lending and too much spending, it can only be resolved with more confidence, more borrowing and lending, and more spending.
"Suddenly Soros"
[to the tune of Suddenly Seymour]
Lift up your bond
You know that I cara
Here, mark my message
Wipe that market away
Show me your book
Dirty black longing
I know things were bad
But now we are straight
Suddenly Soros
I'm standing astride you
You don't need no longshot
Don't have to report
Suddenly Soros
Is here to provide you
True liquid funding
Soros' is your friend
(AUDREY)
Nobody ever
Treated EU kindly
FEDdy left early
BUBA is sore
I'd meet any flexer and
I'd follow him blindly
He'd write his swaps
And I'd say "More"
Suddenly Soros
Is standin' behind me
He took down the orders
He won't transcend
Suddenly Soros
Is here with a warning
Spoos under performing
Soros' my friend
(SOROS )
Tell me this predation lasts till forever
Tell me your good times are clean washed away
(AUDREY))
Please understand that its still
damn enlightnin'
For losers like I've been
It's so great to say
Suddenly Soros
(SOROS )
Suddenly Soros
He trustified me
He securitized you
(AUDREY )
Suddenly Soros showed me the plan
(SOROS)
Suddenly Soros sold into your plan
(BOTH)
Earn now and be poor
That bad trade's inside me (you)
With spoos underperforming
How is a 50% Mark Down on the Par/Redemption Value of a Bond NOT a Default?
[Ed.: for background information see for example Greece Default CDS Failure to Trigger ].
Stefan Jovanovich continues:
"You don't need everyone buying CDS to expect it to pay out, you just need a buyer of last resort who'll make it pay out. You don't need tons of short sellers to root out fraud, but you do need to allow short selling so that one or two clever and capitalized short sellers can bet against the frauds. You don't need all the buyers to think the price is right, just the marginal buyer. Greek CDS "works" only in the limit case, only for a non-bank investor who's willing to be a jerk and run a certain amount of politico-PR risk. But that doesn't mean it mostly doesn't work. It means it entirely works."
From a post by Matt Levine.
At the risk of being the jerk who still doesn't get it, the tape is not the world. The short sellers win because there is, in fact, a fraud - Baldwin-United, Enron, etc. really do not have the money or assets that can produce future profits even though their books say they do. Even without short-selling the fraud would ultimately produce the lovely worthless securities losses that can be deducted against ordinary income. The tape would catch up with the world.
With CDS for sovereign debts it seems that "the world" is what the financial authorities define it to be, not the reality of Greece's solvency. I can understand that people will continue to trade CDS because there is, in fact, a market for them; what I do not understand is why anyone believes "the market" in this case has any reality other than a virtual one.
Gary Rogan comments:
Stefan, there is a real reality that
(a) by itself Greece can't pay off it's debt
(b) there are all kinds of people that want to do something to improve it's ability to pay it off.
In this sense Greece is not Enron and the reality is not virtual. There is this strange technical point of what happens to the CDS's if "everybody" voluntarily accepts a 50% haircut, but even the resolution of this point is real, not virtual, so if you buy both the debt and the CDS's something real will happen if you hold the debt to maturity.
Stefan Jovanovich responds:
There are two problems with this scenario:
(1) everybody will not voluntarily accept the haircut in the CDS market; somebody will want to collect in full from a counter-party because the sovereign debt that is being swapped has done a half-default.
(2) Greece's sovereignty does not guarantee its solvency -someone holding even the new debt to maturity may find themselves receiving less than par. That is the contingency that the hedging instruments were supposed to protect the buyers against.
Gary Rogan writes:
True, but none of this is virtual any more than the currency in circulation is virtual, which is what you seemingly claimed/asked. There is posturing going on, and I'm sure fraud depending on how you look at it, but there is real money involved and those with the best information, and to a lesser degree instincts, are making real money. Can you imagine what a smart European flexion getting the information in real time can do? Sooner or later we are talking about real money.
Stefan Jovanovich writes:
Some of us are old enough to remember the collapse of the commercial paper market around the failure of the Penn-Central. Perhaps the Z-Man and the others who are out there making money while us Social Security recipients are busy typing can answer these really naive questions: how long did it take for the non-financial commercial paper market to revive and did it, in fact, revive? I have no doubt that there is real money involved; there was real money involved in the commercial paper market and then…. it was all gone. Currency is virtual but it has legally-enforceable exchange value.
My naïve question was - and is-what is the legally-enforceable exchange value of a credit default swap if "credit default" never, ever happens. If the insurance company can rewrite the policies, with blessing of the insurance commissioner, the buyers for that insurance may decide to go elsewhere for their risk management. I know there is supposed to be a chair for everyone in the room except the last guy; but the history of markets is that some people stop betting on finding a seat while the music is still playing and "everyone" knows the game will go on forever.
Gary Rogan says:

Does it really matter to anyone not playing if sovereign Credit Default Swaps disappear from the face of the earth? It's an iffy concept in the case of US treasuries anyway. Who will be there to pay if off in the world where the US defaults? It's not like you won't be able to buy earthquake insurance in the East Bay, so put your mind at ease Stefan.
Stefan Jovanovich continues:
I never know when Gary is teasing. Earthquake insurance is no longer offered in California by private insurers because the insurance commissioner allowed homeowners to collect on damages from earth movement - which is a chronic problem in coastal California - even though that risk was specifically excluded from the coverage. As a result you must now buy your insurance from the State of California which, of course, people decline to do - given this sovereign's solvency. As to why it matters, the disappearance of what has been the primary tool for risk hedging may have effects as large as those that came seizing up of the commercial paper market. We owe those once in a generation bargains in 1974 as much to the inability of firms to borrow short-term as we do to Watergate and oil price surge - perhaps more.
Ken Drees comments:
What is the percentage of uninsured homes and businesses in the earthquake probability zones? (guestamate is ok)
I find it ironic that the overdue earthquake area people are living by the dice roll.
Stefan Jovanovich responds:
According to the Insurance Information Network of California, fewer than 12% of the state's home owners had earthquake insurance last year, and fewer than 10% of businesses had the coverage.
I don't see the irony. Some risks are not worth the cost of insuring. This is one of them.
Russell Sears comments:
Perhaps I too am naive, but I thought this was obvious: If the messenger will not agree with the rues, extend and pretend, then they must be shot. Currency CDS /hedging /insurance contract was sacrificed for the sake of the Euro.
While there may be some value in the litigation options, currency CDS's going forward are a dead market are they not? Just like structured securities, if you cannot trust the contracts for being truthful, (in a practical everyday sense of the word, not legal twist) then they are dead.
Are we willing to live with liquidity of MBS and currencies being at the mercy of those sovereigns that still have some semblance of confidence in them? Can these sovereigns keep these bottomless guarantees "off-balance sheet" without it cracking them? The market seems to be saying for now, "yes".
The stock market today [Thursday 2011/10/06] is gunning it into the close ahead of a good jobs number tomorrow?
James Lackey responds:
I dunno Mr Ken, and I don't care about such things. The number will be produced by the random news generator at best or rigged by The Man at worst… but it's not a meal for a lifetime… Please do not send such comments! Thank you.
Anatoly Veltman writes:
Lack, this is not about the number. It's about expectation, based on market moves ahead of the number. The lesson to me is calendar-based trading - where money is made because the number is scheduled. Not because you know the number. Is there lesson in that?
Rocky Humbert issues a challenge:
You guys want a meal for a lifetime? How about this meal for the day:
Here are the most likely NFP numbers:
A) between -100k and -50k
B) between -50k and 0
C) between 0 and +50k
D) between 50k and 100k
The person who best assigns a 4pm SPX closing price to each of these 4 choices — and gets the answer right within 10 spx points — will receive a dinner voucher for 2 at my favorite restaurant. (That is, an acceptable submission would look like A=1102, B=1120, C=1160, D=1190.)
The purpose of this challenge is to demonstrate that EVEN IF you knew the NFP, you still won't be able to accurately predict the market's reaction (unless it's a complete outlier).
The judge's decision is final.
Sushil Kedia responds:
Without any intent to contest the judges decision, my two humble cents:
A reflexivist, who often is a winner in the markets, may need to put up an answer most of the time, as E = 1155, irrespective of where the NFP numbers come.
If the judge so wishes that it may be proper for a complete illustration on the futility of information being beyond markets, may consider providing such a fifth choice. Up to the judge.
The unemployment number is released at 8:30am Eastern Time on Friday. Rocky Humbert responds:
Mr. Collins: One notes that the NFP headline number was 103k — which was above the choice D range (+50k to +100k). The judges are conferring as to whether this constitutes a scratch. They will announce their decision forthwith.
Nonetheless, and for good order, here were the entries in the contest:
Anatoly: SP will drop 90 points
Jonathan Bower: 1125 1125 1125 1125
Mr. Rogan: 1130 1140 1150 1170
Tim Collins: 1099.22 1119.66 1131.24 1149.86
Sushil Kedia: An "unlawful entry" of 1155 in all cases. (Because of his "unlawful entry," from this day forward, Sushil shall be known as Mister Meanor.).
Alex Forshaw: 1155 - 25= 1130; 1155 - 35= 1120 ; 1155 - 45 = 1110; 1155- 55 = 1100
Rocky Humbert writes further:
I am penning this at 3:43pm — and due to the impending holiday, I need to leave early and hence will not know the final challenge result for about 30 hours. The point of this challenge was to convincingly demonstrate that EVEN IF one knows a macro data point in advance, it's frequently impossible to know Mr. Market's reaction. The signal-to-noise ratio is simply too low. Whether or not my primary point is accepted, (as of this moment) it looks like I've also convincingly demonstrated an equally important truth: "Even a blind squirrel finds a nut." (Or more accurately, it looks like Mr. Rogan has won the challenge.) But I cannot depart for my day of atonement on that note. Tomorrow (Yom Kippur) ends the Ten Days of Repentance (Aseret Y'mai Teshuvah).
It is a requirement that during this period, one must make amends to those whom we may have hurt in the past; and to ask for and to grant forgiveness to those who ask for it. It is not sufficient to ask God for his forgiveness. One must ask for the forgiveness from one's fellow man. Mindful of the fact that I've dished out some harsh words over the past year to some of you — and I apologize for that — and I hope that you forgive me. It's especially poignant that Mr. Rogan appears to be the winner of the challenge, as he has been the target of some of my more vituperative slings — I apologize to you Mr. Rogan — and I'll try to do better in the year, 5772.
Gary Rogan responds:
Hey Rocky, it appears that I may not have won after all, but I appreciate your apology although no offense had been taken. You made me realize how important it is to take the Prozac regularly instead of at random intervals and varying amounts so it's all good. Happy atonement!
Rocky Humbert responds:
I have re-emerged from atonement and post-atonement eating to find an envelope with the judge's FINAL decision. The winner is: Mr. Tim Collins who was within 6 points. The biggest loser is Sushil (aka Mister Meanor), who almost perfectly nailed the closing price, but because he was more interested in sounding smart than being right, he is guilty of a misdemeanor charge of "unlawful entry" s and walks away empty-handed. There is a meal for a lifetime here too. If Mr. Tim will mail me his US Mail address (off-site), his dinner voucher for 2 at my favorite restaurant will be posted forthwith. Thank you to all for participating and demonstrating many useful points.
T@leb: " We haven't done anything constructive in three and a half years. " (Source: Bloomberg )
Especially advising everyone on the planet to short bonds a year and a half ago (plus or minus the square root of infinity)


Ken Drees comments:
Which reminds me is there a practice or routine that traders go through to look back on past sectors or trade ideas that stopped producing? So this short bonds was a bust but maybe now is the time? A case for me is the uranium stock group which was coasting along rather well but the sector got destroyed by the March Japan earthquake–now some six months later I see them still making 52 week lows as of yesterday. In the past I would get tired of waiting and the idea gets put into the cold case files dept –now I seem to check things more often–and that seems to be useful.
I've been reading the short book Speculation as a Fine Art and Thoughts on Life by Dickson Watts and it's making me think about pliability, the ability to change an opinion, and the power of revision. "He who observes," says Emerson, "and observes again is always formidable". (this reminds me of the chair, always observing, testing, measuring).
Never "double up", that is, never completely and at once reverse a position. When you're long, for example, do not sell out and go as much short. It may succeed occasionally but it's hazardous. Because if the market reverses and one then flips back to long and this change is then wrong, complete demoralization ensues. This is timely as our markets are reversing wildly these days. It's interesting to note that it takes a trader 3 positions for mental destruction to take hold–long/short/long and that turns wrong, and it's over mentally. Average down works 80% of the time to get you back to even –20% of the time it will bust you bad though. This is the common strategy and should be avoided.
Averaging up, does not work 4 out of 5 times, with a 20% chance of a huge gain and should be employed. The key is to cut the trade when the market comes back to your average line– do not let the market line turn to a loss, 20% of the time you will encounter a large gain from a runaway up market. To me this is like fishing. You know that you may have to try a few different times before hooking a big one. If you mentally follow the program and cut before the market breaks below your average then you can mentally frame this as a process and not failure though.
Run quickly or not at all.
Hold or close part of the interest.
Finally, some words of wisdom/thoughts on life:
Break antagonism with a joke. Recognize a fault but don't dwell on it. In youth a man forges his chains that bind him in old age. All see; few observe, fewer still compare. People forget in the rush, remember in the hush. In his secret heart, every man thinks the universe is too harsh on him. Genius consists of seeing instantly the vital point. At twenty, and again at sixty a man thinks he knows it all. Patience is sustained courage. Wisdom is seeing many things and concentrating on one thing. Old young men are invariably wicked; young old men, universally good. It is always the "unlucky man" who believes in luck. (didn't someone recently exclaim that the economy ran into some bad luck?) Beware of the "unfortunate man"; flee from the enthusiastic man. Some men are so mellow that they are rotten. A tiresome man— a man with a theory. Against flattery women are on guard. Men can be flattered into doing almost anything. All men travel in circles. A few increase the diameter of the circle —–( a shout out to the good men and women of the list!)
I am sitting here thinking about how when there is an attractive massage therapist at a poignant family occasion, she will invariably say to the chief poignancy, "I have a very special session for you so let us make an appointment". Or when you get the other something very especially nice and the other says, "You deserve a great reward for this. I'll be looking forward to seeing you tonight," I can just hear the market mistress saying to one of her guests yesterday: "Well, thanks much for coming today. I am going to dig into my bag of tricks and come up with something very special today. First, I am going to go up, up, and up, for the third day in a row. And then—ha. Just when all the weak shorts who were so steadfast that things were going to the dogs last week have given up—- then I'm going to take it down a fast 2 % and kill everyone sort of like I did last Thursday when I took it down 3% in the last half hour. And the beautiful fun part of it is that I'm going to wait until the last possible minute or two like 3:20 to do it. Abandon all hope, ye who dare to doubt me".
Vince Fulco writes:
I like to call these "something for everyone days". The strength and conviction of the n-day move trend players disappears like flash paper.
Ken Drees adds:
And it did the trick just well enough below 121 SPY downtrend line to beat the profit takers and upturn the new shorters who were waiting to deploy at that level–so the technicians were thrown to the ground as well.
Well done–finishing the day in no man's land, mid range, everyone edgy.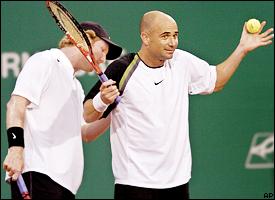 It's very hard to throw a tennis game. And when the two daughters played against each other in Wimbledon everyone who knew the game had a strange feeling that something might be amiss. Agassi describes how hard it is to throw a game, and how he threw a game against Courier so he wouldn't have to lose fairly to Chang. The public can usually see through these things. I believe the self serving ballet between the Pres and the Sage will come back to haunt them as it has the imprimatur, the badges and emblems, as they say, of wrong doing and duplicity.
Anatoly Veltman writes:
Reminded me of a checker game I was ordered to throw in 1976. I was 15 and up and coming. My opponent held the most international titles in history. He was Iser Kuperman, in his 50's and a Soviet flexion in his own time. I was called into the mayor's office, and the Head Sports official showed me 800 roubles ($1000 US), which "was paid" by the flexion. Underage, I was told that the money will be held in trust for me, and ceremoniously placed into a safe. I scratched my head and went into the tournament hall to play the grand-maestro.
After about 4 hours, the crowd of on-lookers thinned out and I made a series of suicidal moves, allowing him an instant win. He missed; and then it dawned on me that I, in fact, will never see the money. So I proceeded with uncharacteristic insightful for me end-game and won on clock at the end of the sixth hour… The resulting wrath pushed my family back a number of years in queue for the new government-sponsored flat!
Reflecting on that game, I would have never bested the maestro, if he were not assured by the officials that I "was in his pocket". Which brings forth a suspicion that it may be easier to throw the game than be on the receiving end!!
Ken Drees writes:
This is interesting to me since the weight of "cheating" must have been on your opponent's mind moreso than yours in that he missed the easy gift. After deducing the double cross you then played unorthodoxly and he blew it on time since it wasn't supposed to be so difficult and that must have had him flummoxed. I believe that inside knowledge or cheating is a burden like a drug that slows you down–you may win a few but you are losing your mental edge piece by piece.
Like a liar has to remember all his lies, and all the wasted effort and inventory management takes away from other worthy actions. The truth needs no such constructs.
The market lately looks like a lie, built up on shaky constructs, hokey relief rallies, and endless promises of further easing support lifts.
Canada, Mexico, S. Korea, USA, UK all have chart patterns that have held the August 11th lows and have zig-zagged sideways to up.
Many more "weaker" countries have broken those lows and are rallying, from lower levels: Italy, Belgium, Switzerland, Malaysia, Netherlands, Austria , Spain, France, Singapore, Taiwan. I am referring to etfs like ewi, ewk, ewl etc.
So it's west vs the rest. So the question is–are the western lows going to hold and do western markets lead up or do they follow them down into another leg of bear? Is the Euro fix baked into the markets or not? QE seems a given, a Greek default is a given, a two tiered Euro is the only real answer, gold going to new higher highs is a given, then do all markets follow up after a shriek down on crocodile tears bad news (Greek out) ???
I mean everyone knows it's bad bad bad bad….
Jordan Low comments:
Could Nikkei vs SPX in 1990 be a guide? Both fell until Sept 1990, and rallied from Sept 1990 - Mar 1991. Thereafter, decoupling occurred.
Imagine the pressure.
The first earning report under his watch should be just as normal and clearly beating estimates if possible — can you imagine the market reaction to anything less?
He must be living in the mindset of "don't mess anything up" — keeping it PG of course. The quarter after should be Christmas sales blowout — and once again, "don't mess up, just keep with the program". Stay in the background as much as possible, don't do anything stupid. etc.
For those who trade frequently throughout the day — if your late day buy and sell choices tend to prove less profitable, there may be a good reason…. check out this article "Do You Suffer From Decision Making Fatigue?"
No matter how rational and high-minded you try to be, you can't make decision after decision without paying a biological price. It's different from ordinary physical fatigue — you're not consciously aware of being tired — but you're low on mental energy.
Willpower turned out to be more than a folk concept or a metaphor. It really was a form of mental energy that could be exhausted. The experiments confirmed the 19th-century notion of willpower being like a muscle that was fatigued with use, a force that could be conserved by avoiding temptation….Part of the resistance against making decisions comes from our fear of giving up options.
Ken Drees writes:
I attended a mental toughness seminar once from a sports psychologist/ business executive improvement guru. At the end of the seminar when we were worn down he talked about diet and how levels of glucose dropped during the day, etc. Thats when he pulled out his product line of carb tabs — little wafers that would boost your levels without a lot of calories — needless to say we got some free samples and the order form was passed around and there was psychology 101 all over the room as no one wanted to not buy for fear of being a loner, and those that were worn down said what the heck, lets give it a try. You had your excited female buyers as the whip for the tired guys to give it a try, what can you lose — come on be mentally tough and make a decision to change your life. So that is what is in those cardboard boxes at the back of the room — carbo tabs. This was before Adkins so there was no anti-carb thinking back then.
A snippet from the article:
The benefits of glucose were unmistakable in the study of the Israeli parole board. In midmorning, usually a little before 10:30, the parole board would take a break, and the judges would be served a sandwich and a piece of fruit. The prisoners who appeared just before the break had only about a 20 percent chance of getting parole, but the ones appearing right after had around a 65 percent chance. The odds dropped again as the morning wore on, and prisoners really didn't want to appear just before lunch: the chance of getting parole at that time was only 10 percent. After lunch it soared up to 60 percent, but only briefly. Remember that Jewish Israeli prisoner who appeared at 3:10 p.m. and was denied parole from his sentence for assault? He had the misfortune of being the sixth case heard after lunch. But another Jewish Israeli prisoner serving the same sentence for the same crime was lucky enough to appear at 1:27 p.m., the first case after lunch, and he was rewarded with parole. It must have seemed to him like a fine example of the justice system at work, but it probably had more to do with the judge's glucose levels.
Yesterday, the sage deal was supposed to anchor the financials but they got sold off; today the market found legs from the "tech" sector of all places with money going into the goog and apple.
Will it work or will it reverse off like the bac stuff?
Victor Niederhoffer writes:
One is reminded of the classic reaction to assassinations and crashes. First a terrible decline, and then starting the day after, a rise to on average where the decline started from with much variability.
Gary Rogan writes:
It's pointless to anthropomorphize the market, but still enjoy imagining this reaction: "No QE3? How horrible, we can't have that, off with their stocks! Wait, come again? No QE3? Hm…could it be GOOD? Yeah!!!"
Victor Niederhoffer replies:
A hypothesis was rejected. The market can not go up unless we get qe3. + all the Gavekal boys and other smart analysts who correctly figured he wouldn't dare to challenge the Texan had a minute to cover at 1133 ish but then when they realized that the market is rational and does not respond to cardinal events but to meals for a lifetime, they had to cover in avalanchian fashion. + the threat is always better than the execution. Now, he can hold out the possibility of "maybe" I will. From Annie.
Gary Rogan writes:
And yet the immediate "mainstream" analysis I saw from Reuters was "when parsing the speech the market was disappointed to see no QE3 but when it realized there is no concern for inflation and thus no outright rejection of QE3 it went up on the possibility", which just goes to show for the umpteenth time people see what they want to see in anything even mildly complicated. That's why the same facts lead to different conclusion about say Global Warming depending on one's disposition.
Can a theme be casually constructed from the tragedy of HP (going out on a limb with a questionable plan) and the slow bleed of RIMM (no real plan) that elder tech stocks with low PEs, and hoards of cash be actually quite dangerous to invest in due to their honey dripping "value-ness" that traps a spec with its stickyness?
I would like to learn something here about these situations as a takeaway–to get something of an education about this sector that rewards high PE and high growth but treats its elderly companies with hostility via market and opinion beatdowns.
All that money flooding into that NY bank so they charge you for parking it there — boy, did we all miss that one, what a tip-off in retrospect to the S&P downgrade, connected money dumping bonds and parking cash to avoid Monday morning.
When I read this article I instantly thought about price and if it was going against me (looming) in a trade or if it was going in a profitable direction (receding). Time passage does seem different under the two conditions and thus my mindset and behavior must be different.
In fact, some investigators have suggested that the amount of energy spent during thinking and experiencing defines the subjective experience of duration. In other words, the more energy it takes to process a stimulus the longer it appears as a subjective experience of time. Something moving toward you has more relevance than the same stimulus moving away from you: You may need to prepare somehow; time seems to move more slowly.
Jeff Watson writes:
One of the best things in surfing is when the wave is breaking hollow and you can get inside and surf completely covered up by the wave in all directions except in front of you. This is called, among other things, "Getting Tubed," and although it's a very short experience, it's one of the most exhilarating things in surfing.
Surfing legend, philosopher, and master, Gerry Lopez , one of the best tube riders of all time, once observed that "Time expands inside the tube." He's right, as the typical time spent riding inside the tube is a couple of seconds, but to the rider it feels much, much longer. Here's a short video that captures 1/100th of what it's like inside the tube of decent waves.
There are other, holistic benefits to one's health gained by regularly riding tubes, but the benefits cannot well be described on paper as they are of a more metaphysical nature.
Monday morning serious scare tactic. Tuesday afternoon O reaches out, market slings higher on political hope as gold gets old and tired at the round. AAPL blows out earnings to take the market into the next electron orbit tomorrow. Now that is power that comes from a crouched position. What a day for a public hearing and a foamy pie in the face– best market up day all year!
Have the dept of treasury's statements ever not been a theatrical farce?
Ken Drees writes:
I was taken in by the hushed tones of interviewer, Steve "lies" man, the dimmed lights, the Maria Bart dusky set, and the hunching closeness between the two — I thought it was a soap opera. I thought either a kiss was coming or an unannounced visitor was going to enter stage right.
I mean if Obama doesn't get his tax hikes we are gonna get it — screw the seniors, scare the markets with a down day after the t secretary gets in your face on fin tv (lesson here), and all the other drama that this market is trading about. I mean monday morning theatre!!!!!!!
Is this the norm? Maybe this is not a meal for a lifetime –but it's surely market popcorn.
I never look at the news, but I usually can tell what the news is from the market moves, and I would guess at 7 pm, S&P issued their catch up warning on rating change, and yes, I would guess that those selling at 3:55 pm bringing the market to 1301.5 knew that the S&P would join. But they were temporarily discommed by the Google announcement but then baled out by the 7 pm announcement, and then people thought that the first announcement by Moodies did not make the market open down, so maybe like the last announcement that dropped the market to 1301 this one will not have a staying influence, and then the problem is that the options expiration is tomorrow and the "market makers" usually have positions bearish when the market has been going down and 1300 is a target. How to play it? What evil lies in the hearts of men. Only the Shadow knows.
Ken Drees writes:
Skulduggery indeed. That darn Google is messing up my arrangements. Tessio, the underboss who brokered the meeting with Barzini.
Alston Mabry writes:
This sounds like revolution to me. Bond vigilantes riding through the night, striking fear into the hearts of the king's men.
Kim Zussman adds:
"why Moody's or S&P or Fitch or anyone else's rating on US Government debt should have had, or continue to have, any obvious and/or immediate effect on the S&P500 price"
Perhaps in part a conservation process: a back-and-forth conversion of equity capital to political capital. Markets regained much of 08-09 losses in great measure due to government interventions, creating a debt for the beneficiaries. Payment by the class that owns stocks can take the form of higher taxes or lower asset values, in either case accruing to the creditors.

A new phase of the European crisis started with the attack to Spain and Italy in particular. It was launched by rating agencies and supported by strong forces. Some hope it may find self sustaining strength. This side of investors or speculators or financial armies are close to those who have an interest to profit from a crisis of the euro and/or of Europe in general not only financially but also from a geopolitical standpoint. The beginning of this phase was carefully orchestrated. It may support the dollar and the perception of the American system as a safe haven in a critical moment for the US and the Wall Street establishment. Mors tua vita mea. And actually it is Europe and the Pigs that are the weak part of a declining western 'system'. In a balance based on relative strength and weakness who goes down first could matter. With the huge outstanding debt, it's hard for these countries to defend themselves.
Ken Drees writes:
In a Bacon type fashion instead of one at a time like Ireland, and then Greece last year, we now have the two largest countries hit at once.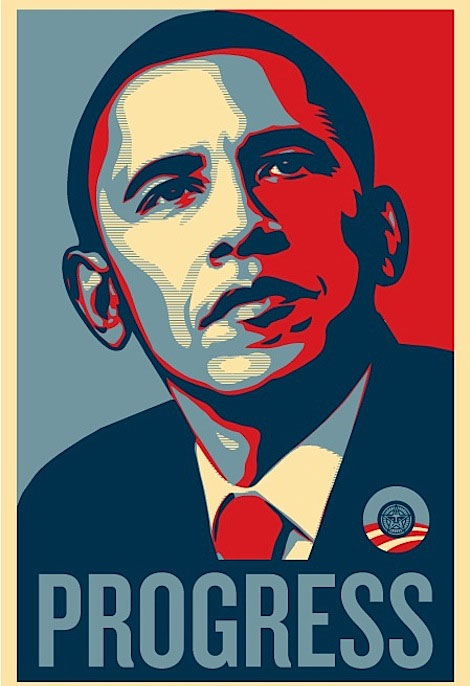 Is it perhaps an indication of the media's solicitude for the current President that every poor economic report is termed "unexpected"?
While poor economic results under the prior President were somehow not so surprising since he was such an incompetent boob?
Kim Zussman adds:
As with many time series this month was similar to the prior month, which was different from the month before.
Victor Niederhoffer adds:
All are part of the regression fallacy.
Ken Drees writes:
So now we wander into "needed and now expected qe3" type thinking and should not the market go up due to this stimulus?
Sam Marx adds:
Three Thoughts on the Reported Unemployment Rate.
1) The Unemployment Rate is probably higher than the government reported.
2) Compared to the Reagan Recovery this Administration's economic plan is a failure
3) With Socialistic Policies you have high employment rates and I don't see much hope for great improvement.
George Zachar writes:
As luck would have it, Bernanke delivers one of his regular reports to Congress next week.
No doubt, this report will put that question high up on the agenda, and he'll be spending the weekend formulating his response.

There are several reasons that cynics are on the rise in my opinion.
1. People assume the cynic is the expert. The cynic has an aura of authority.
2. Cynicism is masked as realism.
3. People assume the cynic is a healthy skeptic. On first encounter these two are hard to distinguish.
4. The cynic guards against disappointment.
5. The cynic creates an "us" against "them" world. "We won't be fooled again" by "them".
6. It is easier to find a problem than create a solution or even understand how complex creativity works.
7. It is easy to ignore the positive. Hard to ignore the negative.
8. People assume their bias is only one sided: When they like something too much. People recognize their biases when there is favoritism but justify their biases when there is disdain or prejudice. The cynic reinforces that their biases are the only morally defensible ones.
9. The cynic has many times when he is proven wrong, but it is often hard to pinpoint the opportunity cost to that cynicism (for ex. the profit he missed by staying out). However, when he is proven right, it is very easy to see how much he has saved.
10. The belief that Type II errors or believing falsely in a person are much more damaging than Type I errors or not giving a good person a chance. Despite the time it takes for a person to prove she is proficient and the moment it takes to lose trust-worthiness.
11. The cynic is elevated as "your own man" by the media and politically. Thus becoming the "go to person" when they want something said or done. This creates all sort of side agreements and quid quo pro understandings. Every TV program needs the phone numbers of a few favorite cynics.
12. Ironically, the person most likely to publicly be called down for their cynical tendencies is the person that is cynical towards the celebrated cynic.
Con-artists understand deeply the appeal of cynicism and use it against their prey.
The cynic is the ultimate champion for the status quo. The cynic can define people by their weaknesses not their strengths. Since everybody has weaknesses, they can dictate who is important by defining who is not important. Old man's disease is giving in to the appeal of cynicism.
Rocky Humbert writes:
"A cynic is a man who, when he smells flowers, looks around for a coffin."
H. L. Mencken
In the spirit of not being a cynic, I note today's news story reporting that volunteers in Japan are being asked to grow sunflowers to produce seeds … so even more sunflowers can be grown in areas contaminated by radioactivity from the Fukushima disaster. The proponents say sunflowers can efficiently absorb radioactivity from the soil in a process known as phytoremediation. Here's the news story.
The skeptic (as opposed to cynic) in me thought that this sounds like an example of "green" people confusing Flower Power with nuclear physics. But a little bit of research reveals a bit of "sunny" science for the weekend. There is REAL science here! Sunflowers (and certain other plants) CAN decontaminate radioactive soil faster and cheaper than many other approaches. Chernobyl was a large-scale proof of concept. Here are 2 of academic papers on the subject:"Screening of plant species for comparative uptake abilities of radioactive Co, Rb, Sr and Cs from Soil,"Gouthu et al ; Journal of Radioanalytical & Nuclear Chemistry" and "Uranium Absorption Ability of Sunflower, Veiver and Puple Guinea Grass," Roongtanakiat et al (2010)
SO THE MORAL OF THE STORY IS: "A cynic is a man who, when he smells flowers, looks around for radioactive contamination."
Pitt T. Maner III comments:
The phytoremediation and bioremediation fields have bloomed to aid companies tasked with difficult cleanups. Even earthworms can be useful with certain contaminants (PCBs).
Larger trees also can be used to influence the flow of impacted groundwater so that contaminants do not move offsite—effectively they act as small pumps (think of all the Florida maleleucas used to drain wetlands, now designated as "noxious weeds"). Trees can help with the treatment process through the uptake and concentration of contaminants or the breakdown of contaminants in the bacteriologically-rich portions of the root system .
The economics can be interesting and one can only imagine what they are in the Japanese case and how they affect current land values. Those with an understanding of the actual risks involved and the ability to cost effectively clean properties have in certain instances done well:
"Acquisition, adaptive re-use, and disposal of a brownfield site requires advanced and specialized appraisal analysis techniques. For example, the highest and best use of the brownfield site may be affected by the contamination, both pre- and post-remediation. Additionally, the value should take into account residual stigma and potential for third-party liability. Normal appraisal techniques frequently fail, and appraisers must rely on more advanced techniques, such as contingent valuation, case studies, or statistical analyses.[11] Nonetheless, a University of Delaware study has suggested a 17.5:1 return on dollars invested on brownfield redevelopment.[12]"
Kevin Depew writes:
Why do you believe cynicism is on the rise? In my opinion, the < 35 generation doesn't really understand it or ignores it. I don't have access to it now, but I saw some large scale polling data on Friday that was remarkable in the cross section spreads between < 35 and those over, especially > 65. The gist, based on this polling data, is that if one is > 65, one is likely to find the country going to hell, the economy going to hell, that politicians are evil and stupid and that all bankers and finance people are crooks by a wide, wide margin over younger subset. If interested I'll forward data when I get back in office Monday. I was looking at it in the first place because there is a wide divergence between consumer comfort and confidence data vs market that is outside of 25 year norms and was just curious about the asymmetry in both economy and the polling data.
Victor Niederhoffer writes:
Artie wrote a book on cynicism in the police force that attributed cynicism as a variant of the authoritarian personality. He believed that police became cynical because they saw so much evil that their own persona looked relatively good compared to all the evil, and their cynicism and corruption was a natural outgrowth of the impossibilities of fulfilling all the requirements of an all too demanding job with conflicting goals. I believe we become cynical on the list because we see such ephemeral behavior by the public and funds, and such inside maneuvering by the cronies and flexions. It's hard to maintain a proper chivalrous attitude when confronted by these things day after day.
Jeff Watson adds:
But that cynicism, if allowed to fester, will have profound effects on one's trading. I've seen it happen too many times to people and they end up losing their edge.
Ken Drees writes:
Cynicism towards markets and politicians is healthy, but toward general mankind or society, probably not so well placed since hope and belief in goodness of the total gives one an overall positive tendency towards world view but also a well placed skepticism at certain segments.
The idea of erosion is interesting where the rigors of the job or the constant focus on conflicting outcomes that collide with the overarching worldview wear down the person's belief in good. One thought along these lines that I have is that by the end of one's life you are so distilled down in terms of your true character that its impossible to change. You are either that positive and generally nice old person, or a frown wearing old crank; the thoughtful scientist who never stops learning, or a worn out 24/7 TV watcher.
Russ Sears adds:
I believe it also has to do with the narrow vision we have of public versus personal life of the cynic. We do not see that like a partying narcotic addict, the soul has been sold for a very narrow gain. The personal life is full of turmoil and eventually rots the productivity out of the person. Think about the cynicism required of the steroid user or EPO user for example.
I believe that many companies demise starts when a new "C" position arrives within it- the Chief Cynic. If not confronted as Artie did, often this position is allowed to become an all consuming cultural force.
Vincent Andres adds:
"the cheaper money tends to drive out the dearer"
(the money of lower value drives out the money of higher value)
–Nicolas Oresme
(« la mauvaise monnaie chasse la bonne » )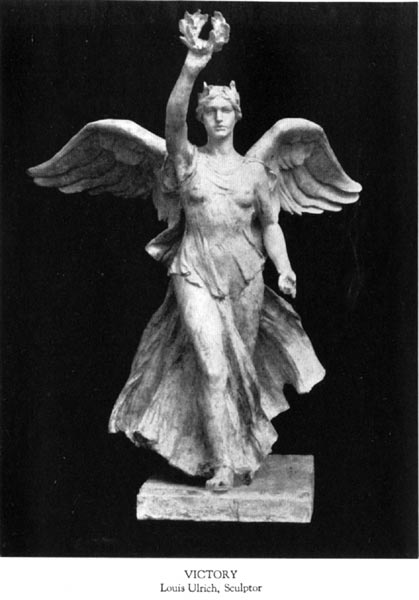 As specs we snicker at the lottery player, he is a sucker. We smile when we hear how the crowd is routing for the hometown favorite when we know odds favor the other side. We hopefully carry out the canes when the crowd is tossing down the tickets in disgust, we sniff for value when there is no value there–so says the financial press.
But what is our own attachment to this concept–catching a falling knife, holding a loser, getting involved in some fiasco stock since the market is beginning to bore, riding a coattail that turns into a skid, throwing in "just this once"? Why do we fail to follow our own good sense from time to time?
There must be a thrill or an ego impulse underneath this temptation to turn from the path and into the wind of long odds–"cause we can handle it".
Victor Niederhoffer writes:
Our own attachment should be based on quasi scientific study., not riding a coattail.
Ken Drees writes:
True, but do we fasten our own rickety reasons from study based on the past which has no real reason to work in the future other than past frequency, tendency and relationship, and thus delude ourselves into thinking that our proof more than compensates for the new speculation? And if finding tendency and causality can be negated by the speculative theme of ever-changing cycles, and also trumped by the unknowns –how do we believe this and thus risk capitol?
I think that the chair has outlined many great themes in speculation, almost like laws:
1. Methods must be tested in order to find relationships of validation.
2. The laws of ever changing cycles are present in the market at critical-mass moments.
3. There is a high degree of relationship between markets and natural systems. What can be said of the "unknown"? What is this speculative doomer, the whispy apparition above the pond at days end? What law can be attributed to this unknown force that seemingly has uncanny timing?
Ralph Vince writes:
Ken,
I think it's simpler than that.
-The past gives us a proxy for the distribution of what can happen.
-We can amend that distribution of what can happen based on how we foresee the future diverging from the past
-That very distribution can now be used to determine how aggressive we might want to be withing a given risk (drawdown) constraint.
-If we don't exceed that drawdown constraint, and our distribution is reasonable of the future, the profits accrue.
Gibbons Burke writes:
I wrote this in a previous thread about the difference between speculators and gamblers, and I think it holds true: "Gamblers are willing losers who occasionally win; speculators are willing winners who occasionally lose."
At bottom, and at one time or another, most of us are gamblers. It takes a very disciplined, brilliant, and perhaps unrealistic person to only play games where the odds are in our favor. The reasons many engage in knowingly losing propositions are greater than the stars in the night sky in rural flyover territories. Entertainment and division rank high among them, sociability, peer pressure, guilt about the money they are risking (unconsciously disposing of it), fear of success, self-disgust, compulsive addiction to the stimulus-response loop, adrenalin junkie.
But all these are all proxies for the thing everyone is really seeking, usually unconsciously: a desire to be in union with the godhead, the creator, the divine purpose. As St. Augustine wrote in the opening lines of his autobiographical "Confessions": "You made us for thee, Lord, and our hearts will be restless until we rest in thee."
Phil McDonnell writes:
When I ask people why they do not invest in a guaranteed savings account or short term t-bills they usually respond that they are too boring. And they are, or at least used be because they could not lose. Most traders unconsciously seek to lose because it represents action and excitement. While I think the usual arguments that it takes assumption of risk to increase return have validity, at the sub-conscious level the desire is really no more complex than risk seeking for excitement.
Ralph Vince writes:
I agree — this is what frightens me about individuals who are out investing their own money — no kid needs to relive the station wagon as home for awhile as a consequence of Dad's gambling proclivities.
I'm beginning to think institutions are just the individual lambs in the wolves clothing of trading with other's money.And the reason I say this is because, again, not only can they not articulate their criteria for being involved in this, most criteria involve the ultimate metric of "what is the probability of getting smacked x% in the coming y period(s)."
And I don't see ANY of them operating that way. Rather, their risk metrics are ones that don't really tell them anything, analgesic salves that do not stave off the infection.
Russ Sears writes:
Personally, my record shows that I am more often guilty of trying to catch the falling knife on an individual stock and on an option trade, than I am on an allocation strateging or long term market timing basis. I believe this is because of two reasons, One reason is I am just to gullible for a single stock, and buy the story the more it goes down the more I am convinced it will pop, often averaging down. I believe most businesses as a whole are running honorable businesses, that is they are trying to do what is best for the long term. However, the exceptions happen and there are frauds/crooks and businesses that have agency problems (businesses run for the executives or employees short term interest) The second is that I am often guilty of believing that the studies timing is much more stable than it actually is. It may be that the market is over sold and will bounce back, this results is the crux of my "edge, but the time period is often part of the ever changing cycle.
I have helped this some by giving myself some boundaries or a do not buy or sell if held rules of:
1. If the market believes the board or leadership is not acting in the stockholders interest, based on key decisions they have made.
2. If there are union grievances making the press.
3. If there are rumors of fraud or accounting problems.On options buying time or gamma seems to work better. And in general I have learned to not do as many option trades as I am not as good at them as I think I am.
These rules are simply my adjustments for my own shortcomings.
Jim Sogi writes:
The heuristic at work here is risk aversion where one would rather face a known small risk with bad odds of a big win, rather than a 51% favored odds with a risk of a large loss. It's very hard to overcome the natural tendencies.
I was reading about the famous double slit experiment and then thinking about the Heisenberg uncertainty principle, the math, and the observer effect. I wonder what types(if any) of market implications could be attributed to the observer effect.
Ken Drees writes:
Interesting. I was contemplating this more than a few weeks ago too, but let it drop. It made me think of Schrodinger's Cat:
Schrödinger's cat is a thought experiment, usually described as a paradox, that Austrian physicist Erwin Schrödinger devised in 1935. It illustrates what he saw as the problem of the Copenhagen interpretation of quantum mechanics applied to everyday objects. The thought experiment presents a cat that might be alive or dead, depending on an earlier random event. In the course of developing this experiment, he coined the term Verschränkung (entanglement).
I was considering how a trade is alive and real only when one puts it on or opens the box and everything else is meaningless– the counting, the theory, the expected outcome– all meaningless unless you commit and then make it real and apart of consciousness, reality, an entity.
Michael Cohn adds:
Schrodinger's kitten's also interesting as a thought experiment across space and time. What I recently learned about the uncertainty principle was that there is a different way to think about it. I always thought about it in terms of how the observer may be creating the uncertainty in measuring both mass and acceleration with the instruments. What I now understand is because of quantum uncertainty these particles actually don't really know exactly where they precisely are at a given point in time beyond a prob distribution so if they don't know where they are I certainly can't help them as much as I would likes to be able to do so…
Jim Sogi comments:
2 closing related issues:
There's the insidious cursor and key watcher viruses.
Another related aspect is the inadvisable practice of putting your cursor over the execute button onscreen and having it execute without having touched the mouse, or accidentally touching the mouse or keyboard at the wrong time triggering the trade. Been there, done that.
There is also the issue of order field depth, which is a form of "disclosed" watching, and other order related manipulation issues perhaps posing, perhaps honest bid, perhaps flow bashing or bandwidth hogging, flashing. Lack surely can speak to many of these techniques he sees in individual stocks.
Russ Sears adds:
If risk is defined as what is not known in the future that if it happens would hurt you, than imagination of what could happen causes you to avoid and prevent that perception.
Done to extremes this creates new risks from the over abundance of care and lack of focus on any other risks even to the point of altering the minds ability to cope. Think interest rate duration management and the creation of the tranches in the securitization process and modeling of those securities. Done in mass this creates bubbles, hysteria, or pop-stars. ( I believe this is the "Lady Gaga" "Apple" link. It is not mysticism but the creation of popular mystic.)
Much of psychology is the study of how unrealistic risk perception creates a difficult life and alters their reality for the fearful and anxious. Why should the markets be immune?
Ken Drees comments:
Lady Gaga is to Apple as Amy Winehouse is to Rimm.
—
keep looking »
Archives
Resources & Links
Search