Dec
27
One of the striking things about the NY Knicks is that their offensive rebounding percentage, 23%, is the lowest in the NBA, going along with their third-worst record. What is the comparable statistic for markets that's not too much biased by part/whole fallacy in that it assumes knowledge of scores implicitly?
Alston Mabry writes:
Any thorough discussion of rebounding must include Dennis Rodman. He maintained that he gave up on "boxing out" because he was simply too small compared to other NBA post players. Instead, he would use the "locking up" technique, which meant using his elbows and legs to hinder other players' movement, then break away quickly to get the rebound, leaving the other player flat-footed. Also, he claimed that other players would start to focus more on how annoying Rodman was than on how the actual game was going.
That was what he said publicly, but it's also been confirmed that privately he would watch hours and hours of videotape, studying individual shooters, where they shot from, and where the ball tended to go when they missed. He would position himself on the court to maximize the probability he would be near the ball when it bounced off the rim. But he never liked to talk about this so as not to give away his best stuff and also because his studious statistical/analytical side just didn't jibe with his popular "crazy rebel" persona.
The comparisons to trading are clear.
Scott Brooks writes:
I once sat down with Bill Bartman, who told me the story of when he was trying to buy the Chicago Bulls. He got to meet the players and spend some time with them.
One was Dennis Rodman. Dennis was notorious for sitting in the locker room and on the sidelines before a game listening to his Walkman. Dennis always said that he was listening to music — he was a Peal Jam fan. During one pregame warmup, Bartman walked over to Rodman and sat next to him. Bartman struck up a conversation and asked what he was listening to and how the music psyched him up before the game.
Rodman just smiled, grabbed his head phones and placed them on Bartman's head. Bill Bartman said he could only smile at what he heard. Instead of hearing Pearl Jam, what he heard was Dennis Rodman's voice.
You see, after every game, Rodman dictated notes to himself about the other players as well as notes to himself from watching the films.
For all his bad boy persona, Rodman was a student of the game.
As to Big Al's comments about Rodman's not blocking out because other guys were so much bigger and stronger, when I read the description of "locking up", it sounds just like a variation of blocking out, with a strong emphasis on the "intimidation" part of the equation.
For all its high flying acrobatics, and ballet/gymnastic moves, and fancy passing and dribbling and all the emphasis on not being able to touch the opponent (fouling), basketball, played right, is an incredibly physical game — but the physicality is nuanced. It's like boxing, except you don't want to let the judges see you hit the other guy.
I wish my knees weren't in such bad shape. I really miss banging under the boards.
Craig Bowles remarks:
If you think of rebounding as an underlying fundamental health measure, it's not so different from the market trying to go up when it begins being outpaced by both oil prices and interest rates. You see that now when you compare short-term growth rates. Even in intraday trading, stocks pull back when this happens. Another is basic materials and energy sectors. The market has trouble when these become the strongest sectors. It's like a football team with no running game.
Nov
6
North Carolina and Georgia use a vinegar based sauce that's really simple but very good. It's 1/3 vinegar, 2/3 catsup — or maybe the other way around. Lots of pepper.
NYC street food cleanliness is regulated but hit or miss. A fellow downtown, Mike, used to cook in the park across from World Trade before 9/11. His uncle ran Tony's Egg cart by the exchange. Art Cashin and everyone went to Mike for breakfast, because it was incredible. The other venders asked what he did to make it so good. He told them he never cleaned his grill. So, the other venders stopped cleaning their grills. After three weeks, Mike told them he was just kidding. On 9/11, we tried to save the cart by dragging it over by the HSBC bank but it was totaled. last I heard Mike was putting in windows for a living.
Dec
8
The market contest on Friday, December 5th had all the elements of the greatest contests played out in our favorite sport or war. The Lakers versus the Celtics playoff or the Memphis Tennessee NCAA championship, or the New York Giants win over the Boston Patriots or the Tiger Woods - Rocco Mediate or Roger Federer - Rafael Nadal match of this year — or from previous years, the Ali - Foreman boxing fight, the Giants versus Baltimore Colts Super Bowl, or the Dodgers - Giants pennant playoff. The Borg - McEnroe match, as does the battle between Achilles and Hector in the Trojan war, comes to mind. (I would be interested in some nice additions to this list).
It had everything. Magic and disbelief. A beautiful exposition, climax, and resolution. A complete recapitulation of the range of the previous week, a 8% move in the four climactic hours, 880 to 813, in just one day, an earth shattering opening of down 3%, the fourth such 3% or more in five days, a buildup of tension with the worst employment report ever, the lowest oil price in 4 years, the lowest bond yields ever, all following by a day the backdrop of the NBER finally calling it a recession, retail sales falling off a cliff, and news that the automobile bailout was going under and over, the steady drumbeat of negative reports and news, building up to a climax when Hartford forecast better earnings and rose 100%.
The resolution of the climax occurred in the last hour as if following a script from a great story or symphony with the market rising to the week's high, very near the magic 900 level that it started the week at. One should note "that with long term interest rates at 3%, ceteris paribas, the value of mortgage assets held by banks has to have risen by 100% from the levels of a year ago when 6% long term rates were the norm. This has to counterbalance the increase in default rates to a large extent, and increase the return from holding mortgages so that they're much more attractive than most say they are. This has to be counterbalanced by the acceptance by the populace of an industrial policy program by the US, as if the public servants are a better steward for our money than the hedge fund managers, and investment advisers. And the idea that spending on building roads and computerizing hospitals, and making public buildings use solar power, and have grassy knolls and bicycle racks (as Henry Gifford has limned) is a better use for creating jobs than what would have emerged from allowing voluntary exchanges and incentives to take their course. I can only sit back and say, "what a great game it was" after pointing out that the decline in interest rates has to be remarkably bullish, and I predict a Lobagola move back up.
Alan Millhone adds:
On Friday I noted the Market was up even with dismal job reporting. I heard something about a job lost in the US every five seconds! I hope we see many more up tic Fridays as the US economy improves.
You show many comparisons based on battles in sports, the ancients, etc. Makes me think of our national Checker Tournament of 2007 held in Vegas at the Plaza Hotel. The Master's group battled all week back and forth on round points and on the final day of play it boiled down to Dr. John Webster of N.C. and Lubabalo Kondlo of South Africa fighting for the lead. After the last round was played and the smoke cleared we found that both men had the same match points. The referee was Tim Laverty and Tim keeps most meticulous hand written records all week of the player's scores. After careful mathematical calculations it was determined Lubabalo won the Masters and the ACF National Championship by one honor point! Another thin skin of the finger example.
Edward Talisse remarks:
Lower mortgage rates are a boon to the homeowner but a nightmare for the banks. The banks are all short refinancing options as rates move lower and reinvestment options are limited. The banks make money where they underwrite new products. Also, loan assets are on accrual basis rather than mtm so until the securitization markets reopen, its tough to lock in gains. Lower leverage will cap ROE, so if we move back up, it won't be the banks that lead in my view.
Craig Bowles writes:
2008's rallies have come after basic materials and energy have become the weakest sectors and that happened on Thursday when viewing short-term growth rates. Interest rates have shown a lot of relative weakness to stocks, so can move up a bit without being a problem. One fundamental change is inflation indicators have fallen earlier than in the 1973-75 recession. Generally, economists are focusing on economic negatives but none is talking about the positives of low prices. There aren't many economists around who talk up Austrian economic theory anymore which is probably why they all focus on stimulus to support prices rather than the positives of less inflation and declining prices.
Dec
1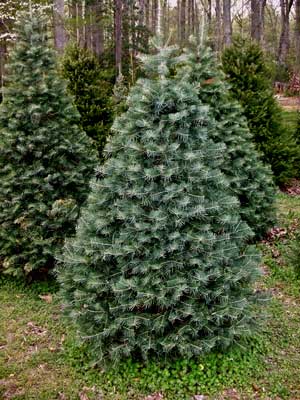 From Capital Press, The West's Ag Website:
"Tree seedling nurseries have been hard hit financially on two fronts. The housing market free-fall has sunk lumber and timber prices, reducing logging operations and thus cutting demand for seedlings for reforestation. At the same time, large numbers of Christmas trees have been reaching maturity and tree prices have fallen in recent years, reducing that industry's demand for seedlings as well."
"'We've seen a tremendous downturn in orders,' said Tom Jackman, CEO of IFA Nurseries, which produces seedlings for forestry in numerous locations in Oregon and Washington."
Craig Bowles responds:
I had a buddy who used to sell trees. He always said there's a three-year cycle. By the third year, everyone has jumped into the business, so sell out early and don't order that second truckload. I remember helping him one year and the guy across the street was getting that second truck just as we cut prices to $25/tree. We still even had "free trees" just before Christmas.
James Schroeder writes:
I had the great joy of growing up on a family Christmas tree farm and retail lot Wisconsin. In fact I've made the 3-4 hour drive home for the last couple of weekends to help my parents out as the ready their retail lot for the Christmas season.I'm not familiar with a three year cycle at the retail level, but that may be a regional thing, or it might be that my parents really aim at creating an experience that brings people back year after year. Aside from the consistently high quality trees they offer every year, they also strive to offer the best service in the area. More importantly they add little touches that make the Christmas tree shopping experience more of a tradition than a transaction. There are cookies and hot apple cider in the office (where people pay for their tree and pick up any smaller items they may need or want). If it's a Sunday the Packer game is on the office TV. Throughout the season there are surprise visits from reindeer. And there are many other small touches that hopefully transform the experience into something more than commerce.
On the growing and wholesale side of the business, trends are hard to predict and prepare for because they must be anticipated 8-12 years in advance. In the late 80s there was a trend in the growing industry toward the planting of lower quality, easier to maintain species (pines instead of firs) and from this came my first lesson in contrarian thought, offered by my dad, "Everyone is planting pines right now, because that is what is in demand now, no one is planting firs; in 10 years if you have firs for sale you'll command your price." He was right, and he planted nothing but firs for several years. Interestingly he has been planting more and more pines of late. Sounds like the cycles are changing.
Sep
29
In high school, I had scholarship feelers to play Div. II college football. I could run a 4.5 forty and high jump 6'8". I thought I was on top of the world. Then I got sick with a horrible case of mononucleosis and almost died. My playing days were over. At the time I was devastated.
Now my oldest son wants to play football. I will not let him. Why? Because as devastating as it was to get sick and have to give up football (the best I ever ran a 40 after that was in the high 4's, and I couldn't jump anything like I used too), as an adult I've come to view it as a blessing in disguise.
To this day, my knees, ankles and back ache to the point of being almost debillitating at times. I get headaches and my memory doesn't work as well as it used to. As a corollary to this, I also suffered several concussions while playing sports. I was knocked silly numerous times and was knocked out cold more than a handful of times.
Then today I see this article on MSN about the danger of concussions and wonder if there isn't a connection.
Looking back, I wish I had never played football. Yes, basketball pounded my joints and I'm sure baseball and track did their fair share of damage, but I don't think they cumulatively added up to the pounding I experienced playing football. Yet I love to watch the game to this day and look forward to playing at our annual Thanksgiving morning touch football game every year with the guys from church (of course, I can hardly walk for the next two or three days afterward).
The human body eventually wears down and doesn't recover from the constant beatings that we get in life, unlike the markets which will shake off the bad things that happen and eventually move forward. At least I hope so.
Anton Allostrat agrees:
My football career closely parallels Scott's except I ended as a college sophomore with a complete knee reconstruction. Protecting a loved one from near-certain long-term physical damage, which is the likely outcome when humans repetitively and intentionally collide, is the responsible and caring parental responsibility. The key is to give the prospective athlete other choices, minimal-contact sports that have a much lower injury rate. When addressing this issue with my son, no matter how clear my descriptions of the long term consequences on the human body, I'm sure he couldn't completely comprehend what it is like to feel the effects of cumulative injuries in a middle-aged body.
Matt Johnson replies:
With all due respect, I feel like you're taking your issues and dumping them on your son. Not letting someone do something, or not do something, is like holding onto a losing position because "the economics haven't changed." Go with it, don't fight it, support your son in his adventures and he'll love you for it.
Craig Bowles adds:
I agree with Matt. I still look back thankfully at the bonds made and pushing beyond the simple limits in many of our heads. The most important thing is to learn technique early. My father always called it putting a shoulder on somebody. Hitting with the head is crazy and nothing like the feeling of a good solid shoulder lick. Maybe you should make sure the coaches know how to coach blocking and tackling. I wouldn't want my kid playing for a lot of coaches. That would just ruin a kids confidence. My fifth-grade coach was the best one and fortunately taught the solid basics.
Mark Candon reminisces:
I played soccer in college, but later tore up my knee in 1980 playing of all things, flag football.What the heck was I doing playing flag football? Perhaps having the most fun I ever had in any sport. Violence is a beautiful thing when you are doing the hitting. I've always liked contact, and football gives it to you in spades. There's nothing like it. Why do you think all these people play football?
Yeah, it's years later and I should probably be getting a new knee, but the rest of my body has been in better shape since 1980 because I've had to work out to keep the knee strong. I wish it had never happened, but I never for a moment regarded it as a terrible thing.
In sports, you have the chance to be the master of that world between the lines. In football, it comes in that long instant after the snap of the ball. A savage, athletic, and beautiful moment. I loved it. Believe me, I've had moments in other sports, but football's the ultimate for adrenaline. You're playing defense, it's fourth and inches, and you're amped. You can't wait for the snap, because you're going to drive that guy opposite you into forever.
Steve Leslie reflects:
I am reminded of a short little story.
In the jungle, A gazelle wakes up in the morning and begins running. For the gazelle knows that if it does not start running then it will be eaten by the lion. The lion wakes up and starts running. The lion knows that if it does not start running, it will not catch the gazelle. The moral of the story is that whether you are a lion or a gazelle, if you want to survive the day, you had better hit the ground running.
Thomas Edison once said most of success in life is showing up for work every day.
Vince Lombardi said "The good L_rd gave you a body that can withstand nearly anything, it is your mind you have to convince."
Unfortunately, we do not have the luxury of creating our own rules. Many times the odds are stacked heavily against us. But remember in the end, life is one long statistical game eventually the breaks even out. It is a journey and not a destination therefore we never arrive. It is like the horizon, you never reach it.
Take cheer for we all feel the pain of life. You are not in this alone. Some times this provides small solace. But then again solace is sometimes all we have.
Reid Wientge writes:
My doctor in high school, Dr. Campbell, recommended not playing football. He was quiet and convincing. I had been to a different doctor numerous times for pain and swollen hands — I played both defensive end and fullback and so could not wrap my hands. You see, my doctor had served in Vietnam prior to private practice. I am certain that he could not bear to see young men injure, scar and permanently damage their bodies.
Doug Johnston offers:
I played football in HS and at a Div I college program. I do believe that your HS experience is more exception than rule. HS football is fun and gives a boy/teenager many valuable life lessons in an environment of teamwork and fun. Football in HS is not brutal. Let him be a kid and enjoy his decision. If he were to be offered an opportunity to play in college — run away! College football is a big business and the payout of a scholarship is not nearly fair value for the "student-athlete."
Sep
22
I got an email from a friend that I don't agree with, but I could use some help responding to it. How would you respond?
In the context of our ongoing discussion of markets and government, I can't help but feel that the meltdown of the last week lends considerable weight to my position that in the face of the value-neutral tendencies of free market capitalism the participation of a well informed, active public sector is imperative. There is a flip side to the way markets liberate economic energies; markets can become self-devouring. I accuse libert@rian ideas; they have brought us in large measure to this pass, because they foster a basic contempt for governance, ("government is the problem") the hallmark of the Bush administration.

When Robert Rubin bailed out the Mexican government by offering 20 billion dollars backing for their currency, there were howls of protest and forecasts of disaster from conservative minded politicians. Bush's laissez-faire attitude has resulted in a truly incredible 1 trillion dollar (!) giveaway. A replay, but only worse, of the S&L debacle that followed in the wake of the great free marketeer Ronald Reagan.

My friends B*b & I**a have three kids. B*b lost his teaching job.

Thank goodness that Connecticut has a "socialist" health program for people earning less than a certain amount. In Mississippi no one would come to rescue them. It would be against the grand american principles of self-reliance (or rather no bail outs for the powerless).

I'm not saying that I disagree with Paulsen and Bernake. At this point they have no choice but to intervene. But to my way of thinking the mistaken belief that the government should stay out of the way, the markets will take care of everything if left to their own devices, has led to this desperate state of affairs. Ironically, it is about is about to result in the greatest growth in government power since FDR.

My concern is that unlike the New Deal that sought to put people to work and create an ethos that we are all in this thing together, the current program will be directed at easing the pain of those who reaped the most benefits in the good times.
Henry Gifford responds:
If the mortgage market was really a "free" market, and not regulated, anyone putting money in would know there is risk, and not look to be bailed out. With regulation comes the excuse that the system let someone down, thus the system should come to the rescue.
And, if the mortgage market was really a "free" market in the sense of not being backed by Freddie Mac, etc., the penalty of default would be on the lender only, who would have watched out for their own money, and stopped making loans long before the appearance of billboards advertising 110% loans.
If the mortgage market was really a "free" market, Consumer Reports, Ralph Nader, etc. would be competing to sell information on which banks are safest, including selling stickers banks could put on the front window. The level of corruption in these private rating systems would be kept low for the same reason Coca-Cola doesn't cut corners by selling dirty or diluted soda, and the only cost to the citizen/taxpayer would be paying Consumer Reports, etc., if they chose to do so to get information to improve their decisions.
Craig Bowles writes:
Murray Rothbard's History of Economic Thought is on six tapes but I don't think he ever wrote the planned book. He didn't think too much of Thomas Sowell. The tapes talk about Austrian economic theory which is the basis for libertarian views. He says that intervention alters the business cycle and causes inflation during the slowdown. The worst part though is it disrupts the allocation for production, so you get overinvestment in some areas (houses) and underinvestment in others (oil) with the liquidity-driven inflationary booms. Really great tapes and very applicable to today.
Mar
26
Obama comes at a time of dispair and disillusion and offers hope. There are two formulas for politics,
1. Hate+Fear =Power
2. Hope+Benefits =Votes
Obama is working both of these, the first more subtly, but he understands the dynamics. The ghost of Gene Burdick is alive and well.
Craig Bowles adds:

There are similarities to JFK. Young, good looking guy coming in after housing had a demographics boom that pushed it up right through the recession. Hope the rest of the story doesn't follow the same line.
Steve Leslie offers:

The most recent Gallup polls support this as Obama has opened up a 10 point edge over the Junior Senator from New York. All of this from a candidate who was not even on the political radar screen even nine months ago. Comparing and contrasting their policies, there is very little difference between the two.
Therefore there is something else going on here. It is almost like playing the game of Clue. Was it Professor Plum in the kitchen with the hammer or Miss Scarlett in the anteroom with the gun?
Obama may just be a more likable person or perceived as such. We can only offer conjecture as to this.
He could be seen as more trustworthy. He does not claim to have invented the Internet, been a decorated war hero, or named after a famous mountain climber who landed in war torn Bosnia like Rambo under intense fire.
He may be the repudiation of 20 years of a direct stranglehold of the Executive Branch of the Government by two families. Perhaps the American people feel that a new path should now be taken over traditional politics and now is the time.
It could be that his speeches include hope and opportunity and strike a chord with those who feel that they have been disenfranchised for too long and that their voices will be heard through him.
In all likelihood, it is a melange of the aforementioned. Whatever the reasons, he is very much a frontrunner and he stands a very real likelihood of winning his party's support and backing at the convention in Denver in August.
Mar
19
The secret to my success is largely due to listening closely to those who are afraid of saying something stupid, but say it anyway, and avoiding those that feign certainty, say it brash and loud, but are simply cheering on the crowd. The person afraid that he may be saying something stupid, usually is thinking for himself and has thought things out and cares deeply.
My success with running started when a shy skinny runt of a kid walked onto a college track team without any high school experience, but did it anyway because he knew he had some talent. And had to beg the coach to even let me in practice, only after having a PE teacher vouch for me.
Most of my success in individual stock picking has come from my wife. When she talks about a stock to me I know she has thought about it and feels I am the expert. Hence she has a wonderful screen to weed out only those she is pretty sure are good bets. If it wasn't for her I would probably stick solely with indexing.
A few of her calls, mostly after studying Value Line: Our first big winner, after studying was GGG in 1996. Next she begged me to ditch HP, now HPQ, after a three-bagger before Carlye came on board. A couple years ago she picked Deere. She asked me to buy some prime Indiana corn farmland with her Dad — a double risk of feeling stupid.
When she says these things I have learned to pay particular attention.
I will leave unspoken the success I have enjoyed ignoring or shorting a "know it all."
Craig Bowles writes:
Economists such as Alan Greenspan are successful never making a stand, though. I used to work with one of those respected economists and he would never take a stand on anything. Worse, he seemed to get joy when another economist would take a stand and be wrong. He took it as confirmation that remaining neutral is the way to go.
Jan
8
I've had a fascination all of my life with the track, horses, and finding the elusive overlays. I've been going over to Ladbrokes to check their tote board on the US presidential election. I've been monitoring their line for the past few weeks, and have noticed Hillary going from a 3/7 favorite to an 11/4 underdog. Obama has had a meteoric rise in the past couple of weeks, with his odds actually moving in his favor the night before the Iowa Caucus. It seems that the betting line has been moving before the news, much like our beloved markets sometimes move before the news.
This morning, their opening line for the winner of the US presidential race is:

Do readers see any overlays here? Huckabee looks nice at 8/1, but he reminds me of the claimer that got bumped up in class.
Craig Bowles writes:
If you look at the win/show ratio in horse racing, it acts like a P/E. The horse with the lowest W/S normally runs well and you see some suprising winners. It's a great way to go to the track with a strategy even if you don't know much about racing. Somebody is putting money on the horse and it's not the general public or it would show up in the place and show betting. It's harder in practice since so much money comes in close to the race, however. Another thing I notice is that the races are really unpredictable around full moons. Maybe some horses don't sleep as well or whatever, but it looks like favorites win maybe twice as often around the new moon as around the full moon. You often see horses just die in the stretch around the full moon, like Discreet Cat at the Breeders Cup. It looked like the horse hadn't slept.
Dec
3
Can anyone suggested a friendly, old-time style barber shop in midtown Manhattan or the Wall Street area? As my hairline slowly recedes, my focus on what constitutes a good haircut experience no longer centers on the coiffure, but rather the dexterity and consistency of the barber, as well as the opportunity to get a close shave with the straight razor. Valuing such qualities as skill, cost, and character/setting (in a Damon Runyan-esque sense), I'd love to hear if anyone has a favorite place to get groomed in New York.
Charles Pennington replies:

I like the shop on 52nd St and 2nd Avenue. The $16 charge includes a haircut, a shave of the neck with a straight razor, and a hot towel. Usually they have "Ultimate Fighting Championship" DVDs playing in the background. They're all Israeli immigrants. Magazines are things like Men's Health ("Get rock hard abs!") and Maxim. With the $16 price, you can just hand them a $20, and that conveniently leaves a >20% tip.
Craig Bowles suggests:

Damian between 2-3rd Place on Court St in Brooklyn is tops and costs $10. Preferable to speak Italian as the oldtimers still play bocce ball up the hill. I used to go to 87th or 88th just west of Lex. Guy close to window is the best and cost was $7 but probably a bit more now. Great barbers and cheap prices leaves more for a good tip.
Scott Brooks writes:
As one whose hairline has stopped receding, I'll throw in my two cents: If you want consistency and a good experience, get a buzz cut. I get a cut every three weeks and can tell any barber/stylist exactly what to do:
1. Use a 1/2 blade on the sides
2. Use no guard on the top (cut it right down to the skin)
3. Blend the hair on the sides into the "no-hair" on top (don't want a "ridge-line" where the skin and hair meet)
4. Square or round the back — I don't care which — and blend it

I don't know if you have a Sport Clips in Manhattan or not, but I've come to like them. Sports on all the TVs in the place. At your cut station, you have a private TV to watch whatever's on ESPN and the stylists seemed to be trained to do one of two things:

1. Talk about guy stuff (sports, hunting, fishing, etc.)
2. Figure out quickly if you aren't interested in talking

I hate going into a place to get a haircut (Great Clips is my second choice for a haircut and I run into this problem there too often) and having to listen to a stylist talk about her boyfriend or kids/grandkids, or whatever inane subject is on her mind. Most guys just aren't interested in that kind of stuff. Plus, at Sport Clips, I get a cut, massaging shampoo, hot towel/facial massage, and then a vibrating back massage, all for $20 plus tip while watching Sport Center or some game.

But they don't give shaves, and if you've ever seen that picture of Albert Anastasia lying on the floor of a barber shop, gunned down during his shave, you might consider shaving yourself at home!
Ken Smith extends:
When I was about 18 years old, some 60 years ago, the price of a haircut was 50 cents at the Barber College down on Seattle's skid row, a shop nested between flop houses and cheap taverns where alcoholics roamed the street looking for another cheap bottle of wine. Winos, they called them.
People did not have money and jobs as they do now, so a trip to skid row for a haircut was in the economic order of things. The local indigents could also get a bed for the night for the same price, 50 cents. Called flop houses, they were dormitory floors, like in an army barracks or concentration camp.
Rod Fitzsimmons Frey responds:
If you had taken that $0.50 and invested it at 6% interest, Ken, you'd have had $17.36 today. About the price of a haircut. Or a dorm room. Difference is you'd not have to go down to skid row to get either, unless you wanted to.
Archives
Resources & Links
Search