May
8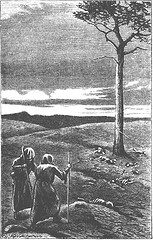 The Upas tree was a terrible tree according to Erasmus Darwin that was so poisonous that it was able to destroy all life of any kind for 15 miles around it. Who and what are the Upas trees of the market?
I would say that Madoff and Abelson and the conglomerates and real estate slumps are Upas trees, and in increase in rates, perhaps the first change in direction is also quite lethal. The signal of unbridled interference and flexionism galore as in October 08 would also seem to be a curse. The lyrics to "I've got a little list" from Mikado go through the head. The hoodoo, the parson and the albatross from O'Brian go through the head as does the report "there's a little shadow on this x-ray. Probably nothing to worry about."
What would you add? I would like to say Buffett but I refrain.
Victor Niederhoffer adds:

One Upas tree regularity is the tremendous move against the weak player when he she one is being squeezed out of position. The MF, the Societe General, and the Thailand moves are examples of that. One wonders what the other side of the coin is. What are the apple trees of the market, the benevolent things that cause it to go up. The book "The Man Who Planted Trees" is a very good one for all to read describing how a French man who planted apple trees brought a village to life from death by first stopping erosion. And then providing shade and food and respite from the heat. The oak tree is also a benevolent tree providing food and shelter for countless species and Cervantes mentions the cork tree "whose benevolent fruit provides shelter for beauteous maidens without any thought of its own welfare". What other trees? What's good for the market. Many of the things that are good for the market are bad in the short term but good in the long term. Like a decline in oil prices. The prospect of a decrease in the service revenues is also very good. What are some benevolent and some more destructive things for markets?
Tim Melvin writes:
High junk bond defaults that clear the weak players and reallocate assets to stronger hands come to mind as a short term negative that is a long term positive.
Laurel Kenner adds:
Obamacare and Dodd-Frank are the two worst and most dangerous pieces of legislation ever introduced into the American field, and have the potential to turn into giant ruinous Upas trees. They are only shells for unknown future rules put into effect by people whom neither the electorate nor Congress will be able to control. They have no sunset, no funding limits, and no restraint on their bureaucracies.
Steve Ellison adds:
I would nominate an inverted yield curve. An inverted yield curve pinches the flexions' net interest margins. 6 of the last 40 years began with inverted yield curves: 1974, 1979, 1980, 1981, 2001, and2007. None of them were good years to be an investor in stocks.
Kurt Specht comments:
European debt concerns and related debt market convulsions are frequently sited as short term drivers of overall market action.
Ken Drees adds:
I was about to opine about the benefits of the upas, even something so deadly has good parts and then I tried to fold that into a Madoff or an MF Global and couldn't come up with any quick relationships of how a bad market tree can bestow something positive other than a lesson to be learned. Other than a lesson to future investors, sometimes positive regulation comes out of these dark trees.
From wikipedia:
It is a fairly low source of timber and yields a lightweight hardwood with density of 250-540 kilogram per cubic metre (similar to balsa). As the wood peels very easily and evenly, it is commonly used for veneer work. The bark has a high concentration of tannin which is used in traditional clothes dyeing and paints. In Javanese traditional medicine, the leaves and root are used to treat mental illnesses. In Africa and other Asian nations, seed, leaves and bark are used as an astringent and the seeds as an antidysenteric. Most famous to Africa and Polynesia are the strong, coarse bark cloth derived clothings- which are often decorated with the dye produced from the bark tannins.
The plant is often grown purposely for shade or shelter around human dwellings as it provides excellent dense shade from the tropical heat. The leaf litter is an excellent compost material and high in nutrients- often spread around local gardens, which must be grown distant to the antiaris due to its extremely dense canopy.
Recently, the plant had allegedly been used by retired Tanzanian pastor Ambilikile Mwasapile to allegedly cure all manner of diseases, including HIV/AIDS, diabetes, high blood pressure, cancer, asthma, and others.
While found to be harmless to humans when boiled in accordance with Mwasapile's mode of creating a medicinal drink out of the bark, it allegedly was undergoing testing by the WHO and Tanzanian health authorities to verify whether it has any medicinal value. However, conflicting reports suggest that the plant in question is not indeed Antiaris toxicaria, but rather Carissa edulis.

Poison Humans have long used poison for hunting and warfare. Antiaris toxicaria is most famous for being employed as a poison for arrows, darts and blowdarts. In Javanese tradition, Antiaris toxicaria is used with strychnos ignatii. The Antiaris toxicaria latex sap has the active components of cardenolides (chemicals with cardiac arresting potential).
The latex, present in the bark and foliage, contains a cardiac glycoside named antiarin, which is used as an arrow poison called upas: Javanese for poison, but, commonly to the poetic (non literal) quality of many Javanese words has a duality of meanings- watchman, messenger and courier.
In China, this plant is known as Arrow Poison Wood and the poison is said to be so deadly that it has been described as "Seven Up Eight Down Nine No Life" meaning once poisoned a person can take no more than seven steps uphill, eight steps downhill or nine steps on level ground. A visitor to South Kensington Museum in 1881 noted a picture of a Upas tree and wrote in their diary 'a picture of the Upas tree the most poisonous in the world any one fall down dead before they can reach it.
Gary Rogan writes:
It turns out there is a poem about this tree by the traditionally the most famous Russian poet:

The Upas Tree
by Alexander Sergeyevich Pushkin
Deep in the desert's misery,
far in the fury of the sand,
there stands the awesome Upas Tree
lone watchman of a lifeless land.
The wilderness, a world of thirst,
in wrath engendered it and filled
its every root, every accursed
grey leafstalk with a sap that killed.
Dissolving in the midday sun
the poison oozes through its bark,
and freezing when the day is done
gleams thick and gem-like in the dark.
No bird flies near, no tiger creeps;
alone the whirlwind, wild and black,
assails the tree of death and sweeps
away with death upon its back.
And though some roving cloud may stain
with glancing drops those leaden leaves,
the dripping of a poisoned rain
is all the burning sand receives.
But man sent man with one proud look
towards the tree, and he was gone,
the humble one, and there he took
the poison and returned at dawn.
He brought the deadly gum; with it
he brought some leaves, a withered bough,
while rivulets of icy sweat
ran slowly down his livid brow.
He came, he fell upon a mat,
and reaping a poor slave's reward,
died near the painted hut where sat
his now unconquerable lord.
The king, he soaked his arrows true
in poison, and beyond the plains
dispatched those messengers and slew
his neighbors in their own domains.
Apr
10
It has always seemed to me that one of the worst and most frequent causes of defeat in basketball is showboating. After being ahead two games ago by 17 points at the end of the third quarter, the Knicks managed to lose to Atlanta. The loss came after a 3 point shot by Novak that the whole bench jumped up to cheer about to Novak's Gallinari like smile of triumph and joy. I say that too many games are lost when one team has a large lead to bear consistent with randomness or lack of serial correlation which some Kahneman like biased researchers playing to the crowd have posited for bastketball. A main cause is showboating but the general problem of letting up is relevant also. "Never let up" is a great motto for market players and basketball players. I tried to insulate myself from this in squash by pretending that the score was reversed against me when I got a good lead in squash. I tried to hold my opponents to straight game losses and under double digits when I played. And to a remarkable extent I was successful at it. I don't ever remember losing a match when I had a big lead, and I remember all my losses. I wish I were as good at not letting up or winning in the markets as I was at squash. I am not one tenth as good. What is the remedy for letting up and showboating in the market? I would say the answer must be quantified. What's the expectation when the market is up by x or more with just y hours to the close. What happens after a inordinate move with a bar? That's a start.
A coach unlike the terrible and ineffective D'Antoni who was such a source of the Knicks losing records, and now that he has been fired is receiving such loving and adulatory treatment by the press, in a syndrome of "don't say bad things about the man who died" was actually encouraging of the showboating. Which coaches are good at rooting out showboating, and good at maintaining leads? What can we learn from them? How could it be applied to markets?
On another front, a reader writes in response to Tim Melvin's great piece about baseball that baseball is dying in the US as the blacks abandoned it for basketball and the kids now abandon it for soccer. He says the baseball diamonds are empty. Is this statement true? Are there any profitable activities based upon that idea? I wonder if it can be generalized to buying stocks that the kids are interested in as opposed to what adults like. My kids are very adept at picking stocks.
T.K Marks adds:
The showboating tedium would appear to be not limited to basketball, but rather a pervasive plague that cuts across all sports. Golf may be the last refuge of sporting decorum. Same for Wimbledon.
Some years ago NFl coach Marty Schottenheimer referred to this trend as the "SportsCenter mentality." Everybody wants to be an ESPN highlight. As such, the objective in many football circles is no longer to wrap one's arms around the ballcarrier to better ensure making the tackle but rather to lead with the shoulder and try to knock the guy into the next zip code. The problem is they're going after a moving target and shoulders however brawny can't grab. Arms can.
"…In 1998, when the Kansas City Chiefs were penalized 15 times in a game, many for taunting, showboating, late hits and every act of unsportsmanlike conduct, their disgusted head coach, Marty Schottenheimer, explained, "It's the 'SportsCenter' mentality."
A cultural anthropologist might say that the devolution of decorum that we see on playing fields is a reflection of shifting social mores that increasingly accommodate an anything-goes, me-me-me collective mindset. It's the ascendance of flamboyance over fundamentals.
It's not a trend that is limited to sports. A friend's mother is an English professor. She once shared with me an observation she had made of her students: Nobody could spell anymore. Even seemed to be oblivious to the 'i before e' thing. Rather, they all went for shock value in their compositions. The implication being that spelling was insufficiently postmodern in their eyes, I guess.
P.S. I may have to re-visit that golf as a redoubt of manners notion. As I type I'm watching The Masters on tv and Tiger Woods just hit an errant shot. He kicked his club, demonstrably pouted, cussed. The whole fairway intemperance package.
Kurt Specht writes:
Fortunately, Tiger is the rare exception and nearly all involved with professional golf do maintain civil decorum. He has been an arrogant ignoramus for many years.
Jay Pasch adds:
This is a gold mine for a trader, and for the bullish chartist to invert the chart once in a while in order to see what the other side has in mind…
An anonymous contributor writes in:
Perhaps the markets equivalent to showboating is market arbitrage, because both have a way of snatching defeat from an apparent victory. Both show disrespect for those on the other side of your performance. Both imply that you are the smartest most talented and your approach is the only side worth considering. The other side is either stupid, without hope of duplicating you or blind to the easy win.
Sometime the common sense of "no free lunch" will help those vulnerable to hubris reject something presented with the actual word "arbitrage". However, if you are vulnerable to hubris of omniscience (including science is complete and has all the answers) or manifest destiny (mystical chosen favor) you still are prone to believe the con man pitching your talent, position and place. You want models or world views that confirm you are right rather than confront where you need improvement. You do not want to look for the true risk reward trade off.
The reason both showboating and "arbitrage" are so dangerous is: it disarms one to the risks, so that you become blind to the risk outside your vantage point. It dismisses the risks that you are the one wrong or the sucker at the table that you are being hustled (see AIG or subprime CDO counterparties to the too big to bring to justice). It makes others hold you in the same contempt you show to the weaker hand… and makes you a target for the bigger fish. It invokes envy. It causes you to seek affirmation rather than constructive criticism, making you prey for those with flowery words. It rejects coaching especially from those "beneath" you. It assumes you have arrived and need not evolve.
Risk is constantly evolving. If there was an underlying attitude that caused the crisis it was that AAA credit was not vulnerable to this evolution.
Russ Sears writes:
Vic, one need not worry too much about baseball's future if one visits small towns in Oklahoma and Texas. What the blacks may have abandoned, the hispanics have filled in. There will still be those most hungry for success ready to fill the city kids place.
35 years ago, in 6th grade, I lived in Glencoe, OK, a town so small that I could walk from one side to the other in 5 minutes. I played 3 sports, baseball, basketball and track. The biggest building was the school gym. The stands would be half full for a 6th grade baseball game. The population would more than double when the high school teams played since the county folks and the visiting team's fans also swarmed the stands on a Friday night.
I went back to visit a couple years ago. The dirt track was now trailer classrooms. The whole town had turned into a trailer park, perhaps tripling the population from 1970s. Glencoe is now the "new" poor, those outside the mainstream media view but growing, looking and waiting for their chance. The town is run down, the houses from the 70s all are run down and trailers surround them, even on the smallest lots. Besides the trailers, the school building are all from the 70s.
However, the baseball diamond is much bigger and better than before. The stands and concession building are much bigger also. I imagine them full on a Friday night in May.
I would suggest that in addition to trusting the stock picks of your kids, you ask farmers and others who travel all over the country their local picks. Ask those where the money is flowing what they see.
Nov
28
An article I read recently would seem to have significance for producers of branded products like the bottlers, and P and G, and the bond market. What's happening on the internet seems to be spilling over into all areas with price competition increasing.
Kurt Specht comments:
Very true, but another big issue right now for all consumer goods producers is staying ahead of commodity inflation and figuring out how much to pass along to consumers in the form of price increases and package size reductions.
Steve Ellison adds:
In his book Trends 2000, Gerald Celente said that consumers turn away from brand names periodically, but they always come back. He noted a tendency for brand names to be out of favor in the years ending in 0 to 2 each decade, which have often coincided with recessions (the Senator has noted that those years have often not been kind to the stock market). Mr. Celente attributed this regularity to a "10-year corporate spending cycle."
Pitt T. Maner II adds:
Chlorox would seem to be one of those companies that has had to work for decades to keep market share against generics (bleach). They appear to maintain their higher price per gallon through strong branding/advertising. Perhaps the need for the services and the money spent on strong marketing and advertising companies increases when generics and cheaper alternatives threaten. Or when one is running for election.
Jan
9
Volume, to me from the back-benches of the Market Microstructure class, is a struggle for the discovery of price. Increase in struggle is a reduction in the polarity of the prevailing meme.
Open Interest, to me from the similar back-benches of the Market Microstructure class, is variation in the participation of the struggle of price discovery. This could be number of trading strategies at work, number of trading minds at work. To this simpleton mind larger open interest implies increasing complexity of bets and reduced open interest means increasing simplicity of bets for a straighter payoff.
So, reduction in open interest if coming more from larger specs than smaller ones would imply the struggle for price discovery is shifting within the minnows and if the small specs are reducing the open interest it means the bigger boys are struggling harder against each other.
The first scenario would likely lead to a change in meme (a.k.a. a change in trend) and the second scenario would likely mean a large jump in prices due to the smaller fish being reduced in numbers in the food chain.
Experts on COT Analysis, your stab please?
Kurt Specht writes:
My guess, and it's purely a guess, is that large companies are getting spooked by the recent run up and are more aggressively hedging through their intermediaries to protect against additional upside during the year. I'm speaking of large manufacturing companies that would see escalation in their production costs and could have their bottom lines impacted negatively for this year if they don't lock in their energy costs now.
Sep
22
Can the global macro boys explain to me how wheat is up 60% for the year but i can get a loaf of bread or a box of Wheaties at the same price as 2006? Would seem the producers of food hedge their costs so as to control both the cost to consumer and their profits from the best recurring biz in the world — food.
But if they hedge then of course the must hedge at certain levels and if it keeps going they must keep hedging until the reflexive traders are satisfied and in the end it seems only the consumer gets the bill, so there must be inflation upon us as a result not only of the quants but also of the global macro reflexive crowd.
Jason Thompson replies:
First, I'd very much question the observation that you are paying the same price YoY. This is certainly not the case here in Chicago as Wheaties, along with Raisin Bran, Cheerios and Cornflakes are measured as part of a basket in a private inflation survey. They are up roughly 9% 3rd Quarter to 3rd Quarter and will experience price increases (already announced by manufacturers) of 10-12% to be seen within the next six months. It's very likely what you are missing is the reduction of discounts. By this I mean there are fewer promotions, coupons to the consumer, or rebates being offered to the grocery store. The price quoted on the rack may not have changed, but the average price paid by the consumer has increased.
I'm much more perplexed by your observations on bread, as that has seen the one of the largest increases in our basket of food, outside of milk and cheese, and some fruits and vegetables. Bread here in Chicago is up 18% YoY.
David Lamb extends:
I've got to be luckiest husband on Daily Spec. My wife makes our bread and she orders hard wheat for $6-$7 per 25 lb. bag. It takes 12-13 cups to produce five pounds of wheat flour, which is needed to make five loaves. We go through five loaves every week (she gives away half of it). Therefore, she spends $6-$7 per month on our breadstuffs (rolls, loaves of bread, etc).
Compared to store bought bread — well, there is no comparison, at least in taste. However, if we bought the same number of loaves at a store it would cost us, for the cheapest bread at WalMart, almost $2 a loaf. That would be $40 a month. Yes, I have seen an increase in wheat prices but the greatest wife in the world can handle it!
Riz Din replies:
The cheapest bread in the UK is less than 50p a loaf. Currently, £1 (or two UK cheap loaves) buys two dollars (or 1 US cheap loaf). Perhaps the international cheap bread arbitargeurs have helped to lower the USD/£.
Eli Zabethan explains:
Most food producers hedge out several years, but now there is little carryout as supplies are being used for alternative energy projects.
Kurt Specht replies:
It's true that most food producers (and processors) hedge out several years, but the levels of hedging and the duration can vary widely by company and by item. Several companies have cited various raw materials increases in their quarterly earnings reports this year as a cause of diminished earnings per share, but as the prices of commodities rise and more time passes, more and more of these companies will have to raise prices to keep up.
Archives
Resources & Links
Search