Mar
29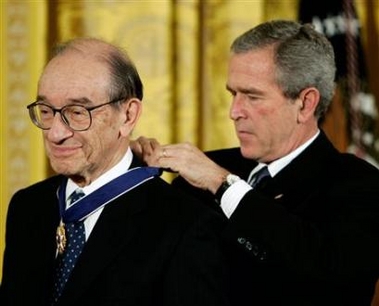 We have discussed the role of government in the economy and during crisis many times on this site. Greenspan writes about this topic with the paper "Activism" that I recently read. He writes:
The current government activism is hampering what should be a broadbased robust economic recovery, driven in significant part by the positive wealth effect of a buoyant U.S. and global stock market.
Equity values, in my experience, have been an underappreciated force driving market economies. Only in recent years has their impact been recognized in terms of 'wealth effects'. This is one form of stimulus that does not require increased debt to fund it. I suspect that equity prices, whether they go up or down from here, will be a major component, along with the degree of activist government, in shaping the U.S. and world economy in the years immediately ahead."
Considerations about the wealth effect are in my view interesting, but well known to those who tried (and managed) to steer a recovery from the crisis.
The wealth effect has supported the economy so far. How much compared to the "stimulus" is hard to say however. "Manipulation" of markets in order to favor a continued move to the upside concerted by strong hands was (and is) in the interest of many forces who have a prominent role.
Victor Niederhoffer writes:
The wealth effect was very big in the 1960s and before, and Latane had good papers on it. Everyone at the Fed has believed in it for 70 years, to the exclusion of looking at interest rates themselves. And Bernanke often times his qualitative announcements with market lows or highs. A good way to trade.
Phil McDonnell writes:
Most of the so called wealth effect is really artificially induced by the QE programs. If the price of your stock rises but the value of the dollars the stock will fetch falls then are you really wealthier? How rich do the folks in Zimbabwe feel?
Jeff Watson writes:
One only has to look at the Weimar to see how the business class in Rhodesia feel. In 1913, the German stock market was at 126. Fourteen years later, the German stock market was at 26,890,000. At the index peak, the value of the Daimler company was only worth 327 of its cars. Interest rates were 900% and the exchange rate went from 4-5 marks per dollar in 1913 to 4+trillion marks per dollar in 1923.
Ian Brakspear writes in:
My portfolio in 1994 was worth aprox ZIM$10 million in 2005 worth ZIM $ 44 billion.
Victor Niederhoffer comments:
What they did to the farmers makes one cry. Brakspear is the guy that posted the funniest spec post ever. He ordered 2 beers for lunch. It was 10 million Zimbabwe. Then by the time he finished lunch, he ordered two more. The price had risen to 15 million Zimbabwe.
Kim Zussman asks:
So does inflation illusion work? What does it feel like to be a billionaire?
Ian Brakspear comments:
I have in my wallet 2 fifty billion dollar notes, a one hundred billion dollar note and one ten trillion dollar note-worthless.
Today the main currency in the streets of Zimbabwe is the US$– how all these US$ notes got here is anyone guess.
They are cleaned regularly in washing machines to prevent the spread of diseases– and hung out to dry on washing lines– always with someone on guard.
Aug
18
That Little Extra
There are so many market lessons that one can learn from the Olympics. To me the most important was that that little extra is the difference between success and failure. This was most apparent in the two big 0.01 second differential swimming races involving Phelps and Torres. In one case, Phelps said it was the difference of a "shaved finger" and in the second Torres said "I shouldn't have filed my nails." The former apparently referred to better streamlining and the latter to extra reach. Phelps had broken his wrist in 2007 and the extra kicking training he did helped him on the last reach, creating the winning margin. He stated that when he practices it's like a bank deposit. So often during the year, during a career, one decision, one wrong practice can mean the difference between success and failure. It underlines the importance of total concentration at all times, and constant practice.
The Blake/Gonzales match
Much has been written concerning the sportsmanship involved in the Blake semifinal. Right after the match in a press conference Blake remarked that his father would never have let him do it, and would have taken him out of the tournament. Jack Kramer has a similar remark in Ed Spec about his father's breaking his racket in a similar moment of poor sportsmanship and presumably Blake knew of this instance which is tennis lore, although I have found that among tennis players Kramer is derided for his treatment of Pancho. However, the key to me was that Blake must have been brooding about the incident from 5-5 in order to come up with such a lengthy exegesis right after the match. The brooding probably caused a lack of focus that led to loss. I had a similar revelation in my career when, at an early age, I used to complain about all the bad calls the refs made in squash. I subsequently realized that the complaining did me more harm than good. It not only took away my subsequent energy, but gave the infractor the advantage of seeing how much misery his misdeed caused. I stopped complaining during the last 10 years of playing and it was very helpful. Time and again I won when I would have lost if I had stuck up for my rights on the point. The same is always true with bad fills. By the time I've complained about bad fills, or bad equipment, or bad treatment by a counterpart… By the time I've complained about it, and taking into consideration the extra costs involved and the missed subsequent opportunities, it's over. The legal system is such that on all matters involving less than 10 figures the costs are greater than the differences at issue. So that avenue never pays.
Putting it all together, one learns never to distract oneself worrying about the other side's problems and to concentrate on improving oneself and playing harder to compensate for the wrongdoing.
Denis Vako replies:
I can't define what "shaved finger" margin is, or unshaved for that matter, that is surely a joke, but in swimming hitting the wall makes the great difference for the result; as when one swims his body/hands/legs are doing cyclical movements and ability to break this cycle or accelerate it, to cut time on touching the wall, will win the race at the finish. In other words, when race is short, i.e. 50m or 100m, among equal sportsmen (as almost always the case), it is the touching of the wall which will determine the winner.
Different strategies there are, depending on the distance; when it is 50m race it is about how you jump into the water, how long you spend gliding under it and on the distance that left one must exhaust all his reserves before promptly touching the wall. While in a 200m or 400m race, one has more margin for error and strategy is more or less to "swim with the pack" and then to have an ability to explode the last 10-25% of the distance.
Stefan Jovanovitch writes:
It wasn't the finger; it was the half stroke before the final full one that gave Phelps the acceleration to touch out Cavic. Cavic's technique was the right one except he looked up a fraction before he touched. That lift of the neck and the added drag is probably what cost him the race. These are not my opinions but those of daughter, who — before her back injury — was good enough to be one of the field horses in Natalie Coughlin's 14-18 year old races at our County swim meet. Whether Cavic's looking up was a failure of character or just the inexperience that comes with being in a big race for the first time is also a question I leave to those who can read others' minds and souls.
Reid Wientge adds:
Athletes "letting up" at the finish line seems to be endemic. It's in baseball and can be found almost every game. In the Olympics, I watched a German lose in one man paddling (the paddler kneels in the boat) because he slackened his pace just before the finish line. And I do mean just — he had the Gold in his canoe but his opponent, who had been challenging for more than half the race, pulled hard all the way to the line and won by a fraction of a bow.
Jordan Low extends:
We should trade by following our models, and constant meddling, i.e., looking up, while a trade is still in play, causes drag. Trading is like competitive swimming: there are many factors that you have to perfect, from the stroke to the turn, etc.
Nigel Davies replies:
I believe that Stefan is right in implying this goes much deeper. Trying to compensate for what seem to be the errors ('looking up' or 'not sticking to systems') tends to do little other than consume the attention after which a thousand other small errors appear.
So instead of vowing never to look up again, the guy should seek out the small vanity that distracted him with the thought of medals and glory. But this is somewhere most people won't go; it's easier on the ego to find some other excuse.
Jeff Watson writes:
Back in my old days at the Mid America Commodity Exchange, the weekend before my trading debut, I remember practicing hand signals in the mirror for hours and hours on end. I wanted to hard wire them into my brain so they would come out effortlessly, with 100% accuracy. Anything less than perfect might end up with my having bought 20,000 bushels of March wheat at 3/4, when I meant to sell 20,000 bushels of May at 1/2. Vic and Laurel understand the value of practice, and know exactly what the fruits of practice will bear. Even though it's the oldest cliche in the book, "Practice makes perfect" is still an integral path in the road to success.
Ian Brakspear corrects:
"Practice makes permanent" — each time you repeat something incorrectly you are making the mistake more ingrained in your mind. It is crucial to have the right program/instruction before you start.
May
15
I had lunch in Mutare yesterday, a town in Zimbabwe on the Mozambique border.
To give you a benchmark — bread is currently over 110 million a loaf; on 22nd April it was 40 million per loaf. The lunch bill: soup — 50 million, oxtail — 600 million, coffee — 50 million, with no charge for the pink ice cream. During the meal, one of my mates was drinking beer — 750ml bottles of Castle Lager (fondly called bombers). He ordered a fifth one, was advised that the price, which when he ordered his first, second, third and fourth ones was 160 million per bottle, had gone up to 340 million per bottle. That's right — during lunch there was a price increase… He ordered no more beer! Aren't you glad you are not a beer drinker here in Zimbabwe!
Misan Thrope adds:
Hang in there, help is on the way: Zimbabwe introduces half-a-billion dollar note.
Sep
19
Franschhoek is about 40 minutes drive from Cape Town and is considered the food and wine capital of South Africa — it is on the wine route and there are many superb restaurants in the village and on the surrounding wine farms. In the village, Le Quartier Français is great — one of the World's 50 Best Restaurants.
Camps Bay also has great restaurants on the beaches as does the suburb Constantia, which is also a wine area. The V & A Waterfront is great to visit and shop but very expensive for food and not good value for money — too touristy.
Cape Grace is an excellent hotel, as is 12 Apostles. As to restaurants, Ginja in Cape Town is a must. Bukhara has great Indian and Baia at the Waterfront has the best seafood.
Aug
30
The IRB Rugby World Cup, the greatest venue for the sport, begins in eight days. I am rooting for the USA Eagles, but my favorite team is the South Africa Springboks, a team with absolutely no flair or tactical nuance in their game. Their "strategy" has been described pejoratively as "subdue and penetrate." They are the most physically aggressive side in any sport I have ever seen — and have been that way for a century. They fight you, they tackle you to oblivion, they run over you, but they rarely (defined as "no more than any other team" since rugby is incredibly violent) play dirty.
Of the sports I have played, rugby most reminds me of the game of life. It is a constant grind and struggle. Physical, mental, and emotional pain are around every corner. I was once blindsided on the side of the face during a match, which both hurt physically and offended my sense of fairness. But you have to focus and hope your teammates can kindly point out the transgressor for suitable retaliation. There is simply no time to become offended or to take things personally. It is too fast a game for that, and diverting your attention to a petty offense dramatically reduces your effectiveness.
You must communicate with your teammates constantly, you must defend them when they are punched, gouged, and cleated at the bottom of a ruck. You cannot be intimidated by foul play or hostile words, or become frustrated when someone bumps into you after the official stops play. It's all gamesmanship.
At the end of the game, all is forgiven. Everyone understands that temperaments during conflict become warped. The person who punched me later walked up to me, bought me a beer, and apologized with sincerity. It's a great sport, filled with incredibly tough and skillful athletes, and a joy to watch.
Ian Brakspear adds:

Rugby is the ultimate in physical challenge. I played for the national team in Rhodesia, then played for five years in South Africa, including two years in one of the hardest competitions in the world, the Currie Cup.
There is a position in the game for everyone, no matter what his physique, size or speed. Back-line players require a lot of speed, especially the wings; fullbacks and fly-halves must be good under the high ball, good in defense and be able to counterattack from turnovers — thus the need to think and size up the game in a split-second as well as the ability to kick the ball prodigious distances.
Tight-forwards come in all shapes and sizes but must be physically strong both with ball in hand, on defense and in the ruck and maul. The front row are usually short and very stocky and are some of the heaviest men on the field and the locks are always tall (at least 6'6")and well-built.
Loose-forwards' physical requirements are somewhere between the backs and the tight five; they lack the speed of the backs and yet are faster than the tight five but not as big or heavy –- their tackle count in the game must be higher than any other player's on the field to be considered effective for their position. Some countries play with a genuine fetcher (for instance, New Zealand's Richie McCaw) but others don't.
Today's games are won on defense, yet the only team to have won the World Cup twice, the Australians, won with their attacking play.
As for the Springboks' (South Africa) chances, I hope we win, but we lack a quality fly-halve, don't have a genuine fetcher in the loose-forwards playing in our "A" side, our rush defense from set-pieces is stale now and teams have figured out ways to beat this. We lack the ability to score from set-pieces and are forced to include some third-rate players — those our government refers to as the "previously disadvantaged." But in our favor we have the best lineout forwards in the world, our defense lines are amongst the best in second phase play, and we can score tries from broken play.
The coach of South Africa, Jake White, is a good friend and was my training partner for a long time. But Jake lacks that "something special" to win this, the fourth most viewed sporting event in the world, as he has never played rugby at a high level, not even club rugby, after winning the Tri-Nations in his first year, 2004 — his winning percentages have gone down every year since. Jake and I have had many late-night debates about strategy and tactics.
Archives
Resources & Links
Search