Many bearish things about gold lately. That it doesn't go up with no inflation, that we're in recession. That the dollar is going up. That there is great overhand of stocks. I am reminded of a question that I always ask when we hear rumblings that we are going into recession and someone suggests that it is bearish for stocks. I always ask, "what does that have to do with the likely outcome of the stock market? Will the drift be lower or higher?" Oh, I haven't tested that is the unspoken answer. Same for gold. I have not been averse to considering speculative buying of it on all the dips and one is not averse to upholding the spirit of Gavekal idea that it is good to consider things of that nature when caught in Africa by natives, or in large deposits by flexions. One notes a 20 day minimum and is not averse to considering expectations thereafter even before Dr. Zussman runs it on small tab.
Kim Zussman writes:
Using ETF "GLD" daily closes (12/04-present), new instances of 20 day lows were defined as the first 20 day minimum in 20 days. For these new 20 day lows, the return for the next 5 day interval was positive but N.S.:
One-Sample T: next 5D

Test of mu = 0 vs not = 0

Variable N Mean StDev SE Mean 95% CI T P
next 5D 32 0.0012 0.0317 0.0056 (-0.0102, 0.0126) 0.22 0.828
However 7 of the last 10 instances of new 20D lows have been followed by 5 day periods which were down:
Date next 5D
02/11/13 -0.027
12/04/12 0.007
10/15/12 -0.005
06/28/12 0.018
05/08/12 -0.040
02/29/12 -0.004
11/21/11 0.021
09/22/11 -0.067
06/24/11 -0.009
01/07/11 -0.007
07/01/10 0.011
03/24/10 0.025
01/27/10 0.020
12/11/09 -0.003
06/22/09 0.017
03/10/09 0.022
01/12/09 0.047
10/16/08 -0.109
07/30/08 -0.032
03/20/08 0.022
08/16/07 0.010
05/10/07 -0.014
03/02/07 0.008
12/15/06 0.011
08/17/06 0.012
06/01/06 -0.026
02/13/06 0.026
12/20/05 0.050
10/20/05 0.026
08/30/05 0.031
07/06/05 0.002
03/22/05 -0.001
Anatoly Veltman writes:
Fantastic work, as always. Now, I will ask a few skeptical questions:
1. So you test a historical period which saw the price move from $400 to $1600. Wouldn't you expect bullish historical results of a purchase made just about any random day?
2. So we're having a market in 2013, bouncing around on any piece of planted news from Cyprus, from EU, from Putin, from Japan, from Fed, from WH, from investment banks, from fund characters (the ilk of the upside-down), etc. How will one adjust one's timing of statistically catching the falling knife - given that the timing of such leaks (releases) has significantly changed from the test years?
3. Also, the market mechanism has changed in those 8 years, on two fronts:
-the increased weight of ETFs vs. bullion/futures
-the increased prolifiration of HFT exploratory orders
My gist: it's good to have a study, but there are plenty of caveats that call for increased amount of discretion.
In fact, here is my idea: I've observed this to work at an increasing rate since the transfer of investment capital from public into the coffers of the banks and funds has been initiated by the Central authority.
So Gold drops too quickly from $1600 to $1563, which rightfully piqued the Chair's interest in the wee hours. So this is what investment banks, playing with unending public capital, do (for a 24-hour play): they buy momentary cheap Gold and sell Oil against it (got to get the quantity mix right). Oil could not be considered cheap following last week's straight rise. Works plenty of times. And when it doesn't (really, once in a blue moon), a short term spread position becomes a longer term hedge, then the books may get cooked, then a rogue trader is disclosed, etc. who knows…But a good statistical trade to be sure. I like it.
Jason Ruspini adds:
If it seems like HFT is degrading certain strategies over time, there might be testable differences between different futures exchanges that support different order types. For example CME supports stop-limits without any additional software, but Eurex and TSE do not. ICE natively supports ice-berging, most don't. HKFE and SFE only support limit orders natively. Does the performance of benchmark momentum or reversion systems on equity contracts differ between these exchanges (without applying slippage assumptions)? They aren't apples-to-apples of course but if HFT has polluted the microstructure for certain strategies, it seems like something should show-up here, even if many participants have ways to create the other order types.
What are the common errors, the improprieties, the lack of attention to proper mores, the p's and q of trading that cause so much havoc and could be rectified with a proper formal approach? Here are a few that cost one fortunes over time.
1. Placing a limit order in and then leaving the screen and not canceling the limit when you wouldn't want it to be filled later or some news might come out and get you elected when the real prices is a fortune worse for you
2. Not getting up or being in front of screen at the time when you're supposed to trade.
3. Taking a phone call from an agitating personage, be it romantic or the service or whatever that gets you so discombobulated that you go on tilt.
4. Talking to people during the trading day when you need to watch the ticks to put your order in.
5. Not having in front of you what the market did on the corresponding day of the week or month or hour so that you're trading for a repeat of some hopeful exuberant event which never happens twice when you want it to happen.
6. Any thoughts or actual romance during the trading day. It will make you too enervated or too ready to pull the trigger depending on what the outcome was.
7. Leaving for lunch during the day or having a heavy lunch.
8. Kibbitsing from people in the office who have noticed something that should be brought to your attention.
9. Any procedures that violate the rules of the British Navy where only a 6 inch plank separated you from disaster like in our field.
10. Trying to get even when you have a loss by increasing your size and risk.
11. Not having adequate capital to meet any margin calls that mite occur during the day, thereby allowing your broker to close out your position at a stop while he takes the opposite side. What others do you come up with?
Jeff Watson writes:
I don't know if it is an error or a character flaw, but freezing will create mayhem with your bottom line.
Alston Mabry comments:

"Do Individual Investors Learn from Their Mistakes?"
Steffen Meyer, Goethe University Frankfurt– Department of Finance Maximilian Koestner, Goethe University Frankfurt - Department of Finance Andreas Hackethal, Goethe University Frankfurt - Department of Finance
August 2, 2012
Abstract:
Based on recent empirical evidence which suggests that as investors gain experience, their investment performance improves, we hypothesize that the specific mechanism through which experience translates to better investment returns is closely related to learning from investment mistakes. To test our hypotheses, we use an administrative dataset which covers the trading history of 19,487 individual investors. Our results show that underdiversification and the disposition effect do not decline as investors gain experience. However, we find that experience correlates with less portfolio turnover, suggesting that investors learn from overconfidence. We conclude that compared to other investment mistakes, it is relatively easy for individuals to identify and avoid costs related to excessive trading activity. When correlating experience with portfolio returns, we find that as investors gain experience, their portfolio returns improve. A comparison of returns before and after accounting for transaction costs reveals that this effect is indeed related to learning from overconfidence.
Kim Zussman writes:
Trading a market, vehicle, or timescale that is a poor fit for your personality, temperament, and utility, exacerbated by self-deceptive difficulties in determining this.
George Coyle writes:
Speculation by definition requires some amount of loss otherwise the game is fixed. However, I believe loss can be broken down into avoidable loss and unavoidable loss. Unavoidable loss is, well, unavoidable. But in my personal experience (and based on pretty much all speculative loss I have seen or read about) all avoidable speculative loss is traced back to some core elements/violations: not being disciplined (many interpretations), getting emotional and all of the associated errors and mistakes that brings, sizing positions too big so that regardless of odds you eventually have to reach ruin, not being consistent in your approach (the switches), not managing your risk adequately either via position sizing or stop losses, finally you have to be patient for the right pitch whatever that may be for you.
Jason Ruspini writes:
A similar distraction comes from making public market calls.
Jim Sogi writes:
The Sumo wrestlers' trainers in Japan are conscientious about avoiding mental strife in their fighters since it affects their performance. Sometimes when other life issues intrude, like getting up on the wrong side of the bed, it is better to refrain from entering a large position. You're off balance. How many times have I thought to myself, "I wished I had just stayed in bed this morning"?
William Weaver writes:
Mistakes I'm working on:
-execution error
-having too much size too early — the first entry is usually the worst
-not being able to add size when appropriate — need to add to winners; understanding when to retrade and why — why did the trade fail, was it me or the trade?
-not taking every trade
-need to adjust orders when stale
-not touching orders when not stale
-not getting excited about trades
-not holding until appropriate exits, especially winners — disposition
-not accepting the risk. Must accept the risk.
When we fear, we fail. But we cannot be courageous without risking overconfidence because it leads to recklessness (at least I cannot). So how to not fear and not be courageous at the same time? One of the best traders I know is indifferent to any trade, yet he is excited by his job. He also has (and shoots for) only 40% winners but simultaneously is profitable on a daily basis (and expects to be). These were contraditions to me 8 months ago, now they are just fuzzy in my mind and I understand them but cannot explain them.
This site is devoted to the scientific method… expectations, the real world, actual decisions that people make under uncertainty. Any individual taking an economics course learns that consumer choice takes into consideration a myriad of expectations about the future subject to constraints and substitutions and alternatives. Please go back to the economics texts to see why prediction markets are much more accurate than polls. The prediction market is 75% for the incumbent. That's an all time high. Gentleman, does it have to go to 99% before you see that people actually making bets with their money is a much better predictor of outcomes than a poll? A good article assessing accuracy of expectations and margins of error for predictions versus polls is by Berg. Please. No more self supporting ideas about how close the polls are.
Stefan Jovanovich writes:
Ouch. Since all my ideas are self-supporting, I can only confess to absolute guilt. I also have to agree that money is and should be the litmus test. Intrade is not about money, however. The current "market" for Obama is 1 share offered at $7.51 and 104 shares asked at $7.46. Their comment stream, on the other hand, is unending; it dwarfs even the Huffington Post in frequency. Polls matter precisely because they are about money. They are the only device the campaigns (including the supposedly independent issue ones) can use to decide where to spend their advertising dollars and where to schedule the candidate appearances. Professor Berg's assertions about Intrade's markets are 10 years old; they also go back to the golden age when those markets themselves were so obscure that they were, indeed, pure. They are anything but that now, even if they remain shallower than the Platte River in September. I suggest that we all look at these questions the way the advertisers and producers look at audience ratings in television and radio; the overnights matter but P&G, Colgate and the car companies all want to see the internals so they can decide where to put down their next bets. What everyone knows is that trusting the raw numbers during sweeps week is not the best way to decide how to spend the hundred million dollars required to launch a new household cleaning product.
Jeff Watson writes:
If polling offers more predictability than incentive markets, then perhaps one should look at the paper traders for guidance in the markets.
Rocky Humbert writes:
Unless someone changed the law when I was not looking, it is unlawful for a US Citizen to bet on Intrade. When I tried to open an Intrade account several years ago, this fact was made very clear to me by the Intrade people. (And I didn't open an account.)
Hence you either have the US Election being predicted/decided by non-voters. Or you have the US Election being predicted/decided by Americans who flaunt the law.
I report. You decide.
Jason Ruspini adds:
Liquidity used to come in during US hours and looking at just the past two days for the Obama contract, that still seems to be the case. The federal law that might be most relevant for listers is the Commodity Exchange Act. With Cantor movie futures and Nadex, the CFTC signalled jurisdiction over prediction markets, which would make Intrade an illegal commodity exchange. I guess they are busy with other things…
I have a theory that the hassle of wiring money in clips of less than $10k coupled with the margin system (you post $6 to buy a 60% contract but $4 to sell it) means that not only are the markets thin, but prices tend to be closer to 50% than they otherwise would, beyond the usual longshot issue near extremes.
EDT Hour Volume
0 111
1 36
2 193
3 60
4 198
5 283
6 148
7 22
8 297
9 537
10 270
11 3334
12 6621
13 1883
14 3079
15 2819
16 262
17 8171
18 1961
19 6897
20 101
21 346
22 536
23 400

Having internalized some basic aspects of wave counts, such as alternation of corrective waves within a motive wave, coming back to the counts produced by Advanced GET is a strange experience, as the software-generated counts seem quite wrong.
Have others, as I now have, given up using software to mark the key wave points? Of course one would still use a software grid to mark Fibonacci retracements.
Anatoly Veltman writes:
Actually, Advanced Get by Tom Joseph was very good when first introduced in late 80's-early 90's. Trick was that one should have also attended Tom's weekend workshop (mostly held near an airport in Ohio), to be tipped on the whole essence: type 1 and type 2 trades, wave 4 index and oscilator. Without figuring out when Wave 4's odds diminish to unacceptable — there is no reliable Elliott Wave trading. And Fib retracements are great — but ONLY if EW type 1 or type 2 trade has first been isolated. I taught Tom's methods for about 15 years. Not sure if any of my students succeeded in black-boxing the entire methodology.
Tim Melvin writes:
Did someone really say fibonacci on the spec list? This could get interesting if it is anything like the old days…
Anatoly Veltman writes:
Well, that's the whole point. Loving to say Fib doesn't test well– when the wrong application was tested to begin with.
Phil McDonnell writes:
To be sure one must test something according to the right way of doing things. However that is exactly the problem with wave counts and the like. The rules are so arcane and convoluted even so called experts disagree on them.
If you get 5 different Elliot exerts in a room you will get 5 different wave counts at the same time. It is a bit like the game of Fizzbin. The rules keep changing and are unnecessarily complex.
Leo Jia writes:
I think one probably should take this argument as a not-bad news for Elliot theory or any theory that gives non-consenting results. It means that it likely has some statistical truth in it that is worth one's effort in seeking. Don't we agree that a market theory delivering definitive results does not exist or, if exists, ought to be thrown out?
Steve Ellison writes:
Trying to stay in line with our raison d'etre, I have been coding a method for retrospectively identifying highs and lows of multiple levels of significance.
My approach is to go bottom up, starting with an idea I got from one of the Senator's books. A local high is a bar whose close is higher than the closes of both the previous bar and the following bar. A local low is a bar whose close is lower than the closes of both the previous bar and the following bar (a sequence of 2 or more bars with equal closes count as one bar for this purpose).
After identifying the local highs and lows, I move up a level. A 2nd level high is one that is higher than both the preceding local high and the following local high. A 2nd level high cannot be recognized until one bar after the lower local high that follows the 2nd level high. I record the time at which the 2nd level high could have been recognized.
I follow similar rules to identify 3rd level, 4th level, etc., highs and lows and the times at which they could have been recognized in retrospect.
I haven't finished yet, but this method should give me a platform for testing hypotheses about "primary trends", etc.
Anatoly Veltman writes:
Tom Joseph's contribution to E.W. trading, in my view, was much greater than Prechter's or RN.Elliott's. Tom basically said with his excellent refined Type 1 trade: don't ever place any bid, unless:
1) you've already observed a valid impulse (with extended third wave)
2) a correction is currently in progress, approaching 38% of preceding rally
3) you're filtering this correction with oscilator return to 0, and fourth-wave index still sufficient for fifth wave
4) fifth wave projection extends to at least 2:1 profit/loss ratio, incl. all possible slippage.
I say: if all these conditions are not met (and this may not occur every day) - never place a bid at 38% retracement. If all these conditions are not met, you'll have to bid only at near-100% retracement. What does this principle have to do with popular E.W. or popular Fibonacci methods. Nothing!!

Laurence Glazier writes:
Sure, things are complicated and one would not wish to poke a stick into a hornets nest, but … some things are complicated.
It took hundreds of years to elicit the laws of harmony from the canon of classical music (many to this day deny their existence). Put five composers in a room and have them harmonise a tune (the non-believers might refuse to!), and they will do it five different ways, but they will all have added to the map of knowledge.
Even knowing those laws, one could not reasonably predict how a piece of music would continue if Pause were pressed (unless it were minimalist) - but one might anticipate it would return to the tonic key, and that the free fantasia would not be over-long, and so on.
Those laws are difficult, unprovable, and without material substance but are the result of empirical observation.
Gibbons Burke writes:
CTA E.W. Dreiss used, in the 1990s, a very similar way to count waves in the market using what he called the Fractal Wave Algorithm (FWA), and he traded futures breakouts from FWA-n magnitude highs and lows. Did quite well, but like all trend followers, it is a bumpy ride.
He also came up with the Choppiness Index, which sums the true ranges in the last n periods, and takes that as a ratio of the n-day range.

Jason Ruspini writes:
This is the natural approach that I took as well. Ignoring the "correct" 1-5 definitions, I just looked for a run of higher such double-X highs and higher double-X lows identifiable with the necessary lag, with attention to what happens when you eventually get a lower major high/low, breaking the "wave" run count, which can keep going after 5. What I found wasn't very interesting, in-line with my previous comment. I'm still unclear if anyone is actually trading a tested (complicated) system or just applying versions of rules with discretion. If it is a tested system, why is it better than a simple long-term momentum system?
George Parkanyi writes:

I like to keep it simple. Many years ago, I read something written by Larry that said, when the commercials are generally substantially more net long or short than specs - that tends to stop trends and turn markets the other way. He admitted it was a rough rule of thumb - that it may take a while to turn the tanker - but I pay attention and time after time I've got to say it works. So right now two markets that fit that profile are coffee and to a little lesser extent sugar. (Oh yeah, VIX as well) I've been long both for a couple of weeks with modest starting positions, and just had a nibble at VIX. I don't know when the trends will turn and I may have to take a stop or two, but I like the chances for a good position-trade in these two markets - and VIX as a bet on a short-term post-Fed hang-over. I checked back to when coffee started this particular big decline - and it was within two weeks of when commercials were selling the crap out of it and their net-short positions had peaked. Gold and a number of other commodities did the same thing at the beginning of this rally that began in May - except that the commercials were the only buyers at the time. It may be a dumb-as-dirt perspective on my part, and will likely set off Anatoly - but its one thing that has stuck with me from reading a number of Larry's books.
Let us understand that in addition to being one of the worlds greatest liberal poseurs on a par with the sage and other sanctimonious scoundrels, the bond king likes to stand on his head for an hour a day before the yoga.
Jason Ruspini writes:
His inequality angle aside, I still feel that the main psychological "national enquirer" message that flows through such pieces is not that man is small next to the state but rather that the state, pensions & entitlements are likely essentially bankrupt, and that arguments citing robust past growth under high tax rates aren't admissible. Note that "left" econ bloggers like DeLong , Yglesias on Slate and Justin Wolfers and Blodget all began promulgating rebuttals to Gross almost immediately. They certainly did not perceive this output as friendly to their fiscal views. They did not seem to read it as "the state should make up for this shortfall", "fund the state instead of business" etc, but rather seemed threatened by it.
What is the definitive answer as to how we can learn from the best way to catch a man about how to catch a good market move?
Debra Belanger Kettle responds:
Well now that you put it this way.
1.) I suggest that one pays attention to the stocks that could care less if they are purchased or traded. The quiet ones. The non volatile ones.(the best, most stable women are thriving and so busy enjoying their lives they don't really worry about being snagged, they have more men in pursuit than they can usually manage or have time for.) They are the best catches. They don't dress to necessarily impress or seduce, they don't have to.
2.) If the idea of competition stirs interest, don't get seduced, investors might merely be competing with each other when they should be focused on learning about how the market moves and what she needs at the moment. The male or investor might miss something big being divulged or demonstrated when he worries about the competition. The conversation/connection with the woman or the market must be sustained fully.
3.) Men can NEVER be caught. Men fall in love first. If a woman tips her hand in this regard she is done. Men are suspect if something comes too easily. Unless he's a narcissist and imagines that he is irresistible or invincible. It doesn't hit him immediately that he has to have her. If a stock gains lots of attention it will probably lose it's momentum soon and is probably just flirting with you or using you to create competition for the man she truly wants. Real interest from a woman is steady and climbs deliberately, carefully, without much frenzy. Watch out for those stocks and when you find one commit.
Bottom line. Tell your daughters to develop their own lives. This is intoxicating to a healthy man, to a man worth having. And as far as my loving Ayn Rand. Clarification. I love her quote on femininity. Just because she can define something as clean as two plus two does not imply she is a great mathematician. Truth be told, I love Hugh Laurie, (House MD). He is brilliant, tall, not easily manipulated I hope, and has a British accent. This combination makes my knees go weak.If he were a stock he would require careful management, not wild abandon straight out of the gate. But I digress, relationships whether they be stocks or people are neck up jobs. Yes, the heart knows things the head knows nothing of. But the head must lead or stupid decisions are made. Marriages that are too emotional might last but don't thrive. Many also don't last.
In my practice I have had 5 women marry in the past 3 years following my advice to immediately start dating at least two other men when she finds one she might like to spend her life with. (something I don't apply to my own life because the thought of 3 dates a week would seriously cramp the time I need for my true loves: dancing and reading). So initially, the plan is genius to create a dating sperm war, so to speak. I will keep you posted on how these connections fare over time. Men who seem invigorated by the competition might be more interested in the game than the woman. Do investors play the stock market, each other, or both? To me it seems the best products are won by trusting the relationship and ignoring the competition or lack thereof.
My best advice to women( the stocks)………..keep busy with your owns hopes and dreams. Grow, thrive, develop. Interesting, happy women, women worthy of committment are never at a loss for male attention.My best advice to men….. Just listen. Pay attention to her more subtle moves. Like women, the market speaks softly of her secrets and will reveal them when you might least expect it.Not only will a good woman not make you feel manipulated, she might also make your life richer.
Gary Rogan writes:
The Market Mistress wasn't quite fulfilled And simply bored with the orders filled. Her soul was yearning still to feel the fire That came along with passion and desire.
And mortal fools that tried to play her game Were also boring, they were still the same While she was different and waiting to seduce A worthy challenger while tightening her noose.
She glanced at her reflection in the sky, A moving cloud. What was there to try To bring to life a plan that would attract The challenger she needed so to act?
Should she stay still or gently throw the dice, Surprise the world a little once or twice? Or steadily reward the fools until They felt they understood her steady will?
She smiled and shook the world until it screamed. It's time, she thought. It worked, or so it seemed. The crowd dispersed and to fulfill her soul
Her charming prince appeared to take the fall.
Jason Ruspini comments:
The suitor is judged against others so one answer is the fed model, which is very appropriate for the Hegelian Rand passage where the essence of femininity is defined as the worship of masculinity. But that was uncharacteristically subtle of her.. In markets and outside of tautological symbols, A is indeed not-A at the margin. Is the USD just the USD? Why would one complain that increased correlations are invalidating one's "fundamental" work on a stock when those dividends are constantly being re-discounted, not to mention developments in the whole rest of the stock universe making the suitor more or less attractive on a relative basis.
Do people who say that stocks are too volatile even have any quantitative basis for what the volatility should be given all these cross-influences?
Regarding today's action and that of the last few years, it is much easier to tell the temperature than to predict where specific particles (policy officials) will go.
To everyone who has apparently joined OWS and is complaining about HFT, please just write your congressmen asking for a transaction tax so that we can more effectively make the list poorer or be forced to become trend-followers. Sorry for the rudeness.. one is agitated.
Anatoly Veltman comments:
Deeper than just HFT: combination of flexionism and HFT.
Economy needs capital market participation: momentum speculators and long-term value seekers. Participants became disenchanted due to above combination, feeling markets are rigged. We're in catch-22 now, where stock market only advances on money printing; then panics on realization.
The speculators of this List have always sought to compete in rich diverse environment, where they could do their work and outsmart crowds of amateurs or pseudo-professionals - within near-perfect zero-sum! Alas, the crowds have so totally dispersed. To be more precise: speculative money has left the traditional, "regulated" U.S. arenas. It currently resides elsewhere -where we are outsiders
John de Regt writes:
I've always been happy to play the game of buying low and selling high, having perhaps seen potential value not generally recognized.
My earlier reference to the big casino derives from my view that the proportion of fundamental investors to buyers and sellers with no interest in fundamental investing has changed. A great deal, perhaps too much (depending on your perspective…), of the buying and selling these days, hence market moves, has nothing to do with investment.
There is a paper making the rounds from the FRBSF that looks at the predictive relationship between "middle" savers (40-49) and "old" spenders (60-69) for equity market P/E ratios. The paper demonstrates a relationship between the M/O ratio and historical market P/E ratios from 1954-2010. The paper is a quick read.
The conclusion that is getting the attention reads:
Historical data indicate a strong relationship between the age distribution of the U.S. population and stock market performance. A key demographic trend is the aging of the baby boom generation. As they reach retirement age, they are likely to shift from buying stocks to selling their equity holdings to finance retirement. Statistical models suggest that this shift could be a factor holding down equity valuations over the next two decades.
A couple of quick points on the FRBSF economic letter:
1) The key paragraphs in terms of stock implications are:
Since we have forecast a path for the P/E ratio, predicting stock prices is straightforward if we can project earnings, the E part of the ratio. For this purpose, we assume that, in the next decade, real earnings will grow steadily at the same average 3.42% annual rate by which they grew from 1954 to 2010. To obtain real earnings, we deflate nominal earnings by the consumer price index.

The model-generated path for real stock prices implied by demographic trends is quite bearish. Real stock prices follow a downward trend until 2021, cumulatively declining about 13% relative to 2010. The subsequent recovery is quite slow. Indeed, real stock prices are not expected to return to their 2010 level until 2027. On the brighter side, as the M/O ratio rebounds in 2025, we should expect a strong stock price recovery. By 2030, our calculations suggest that the real value of equities will be about 20% higher than in 2010.
Note that they are using "real" stock prices. Converting this to nominal using currently depressed inflation expectations of 2.01% over the next decade (from TIP breakevens) implies an increase in stock prices that is roughly 50% higher than what is priced into long-term S&P options. If they are right (and I think they are wrong), then the returns to equities using long-term options should be around 3.7% over the next decade (better than government bonds) while the returns to holding the S&P should be roughly the same 3.65% due to dividends received over the next decade.
They are also making an assumption that trend earnings growth mimics that of 1954-2010. They are calculating this using a straight line two point growth. Fortunately, they ignore that 1954 earnings were roughly 50% above long-term trend lines while 2010 earnings are roughly 30% below trend. Using an actual trend line (rather than point to point) growth would imply that S&P earnings should grow 10% per year over the next decade (this makes more sense if you forget about "peak margin" nonsense and recognize the current profit levels are against a very depressed economic output line). Using their other data (dubious for reasons articulated above and below) and trend earnings would imply the S&P should rise roughly 83% over the next decade (to ~2,100). This would yield returns from long-term options of 22.3% per year over the next decade while holders of the S&P should receive returns of 8.1% per year.
2) They "fit" data from 1954 to 2010. There is a reason for this choice of data sets — it's the only one that works. The demographic data offers zero explanatory power for periods prior to 1954 for one very simple reason — the proportion of the population that was aged 60-69 (their "old" people who are supposedly liquidating assets) was far, far lower. This would imply that P/E ratios should have been stratospheric in the pre-1954 period. We can see a tease of this in their chart that shows rising P/E ratios from 1964-1954 on their "model generated" line. Pre-1954, this model generated P/E would have risen dramatically. In contrast, they were depressed. As a result, I would strongly question whether we can generate any real insights on the forward direction of P/E ratios from this analysis.
The reality of all this nonsense is that when equity markets are low and falling, most people will offer explanations for why they are low and falling. Those arguments will sound intelligent until equity prices begin rising inexplicably. Then they will rage against the "bubble" until they suddenly see the light and argue we are at a permanently higher plateau.
Kim Zussman writes:
This is a variant of the "sell to whom" question posed by Jeremy Siegel in "Stocks for the Long Run". ie, when boomers retire and they change from saving to consumption, who will buy their stocks?
Siegel's suggestion was younger people of developing nations / emerging markets. Given the known tendency for people to invest closer to home, why wouldn't up and coming Indians and Chinese buy domestic vehicles rather than SPY?
Jason Ruspini writes:
Whatever problems we think we see with such studies, it is an embarrassment for economics that the effects of demographics, globalization, and diffusion of technologies are not more widely studied and understood. This provides cover for all sorts of claims like "tax rates were higher in 1950 and 1990 and we had excellent growth then…"
Russ Sears adds:
While I agree that studying the effects of the predictable real economy on the real economy should get more study. Further I agree with your implication, that jumping from fiscal/monetary policy to real economy often hides a large amount of nonsense. However, I can not encourage a tunneled vision approach of narrow real effect to narrow real effect. Especially when I see the design of the study to be such that its intent is to keep people from following their natural ambitions and make sure the individual is smaller than he needs to be by discouraging investing in capitalism. They (the govt) only do these studies when this is the case. The nonsense comes by narrowing the line of vision to reach the conclusion that we need them to protect us from ourselves.
Jason Ruspini replies:
This sort of criticism was behind some of the controversy with Tyler's Cowen's book. To those on the right it sounded dangerously like " 'We' should do something! " To those on the left, " 'We' are poor and can't do anything…"
But I don't see why low average rates of return should discourage entrepreneurs. Situations like Apple and Facebook suggest that where there is growth in a low growth environment, money funnels to the innovators just the same if not more vigorously. Regarding Facebook, my sense is that part of the "problem" with current technologies as compared to those of the 19th-20th century is that the latter often compressed time in terms of more efficient communication, travel and production while the former largely serves to fill time with questionable effects on production and average asset returns. Additionally, the diffusion of the latter 20th century type across the world is now past its inflection point.
One other point..
Japan in the '80s through present might be a better complement to the Fed study than the pre-1950s world as suggested in Mr. Green's original email. Equity returns aside, all things equal, more retirees should translate to lower rates. Given sovereign debt, I guess one should say lower real rates.
Russ Sears responds:
The government is in competition with the private sector for capital…In the fiscal world should the retiriees give their capital to Government and let them continue to spend or should they give it to entrepreneuars and let them spend it.
In either case fewer real world projects will begin to those who loss the competition for capital. All things being equal if less money goes to the stock market, few projects are begun and cost of captial is raised. If they cannot get capital from issuing stock, they must issue more debt, real cost of borrowing goes up.
But if real demand for private sector goods are raised and fewer project in the private sector were funded, cost of loans will go up and the profits per $ in the stock market would also increase.
If more money goes to government, the more our government becomes addicted to the low cost of capital, and the more it spends on less and less productive projects.
Am I missing something?
Which do you think will raise the overall wealth the most? Would you believe a government study suggesting investing in the private sector is doomed to low real returns for decades?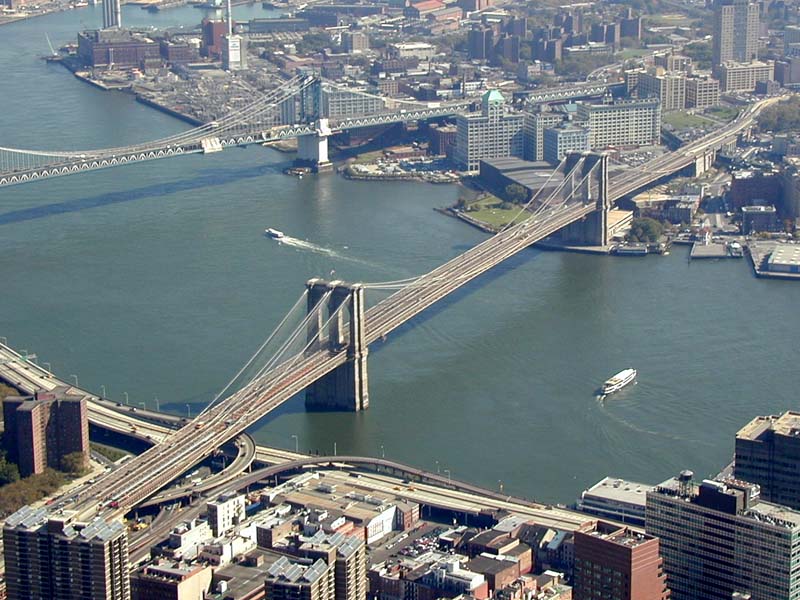 On a weekend trip.
1. We head to the Watchtower by the Brooklyn Bridge and they don't have the sign up any more that says, "the dead will rise". But it's there in my mind from the 1970s still. And eventually it will apply to tech.
2. Williamsburg itself is thriving with all the old factories now being converted to condos and family residences and boutique shops. If there is a good infrastructure and the buildings are strong, they will eventually find a good and productive use. The same thing applies to Coney Island where the crowds there now rival what they were in my day in the (I look around 3 times ) thirties. How to differentiate this from the situation in Detroit where the buildings sell for $50 or so. Is it just the unions?
3. We go to Zura's loft where hundreds of immigrants are doing sculptures out of metal working that they learned in Russia and making a good living, and they build model motorcycles and chandeliers among other things in the Mill building which was converted from a Mill 100 years ago when I was a boy. The immigrants are the dynamic entrepreneurs that make jobs for everyone and do things that enable us to augment our horizons.
4. We go to the Hall of Science in Flushing and the circus science is very good, and it shows that things are seldom what they seem. All the contortions and balancing can be learned with practice and family training. A contest between two balancing acts in Niagara Falls in the 1870s shows the importance of competition. One of the balancers had no hesitation in carrying Prince William across on his back as he crossed Niagara on a one inch thick tight rope successfully and dipped down to get a drink from a passing paddle wheeler for sustenance. The unusual is always the usual for the market, and what seems impossible will ultimately happen.
5. As we go home, our door snaps open and grazes a Russian's car, and he extorts us for hundreds as time is not meaningful to such. They were laying in wait for such to happen like a spider in his web. Time has a different value to all, and along with their low service rate, is the key determinant of why the Asians have and will surpass us.
6. "Times have changed"
"In olden days a glimpse of stocking was looked on as something shocking but now the Good one knows. Anything goes".
Aubrey and I saw Anything Goes.
I am thinking of 10 lessons we can learn from Anything Goes. You can help if you will. The first lesson is that in old times if you beat earnings estimates, nay, if you just reported a positive quarter, it was enough, a glimpse of a rise was sufficient. Now you have to beat the earnings estimate, you have to beat the sales estimate, you have to give an upbeat guidance for the future, and your margins have to improve.
7. Also, like in Anything Goes, the crooks are considered honorary captains of the ship. Many admire Madoff 's market making operation and his capacity to lead the auditors to think he was going to be the next head of the agency. The heiress Hope Harcourt (any relation to Jov?) has to marry the wealthy English Lord because her family has lost everything in the depression. However, her father jumped off the ledge of the stock exchange like a Yale man, so his death was honorable.

To be continued.
Rocky Humbert adds:
For what it's worth, the Jehovah's Witnesses sold the Watchtower building some years ago, and it's now an NYU dorm. Notably, they didn't replace the "Dead Will Rise" with ""Perstando et Praestando," …
The lack of signage might be due to infighting between the dead (and not rising) faculty of Brooklyn Polytechnic (whose campus was absorbed by NYU)… as they are still lobbying for Virtus Victrix Fortunae.
Useless fact: Brooklyn Polytechnic may be the only US university that produced Nobel Laureates AND went out of business.
Jason Ruspini adds:
Have they have already surpassed us? It looks more like American/European technologies and institutions have just diffused over to their many people. What are the innovative contributions to world society coming out of Asia? They have some tall buildings and big casinos.
If long-termism manifests itself as rigidity, that is a weakness. Not to extrapolate the Fukushima situation to all of Asia, but it does give a general impression of flimsiness under a facade of success and technical prowess. (Japan needed our robots. They will never live that down.)
Math/science that is actually innovative will win in the long-run, but America hasn't been bowed yet.
I traded a lot of gold 20 years ago. It was $350-400 Comex scalping paradise, where out of 30,000 total I managed to execute up to 3,000 in-and-out or 10% of futures total, on dull days. Maintaining an open arbline to gold pit - but being physically off the floor - allowed me more of a neutral perspective…
Fast-forward to summer 2010: gold effortlessly straddles $1250 record. I get a lot of Bullish mail, including people I haven't heard from in years: do I know best ways of securing bullion? Hmm… A dear colleague implores: "gold goes up when it's supposed to (declining dollar, market panic). Gold goes up when it's not supposed to (rising dollar, low inflation). That's textbook bubble behavior. There's no story on the table right now which might kill gold…why don't you stop fighting the bubble … and when this bubble bursts, there will be years of bear market rallies to sell!!!??" Explaining that I'm watching neutral from sidelines, I add: my original $1250 post was based more on my feeling THAT DAY that Bulls got WAY SLOPPY… I'll post if I see something interesting.
Immediately come consecutive daily rises into June 21, and I feel compelled to post my second heads-up of the year: "Are Gold Bulls getting sloppy again at over $1266?" What prompted me that morning was an unmistakable way the chart action was unfolding, complete with classic newsletter analysis of Sunday June 20, that I felt important to share (from Gold Scents, by Toby Connor).
And now for the query of the day: has over-90% Bullish consensus (of June 20) been broken?
Craig Mee writes:
What is interesting is the fact that when gold snapped below 1240, and got given for more than 40 bucks, that in 9 subsequent trading days, it failed to get stuck into that days range in a meaning way. Volatility didn't seem overly massive in turns of ATR, at the high… therefore you would tend to think this move was something of a wash out, but Anatoly was dead on in that gold started failing to be bid on the growth story and that was a big divergence from the previous trading pattern. Where's it going? Who knows, but I'll just be trading the price.
Jason Ruspini adds:
When one looks at gold as a % of global fx reserves or as a % of investable assets or monetary aggregates, it doesn't look like a bubble. Gold bears could have saved themselves some money if they had just gotten over the fact that yes it's relatively useless and negative carry– but that explains why gold does well. It does well when opportunity cost, real rates of return, are low. Yes, insofar as yields may "break out" in the next couple of days, gold will be less attractive. The next day some macro number may end that perception. I tend towards the idea that the long term bet on gold is a bet that real rates of return will be low relative to the 20th century. Granted, this is based on insufficiently tested ideas about demographics, globalization and technological rate of change.
Its good to classify cons into big and small cons, the degree of complicity of the victim, the use of confederates, and ruses versus bait-and-switches. The market would rate at the top in all of these as is readily seen, especially the use of confederates, and baits-and-switches. I am particularly gullible and an easy mark for cons. Recently, with Aubrey I had the pleasure of being victimized by a nice con at a fair. It was the medium sized con of a basketball game with the player having to shoot into a basket about 20 feet away and 10 feet high, with the basket a little smaller than normal. The only way to get it in is apparently to shoot at so high a vertical angle that the ceiling on the game precludes. The prizes include huge 4 by 5 feet whales and dolphins which I thought would be just the thing for Aubrey. Okay I asked the operator how much it would be to win one of the whales. He demurred. It would be so expensive I am ashamed to say. " How about a hundred i said ? " well, I'll have to ask my boss. " The operator said.
He had a conference with several confederates. And then came back to me with a positive shred. "Bring the kid over and we'll make him a happy camper". I pay my money and then I go to bring Aubrey over. The game is still there, but the big prizes have all disappeared. Only a stuffed Finding Nemo is there. Worth about 1/3 of the prizes I had in mind. "Which one do you want, kid?" Aubrey chooses the Nemo and the man tells him "kid you tried so hard and so well that I am going to give you a prize". As Aubrey walks away holding the Nemo bigger than him many bystanders ask him what he did to get such a prize. " i tried so hard they gave it to me as a reward ". The stages in this con, starting with a rigged game, relying on my desire to get a special deal, bringing in a confederate, then switching the reward are all too familiar. And it is very helpful in thinking about the market to go over these steps I think.
Pitt T. Maner III comments:
I found a nice overview with table of scam types. Elderly are often the main targets.
The success of many attacks on computer systems can be traced back to the security engineers not understanding the psychology of the system users they meant to protect. We examine a variety of scams and "short cons" that were investigated, documented and recreated for the BBC TV programme The Real Hustle and we extract from them some general principles about the recurring behavioral patterns of victims that hustlers have learnt to exploit.

We argue that an understanding of these inherent "human factors" vulnerabilities, and the necessity to take them into account during design rather than naively shifting the blame onto the "gullible users", is a fundamental paradigm shift for the security engineer which, if adopted, will lead to stronger and more resilient systems security.
From Understanding Scam Victims: Seven Principles for Systems Security , University of Cambridge.

Victor Niederhoffer expands on his remarks:
Part of every big con is the final touch where you make the victim frightful to ever demand restitution,or better yet, ready to put in more money to really get the full advantage. It was a nice touch for the operator to praise Aubrey so highly and let him hold the Nemo with such pleasure that for many many times the amount I paid, I would never have demanded a return to the bigger prize.
Rocky Humbert writes:
The cup is half full: If the objective of The Chair's exercise was to bring joy and happiness to his son, then perhaps this was not a "con" — as Captain Nemo was both larger than Aubrey, yet not so large that his father had to drag around an eight-foot-tall stuffed bear for the rest of the day. After all, the eight-foot-tall stuffed bear had unknown risks including the inability to see oncoming traffic when crossing the street perhaps resulting in the demise of both Bear and Chair.
Jeff Watson comments:
Back in my [adventurous] youth, I ran across a husband wife team that were travelers. Their con was simple and was a beautiful work of art in it's simplicity. The lady(dressed to appear rich and very well coiffed) would drive a brand new Caddie Convertible into a gas station, get a fill up, then would start looking around frantically for the 3 ct. diamond ring she "Lost." while going to the bathroom. She'd enlist the help of the pump jockey and would spend a good 15 minutes looking for the ring. She left very distraught with a note with an address and phone number to the jockey that if the ring were found, there would be a $3000 reward, but please don't tell her husband and only call at a certain time. An hour or so later a ragged man would show up walking through the lot. He'd buy a soda then would show the pump jockey the nice ring he just found. After a little wheeling and dealing, the ragged looking man would walk out with the contents of the register, the pump jockey had the ring and thought he was going to make a big profit. The ring was paste, the address and phone number were all fakes, but the money they made was real serious cash, especially for the 70's when they would regularly pull the con twice a day and average $500 total.
Victor Niederhoffer comments:
What is the market application of Jeff's Cadillac story ? The market applications of the Nemo are that the market has many big up days to lure you in, then you try to buy it on the cheap the next day. At first it doesn't hit your limit so you raise it a little. It doesn't go there so you end up paying near the high ofthe day, or like yesterday, it finally goes down a few points to hit your limit. While this is going on, a tip to a TV or news is given that the market looks great or that his former employee really lost money on that deal et al, and that makes you even more enthused.
You put the position on and then your broker calls you when it goes down. You don't have enough margin in your account. But if you sell within next 10 minutes, he's arranged with his manager not to have the computer extricate you at 1040 the way they did on the flash crash day. Finally, you don't have to come up with more money because you just lost all your margin so you don't have to tell the other half about the tragedy, and the manager gave you an extra special deal by not having the robot take you out ruinously because of your special friendship.
Thomas Miller comments:
Regarding Chair's last paragraph:
Forcing a quick decision under threats and intimidation then showing they are really trying to "help" you is an old scam similar to the "jury scam" I didnt know brokers learned this so well.
http://www.fbi.gov/page2/june06/jury_scams060206.htm
Big Al comments:
On a trip to Europe with a friend, after high school graduation, I started talking to a German merchant marine guy who was traveling with his CentAm wife and kids back to Germany. This was back in the Iceland Air/Air Bahama days, when the cheap flights went through either Rekyavik or Nassau. So we talked for an hour or two during the Nassau layover and then on the plane. When we got to Luxembourg, he hit me with the story about not having money for the bus trip with his family, blah blah blah, and we "loaned" him $20 apiece (I insisted my friend participate - more embarrassment). Then he gave us his address (yeah, right) so we could let him know where we ended up and he could then send us the forty bucks. I still remember the street address: 1 Jahnstrasse. Ha ha.
Watching the bus pull away, I knew we'd been had. He used the technique of familiarity and friendliness, and my obvious yokelhood, to get the money. At first I was really angry and embarrassed, but after a while I almost felt grateful, because the guy taught me an incredibly valuable lesson about myself and about the con and he charged me only $20 for the experience. Cheapest, most effective education I've ever had in my entire life.
And on street cons, I've been targeted enough times to know the pattern: First, the con uses a simple question to make contact with the mark and **get the mark to do something**. It can be just, "May I ask you a question?" Or, sitting in a car with the window rolled down, "Could you come closer? I can't hear you." Then, after the mark has offered compliance, the con hits him with an intense, rapid-fire story - "My husband kicked me out of the house and took my credit cards and I need a room for the night but it's eighty dollars…" - and tries to maintain contact and control and also confuse the mark, until the mark may hand over the money just to break off the engagement.
One way to have fun is start giving it back to them: "Oh that's so terrible. That happened to my sister once, but she was better off without him anyway. The police can help - just let me get your license number so they'll know who to talk to when they get here." It's funny but very consistent how angry they get when you start lying back to them.
Ken Drees recounts:
I just asked my daughter if she remembered the mouse I won for her [at a fair].
"Oh yes, 'mousy', where is he?"
Oh I threw it out years ago when you got tired of him.
"Why did you do that, he was my favorite all time stuffed animal ever, he had a red coat and black whiskers…."
I just turned and slowly closed the door.
R.P. Herrold responds to Ken's story:
From time to time, we 'clean house' and we find the black trash bags, presently carefully tied closed, up in the attic; from time to time, I am instructed to 'get rid of that clutter' as the now grown kids 'will never use those again'.
The Brio trains, the metal Erector set, the cast lead soldiers and molds, the Duplo blocks, the stuffed animals, Lincoln logs, the McGuffey readers, the arrow and ax heads collected in the fields, have all fallen to head of the queue for disposition over time
Stuffed animals were in the dock this past weekend. At that point, I usually carefully re-tie the sack, set it to one side for a moment, and then find a new hiding place for the bag in question after her attention turns to other matters. But a grandchild's mother and the child were delighted with the animal figures from my preservation efforts, even if my spouse was not pleased to see 'those old things' again
A few weeks ago, the Brio train set moved in with a gransdon infatuated with rolling stock and were 'new' again; The Erector set, the melting pot and molds, all gone (not to return with current day safety rules — choking hazard of the nuts and bolts, heavy metal fumes). I am on the lookout for a replacement McGuffey (that friend of books that taught me to read upstrairs in a quiet room as the adults 'talked' downstairs), so I can 'seed' a room for young visitorsThe flints and shaped stones? I was not atuned to their disposition occurring; a 'sharpie' sweet-talked a sale for a pittance from a elderly family memberwhen 'cleaning up' prior to closing down a house before sale. That lot of childhood treasures also carried out the door the minnie balls I dug from the earth at GettysburgEntropy won a round that time; I know we'll battle again.
Jason Ruspini comments:
Forgot who said that cons work because people want something for nothing. Clear implications for naive technical analysis here. See, it's easy, you can get rich by extending straight lines.. just keep one eye on your laptop while at the driving range.
To the young person who had a query about what to do with his trading system, at least he tested something, but perhaps there is some laziness there. Unhealthy to think of one system as your "ticket" even if it looks good. Better to find a good place to work where you might actually learn something new.
Stefan Jovanovich comments:
In the good old days of the 1970s the favorite panhandle con in downtown SF was to be a crazed Viet-Nam veteran. Since I spent half my life in those days lurking outside office buildings waiting to ruin some suits' day by handing him a summons, I got to hear every pitch going. The only way to escape was to do the "crazed killer wanting to go back" routine. "Hey, man, can you help me out; I was in the Nam." "Yeah, me, too, and Brother, am I glad to meet you because we got to go back there NOW!!!!! and finish the job."
Like Big Al's artful sympathy, it worked every time; but the reaction was more fear than anger. The con artists did not want to spend any time near someone who was so obviously crazy - for real.
Gregory van Kipnis writes:
The con that almost got me the first time I encountered it. It repeated itself 4 times over the intervening years.
I have deduced that the mark has to be a distracted businessman, walking alone midtown near the major hotels, hopefully someone in NY on a business trip.
In NYC, about 15 years ago, walking cross town early one evening, lost in thought, I was nudged by someone coming from the opposite direction. That was followed by "Jeez, you knocked the food out of my hand. Don't you look where you are walking". There on the sidewalk was a spilled plastic container of takeout food from the all too familiar corner Korean greengrocers.
I thought for a moment to review the memory playback of the contact and responded, "But you bumped into me."
He turned angry exclaiming he was on a short break from work and I ruined his dinner and I bumped into him and I should pay for the loss.
I started to reach for my wallet, then hesitated sensing a con, and said "No, you bumped into me."
He got belligerent, put his face close to mine and with intensity and a shaking body said he was angry and he ought to take me out. I stepped aside, hand on wallet again and started walking saying "there is a greengrocer around the corner. Let's go in and I will buy you a meal."
After a barrage of invective he leaned down to scoop up the spilled food. I continued on my way with a shaken feeling followed by euphoria when I realized I foiled a con.
I few years later the same thing happened. It was a different person different neighborhood near the St. Regis. This time two people. As soon as he spoke I said "bull shit, you did the same thing to me last month". He tried again to intimidate, but I just repeated the response. The engagement ended. They scooped up the food.
The third time, same guys same neighborhood near the Penninula, they just pulled the same stunt on a couple. He was reaching for his wallet. I yelled from across the street that it was a scam and he should walk away. Lots of hesitation followed on both sides. To my amazement the mark paid anyway.
The fourth time, same guys, I swerved just in the nick of time and yelled "you are still at it huh?" No response.
Whenever I see a food stain on the sidewalk with a few strands of noodles scattered about, I smile — the tell tail sign of the aftermath of the con. You would be surprised at how many there are.
Rocky Humbert comments:
An important distinction between this con and some of the other cons is that this one preys on the mark's sense of duty/charity versus the cons that prey on the mark's sense of greed.
One ponders whether being victimized in the pursuit of selflessness is any worse than being victimized in the pursuit of selfishness ? For example, was Madoff's theft from charities more heinous than his theft from plain old rich people ?
A once popular eigenshibboleth is the need for stocks to finance retirement. There are lots of graphs of historical compounding of the SP500 over various periods, but I was curious about account balances over periods of retirement consumption. This is a simple (* see note) study of hypothetical $1M retirement accounts invested in the SP500, for 5 different individuals each retiring at the beginning of a decade: 1950, 1960, 1970, 1980, and 1990.
For everyone (except Goldman Sachs employees), they say one needs about 80% of their pre-retirement income to retire comfortably. $8,000 per month is 80% of $120,000 annual income (average government employee). Each of the 5 retirees puts $1M into the SP500 at the beginning of his retirement (his because a woman's work is never done), and each month sells stock and draws out $8,000 - leaving the balance in stocks. The balance of each retirement portfolio varies due to monthly drawdown + stock exposure, and the running account-balances are graphed in the attachment to compare balance variability and time to depletion for the different periods.
1950 did very well, with his account varying about $1.5M from 1955-69, and he didn't run out of money until 1989. Men didn't live so long then, so his widow must have been smart. The money lasted 39 years.
1960 wasn't so lucky: his account dropped rapidly in value, and was gone by 1974. Hopefully his wife was a professor too, and for the rest of their days they read books from the library together. Money lasted 14 years.
1970 unfortunately had to go back to work after 10 years, when his $1M was gone. Fortunately he got a job as a photographer for Playboy.
1980 made Einstein look like a Troglodyte. His account is still nearly $1M in 2009, and at times approached $3M. 1980 is a widower, and is friends with 1970, who set him up and he is now happily wed to a centerfold. Has been spending for 29 years and no end in sight.
1990 got off to a great start, but the last decade put him into Cymbalta, Cialis, and Metamucil. His account, which was worth $1.6M in 2000, is worth only $280,000 now, and he is calling the Senate today to make sure his meds will be free. 19+years and looking precarious; money may be gone in 3 years.
Note: *(study is very simple: inflation not factored, ignore effects of taxes, SP without dividends, earlier periods hard to index, no one has 100% in stocks, etc).
Anton Johnson comments:
An excellent study that demonstrates the perils of excessive withdrawal rates and underfunded retirement savings.
If we account for dividends and inflation which are not trivial, add government retirement benefits, and the modeled retiree varies withdrawal rates to the widely recommended annual 4-5% of gross account value, certainly a rosier picture emerges.
Kim Zussman adds:
There are many ways the retardees [Ed.: spelling?] could or should have allocated/withdrawn, but here I was trying to elucidate the effect of luck: when you retire vs the market then. The graphs are reverse of often shown compounding up to retirement — adding X per month to stock account (Famous example Mr. Hill, the engineer who used Value Line to compound millions).
One notes the effect here of changing cycles: 1977-00 worked for all stocks, not just growth. And since then, well, it's been more difficult. Even difficult for Value Line:
"November 10th, 2009

Last week the SEC charged Value Line Inc., an affiliated broker-dealer Value Line Securities (VLS), and two of Value Line's senior officers with defrauding the firm's family of mutual funds. Value Line's CEO Jean Buttner and its former Chief Compliance Officer David Henigson have both settled the charged by consenting to the entry of a cease-and-desist order, though they have neither admitted to nor denied the SEC's charges.

The Commission found that Value Line had been redirecting portions of the funds' securities trades to VLS from 1986 until 2004 and that Buttner and Henigson overall received "over $24 million in bogus brokerage commissions from the funds pursuant to this scheme, as VLS did not perform any bona fide brokerage services for the funds on these trades."
According to the SEC's press release, Value Line, Buttner and Henigson further misrepresented VLS's "phantom brokerage services" to Value Line's shareholders, the Independent Directors/Trustees, and the SEC."
What if you invest in something other than the stock market? In the interest of ethnic diversity, attached is chart of $1M retirement accounts, each drawing $8000 per month, and compounding 1, 2,3,4,5% interest monthly on the remaining balances. I left off the current 0% interest environment, as an exercise for the reader.
Alston Mabry replies:
That's funny, because one of the authors of one of the investment books you listed previously, recently penned a journalistic piece about how maybe it didn't make sense to go to college, because if you put the college money instead into a savings account earning "just 5%", then you would get a better lifetime return.
The whereabouts of this magical savings account was not given.
Jason Ruspini writes in:
The effects of demographics on the underlying returns can't be too auspicious for more recent vintages. The parallel the Sage drew between 1954 and today seems very shaky in that respect.
Can someone give some explanation why Intrade indicates Obama 59% likely to win and McCain 41%, while the polls show them about even?
Are there any other web sites you find useful in predicting the election?
Alex Forshaw replies:
The polls don't show them as even. Additionally, the most credible polls (Gallup, Rasmussen, ABC/WP) are generally the ones which show Obama with the largest leads.
Real Clear Politics has a summary of some of the major polls.
Tom Marks and Jason Ruspini add:
There are two methods to predict the election.
The prediction markets such as Intrade and Iowa Election Markets (chart) are probably the best predictor. As of 10pm EST today Intrade is giving 57% chance for Obama and 43% for McCain. Iowa is also 53 vs 47.
Another way is to look at polls. However, the polls generally cited by news organizations are national polls which on the surface is fundamentally flawed since it is the Electoral College Vote and not the Popular Vote that determines the election result.
What you must do is look at state polls and infer the Electoral Vote implied by these polls. Fortunately there are some very nice web sites that do the work for you. They automatically look up the results of the latest polls and apply statistical adjustments (such as weighting polls differently depending on accuracy and timeliness, or performing Monte Carlo simulations to incorporate the inherent inaccuracy of any poll) to come up with their forecast.
The three best Electoral Vote prediction sites based on state polls are:
Vanderbilt U. Economist A. Moro's Forecast
Sam Wang's Princeton Election Consortium (chart )
Reading about the methodologies these sites use can be interesting for those who are statistically oriented. Most people probably only care about the result. Currently Prof. Moro gives 314 votes for Obama. Prof. Wang gives him 311 while FiveThirtyEight gives 309 to Obama. (As every schoolboy knows it takes 270 electoral votes to win the election).
In summary, both methods of prediction currently favor Obama. The rough equality shown by some national polls is misleading.
There has been entirely too little thought given to the mechanism, pathways and reasons that negative feedback works in markets. Perhaps the main reason is that the feeding web is based on a reasonable stability in what and how much is being eaten and recycled.
The people who consume and redistribute must maintain a ready and stable supply of those who produce. They develop mechanisms to keep everything going. One of them is the specialization and great efficiency in their activities. If markets deviate too much from the areas and levels within which the specialization has developed, then much waste and new effort and mechanisms will be necessary.
Aside from the grind that trend following causes (i.e. the losses in execution), and the negative feedback system of movements in the supply and demand schedules that equilibrate, which Marshall pioneered and are now standard in economics, and the numerous other reasons I've set forth (e.g. the fixed nature of the system and the flexibility to profit from it), this appears to me to be the main reason that trend following doesn't work.
Here are a few interesting articles on the subject:
How Great Traders Make Millions in Up or Down Markets
Does Trend Following Work On Stocks?
Interviews At RealWorld Trading
Bill Rafter writes:
Dr. Bruno had posed the idea of beating an index by deleting the worst performers. This is an area in which we have done considerable work. Please note that we do not consider this trend-following. The assets are not charted, just ranked.
Let us imagine an investor who is savvy enough to identify what is strong about an economy and invest in sectors representative of those areas, while avoiding sectors representing the weaker areas of the economy. Note that we are not requiring our investor to be prescient. He does not need to see what will be strong tomorrow, just what is strong and weak now, measured by performance over a recent period.
What is a market sector? The S&P does that work for us, and breaks down the overall market (that is, the S&P 500) into 10 Sectors. They further break it down into 24 Industry Groups, and further still into 60-plus Industries and 140-plus Sub-Industries. The number of the various groups and their constituents changes from time to time as the economy evolves, but essentially the 500 stocks can be grouped in a variety of ways, depending on the degree of focus desired. Some of the groupings are so narrow that only one company represents that group.
Our investor starts out looking at the 10 Sectors and ranks them according to their performance (such as their quarterly rate of change). He then invests in those ranked first through fourth (25 percent in each), and maintains those holdings until the rankings change. How does he do? Not bad, it turns out.
www.mathinvestdecisions.com/Best_4_of_10.gif
From 1990 through 2006, which encompasses several types of market conditions, the overall market managed an 8 percent compound annual rate of return. Our savvy investor achieved 10.77%. A less savvy investor who had the bad fortune to pick the worst six groups would have earned 7.23%. Those results are below. (Note, for comparison purposes, all results excluded dividends.)
www.mathinvestdecisions.com/Worst_6_of_10.gif
How can our savvy investor do better? By simply sharpening one's focus, major improvements can be achieved. If instead of ranking the top 4 of10 Sectors, our savvy investor invests in a similar number (say the top 4, 5 or 6) of the 24 Industry Groups, he achieves a 13.12% compoundedannual rate of return over the same period. Note that the same stocks are represented in the 10 Sectors and the 24 Industry Groups. At no time did he have to be prescient.
www.mathinvestdecisions.com/Going_to_24_groups.gif
One thing you will notice from the graphs above is that the equity curves of our savvy and unlucky investors mimic the rises and declines of the market index itself. Being savvy makes money but it does not insulate one from overall bad markets because the Sectors and even the Industry Groups are not significantly diversified from the overall market.
Why not keep going further out and rank all stocks individually? That clearly results in superior returns, but the volume of trading is such that it can only be accomplished effectively in a fund structure - not by the individual. And even ranking thousands of stocks will not insulate an investor from an overall market decline, if he is only invested in equities. The answer of course is diversification.
It is possible to rank debt and alternative investment sectors alongside equities, in the hope of letting their performances dictate what the investor should own. However the debt and commodities markets have different volatilities than the equities markets. Anyone ranking them must make adjustments for their inherent differences. That is, when ranking really diverse assets, one must rank them on a risk-adjusted basis for it to be a true comparison. However if we make those adjustments and rank treasury bonds (debt) against our 24 Industry Groups (equity) we can avoid some of the overall equity declines. We refer to this as a Strategic Overlay:
www.mathinvestdecisions.com/Strategic_diversification.gif
Adding this Strategic Overlay increases the returns slightly, but more important, diversifies the investor away from some periods of total equity market decline. We are not talking of a policy of running for cover every time the equities markets stall. In the long run, the investor must be in equities.
Invariably in ranking diverse assets such as equities, debt and commodities, our investor will be faced with a decision that he should be completely out of equities. It is likely that will occur during a period of high volatility for equities, but one that has also experienced great returns. Thus, our investor would be abandoning equities when his recent experience would suggest otherwise. And since timing can never be perfect, it is further likely that the equities he abandons will continue to outperform for some period. On an absolute basis, equities may rank best, but on a risk-adjusted basis, they may not. It is not uncommon for investors to ignore risk in such a situation, to their subsequent regret.
Ranking is not without its problems. For example, if you are selecting the top 4 groups of whatever category, there is a fair chance that at some time the assets ranked 4 and 5 will change places back and forth on a daily basis. This "flutter" can be easily solved by providing those who make the cut with a subsequent incumbency advantage. For a newcomer to replace a list member, it then must outrank the current assets on the selected list by the incumbency advantage. This is very similar to the manner in which thermostats work. We have found adding an incumbency advantage to be a profitable improvement without considering transactions costs. When one also considers the reduced transaction costs, the benefits increase even more.
Another important consideration is the "lookback" period. Above we used the example of our savvy investor ranking assets on the basis of their quarterly growth. Not surprisingly, the choice of a lookback period can have an effect on profitability. Since markets tend to fall more abruptly than they rise, lookback periods that perform best during rising markets are markedly different from those that perform best during falling markets. Determining whether a market is rising or falling can be problematic, as it can only be done with certainty in retrospect. However, another key factor influencing the choice of a lookback period is volatility, which can be determined concurrently. Thus an optimal lookback period can be automatically determined based on volatility.
There is certainly no question that a diligent investor can outperform the market. By outperforming the market we mean that he will achieve a greater average rate of return than the market, while limiting the maximum drawdown (or percentage equity decline) to less than that experienced by the market. But the average investor is generally not up to the diligence or persistence required.
In the research work illustrated above, all transactions were executed on the close of the day following a decision being made. Thus the strategy illustrated is certainly executable. Nothing required a forecast; all that was required was for the investor to recognize concurrently which assets have performed well over a recent period. It is not difficult, but requires daily monitoring.
www.mathinvestdecisions.com/about.htm
Charles Pennington writes:
Referring to the MathInvestor's plot:
www.mathinvestdecisions.com/Worst_6_of_10.gif :
At first glance it appears that the "Best" have been beating the "Worst" consistently.
In fact, however, all of the outperformance was from 1990 through 1995. From 1996 to present, it was approximately a tie.
Reading from the plot, I see that the "Best" portfolio was at about 2.1 at the start of 1996. It grew to about 5.5 at the end of the chart for a gain of about 160%. Over the same period, the "Worst" grew from 1.3 to 3.2, a gain of about 150%, essentially the same.
So for the past 11 years, this system had negligible outperformance.
One should also consider that the "Best" portfolio benefits in the study from stale pricing, which one could not capture in real trading. Furthermore, dividends were not included in the study. My guess is that the "Worst" portfolio would have had a higher dividend yield.
In order to improve this kind of study, I would recommend:
1.) Use instruments that can actually be traded, rather than S&P sectors, in order to eliminate the stale pricing concern.
2.) Plot the results on a semilog graph. That would have made it clear that all the outperformance happened before 1996.
3.) Finally, include dividends. The reported difference in compound annual returns (10.8% vs 8.0%) would be completely negated if the "Worst" portfolio had a yield 2.8% higher than the "Best".
Bill Rafter replies:
Gentlemen, please! The previously sent illustration of asset ranking is not a proposed "system," but simply an illustration that tilting one's portfolio away from dogs and toward previous performers can have a beneficial effect on the portfolio. The comparison between the 10 Sectors and the 24 Industry Groups illustrates the benefits of focus. That is, (1) don't buy previous dogs, and (2) sharpen your investment focus. Ignore these points and you will be leaving money on the table.
We have done this work with many different assets such as ETFs and even Fidelity funds (which require a 30-day holding period), both of which can be realistically traded. They are successful, but not overwhelmingly so. Strangely, one of the best asset groups to trade in this manner would be proprietarily-traded small-cap funds.
Unfortunately if you try trading those, your broker will disown you. I mention that example only to suggest that some assets truly do have "legs," or "tails" if you prefer. I think their success is attributed to the fact that some prop traders are better than others, and ranking them works. An asset group with which we have had no success is high-yield debt funds. I have no idea why.
A comment from Jerry Parker:
I wrote an initial comment to you via your website [can be found under the comments link by the title of this post], disputing your point of view, which a friend of mine read, and sent me the following:
I read your comment on Niederhoffer's Daily Spec in response to his arguments against trend following. Personally, I don't think it boils down to intelligence, but rather to ego. Giving up control to an ego-less computer is not an easy task for someone who believes so strongly in the ability of the human mind. I have great respect for his work and his passion for self study, but of course disagree with his thoughts on trend following. On each trade, he is only able to profit if it "trends" in a favorable direction, whether the holding period is 1 minute or 1 year. Call it what you will, but he trades trends all day.
He's right. I was wrong. Trend following is THE enemy of the 'genius'. You and your friends can't even see how stupid your website is. You are blinded by your superior intelligence and arrogance.
Victor Niederhoffer responds:
Thanks much for your contributions to the debate. I will try to improve my understanding of this subject and my performance in the future so as not to be such an easy target for your critiques.
Ronald Weber writes:
When you think about it, most players in the financial industry are nothing but trend followers (or momentum-players). This includes analysts, advisors, relationship managers, and most fund or money managers. If there is any doubt, check the EE I function on Bloomberg, or the money flow/price functions of mutual funds.
The main reason may have more to do with career risk and the clients themselves. If you're on the right side while everyone is wrong, you will be rewarded; if you're on the wrong side like most of your peers you will be ok; and if you're wrong while everyone is right then you're in trouble!
In addition, most normal human beings (daily specs not included!) don't like ideas that deviate too much from the consensus. You are considered a total heretic if you try to explain why, for example, there is no link between the weak USD and the twin deficits. This is true, too, if you would have told anyone in 2002 that the Japanese banks will experience a dramatic rebound like the Scandinavian banks in the early '90s, and so on, or if you currently express any doubt on any commodity.
So go with the flow, and give them what they want! It makes life easier for everyone! If you can deal with your conscience of course!
The worse is that you tend to get marginalized when you express doubt on contagious thoughts. You force most people to think. You're the boring party spoiler! It's probably one reason why the most successful money managers or most creative research houses happen to be small organizations.
Jeremy Smith offers:
Not arguing one way or the other here, but for any market or any stock that is making all time highs (measured for sake of argument in years) do we properly say about such markets and stocks that there is no trend?
Vincent Andres contributes:
I would distinguish/disambiguate drift and trend.
"Drift": Plentifully discussed here. "Trend": See arcsine, law of series, etc.
In 2D, the French author Jean-Paul Delahaye speaks about "effet rateau" (rake effect), here and here .
Basically, our tendency is to believe that random equals equiprobability everywhere (2D) or random equals equiprobability everytime (1D), and thus that nonequiprobability everywhere/everytime equals non random
In 1D, non equiprobability everytime means that the sequence -1 +1 -1 +1 -1 +1 -1 +1 is in fact the rare and a very non random sequence, while the sequences -1 +1 +1 +1 +1 +1 -1 +1 with a "trend" are in fact the truly random ones. By the way, this arcsine effect does certainly not explain 100% of all the observed trends. There may also be true ones. Mistress would be too simple. True drift may certainly produce some true trends, but certainly far less than believed by many.
Dylan Distasio adds:
For those who don't believe trend following can be a successful strategy, how would you explain the long-term performance of the No Load Fund X newsletter? Their system consists of a fairly simple relative strength mutual fund (and increasingly ETF) model where funds are held until they weaken enough in relative strength to swap out with new ones.
The results have been audited by Hulbert and consistently outperform the S&P 500 over a relatively long time frame (1980 onwards). I think their results make a trend following approach worth investigating…

Jerry Parker comments again:
All you are saying is that you're not smart enough to develop a trend following system that works. What do you say about the billions of dollars traded by trend following CTAs and their long term track records?
Steve Leslie writes:
If the Chair is not smart enough to figure out trend following, what does that bode for the rest of us?
There is a very old yet wise statement: Do not confuse brains with a bull market.
Case in point: prior to 2000 the great tech market run was being fueled by the hysteria surrounding Y2K. Remember that term? It is not around today but it was the cause for the greatest bull market seen in stocks ever. Dot.com stocks and new issues were being bought with reckless abandon.
New issues were priced overnight and would open 40-50 points higher the next trading day. Money managers had standing orders to buy any new issues. There was no need for dog-and-pony or road shows. It was an absolute classic and chaotic case of extraordinary delusion and crowd madness.
Due diligence was put on hold, or perhaps abandoned. A colleague of mine once owned enough stock in a dot.com that had he sold it at a propitious time, he would have had enough money to purchase a small Hatteras yacht. Today, like many contemporary dot.coms, that stock is essentially worthless. It would not buy a Mad magazine.
Corporations once had a virtual open-ended budget to upgrade their hardware and software to prepare for the upcoming potential disaster. This liquidity allowed service companies to cash in by charging exorbitant fees. Quarter to quarter earnings comparisons were beyond belief and companies did not just meet the numbers, they blew by them like rocket ships. What made it so easy to make money was that when one sold a stock, all they had to do was purchase another similar stock that also was accelerating. The thought processes where so limited. Forget value investing; nobody on the planet wanted to talk to those guys. The value managers had to scrape by for years while they saw their redemptions flow into tech, momentum, and micro cap funds. It became a Ponzi scheme, a game of musical chairs. The problem was timing.
The music stopped in March of 2000 when CIO's need for new technology dried up coincident with the free money, and the stock market went into the greatest decline since the great depression. The NASDAQ peaked around 5000. Today it hovers around 2500, roughly half what it was 7 years ago.
It was not as if there were no warning signs. Beginning in late 1999, the tech market began to thin out and leadership became concentrated in a few issues. Chief among the group were Cisco, Oracle, Qwest, and a handful of others. Every tech, momentum, and growth fund had those stocks in their portfolio. This was coincident with the smart money selling into the sectors. The money managers were showing their hands if only one could read between the lines. Their remarks were "these stocks are being priced to perfection." They could not find compelling reasons not to own any of these stocks. And so on and on it went.
After 9/11 markets and industries began to collapse. The travel industry became almost nonexistent. Even Las Vegas went on life support. People absolutely refused to fly. Furthermore, business in and around New York City was in deep peril. This forced the Fed to begin dramatically reducing interest rates to reignite the economy. It worked, as corporations began to refinance their debt and restructure loans, etc.
The coincident effect began to show up in the housing industry. Homeowners refinanced their mortgages (yours truly included) and took equity out of their homes. Home-buyers were thirsty for real estate and bought homes as if they would disappear off the earth. For $2000 one could buy an option on a new construction home that would not be finished for a year. "Flipping" became the term du jour. Buy a home in a hot market such as Florida for nothing down and sell it six months later at a much higher price. Real estate was white hot. Closing on real estate was set back weeks and weeks. Sellers had multiple offers on their homes many times in the same day. This came to a screeching halt recently with the gradual rise in interest rates and the mass overbuilding of homes, and the housing industry has slowed dramatically.
Houses for sale now sit on the blocks for nine months or more. Builders such as Toll, KB, and Centex have commented that this is the worst real estate market they have seen in decades. Expansion plans have all but stopped and individuals are walking away from their deposits rather than be upside down in their new home.
Now we have an ebullient stock market that has gone nearly 1000 days without so much as a 2% correction in a day. The longest such stretch in history. What does this portend? Time will tell. Margin debt is now at near all-time highs and confidence indicators are skewed. Yet we hear about trend followers and momentum traders and their success. I find this more than curious. One thing that they ever fail to mention is that momentum trading and trend following does not work very well in a trendless market. I never heard much about trend followers from June 2000 to October 2002. I am certain that this game of musical chairs will end, or at least be temporarily interrupted.
As always, it is the diligent speculator who will be prepared for the inevitable and capitalize upon this event. Santayana once said, "Those who cannot remember the past are condemned to repeat it."

From "A Student:"
Capitalism is the most successful economic system in the history of the world. Too often we put technology up as the main driving force behind capitalism. Although it is true that it has much to offer, there is another overlooked hero of capitalism. The cornerstone of capitalism is good marketing.
The trend following (TF) group of fund managers is a perfect example of good marketing. As most know, the group as a whole has managed to amass billions of investor money. The fund operators have managed to become wealthy through high fees. The key to this success is good marketing not performance. It is a tribute to capitalism.
The sports loving fund manger is a perfect example. All of his funds were negative for 2006 and all but one was negative over the last 3 years! So whether one looks at it from a short-term one year stand point or a three year perspective his investors have not made money. Despite this the manager still made money by the truckload during this period. Chalk it up to good marketing, it certainly was not performance.
The secret to this marketing success is intriguing. Normally hedge funds and CTAs cannot solicit investors nor even publicly tout their wares on an Internet site. The TF funds have found a way around this. There may be a web site which openly markets the 'concept' of TF but ostensibly not the funds. On this site the names of the high priests of TF are repeatedly uttered with near religious reverence. Thus this concept site surreptitiously drives the investors to the TF funds.
One of the brilliant marketing tactics used on the site is the continuous repetition of the open question, "Why are they (TF managers) so rich?" The question is offered as a sophist's response to the real world question as to whether TF makes money. The marketing brilliance lies in the fact that there is never a need to provide factual support or performance records. Thus the inconvenient poor performance of the TF funds over the last few years is swept under the carpet.
Also swept under the rug are the performance figures for once-great trend followers who no longer are among the great, i.e., those who didn't survive. Ditto for the non-surviving funds in this or that market from the surviving trend followers.
Another smart technique is how the group drives investor traffic to its concept site. Every few years a hagiographic book is written which idolizes the TF high priests. It ostensibly offers to reveal the hidden secrets of TF.
Yet after reading the book the investor is left with no usable information, merely a constant repetition of the marketing slogan: How come these guys are so rich? Obviously the answer is good marketing but the the book is moot on the subject. Presumably, the books are meant to be helpful and the authors are true believers without a tie-in in mind. But the invisible hand of self-interest often works in mysterious ways.
In the latest incarnation of the TF book the author is presented as an independent researcher and observer. Yet a few days after publication he assumes the role of Director of Marketing for the concept site. Even the least savvy observer must admit that it is extraordinary marketing when one can persuade the prospect to pay $30 to buy a copy of the marketing literature.

Jason Ruspini adds:
"I attribute much of the success of the selected bigs to being net long leveraged in fixed income and stocks during the relevant periods."
I humbly corroborate this point. If one eliminates long equity, long fixed income (and fx carry) positions, most trend-following returns evaporate.
Metals and energies have helped recently, after years of paying floor traders.
Victor replies:
I don't agree with all the points above. For example, the beauty of capitalism is not its puffery, but the efficiency of its marketing and distribution system as well as the information and incentives that the prices provide so as to fulfill the pitiless desires of the consumers. Also beautiful is in the mechanism that it provides for those with savings making low returns to invest in the projects of entrepreneurs with much higher returns in fields that are urgently desired by customers.
I have been the butt of abuse and scorn from the trend followers for many years. One such abusive letter apparently sparked the writer's note. Aside from my other limitations, the trend following followers apparently find my refusal to believe in the value of any fixed systems a negative. They also apparently don't like the serial correlation coefficients I periodically report that test the basic tenets of the trend following canon.
I believe that if there are trends, then the standard statistical methods for detecting same, i.e., correlograms, regressions, runs and turning point tests, arima estimates, variance ratio tests, and non-linear extensions of same will show them.
Such tests as I have run do not reveal any systematic departures from randomness. Nor if they did would I believe they were predictive, especially in the light of the principle of ever changing cycles about which I have written extensively.
Doubtless there is a drift in the overall level of stock prices. And certain fund managers who are biased in that direction should certainly be able to capture some of that drift to the extent that the times they are short or out of the market don't override it. However, this is not supportive of trend following in my book.
Similarly, there certainly has been over the last 30 years a strong upward movement in fixed income prices. To the extent that a person was long during this period, especially if on leverage, there is very good reason to believe that they would have made money, especially if they limited their shorts to a moiete.
Many of the criticisms of my views on trend following point to the great big boys who say they follow trends. To the extent that those big boys are not counterbalanced by others bigs who have lost, I attribute much of the success of the selected bigs to being net long leveraged in fixed income and stocks during the relevant periods.
I have no firm belief as to whether such things as trends in individual stocks exist. The statistical problem is too complex for me because of a paucity of independent data points, and the difficulties of maintaining an operational prospective file.
Neither do I have much conviction as to whether trends exist in commodities or foreign exchange. The overall negative returns to the public in such fields seem to be of so vast a magnitude that it would not be a fruitful line of inquiry.
If I found such trends through the normal statistical methods, I would suspect them as a lure of the invisible evil hand to bring in big money to follow trends after a little money has been made by following them, the same way human imposters work in other fields. I believe that such a tendency for trend followers to lose with relatively big money after making with smaller amounts is a feature of all fixed systems. And it's guaranteed to happen by the law of ever-changing cycles.
The main substantive objection to my views that I have found in the past, other than that trend followers know many people who make money following trends (a view which is self-reported and selective and non-systematic, and thus open to some of the objections of those of the letter-writer), is that they themselves follow trends and charts and make much money doing it. What is not seen by these in my views is what they would have made with their natural instincts if they did not use trend following as one of their planks. This is a difficult argument for them to understand or to confirm or deny.
My views on trend following are always open to new evidence, and new ways of looking at the subject. I solicit and will publish all views on this subject in the spirit of free inquiry and mutual education.
Jeff Sasmor writes:

Would you really call what FUNDX does trend following? Well, whatever they do works.
I used their system successfully in my retirement accounts and my kids' college UTMA's and am happy enough with it that I dumped about 25% of that money in their company's Mutual Funds which do the same process as the newsletter. The MFs are like an FOF approach. The added expense charges are worth it. IMO, anyway. Their fund universe is quite small compared to the totality of funds that exist, and they create classes of funds based on their measure of risk.
This is what they say is their process. When friends ask me what to buy I tell them to buy the FUNDX mutual fund if their time scale is long. No one has complained yet!
It ain't perfect (And what is? unless your aim is to prove that you're right) but it's better than me fumfering around trying to pick MFs from recommendations in Money Magazine, Forbes, or Morningstar.
I'm really not convinced that what they do is trend following though.
Dylan Distasio Adds:
For those who don't believe trend following can be a successful strategy, how would you explain the long-term performance of the No Load Fund X newsletter?
Michael Marchese writes:
In a recent post, Mr. Leslie finished his essay with, "I never heard much about trend followers from June 2000 to October 2002." This link shows the month-to-month performance of 13 trend followers during that period of time. It seems they did OK.
Hanny Saad writes:
Not only is trend following invalid statistically but, looking at the bigger picture, it has to be invalid logically without even running your unusual tests.
If wealth distribution is to remain in the range of 20 to 80, trend following cannot exist. In other words, if the majority followed the trend (hence the concept of trends), and if trend following is in fact profitable, the majority will become rich and the 20-80 distribution will collapse. This defeats logic and history. That said, there is the well-covered (by the Chair) general market upward drift that should also come as no surprise to the macro thinkers. The increase in the general population, wealth, and the entrepreneurial spirit over the long term will inevitably contribute to the upward drift of the general market indices as is very well demonstrated by the triumphal trio.
While all world markets did well over the last 100 yrs, you notice upon closer examination that the markets that outperformed were the US, Canada, Australia, and New Zealand. The one common denominator that these countries have is that they are all immigration countries. They attract people.
Contrary to what one hears about the negative effects of immigration, and how immigrants cause recessions, the people who leave their homelands looking for a better life generally have quite developed entrepreneurial spirits. As a result, they contribute to the steeper upward curve of the markets of these countries. When immigrants are allowed into these countries, with their life savings, home purchases, land development, saving and borrowing, immigration becomes a rudder against recession, or at least helps with soft landings. Immigration countries have that extra weapon called LAND.
So in brief, no - trends do not exists and can not exist either statistically or logically, with the exception of the forever upward drift of population and general markets with some curves steeper than others, those of the countries with the extra weapon called land and immigration.
A rereading of The Wealth And Poverty Of Nations, by Landes, and the triumph of the optimist may be in order.
Steve Ellison adds:
So Mr. Parker's real objective was simply to insult the Chair, not to provide any evidence of the merits of trend following that would enlighten us (anecdotes and tautologies that all traders can only profit from favorable trends prove nothing). I too lack the intelligence to develop a trend following system that works. When I test conditions that I naively believe to be indicative of trends, such as crossovers of moving averages, X-day highs and lows, and the direction of the most recent Y percent move, I usually find negative returns going forward.
Bacon summarized his entire book in a single sentence: "Always copper the public play!" My more detailed summary was, "When the public embraces a particular betting strategy, payoffs fall, and incentives (for favored horsemen) to win are diminished."
Trend Following — Cause, from James Sogi:
Generate a Brownian motion time series with drift in R
WN <-rnorm(1024);RW<-cumsum(WN);DELTAT<-1/252;
MU<-.15*DELTAT;SIG<-.2*sqrt(DELTAT);TIME<-(1:1024)/252 stock<-exp(SIG*RW+MU*TIME) ts.plot(stock)
Run it a few times. Shows lots of trends. Pick one. You might get lucky.
Trend Following v. Buy and Hold, from Yishen Kuik
The real price of pork bellies and wheat should fall over time as innovation drives down costs of production. Theoretically, however, the nominal price might still show drift if the inflation is high enough to overcome the falling real costs of production.
I've looked at the number of oranges, bacon, and tea a blue collar worker's weekly wages could have purchased in New York in 2000 versus London in the 1700s. All quantities showed a significant increase (i.e., become relatively cheaper), lending support to the idea that real costs of production for most basic foodstuffs fall over time.
Then again, according to Keynes, one should be able to earn a risk premium from speculating in commodity futures by normal backwardation, since one is providing an insurance service to commercial hedgers. So one doesn't necessarily need rising spot prices to earn this premium, according to Keynes.
Not All Deer are Five-Pointers, from Larry Williams
What's frustrating to me about trading is having a view, as I sometimes do, that a market should be close to a short term sell, yet I have no entry. This betwixt and between is frustrating, wanting to sell but not seeing the precise entry point, and knowing I may miss the entry and then see the market decline.
So I wait. It's hard to learn not to pull the trigger at every deer you see. Not all are five-pointers… and some will be bagged by better hunters than I.
From Gregory van Kipnis:
Back in the 70s a long-term study was done by the economic consulting firm of Townsend Greenspan (yes, Alan's firm) on a variety of raw material price indexes. It included the Journal of Commerce index, a government index of the geometric mean of raw materials and a few others. The study concluded that despite population growth and rapid industrialization since the Revolutionary War era, that supply, with a lag, kept up with demand, or substitutions (kerosene for whale blubber) would emerge, which net-net led to raw material prices being a zero sum game. Periods of specific commodity price rises were followed by periods of offsetting declining prices. That is, raw materials were not a systematic source of inflation independent of monetary phenomena.
It was important to the study to construct the indexes correctly and broadly, because there were always some commodities that had longer-term rising trends and would bias an index that gave them too much weight. Other commodities went into long-term decline and would get dropped by the commodity exchanges or the popular press. Just as in indexes of fund performance there can be survivor bias, so too with government measures of economic activity and inflation.
However, this is not to say there are no trends at the individual commodity level of detail. Trends are set up by changes in the supply/demand balance. If the supply/demand balance changes for a stock or a commodity, its price will break out. If it is a highly efficient market, the breakout will be swift and leave little opportunity for mechanical methods of exploitation. If it is not an efficient market (for example, you have a lock on information, the new reality is not fully understood, the spread of awareness is slow, or there is heavy disagreement, someone big has to protect a position against an adverse move) the adjustment may be slower to unfold and look like a classic trend. This more often is the case in commodities.
Conversely, if you find a breakout, look for supporting reasons in the supply/demand data before jumping in. But, you need to be fast. In today's more highly efficient markets the problem is best summarized by the paradox: "look before you leap; but he who hesitates is lost!"
Larry Williams adds:
I would posit there is no long-term drift to commodities and thus we have a huge difference in these vehicles.
The commodity index basket guys have a mantra that commodities will go higher - drift - but I can find no evidence that this is anything but a dream, piquant words of promotion that ring true but are not.
I anxiously stand to be corrected.
Marlowe Cassetti writes:
"Along a similar vein, why would anybody pay Powershares to do this kind of work when the tools to do it yourself are so readily available?"
The simple answer is if someone wishes to prescribe to P&F methodology investing, then an ETF is a convenient investment vehicle.
With that said, this would be an interesting experiment. Will the DWA ETF be another Value Line Mutual Fund that routinely fails to beat the market while their newsletter routinely scores high marks? There are other such examples, such as IBD's William O'Neal's aborted mutual fund that was suppose to beat the market with the fabulous CANSLIM system. We have talked about the great track record of No-Load Fund-X newsletter, and their mutual fund, FUNDX, has done quite well in both up and down markets (an exception to the above mentioned cases).
For full disclosure I have recently added three of their mutual funds to my portfolio FUNDX, HOTFX, and RELAX. Hey, I'm retired and have better things to do than do-it-yourself mutual fund building. With 35 acres, I have a lot of dead wood to convert into firewood. Did you know that on old, dead juniper tree turns into cast iron that dulls a chain saw in minutes? But it will splinter like glass when whacked with a sledgehammer.
Kim Zussman writes:
…about the great track record of No-Load Fund-X newsletter and their mutual fund FUNDX has done quite well in both up and down markets… (MC)
Curious about FUNDX, checked its daily returns against ETF SPY (essentially large stock benchmark).
Regression Analysis of FUNDX versus SPY since inception, 6/02 (the regression equation is FUNDX = 0.00039 + 0.158 SPY):
Predictor Coef SE Coef T P
Constant 0.00039 0.000264 1.48 0.14
SPY 0.15780 0.026720 5.91 0.00
S = 0.00901468 R-Sq = 2.9% R-Sq (adj) = 2.8%
The constant (alpha) is not quite significant, but it is positive, so FUNDX did out-perform SPY. Slope is significant and the coefficient is about 0.16, which means FUNDX was less volatile than SPY.
This is also shown by F-test for variance:
Test for Equal Variances: SPY, FUNDX
F-Test (normal distribution) Test statistic = 1.17, p-value = 0.009 (FUNDX<SPY)
But t-test for difference between daily returns shows no difference:
Two-sample T for SPY vs FUNDX
N Mean St Dev SE Mean
SPY 1169 0.00041 0.0099 0.00029
FUNDX 1169 0.00045 0.0091 0.00027 T=0.12
So it looks like FUNDX has been giving slight/insignificant out-performance with significantly less volatility; which makes sense since it is a fund of mutual funds and ETFs.
Even better is Dr Bruno's idea of beating the index by deleting the worst (or few worst) stocks (new additions?).
How about an equal-weighted SP500 (which out-performs when small stocks do), without the worst 50 and double-weighting the best 50.
Call it FUN-EX, in honor of the fun you had with your X that was all mooted in the end.
Alex Castaldo writes:
The results provided by Dr. Zussman are fascinating:
The fund has a Beta of only 0.157, incredibly low for a stock fund (unless they hold a lot of cash). Yet the standard deviation of 0.91468% per day is broadly consistent with stock investing (S&P has a standard deviation of 1%). How can we reconcile this? What would Scholes-Williams, Dimson, and Andy Lo think when they see such a low beta? Must be some kind of bias.
I regressed the FUNDX returns on current and lagged S&P returns a la Dimson (1979) with the following results:
Regression Statistics
Multiple R 0.6816
R Square 0.4646
Adjusted R Square 0.4627
Standard Error 0.0066
Observations 0.1166
ANOVA
df SS MS F Significance F
Regression 4 0.0444 0.0111 251.89 8.2E-156
Residual 1161 0.0511 4.4E-05
Total 1165 0.0955
Coefficients Standard Error t-Stat P-value
Intercept 8.17E-05 0.000194 0.4194 0.6749
SPX 0.18122 0.019696 9.2007 1.6E-19
SPX[-1] 0.60257 0.019719 30.5566 6E-151 SPX[-2] 0.08519 0.019692 4.3260 1.648E-05 SPX[-3] 0.04524 0.019656 2.3017 0.0215
Note the following:
(1) All four S&P coefficients are highly significant.
(2) The Dimson Beta is 0.914 (the sum of the 4 SPX coefficients). The mystery of the low beta has been solved.
(3) The evidence of price staleness, price smoothing, non-trading, whatever you want to call it is clear. Prof. Pennington touched on this the other day; an "efficiently priced" asset should not respond to past S&P price moves. Apparently though, FUNDX holds plenty of such assets (or else the prices of FUNDX itself, which I got from Yahoo, are stale).
S. Les writes:
Have to investigate the Fund X phenomenon. And look to see how it has done in last several years since it was post selected as good. Someone has to win a contest, but the beaten favorites are always my a priori choice except when so many others use that as a system the way they do in sports eye at the harness races, in which case waiting for two races or two days seems more apt a priori. VN
I went to the Fund X website to read up, and the information is quite sparse. It is a very attenuated website. I called the toll free number and chatted with the person on the other line. Information was OK, but, in my view, I had to ask the proper questions. One has several options here. One is to purchase the service and do the fund switching themselves based on the advice of their experts. The advisory service tracks funds that have the best relative strength performance and makes their recommendations from there, www.fundx.com.
Another is to purchase one of four funds available. They have varying levels of aggressiveness. Fund 3 appears to be the recommended one.
If one purchases the style 3 one will get a very broad based fund of funds. I went to yahoo to look up the holdings at www.finance.yahoo.com/q/hl?s=FUNDX.
Top ten holdings are 47.5% of the portfolio, apparently concentrated in emerging markets and international funds at this time.
In summary, if money were to be placed into the Fund X 3 portfolio, I believe it would be so broad based and diversified that returns would be very watered down. Along with risk you would certainly be getting a lot of funds. You won't set the world on fire with this concept, but you won't get blown up, either.
Larry Williams adds:
My 2002 book, Right Stock at the Right Time, explains such an approach in the Dow 30. The losers were the overvalued stocks in the Dow.It is a simple and elegant idea…forget looking for winners…just don't buy overvalued stocks and you beat the idex.
This notion was developed in 1997, when i began actually doing it, and written about in the book. This approach has continued to outperform the Dow, it is fully revealed.
Craig Cuyler writes:
Larry's comment on right stock right time is correct and can be used to shed a little bit of light on trend following. This argument is at the heart of fundamental indexation, which amongst other points argues that cap weighting systematically over-weights overvalued stocks and under-weights undervalued stocks in a portfolio.
Only 29% of the top 10 stocks outperformed the market average over a 10yr period (1964-2004) according to Research Affiliates (this is another subject). The concept of "right stock right time" might be expressed another way, as "right market right time." The point is that constant analysis needs to take place for insuring investment in the products that are most likely to give one a return.
The big error that the trend followers make, in my mind, is they apply a homogeneous methodology to a number of markets and these are usually the ones that are "hot" at the time that the funds are applied. The system is then left to its own devices and inevitably breaks down. Most funds will be invested at exactly the time when the commodity, currencies, etc., are at their most overvalued.
Some worthwhile questions are: How does one identify a trend? Why is it important that one identifies a trend? How is it that security trends allow me to make money? In what time frame must the trend take place and why? What exactly is a trend and how long must it last to be so labeled?
I think it is important to differentiate between speculation using leverage and investing in equities because, as Vic (and most specs on the list) point out, there is a drift factor in equities which, when using sound valuation principles, can make it easier to identify equities that have a high probability of trending. Trend followers don't wait for a security to be overvalued before taking profits. They wait for the trend to change before then trying to profit from the reversal.
Jeff Sasmor adds:
As a user of both the newsletter and the FUNDX mutual fund I'd like to comment that using the mutual fund removes the emotional component of me reading the newsletter and having to make the buys and sells. Perhaps not an issue for others, but I found myself not really able to follow the recommendations exactly - I tend to have an itchy trigger finger to sell things. This is not surprising since I do mostly short-term and day trades. That's my bias; I'm risk averse. So the mutual fund puts that all on autopilot. It more closely matches the performance of their model portfolio.
I don't know how to comment on the comparisons to Value Line Arithmetic Index (VAY). Does anyone follow that exactly as a portfolio?
My aim is to achieve reasonable returns and not perfection. I assume I don't know what's going to happen and that most likely any market opinion that I have is going to be wrong. Like Mentor of Arisia, I know that complete knowledge requires infinite time. That and beta blockers helps to remove the shame aspect of being wrong. But there's always an emotional component.
As someone who is not a financial professional, but who is asked what to buy by friends and acquaintances who know I trade daily (in my small and parasitical fashion), I have found that this whole subject of investing is opaque to most people. Sort of like how in the early days of computing almost no one knew anything about computers. Those who did were the gatekeepers, the high priests of the temple in a way. Most people nowadays still don't know what goes on inside the computer that they use every day. It's a black box - opaque. They rely on the Geek Squad and other professionals to help them out. It makes sense. Can't really expect most people to take the time to learn the subject or even want to. Should they care whether their SW runs on C++ or Python, or what the internal object-oriented class structure of Microsoft Excel is, or whether the website they are looking at is XHTML compliant? Heck no!
Similarly, most people don't know anything about markets; don't want to learn, don't want to take the time, don't have the interest. And maybe they shouldn't. But they are told they need to invest for retirement. As so-called retail investors they depend on financial consultants, fee-based planners, and such to tell them what to do. Often they get self-serving or become too loaded with fees (spec-listers who provide these services excepted).
So I think that the simple advice that I give, of buying broad-based index ETFs like SPY and IWM and something like FUNDX, while certainly less than perfect, and certainly less profitable than managing your own investments full-time, is really suitable for many people who don't really have the inclination, time, or ability to investigate the significant issues for themselves or sort out the multitudes of conflicting opinions put forth by the financial media.
You may not achieve the theoretical maximum returns (no one does), but you will benefit from the upward drift in prices and your blended costs will be reasonable. And it's better than the cash and CDs that a lot of people still have in their retirement accounts.
BTW: FOMA = Foma are harmless untruths, intended to comfort simple souls.
An example : "Prosperity is just around the corner."
I'm not out to defend FUNDX, I have nothing to do with them. I'm just happy with it.
Steve Ellison writes:
One might ask what the purpose of trends is in the market ecosystem. In the old days, trends occurred because information disseminated slowly from insiders to Wall Streeters to the general public, thus ensuring that the public lost more than it had a right to. Memes that capture the public imagination, such as Nasdaq in the 1990s, take years to work through the population, and introduce many opportunities for selling new investment products to the public.
Perhaps some amount of trending is needed from time to time in every market to keep the public interested and tossing chips into the market. I saw this statement at the FX Money Trends website on September 21, 2005: "[T]he head of institutional sales at one of the largest FX dealing rooms in the US … lamented that for the past 2 months trading volume had dried up for his firm dramatically because of the 'lack of trend' and that many 'system traders' had simply shut down to preserve capital."
I saw a similar dynamic recently at a craps table when shooters lost four or five consecutive points, triggering my stop loss so that I quit playing. About half the other players left the table at the same time. "The table's cold," said one.
To test whether a market might trend out of necessity to attract money, I used point and figure methodology with 1% boxes and one-box reversals on the S&P 500 futures. I found five instances in the past 18 months in which four consecutive reversals had occurred and tabulated the next four points after each of these instances (the last of which has only had three subsequent points so far). The results were highly non-predictive.
Starting Next 4 points
Date Continuations Reversals
01/03/06 3 1
05/23/06 1 3
06/29/06 2 2
08/15/06 2 2
01/12/07 1 2
—– —–
9 10

Anthony Tadlock writes:
I had intended to write a post or two on my recent two week trip to Cairo, Aswan, and Alexandria. There is nothing salient to trading but Egypt seems to have more Tourist Police and other guards armed with machine guns than tourists. It is a service economy with very few tourists or middle/upper classes to service. Virtually no westerners walk on the streets of Cairo or Alexandria. I did my best to ignore my investments and had closed all my highly speculative short-term trades before leaving for the trip.
While preparing for taxes I was looking over some of my trades for last year. Absolute worst trade was going long CVS and WAG too soon after WalMart announced $2 generic pricing. I had friends in town and wasn't able to spend my usual time watching and studying the market. I just watched them fall for two days and without looking at a chart, studying historical prices and determining how far they might fall, decided the market was being stupid and went long. Couldn't wait to tell my visitors how "smart" a trader I was and my expected profit. It was fun, until announcement after announcement by WalMart kept causing the stocks to keep falling. The result was panic selling near the bottom, even though I had told myself before the trade that I could happily buy and hold both. Basically, I followed all of Vic's rules on "How to Lose."
Trends: If only following a trend meant being able to draw a straight line or buy a system and buy green and sell red. The trend I wrote about several months ago about more babies being born of affluent parents still seems to be intact. I have recently seen pregnant moms pushing strollers again. Planes to Europe have been at capacity my last two trips and on both trips several crying toddlers made sleep difficult, in both directions. Are people with young children using their home as an ATM to fund a European trip? Are they racking up credit card debt that they can't afford? Depleting their savings? (Oh wait - Americans don't save anything.) If they are, then something fundamental has changed about how humans behave.
From James Sogi:
My daughter the PhD candidate at Berkeley in bio-chem is involved in some mind-boggling work. It's all very confidential, but she tried to explain to me some of her undergrad research in words less than 29 letters long. Molecules have shapes and fit together like keys. The right shape needs to fit in for a lock. Double helices of the DNA strand are a popular example, but it works with different shapes. There is competition to fit the missing piece. They talk to each other somehow. One of her favorite stories as a child was Shel Silverstein's Missing Piece. Maybe that's where her chemical background arose. Silverstein's imagery is how I picture it at my low level.
Looking at this past few months chart patterns it is impossible not to see the similarity in how the strands might try fit together missing pieces in Wykoffian functionality. The math and methods must be complicated, but might supply some ideas for how the ranges and strands in the market might fit together, and provide some predictive methods along the lines of biochemical probability theory. I'll need some assistance from the bio-chem section of the Spec-list to articulate this better.
From Kim Zussman:
Doing same as Alex Castaldo, using SPY daily change (cl-cl) as independent and FUNDX as dependent gave different resluts:
Regression Analysis: FUNDX versus SPY ret, SPY-1, SPY-2
The regression equation is FUNDX = 0.000383 + 0.188 SPY ret - 0.0502 SPY-1 - 0.0313 SPY-2
Predictor Coef SE Coef T P
Constant 0.000383 0.00029 1.35 0.179
SPY ret 0.187620 0.03120 6.01 0.000* SPY-1 -0.050180 0.03136 -1.60 0.110 SPY-2 -0.031250 0.03121 -1.00 0.317 *(contemporaneous)
S = 0.00970927 R-Sq = 3.2% R-Sq (adj) = 3.0%
Perhaps FUNDX vs a tradeable index is the explanation.
Archives
Resources & Links
Search