A friend of my daughter works for Tesla. His parents described driving in a self driving car in San Francisico. As I drove through LA traffic, I thought of the many benefits self driving communicated net cars would have.
Almost all accidents are caused by driver error. If all cars were self driving, and communicated with each other, it would reduce accidents, increase traffic flow and congestion. Lane changes could be done quicker and more safely when other cars knew the changer's intention. Cars could drive faster and closer together where human reaction attention and reaction time were eliminated by communicating cars. Rear enders would be eliminated by front sensing brakes. Cars could self park like auto valets.
Stefan Jovanovich writes:
This is really the night for "let's all submit to higher authority". The problem Google and others are trying to solve - traffic congestion - is not going to be resolved by turning the public roads into digital autobahns, not without the complete loss of individual liberty.
Our "traffic" problem comes entirely from the commons theory of access. Right now, no one pays any direct price for deciding to use the freeway during rush hour; the road usage is - quite literally - free. If those same smart, smart folks would put their attention to the question of mechanisms that priced timed usage by location…
Thomas Miller writes:
One problem with self driving cars, (for municipalities) is that they wold lose all the revenue they now make from traffic tickets, which is not insignificant. Self driving cars would never break the speed limit, run red lights, make illegal turns, etc.
Stefan Jovanovich writes:
When roads were uncommon, they were privately owned and subject to usage tolls. Road travel was incredibly expensive because of the physics of friction and gravity (in a boat the water does the carrying; in a wagon the rims) so almost all freight moved by ocean and river which were the commons. When iron and steel rails solved the friction problem, land transport exploded - still under private ownership. Our present commons of free public roads only really go started in the 1920 after the development of pneumatic tires and leaf spring suspensions made transport of heavy loads possible. There was no practical way to put tariffs on the road usage but cars were so expensive to own that "traffic" did not become a problem until the combination of cheap gasoline and inexpensive used cars developed in the late 1950s.
This is not a difficult problem to solve, given the capacities of digital technology. What I find fascinating is how much the people who know that technology best (the folks at Google) are determined to use it to limit people's freedoms and prevent government's monopolies from dissolving under their own economic obsolescence. There is no social justification for "driverless cars" - auto accidents continue to decline and the injury rates for vehicles where people are passengers, not drivers - buses, vans - are far, far more bloody than for personal vehicles. This is a technology avoiding a useful solution in order to promote what will be an utterly useless green fascism.
All traders have a tendency to be happier with down 5% after their max loss was 60% than up 25% after their max profit was 50%. Most Asian markets are up substantially with Chinese 25 to 40% up, and yet everyone is talking about the depths of despair there.
Hernan Avella writes:
It's ubiquitous. I sit here in the airport, after my flight was delayed 3 times and then cancelled at 11:30pm. They tried to settle for a flight tomorrow night. I fought my way into a 5 am flight. I have to spend the next 4 hours in the airport (perhaps finding regularities). It's a disaster outcome that feels like a victory compared with the alternative. Rumors in the airport were that the Obama trip to New York messed up with air traffic. How appropriate.
Thomas Miller writes:
Do flexions work the same in all markets? When they want to buy at lower prices do they push fear and negativity through media outlets (increasingly social media like TWTR) so the weakest hands sell out at the bottom where they come in buying positioned for the next move up? Or am I being overly paranoid and conspiratorial?

From the March "Cass Freight Index" report:
Manufacturing and production have turned a corner and are back in expansion mode. Strong new orders and backlog figures bode well for the freight sector. Imports were up in February, especially for autos and parts. Sales of cars and pickup trucks ‐ which are considered a harbinger of recovery in the construction sector ‐ rose sharply in March. New housing starts actually fell for the first two months of 2014, but permits were up 5 percent. January and February are traditionally low because of the weather, and this year's weather has been especially severe. Rising home prices and interest rates will likely have a dampening effect going forward.

All in all, lots of strengthening in the economy, but taking everything into consideration the signals are still mixed. It will be interesting to see if we can continue to climb up or if we will keep with the trend of recent years and stumble in the second quarter.
From Association of American Railroads 5/1/14 report:
Increased Weekly Rail Traffic

WASHINGTON, D.C. – May 1, 2014 – The Association of American Railroads (AAR) today reported increased U.S. rail traffic for the week ending April 26, 2014 with 302,108 total U.S. carloads, up 9.5 percent compared with the same week last year. Total U.S. weekly intermodal volume was 264,228 units, up 6.7 percent compared with the same week last year. Total combined U.S. weekly rail traffic was 566,336 carloads and intermodal units, up 8.2 percent compared with the same week last year.
Doesn't look like imminent recession. Plus Sam Eisenstadt is bullish at least till September.
Today, I stopped by the local Apple Store to buy an Apple TV–it allows my wife (who is hearing impaired) to see captions on streamed movies. When I walked into the store, it was difficult to notice how empty it was. This was on a Saturday afternoon, no rain, moderate temperature, and over half the store was empty (the last time I was there–a few months ago–you could barely get into the store). Over half of the sales folks in their blue shirts were standing around talking with one another. It wasn't as though there was anyone waiting to speak with them, or even anyone being asked if someone could help them–there were those sales folks going around the store, as well, and they were looking for things to do too–no one had questions for them or needed help. I was stunned. In the three years we have been using this Apple Store and this was the first time I've had this experience. I don't know that what I observed today isn't just an aberration. That said, are others on this site observing the same at their local stores?
Ralph Vince comments:
Dave,
I think it's more than just Apple. I live by a popular vacation beach in FL. Access to the beach (free) is jammed, mobbed. Go out to a restaurant, they are empty. However, go to one that is running some kind of promotion and they are jammed. The roads are jammed, but people seem extremely price sensitive.
On the one hand, things have the feel of a boom, and on the other, of a bust. Very peculiar. I think Apple, however, from the looks of their stock, and evidently their stores, is certainly feeling the bust side disproportionately.
Thomas Miller writes:
The Woodfield Mall in Schaumburg Illinois outside Chicago was extremely crowded today well into the evening. Temperature was mid 30's a little cold for this date. All the restaurants were very crowded particularly big chains like Cheesecake factory with huge waits.The Apple store in the mall was fairly crowded but less so than at other times I've been there particularly with the amount of people that were in the mall. I didn't see a lot of people buying anything while I was there. I also observed that very few people in the mall had shopping bags and the ones that did were fairly small. Also, I can't remember a time when I've heard so many different languages being spoken and seen so many kids there. The kids play area was absolutely packed and must've been teeming with bacteria and viruses. I started getting flashbacks of the mouse's house in Orlando. Felt like I was at some kind of United Nations mall. Maybe all the Aryans were out starting their St. Paddy's day libations early. Not very scientific, just unusual.
Ralph Vince adds:
I notice a huge regional differences — though this has persisted throughout this protracted period, only now, become even more polarizing.
I think it's vulnerable, the only drivers of wealth here are those tied to very specific fields and/or government (and some workers in those sectors have been cut back severely, military in particular) and the stock market. Here's where the implications arise for us.
NO ONE has cashed out. Everyone crying about their investments and their pensions in 09, has their moment to find redemption now. Have they? Every major pension fund has a large allocation to equities now. Everyone feels safe. Teh fed will keep pumping — but they have such short memories, it was the very sound and fury of the igniting pump in Oct 87 that turned it around. If (when) this goes — when everyone tries to get out within the same span of two or three hours, who will save it and how?
A quick and vicious storm blew through Chicago this morning, with some wind gusts up to 75 mph. Many trees were cleared of the weaker branches. The storm passed and the stronger branches gained from the weaker ones losses. They now get more sun and nutrients and are even stronger. I wonder how many weaker hands sold off in the midst of the day's decline, only to watch near the end as the strong hands gained from their losses with a nice rally back. This seems to reoccur often, even when investors "know" the worst time to sell is in the panic. It shows how strong a motivator fear is.
One has to wonder why this whole "college is a waste of time" meme has suddenly become so prevalent. Is it because so many people have trouble with college loans? Too many writers who have nothing more to say about O's birth certificate?
Thinking one can predict the future based on what one does in the present is a persistent human foible. For sure a lot of kids go to college who don't need to. But is this truly something new? Would anyone sensible make a decision based on what they read about this subject? Unfortunately some probably will.
It remains to be seen how employers of the future will react to resumes that state "I am really smart but I didn't go to college because I read online that it was BS; but I really am smart."
One of my kids is 1/2 way through college and the other is just entering this fall– and I don't spend any time at all thinking it's a waste of time or money; it's been a path to prosperity in my family where none of the previous generation had any education past high-school (if indeed they finished that at all).
On the other hand my wife and I went to CUNY at a time where the cost was $35/semester. That's not a typo.
But I still wonder what's behind the impetus to discredit higher education?
Ken Drees writes:
I get the vibe that the intent is more of a cost justification issue. You don't send a kid to college who gets middle of the road grades and majors in marketing anymore. The job market out of college is poor and will continue to be poor. College now will set you back serious money as a percentage of household income and there will be serious debt burdens on the student and parents upon graduation. You can't put the college payments on the credit card or the home equity loan anymore.
I believe that a college bound child needs serious career planning up front, which is tough to do since kids sometimes do not know what they want to do prior to going off to the higher education arena. Like the union bubble which is feeling the backlash from the debt riddled state pockets empty reality, colleges need to step back, cut back, stop the pay raises–else enrollment is going to crater and the pie shrinks.
Victor Niederhoffer comments: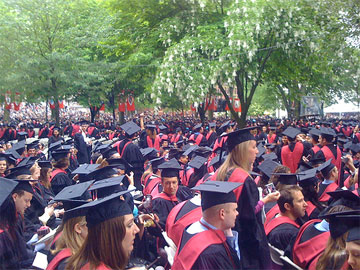 A college education will always serve as a signaling device to employers and partners and parents that one is capable of being admitted under highly competitive circumstances and then has the fortitude to stick with the program, and finish the requirements, and the moral fiber not to have been kicked out. The signaling will always be of value and the rate of return from college should stay relatively constant.
Russ Sears comments:
Very similar qualifications could be said about homeownerships, commitment to paying a mortgage and good citizenship of being a good neighbor. When a persons limit to leverage has no bearing to what they could reasonably expect… many with nothing to loss will gamble with somebody else's money. This of course creates a bubble in some areas where there will be large oversupply of X degrees. For instance everybody will think in 2022, "what were they thinking taking forensic science and $100 grand of loans?"
The problem is when you use the argument that is it "should" be worth it to argue that everybody has a "right" to upgrade there lives. Further when you grant this "right" to any 18 year old capable of getting a high school degree you are bound to get many that should not have been given this privilege without working a few years and tasting responsibility. I still believe orginially there was a segment of responsible people that were granted sub-prime loans. These people however, proved to be the exception to the rule when everybody was given this right.The difference may be that those youth that are the sharpest will see the "bubble" within these areas and avoid them.
Could we be looking at the class of 2011? on a resume and subconsciously think what a deadbeat?
James Goldcamp writes:
I agree with chair's analysis of the signaling value of education, but one also wonders at what cost. I would find it hard to believe the return on invested capital has not gone down with both greater real costs and general degree (volume) inflation over time. It occurs to me that a rigorous self study program with standardized tests against which one could be compared might provide some lesser but nonetheless valuable signaling vehicle at 1/20th the cost of the current college education. Interestingly, one hire we had years ago was more known for his perfect SAT than his multiple Ivy degrees.
Thomas Miller writes:
This anti college education and anti home ownership "debate", seem to reflect a negative attitude that is growing in this country. The theme seems to be "dont even bother to go to college or strive to own your own home. it's not "worth it." just give up and settle for less." Of course college education or home ownership is not for everyone, but those that propagate these defeatist platitudes, (especially the ones that do it on internet blogs read by a large audience), are doing a great disservice to young people. "just settle for less" is not the attitude that made this country great. A generation ago, many that chose not to pursue college could get a decent job with benefits and be fairly sure of being able to retire from that job. There are very few of those jobs available now. The gap between those with a college degree and those without will continue to widen.
Russ Sears comments:
I believe those that are "anti" college are saying take more risks start a business instead.
And for those that it will not turn out for the better, it's not good government to guarantee the loan. More responsible decisions will be made if they have to compete for access to loans like anyone else.
Ralph Vince replies:
I cannot speak for others, but I am not advocating a "give up," or defeatist attitude here. I speak with those who have children of college age frequently, as well those who ARE of college age frequently too. One of these day, I'm going to stop speaking to people who don;t take my advice (most people are incapable of taking advice, we simply have to learn things the hard way, and usually more than once)
I hear an awful lot of talk from all of these people that a college education is necessary to enter the American job market, as though it were a ticket to the dance, a means to an end as it were.
(I should point out in full disclosure I do not have a college education. I am self taught. When I decided I should learn math, I started with algebra, geometry, trig, analytic geometry, calculus, topology…..eventually stochastic differential equations, which is used (with near exclusivity) to model prices with (a nice target for a math track for someone interested in the markets, but I find these methods model prices with a degree of reality akin to Oz modeling Kansas). When I wanted to learn literature, I started with Homer, then Virgil….through to the 1950s. Of course one cannot study everything and anything, you have to make selective, intelligent decisions (which is where talking with others comes in) and someone must WANT to dispal their ignorance (and this is the key attribute, the acknowledgement of our ignorance and a desire to overcome that — whether formally educated or not).
The last time anyone ever asked me about my educational background was probably when Reagan was running against Carter.
So when I look at what people are learning, and WHY they are learning it, I DO come away in MOST cases with a "Why bother with that?" attitude.
So once we acknowledge that there are two reasons for edication:
1. To dispel our ignorance, and ultimately, to study material we are passionate about, should have such good fortune, and
2. To make ourselves, personally, a marketable product (i.e. posses a marketable "trade," be it electrician, brain surgeon, or truck driving certificate)
people can make better decisions. Unless they are fortunate enough to be a trust fund kid, they need #2. A mere college degree does NOT provide that — this is a wives tale that floats about America wherein a lot of money is being wasted in its pursuit.
#1 is a luxury — one must have the good fortune of finding what fires their jets at a young age, aside from pornography, and find a way to pursue it. If they have the resources and time, college is the way to go. If not, anyone with a spark and a modicum of resourcefulness will find a way to pursue it.
I've spoken of this before. The number of persons from the 2000 census to the 2010 census is up 20%, the number of households, nowhere near that amount. Clearly, in the not-so-distant future, either much housing must be created or much work must be done to convert the "cul-de-sac development" McMansions into 2 and three household homes. What young person is a yeoman plumber out there, or plasterer? Not many, certainly not many over the past 10 years — but it is the fastest track to acquiring #2, above, for most.
And most need #2. Not everyone needs #1, and if they have that luxury, nothing will stop them from pursuing it. But the notion of borrowing a lot of money for a ticket to a dance based on some parent's misguided model of reality (Oz!) is something the educational institutions feed on, benefit by and play to.
Jim Lackey writes:
College is the time to meet your mate, your equal. For the fortunate men, it's the better half you spend life with.
In your college years, there is only so far you will go…. Either to fake it, to fit in/get ahead or rebel against, to get off easy and/or explore the adventures of danger. The gist is how you act when no one you know is looking. Sin may resurface later in life. For certain people, the hypocrisy of life will rear its ugly head. If a married couple knew each other during these years of growth and uncertainty it's near impossible to argue later the lack of full disclosure prior to marriage.
A grievance can always be resolved. A slight, an imaginary hurt, the lack of full disclosure–the "I thought I knew that person". That person will hate you til the day they die.
My guess that is how/why bitter divorces ruin families… vs the much higher than average success rate of current marriages from my anecdotal evidence of family, friends and cohorts that married some one they knew from school.
Jeff Sasmor writes:

Good article on "What's a Degree Worth" :
What Are You Going to Do With That?

For the first time, researchers analyze earnings based on 171 college majors

By Beckie Supiano

Tuition is rising, the job market is weak, and everyone seems to be debating the value of a college degree. But Anthony P. Carnevale thinks these arguments are missing an important point. Mr. Carnevale, director of the Georgetown University Center on Education and the Workforce, has argued that talking about the bachelor's degree in general doesn't make a whole lot of sense, because its financial payoff is heavily affected by what that degree is in and which college it is from.

Now, new data from the U.S. Census Bureau sheds light on one big piece of Mr. Carnevale's assertion: the importance of the undergraduate major. In 2009, the American Community Survey, the tool the bureau uses to collect annual estimates of population characteristics, included a new question asking respondents with a bachelor's degree to give their undergraduate major.

After combing through the data, Mr. Carnevale says, it's clear: "It does matter what you major in."
Laurence Glazier writes:
After the signalling provided by college qualifications, the deliberate undertaking of full-time employment may signal the willingness to allow creative fruit to wither on the vine. A shibboleth of perspective. So many wait for retirement (which may not come) to allow vent to such aspirations, but the law of the farm dictates regular irrigiation throughout a lifetime.
To this end there would be much benefit to all if full-time work became less the norm. The end of government subsidy of unsound housing loans would reduce the pressure on people to suppress their finest qualities.
The Harry Potter books emerged not in spite of the writer's modest circumstances, but aided by them.
David Hillman writes:
Very astute observations.
A laborer can be trained to dig a ditch to a certain depth. A monkey can be trained to dance to the organ grinder's tune. Even a plant can be 'trained' to grow in the desired fashion. But few of the former are, nor neither of the latter can be, trained to *think* and creatively problem solve.
One might speculate that emphasizing skills, specialization and technology in educational curricula and employment qualifications may be the culprits.
While a college education being increasingly available only to the affluent because of financial considerations is, indeed, an issue, perhaps another of our chief concerns should be that we are creating a nation of people who are trained, rather than educated.
Kim Zussman writes:
The "education ruins thinking" argument has value, but simply looking at dollars a college degree pays more than just HS diploma. BLS stats below shows increasing income with formal education: about $400/week more for college grads - which of course does not include harder to value assets like volume of learning, tutored critical thinking, facility of life-long learning, status, access to better mates, good memories, signalling, etc.
One would need about 10 years of the additional (median) college grad salary to pay for 4-year private degree (ignoring taxes). Would the degree be worth it if it took 20 years to pay off?
Unemployment rate Education attained Median weekly earnings
in 2010 (Percent) in 2010 (Dollars)
1.9% Doctoral degree $1,550
2.4 Professional degree 1,610
4.0 Master's degree 1,272
5.4 Bachelor's degree 1,038
7.0 Associate degree 767
9.2 Some college, no degree 712
10.3 High-school graduate 626
14.9 Less than a high school diploma 444
8.2 All Workers 782
Note: Data are 2010 annual averages for persons age 25 and over.
Earnings are for full-time wage and salary workers.
Source: Bureau of Labor Statistics, Current Population Survey
Rudolf Hauser writes:
The question of a rate of return on a college education is not that easy to measure. For one, it will vary greatly on the college attended both by cost and quality of education. It would also vary greatly by the course of study and how much a person actually learned as opposed to just getting by and having fun. Even taking account of these variables, it is not an easy question to answer. The math is a simple discounted present value calculation, but the inputs are something else. For one, the attributes of those attending college and those not attending will differ. Those with an interest in learning and working hard, more personal discipline and more ambitious are more likely to be attending college than those who are not. Those people are more likely to earn more than the group that does not go to college even if they had not gone to college. So while the value of the education is the difference in what they earn in the future compared to what they could have earned had they not gone to college, one cannot just assume the latter is what those without a college education currently earn. In addition what is actually earned will not be a single average or medium figure but will have a wide distribution around it based on good or bad fortune, who you know, and countless factors beyond one's control. Costs while being educated in addition to direct costs of tuition ,books include difference in living costs relative to what they would be had one not gone to college and opportunity costs of lost potential earnings from working rather than going to school. Then there is the question of how much of the difference is due to signaling as opposed to the value of what was learned and contacts made during school. That is real but could change if the marketplace found alternatives to such signaling. If lower education had more strict criteria for graduation and grades the signaling value of a college education might lessen as employers had more confidence in that and prior work experience. The cost of loans may also vary, so that how the education is financed will matter a great deal.
In addition to monetary economic measurement, there are other benefits that might be gained. Meeting a spouse has been mentioned by list members as one such benefit. Learning about many areas and learning how to learn, may enrich one's life as a person, contributing to the value one has to society and family and to one's personal richness of life and happiness. But if prospects do not turn out as one hoped, it can also lead to unhappiness. The question then is how much one wishes to pay for these other potential benefits or negatives (i.e., the probability of disappointment). Some areas of study such as general liberal arts, might be expected to have a higher risk of low or negative economic returns than more specialized fields, but specialization runs risks if those skills become of less use to society.

On a personal level, I do not believe it make sense to send a kid to college unless they are actually going to work hard to learn. If not, it might be best for them to work for a time and see how difficult life can be without a college education. Often they may then go to college and actually make the most of it rather than going at a younger age and goofing off.
I might also add that education need not be in the classroom. The time spent learning on one's own is also education. One need not attend college to learn. It might not have much signaling value but it certainly helps in many areas. The cost is the value of the time spent either in terms of the value of one's leisure or economic opportunity cost.
The ability to learn might be enhanced by a formal education. One of the things I would advise a person attending college to learn is how different disciplines think. The way a lawyer thinks about problems, the way a scientist does, the way a creative writer thinks , the way an economist thinks differ and are specialized in some ways that takes a time to learn. The first course in microeconomics is difficult for many students, for example. The more ways of thinking one understands, the broader ones ways of understanding the world, understanding other people and in solving problems. Some of the great innovations come from taking of advantages in knowing something about other areas of learning that provide insights into the problems in your area of interest.
David Hillman writes:
Ok, then, I meant the focus to be on the point of training versus education. If it requires more updated or timeless references than those to the 20th Century, so be it, and I beg pardon.
(1) Backhoe operators are *trained* to operate them, but there are many instances of heavy equipment being stuck because the operator failed to *think* about the application.
(2) Musicians can be *trained* to play an instrument, but without a proper foundation, i.e., *education* in music theory, history, etc., while the music may be technically correct, it is often dry and mechanical, uninspired and with an 'off-the-shelf' feel.
(3) An air traffic controller can be *trained* to direct aircraft, but when an emergency arises, he/she must *think* of how to resolve it, not unlike,
(4) A 9-1-1 operator being *trained* to follow protocol, but when that protocol does not apply, hopefully, that individual may be capable of *thinking* of a way to prevent loss of life.
And, what of entrepreneurs like you and me? How can one be *trained* to brainstorm an idea out of thin air, then take it from the drawing board to reality? But, one can certainly be educated broadly enough to think creatively, make connections, take calculated risks and solve problems. Even in strategic planning, one can follow a plan, but the successful execution of it requires feedback from the real world and adjustment, which requires the ability to think, not just the ability to follow an SOP manual.
Clearly, a liberal arts education is not for everyone and the rise of tech schools and alternative forms of education and training should be applauded. For those who require training, the more well-trained they are, the better off will be all of us who depend upon their services. But, one should not necessarily depend upon them to do anything other than the job for which they've been trained, nor to be able to *think* creatively when faced with a situation or event for which they have not been trained. Trained mechanics may depend upon a diagnostic computer and trained line cooks upon a recipe, whereas a great mechanic might 'feel' a rough idle and a great chef might improvise a dish. The latter two have the ability to think and create, some of which is natural, but a good deal of which may also come from an education.
Nor is a college education always the right thing for someone at any given time. There are plenty of examples of individuals who failed to perform well in college as a recent high school grad, but did stellar work 'going back to school', my own being one of them.
Some eschew those who are 'too educated' as being 'troublesome' precisely because they can think. However, if I knew nothing of one's natural intelligence, and had to choose, I'd probably go with the educated over the trained.
That said, neither education nor training has much to do with 'smarts.' For that, you either are, or you are not. Some of the dumbest guys I've known have had PhD's, but so have some of the smartest. Likewise, some of the least educated have been the smartest and most capable, but there have been many that are dumb as a box of rocks.
As someone once told me, "it's better to healthy and rich, than to be sick and poor." I'm kinda thinking it might also be better in the long run to be smart and educated, than to be dumb and trained.
Stefan Jovanovich writes:
David is right. If there is any fault to his argument, it would lie in his optimism about the capacities of higher education. But, then, my cynicism about schooling comes from having literally grown up in the business and from being a 2nd generation academic bum. (There are not many fathers and sons who share the distinction of having gone to graduate school in English literature solely because they had no better idea of what to do and the GI Bill would pay for it.) School, like most things, is what you make of it. My difficulty is that "education" is now what "national defense" was in the 50s and beyond; an open-ended appeal for more money that is always justified in the name of some higher good that is incapable of being questioned.
Jeff Rollert writes:
I concur with Ralph, and if you believe in the concept of singularity, then a repetitive answer method is most likely to be replaced by a machine.
For me, I believe that standard problems will have standard solutions already applied to them before I'm even aware of the problem. So if one were to find employees who where good at sensing/finding the "unknown-unknowns" then they would have to have a non-standardized approach - in other words a non-academic approach.
Lastly, in a logic sense, how can something be a "value" but still be "expensive"? Aren't these mutually exclusive?
Tim Melvin writes:
We have dealt with both sides of the college issue here in the past few years. My daughter on her quest to be the world only libertarian teacher had no choice. To teach you must have three degrees and credentials. She has on semester left and has pulled a 4.0 throughout. She may have learned some basic teaching techniques she did not know but the general education element was lost on one who reads like her. When I look at the top 10 majors in US colleges I have a hard time seeing what we are producing except middle managers. Teaching and nursing are the only to that offer a truce vocational choice. I would love to have had four years to study literature, but I question the employment value of the degree itself. The top tier schools may be different but is seems to me that our universities are teaching fixed values and information, not how to think. How to think has to be either installed by your parents or learned on your own. I cannot see where this can possibly be worth the cost today. Perhaps Colonel Depew can add a though on this but I think teaching the young to read the Great Books Curriculum would go farther than the current middle management factory that are most schools today.
I never went to college. Truth be told I dropped out of high school at the enthusiastic recommendation of the local authorities. What education I have I obtained from between two covers in the style of Louis L'Amour– I suggest that book as a manual on learning to think by the way. I read constantly when I was a kid. My mother was wise enough to let us read anything we wanted regardless of content. If there was something we didn't understand she made us find the source material to explain it..and this was back in the day when Encyclopedia Britannica was still the source of knowledge not the internet. I have continued to read ravenously all my life. I read anything and everything. I have found that even fiction often contains lessons for life and can be a source of knowledge. As an example, I read two or three of Robert Parker's excellent Spenser series. Great detective books, but read a few and you will learn two or three good quick dinner recipes, several literary quotes worthy of further research and how to win a fight. Many of us on the list have followed the chair's lead and studied the great lessons of Monte Walsh, Don Quixote and Patrick O' Brian. Randy Wayne Whites Doc Ford novels often contain insights into the biology of floridian waterways and the everglades. Knowledge is everywhere if you know how to think. I fear today's world of standardized testing and assembly line universities may not be teaching that valuable skill.
Think about this. The two greatest innovators and business men of the past thirty years both dropped out of college. Some schools may be worth the price tag. I suspect most are not.
My son on the other eschewed school in favor of making a few bucks. He discovered he had a real talent for and love of business. Within six months or so of going to work at Boater's Worlds he was managing one of the top producing stores in the company…at the age of 20. We talked about school and he told me flat out "I can't see the value of spending the money. I have two MBAs working for me now because they can't find jobs that pay enough, and my part time staff includes a phd in English." He moved on when the Ritz family folded the chain. His former district manager brought him over to his new company and he is moving up the rank there. He just undersands the art of working hard and making money. He may need a few accounting classes some day but four years at some state university would have been a waste of time and money.
We need more thinkers who have a passion for knowledge and more curious explorers and fewer managers and chair holders. That's on us as parents as much as the schoools. If our children go onto college make sure they know how to think and the univerisity allows them to do so.
Stefan Jovanovich writes:
Dropping out can be useful even for scholars. Peter Green (the #1 biographer of Alexander the Great) did it.
So did Eddy's favorite professor who didn't teach art history.
Eddy's most treasured legacy from 4 years at Cal was giving Professor Jacobson the recording of her version of the Super Mario tune. He had heard her play it on the UC Carillon and wanted it for the ring tone on his phone.
Dan Grossman writes:
Found this interesting blog post by Steve Sailer proving the value of higher education:
A column on a new Gallup Poll asking "Just your best guess, what percentage of Americans today are gay or lesbian?"

"The mean guess was a ridiculous 24.6%. Only 4% said less than 5%, which is probably the best guess.

Polling companies seldom ask questions on which people can make obvious fools of themselves, since those can raise questions about the value of opinion polls.

Looking at the demographic crosstabs, it's evident that low intelligence people were most likely to wildly overestimate the percentage of homosexuals: 53% of people making under $30,000 annually said that at least 25% of the population was gay, and 47% of those with no more than a high school education. 43% of Democrats versus 24% of Republicans got the question wildly wrong.

In general, people are terrible at estimating or remembering demographic statistics. A 2001 Gallup survey, right after the release of 2000 Census results, found that the average American estimated that 33% of the population was black and 29% were Hispanic. That adds up to 62%, but who's counting? Not most people.

In that 2001 survey, nonwhites estimated that 40% of the population was black and 35% was Hispanic (adding up to 75%). In contrast, people claiming postgraduate degrees estimated that 25% were black and 24% Hispanic (only about double the Census numbers), which proves the value of advanced education."
Hi everyone,
Watching an episode of Pawn Stars. In reality I like to see what items people bring to the pawn shop to either sell or pawn.
The owners seem to a have large shop full of all kinds of collectibles. My main concern is Rick (owns shop with his father ) constantly has to call in outside experts to evaluate or verify authenticity. To be in that business you better know a little bit about ephemera and coins and ball cards and cast iron toys and still and mechanical banks as knock offs are everywhere that antiques have risen in value. Also include art.
Is this like the Market trader having to rely on others to make important buy or sell decisions and not learning on their own to make critical educated decisions?
Regards,
Alan
Sam Marx comments:
I've watched Pawn Stars a few times & the gullability of people when they need a loan is amazing. It's like watching a car accident. Also, I would venture that the average of all the IQ's of people pawning items is below average. I would also guess that the vast majority of those items pawned are never redeemed. Confession: I pawned an item once, an emergency, but I took it out of pawn 2 days later.
I know that junk car yards are connected to find parts between themselves, it's like having a vast inventory. I don't believe pawn dealers are connected this way.
Has anyone ever thought of working a deal with these pawn brokers and putting their items on an internet website. Something like an Ebay for pawn brokers or maybe they are doing it themselves ?
Thomas Miller writes:
This show is a great example of the ageless advice "never try to bullshit a bullshitter" you'll never win. I suspect most pawnbrokers love the art of haggling and would rather sell to someone one face to face to use their skills to get the best price, rather than through internet auctions.
Art Cooper adds:
Related to this, see the article "Payday Lenders Go Hunting" on p. C1 of today's WSJ, on the expanding operations of such companies as Advance America, which make unsecured loans at annualized interest rates as high as 391%.
1. I am reading the deeply flawed book Bounce by Matthew Syed who believes that the quantity and quality of practice is key to determining greatness. Also reading another book from the same garage of hatred of the subject he writes about– The Company Town by Hardy Green and also Titanic Thompson: The Man Who Bet On Everything by Kevin Cook, about a man that should be hated but is quite interesting.
2. They say that when there is a big traffic accident in an area and it's cleared, there is still a traffic jam there the next day, I think because people are slow to observe past effects. And one is reminded of that at the opens of all the markets. In the pit days, there used to be tremendous volatility and big moves like in the first 5 minutes. But now there is no pit trading in most markets, but there's still the same volatility that occurs, like in bonds today at 820.
3. One notes that after 13 or more 10 day changes up, the expectation the
next day is -1/10 of a % and after 13 or more 10 day changes down the
expectation for the next day is -1/10 of a % however there are 244
occasions when the 10 day SP is down 13 or more times in Rowand 398
occasions when the 10 DYA SP is up 13 or more times in row. Thus,
declining 10 day moves less harmonious than up 10 day moves a meal for a
day not here but possibly for life time.
Thomas Miller shares:
Trafficwaves is an awesome website by an electrical engineer about what causes "invisible traffic jams" with lots of illustrations.
Chris Tucker writes:
I've heard this referred to in an astrophysics class as a Density Wave, it is one of several theories brought up to account for the formation of the distinct arms in spiral galaxies. The teacher used this specific example of highway traffic to explain it.
Jim Sogi adds:
When particles interact due to input of energy they move at different speeds. The faster ones overtake the slower ones. A buildup occurs at the slow point. Everyone has seen this in traffic. This is how big waves are created in the ocean. The interaction of energy pushing forward, and forces of resistance due to bunching, due to structural resistance (in the ocean its the bottom) in markets due to vig etc., and the secondary forces created by interaction of the various maxima and minima gets complex. It seems the areas of maxima and minima are easy to focus on and they provide distinct boundaries, maximum energy, and minimal densities.
T.K Marks comments:
Apropos of the peculiarities of traffic mishaps otherwise involving cars, just moments ago I had sent sent a similar response to your thoughts contained below only to be have it unceremoniously bounced back to your humble correspondent.
So here we go again.
Back in the day when pit trading held sway, the lion's share of the action took place on the open. Afterwards, the tempo was akin to the pace of watching grass grow. The occasional rock'n'roll news developing days notwithstanding.
So after I would take care of my market opening responsibilities and see that there was not unduly pressing on my book, I would delegate responsibilities to my second-in-command and repair upstairs to the the gym on the 8th floor gym of the WTC for a palliative steam and sauna.
The equilibrium benefits of such generally worked wonders because the close made the open look like the most genteel of tea parties,. It was the closet I'v been to Nam. Every day was a Tet Offensive.
Recently I have posited that the market to an inordinate degree shows the main attributes in its daily moves of the most vivid sports game that has not been used. I would add to this that during each hour the market is likely to move to the rhythms and dynamics of the most likely classical music being played on a classical music station in home town, for example the former WQXR in New York, in full knowledge that these programs are often selected 2 months in advance, and noting that I was a subscriber to same when I was 12 years old.
I am adding to my list of mystical encampments and predictions that the fortunes of Apple and Lady Gaga will follow a similar arc in the future, and as soon as the Lady loses her luster, or a substantial base of her gay support, Apple will be ready to nose dive.
Do you feel that because of these ideas that I should resign my post as chair of Daily Spec which is designed to deflate bally hoo, or is this just a symptom of that predilection that old men such as the sage and the fake doc have to maintain their romantic aura?
Ken Drees writes:
Lebron James' Cavs win over the bulls to end that series correlates to the spy top (04/27/10). That was the zenith of his career in Cleveland. They were then going into Boston on a full tank of expectations. The last game (as a cav) in that series marked a secondary top 08/13/10–then the melodrama begins. His great choice to go to Miami did not mark the low but was the midpoint of the latest rally—he is losing his market moving mojo–his ability to focus the market energy . So now he has lost his core fan support like lady gaga at some point will lose her core fan base. No, I don't think the Chair is that off-kilter.
Popular culture icons somehow bleed into market consciousness.
Vince Fulco writes:
I've long thought that the culture has moved into a greater phase of bally hoo, perhaps a derivative of the Romans' 'Bread & Circuses'. We are now just starting to realize or are being forced to understand that flat incomes, poorly funded retirements and insufficient skills in the aggregate set against historically outsized obligations are a recipe for disaster. Fighting falsehoods would seem to be a necessity of survival and good investing for the long haul. Moreover, one has great opportunities to choose from post deflation.
Jim Lackey shares:
Actually no. AAPL has talent and is'nt just a fad or a show. Not sayin' that the Lady doesn't have talent, but if and when I see her write and produce tunes for others and sing Jazz, then she will be an AAPL. But no! No I did buy AAPl in 2003 when Mr. Eyerman stood right here on list and said buy it now. Jobs is back, and Itunes is brilliant. It's been a ten bagger since, which is what got me to tell the father in law naaa na na no this Xmas as he was on visit to Music City and toyed with his new Iphone all week. He's a MD and a tech freak and he said, "you know what, I don't need a PC or internet at home anymore with this"
It's not CSCO when it was on the way to a trillion dollar market cap in year 2,000. It's post crash now. Also it's no shorted up fad stock, but yes it's a fashion device an ipod in all 3 colors for different outfits. If I had to guess its a DELL circa late 90's. It never crashed and burned until much later in the tech wreck. It just stopped going up and in these markets AAPL must trade 299.75 but not 300. ha.
Craig Mee writes:
Just like Seinfeld had the bravery to sell the high and knock back the 10Mil for a tenth season, (one of a tiny minority who do) maybe the gagas and apples should too. To keep up the product development and create new bizarreness no doubt gets harder and harder with everyone hot on your tail. Im sure income changes, say for Seinfeld, from shows to marketing, but he has been smart enough to cut and run, and keep the value. A lesson for us all.
Marlowe Cassetti writes:
The chair has touched on a point of interest that has bothered me. I don't know about Lady Gaga, but Apple's climb towards the top of market valuation appears to be inline with the phenomenon of a bubble. Yes, I understand that we cannot declare a bubble until it bursts, but let's look at the facts:
There are some 47 stock analysts that cover AAPL, all but two have either a buy or a strong buy recommendation. It is the darling of the market. Its market cap is approaching $ ¼ trillion and at the rate it is moving it is on its way to challenge Exxon Mobile Corp. XOM produces stuff that the world needs, AAPL doesn't produce stuff that the world needs just what they like to have, until something else strikes their fancy.
It reminds me in the 1980's when people couldn't buy enough Wang stock. You hadn't arrived if your office didn't sport a Wang word processor. The bubble will burst when the last fool buys in at a nose bleed price.
Thomas Miller writes:
Sometimes one's instincts or gut feelings can't be counted or explained but you feel its true. Probably based on years of different observations made subconsciously. A trader may feel strongly a market is about to break without being able to explain exactly why, because subconsciously they have seen patterns many times before. Considering the source, I wouldn't immediately dismiss this as ballyhoo. Instead of resigning, further testing is called for.
Steve Ellison comments:
Mr. Aronson noted in his book that it is no fun being a skeptic and that the scientific method leaves deep human yearnings unfulfilled. Facts are often tedious and dull, but stories are captivating, which is why people who have bought into a narrative continue believing it even when presented with strong counterfactuals. "Story stocks" have always been prominent in bull markets.
Marion Dreyfus writes:
A new study reveals that people are at their angriest on Thursdays. Thus, perhaps deals might better be made on Friday, when people are delightfully anticipating the weekend, or Monday, when they are somnolently reviewing the events of their past free-time indulgences.
interesting … We have been doing product development on a tool to gather data, and do reduction for self-introspection to find and permit prediction of cyclic true 'more productive' highs, and 'down in the dumps' lows.
Jim Wildman comments:
I've been thinking a lot about rhythms. I've noticed on the treadmill at the Y that people tend to fall into step with each other. Being on treadmills, this is easier since you can be running at different speeds, but the same step count. It creates an interesting effect when the treadmills are on a suspended 2nd story as it was at the last gym. I've wondered how many people it would take to collapse the floor.
This study seems to indicate that there are (at least tendencies towards) rhythms in 'group' emotions. What other rhythms are there and how do they affect me? How do they affect the markets?
Vincent Andres adds:
Here is a good paper on this topic of frequency coupling
Some more infor:
Steven Strogatz's publications
TED video (look at the part on fireflies, near the 10th minute on metronomes (1st historical notice by Huygens), near the 13th minute and the bridge (not Tacoma … but not very far !)… in fact the whole video examples are interesting).
Easan Katir writes:
In a year when Paul the Octopus correctly picked 7 consecutive wins, well-documented to the world, when the underwater plume in the Gulf of Mexican Oil matched the plume of gritty ash from Eyjafjallajokull, and the rig explosion coincided with the April market top, who can say anymore what is mystical and what isn't. Lead on, Chair! Lead on!
Craig Mee writes:
Looks like Schumacher should of stayed off the track, as HIS value, now may be plummeting: "For all his greatness, he never knows when to give up. He is a shadow of his former self," added hugely experienced former driver David Coulthard" Ouch!
Among the things a father has to do with his son is make him a hero at amusement parks, play catch with him, teach him how to deal with old, young, girls, boys, teach him to survive, teach him how to use tools, play games that will provide lifelong benefits, and take him to the track. I took Aubrey to the track tonight and he told the bus riders that daddy's horse lost, but it was winning at the beginning but the number 9 came from behind to beat him". I was very impressed and he said when I asked him whether he wanted to go back to the baseball game or track more, he said " i want to go back to both". I was impressed with the whole thing, and yet Artie's wisdom that " all gamblers die broke was running through the mind. The spectacle at The Meadowlands is rather pathetic. They're losing 30 million a year or more, and each year attendance declines, and the purses decline.
About 1500 people came to the track on this beautiful day and in the comparable days when Derosa and I used to go it was 20000. The quality of the 1500 that were left was very high, and they knew more about the game than almost all market speculators that I knew. One of them was telling me that the trainers cant make money with these 8000 purses, so every now and then, all the favorites lose on a coalition and the trainers make out big with the exacta and pick 4. My goodness, this was rite out of Bacon, and shall we say, the squeezes and inflexionic trading that goes on in our field. The tracks have given up on selling handicappers picks, as the 1000 attendance isn't enough to support it, but the post and sports eye have at least 8 handicappers each who rate each race. Considering the average handle on a race of 10000, that would seem like a concentration of forces in a field with a low return to scale and effort. The erudite analysis of Dave Brower on each horse in each race in the program is very reminiscent of the experts I hear on TV when I am in a hotel and need prices.
I like this typical sentence one of 110 for the day. "Machs tenor. Makes third start off the bench here, and this is the spot to take a shot, draws the pole and trust me, he's better than he shows." Amazingly pithy and deep for each race. When Brower's horse wins, the announcer congratulates him. There are helpful operatives all around the track showing us how to use all the machines. But I opt for the old fashioned teller and he has a belly laugh when Aubrey says to him "x on the 4 hours to place". It's one of about 5 tellers left there with hundreds of computers taking all the meager remaining bets. The sports eye has 20 tells for each race, ranging from average winning dollars, percentage, in the money, beaten favorite, strong stretch, good trip, favorable post position, hot trainer, first or second recent race after layoff, favorable driver change, won last race and stays in same company, second recent race in same class after dropping, superior mudder, blocked in last race.
If only the level of analysis in markets was half as good or half as tested. There were dozens of patrons following simulcasts that were being screened and they screamed as the race progressed and the emotions were so much the same as the thing that Jeff and I and so many others on this list saw in the pits, and no prisoners and life and death passed so fleetingly through the rings.
Thomas Miller comments:
I was in Atlantic City a few years ago and was walking through the large public bus waiting area that serves the casinos. 99% of everyone there waiting for the lonely long ride home and looked dejected and sad staring blankly into space, It was eerily quiet, with almost no conversations taking place. They had obviously lost what little money they had for the week. If you ever fear for Aubrey becoming a gambler, take him for a stroll through this area (it's probably still there). Your father's wisdom is played out in real life on a daily basis. These people play an important role for the casinos like many market players that slowly churn through their accounts paying for the upkeep of the mistress.
Ken Drees writes:
NYT: Reasons for the Decline of Horse Racing
I am up too late tonight posting this–going to pay tomorrow.
I am in the lost generation that never knew horse racing. The only touch I got was from my grandmother who would call us on derby day morning and read us the odds and the names over the phone. We would tell her to bet the horse for two dollars and she would—how I don't know, and it didn't matter because we never won.
At least we watched CBS wide world of sports who showed the major horse races with some built up punchiness since we had skin in the game.
Ralph Vince comments:
I don't know HOW anyone can approach ANY risk-opportunity in life WITHOUT having been steeped in "The Track," and all it's (now-evident-to-me-market-relevant) b.s., the list of such which would take the better part of today to catalog.
I was fortunate that my father and uncle's were so swarming-crazy about such things. Railbirds at the top of the lane, where the roar of thoroughbreds coming out of the last turn induced an unforgettable euphoria with each race….
"If you go near that window I'll break your g.d. arm," I remember my uncle reminding me at least a hundred times. (I shouldda listened).
As a little boy, there were three, really BIG days, Christmas, "The Opener," (where the Indians, playing their first at-home game mandated you cut school) and the first Saturday in May — the latter, being the biggest. To go to Churchill Downs for that was nothing less than a pilgrimage to the high temple of life itself.
To go there, on any other day and see firsthand the contrast of the high temple, transformed into Podunk Downs on a Wednesday afternoon, in the middle of dumpy L'ville, taunts a boys imagination and makes him realize that the entire episode, the magnanimity of it, is all in people's heads –as with everything.
Jeff Watson Comments:
I grew up at the track from the age 8 or so. I learned everything the hard way paying a very steep vig. I quickly learned to only bet 1 or 2 races on a card trying to find that elusive overlay and still usually lost. Luckily I discovered Bacon, Cohail, and a few others that made my daily deposit shrink just a little. The smells, cigar smoke, the body odor, the spilled beer, torn up tickets, the touts, the losers, the winners, lost dreams, every human emotion is amplified 200% at the track. As a kid, I learned that if I had a good afternoon at the flats, I could make it to Maywood Park by the 3rd race to bet the sulkies at night. We always found accommodating adults to get down our action. I usually went home a little poorer, but much wiser learning many things. There were so many indicators at the track, and I learned at a very early age when to throw out the chalk, which was perfect training for the pit. In fact, learning when to throw out the chalk was probably the best lesson I ever learned that I could use throughout my life. Electronics has done to the track what it has done to the trading pits and I feel very bad about the disappearance of a way of life. There's nothing like hearing the roar of the crowd of 25,000 people while the thoroughbreds are thundering towards the finish line, neck and neck. OTB and screen trading just don't cut it for sheer excitement.
Its good to classify cons into big and small cons, the degree of complicity of the victim, the use of confederates, and ruses versus bait-and-switches. The market would rate at the top in all of these as is readily seen, especially the use of confederates, and baits-and-switches. I am particularly gullible and an easy mark for cons. Recently, with Aubrey I had the pleasure of being victimized by a nice con at a fair. It was the medium sized con of a basketball game with the player having to shoot into a basket about 20 feet away and 10 feet high, with the basket a little smaller than normal. The only way to get it in is apparently to shoot at so high a vertical angle that the ceiling on the game precludes. The prizes include huge 4 by 5 feet whales and dolphins which I thought would be just the thing for Aubrey. Okay I asked the operator how much it would be to win one of the whales. He demurred. It would be so expensive I am ashamed to say. " How about a hundred i said ? " well, I'll have to ask my boss. " The operator said.
He had a conference with several confederates. And then came back to me with a positive shred. "Bring the kid over and we'll make him a happy camper". I pay my money and then I go to bring Aubrey over. The game is still there, but the big prizes have all disappeared. Only a stuffed Finding Nemo is there. Worth about 1/3 of the prizes I had in mind. "Which one do you want, kid?" Aubrey chooses the Nemo and the man tells him "kid you tried so hard and so well that I am going to give you a prize". As Aubrey walks away holding the Nemo bigger than him many bystanders ask him what he did to get such a prize. " i tried so hard they gave it to me as a reward ". The stages in this con, starting with a rigged game, relying on my desire to get a special deal, bringing in a confederate, then switching the reward are all too familiar. And it is very helpful in thinking about the market to go over these steps I think.
Pitt T. Maner III comments:
I found a nice overview with table of scam types. Elderly are often the main targets.
The success of many attacks on computer systems can be traced back to the security engineers not understanding the psychology of the system users they meant to protect. We examine a variety of scams and "short cons" that were investigated, documented and recreated for the BBC TV programme The Real Hustle and we extract from them some general principles about the recurring behavioral patterns of victims that hustlers have learnt to exploit.

We argue that an understanding of these inherent "human factors" vulnerabilities, and the necessity to take them into account during design rather than naively shifting the blame onto the "gullible users", is a fundamental paradigm shift for the security engineer which, if adopted, will lead to stronger and more resilient systems security.
From Understanding Scam Victims: Seven Principles for Systems Security , University of Cambridge.

Victor Niederhoffer expands on his remarks:
Part of every big con is the final touch where you make the victim frightful to ever demand restitution,or better yet, ready to put in more money to really get the full advantage. It was a nice touch for the operator to praise Aubrey so highly and let him hold the Nemo with such pleasure that for many many times the amount I paid, I would never have demanded a return to the bigger prize.
Rocky Humbert writes:
The cup is half full: If the objective of The Chair's exercise was to bring joy and happiness to his son, then perhaps this was not a "con" — as Captain Nemo was both larger than Aubrey, yet not so large that his father had to drag around an eight-foot-tall stuffed bear for the rest of the day. After all, the eight-foot-tall stuffed bear had unknown risks including the inability to see oncoming traffic when crossing the street perhaps resulting in the demise of both Bear and Chair.
Jeff Watson comments:
Back in my [adventurous] youth, I ran across a husband wife team that were travelers. Their con was simple and was a beautiful work of art in it's simplicity. The lady(dressed to appear rich and very well coiffed) would drive a brand new Caddie Convertible into a gas station, get a fill up, then would start looking around frantically for the 3 ct. diamond ring she "Lost." while going to the bathroom. She'd enlist the help of the pump jockey and would spend a good 15 minutes looking for the ring. She left very distraught with a note with an address and phone number to the jockey that if the ring were found, there would be a $3000 reward, but please don't tell her husband and only call at a certain time. An hour or so later a ragged man would show up walking through the lot. He'd buy a soda then would show the pump jockey the nice ring he just found. After a little wheeling and dealing, the ragged looking man would walk out with the contents of the register, the pump jockey had the ring and thought he was going to make a big profit. The ring was paste, the address and phone number were all fakes, but the money they made was real serious cash, especially for the 70's when they would regularly pull the con twice a day and average $500 total.
Victor Niederhoffer comments:
What is the market application of Jeff's Cadillac story ? The market applications of the Nemo are that the market has many big up days to lure you in, then you try to buy it on the cheap the next day. At first it doesn't hit your limit so you raise it a little. It doesn't go there so you end up paying near the high ofthe day, or like yesterday, it finally goes down a few points to hit your limit. While this is going on, a tip to a TV or news is given that the market looks great or that his former employee really lost money on that deal et al, and that makes you even more enthused.
You put the position on and then your broker calls you when it goes down. You don't have enough margin in your account. But if you sell within next 10 minutes, he's arranged with his manager not to have the computer extricate you at 1040 the way they did on the flash crash day. Finally, you don't have to come up with more money because you just lost all your margin so you don't have to tell the other half about the tragedy, and the manager gave you an extra special deal by not having the robot take you out ruinously because of your special friendship.
Thomas Miller comments:
Regarding Chair's last paragraph:
Forcing a quick decision under threats and intimidation then showing they are really trying to "help" you is an old scam similar to the "jury scam" I didnt know brokers learned this so well.
http://www.fbi.gov/page2/june06/jury_scams060206.htm
Big Al comments:
On a trip to Europe with a friend, after high school graduation, I started talking to a German merchant marine guy who was traveling with his CentAm wife and kids back to Germany. This was back in the Iceland Air/Air Bahama days, when the cheap flights went through either Rekyavik or Nassau. So we talked for an hour or two during the Nassau layover and then on the plane. When we got to Luxembourg, he hit me with the story about not having money for the bus trip with his family, blah blah blah, and we "loaned" him $20 apiece (I insisted my friend participate - more embarrassment). Then he gave us his address (yeah, right) so we could let him know where we ended up and he could then send us the forty bucks. I still remember the street address: 1 Jahnstrasse. Ha ha.
Watching the bus pull away, I knew we'd been had. He used the technique of familiarity and friendliness, and my obvious yokelhood, to get the money. At first I was really angry and embarrassed, but after a while I almost felt grateful, because the guy taught me an incredibly valuable lesson about myself and about the con and he charged me only $20 for the experience. Cheapest, most effective education I've ever had in my entire life.
And on street cons, I've been targeted enough times to know the pattern: First, the con uses a simple question to make contact with the mark and **get the mark to do something**. It can be just, "May I ask you a question?" Or, sitting in a car with the window rolled down, "Could you come closer? I can't hear you." Then, after the mark has offered compliance, the con hits him with an intense, rapid-fire story - "My husband kicked me out of the house and took my credit cards and I need a room for the night but it's eighty dollars…" - and tries to maintain contact and control and also confuse the mark, until the mark may hand over the money just to break off the engagement.
One way to have fun is start giving it back to them: "Oh that's so terrible. That happened to my sister once, but she was better off without him anyway. The police can help - just let me get your license number so they'll know who to talk to when they get here." It's funny but very consistent how angry they get when you start lying back to them.
Ken Drees recounts:
I just asked my daughter if she remembered the mouse I won for her [at a fair].
"Oh yes, 'mousy', where is he?"
Oh I threw it out years ago when you got tired of him.
"Why did you do that, he was my favorite all time stuffed animal ever, he had a red coat and black whiskers…."
I just turned and slowly closed the door.
R.P. Herrold responds to Ken's story:
From time to time, we 'clean house' and we find the black trash bags, presently carefully tied closed, up in the attic; from time to time, I am instructed to 'get rid of that clutter' as the now grown kids 'will never use those again'.
The Brio trains, the metal Erector set, the cast lead soldiers and molds, the Duplo blocks, the stuffed animals, Lincoln logs, the McGuffey readers, the arrow and ax heads collected in the fields, have all fallen to head of the queue for disposition over time
Stuffed animals were in the dock this past weekend. At that point, I usually carefully re-tie the sack, set it to one side for a moment, and then find a new hiding place for the bag in question after her attention turns to other matters. But a grandchild's mother and the child were delighted with the animal figures from my preservation efforts, even if my spouse was not pleased to see 'those old things' again
A few weeks ago, the Brio train set moved in with a gransdon infatuated with rolling stock and were 'new' again; The Erector set, the melting pot and molds, all gone (not to return with current day safety rules — choking hazard of the nuts and bolts, heavy metal fumes). I am on the lookout for a replacement McGuffey (that friend of books that taught me to read upstrairs in a quiet room as the adults 'talked' downstairs), so I can 'seed' a room for young visitorsThe flints and shaped stones? I was not atuned to their disposition occurring; a 'sharpie' sweet-talked a sale for a pittance from a elderly family memberwhen 'cleaning up' prior to closing down a house before sale. That lot of childhood treasures also carried out the door the minnie balls I dug from the earth at GettysburgEntropy won a round that time; I know we'll battle again.
Jason Ruspini comments:
Forgot who said that cons work because people want something for nothing. Clear implications for naive technical analysis here. See, it's easy, you can get rich by extending straight lines.. just keep one eye on your laptop while at the driving range.
To the young person who had a query about what to do with his trading system, at least he tested something, but perhaps there is some laziness there. Unhealthy to think of one system as your "ticket" even if it looks good. Better to find a good place to work where you might actually learn something new.
Stefan Jovanovich comments:
In the good old days of the 1970s the favorite panhandle con in downtown SF was to be a crazed Viet-Nam veteran. Since I spent half my life in those days lurking outside office buildings waiting to ruin some suits' day by handing him a summons, I got to hear every pitch going. The only way to escape was to do the "crazed killer wanting to go back" routine. "Hey, man, can you help me out; I was in the Nam." "Yeah, me, too, and Brother, am I glad to meet you because we got to go back there NOW!!!!! and finish the job."
Like Big Al's artful sympathy, it worked every time; but the reaction was more fear than anger. The con artists did not want to spend any time near someone who was so obviously crazy - for real.
Gregory van Kipnis writes:
The con that almost got me the first time I encountered it. It repeated itself 4 times over the intervening years.
I have deduced that the mark has to be a distracted businessman, walking alone midtown near the major hotels, hopefully someone in NY on a business trip.
In NYC, about 15 years ago, walking cross town early one evening, lost in thought, I was nudged by someone coming from the opposite direction. That was followed by "Jeez, you knocked the food out of my hand. Don't you look where you are walking". There on the sidewalk was a spilled plastic container of takeout food from the all too familiar corner Korean greengrocers.
I thought for a moment to review the memory playback of the contact and responded, "But you bumped into me."
He turned angry exclaiming he was on a short break from work and I ruined his dinner and I bumped into him and I should pay for the loss.
I started to reach for my wallet, then hesitated sensing a con, and said "No, you bumped into me."
He got belligerent, put his face close to mine and with intensity and a shaking body said he was angry and he ought to take me out. I stepped aside, hand on wallet again and started walking saying "there is a greengrocer around the corner. Let's go in and I will buy you a meal."
After a barrage of invective he leaned down to scoop up the spilled food. I continued on my way with a shaken feeling followed by euphoria when I realized I foiled a con.
I few years later the same thing happened. It was a different person different neighborhood near the St. Regis. This time two people. As soon as he spoke I said "bull shit, you did the same thing to me last month". He tried again to intimidate, but I just repeated the response. The engagement ended. They scooped up the food.
The third time, same guys same neighborhood near the Penninula, they just pulled the same stunt on a couple. He was reaching for his wallet. I yelled from across the street that it was a scam and he should walk away. Lots of hesitation followed on both sides. To my amazement the mark paid anyway.
The fourth time, same guys, I swerved just in the nick of time and yelled "you are still at it huh?" No response.
Whenever I see a food stain on the sidewalk with a few strands of noodles scattered about, I smile — the tell tail sign of the aftermath of the con. You would be surprised at how many there are.
Rocky Humbert comments:
An important distinction between this con and some of the other cons is that this one preys on the mark's sense of duty/charity versus the cons that prey on the mark's sense of greed.
One ponders whether being victimized in the pursuit of selflessness is any worse than being victimized in the pursuit of selfishness ? For example, was Madoff's theft from charities more heinous than his theft from plain old rich people ?
Here is an interesting study I read in Wired. I wonder if anything useful can be applied to markets that suddenly move en masse with funds buying or selling in unison as a result of an outside stimulus?
Amazing Starling Flocks Are Flying Avalanches

To watch the uncanny synchronization of a starling flock in flight is to wonder if the birds aren't actually a single entity, governed by something beyond the usual rules of biology. New research suggests that's true.

Mathematical analysis of flock dynamics show how each starling's movement is influenced by every other starling, and vice versa. It doesn't matter how large a flock is, or if two birds are on opposite sides. It's as if every individual is connected to the same network.

That phenomenon is known as scale-free correlation, and transcends biology. The closest fit to equations describing starling flock patterns come from the literature of "criticality," of crystal formation and avalanches — systems poised on the brink, capable of near-instantaneous transformation.

In starlings, "being critical is a way for the system to be always ready to optimally respond to an external perturbation, such as predator attack," wrote researchers led by University of Rome theoretical physicist Giorgio Parisi in a June 14 Proceedings of the National Academy of Sciences paper.

Parisi's team recorded starling flocks on the outskirts of Rome. Some had just over 100 birds, and others more than 4,000. Regardless of size, the correlations of a bird's orientation and velocity with the other birds' orientation and velocity didn't vary. If any one bird turned and changed speed, so would all the others.

In particle physics, synchronized orientation is found in systems with "low noise," in which signals are transmitted without degrading. But low noise isn't enough to produce synchronized speeds, which are found in critical systems. The researchers give the example of ferromagnetism, where particles in a magnet exhibit perfect interconnection at a precise, "critical" temperature.

"More analysis is necessary to prove this definitively, but our results suggest" that starling flocks are a critical system, said study co-author Irene Giardina, also a University of Rome physicist.

According to the researchers, the "most surprising and exotic feature" of the flocks was their near-instantaneous signal-processing speed. "How starlings achieve such a strong correlation remains a mystery to us," they wrote.
Russ Sears comments:
It would seem to me that "scale free" correlation and one bird following another bird is a fairly parallel description of what happened with mortgages and the banks.
When regulators encourage investing in subprime, quasi regulators like the rating agencies turn a blind eye escalating risks outside their models and encourage economy of scale… no matter the scale and early entries appear to print money and apparently know where all the regulator stuffed bird feeder are….But unlike the flock size the markets all have their limits on supply and demand no matter how "synthetic" you make them it still comes down to this reality.
I will leave it to the reader to decide what this has to do with trading systems, risks managment and Mark to Model apprasials during booms and bust in home ownership.
Pitt T. Maner shares:
I found this unusual story from the UK, a "flight to safety" disaster:
A flock of starlings which died after they crashed on to a driveway could have confused the drive's shingle with reeds they could land in or might have been trying to escape a predator, experts suggested today.The flock of 76 birds crashed into the ground because of a "fatal error" in their flight, according to an inquiry led by the Veterinary Laboratories Agency (VLA) wildlife group.

They could have crashed as they tried to escape a predator such as a sparrowhawk or become confused by traffic, light reflections or noise, experts at the VLA said.

The VLA also said the shingle on the drive was a similar colour to reed beds and the birds could have thought they were descending fast into tall reeds when they hit the ground.

The agency, along with Natural England and the RSPCA, carried out an investigation into the massdeath of the starlings after dead and dying birds were found littered across a garden in Somerset earlier this month.

Onlookers heard a whooshing sound before the birds were spotted falling from the sky and on to the driveway of a house in Coxley in good weather conditions on Sunday March 7.

Investigation of 60 birds found they were in good condition with no broken wings, legs or skulls but a number had damaged beaks and blood in their mouths.
Jeff Rollert comments:

I suspect that the lead birds are self selecting, such that their responses are a nano second faster than the others. I've seen some of these models, and the real life "lead" birds never fly in a straight line.
A visit to a New Jersey Gas Station sparks many sad reflections on dead weight loss and its impact on the current position. One sees lines of 20 cars waiting for gas at the stations as gas attendants amble about filling the cars. The cost in wasted time, the alternatives of productive work that could have been done by the attendants and customers in other fields is never seen the same way a dead weight loss impacts the reduction of consumer and producer surplus and other interferences with the natural order of things.
How much of the current malaise comes from such dead weight loss? Many trillions of dollars have been spent for the benefit of the flexions and their clients by the interior folks. This money has been allocated to areas that are green and organized agrarian in input. Yes, the money has been spent and used to buy assets from the above. And there is certainly the dead weight cost of the administrative involved.
But at what cost? Who would have spent this money? How were incentives to start businesses and hire workers and buy things that are useful in the day to day fray affected by this? What rational expectations come into play as to the ultimate impact of these expenses when they have to be paid back? What are the dead weight costs involved, and what goods have not been bought, and what investments in stocks have not been made because of this?
A visit to an ice cream store outside of Kira's graduation ceremony at St. Andrews in Middletown told wonders. They make a very good banana almost as good as Cones. And their peach has as much fresh peach as I've had the pleasure of eating. But they tell me their business is down considerably this year, and they cant figure out why. The owner does a nice job of making balloons outside to keep the kids happy. How many others are in similar predicaments with no explanation as we morph into a European style struggle?
Rocky Humbert writes:
One has sympathy for The Chair as he sits in a long service station queue and laments the NJ no-self-service law. And, as the early summer sun beats down upon his countenance, his thoughts evidently turn to Dead Weight Loss. Since I've started regular daily exercise (including checking my oil and pressure) I've paid more attention to live weight loss and proffer the following alternative hypotheses/observations:

1. New Jersey has some of the lowest gasoline taxes in the nation. Gasoline in New Jersey costs as much as 40 cents per gallon less than Westchester County, NY. I frequently fill up my gas tank on the NJ side of the George Washington Bridge; and perhaps the Chair's queue is attributable to the arbitrage of high gasoline taxes in surrounding states– rather than the NJ no-self-serve law.
2. The NJ Turnpike is a toll road with limited access. There is scant evidence to suggest that off-highway service stations have longer queues and/or poorer service in New Jersey than in other self-service states. Former Governor Corzine proposed an elimination of the self-service ban in 2006– and it actually ran into popular revolt: "I'm not against a lot of things, but I don't want to pump my own gas. It's part of the Jersey identity. It's our thing," said Rose Maurice. See this article.
3. New York State and Connecticut both permit self-serve gas stations, however, they both require full service on certain highways. Having had an unfortunate brush with this business, my understanding is:
(1) the number of drivers who leave without paying on highways is much greater than on local roads.
(2) The throughput for a WELL-RUN busy full service station is actually higher than for a self-serve.
(3) Post-9/11, it is believed by Homeland Security that full-service highway gas stations provide a platform for surveillance. Your oil-soaked, slow-moving, non-English speaking gas jockey may actually be a highly-trained FBI agent checking your car for emissions from a concealed nuclear/biological/chemical weapon.
4. Our local town Shell station has four pumps. Two are self-service. Two are full-service. There is only one attendant for the entire station. The full-service pumps charge about $.20/gallon more than the self-serve ones. The station has maintained this model for years, and it suggests that there must be demand amongst the Chanel-clad soccer moms in Land Rovers and the very-important-Dads (in Brioni suits) not to soil their clothes while pumping gas or checking oil. In this example, the full-service pumps are a profit-enhancer, since the attendant would be there anyway.

5. During a recent visit to Switzerland, I observed that many gas stations have NO attendants and are open 24/7. One simply inserted a credit card, pumped gas and drove away. One should note that (due to taxes) gas in Switzerland is still massively more expensive than the USA, and it is unclear whether the absence of any attendant results in lower prices or higher profits (or both). I suspect that I would feel uncomfortable if there were NO attendants at a US gas station — on a deserted road — at 3:00 am … and the pump isn't working right … and a car filled with four youths and twice as many tattoos pulls in front of my car … and …. involuntary and not-so-politely relieves me of my wallet and luggage. I guess that's another sort of dead weight "loss."
There is no question that the NJ law introduces dead weight loss. However, the Swiss model (at the other extreme) introduces other costs (such as theft, liability risks, soiled clothes, spilled fuel etc) which are difficult to quantify.
While personal choice is usually preferable , my point is that things are almost always more complex than they appear… And policies need to consider an accurate cost/benefit analysis for the world that we actually live in - not a world that we wished we lived in.
Jeff Watson writes:
A prime example of dead weight loss is when a truck makes a delivery to a distant point and has no cargo to bring back to the warehouse wasting time, fuel, and labor. Wal Mart has engineered out much of the dead-load waste and has increased efficiency of its shipping fleet. They have automated their ordering, delivery schedules, and shrunk the number and size of their warehouses, as they consider warehousing a waste of inventory, space, time and labor. Now, with their "Just in time" ordering and shipping, they are able to use their trucks as rolling warehouses, cutting costs in so many ways and passing along the savings to the consumer. They engineer every step of the production of a product, from the manufacturing to the time it leaves the store. Wal Mart's business model is to be admired as they have introduced many products at low cost to people who otherwise couldn't have afforded them.
In addition to their main retail, Wal Mart has taken only 15 years to become the largest purveyor of groceries in the world because they applied their revolutionary methods in dry goods to the otherwise staid food business. The naysayers decry Wal Mart, but I salute them as an example of a company that took a page from Hank Reardon. Walmart is having it's moment right now, and will until something or someone comes along with a better business model. Never fear, there will be a better model, there always an evolution in business as long as man is allowed to be creative and earn a profit with minimal government interference. To those who complain that Walmart is decimating the business of Main Street, in 1920 the A&P Tea Company had 25% of the retail grocery business because it was light years ahead of the general stores of the day with the modern supermarket concept. The populists and anti-trust people took a careful look at A&P but thankfully never broke the company up. Other businesses should salute and try to emulate the way Wal Mart reduces costs, provides careers, brings a good assortment of products to market, and earns the shareholders a good return on investment.
Jeff Sasmor writes:
When I first moved to NJ from southern CA in 1996 I used to get into trouble with the gas station attendants because without really thinking about it I kept trying to operate the pumps myself. Now after being used to the attendants for so long, when I get gasoline in another state I just tend to sit in the car for a while waiting for the attendant till I remember that I have to do it myself. The attendants are nice to have if you don't want to smell like gasoline; and perhaps it's better not to have pregnant ladies handling gasoline pumps and breathing fumes. OTOH, the attendants end up breathing a lot of gasoline fumes. I recall when I was a youth (pattern recognition subroutines running in my brain just fished up that courthouse scene with Fred Gwynne from the great film "My Cousin Vinny") they used to wash your front and rear windows and check the oil on your car. Ah. My wife's car doesn't even have an oil dipstick anymore….
Jeff Watson replies to Rocky Humbert:
Rocky, I know I used the term differently than how the economists use it. However, on the ground floor, the truckers use the words "Deadhead, dead load, dead log, or dead weight" interchangeably when referring to the loss experienced when driving with an empty trailer. Aside from excessive DOT regulations, the aforementioned is the biggest complaint of truckers as it eats into the bottom line, at least the ones I talk to who are non-Teamster. The union drivers don't worry about such things as empty trailers and bring a whole new subset of inefficiencies and extra costs into the equation.
Jeff Sasmor writes:
I don't think that the queue is a function of the presence of an attendant. That's an assumption that may seem natural (like a policeman directing traffic slows things down). I've not seen it in practice. Traffic in and out of gas stations is lumpy.
It's not demeaning to women– I can't imagine why anyone would want to get that smelly stuff on their hands if someone else does it and the cost is the same. And for preggos who want to keep away from things that are toxic (even if the exposure is infrequent and small) not pumping your own gas may be a good thing. And you can stay in your car in the rain and when it's cold out.
Personally I like having the attendants.
Sri Viswanath writes:
I liked your idea and explanations of dead weight loss… In my market experiences some observations that have warranted pin pricks include (fat specialists claiming to smooth order flow, short skirted well-heeled quaffed FX brokers, account reps talking about how they can get you special margins, analysts of rating agencies, mortgage brokers with outdated actuarial tables (see Bacon), derivative structured product specialists trying to sell libor cubed or some mathematically elegant swaps). All apologies to Hicks and Mr. Marshall.
It is amazing that the whole market structure can function given its oligopolistic government based subsidies (a la Citi etc) in excess of a lil' lagniappe. One case of classic deadweight loss is charging for exchange prices. Is this ecosystem capable of being quantified of such costs?

Easan Katir writes:
Charging extra to know the score at a baseball game would not sit well with fans. Somehow, the market fans are more docile and pay up.
Craig Mee Agrees:
You say one case of classic deadweight loss is charging for exchange prices. I couldn't agree more. Isn't this a form of "restraint of trade"!
Setups for indicies based on technicals will be correct just often enough to keep the players coming bask again and again using the same setup, similar to the biggest casino money makers, slots. The bells ring with small wins to draw the public in. Chartists always on TV and the internet showing the win based on some pattern are guaranteed to lose the next time.
William Weaver responds:
Mr. Miller makes a good point about only having to be right enough times to make the players come back for more. But I would argue that technical setups– whether they are or are not profitable– never have to be profitable for traders to attempt them. We all know that we as humans try to create patterns in all the data around us because pattern recognition in any type of data (reading for example) is how humans function, form memories, etc. Neuro-scientists feel free to attack me, but my point is not how the brain works but rather that we all show hindsight bias and recognizing a pattern in historical data is much different than recognizing one in real-time data. Even walk-forward practice is hindered by look ahead bias (we can all paint the past 20 or more years of SPX data) and a lack of emotional stress (endowment theory, prospect theory, loss aversion, disposition effect, etc.). What looks easy, coupled with success stories fueling hope, is always a trap.
Biodiversity Explained by Ignoring the Forest for the Trees:
A painstaking, multidecade study of 33,000 individual trees may finally have uncovered the roots of biodiversity.

That biodiversity's origin needs uncovering is surprising because the word seems to be everywhere. But scientists still don't quite understand why one place has more species than another, or fewer.

The traditional explanation — every organism has its niche, competing not with other species but its own — sounds nice, but has holes. According to the tree study, that's because ecologists haven't looked for the right niches.
Carroll Quigley (Bill Clinton's mentor) has a theory published in Tragedy and Hope that all civilizations tend to go through four stages: a start (in conquest), rapid expansion, crisis, hegenomic rule, and then contraction and decline. The contraction comes from the weakness of will that emerges from the solution to the crisis. Does this have market applications? Can it predict anything about our own stage?
Does the Federer win, as in the past, augur bullishness for stocks? As long as The Knicks have Robinson playing, they are bound to lose. He's what Bill James would call a player whose stats are a lot better than his game. Who would win the OJ Simpson award that Bill James gives out among CEOs and operatives from the Beltway? What are the reasons for the market's very special actions around the end of months when the bears have previously been in control? What is the equivalent of Bill James's marginal analysis of winning shares that enables him to predict the exact teams' records with variables such as hits, walks, runs, and total at bats? Also, what is the analog of his point that the only pitchers that last and are good buys on a team are power pitchers that have good stikeouts?
My friend Irving Redel believes gold will be a good buy slightly above 1000 as investors will buy it as the return from fixed income is too low, and they are frightened of stocks.
Thomas Miller writes:
I wonder why more investors wouldn't be looking at high dividend paying stocks during these times. Even if one is fearful of stocks, a diversified etf or fund with high paying dividend stocks, even US and foreign, would seem to warrant investigation for at least part of an investment strategy. Buying after market "corrections" of some fixed percentage number would seem to make this less risky. I believe a portfolio of high dividend stocks has shown to outperform SP 500 over time. The tax on dividends is lower. I wonder if investors would really pile into gold as an alternative to stocks, bonds, or cash, absent some international tensions rising or rampant inflation on the horizon.
Pitt Maner III comments:
Pre-announcement perhaps of interest to gold followers. Mideast tensions.
Meanwhile, state-run Press TV quoted Iranian President Mahmoud Ahmadinejad on Sunday as saying that the nation will deliver a harsh blow to "global arrogance" on February 11.
The deployments include expanded land-based Patriot defensive missile installations in Kuwait, Qatar, UAE and Bahrain, as well as Navy ships with missile defense systems within striking distance in and around the Mediterranean, officials said.
And here is an article about Iran as as explanation for rise in price of oil from July 2008.
In discussions of humor, Tim Slagle in Liberty Magazine has what I believe is an important insight. He says that everyone knows that it's important for the comedian to be liked by the audience. Since he says all comedians must have one of seven deadly sins, this requires work. However, even more important is for it to be clear that "the comedian likes the audience." "When I found that out, that changed everything," he says. He goes on to say "it is important to remember in marketing that even though you might be a niche product, you still want that niche to be as large as possible." A similar idea is made in the Ursut le May introduction to Rabelais. Something like: "you must roll around with your audience, make them feel that you are one of them, that you share their likes and weaknesses, and can together look at the human predicament as wonderful in its folly and greatness." I believe that this might be a partial key to successful companies and stocks. What do you think?
Steve Ellison replies:
All businesses try hard to be liked, even those that seemingly do not need to be liked, such as the regulated monopoly utility company I once worked for that advertises incessantly on television.
Alvin and Heidi Toffler in Revolutionary Wealth compared the pace of change in business to a car speeding at 100 miles per hour. They found change occurring almost as fast in "civil society… a burgeoning hothouse sector made up of thousands of churning and changing nongovernmental grassroots organizations". By contrast, the Tofflers found government so slow to change (they rated it three miles per hour) that they predict a Constitutional crisis at some point in the U.S. as events outrun government's ability to respond.
Nongovernmental organizations exert much influence over businesses because the nongovernmental organizations can persuade some consumers that particular companies are good or bad. For example, there were boycotts of Nike products in the 1990s when it was found that some of Nike's subcontractors in China had sweatshop-type conditions at their factories. To prevent a similar public relations catastrophe, the technology industry formed a set of certification standards for suppliers, complete with audits to ensure compliance.
Similarly, many companies are trying to improve their impact on the environment because environmentalism is an important value for many consumers, who would rather spend their money at a company that shares their values. To be effective, businesses' environmental initiatives must be real because sophisticated nongovernmental organizations request audits of, for example, reduced energy usage or carbon emissions.
Jim Sogi adds:
Another example of a company reacting to public pressure is described in The Botany of Desire where McDonald's stopped using GMO potatoes for their fries after large public outcry over their nondisclosure of the use of GMO products. Government regulation did not require disclosure of the percentage they used.
Alston Mabry writes:
I enjoy the humor that Patrick O'Brian injects into his narrative. The sly humor of Maturin, the buffoonish and navy humor of Aubrey.
Just listening again this afternoon to the sequence in HMS Surprise where they approach Bombay and then Maturin immerses himself in the city. If I were to pick a passage to demonstrate what a good writer O'Brian is at his best - his use of description, pacing, character, historical interest — I would likely pick the Bombay passage. (And Tull reads it so well.)
Thomas Miller writes:
The Postal Service is an exception. They don't care what the public thinks, hence the long lines in many offices. If the government is driving three mph, the PO is doing at least 50 mph — in reverse. The death spiral for the PO is moving forward and picking up speed. Survival of the fittest will prevail as always.
George Parkanyi adds:
Laughter is a surprise response, and we all like to be (non-threateningly) surprised — case in point being the hundreds of billions of dollars poured into the Christmas holidays just now. In humour, the surprise comes from the connection of two or more unrelated ideas and/or the linking of two or more unrelated contexts. Timing is used to enhance the surprise element. For the humour to work however, it is very important for the audience to recognize and understand the ideas and the contexts, which is why good comedy with broad appeal comes from day-to-day experiences such as being in the check-out-line at the grocery store. I've seen comedians do very funny routines just around that alone.
Since we like to be surprised, and to laugh, a comedian that can do that early on will be instantly liked. He is giving us an enjoyable experience. Comedians that are too abrasive (e.g. relying too heavily on swearing or making fun of an audience member for example) can quickly lose an audience by making them uncomfortable. I've seen examples of all of this in our past two evenings at Comix on 14th Ave in New York the past two nights. (What can I say, I like comedy - and so do the kids.)
The biggest take-aways from comedy that I can think of for trading are definitely the connection of unrelated ideas (and markets), but also the agility and quick-thinking required to deal with adversity. A comedian that has been interrupted and/or loses his train of thought must factor that in as part of the game, and deal with as quickly when it comes up. Timing is useful too.
Another take-away perhaps is not to take the ups and downs of trading too seriously. If you did nothing but throw darts at a quote screen, your odds would be 50-50 less transactions costs (and the cost of replacement monitors), so the markets are not necessarily an evil conspiracy or epic fight to the death. You think more clearly when not overly stressed.
The Blind Side is one of those movies that makes life worth living forever. What other such movies, plays, music, literature would you put in that category?
Vince Fulco replies:
Movies:
The Road to Perdition– everyone who participated in it was at the top of their game from writers, actors (primary & secondary), producer, director, cinematographer, musical director. It made for a polished period piece with tons of emotionally charged moments and an unexpected ending.
Boondock Saints– obscure, independent type movie; very novel story telling seen both by the vantage point of the perpetrators (Irish Mob in South Boston) as well as the talented detective trying to unravel a recent flair-up in gang on gang activities (Willem Dafoe). A great example of the grey areas in life; i.e. if you are using extreme violence against a rival gang to protect one's innocent neighborhood residents, are you a saint or sinner?
Gandhi– A masterpiece in so many ways, no more needs to be said.
Laurence of Arabia– ditto.
I am a sucker for underdog movies where the lead character rises from his own self involvement and selfishness to sacrifice everything for the greater good. Not 'Laurence'–obviously his striving for personal greatness led to its own extraordinary achievements but as I get older, the accomplishment of creating these complex, grand movie projects is inspiring in its own right.
Books:
Shogun by James Clavell
Anna Karenina
Two monumental undertakings by the authors which fully develop their characters and keep the reader engrossed from cover to cover. As for the latter, although it has been years, as I recall, the ability to interweave multiple complete stories and have them entertaining and believable was sheer genius.
music:
Anything by Yo-Yo Ma and separately Tan Dun.
Nick White responds:
Martha Argerich's rendition of the first movement of Rachmaninov's 3rd Piano Concerto with the Radio Symphonie Orchester Berlin and Riccardo Chailly conducting.
Her magisterial expression of the full range of human emotion in this performance is, in my opinion, unparalleled in any other work.
Thomas Miller adds:
Miracle on 34th Street and It's a Wonderful Life. Both made shortly after end of WWll. Still immensely popular 60 + years later.
Jeff Watson writes:
"Surfing for Life", is one of those special movies that makes one want to live forever. That's the movie that deals with all the old people who still surf well into their 80's.
James Lackey writes:
Cinderella Man (2005) …. Crowe as Jim Braddock is a good one. Invincible 2006 Wahlberg plays Based on the story of Vince Papale, a 30-year-old bartender from South Philadelphia who overcame long odds to play for the NFL's Philadelphia Eagles in 1976..
Ironic, I watched It's A Wonderful Life with my kids last night. What cracked me up is my quest to please my wife.I remember 10 years ago when my boy was 4, I said "you're a bad boy" she said No no no what he did was bad, he is not bad. Ever since I have been working on my syntax to get the exact same point across with out damaging my own kids for life. ha.
Yet in It's A wonderful life the mom calls her sons idiots. It cracked me up as she was kidding sit down and eat you two idiots. The druggist smacked little George Baily around for being lazy. Baily tells the biggest backer and connected man in the county off countless times..turns down a 10x salary increase because he knew it wasn't best to sell his beliefs for money, but all the while hating his town his nickel and dime business where he cant profit much by helping others. He complained all along..which was hilarious "trapped"
Man on Porch: Why don't you kiss her instead of talking her to death? George Bailey: You want me to kiss her, huh? Man on Porch: Ah, youth is wasted on the wrong people.
George Bailey: Merry Christmas, Mr. Potter! Mr. Potter: And Happy New Year, In Jail! They're At Your House Right Now!
George Bailey: [yelling at Uncle Billy] Where's that money, you silly stupid old fool? Where's that money? Do you realize what this means? It means bankruptcy and scandal and prison. That's what it means. One of us is going to jail - well, it's not gonna be me.
Mary: I feel like a bootlegger's wife!
Stefan Jovanovich writes:
It's A Wonderful Life is certainly popular now, but it was a bust at the box office when it was released in 1946. Its flop effectively ended Capra's career. The actors - Jimmy Stewart, Donna Read - went on to further success; but the plot reminded people of the bank runs of the pre-War era (hardly a happy memory) and they stayed away in droves. The Best Years of Our Lives was the hit that year; it was (among other things) about a banker who returned to work from the war and decided to lend a farmer money, not about depositors clamoring for their money back from an over-extended S&L.
Nick Procyk adds:
I would second Cinderella Man and Invincible.
March of the Penguins is a true-life movie about a group of emperor penguins that survive the harsh polar winter, breed, search for food — all captured in amazing photography.
Eight Below is another heartwarming movie based on a true story about a guide and his eight sled dogs. The guide is driven to reunite with his canine friends after they were stranded in Antartica during the brutal winter. It's a wonderful story about friendship, courage, and faith.
Riz Din writes:
The Rocky films, all of 'em. I guess they just caught me at the right time. The first is the best, and Balboa doesn't even win the final bout. His victory is of another sort. The rest of the series works on several levels. You have both the quality of the Rocky films and Stallone's actual career ebbing and flowing with the ups and downs of Rocky's character. The score is everyone's 'go to' music when they want to get pumped up and motivated, the dialogue is wonderful, the characters memorable, and there are many lessons that can be drawn from the storyline, both good and bad.
From the first film:
Rocky: I been comin' here for six years, and for six years ya been stickin' it to me, an' I wanna know how come!
Mickey: Ya don't wanna know!
Rocky: I wanna know how come!
Mickey: Ya wanna know?
Rocky: I WANNA KNOW HOW!
Mickey: OK, I'm gonna tell ya! You had the talent to become a good
fighter, but instead of that, you become a legbreaker to some cheap, second rate loanshark!
Rocky: It's a living.
Mickey: IT'S A WASTE OF LIFE!
John Lamberg writes:
Life worth living forever? Well, none of the following make that cut, but my favorites are:
Hans Christian Andersen's works. (The Little Match Girl is perhaps the saddest story I ever read, and it stuck with me since childhood. We'll see if Gregory Maguire's "Matchless", a re-imagination of the story compares.)
Holst, The Planets
Bodysnatchers (original)
Forbidden Planet (not for the acting or script, but for Dr. Morbius' secret)
Vincent Andres adds:
The Last Kings of Thule - Jean Malaurie, about ordinary heroes
Many of Giono's books, eg Regain - J. Giono (in french onl)
Many of Pierre Magnan books
Dava Sobel's Longitude
Order Out of Chaos by I. Prigogine
L'imprévu by I. Ekeland (in french only)
Des rythmes au chaos by P. Bergé, Y. Pomeau, M. Dubois-Gance, 1994.
For pointing an interesting trail, Deep Simplicity: Bringing Order to Chaos and Complexity by John Gribbin.
The Foundations of Ethology by K. Lorenz
Studies in Animal and Human Behavior by- K. Lorenz
The First Three Minutes: A Modern View Of The Origin Of The Universe by Steven Weinberg
Mon oncle d'Amérique by A. Resnais (in French only)
Sometimes masters can be recognized by how little motion they make in beating you or relieving you of your funds. On this score, note the S&P in a three point range on five consecutive days, and eight of last 10 closing prices have been between 839 and 843. I find that the old mistress has not done this once in the last 15 years with the closest virtuous performance being on October 11, 2006 with the ranges widened to three. Hats off. What does it all mean? What's the sports analogy?
Paolo Pezzutti answers:
I see two boxers studying each other during the first rounds of a fight to find out weaknesses and strengths of their opponent. They test and experiment, trying some punches and techniques, moving around the ring to gauge capacity and time of reaction. They get ready and prepare the assault. When the moment comes, the fight develops furiously and fast with opponents using all their ammunition to try to knock the other out. When this type of match occurs, it is hard to figure out during the first phases who is going to be the winner. Deception to cover one's own weaknesses and strengths makes it quite impossible to bet on the outcome, unless you know values at play. Today's afternoon move could be one of these deceptive moves to be faded.
Thomas Miller adds:
In a most martial arts matches, the superior fighter expends as little energy as possible while letting his opponent expend his energy, become frustrated, lose concentration, and eventually lose the match. A wise fighter who is outclassed and knows it avoids the fight to begin with, waiting for a another day and a better opportunity. A wise trader would do well to avoid tight range markets waiting for another day and better opportunity.
There is tension in this market like a spring winding tighter, waiting to be released.
Henry Gifford comments:
A tiring bicycle rider can be seen many ways, with the most obvious being movement of the shoulders as if there were a second set of pedals connected up there, which of course is not the case, meaning all that movement is wasted.
Is there a form for the typical market? Does it have a shape, a proper way of conducting itself? Is the form for a week regular enough to defy randomness or better yet to be predictive in any way? Is there a form corresponding to the a b a form of music in markets? How does rhythm and volume of sound enter into the picture? Those are the questions I'm pondering this after reading a great book on the walking bass by Jon Burr.
Thomas Miller writes:
I have always believed the markets are similar to musical pieces. A rhythmic sideways market lulls many into relaxed state only to burst higher or lower in mighty sudden crescendos, and a rallying or declining market moves in musical waves with mini crescendos noting momentary tops or bottoms. I wonder how many successful traders have musical backgrounds? Music and mathematics are universal languages and convey the messages of markets. I regret not having more formal training in either.
Newton Linchen replies:
I always thought "Metamorphosis IV" by Philip Glass to be the perfect "market music", not only by its crescendos and decrescendos, but by its impression of regularity (Philip Glass is known as the father of "repetitive music"). Nevertheless, its changes in tempo and volume (strength) gives a rhythm almost fluid. And there's a part of "explosion" (volatility) where the fast-pace is in order — without loss in harmony or structure. I always thought of moments of "trading range" of market going aimlessly followed by a explosion in price upwards or downwards. And it's kind of sad melody remembers us of the majority who only find losses in the markets.
James Lackey comments:
Yeah it's been brutal awful market music. Reminds me of all the VIP mumbo parades, changes of command formations, and dress blue parties I was forced to attend in the Army.
0300 with the Dax open its reveille. Then we all form up into one huge cluster in the parade grounds stand for an hour then "the stars and stripes forever" plays with a government official on the mic saying how far we have come our history and how they are committed to Change "us" with too many last hour's "retreat."
Then with so many brutal last hours "to the colors" reminds me of Flag detail after the close then the discussions with old Colonels passed over, that didn't want to go home to family asking "the kids" new soldiers over a 5pm coffee what we wanted to do with our lives "when I was your age and if I could do it all over" then every few nights after Chow we get "Washington post march" the tune used most in movies to sound off patriotism and how if we all work together, after the next bailout everything will be back to the normal American way… Then back at 7pm "Auld Lang song" to the Nikkei open.
I have noticed over the years my music tastes intra day trading go with the market flows, Baroque, Jazz, Fusion, and when the market is rockin', new alternative rock.
I am in a bad way when all music sounds awful, like Army band music. I would rather listen to the hum of the ceiling fan and as of late the birds singing to the open windows..and to my surprise, spring has sprung and a lawnmower engine sounds more inviting than the music of the markets. ha.
The U.S. Army Band Ceremonial Music Guide
Legacy Daily responds:
When the Soviet Union collapsed, I witnessed the creation of foreign exchange markets and also of stock and other types of markets in Armenia. These images are very vivid in my mind. When I read about people trading on Wall Street (I mean before the exchange building was even a consideration), I can see how that trade took place, because I participated in similar trades in a few of the streets of Yerevan (different places of gathering for different markets). That experience always overrules the charts, the derived statistics, the counts, and all the jargon that I hear daily.
Does the market have a form, a proper way of conducting itself? This question brings up the picture of the crowd dealing in foreign exchange (with the usual guys leaning against their usual trees) against the typical crowd dealing in real estate or stocks or stamps or coins. Of course each market has its form, its unique characteristics, its shape, its place, its rules. Each market has its rhythm, its language. I have not had the opportunity (and never really wanted) to participate in the floor trade at the NYSE or in the outcry system. But having seen the seedlings in their early stages of germination, I only see supply and demand and the various factors that affect these.
In this digital age, it is easy for one to go long bonds and short stocks or long XOM short CVX without ever realizing that the market for every single security represents a unique gathering of those who run the market and those come to the market. If I had to put this picture into something related to music, I'd imagine a choir of professional singers that sing a particular song we recognize. At some point, we join in singing in our heads and then at one point begin to sing out loud thereby changing the overall experience of everyone around us until we move on to the next choir singing a different song. Could one be successful in singing with multiple choirs all at the same time? Can we really understand the market for the SDS and SPY which are derived from hundreds of unique markets with their tunes in addition to their own market creating noise at the same time? What about the noise from the "gold" room affecting the singing going on in the "dollar" room or the other way around?
When it comes to commodity markets, I remember the fruit and vegetable market where some of the sellers would sell what they had grown and the others would sell what they had bought from those who couldn't or didn't want to travel to the market. Does that have a music? If you have ever been in a similar market, you'd recognize the buzz, the "singing" of the man selling his delicious watermelon, and the aroma coming from the area where peaches are sold.
The big question - is all this random or is it predictable? There is nothing random to it, yet it is completely unpredictable. The market makers operate in a very normal expected way, yet those who come to the market act in ways I cannot anticipate or predict. The only elements visible are my own instincts, wishes and desires which happen to approximate those of the people who go to the market very well. Imagine you have a phone to your ear that is connected to a line on a speakerphone where hundreds of people are talking at the same time. What do you hear? Noise! Can you find patterns and conversations in the noise, in some cases yes. Are the conversations and patterns going to repeat? In some cases, absolutely ("How are you today?" is typically followed by "I'm well thank you." or some variation of that) I'd like to be convinced that they could be consistently reliable but then again if that was feasible someone would have already found a way and would have proudly advertised that "past performance does not guarantee future results" does not apply to them.
Jim Sogi writes:
One constant regularity of form in music is the return to the root or home base. I think the market tends to have a root or home for each of its pieces. Recent root seems to be 800. Prior jump on Fed had to return Treasury plan to resolve. 800 was a big theme earlier in the year as well. Now we are in the contrapuntal mode, as Bach would play it doing it from the reverse. In a larger sense, it all satisfies the craving for symmetry and resolution.
Often the craving is frustrated creating a tension. Music is all about emotions on different levels, as is the market. Musical gaps are one of the greatest sources of tension. We still have this Monday gap right below created by maestro Timmy G and the trillion dollar blues. Too much tension and disruption of rhythm to make good music.
A key to today's action was Senator Reid's comment, "I hate to think of what's going to happen to Wall Street tomorrow" (Friday) overnight at S&P 830.
Jim Sogi comments:
Yen and Bonds shot to new highs, concurrent with the drop in equities, temporarily in the night market when everyone's defenses were down. Yen this morning, with no jiggles or pauses, mechanically marched down from 1.11 to 1.10, the proscribed PC number. It had the signs of a heavy hand. All seemed geared in lockstep in the various directions, like a clock. The equities are barely spare change compared to these markets. Imagine the economic effects of the marginal trades on a currency or on the the bond holdings. It made the equity moves almost seem… sedate? As for the comment, what a hubristic and ultimately wrong thing for a politician to say, almost like the mayor of a windy town. And now these are the people controlling the markets?
Thomas Miller writes:
He has a bright future on Wall Street after the political thing is over.
Alex Castaldo goes over the facts and figures:
S&P March futures closed at 885.40 on December 12, up 10.90 on day.
From Bloomberg December 11:
"I dread looking at Wall Street tomorrow," Majority Leader Harry Reid said before the vote in Washington. "It's not going to be a pleasant sight."

Asian stocks and U.S. index futures immediately began falling after Reid's comments. The MSCI Asia Pacific Index slumped 2.2 percent to 86.13 as of 12:33 p.m. Tokyo time, while March futures on the Standard & Poor's 500 Index slipped 3.4 percent [i.e 844.75 at 22:33 EST, although they fell further to 830.0 in the next 10 minutes].

Looking at the news today, there are several stories that reek of bearish propaganda. An article on Reuters talks about a ruthless sub-prime lender who talked a woman into signing for a mortgage as her husband underwent open heart surgery. Instead of perhaps discussing the ruthless behavior of the woman trying to get a death bed comp., the story is about the ruthless behavior of the lenders who make these high risk, high return mortgages.
Only 10% of sub-prime mortgages are apparently in arrears right now, with only 5% total under threat of foreclosure. On the other hand, how many low income families have been able to improve their status in last five years because of what this product offers? Enough to bring the home ownership rate to 70% of all families (2004), and presumably this is even higher now.
Most of the sub-prime mortgages are to low income people who would not have been able to improve their life style without the brokerage houses packaging these mortgages up, enabling all the new sub prime lenders to compete with the big banks. Just like the organized protests against fast food restaurants in fancy neighborhoods, the root cause of the trouble here is in part envy that the formerly low income people can now enjoy luxuries once reserved for those wealthier than them.
Another propaganda story for the bears is the news that Home Depot and Alcoa disappointed in early earnings reports. The hope that we will have a disappointing earnings season is always highest when the pre-earnings announcements are negative (which they have to be for legal purposes). Bear in mind that these are two companies suggesting that they may not meet expectations, amidst a sea of those that have hit or beaten their targets in each of the last twelve quarters.
The last bearish propaganda story I saw today was about Bernanke's talk today, and the fear he will talk about inflation. This is a man who wrote a Principles of Economics textbook, and chaired the Princeton Economics Department — clearly he is able to tell what inflationary expectations are from the bond rate, which is currently a little below 3%.
This orgy of negative news induced me to reduce my level of reticence, which was a naturally little high coming off a week like last week.
Thomas Miller replies:
Thank you for keeping your positive perspective, based on counting, in the current negative-news atmosphere. The bears are always trying to entice us to fall into their cesspool of negativity. We are fortunate to have a guide to help keep us out of financial danger.
Your comments on sub-prime are right on point. I know a 46 year old woman who was able to become a property owner thanks to sub-prime. She struggled to raise two straight-A students by herself. She was always a renter and would probably always be one without sub-prime loans. She is now very happy and proud, and is improving her financial situation. She will be able to refinance at a lower rate as her credit score improves.
This is what America is all about: a land where hard-working people have opportunities to improve their lot. The majority of sub-prime borrowers are like my friend. They now own property and they will do what it takes to keep it. Based on man's innate desire to improve his lot in life, the vast majority of sub-prime borrowers will not default.
Roger Arnold writes:

Congress is currently going through the process of increasing the FHA loan limits to match those of Fannie and Freddie and to increase the loan amount to up to 100% of purchase price from 97%.
That would increase the FHA loan limit about 15% from $362,790 to $417,000. That process should be completed within a few months.
They may also allow refinancing into FHA loans from non-FHA loans (now FHA loans may only be used for purchase transactions). This would allow borrowers in subprime loans to move out of the private lender space and essentially to a federally co-signed mortgage. Obviously this would also allow the holders of those loans, and the associated MBSs and CDOs to offload their risks to the federal government, thereby shunting the necessity for the normal process of defaults, foreclosures, evictions, bond market disruptions, etc.
The same is being considered for the VA loans.
The FHA and VA, however, have loan processing guidelines that are very paperwork-intensive and require lenders to be individually licensed to make FHA / VA loans.
Most lenders as a result, until recently, have avoided providing FHA / VA loans. Now, most are gearing up for these changes, educating their loan officers, going through the paperwork required to provide these loans, and creating marketing systems to go after them.
Once begun, this should alleviate much of the concerns in the sub-prime space, such as liquidity and contagion.
Why is it that when oil rises from $60 to $75 per barrel, interest rates from 4.5% to 5.5%, and gold from $500 to $700, 99% of the commentary is how bearish and 'Steve Roach like', this is for the stock market and real estate? Also, how come the Fed has 'no choice but to tighten', even though when the reverse happens, (because of the effects pointed out in our review of the bestselling travel book, and most recently regarding the first stop being the best), there is supreme quiet about things being bullish.
Andrew Moe comments:
The authors of these bearish articles have absolutely no idea what the forward direction of the market will be. Instead, they are most interested in getting eyeballs to their pages and this is done via sensationalized stories of imminent demise.
As quants, we are already trying to drive our car by looking in the rear view mirror. Introducing news is like putting a blindfold on and trying to drive by listening to a backseat full of drivers who are each looking in a mirror of their own — many of which do not even point to the road behind.
"Watch out for that grain silo"
"Don't hit the canyon"
"A herd of cows is in the way"
"Wow, I look good today"
GM Nigel Davies adds:
One has to ask: what is the motivation of the bears? In most cases they have no positions in the market, instead deriving their income from their views.
What will they choose to write about? Well, nothing attracts attention quite like disaster (car crash, plane crash, market crash), probably because it is an affirmation for those who never take risk. The market may go up a million percent without them, but they get to delight in a 5% drop, or at least salivate over the thought of it.
J. T. Holley offers:
Those who disregard paths of least resistance, Gresham's Law, the Law of Ever Changing Cycles, etc, and cling to "black and white" fixed trading systems seem to always have a sense of permanency to the direction of markets. The exception to this is when everything is running its natural course and they "think" they will try being a contrarian, just at the wrong time. DailySpeculations, more importantly than anything else, has a spirit of teaching and espousing "seeing things as they are" and utilizing tools to do so. Other authors do not do such, as it is easier for them to attach their feelings and decisions to those things that are in the direction of loss or some voodoo formula.
When oil goes from $20 to $40 to $60 to $80 it is easy to not do any math on supply and demand and project it to $400 a barrel, and then have fiction fill in the lines. With the markets it is so easy to be a bearish contrarian and cherry pick evidence from days of yore, and to do this at the wrong time when the odds just do not have it in the stack of cards, and the game has changed. I have always wanted to ask someone what he would do if he timed a 60-90% downside move and shorted everything "under the sun" (no explosion) and also bought every single available put option while it was happening? "So you won, everyone is broke, the banks cannot pay you because of their own runs at the doors, pestilence, vermin, and gloom is the theme and you are going to tell me you have a smile on your face?"
It is the sense of permanency that they attack, and their disregard for change.
Scott Brooks mentions:
Three things sell best to the masses; envy, greed and fear. Therefore, if you want to sell your writings to publishers, you must employ one of these methods.
As I sit around at holidays listening to my relatives (who have a very blue collar mentality) talking, I have to bite my tongue to keep silent (risk being murdered by my wife if I start another debate with the mentally unarmed) listening to the sky is falling mentality. These people love fear.
I also listen to them talking about greed. Their new get rich quick schemes or poorly thought out business opportunities. Or complaining about all the money that is being made by someone who does not deserve that much money ("no one is worth that much money" … as I sit there and smile and hold my tongue).
So the masses will greedily chase returns from the investments that they wish they had purchased last year (as is probably true of the highly intelligent "accredited investor"). They will over-react to anyone telling them the sky is falling and run away from what they should be embracing, or embrace what the should be running away from. And they will elect politicians that will stick it to those that "have more than they deserve".
That's what the writers like Abelprechursaskyisfallingallthetime are selling too; fear, greed, envy. And it works (well, for them to earn a paycheck, at least!)
Thomas Miller contributes:
When the commentators get particularly bearish, it seems no one mentions the incredible growth and upward trend in corporate earnings, which are still growing nicely. To test this I suppose one would have to count and track the number of bearish articles in numerous publications and "experts" on CNBC and compare that to market actions over time. It would really be another sentiment indicator. Probably time consuming, but my guess is that it would be of value.
Jeff Sasmor adds:
I would submit that stocks are products sold to various types of customers. Like autos, so your stockbroker is actually a new/used car salesman. I am not being flippant.
My attitude is based on being someone having gone through the IPO and road-show process as a company officer and becoming quite friendly with one of the underwriters.
Sushil Kedia comments:
Behavioural Finance is a website with a long list of plausible explanations for the Permabears maintaining their stoic silence now, but mounting the rooftops the moment their original framework appears on the markets' horizons. Some of the ones that caught my attention immediately were:
Cognitive Dissonance
Communal Reinforcement
Illusion of Knowledge
Curse of Knowledge
Selective Thinking
Self Deception
Framing
Ronald Weber adds:
Following Mr Sushil Kedia's comments on behavioral finance, may I mention the Investment Office website which contains (among others) information on behavioral finance on the left side of the navigation, under "market characteristics" (not yet optimized for Apple!).
Archives
Resources & Links
Search