Jul
11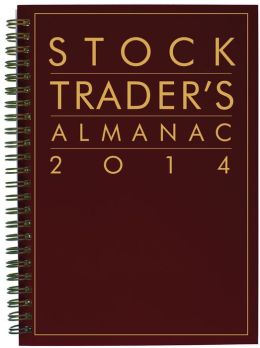 I have the pleasure of having in front of me The Stock Trader's Almanac for 2014 by our good friend, Yale Hirsch and his son Jeffrey Hirsch, now published by Wiley. The book contains a myriad of data on seasonals, tips for investors on pivots and candlesticks from John Person, "the first ever to use the powerful combination of candlesticks and pivot points. Our similar musical and movie tastes made it that much easier to work together".
Also contained are presidential cycle information, the Friday Monday effect, the January barometer, first trading day of month, September: a correction for all seasons, the super 8 days around the turn of the month and trading days 9 to 11 when 401k's are invested, market moves before 3 day holidays, best months switching strategies, methods a la Silver of predicting midterm congressional elections (it's peace rather than prosperity), the free lunch before Christmas et al.
Without any falderol there is contained an enumeration of monthly levels in all the major indexes since 1950, and highlights as to the witching hours, the 10 best and worst days, years, weeks, months, quarters, seasonal patterns since 1901, discussions of IRA's awesome advantages, and GM Loeb's battle plan for survival, best performing months et al.
Hats off to Yale. And a book well worth having whether you believe in predictive power of seasonals et al or not.
Comments
Archives
Resources & Links
Search