May
12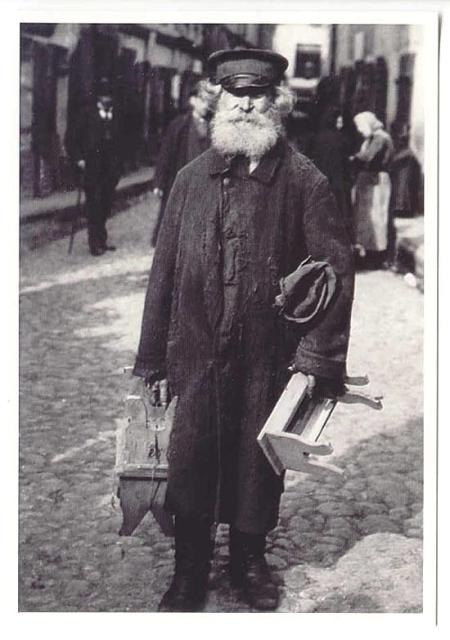 I read and loved this excerpt from A Jewish Peddler's Diary, (1842-1843).
Last week in the vicinity of Plymouth I met two peddlers, Lehman and Marx. Marx knew me from Fürth, and that night we stayed together at a farmer's house. After supper we started singing, and I sat at the fireplace, thinking of all my past and of my family….

Today, Sunday, October 16th, we are here in North Bridgewater, and I am not so downcast as I was two weeks ago. The devil has settled 20,000 shoemakers here, who do not have a cent of money.

Suppose, after all, I were a soldier in Bavaria; that would have been a bad lot. I will accept three years in America instead. But I could not stand it any longer.

As far as the language is concerned, I am getting along pretty well. But I don't like to be alone. The Americans are funny people. Although they sit together by the dozen in taverns, they turn their backs to each other, and no one talks to anybody else. Is this supposed to be the custom of a republic? I don't like it. Is this supposed to be the fashion of the nineteenth century? I don't like it either.

"Wait a little! There will be more things you won't like." Thus I can hear my brother talking.

The week from the 16th to the 22nd of October found me feeling pretty cheerful, for I expected to meet my brother. Ah, it is wonderful to have a brother in this land of hypocrisy, guile, and fraud! How glad I was to meet my two brothers in Boston on Saturday, the 22nd! Now I was not alone in this strange country.

How much more could I write about this queer land! It likes comfort extremely. The German, by comparison, hardly knows the meaning of the word. The wife of an American farmer can consider herself more important than the wife of a Bavarian judge. For hours she can sit in her rocking chair shaking back and forth as she thinks of nothing but beautiful clothes and fine hairdo. The farmer, himself, unlike the German farmer who works every minute, is able to sit down for a few hours every day, reading his paper and smoking his cigar.
Here is a little about the Peddler, Kohn, from the introduction.
In 1842 Kohn was twenty-three years of age when he left the Bavarian village of Mönchsroth and sailed to seek his fortune in the new world. Less than two years later he was already located in Chicago as the proprietor of a store.

Kohn had a strong sense of Jewish loyalty which caused him to be one of the fourteen men who in 1847 were founders of Chicago's first congregation, the Kehilath Anshe Ma'ariv, now popularly known as K.A.M. Kohn became president in 1853, and, in the words of Hyman L. Meites, the historian of Chicago Jewry, he "placed the congregation on a firm foundation."

Kohn took his American citizenship as seriously as his Jewish ties. Because he refused to accept a second-class status for the Jews. He was prominently identified in the campaign to obtain for Jewish American citizens the right to reside in Switzerland. He was elected city clerk of Chicago in 1860, and showed himself an enthusiastic Republican and ardent advocate of that party's presidential candidate, Abraham Lincoln of Springfield.

Kohn's admiration for the new president resulted in a gift that brought him some national attention. He sent Lincoln an American flag on whose red stripes he inscribed six of the verses from Joshua 1, including the stirring words: "I will not fail thee nor forsake thee. Be strong and of good courage." This was indeed a fit message for the leader embarking on a desperate war to preserve the Union.
Comments
Archives
Resources & Links
Search