Mar
4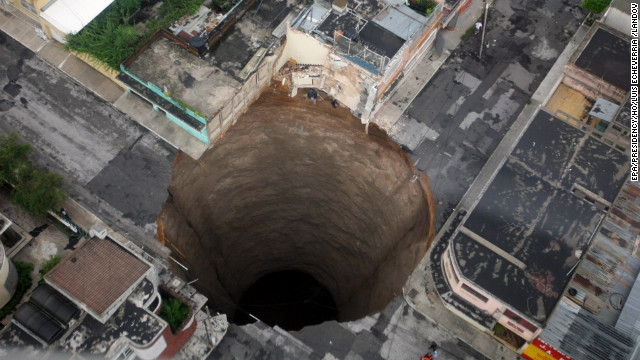 1. A sad story.
'Officials at the Seffner home where a sinkhole swallowed a man late Thursday call it a "chasm" and say it will continue to grow.
At a news conference this evening, Hillsborough County sheriff's Deputy Douglas Duvall, the first emergency responder on the scene, said he didn't know what to expect when he entered the house. Inside, he found the entire bedroom floor had collapsed, and Jeremy Bush was in a hole 10 feet deep, trying to climb out. Duvall managed to pull Bush out.
Jeremy Bush jumped into the hole trying to rescue his brother Jeffrey Bush, who was in bed when the sinkhole opened up beneath him.
Engineer Larry Madrid called the situation "unprecedented" and that the edges of the hole are very steep and very unstable, which means it is likely to continue to expand.'
2. The Florida Geological Survey website on sinkholes.
3. The Winter Park Sinkhole swallowed a Porsche dealership in 1981.
4. "You can almost predict sinkholes will occur when it's dry and lots of pumping occurs or when water levels are low and we get a big rain, or when there's a need to pump large quantities of groundwater over a short period of time," Ann Tihansky, a scientist with the U.S. Geological Survey, told The Times. "They are definitely tied to specific conditions or events."
5. Tihansky's paper on sinkholes in west-central Florida (good overview of the problem).
Comments
Archives
Resources & Links
Search