Feb
21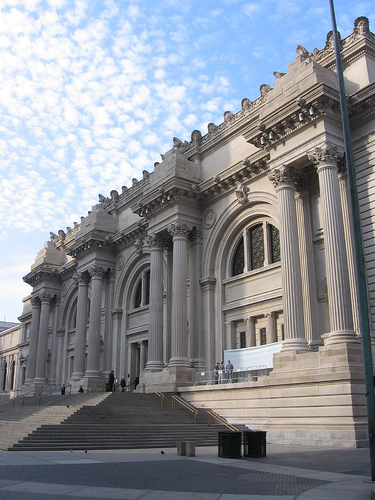 Today is the Met's birthday. It opened in 1872 at 681 Fifth Avenue; according to Refdesk, the collection began with 1 stone sarcophagus and 174 paintings all of which belonged to John Taylor Johnston.
Johnston's father had been a merchant banker who raised his family in Greenwich Village and helped found New York University, where Johnston went to college (graduating in 1839) and law school (admitted to the bar in 1843).
Johnston was sensible enough to avoid courtrooms and go into business; he became the first President of the Central New Jersey railroad.
He was also the first person to bring marble to Fifth Avenue facades, building a mansion at 8 Fifth Avenue, where he died in March 1893, just in time to avoid the Panic.
Comments
WordPress database error: [Table './dailyspeculations_com_@002d_dailywordpress/wp_comments' is marked as crashed and last (automatic?) repair failed]
SELECT * FROM wp_comments WHERE comment_post_ID = '7206' AND comment_approved = '1' ORDER BY comment_date
Archives
Resources & Links
Search