May
10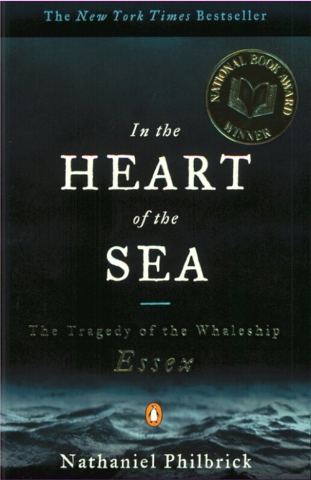 For those interested, PBS is running a 2 hour documentary on the history of whaling titled "Into the Deep" tonight, Monday 05/10/10.
The focus is one that should be familiar to readers of this site, the 1820 wreck of the Essex by a sperm whale, but it covers the history of American whaling up until its decline post-Civil War.
Pitt T. Maner III writes:
This was a very interesting and enjoyable program. Thanks to Mr Distasio for the notice. Whalers as explorers, skilled manufacturers, salesmen, and spreaders to some extent of American democracy.
One wonders if we are not nearing the end of the petroleum era now (say 50-100 more years, Peak Oil possibly being close at hand). Ironic that we have a massive environmental release to go out on the tail end. The use of baleen as an almost plastic-like or fiberglass-type substance centuries ago was mentioned. Further googling indicated it was used extensively for awhile in women's hoop dresses. It was valuable material before plastic. Here is a somewhat amusing history from the 1870s NYT.
A strange whaling story was noted in the PBS show–the loss of the last old time US whaling ship The Wanderer in a hurricane in August 1924 after a large, nostalgic crowd came to see it off for a final trip. No crew was lost. But another one not mentioned was the sinking of a whaling ship by a sperm whale just before the publication of Moby Dick. Very strange.
The Ann Alexander was a whaling ship from New Bedford, Massachusetts that was rammed by a wounded sperm whale on August 20, 1851 near the Galapagos Islands. Her sinking may have contributed to the success of Herman Melville's book Moby-Dick. Melville was quite surprised to hear of the above:
For some days past being engaged in the woods with axe, wedge, & beetle, the Whale had almost completely slipped me for the time (& I was the merrier for it) when Crash! comes Moby Dick himself (as you justly say) & reminds me of what I have been about for part of the last year or two. It is really & truly a surprising coincidence — to say the least. I make no doubt it is Moby Dick himself, for there is no account of his capture after the sad fate of the Pequod about fourteen years ago. — Ye Gods! What a commentator is this Ann Alexander whale. What he has to say is short & pithy & very much to the point. I wonder if my evil art has raised this monster.
–Letter to Evert Duyckinck, in response to news of the sinking of a whale ship by a whale, November 7, 1851
Melville, as noted in the PBS program, faded as a writer after the publication of Moby Dick and turned to poetry–not very successfully according to some, but he did continue to tackle deep themes and thoughts. One poem on the shark and pilot fish seems apropos (ah but to be a nimble pilot fish and avoid the jaws of Fate!)
The Maldive Shark
About the Shark, phlegmatical one,
Pale sot of the Maldive sea,
The sleek little pilot-fish, azure and slim,
How alert in attendance be.
From his saw-pit of mouth, from his charnel of maw,
They have nothing of harm to dread,
But liquidly glide on his ghastly flank
Or before his Gorgonian head;
Or lurk in the port of serrated teeth
In white triple tiers of glittering gates,
And there find a haven when peril's abroad,
And asylum in jaws of the Fates!
They are friends; and friendly they guide him to prey,
Yet never partake of the treat -
Eyes and brains to the dotard lethargic and dull,
Pale ravener of horrible meat
—-Herman Melville
Comments
Archives
Resources & Links
Search