Mar
23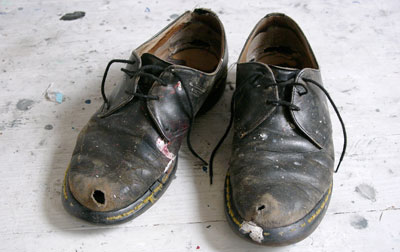 The Sage of Lawyers. Almost 1/10 as dishonest as Mr. Burger:
Lawyer asks judge to force rival to wear nicer shoes via Boing Boing by Cory Doctorow on 7/10/09

A lawyer in Florida filed a motion to force his rival to upgrade to newer shoes, on the grounds that his homely old hush puppies gave him an unfair advantage by projecting an air of unsophisticated honesty to the jury.

3. It is well known in the legal community that Michael Robb, Esquire, wears shoes with holes in the soles when he is in trial.

4. Upon reasonable belief, Plaintiff believes that Mr. Robb wears these shoes as a ruse to impress the jury and make them believe that Mr. Robb is humble and simple without sophistication. . . .

6. Part of this strategy is to present Mr. Robb and his client as modest individuals who are so frugal that Mr. Robb has to wear shoes with holes in the soles. Mr. Robb is known to stand at sidebar with one foot crossed casually beside the other so that the holes in his shoes are readily apparent to the jury . . . .

7. Then, during argument and throughout the case Mr. Robb throws out statements like "I'm just a simple lawyer" with the obvious suggestion that Plaintiff's counsel and the Plaintiff are not as sincere and down to earth as Mr. Robb.

8. Mr. Robb should be required to wear shoes without holes in the soles at trial to avoid the unfair prejudice suggested by this conduct.

Motion to Compel Defense Counsel To Wear Appropriate Shoes
Alan Millhone comments:
My mother's father was a real Scotsman. He worked for himself most of his life. Taught himself to play the piano and collected coins. He never threw anything away and wore his clothes till threadbare. Upon his death ( I was 16) we found on the stairway ledge to the basement a tall stack of cardboard cut outs that he made to fit his shoes.
The lawyer/shoe story brought an old memory I had long forgotten. Grandpa Mac was not out to ever impress anyone. Unlike the lawyer who was out to create a false impression of being somewhat destitute.
Comments
WordPress database error: [Table './dailyspeculations_com_@002d_dailywordpress/wp_comments' is marked as crashed and last (automatic?) repair failed]
SELECT * FROM wp_comments WHERE comment_post_ID = '4548' AND comment_approved = '1' ORDER BY comment_date
Archives
Resources & Links
Search