Aug
12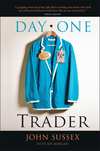 A new book, Day One Trader, is one of the finest accounts of life on a futures trading floor and is the best trading floor book since Charlie D. was published over a decade ago. The author, John Sussex, recounts his experiences of being a young pit broker from the first day the LIFFE trading pits opened in 1982 and continues to the transition of electronic futures trading, including his role as an exchange director when the LIFFE Connect system was developed which eventually closed the pits.
Many books regarding the trading floor are sensationalized but Sussex wrote a straightforward memoir regarding the camaraderie, risks and culture that transcended every trading pit. Besides exciting tales of the characters which seemed to be drawn to the exchange floor, Sussex offers a broad perspective since he was much than his primary role of a pit broker, particularly his creation of a dominant floor brokerage. Eventually Sussex Futures transitioned to electronic trading and one of the most insightful parts of the books was his experience dealing with a rogue trader during the early days of electronic trading which nearly bankrupted his firm.
It's quite rare to get a tasteful but frank impression of how the trading pits operate but the author succeeded in doing so better than any other attempts I've seen. I really admire his energy and observations because after decades spent in the pit, most guys are down to two brain cells and one of which is waving goodbye to the other.
The book will be released in the US next month but is already available in the UK. At 172 pages it's a quick read and has broad appeal for anyone with an interest in financial history, particularly the development and evolution of futures trading.
Comments
Archives
Resources & Links
Search