Aug
16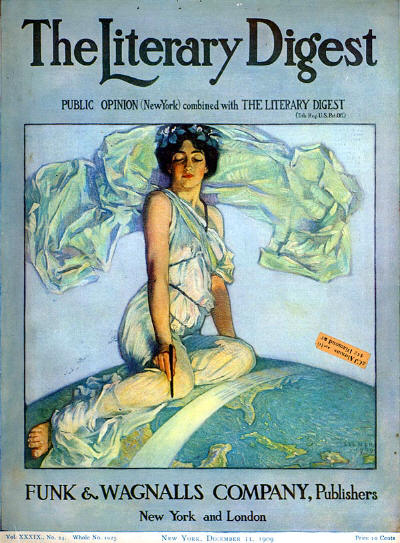 The Literary Digest was once the microphone through which that mythical beast "public opinion" spoke to America
The mass media - newspapers, movies, radio - were careful not to offer political opinions on the sensible theory that favoring one party over another would cost them money. Political opinion was limited to print and, within print, almost entirely to magazines.
In 1927 the Literary Digest had 1 million subscribers; by 1938 it was gone.
It fascinates me how the formerly mass media are well on their way to becoming the voice of minority opinion because of their one-sided politics.
Zubin Al Genubi writes:
With 500 TV channels, and a thousand news sites, information and political views have become Balkanized. Will political parties soon follow and breakdown like the parliamentary systems in Europe.
Stefan Jovanovich replies:
The Parliamentary systems in Europe may have political deadlocks but they are hardly breaking down. Brussels has authority that was Napoleon's dream. There are not 500 channels if by TV you mean mass audiences similar to those held by the 4 networks in the U.S. Britain has 5 channels, France has 3. What I was trying to point out was the obvious. Netflix, Amazon Prime and hulu–none of which offers any political "news" - have become what the movies and radio were in the 1920s and early 1930s. The audience that elite opinion thought it had literally melted away, much as it is doing now. Trump is "unpopular" only if one believes the modern Literary Digest audience represents a clear majority of the American electorate.
Comments
Archives
Resources & Links
Search