Jul
28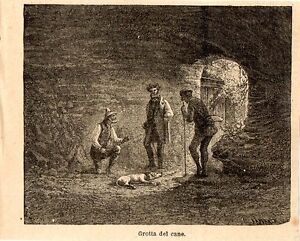 There are at least three results of going from the stooped to erect position in our family tree that evolutionists miss when looking at our present species.
1. The position removes the nose from the ground which, over generations, shortens the snout.
2. The eyes from upright have a much longer range of view.
3. The gases inhaled are lighter and less noxious.
The advantage of a shortened snout is more brain area for high development of mental faculties. The eyes become more far sighted. The lighter gases inhaled include more oxygen.
These items become apparent if one spends time on the ground sleeping, wrestling, gardening, or resting between hikes.
On the western side of Naples is a small cave that has been visited by tourist for centuries. It is called the Grotta del Cane (literally Dog Cave) for the following reason. Naples is surrounded by volcanic areas, and in the northwest are the Phlegrean Fields, an area of an old, extinguished volcanoes – and the site of the Dog Cave. It got its name because from deep down in earth, carbon dioxide from the ash enters the cave. Since it is heavier than air, the gas lies in an area one meter above the ground. In past centuries, when people entered the cave with a dog, it suffocated, while nothing happened to its owner whose head was well above the carbon dioxide. Rascals sometimes took their friends into the cave and held them down until they passed out. The unconscious animal could be lifted overhead into the overlying layer of fresh air, and sometimes revived. Today measures are taken to warn dog owners, children, and dwarfs of this danger, and of how to revive them in fresh air.
I believe this is also why I have always slept on the floor and ground throughout life in order to fall asleep at the drop of a hat, and not waste any time in beginning the next day.
Comments
WordPress database error: [Table './dailyspeculations_com_@002d_dailywordpress/wp_comments' is marked as crashed and last (automatic?) repair failed]
SELECT * FROM wp_comments WHERE comment_post_ID = '11787' AND comment_approved = '1' ORDER BY comment_date
Archives
Resources & Links
Search