Jul
21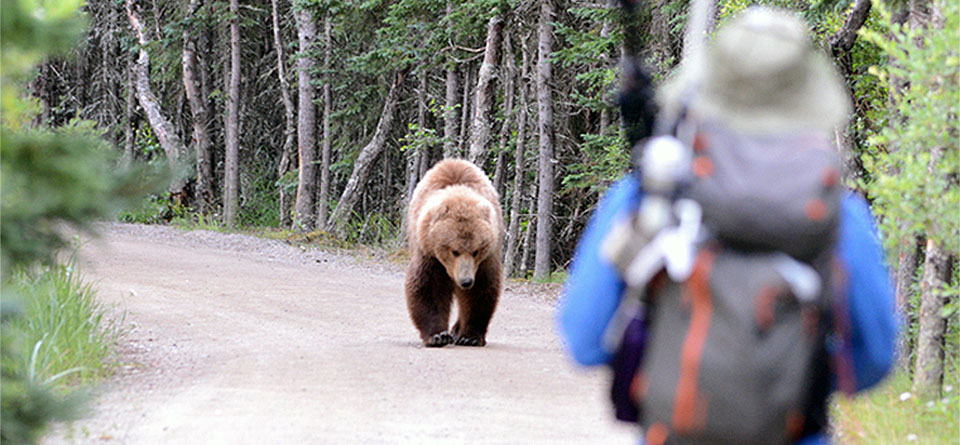 1. There are lots of signs in Grand Teton and Yellowstone National Park that read "Be Bear Aware."
Lesson for Investors: Even when things look great, bear markets come with the territory.
2. Every local has bear stories to share.
Lesson for investors: If you invest long enough, you will see more than one bear.
3. Hikers are reminded to carry bear spray – which is proven to be "90% effective"- but 100% effective in producing sales.
Lesson for Investors: Hold some cash, buy some insurance, and realize there is always someone selling protection from bears, but nothing is 100% effective. Per my river guide, statistically you are more likely to be killed by avalanche and Moose than bear. l still bought the bear spray and I am glad I did. It was a small price to pay.
4. Bears prefer higher elevations and are lazy. As a result, they prefer to run downhill.
Lesson for Investors: High valuations and high multiples make bear markets more likely.
5. Bear attacks are most common in the months of July, August, and September.
Lesson for Investors: During these months, bears come out of the winter hibernation looking for food and the number of outdoor recreationalist increases making encounters more likely. These months seem to line up reasonably well with stock market seasonality.
6. Bears are largely solitary animals. Lesson for Investors: Listen to the independent, solitary bear.
7. Hiking in groups and making noise reduce the chances of being attacked.
Lesson for Investors: When there are many people making noise about bears, there is a lower likelihood of being attacked. Worry when it is too quiet.
8. Older bears tend to be heavily scared.
Lesson for Investors: It is hard living as bear, but those that survive are some of the most dominant creatures of the forest.
9. Bears are curious and have a keen sense of smell.
Lesson for Investors: Bears and short sellers are naturally curious and are easily attracted by unprotected food.
10. Bears are fast and charges and attacks happen quickly.
Lesson for Investors: Mentally rehearse what you are going to do before you go hiking or invest because chances are you will not have much time to react when bears attack.
11. If attacked. DON'T RUN! Bears instinctively chase running prey and run 35 miles per hour.
Lesson for Investors: Stay invested despite your fear. It's not easy. I admit to being intimidated by the grizzly I saw 20 yards away given his size, despite being in my rented Toyota Prius. I had the bear spray ready, having seen Youtube videos of them climbing on cars.
12. If your bear spray fails. Get face down on the ground, protect your neck, and wait as most bear attacks are short.
Lesson for Investors: You are statistically better off submitting than fighting, though in rare circumstances you may have to fight. The key is to protect your most vital parts like you neck, ideally with your backpack, and wait before moving to insure the bear has left the area. For investors, this means you may need to sell down a few positions to protect your best positions and don't rush into a bear raid and wait until the bear has left the area.
13. Finally, most people do the wrong things when they encounter a bear.
Lesson for Investors: When I saw the grizzly bear, others were stopping, getting out of their cars and approaching for better pictures, which is exactly what the ranger information said not to do. Instead, Be a Bear Aware Investor. What I learned about Bulls and Bears while vacationing in Jackson Hole, WY: Lessons for stock market investors.
And now some insights about bulls from the Jackson, WY Rodeo.
1. Bulls can be tough to ride for 8 seconds, even for experienced cowboys.
Lesson for Investors: Bulls markets will try and buck you off. Hold on tightly.
2. Bulls are larger than bears.
Lesson for Investors: Bulls markets will typically last longer than bear markets.
3. Bulls and cows can be tough to corral once a stampede starts.
Lesson for Investors: It can be dangerous once a stampede starts. The running of the bulls causes more harm than bears (see part 1, #11).
4. Young bulls come out of the chute fast making them hard to lasso.
Lesson for Investors: Be ready to throw your rope and hold on as new bull markets start fast.
5. Bulls and cows are pack animals.
Lesson for Investors: Sometimes you may feel late arriving to the party, but that is how the herd rolls. Look for the crowd – what products and services are they buying.
6. Wyoming was the first state to grant women the right to vote and politically participate.
Lesson for Investors: Women live longer, so they should be active investors too.
7. There was a sheep chase for the kids.
Lesson for Investors: Consider 529 plans so your children or grandchildren can chase the sheepskin.
8. There were lots of twists and turns in the barrel races.
Lesson for Investors: There were lots of twists and turns in the barrel races, but the youngest rider was about 8 years old. There are long term advantages to starting early because the older riders were really moving fast.
9. The clowns play an important role.
Lesson for Investors: You may find your financial advisor is a stupid clown at times, but he is trained and there to protect you.
10. Faith, country, risk and return. It's the American Way.
Lesson for Investors: The rodeo started with prayer, the national anthem, and an announcement that rodeo is a dangerous sport, but that the cowboys are excited for the opportunity to go win some prize money. Sounds about right for the stock market.
Comments
Archives
Resources & Links
Search