May
6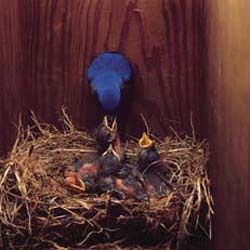 At our little vineyard here in CA (not little when age adjusted), we planted some bird nesting boxes to tip the local ecology toward insect depletion. The Western Bluebird–an obligate insectivore–is a cavity nester:
OK it says they also eat berries, but I've not seen them feed on grapes. (If so the plan will change)
This year one of two nest boxes have been occupied by a nesting couple. The eggs hatched, and mom and (mostly) dad feed the babies insects and grubs all day. Parents and kids are now accustomed to me, as with this year's heavy rains there is much work in the vineyard.
But this morning I noticed a trail of ants–illegals– actually invasive Argintine ants–crawling up the post to the nest box. I worried that some or all of the babies died. But on opening the box I was greeted by 2 of the 3 fat babies.
Mom and (mostly) dad fly food in every few minutes, which explains these obese chicks. They compete for incoming food by chirping as loud as they can, and holding their mouths open so as to create the easiest target for their tired parents (one was going to reference nubiles surreptitiously flashing but…).
I had some Borax granulated detergent (thanks to 20 mule team and Ronald Reagan) which I poured around the base of the post supporting the nest box. It contains sodium tetraborate, which is good (in trace amounts) for grapevines, but deadly for ants. It may take a few days but the ant trails and nest will be dead soon.
As a conservative, I took responsibility for the nest box I installed. Even though the birds may not be 100% beneficial, in some ways I own them…even though these children have traits of socialists. But…libertarian too, right? If you don't chirp, don't expect to be fed?
I resolve this with my commitment to do all I can to help the chicks successfully fledge from my nest box. But during harvest season when birds can strip the vines clean, watch out. I net the vines and will shoot any birds preying on my grapes while perched on the net.
Comments
Archives
Resources & Links
Search