Mar
2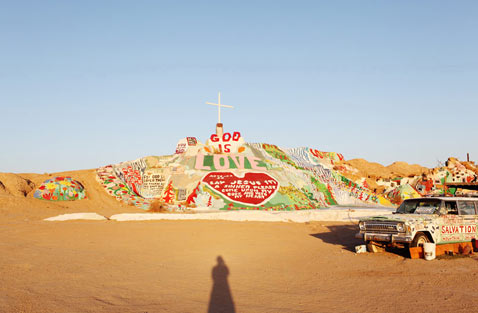 My favorite cartoon has two thought balloons.
One floats above a man with chin in hand: 'What's it all about?'
The second balloon is above an amphibian's head struggling from water to land: 'Think, reproduce, survive.'
I grew up in a sweep of states contiguous with the Canadian border and my main memory is snow. I broke out and walked the lengths of Death Valley and Baja California, only to fall in love with the desert.
The final straw was in 1999, when I was abandoned by a guide in the Amazon rain forest and nearly died paddling lost on rivers running high under rainstorms harboring pink dolphins in a hand-hewn canoe to civilization.
I was wet and ready for something dry and warm when I met a 300 lb. canoeist in the California Sierras who claimed Slab City and Sand Valley as his bases, sketched a map on a paper towel, and the rest of the story is sand down the hourglass.
Still, it only partially addresses "Why am I here?"
I was raised in the thought balloon above the man's head and wanted to explore the one above the amphibian.
I wished to learn heat as well as I knew cold. I knew from the hikes that the every living desert plant and animal is to be revered for its evolutionary past and adaptive present, and I craved their knowledge first-hand. In parallel, there was a lifelong compulsion to homestead from the ground up.
The desert has a quiet, clean solitude that would require self-sufficiency and, if by chance there were neighbors, they'd accept me for it.
So, I shrugged off society and moved to Sand Valley, and on across the hills to Slab City.
The rewards have been as astronomical as the evening sky.
Why else am I in Slab City? A month before the Amazon rainforest, in walking the length of Death Valley and discovering the years-old bleaching bones of a hiker who ran out of water and luck, I reported it to the authorities. The funny California cop mentality labeled me a murder suspect, so I told the sheriff goodbye and remember the police dog staring as I fled to the Amazon rain forest and then to Slab City, holding those thought balloons.
Comments
WordPress database error: [Table './dailyspeculations_com_@002d_dailywordpress/wp_comments' is marked as crashed and last (automatic?) repair failed]
SELECT * FROM wp_comments WHERE comment_post_ID = '11550' AND comment_approved = '1' ORDER BY comment_date
Archives
Resources & Links
Search