Dec
9
1. While the returns are not statistically significant during the periods of death cross since 1970, it could have avoided all but one bear markets (except 1987, when death cross came after everything is over). Bear markets references can be found here.
Here are death and golden crosses since 1970:
.
.
.
.
.
.
.
.
.
.
.
.
.
.
.
.
.
Dec
9
I recommend the Pbs documentary The Ghost Army
War, deception, art and glory come together in the documentary film "The Ghost Army," the astonishing true story of American G.I.s — many of whom would later have illustrious careers in art, design and fashion — who tricked the enemy with rubber tanks, sound effects and carefully crafted illusions during WWII. Filmmaker Rick Beyer tells a remarkable story of a top-secret mission that was at once absurd, deadly and amazingly effective.
I'm particularly fascinated by the game of traffic analysis.
NSA article on traffic analysis in WW1.
Dec
9
From a NYT article:
In the past 60 years, every recession has been preceded by an inverted yield curve, according to research from the San Francisco Fed. Curve inversions have "correctly signaled all nine recessions since 1955 and had only one false positive, in the mid-1960s, when an inversion was followed by an economic slowdown but not an official recession," the bank's researchers wrote in March.
anonymous writes:
Cleveland Fed has a dedicated website on the YC. Lately the probability of recession in the next year has increased to 20%+ some good literature on the subject by the NY Fed.
While historically it has been a solid predictor, the timing is tricky and not stable (can you afford to be short the market at least a year before a recession) and its predictive power has decreased over the years. The evidence in foreign markets is also mixed (look at the UK in 2000s where a decent portion of the time the YC was flat/inverted). It is what someone will call a weak predictor. One would think that you might find a better forecast in specific industries/sectors (eg financials) than the market as a whole.
It's worth mentioning that inverted yield curves were the norm before 1900. Most academics attribute that to wars; if a country survived in the short-term (wars), it had less risk over the long term. Similar to the VIX term structure during sell-offs.
Peter Ringel writes:
We had so many bogymen on the news-wire today.
Everyone is free to choose the fear he or she desires:
- yield curve
- Russia military aggression (old news- but displayed as new)
- Italy risk (old news)
- Brexit fail
- Trump-China back paddling ("China is puzzled" <- this one is real IMO )
- FED talk
- IRAN war (old news)
Probably all a campaign.
Ralph Vince writes:
Alright, since the media is yield curve obsessed, I'm copying what I posted to another list, expletives deleted.
This talk of an inverted curve by taking segments out is the most ignorant discussion in the media on the topic i have ever seen. When there are inflection points in the curve, which are COMMON, historically, there are portions of inversion, of course.Throughout the late 90s, when the 20 was above the 30 year, was anyone calling it an INVERTED YEILD CURVE!!!!! (and screaming about it, as they do now?)
In late 1998, there were at least FIVE inflection points using the main maturities on the constant curve, and three segments that were inverted. Things were pretty strong in the economy until hints of slowness in 2001Q2.
This is more bull***it financial writing, along the lines of "longest expansion in history," etc.
Who knows, maybe a slowdown is upon us (not evident in any numbers I keep - yet) but the yield curve is NOT inverted.
Russ Sears writes:
Perhaps they have learned after Trump's election that making the first move instills confidence in the dip buyers Trump optimism. But selling after a big up Trump day the opposite.
anonymous writes:
It would seem that those that believe Trump knows what he is doing now move regularly before those who doubt him.
Kora Reddy writes:
1. When T10Y2Y goes below zero for the first time in 250 days (one year) and forward $SPX index returns:
.
.
.
2. When t10y3m goes below zero for the first in a yr:
.
.
3. When T10YFF goes below zero for the first time in a year:
.
.
.
.
.
Dec
7
The Hawaii surf report this morning was for 15-20 foot waves and the conditions were good. I got some big ones, but it was a tricky take off. Some really big ones were coming through, so it did not work sitting waiting for the smaller 15 footers because if you sat inside, the big ones would wash you all the way to the inside for a four or five wave thrashing. The best bet was to have a big wave board like my 9 foot Barry Kanaiaupuni big wave gun and drop into the bombers. I had almost a perfect day by catching some big ones on the outside that came right to me where I was sitting and I dropped in and rode all the way on the big wall to the inside. Quite the thrill. The pack on the inside was getting hammered by the big set and got washed in and took a thrashing. I've surfing there for 40 years and know the spot well.
The market report, though not advertised was similar to the day before with 100 point waves. A volatility cluster, or a big wave swell. Before the big waves started, the lack of vol made trading almost a waste of time, and actually especially dangerous. With the narrow range, one tends to pile on the leverage to get some returns, but after months of 7 point ranges, with each passing day of low vol, the survival stats tell you that your time is running out and a big blow out is on the horizon. The other thing is when the big waves come, got to be ready to charge, as well as being prepared for a thrashing.
Dec
6
I recommend to the group the TV show on Netflix Turn: Washington's Spies. It's based on the book Washington's Spies: the Story of America's First Spy Ring I believe. I enjoyed the series very much!
Ralph Vince writes:
Turn is excellent. I second Scott's motion.
Dec
6
A good disguise book:
The Master of Disguise: My Secret Life in the CIA
Dec
6
A friend said to me: "I was in Chicago for a quant conference (with Bitcoin PhD's, unbelievable. for $3000/head.) and saw large numbers of desperate urban homeless. In one case a young man was bypassed by people in expensive clothing on their way to expensive drinks, who then looked at their phones while he was staggering, helpless. (I think the drinks signs were like $30/drink.) That kind of stuff is more pervasive than I remember in the US."
No one is claiming this ubiquitous phenomenon is not tragic. The argument is about who, if anyone, should pay. Let's say you are 5 stdev smarter than him, and perhaps we agree you should pay for him. I am not so smart, but my simple father taught me to fight. If you want me to pay we will fight over it.
That is the argument. Against nature.
anonymous replies:
I would disagree with the question "who should pay". It's not a lack of people paying or amount paid. Lack of money is not causing these problems to grow. It is where the money is going before it gets to those needing a hand. The government has ever incentive to keep those receiving money dependent on them and without any tough love for those that refuse to meet them the best they are capable of to receive aid.
We are so afraid of someone falling in the cracks that we make it ok to make terrible choices without any real consequences for so long until many are hopeless. We have made the cracks huge by building these costly safety nets on the edges.
The last mile problem of charity can only be solved by those nearest the situation not those pandering to voters.
Dec
6
We are now 2 decades into the electronic world that does not require people to be at keyboards or to speak and listen to others. Even those of us who never trade now understand that "the bond market" for U.S. Treasuries is not an organized exchange but an over-the-counter market in which all interdealer trades are handled through interdealer brokers (IDBs).
As the post on Liberty Street Economics reminds us, "(u)ntil 1999, nearly all IDB trading occurred through voice-assisted brokers, in which dealers executed trades via phone. In 1999, the eSpeed electronic trading platform was launched, and in 2000, BrokerTec, a rival electronic platform, began operations. These fully electronic platforms paved the way for high-frequency trading, in which traders rely on speed to identify and act upon trading opportunities. The platforms soon accounted for nearly all interdealer trading of the on-the-run notes and bond(s), the most recently issued notes and bond(s) of a given maturity.."
"(I)nformation in high‑frequency markets no longer pertains to only the active side of a trade. Algorithms and dynamic trading strategies enable traders to chop a large order into smaller ones and hide them in the limit order book at various layers. They subsequently show up on the passive side in resultant executions. Thus, estimates of price discovery based on solely trade data are likely to be unreliable."
The Subject Line is a quotation from Numbers 23:23. It was the first message ever sent and received by Samuel Morse's telegraph. (May 24, 1844). Without that invention there would never have been an American Civil War because "the news" of state secessions and Fort Sumter would not have been what "social media" claims to be now: instant and universal.
It seems to me that the paradox of the present situation is that even the loudest news items are now squeaks in the Shannon transmissions of information. "The public" and its money is no longer captured by any single headline.
Dec
5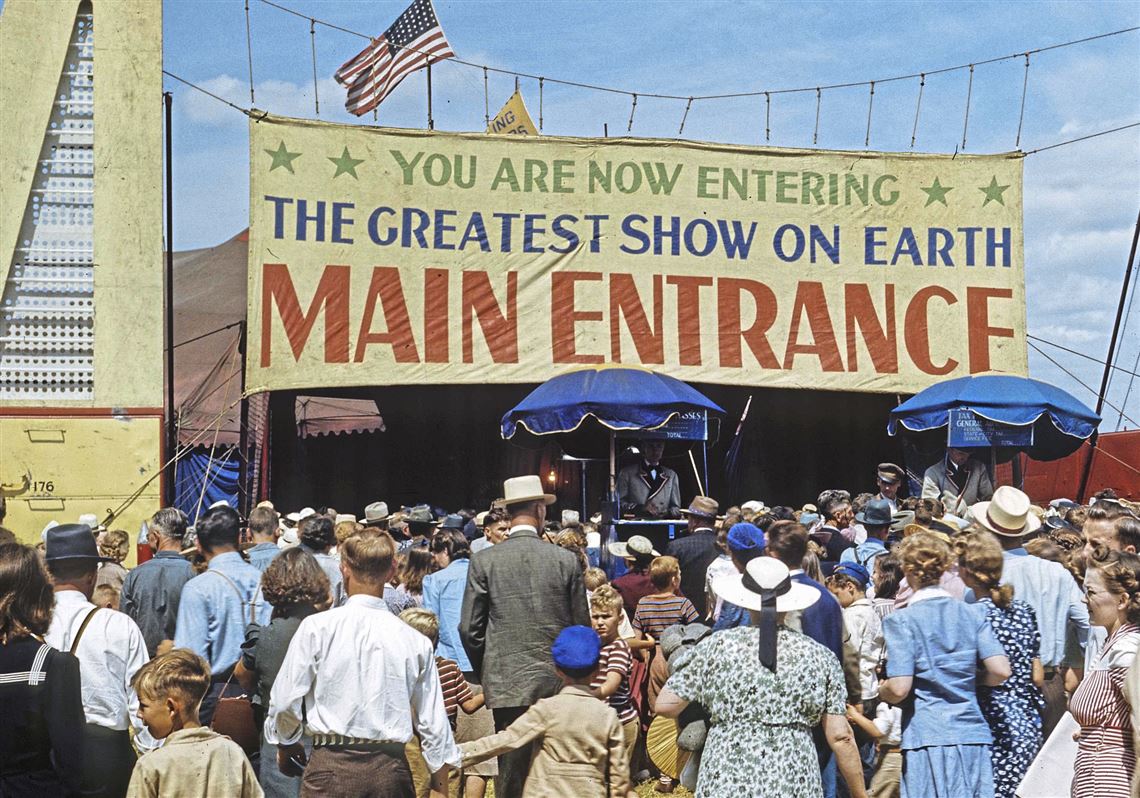 This is very nicely done and I wish it were even longer, like a Ken-Burns-style series:
This four-hour mini-series tells the story of one of the most popular and influential forms of entertainment in American history. Through the intertwined stories of several of the most innovative and influential impresarios of the late nineteenth century, this series reveals the circus was a uniquely American entertainment created by a rapidly expanding and industrializing nation; that it embraced and was made possible by Western imperialism; that its history was shaped by a tension between its unconventional entertainments and prevailing standards of respectability; and that its promise for ordinary people was the possibility for personal reinvention. For many Americans, the circus embodied the improbable and the impossible, the exotic and the spectacular. Drawing upon a vast and richly visual archive and featuring a host of performers, historians and aficionados, The Circus follows the rise and fall of the gigantic, traveling tented railroad circus and brings to life an era when Circus Day would shut down a town and its stars were among the most famous people in the country.
Archives
Resources & Links
Search